3 Ideas for a Low Maintenance High Style Shower System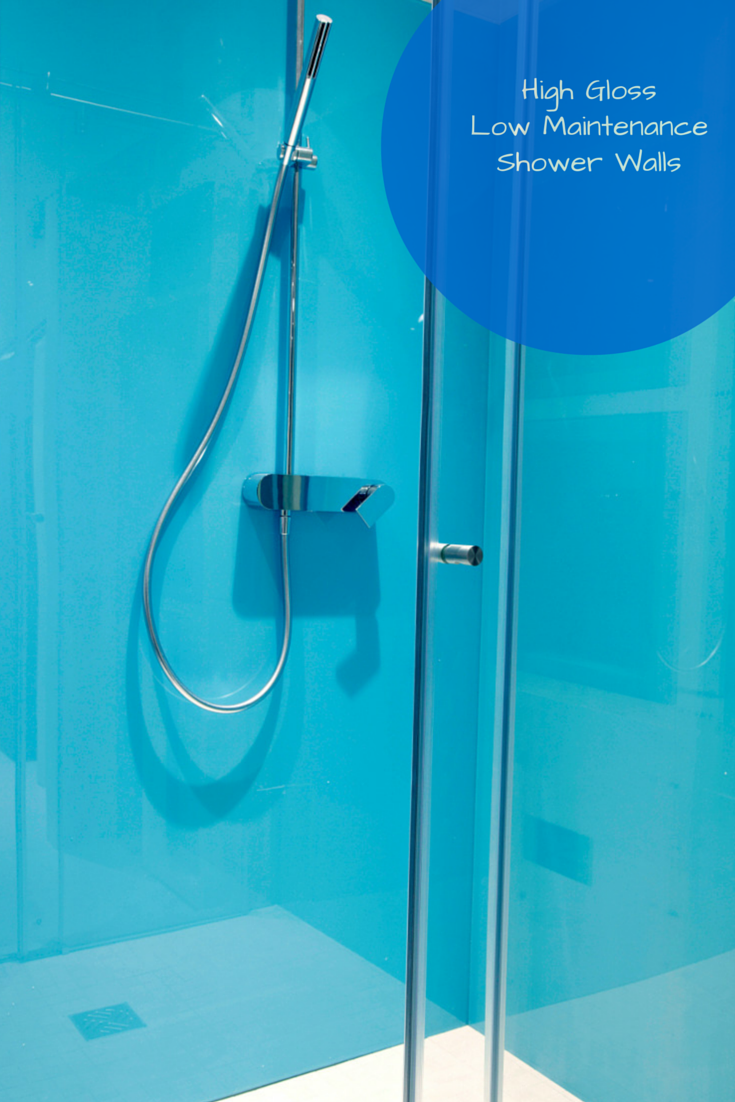 Updated September 15, 2019
While tile showers or those with natural stone or granite walls can look cool – they also have their drawbacks. Let's face it – they're a pain in the butt to clean and can be costly. If you're looking for a different alternative the question is what can you use for a low maintenance, high style and affordable shower system? The article below will look at 3 combinations of products to achieve this goal which include a cultured stone shower bases and walls, a stylish glass enclosure with matching acrylic base and Euro-inspired high gloss wall panels.
Idea 1 – Cultured stone shower walls and bases with frameless or semi-frameless glass doors
For a traditionally elegant – yet understated look – solid surface walls and bases are an excellent choice. This product is sturdy. The wall panels are 3/8" thick and solid throughout. They're easy to work with for the professional contractor or DIY'er. Lastly they're completely grout free so you can chuck your scrub brush and harsh chemicals! The cultured stone shower bases (while they're heavy) are built like a tank. You can set them and forget them.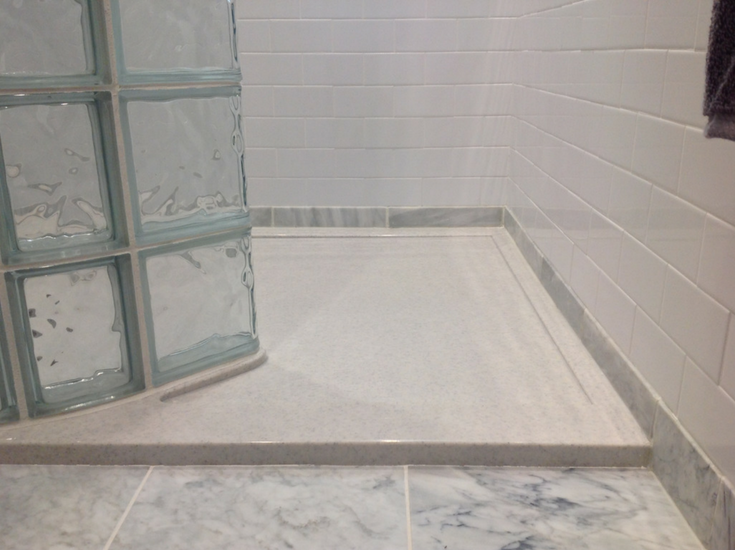 With over 60 color choices and multiple finishes (including high gloss, matte finish and even a faux tile look) you will find an option which will work with virtually any color scheme (with this product you can get also get a solid surface countertop to match). To complete the low maintenance high style theme a frameless or semi-frameless shower door can be coordinated with the walls and bases.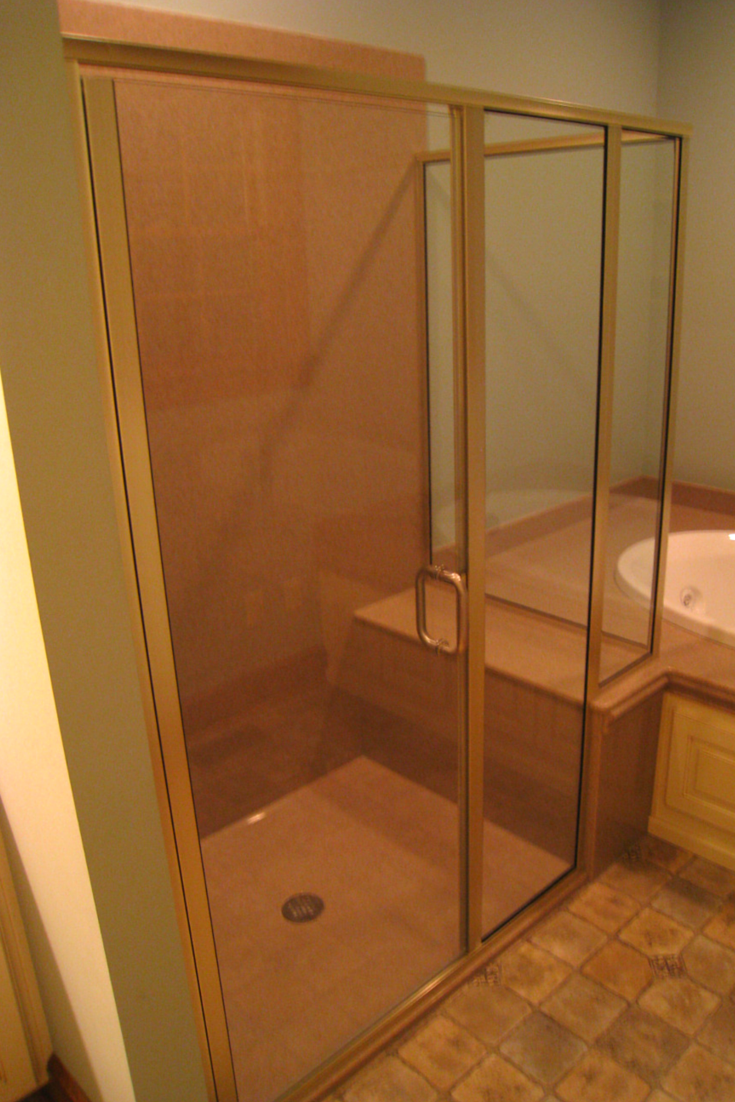 Idea 2 – Decorative faux stone shower wall panels with an acrylic base and enclosure system
Natural stone walls are beautiful but the cost and maintenance are priced out of the statosphere of most owners. A  more cost effective way to go is to use decorative faux stone wall panels. These ¼" thick panels combine high technology digital printing, a waterproof PVC backing and 20 popular stone patterns. What's also nice is they are simple to install. They're so easy you can cut them with a carpenters knife.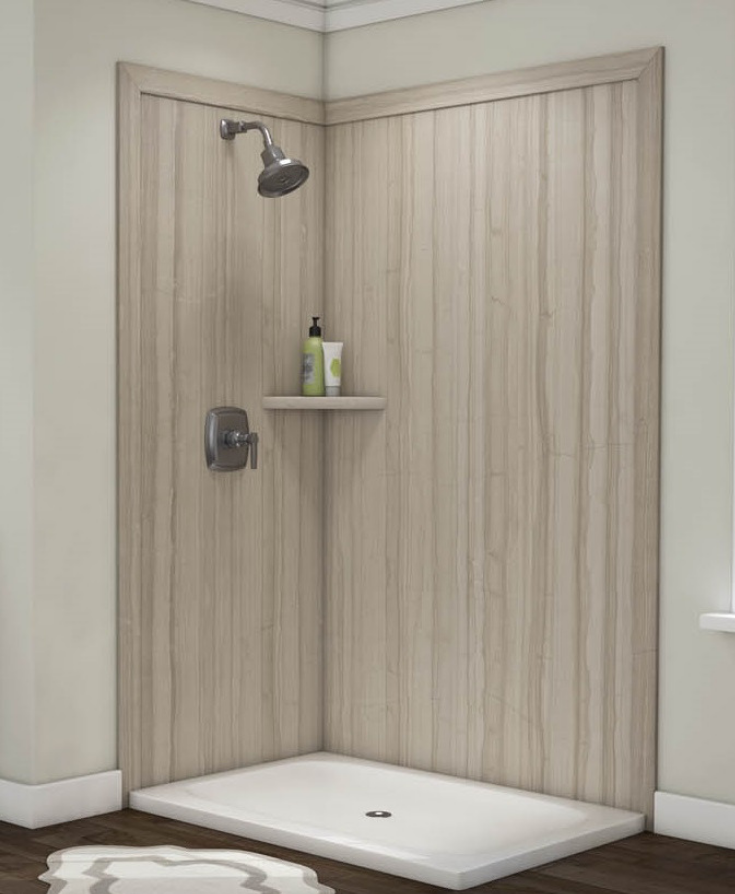 Using these wall panels with a uniquely shaped curved acrylic base and matching glass enclosure system will result in a custom look without a custom price (note – they are also easier to maintain than natural stone).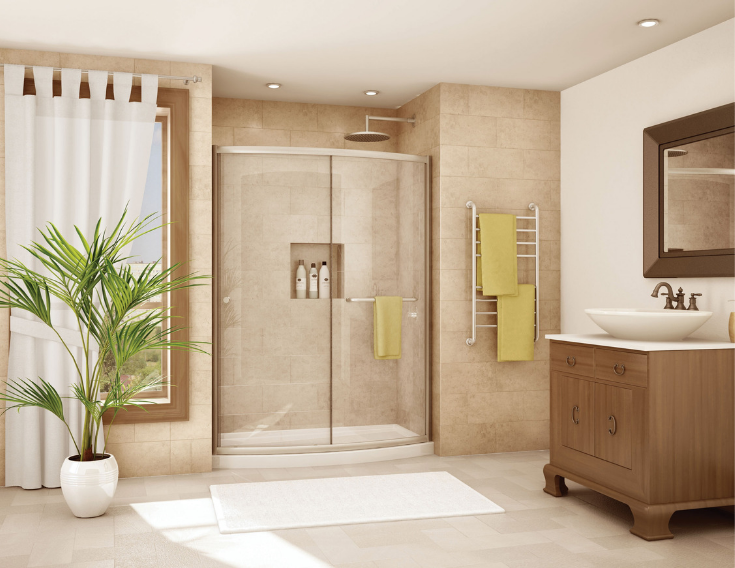 Idea 3 – Euro-inspired laminated wall panels 
If a contemporary design aesthetic is your buzz – but cleaning shower walls is not your favorite thing – then check out these laminated wall panels. They are made into 3/8" thick panels which are simple to set. They are available in 21 colors (including multiple design styles including high gloss contemporary, modern minimalist, modern farmhouse and transitionalist to name a few) and are a breeze to wipe down. If you're looking for shower wall panels for your vacation home rental or Air BNB these units provide a stylish alternative to get those oohs and aahs you want from your visitors also. Combine these panels with an acrylic or solid surface base for a low maintenance shower.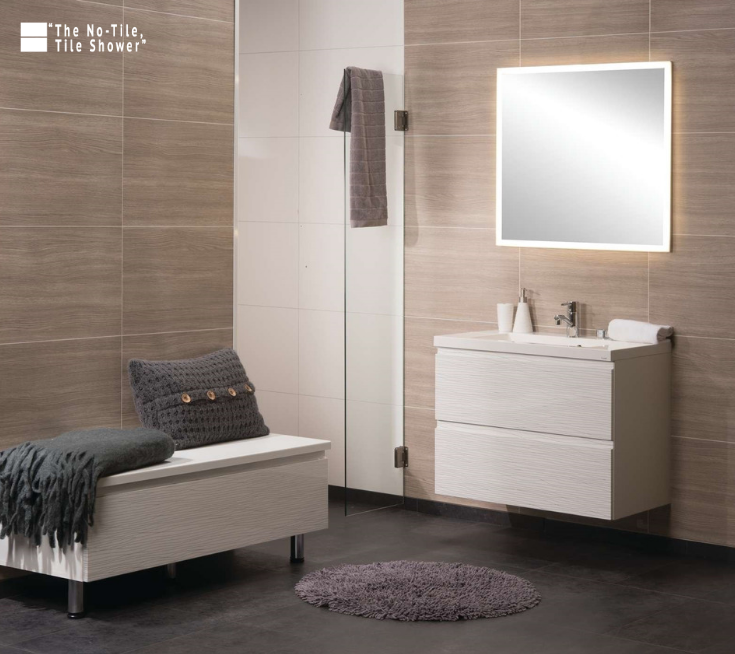 Which of these 3 ideas do you like the best? Please comment or call one of the numbers below to get design assistance, pricing or free samples of these products.
If you're looking for more information or an estimate on remodeling a shower or nationwide material supply for the various wall panels and shower bases mentioned above call The Bath Doctor in Cleveland (216-531-6085), Columbus (614-252-7294) or for nationwide supply Innovate Building Solutions (877-668-5888).
If you're a remodeler or builder and want practical advice on remodeling products, industry trends, marketing and sales tips to grow your business (and cut day to day hassles), start reading my newest blog – Innovate Builders Blog. It's packed with ideas you can use now. Click here to Sign Up for the Innovate Builders Blog.
If you're in the building business, click here if you'd like to learn how to become a shower wall panel dealer or call and ask for Mike at 888-467-7488.
For information about shower wall panels for hotel showers or senior living bathrooms contact 888-467-7488.
---
Mike Foti
President of Innovate Building Solutions a nationwide supplier and regional (Cleveland and Columbus) remodeling contractors. Some of our product lines include glass counters, floors, backsplashes, glass blocks and grout free shower and tub wall panels
---