The 7 Biggest Blunders You Don't Want to Make Choosing a Shower Pan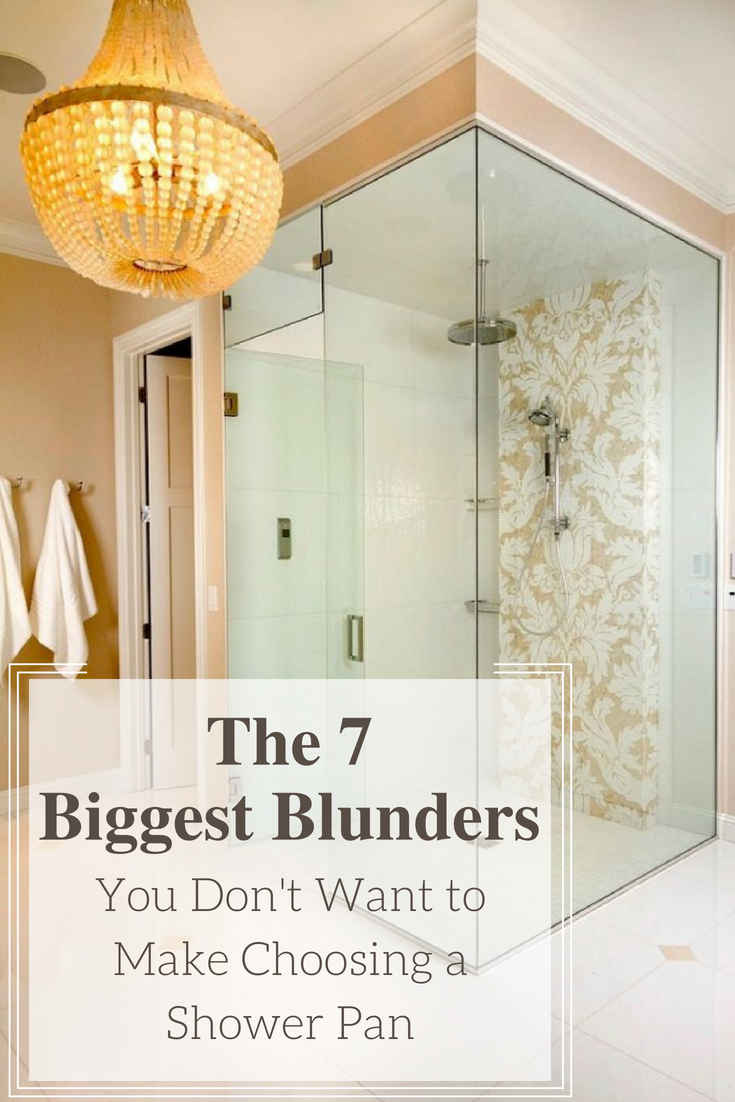 Updated July 16, 2023
Since you're reading this article you deserve a round of applause. Learning about shower pans is as sexy and 'interesting' as seeing your Mother in Law 'attempting' to look young with a skirt which is too short or pants which are too tight. Not a pretty picture. Certainly not sexy.
Shower pans literally get walked on and ignored daily. They get no respect.
However, I'd argue they're propping up the entire 'show.' The show is your fancy shower heads, niches, contemporary sleek wall panels, tile surrounds and body jets people do notice.
If your base fails, you're in a heap of trouble. You can throw in the dumpster all the cool features above the base (and your dollars – literally – down the literal drain with it). Sure, you can 'cheap-out' buying a low-cost shower pan or 'zone out' with no thought put into the design of a shower base. However, if you take this route as they'd say in high school Latin class – caveat emptor (that's a fancy term for 'let the buyer beware.').
There's a huge (or hugely as Trump would say) price to pay for a shower pan which fails, is designed incorrectly or doesn't work as a family member ages and their mobility goes in the wrong direction.
There are 2 pivotal questions in selecting a shower pan you need to get your arms around:
Question 1 – What are the biggest mistakes, blunders, pitfalls (insert your negative adjective here) when selecting shower pans? The more important question is this second one.
Question 2 – How can I avoid the problems posed in question 1 to save time, money and aggravation having to 're-remodel' (not a word, but it happens in reality) or throw away a costly shower purchase?
The purpose of this article is simple. Provide the answers to question 1 and outline the 7 biggest blunders I've seen in bad shower pan purchases through my years (note – when I started in the bathroom remodeling business I had more hair, and none of it was grey either!) Next, I'll cover question 2 and give you tips to make sure you don't fall victim to the mistakes in question 1. In addition, I've added a 'bonus question' – #8, because if you're like most people (and NOT made of money) – you'll also care about cost.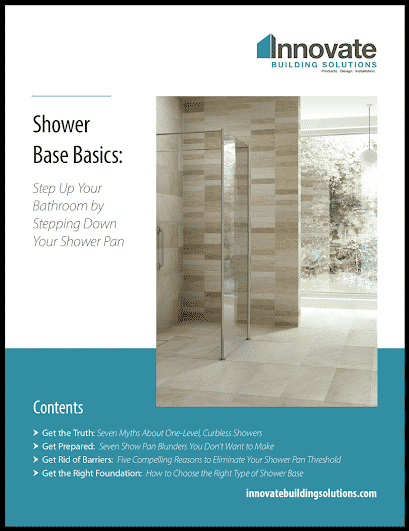 Get Our Ultimate Shower Base Guide!
Step Up Your Bathroom by Stepping Down Your Shower Pan!
Shower pan blunder #1 – You (and your builder) don't think long term in the shower pan selection process    
Your builder – without any input from you –will use the 'path of least resistance method" and install the cheapest pan (a fiberglass tub/shower combination) or in luxury home get their tile guy to do the tried and true, a ceramic tile surround. In both bases they'll use a standard 4" to 5" high step over curb for the pan without any direction from you.
This 4" or 5" high curb is not a problem 'initially', it's the 'eventually' which can get you into trouble. Initially you and your family members are healthy and stepping over a shower curb is a breeze. Eventually your mobility may not be as good. If you can't lift their legs up over the shower curb, you'll be pulling out your old base for a new one.
How to prevent shower pan blunder #1 – Spend time researching zero threshold, barrier free, and low profile shower pans. If you're not familiar with these options, they are designed to be level with the bathroom floor or have a small curb (from 1 1/6″ to 2″ high). They are not only safe but can also look cool and contemporary.  The first picture below shows how a finished zero threshold shower base system with tile looks after it's completed. It will put you in the 'double-bonus' as they say in basketball – safe and stylish. The second photo is a straightforward-to-install acrylic roll in shower pan. Your builder or remodeler may like this one best because its super-simple to install. The last photo shows a fun black marble low profile shower pan which will give your bathroom the 'wow' factor most people don't know is possible with a shower pan. Learn more by watching the video below on how to compare a low profile vs. ramped vs. a zero entry shower pan.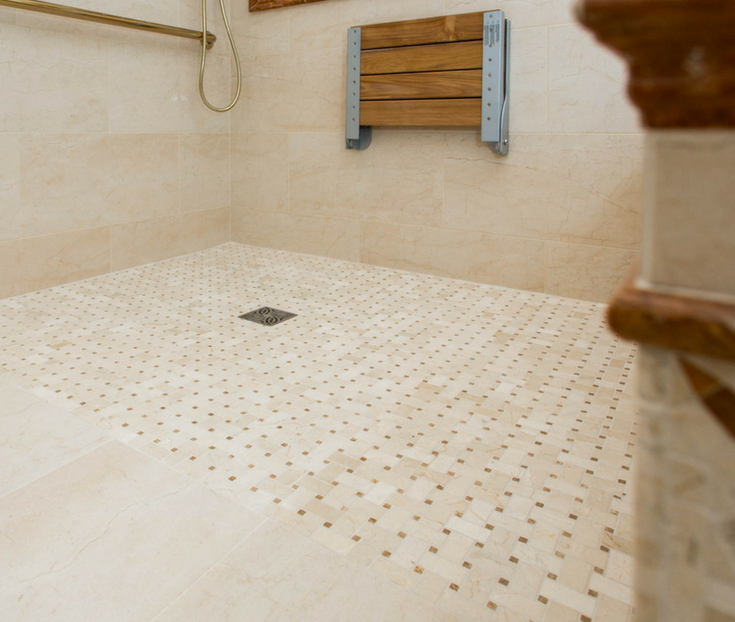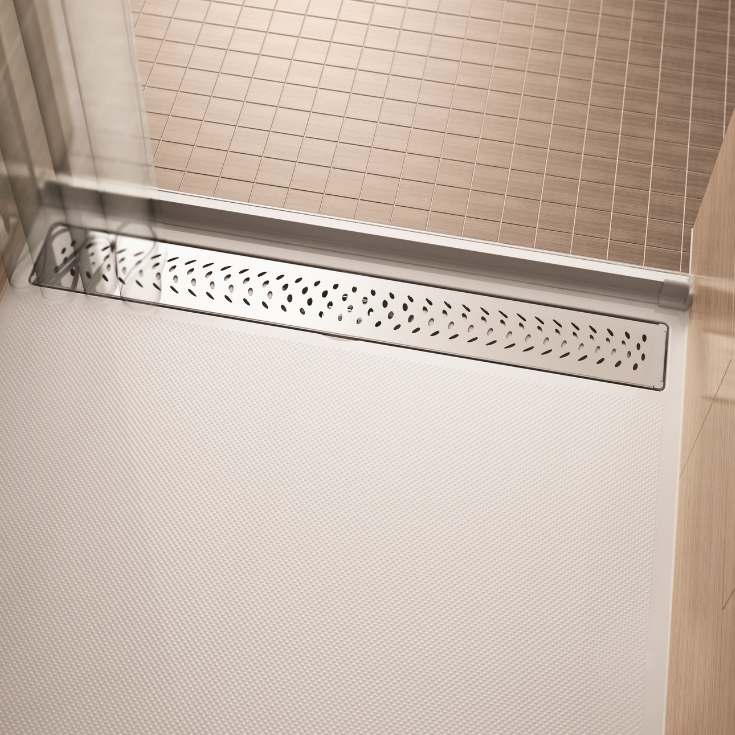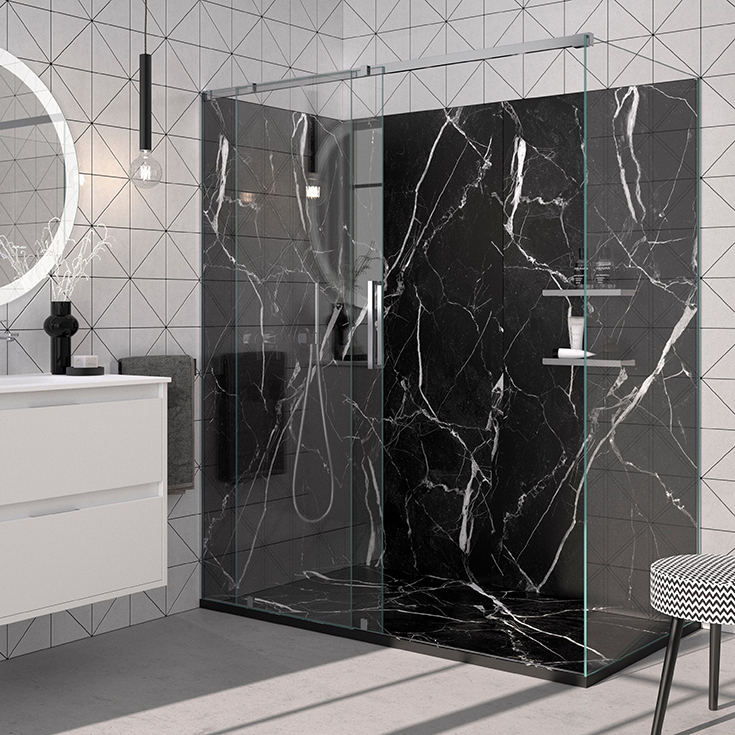 You need to note, just because you've found a better long-term shower pan selection doesn't mean your builder will 'embrace' your choice. You'll need to explain to your remodeler or builder why you need this product and provide them with installation instructions. If they still refuse to get you the pan you want, you may to become the "Monty Hall" of shower pan purchasers and look to hire the builder or remodeler behind door #2."
And if you want more age in place remodeling ideas – listen to the podcast below titled – Remodeling Ideas to Increase Safety, Function, and Accessibility in Your Bathroom. 
Shower pan blunder #2 – You choose a shower pan which is prone to cracking, yellowing and water leaks.
A cracked shower pan which leaks onto your brand-new mahogany dining room table in the floor below with the fancy chandelier and tray ceiling is a bad day.
Here's a fact (not exactly rocket science) – all shower pans aren't created equal.
If you're building a new home – builders will pack your home with cool features in the places, you'll notice. Granite countertops. Large windows in a great room. A tray ceiling in the bedroom. What builder' won't do is put much economic value in features they feel you'll pay little attention to (until it's too late). One example, is the kids Jack and Jill bathroom off the hallway you'll get a fiberglass one-piece shower surround. It's the cheapest, slap-it-in solution. If you're doing a tile shower they'll have their 'tile guys' put in a mud-set pan base (basically a vinyl liner with concrete sloped in the pan).
Get Free Samples!
Click here to request free samples of our Shower Base Products.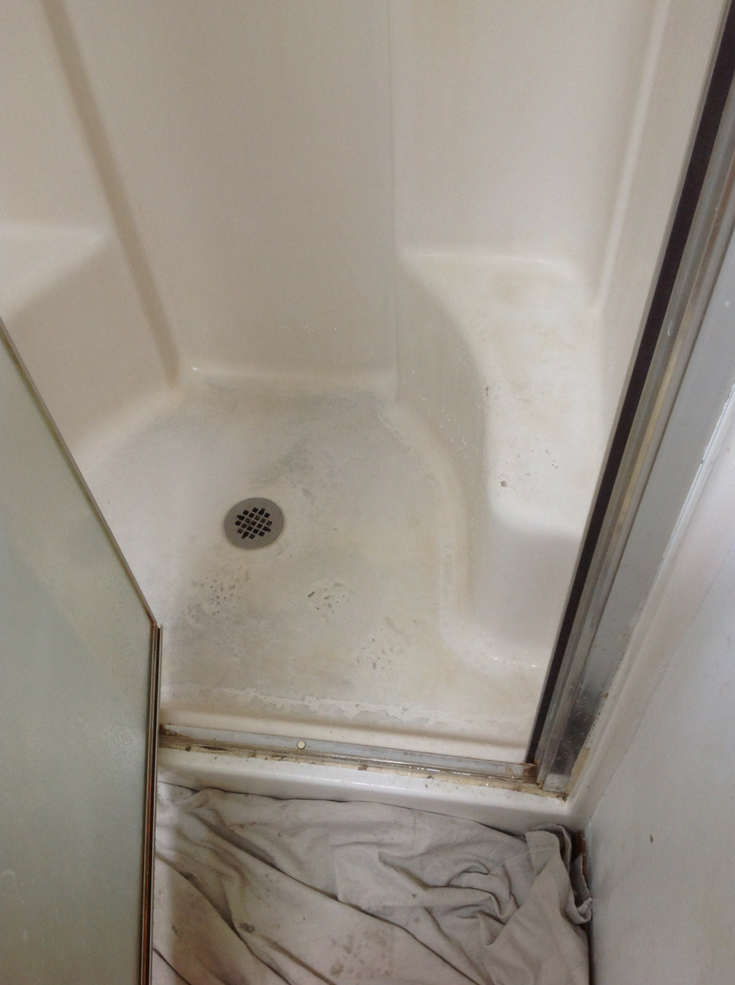 These cheap solutions can become your future nightmare. These bases have a higher failure rate of cracking and leaking (or yellowing and looking ugly).
How to prevent shower pan blunder #2 – The simple advice is don't cheap out on your shower pans. Upgrade to a solid surface or cultured granite shower pan  with guarantees which range from 10 years to lifetime guarantees. It's not just guaranteed with your builders fabulous (sarcasm intended) one-year warranty. If you don't want to spend as much, another smart option is a cast acrylic pan which has been reinforced with a multi-density fiberboard underneath (like you'll see in the picture below). This isn't your cheap -grab-off-the-shelf-pan you'll pick up from the big box store. It won't flex and creek like those low-budget acrylic pans.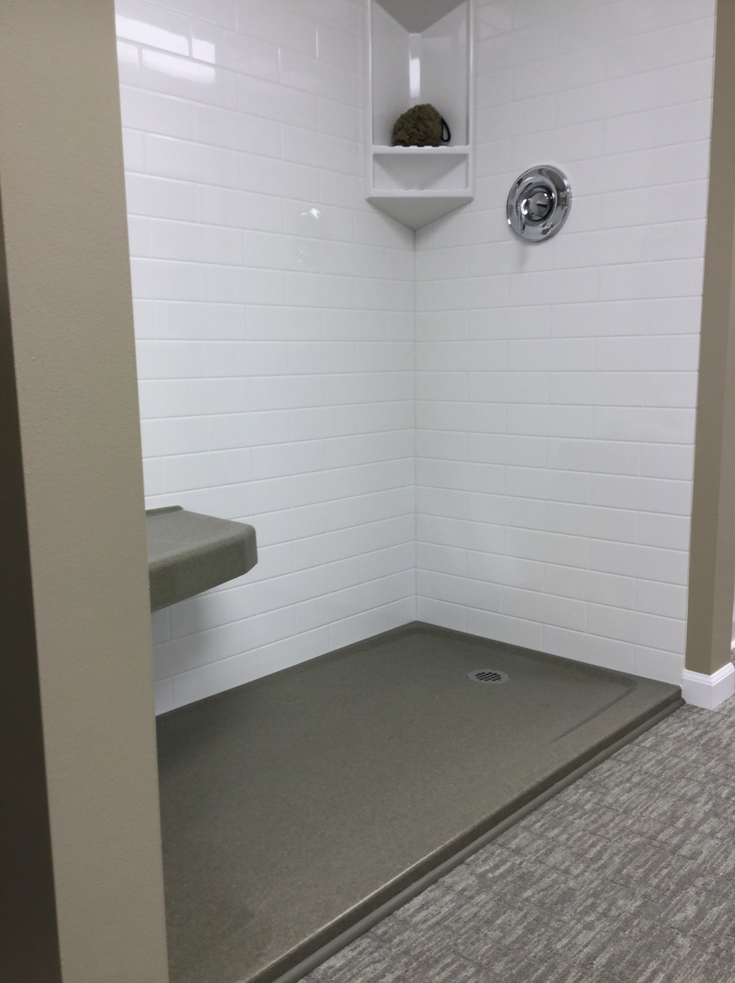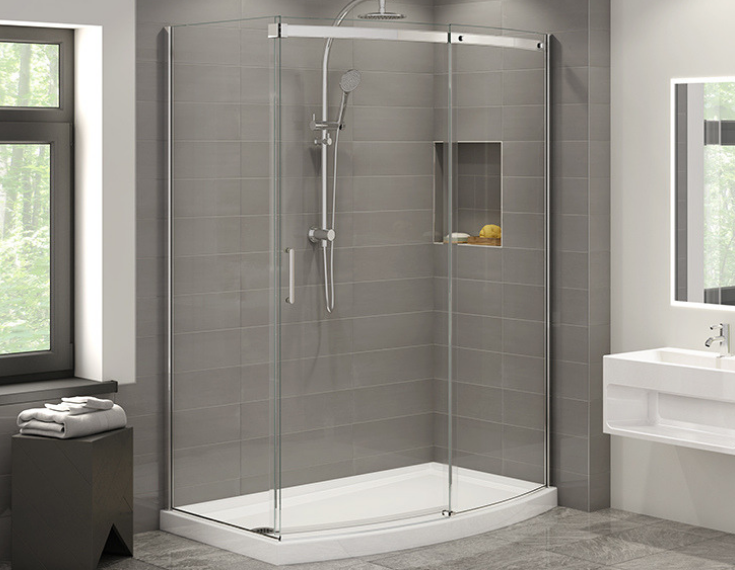 If you're doing a tile shower use a waterproof ready for tile shower pan or underlayment systems like those from Wedi Corp or Schluter. These products ensure moisture which gets through the grout joints, won't get through the shower base underneath it (more about this later).
Shower pan blunder #3 – You buy a pan for a shower remodel, but don't think about your current drain location
When you're remodeling, drain locations are a BIG thing. If your existing shower pan is in poured concrete moving it will be dusty, dirty, time consuming and expensive. If your shower is on the second floor changing where the drain is at will be more difficult than having complete access from the basement below (in the case of a first-floor shower with an unfinished lower level).
If you buy your shower pan first, dig deeper about your drain location, so you won't be sorry and end up sucking up unnecessary expenses to move plumbing or eat restocking fees IF you're able to return the standard pan.
How to prevent shower pan blunder #3 – Take approximate measurements (with the pan still in place) of your existing shower pan and it's drain location. If you're looking to use the same shape and same-size shower, see if the new pan drain location will line up with the drain hole in your existing shower. Look for standard pans – if possible – to save money. For example – if you're doing a tub to shower conversion a low profile 60 x 32 shower pan like the one pictured below will be perfect (especially if you want to go from an alcove shower to a corner shower).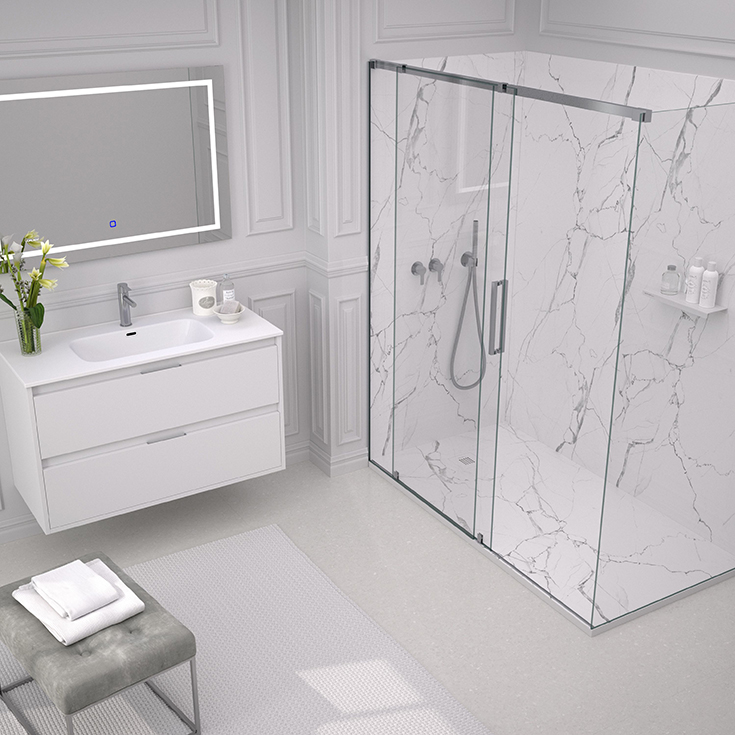 If your drain location is not standard, your choice will be to move the plumbing or buy a custom shower pan. In many cases the more 'expensive' custom shower pan will actually result in a lower total project cost because you're not paying a plumber to relocate your pipes.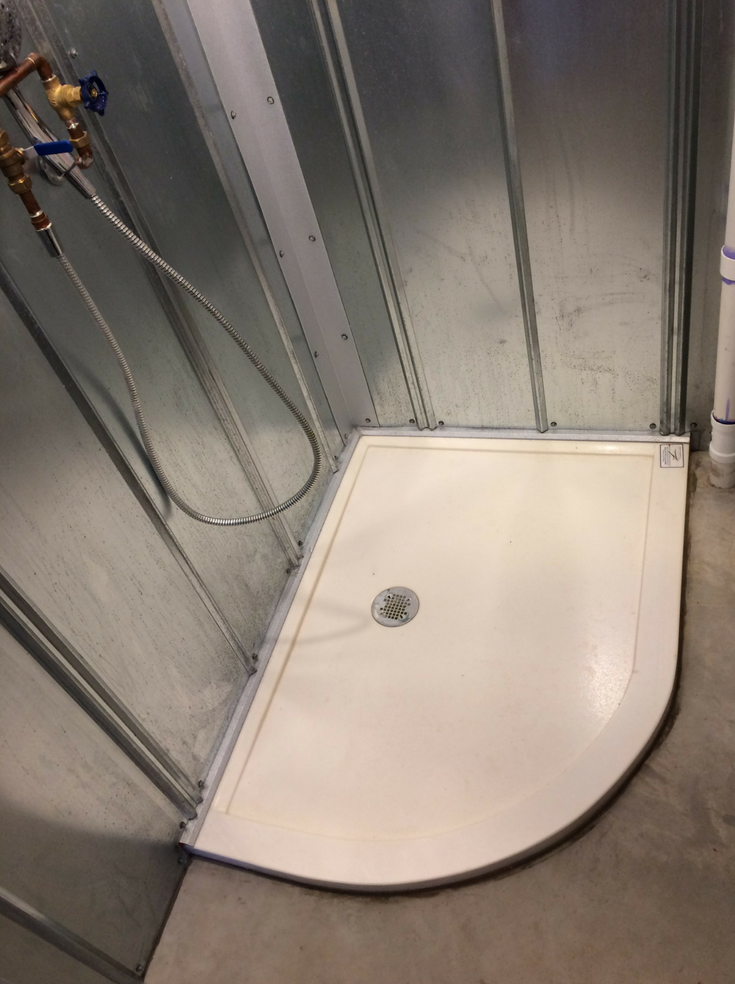 Shower pan blunder #4 – You act like a zombie and let your builder 'drive the bus' and use whatever shower pan they choose.
Just because you've hired a builder or remodeler doesn't mean they always have your best interests at mind. If you think about it, most builders and remodelers #1 motivation is….
Profit
Profit is not a dirty word. You need your builder to make money. You want them to make money, so they'll be around if you need warranty repairs. However, you need to have a longer-term perspective for a shower pan purchase than your builder. Once your warranty is up – they've moved on to the next job and you're on your own to deal with the maintenance or costs of a bad purchase.
How to prevent shower pan blunder #4 – Before you sign on the bottom line know specifically what shower pans your builder or remodeler will be installing. Take time to research them and check out on line reviews. If it's a site-built system, ask who(m) will be doing the installation (who are they subbing this work to). The reality is a site-built shower pan (like the mud set ones I mentioned before) are only as good as the specific human being doing the installation.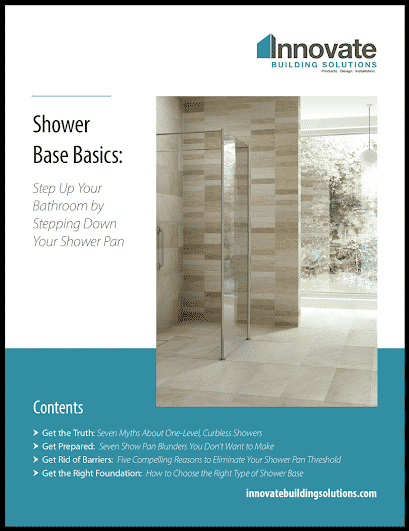 Get Our Ultimate Shower Base Guide!
Step Up Your Bathroom by Stepping Down Your Shower Pan!
Shower pan blunder #5 – You choose a shower pan which is as high maintenance as your 'easy to get along with (sarcasm intended)' teenager.   
Here's two glorious images.
(Image 1) You're on your hands and knees 'attempting' to clean the dingy brownish dirt off the bottom of your fiberglass shower base.
(Image 2) You've pulled out the dreaded nylon bristled scrub brush and hydrogen peroxide and you're ready to 'go in' and do battle with your moldy grout joints in your shower base.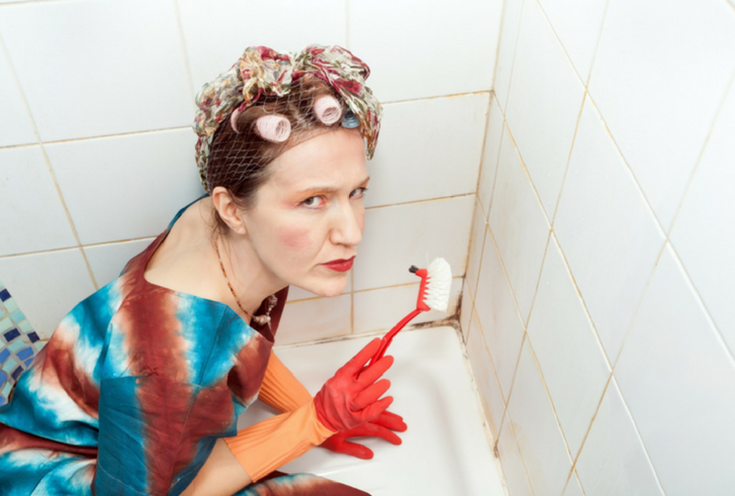 When you bought this home, you realized fiberglass showers were cheap. At the time that seemed like a good thing. Today you know how hopeless the cleaning process can be.
Your tile shower looked BEAUTFUL when it was first installed. Now you're seeing how much of a pain in the butt this grout maintenance thing can be.
How to prevent shower pan blunder #5 – Remember the old saying, 'an ounce of prevention is worth a pound of cure?' The best way to blow up shower pan maintenance problems is to stop them in their tracks.
Instead of choosing a cheap fiberglass pan for a hall or kid's bathroom, go one notch up and select an acrylic shower pan. They are available in standard sizes, fun shapes, are simple to clean and cost effective.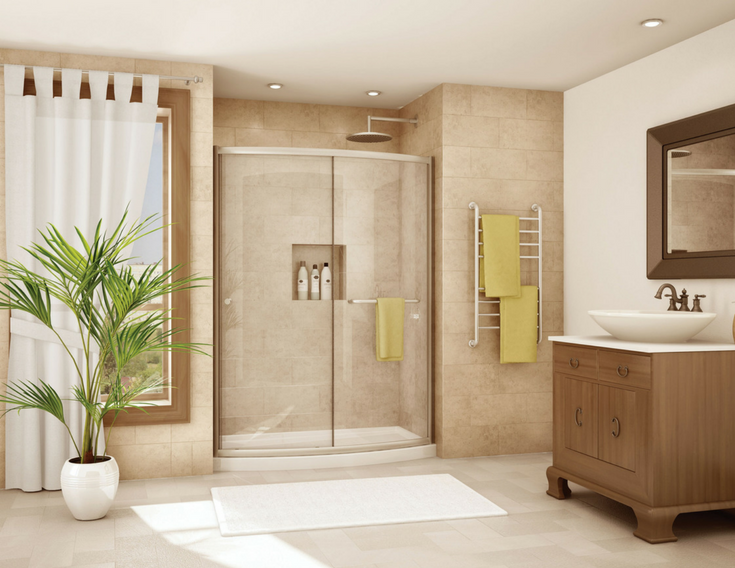 Instead of choosing a tile shower pan, use a solid surface base if you want to do a curved glass block shower. They come in 51 colors and have textured floors, so they aren't slippery. If you're asking, "Mike – will they be more expensive than the tile base?" The simple answer is – in the short-run yes. However, in the long run you won't have to worry about the base cracking or leaking, or spending time hiring 'Mr. Grout Joint Cleaning Dude' (the new-fangled grout joint cleaning franchise) to waste your afternoon and money cleaning dirty, moldy joints.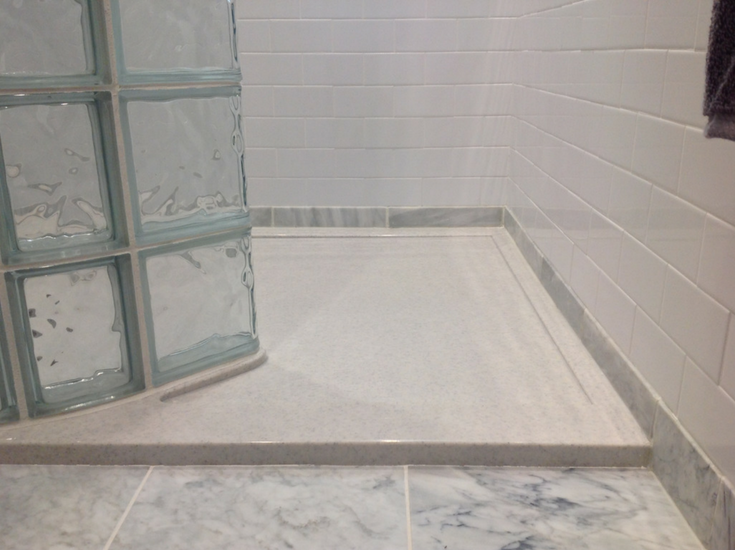 And if you want to get a solid low profile shower pan quick – and can't wait 12 weeks to get it – check out this low profile pan below which is AVAILABLE FROM STOCK (by January 2022)!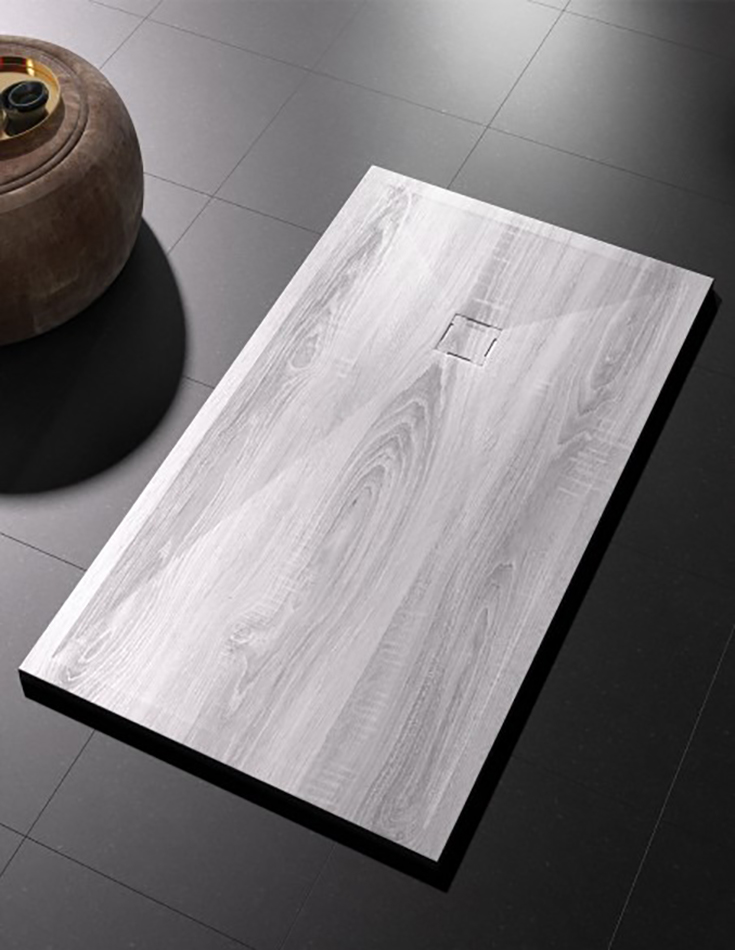 Shower pan blunder #6 – You decide to DIY using a 'component based' tile shower system when you could get a ready to install option 
What would you rather work with:
1) A shower where you're installing a sloped shower pan and then installing a curb component next to it or…
2) One where everything is all in one unit?
If you're like most when it comes to DIY remodeling, the less components the better. Anyone who would rather be spending more time putting their shower pan together than golfing or hanging out with friends needs counseling.
How to prevent shower pan blunder #6 – It's simple to order a waterproof ready for tile shower pan to eliminate the hassle of joining the curb component to the shower pan. Ready for tile bases come in all shapes and sizes and work with various types of glass enclosures. They are lightweight and straightforward to install.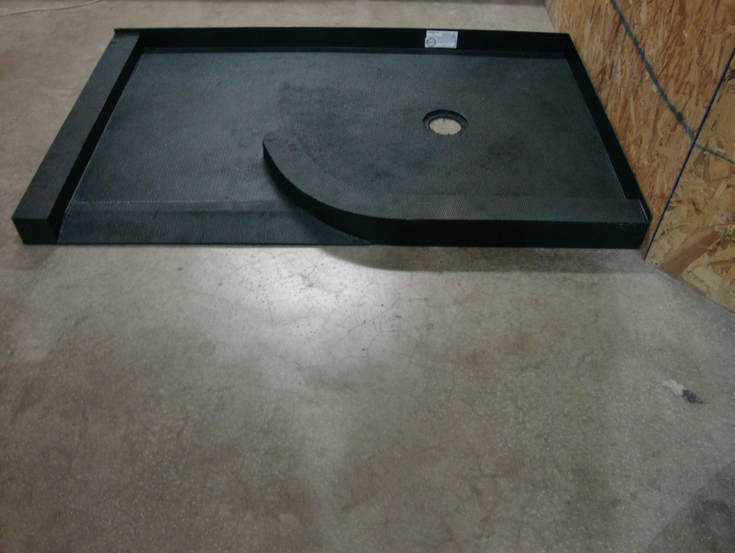 Shower pan blunder #7 – You buy (or build) the shower pan before you figure out the shape or type of glass (or glass block) you're going to use.
You wouldn't pour concrete or have a mason build your basement foundation if you hadn't planned the 1st and 2nd floor levels. You obviously want the upper floor levels to fit exactly on your foundation. This same logic is true with a shower pan.
I've seen people who've bought a standard fiberglass shower pan with a 2" wide curb and then call to do a glass block shower wall (which is 3 1/8" wide). The block wall will not fit onto the curb depth.
I've also seen homeowners who have wanted curved glass walls, but the curvature of the base they've built did not fit the curvature of the glass. This is a HUGE problem.
How to prevent shower pan blunder #7 – It's not hard to solve the shower pan shape problem when (using a borrowed version of the Stephen Covey quote) you 'begin with the glass in mind." Determine the shape and type of glass you want to use. For example, if you love the colors and low-maintenance aspects of glass blocks (which cannot be cut) you'll want to work with a glass block shower designer to help with a layout before building or buying your base. What's nice is then the shaped glass wall can be designed to fit like a glove with either a solid surface shower pan or a ready for tile one.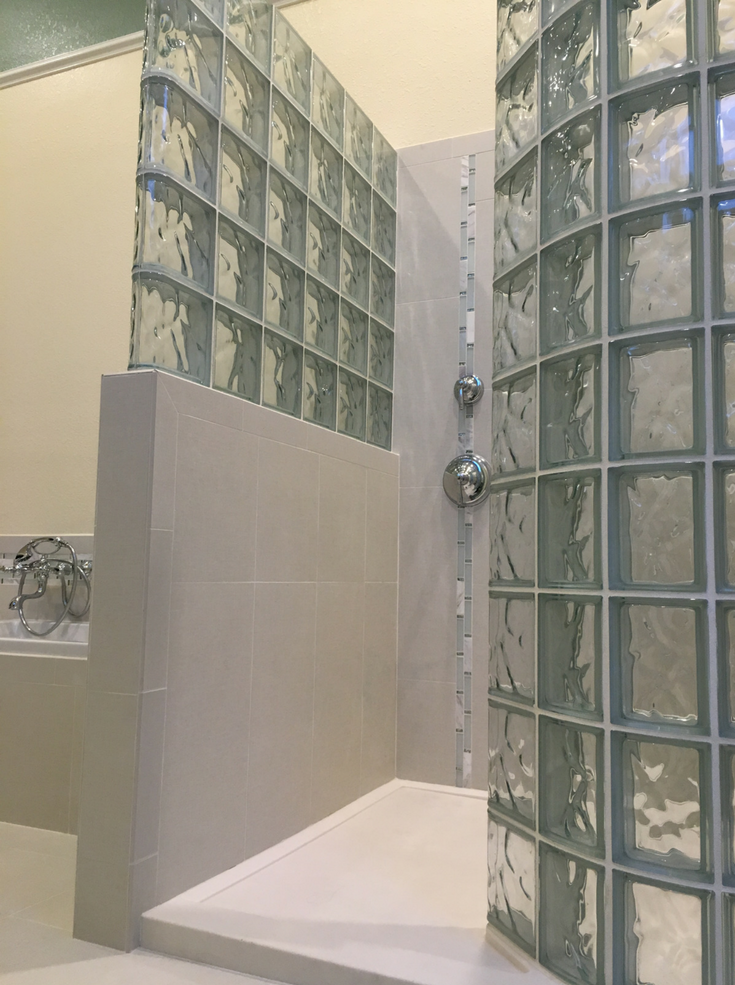 Bonus – Shower pan blunder #8 – You have NO IDEA how much shower pans can cost
If you're not made of money (as Dad used to say), I get it – and can respect it. Most of us don't go to work for the 'fun of it.' We need to earn a living to afford a nicer home and provide for our families. So, one of the challenges you can have in choosing a shower pan is to get 'all excited' about a certain type of pan and then have your hopes dashed when you find out how truly expensive they are. That's why I will be providing (and adding to the section below) articles about the cost of shower pans. You need to be grounded (no shower pan pun intended), so you invest in the best pan for you.
How to prevent shower pan blunder #8 – The best way to deal with potential shower pan sticker shock is to get cost information BEFORE you do too much research. And there's nothing like finding out you wasted a lot of your time. That's why in the area below I'll provide links to articles about the cost of various types of shower pans. The one I finished thus far is the cost of cultured marble shower pans and cultured granite shower pans. When the other articles are done, you'll get links to those as well.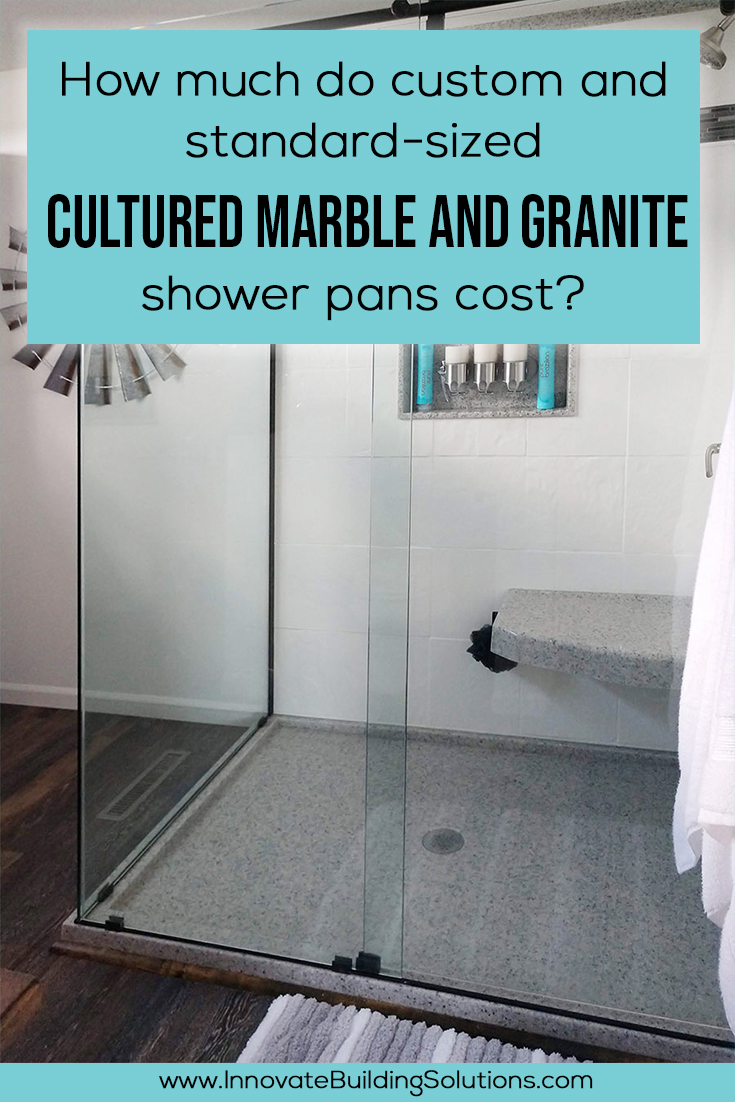 Conclusion
As I admitted up front shower pan selection, design and construction isn't exactly the sexiest topic going in bathroom remodeling. However, the failure to give the 'foundation' of your shower enclosure it's due, can have nasty consequences. A lack of focus on your shower pan can result in having to 'remodel your remodel' or unnecessary scrubbing or maintenance.
I hope identifying these 7 shower pan blunders (and the tips to make sure they don't happen to you – along with the bonus blunder #8) are useful for you in your next shower remodel.
To get more input and nationwide wholesale pricing on standard or custom shower pans call the numbers below and/or read 5 Tips for a Champagne Shower on a Beer Budget.
How can I (or a member of my team) help you?
If you're struggling with a bathroom or shower remodeling project I (and my team) would love to help. For assistance and factory-direct product supply of grout free shower wall panels, shower bases and glass enclosures nationwide contact Innovate Building Solutions at 877-668-5888. For a bathroom remodeling project in Northeast Ohio call Cleveland Design and Remodeling at 216-658-1270 or The Bath Doctor in Columbus at 614-252-3242.
If you're a remodeler or builder and want practical advice on remodeling products, industry trends, marketing and sales tips to grow your business (and cut day to day hassles), start reading my newest blog – Innovate Builders Blog. It's packed with ideas you can use now. Click here to Sign Up for the Innovate Builders Blog.
If you want to connect with me and/or learn more about remodeling, but don't want to put up with my wacky humor (I get it). Follow me on Twitter @Mike Foti, or my companies @InnovateBuild or @InnovateHomeOrg.
---
Mike Foti
President of Innovate Building Solutions a nationwide supplier and regional (Cleveland and Columbus) remodeling contractors. Some of our product lines include glass counters, floors, backsplashes, glass blocks and grout free shower and tub wall panels
---