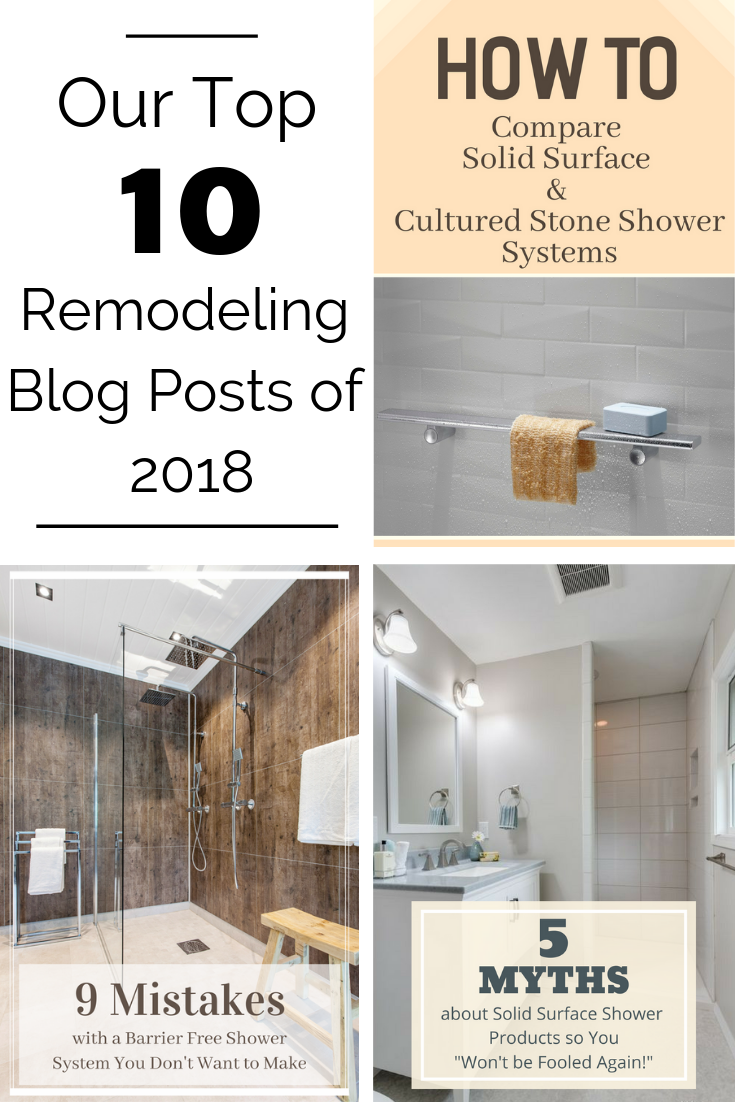 Updated March 31, 2019
2018 was another record-setting year for traffic on our remodeling blog. Thank you for reading (and hopefully learning) from my articles.
From the top 10 remodeling blog post list this year it doesn't take a guy with 'Genius-bar' intelligence (This would not be me, but I'm also not sold those Dudes and Dudesses at the Apple Genius Bar are really geniuses either – but I digress!) to figure out you're frustrated with your bathroom. Here's some of the key interests you had in the top-ranked posts this year:
You don't want to repeat the mistakes of the past – Although you want to upgrade your bathroom, you don't want to mess up and repeat other's mistakes. Our #2 and #5 most popular posts tackled the problems with shower systems and bath remodeling and the most common mistakes and blunders.
You want products which allow you to chuck your scrub brush – If anything is obvious from this year's top posts, it's while you may LOVE tile, you HATE the grout which comes with it more. This fact explains your fascination with articles about grout free products like laminated wall panels and solid surface and cultured stone showers (see top posts #3, #4, #6, #7 and #8).
You're looking for 'divine inspiration' to 'get you through' a bathroom remodel – While some talk about 'visiting the thrown' when using the bathroom, I wouldn't have thought people were looking to 'go to the mountaintop' to get bathroom remodeling input. However – this is exactly what happened in 2018. The top post – BY FAR – was The 10 Commandments of Bathroom Remodeling Success. While I won't claim to be Moses (or to have seen any burning bushes – other than fires I used to make with my Dad) this article struck a nerve with you.
So, without further delay let's get the top 10 list. I will do this in 'Johnnie Carson fashion' (for those of you not in the 'slightly-graying' set that would be from bottom to top).