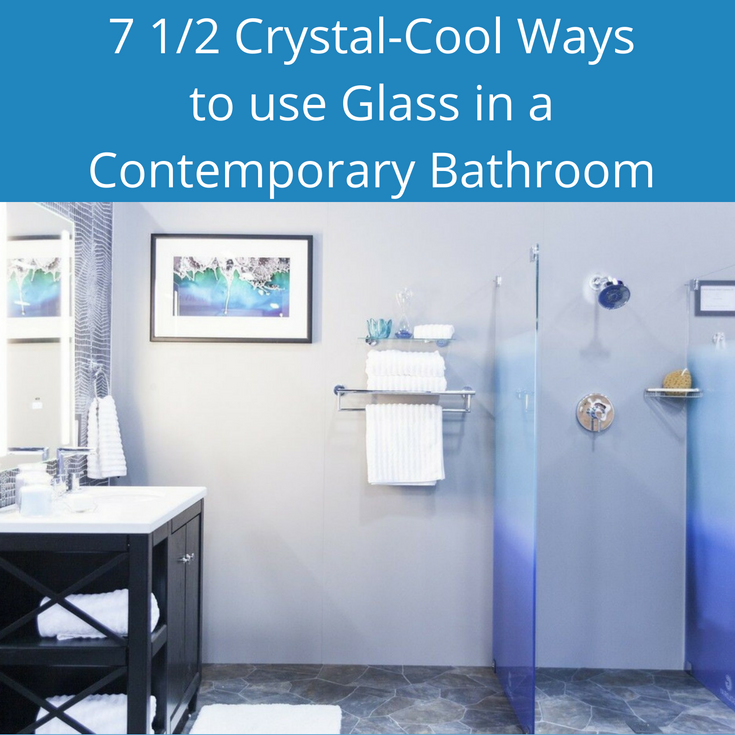 I'm a big fan of glass. Maybe it's because I've been involved with various products in the glass business since 1985 (wow – that makes me sound old!). The more familiar (and knowledgeable) I become about uses and properties of glass the more I love it. I am not alone in being a glass lover.
So why do we love glass? How does glass make our bathrooms not only functionally better – but provide a cooler design look as well? Most importantly how can you use glass in a bathroom to not only "live better" but "live cooler" – providing you with a sense of style to live to your fullest? In this article, we'll first take a quick peek into 5 benefits of glass in a bathroom. Then let's have some fun and check out 7 1/2 "crystal-cool" ways you can use glass to add some wow factor to your next bathroom remodeling project.
5 benefits of glass products in a bathroom
Glass has distinct advantages all its own. Here are some reasons people incorporate glass into bathroom designs:
It can move light and provide sight. A dark room, a dark shower is not only depressing – it can be downright dangerous. Walls isolate us, where glass opens spaces up. Transparent glass also offers expansive views through rooms and offers a "window" (yes – pun intended) to our outside world.
Its reflective properties can make a room "live" bigger. When light can literally bounce off the walls the space feels more open and lively.
Glass can give you energy. Just think how you feel on long, cold and dark days? If you're like me – more tired. A light filled space created by a glass shower, a partition wall or skylight (even with the light from the moon at night) can improve your mood. A brick wall just feels like – a brick wall.
It provides privacy and light. Just think about it. There are not many materials like translucent glass which give you the "BOGO" special (buy one, get one benefit free) of moving light through a space and providing privacy. In a bathroom -where we are showing our "hot" (or maybe not as hot as we'd like) bodies the idea of privacy with light is appealing.
Cool colors, textures, and illumination all in one material. Whether you want to live in a cool, clean minimalist world of simplicity and function – or in a bright colorful bohemian chic setting where patterns and colors collide decorative glass offers the opportunity to wow your world!
Now let's have some fun and check out ways to wow with glass in your bathroom. I'm warning you – some of these uses may surprise you, some may wow you and others you may say there is no way I'm using that! At the end of the article let me know which glass uses you're giving two thumbs up to, and which are definite downers.