11 Key Factors You Must Consider Choosing a Bathroom Vanity Countertop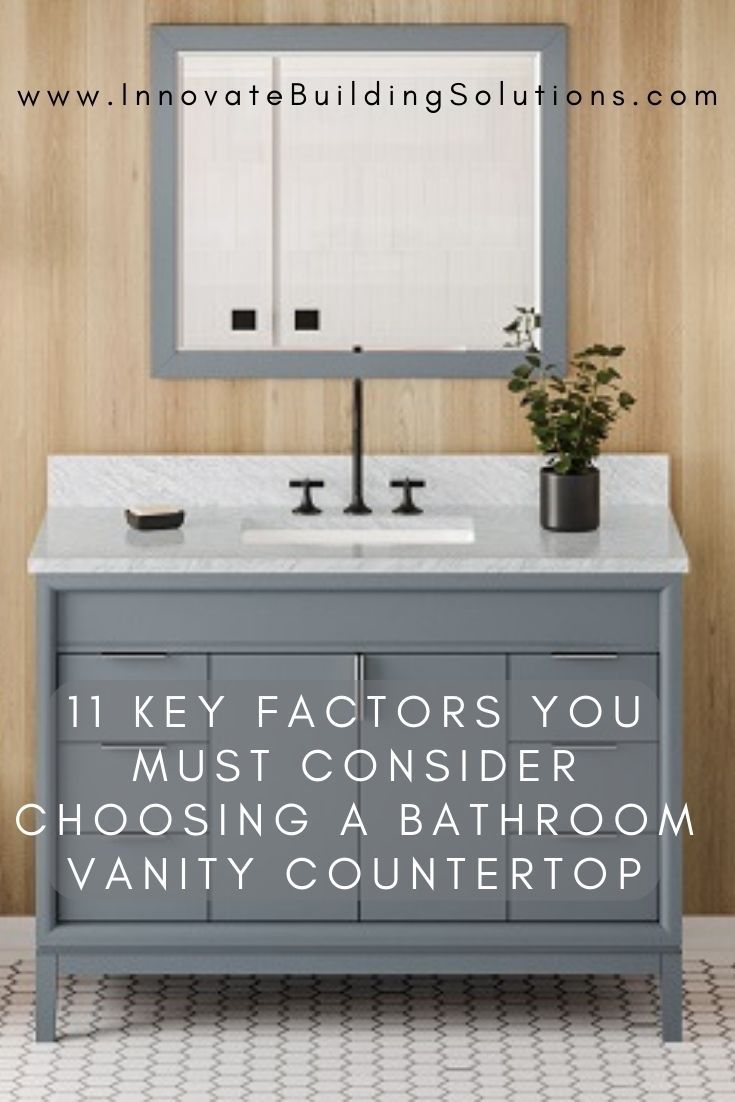 Evelyn complained to me, "Mike, when will these bathroom selections end! Yikes. I thought choosing a bathroom vanity would be simple and NOW you tell me I've got to figure out the right countertop as well?"
And I wish I could tell you Evelyn is the only person who struggles making selections in a bathroom remodeling project. However, bathroom products can be downright mind-blowing. And because the bathroom vanity is the only furniture piece in this space, you (just like Evelyn) want to get it right.
The question becomes first, what are the key factors in choosing a bathroom vanity countertop? And second, which of these factors are most important to you?
And while I can't help you with the second question, I will provide 11 key considerations to find the best vanity top for your new home or remodel.
Let's check them out.
Key Factor #1 to choose a bathroom vanity top– What's your budget?
Isn't this always the question? If only Bill Gates or Elon Musk had adopted you, and money was no object. However, since this is NOT the case, and because budget is important to you, it's smart to differentiate between low cost, mid-priced and luxury ('er high-priced) vanity countertops. Here's a breakdown of popular choices and where they fall on the vanity top cost scale.
Low priced vanity tops – Laminate vanity tops can be a sound choice when you must keep costs down. And laminate bathroom tops are a smart selection for a fix and flip home in a lower value neighborhood. If you want them to fetch big bucks in resale, you'd better think again and choose another option than laminate.
Mid-priced vanity tops – Cultured marble and cultured granite are popular mid-priced tops. They're readily available and durable – and won't set your budget back too far. Another mid-priced option (although they'll be higher priced than cultured granite and marble) are solid surface vanity tops. While they're more understated in the fashion department, they're durable and reasonably priced.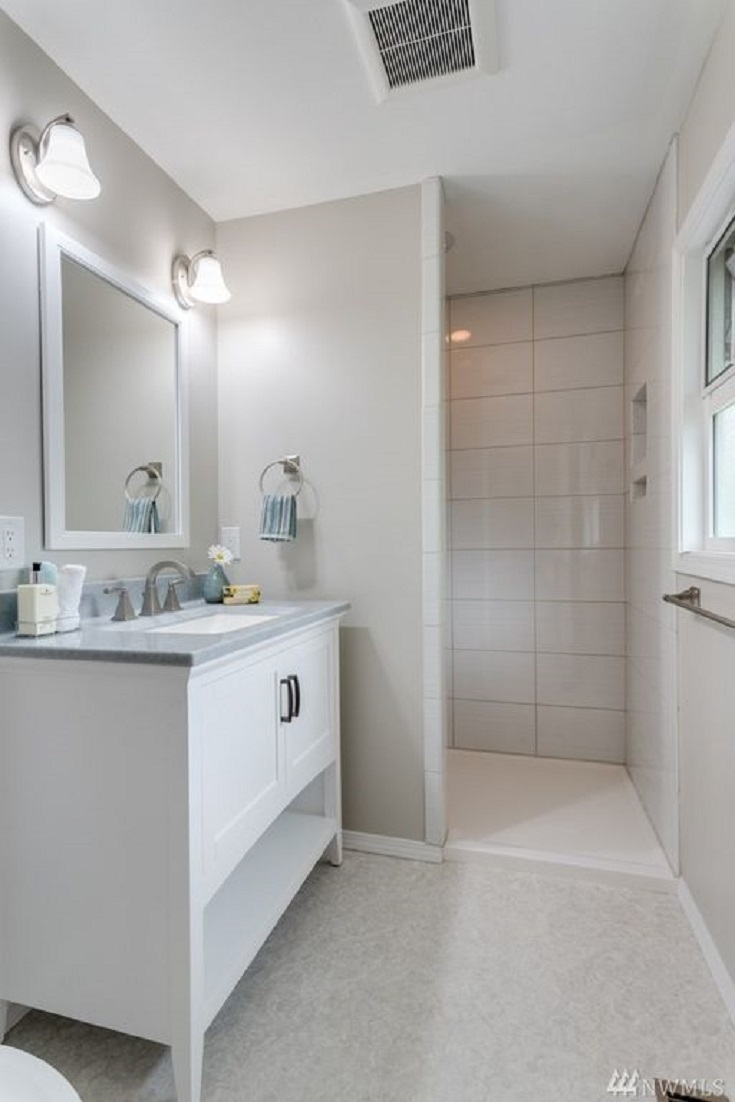 High-priced vanity tops – This is where the fun (and opulence) begins. Options like engineered quartz, concrete, marble, granite, glass, and even wood and recycled glass will give your bathroom the interior design magazine look (assuming you've got the budget).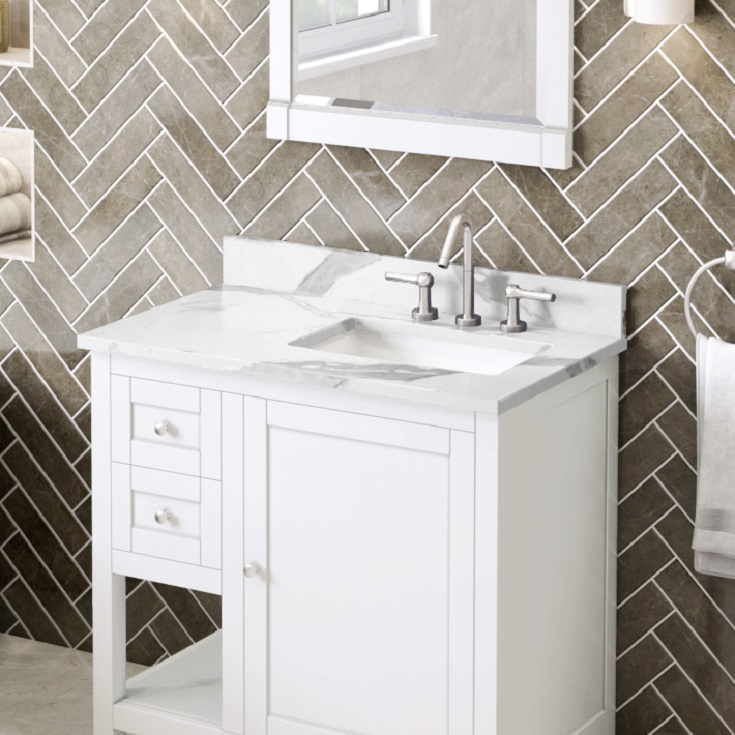 Key Factor #2 to choose a bathroom vanity top– Will this top be simple to maintain (since my maid and butler still aren't showing up for work!)?
If only you had a maid or butler to do all your cleaning. But your home – while nice – isn't the Ritz-Carlton where the bathroom's going to clean 'itself (or should I say the staff cleaning the vanity top will take care of it when you leave)!' And if you're the 'lucky one' (sarcasm intended) who gets to maintain your bathroom, you want to spend as little time cleaning your countertop as possible. In addition, you want to feel comfortable the top is stain-resistant.
And if low maintenance is what you're looking for, STAY AWAY FROM are porous tops. They're not only a pain to clean but can be a breeding grounds for bacteria (and if you're worried about these factors, don't use vanity tops made from tile with those water-absorbing grout joints).
If you're looking for tops which are simple to maintain, smart choices include engineered quartz (yes- they're pricey, but also simple to clean), solid surface, cultured marble and laminate (on the lower price end). And what's an uber-cool factor about cultured marble, solid surface and engineered quartz is it's possible to find prefabricated tops where the bowl and top are made as one piece.
Key Factor #3 to choose a bathroom vanity top– Do you like 'veining, flecks or solid colors?'
When it comes to bathroom vanity tops, beauty truly is in the eye of the beholder. And if you're one who loves the movement created by veining through your tops – a natural stone like marble can provide the pop and interest you're looking for.
On the other hand, if you like a more subtle, yet still stylish look – the flecks in a granite vanity top can be an intelligent selection.
For a monochromatic look – consider granite, cultured marble, or laminates (which are available in the widest array of colors).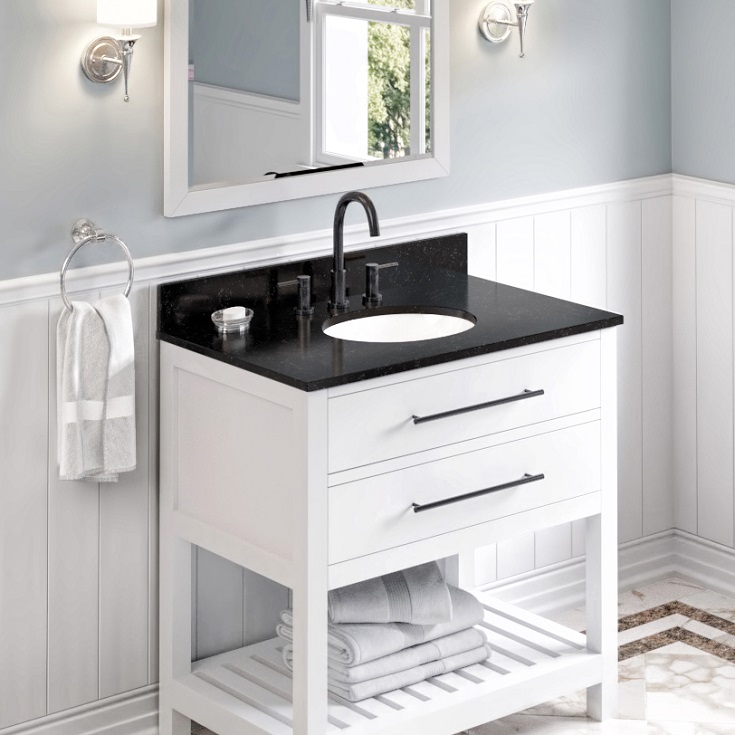 Key Factor #4 to choose a bathroom vanity top– Do you want 'wow factor' which cannot be denied?
Do you want to make an impact with your bathroom vanity countertop? Do you want it to be THE 'showpiece' of your bathroom? If so – here's a few choices which WILL blow the mind of people lucky enough to use your bathroom: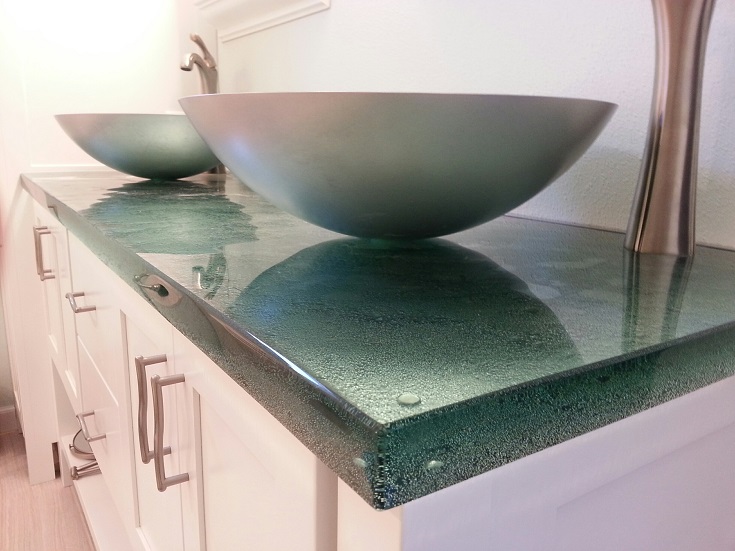 'Wow' top #2 – Live-edge wood vanity top – Sure this top isn't tops (OK – bad pun intended) when it comes to maintenance – but its uniqueness earns it major style points.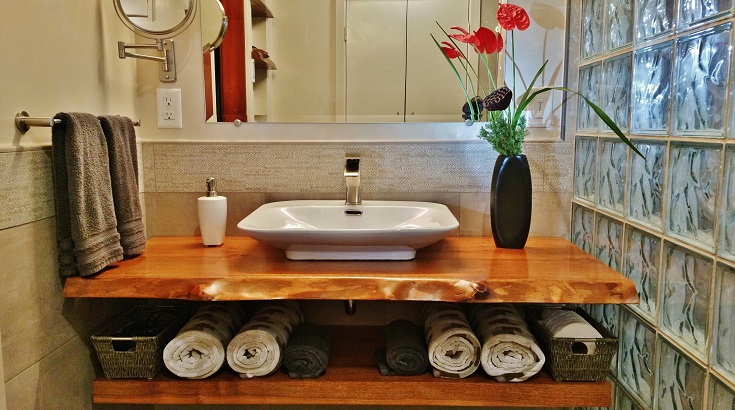 Wow top #3 – Recycled glass – These tops not only score high on the sustainability scale, but also add style and interest to any room.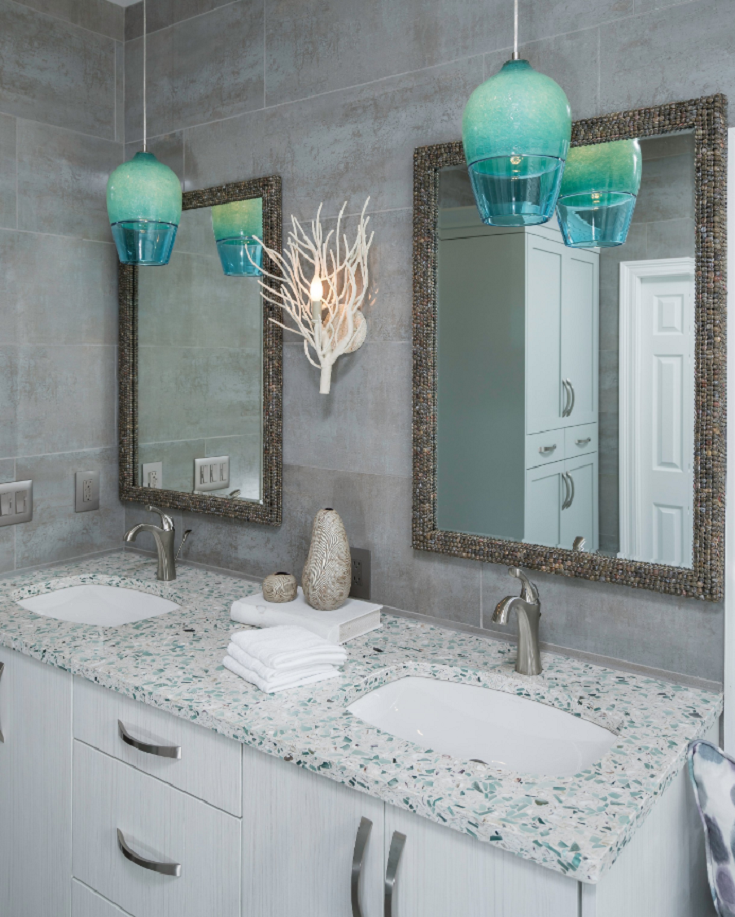 Image Source: Vetrazzo Blog
'Wow' top #4 – Engineered quartz – This top is not only easy to maintain – it's got a boldness which is unmistakable.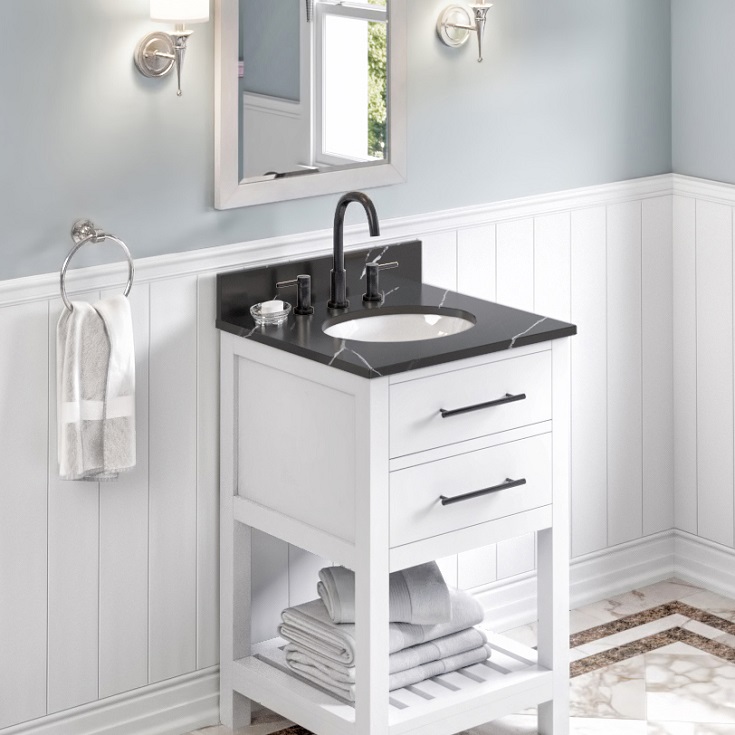 Key Factor #5 to choose a bathroom vanity top– Do you want a traditional look?
Maybe you want a classic look for your traditional home and need to find the right vanity top.
If so – on the lower end of the price scale, you'll find cultured granite vanity tops.
Climbing up the price ladder a sound choice is a porcelain tile vanity top.
And on the tops for look (and unfortunately for price as well) would be natural marble top like a classic white Carrara marble vanity top.
Key Factor #6 to choose a bathroom vanity top–Do you want your vanity top to match your shower pan?
For those who HATE, HATE, HATE making selections and want everything to match so you can be done making choices, a vanity top which matches your shower pan can be the 'bomb-diggity' as my son Parker used to say.
And while this 'matchy-matchy' strategy 'ain't happenin' if you choose a glass, wood, or laminate countertop (those aren't popular materials for shower floors – ha! ha!), there are smart choices where you can 'kill 2 birds with one stone.' (And as a side note, don't you just HATE that saying? Who wants to kill birds anyway? Especially killing 2 at the same time! However, I digress).
Materials where you can match your shower pan with your countertops include cultured marble, cultured granite, and solid surface.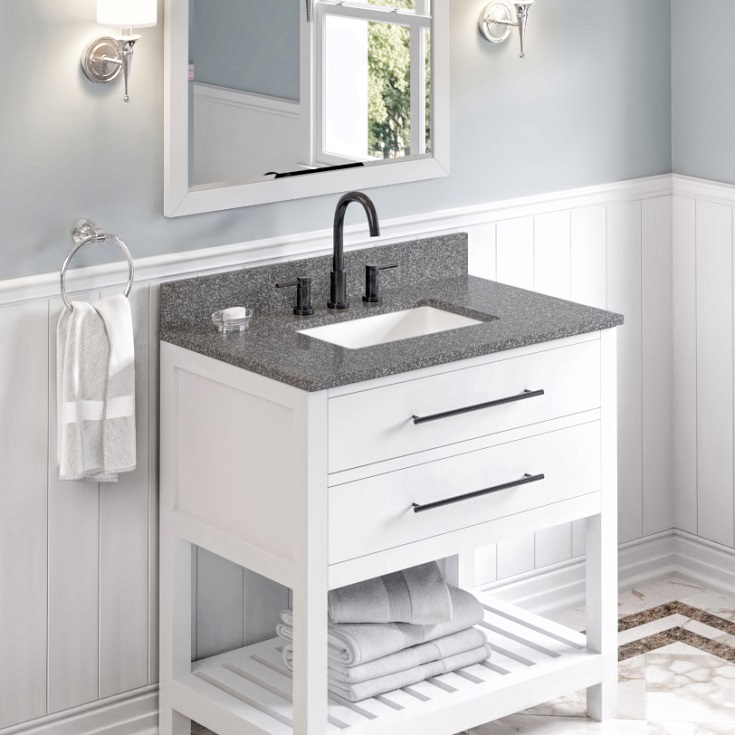 Key Factor #7 to choose a bathroom vanity top– Can I do a DIY the installation with this vanity top?
As you might have guessed not all tops are the same when it comes to ease of installation. If you're looking for a top which is simple to install, ask the following questions of your potential vanity top supplier:
Question #1 – How much will this top weigh? The heavier the top, the more you'll need extra 'hands' helping you install it.
Question #2 – Is the top and the bowl one integral unit? When you get a top which has the bowl built in as one unit – you'll have one less thing to do ('er installing the bowl). This is always nice.
Question #3 – Have pre-installed anchor nuts been added to the underside of the top? This will make adding the bowl easier and eliminates the worry of damaging the top when attaching the bowl.
Key Factor #8 to choose a bathroom vanity top– Could this top add light to my bathroom?
Now this is a benefit of a bathroom vanity countertop I'm sure most people don't realize is a possibility. But when you use a glass vanity countertop you can actually light it with LED. The top becomes a vehicle to add light (and certainly 'wow factor'). You'll have a one-of-a-kind bathroom.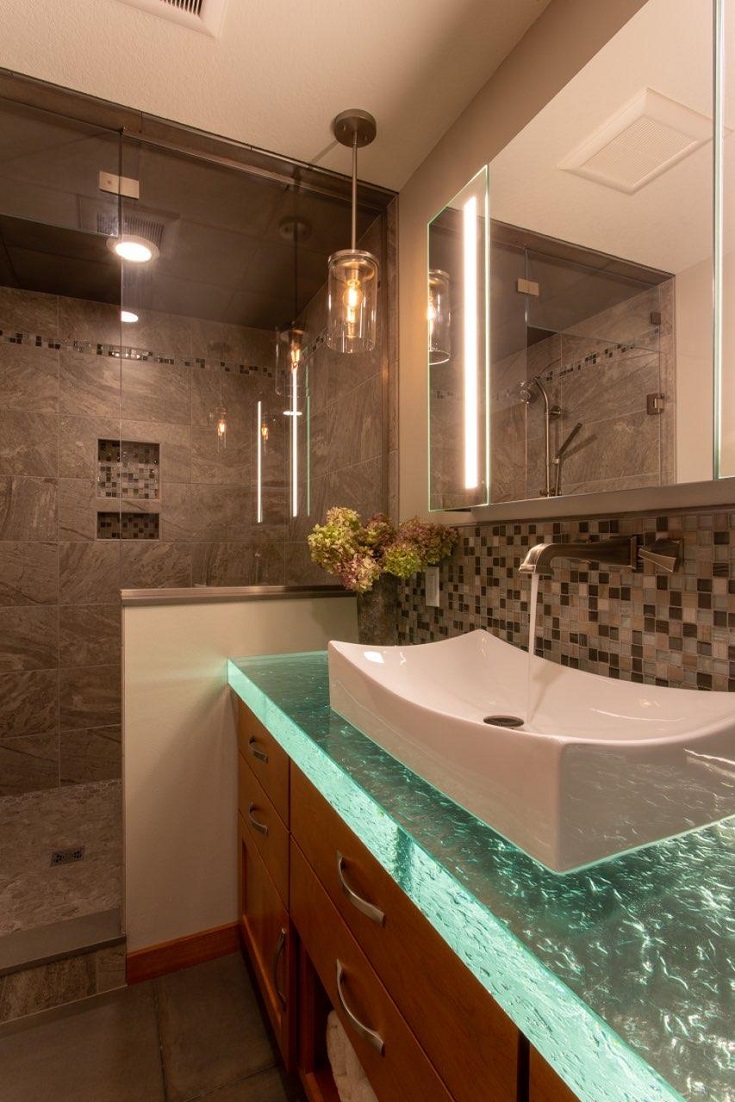 Key Factor #9 to choose a bathroom vanity top– Can I get this top in a reasonable length of time?
OK – I've got a question for you. How many people ever used the term 'supply chain' before the pandemic? I'll bet less than 10% (in my 'unscientific survey') even knew the term 3 years ago. And now…. UNFORTUNATELY…. all we hear about is supply chain problems, at the grocery store, at the department store, you name it.
And even if you find God's gift to bathroom vanity tops, if you can't get the product timely (either because the custom lead time is too long or there's very few people who make them) and it's going to delay your job, then the top may be a bad choice for you.
It's nice to know there are in-stock bathroom vanity programs where you can get over 4,000 vanity cabinet, top and bowl combinations shipped in 1 to 2 days. It's nice to know if you need a stylish top in a short period of time, it's not impossible to get the best of both worlds (quality and a timely delivery).
So – if lead times important, make sure you know you can get the top in a reasonable lead time BEFORE you hand over your credit card.
Key Factor #10 to choose a bathroom vanity top– Does this top look realistic?
While there have been many advances in 'faux products' (like faux laminate tops which look like marble, granite and even leather) – they're still faux and NOT the real-McCoy.
For a realistic look, you'll want tops made from natural products. And although natural products have their weaknesses (they require more maintenance and tend to be softer than man-made materials), they also have their charm. For wonderful natural look options include:
Marble
Granite
Limestone
Wood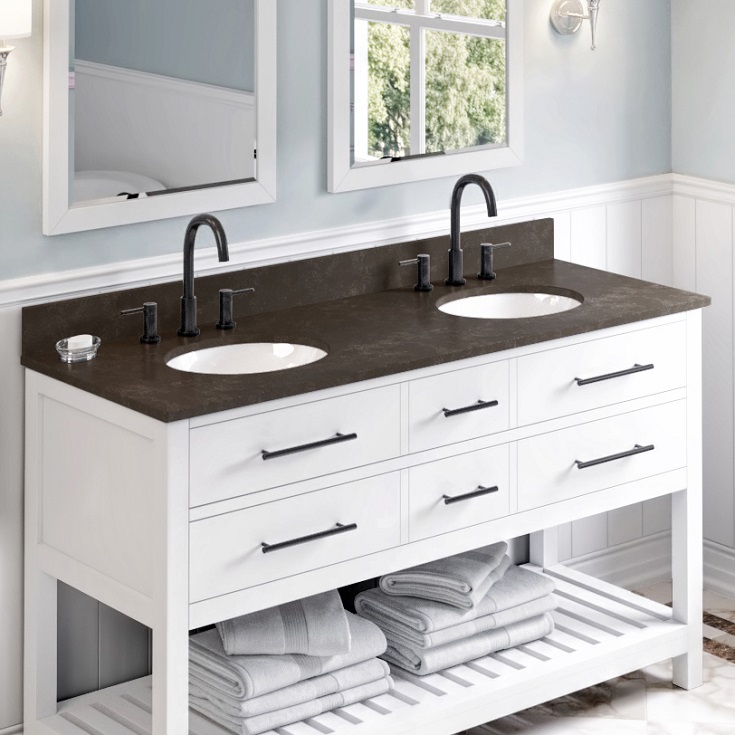 Key Factor #11 to choose a bathroom vanity top– Is this top durable and tough?
Who wants a top which can be dinged (wood), or chipped (laminate) or is more porous (limestone).
If you're looking for tough tops, 'man-made' countertops like engineered quartz or solid surface rule the day. They're repairable, they're durable and highly resistant to scratches.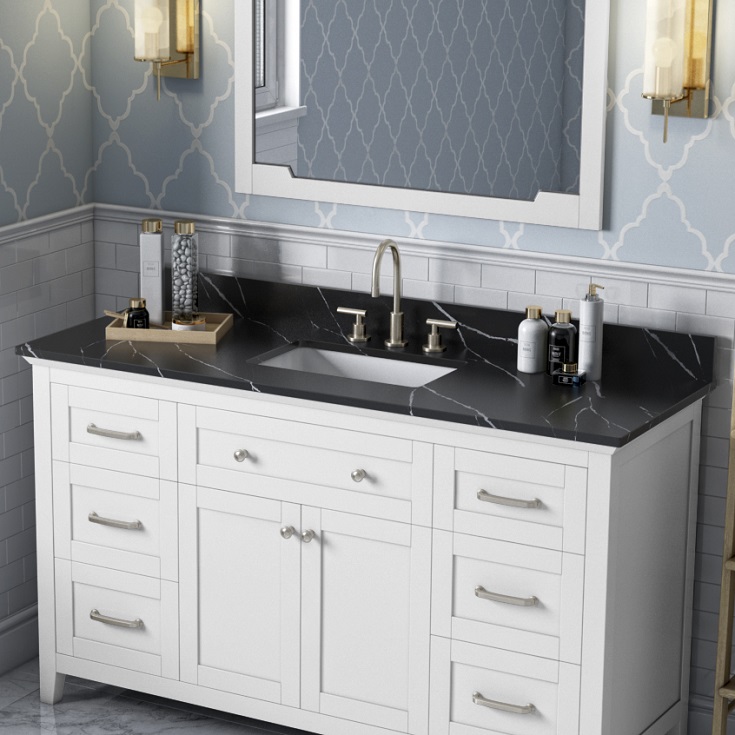 So, is one vanity top the clear winner as the best choice for your new or remodeled bathroom?
I hope I didn't blow your mind looking at the 11 key factors in choosing a bathroom vanity top. However, if you're still struggling selecting the right top, I'll give you two pieces of advice:
#1) Pick the top 3 to 5 factors which matter to you from the 11 discussed above. Then focus on the vanity top which 'scores' well on those factors.
And lastly if you're struggling to find a bathroom remodeling contractor outside of Ohio, ask for a referral through our contractor dealer network.
Thanks for reading (and putting up with my wackiness)– Mike
###
If you want more advice follow me on LinkedIn @MikeFoti.
And if you're a bathroom remodeling contractor interested in being a dealer of unique shower wall panels, shower pans and glass shower door systems or purchasing our quality shower kits, call 888-467-7488 and ask for Mike.
---
Mike Foti
President of Innovate Building Solutions a nationwide supplier and regional (Cleveland and Columbus) remodeling contractors. Some of our product lines include glass counters, floors, backsplashes, glass blocks and grout free shower and tub wall panels
---