17 Signs its Time To Remodel Your Old Bathroom (with ideas to NOT spend a fortune in the process)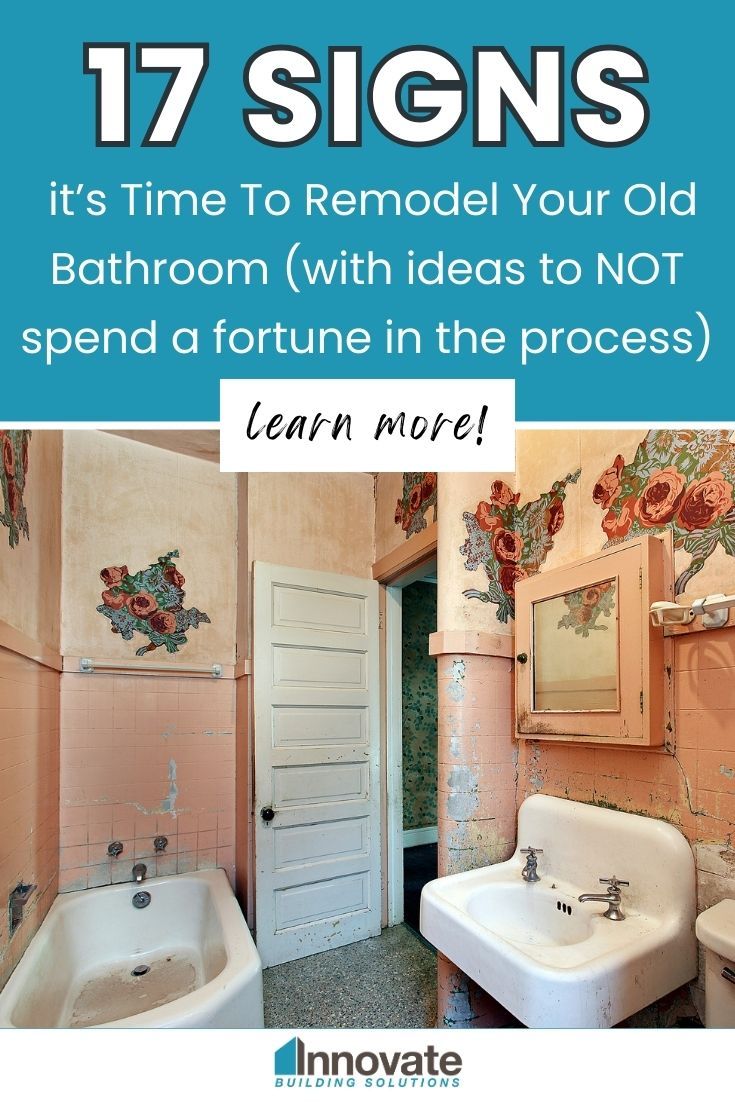 Are you familiar with these challenges:
Challenge #1) The function of your bathroom leaves A LOT to be desired.
Challenge #2) Your bathroom was fashionable 10, 20, or 30 years ago. However, today it IS NOT winning any fashion awards.
Challenge #3) While you realize (given home prices and mortgage rates) a new home is not in your budget, now more than ever you'd like to convince your partner to remodel. However, you're not sure how to do it, and how to make it cost-effective enough so they won't shut down the idea.
And given these challenges my goal in this article is not only to identify the signs ('er problems) which make a bath remodel necessary, but also to provide practical ideas to get the project done even if you don't have an Elon Musk or Bill Gates-esque budget.
And frankly the more signs (problems) you have, the more critical it is to get 'er done now…. because as you know, remodeling material and labor costs aren't going down.
So, let's look at 17 signs you need to remodel your bathroom with ideas to NOT spend a fortune in the process.
Sign #1 you need to remodel your bathroom– You (or a family member) are struggling climbing over the tub or stepping over a high shower curb
The #1 place falls occur (which lead to hospital stays) is in the bathroom. And because of this, a popular project is a bathtub to shower conversion. So, if your tub or shower are an accident waiting to happen, this can be a motivating factor to prioritize a bath remodel AND to use a low profile shower pan.
And while I certainly would NOT recommend buying the cheapest low profile shower pan (because if your shower pan fails, you'll have a big bill repairing everything which is installed above the pan), you still need a safe and sturdy pan.
And in order to do this look at contemporary reinforced acrylic bases or cultured stone shower pans. They won't be the most expensive, nor the cheapest on the market – but they will stand the test of time.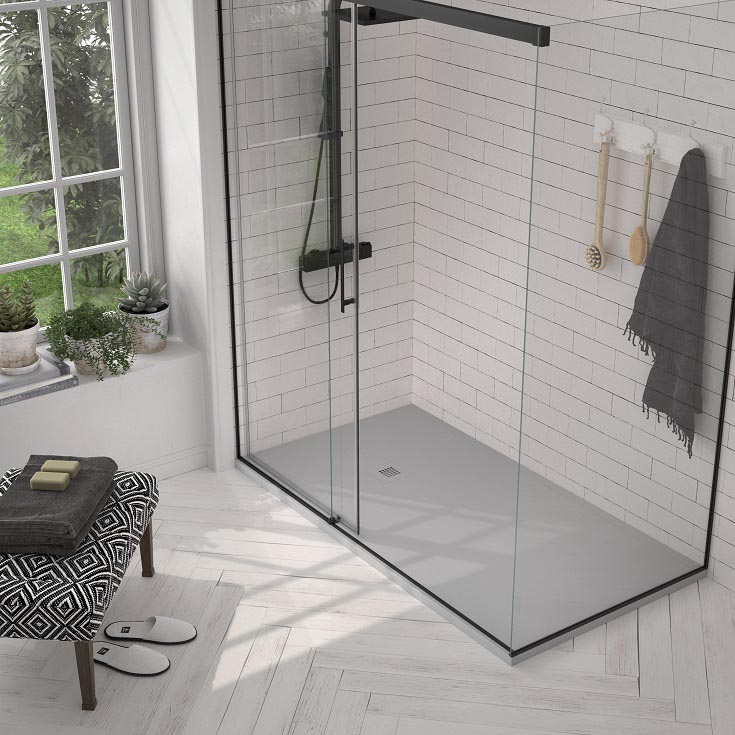 Sign #2 you need to remodel your bathroom– Mold is growing and you're on a first name basis with the Grout Medic technician
Tile showers look FAN-TAS-TIC the day they're installed, however it's often downhill from there. The grout joints get dirty, moldy, and disgusting. This requires you to either (a) become an expert in the art of scrubbing tile joints (boy, some people have the life) or (b) spending money on Grout Medic technicians to clean or redo your grout.
And ugly, moldy grout joints are certainly a sign you need a bath remodel. To get rid of tile (and it's ugly stepbrother the grout joint) – without spending a ton of money – use grout free wall panels. And if you don't want them to look cheap and plasticky, stay away from fiberglass and acrylic and look for options like laminate wall panels.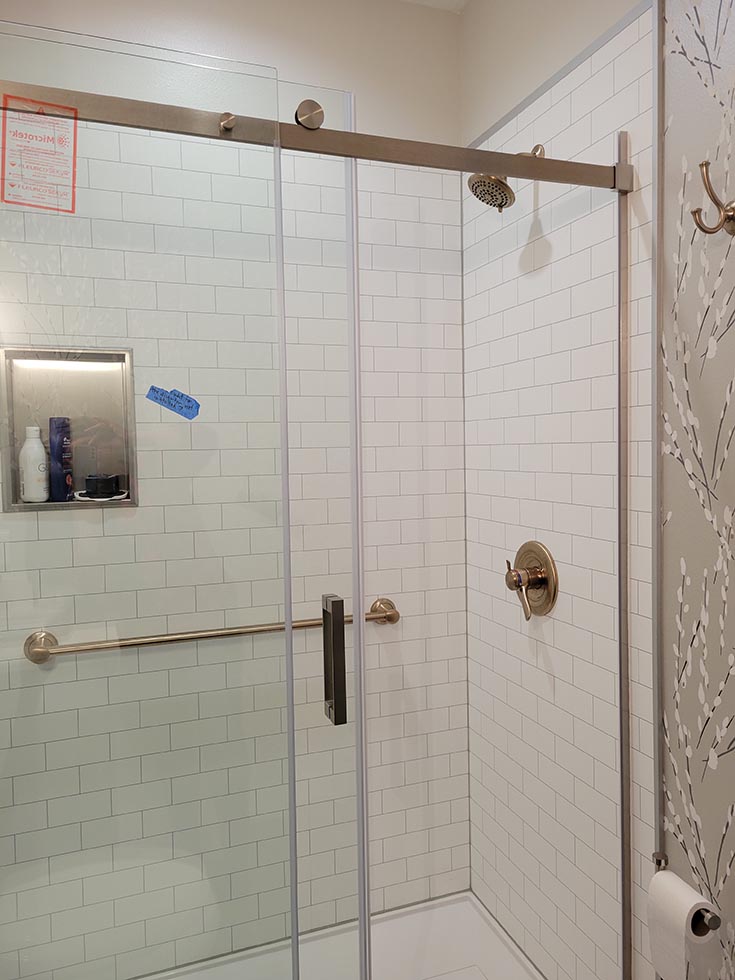 Get Free Samples!
Click here to request free samples of our Laminated Waterproof Shower Wall Panels.
Sign #3 you need to remodel your bathroom– Your vanity 'storage' system makes you want to SCREAM!
If opening the doors and drawers (if you have them) in your vanity cabinet are infuriating because it's a bunch of stuff jammed into a deep, dark box, you're not alone.
Most vanity cabinets lack pull out drawers so you can see in the back. It's like your kitchen pantry where you have expired cans in the back because you can't see what you have.
And if you've ever shopped for vanities, you know you can go 'cheap-cheap' with stapled together, particle board cabinets from the home centers. However, they won't last long. So, if you can't spend a ton of money – but also don't want to buy junk – a way to solve your vanity storage problem is to look for standard sized vanities (not custom sizes) which are built better. To improve your storage (and cabinet quality) look for vanities slide out drawers with dovetail construction.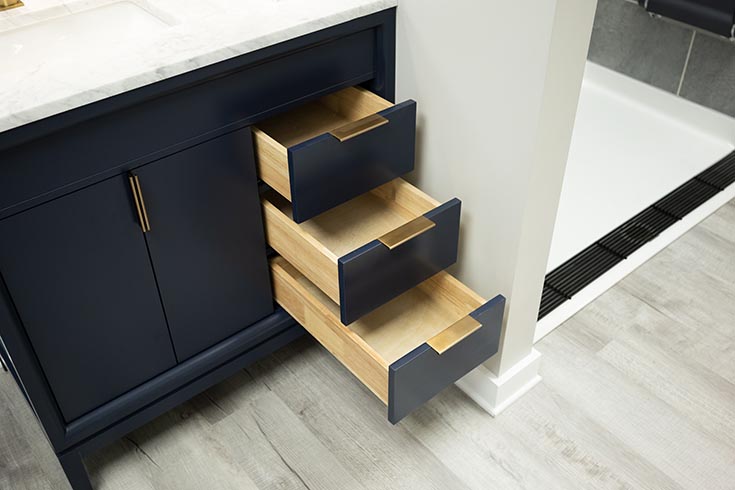 Sign #4 you need to remodel your bathroom– Your store bought cabinet is falling apart.
Bathroom vanity cabinets live in wet environments. And if there's one thing about wet environments, they chew up and spit out cheap wood. And if your particle board cabinets are hanging on by a thread, this is a hint a bathroom remodel could be in your future.
Replace particle board cabinets with bathroom vanity cabinets from hardwood construction.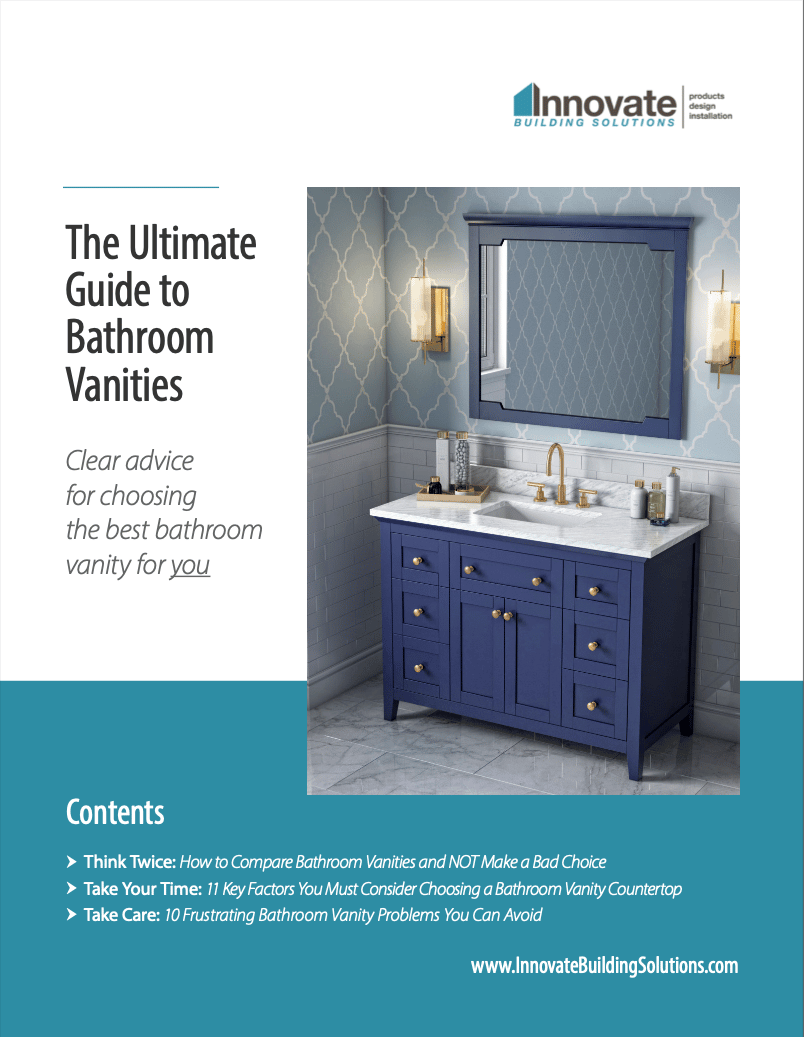 Get Our Bathroom Vanity Guide!
Clear Advice for How to Choose the Vanity for Your Dream Bathroom!
Sign #5 you need to remodel your bathroom– Your countertop is stained, dented, or has high maintenance grout joints.
Let's face it, your bathroom vanity countertops take a beating. And if you have kids – or a not very neat (OK – this is the P.C. term for they're a SLOB) spouse or partner, you know keeping the countertop clean and stain-free is challenging.
And if the counter is already stained, burned, or has dirty grout joints it may already be too late to fix it.
So, if you want a nice-looking, yet not super expensive bath vanity countertop what's a good option? Well – a popular choice are cultured granite vanity tops. They're durable, non-porous, and friendly on the wallet.
Sign #6 you need to remodel your bathroom– The health and/or mobility of those using the bathroom have changed (or you know will be changing).
There's so much truth in the saying, the only thing constant is change. And when it comes to health and mobility you may wish you could go Back to the Future, but unfortunately this only happens in the movies!
So, if you're worried about your parents, or spouse climbing over a tub because they aren't as nimble, or tripping over a too high shower curb, this is a sign you need a bathroom remodel.
And one smart (and popular) idea is to do a bathtub to shower conversion. With this project you can lower the height to get in from 14" to 18" high (standard tub heights) down to 1"-3" high with a low profile shower curb.
And if you're looking to save money doing a tub to shower conversion look to purchase an alcove shower replacement kit. With these kits you'll get a sturdy shower pan (and even one with 2 tons of weight capacity!), low maintenance grout free walls, and a glass door in a kit with a lower price than buying these products separately.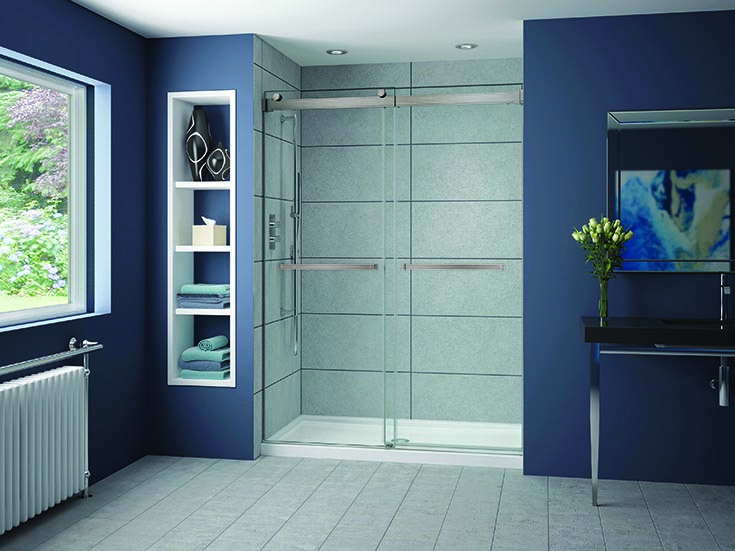 The Ultimate Shower Replacement Kit Guide
Clear advice on bringing your bathroom to the next level
Sign #7 you need to remodel your bathroom– Your bathroom WAS stylish, but certainly isn't today.  
Tastes changed in bathroom décor. And this picture below is an indication of that! Live "✋" below if you were a victim of a capert bathroom!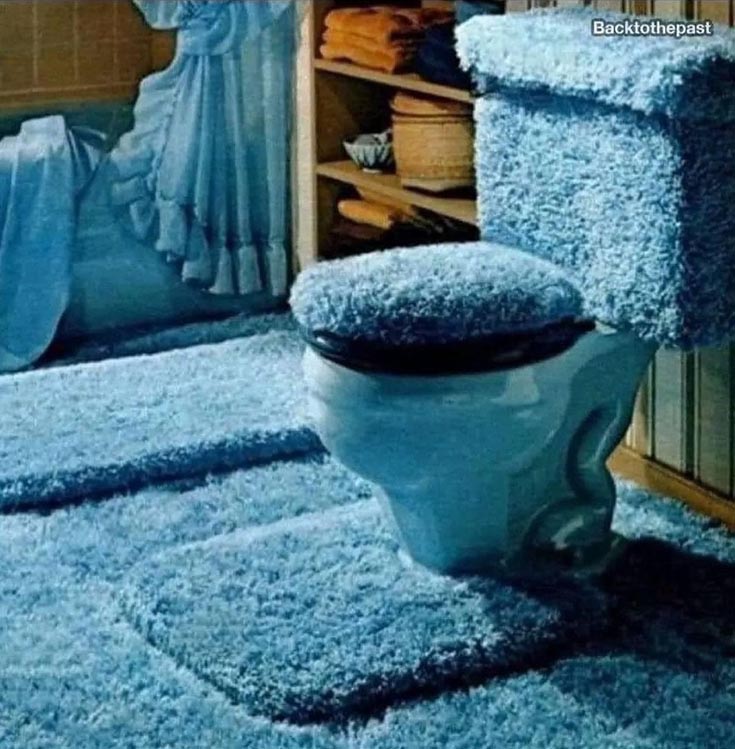 It's hard to feel good about using your bathroom if you feel like you're entering a time-warp every time you use it.
So, if you're looking to improve your look – but want to do it on a budget – the question is how make it stylish AND cost friendly?
Start with 3 key design features:
The vanity – Your vanity is often the only piece of 'furniture' in the bathroom. It'll drive the style. So, if you like contemporary, go with a flat door/drawer style. If you like modern farmhouse, a white shaker cabinet with matte black handles is classic and fits todays design styles. To save money on these cabinets read signs #3,4, and 5 above.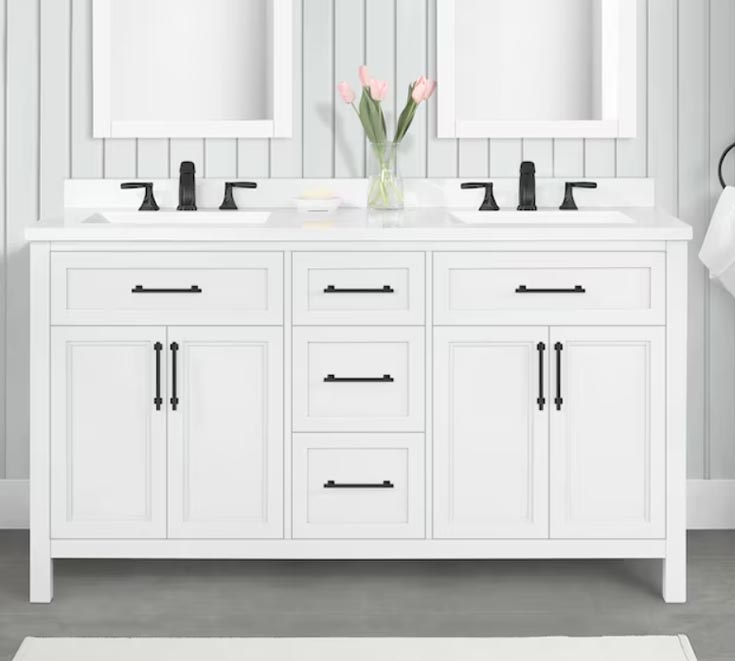 The wall surrounds – Since a good amount of real estate ('er bathroom space) is eaten up by your shower or tub, making a splash (pun intended)– without spending too much on your walls is smart. Unless you're DIYing the job (and your labor is 'free'), I'd recommend using grout free wall panels tile. They're simple to maintain, look stylish (if you don't choose cheap, plastic panels from a home center), and are far quicker to install (which saves labor costs).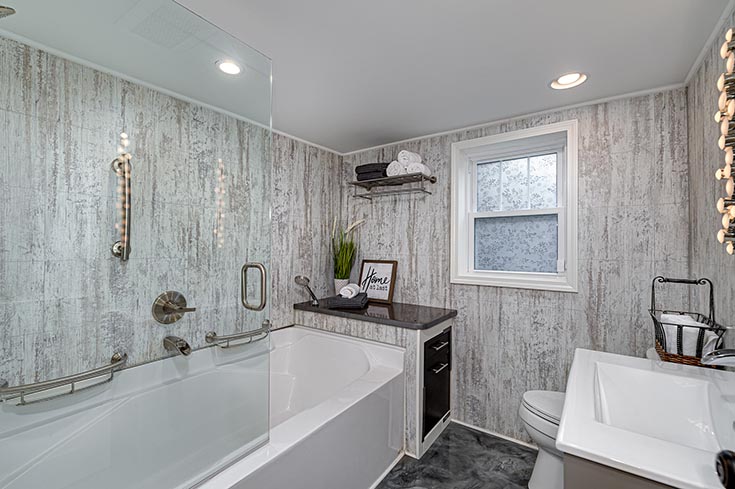 The flooring – Bathroom flooring is not only important for ease of maintenance, but also in adding style. And luxury vinyl planks are simpler to install, waterproof, and stylish.
Sign #8 you need to remodel your bathroom– You're tired of cleaning rickety glass shower doors.
Oh, the infamous (sarcasm intended) tracks on the bottom of old, rickety, bright brass or chrome shower doors your builder slapped into your home. Cleaning these doors is something you wouldn't wish on your worst enemy. The problem is it seems you're the one (unofficially) 'elected' (by process of elimination) to clean them. This is why replacing the shower door is often high on the list of reasons people want to do a bath remodel.
So, how can you replace the doors with something nicer and not spend a lot?
Start by looking for thicker, (but not too thick) glass shower doors. The moderate glass shower door thicknesses are ¼" and 5/16".
Then look for a semi-frameless door.
And lastly – but maybe most importantly – if you want a sliding glass shower door (which doesn't pivot into your already smaller-than-you'd-like bathroom), then make sure there's no tracks at the bottom of the door.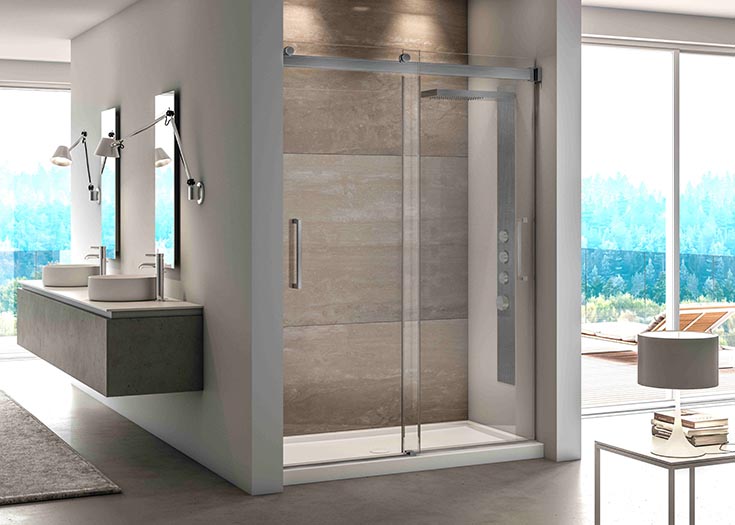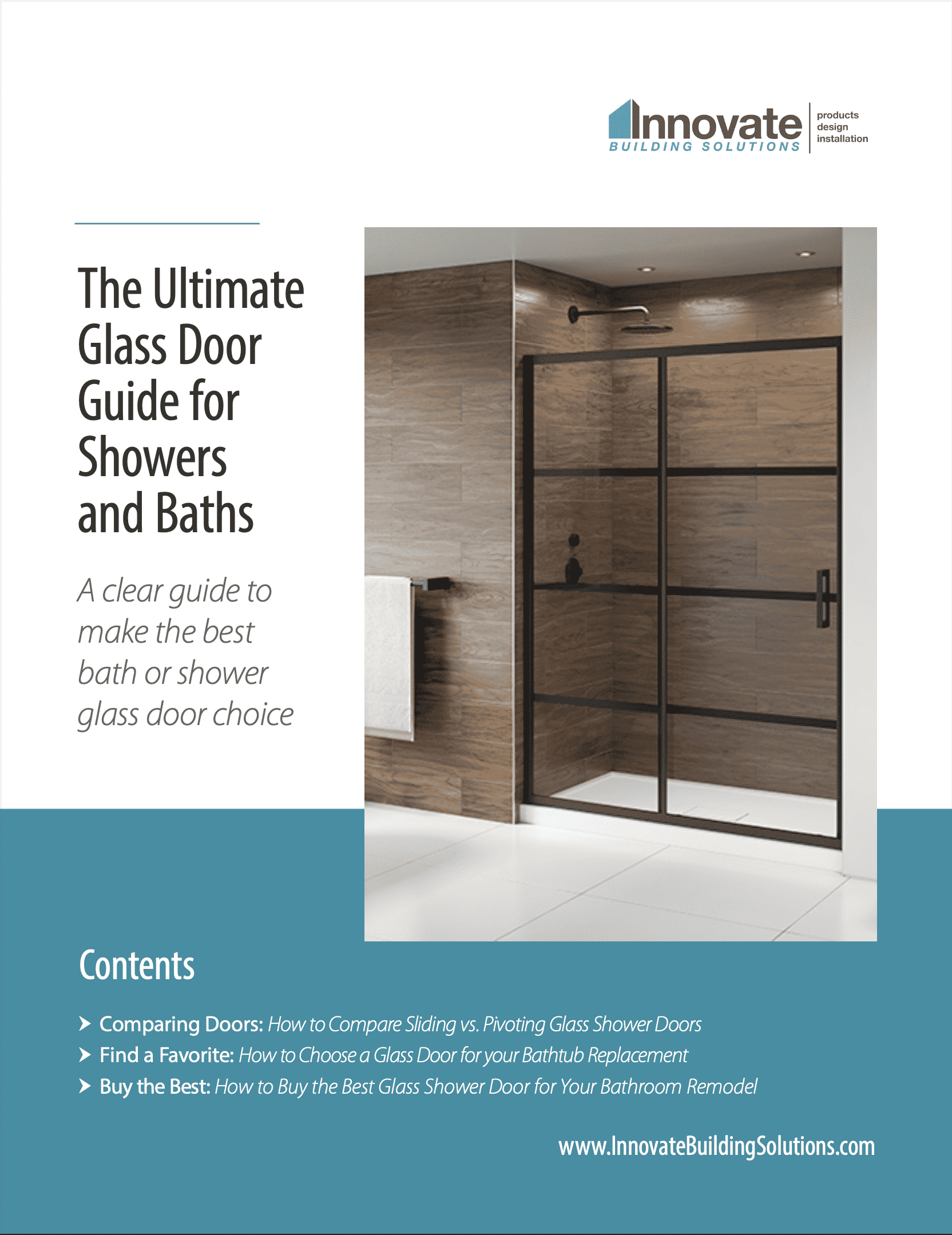 The Ultimate Glass Door Shower Guide
A clear guide to making the best bath or shower glass shower door choice
Sign #9 you need to remodel your bathroom– You don't have a good (or safe) place for medicines.
If you have kids (or grandkids) you worry about them ALL THE TIME! Will they play with dangerous chemicals in the garage – or get into your medicines and take a few…. just for fun?
And when your medicine are on your bathroom vanity top, they're basically there for the taking. So, how can you fix this problem?
Well, a smart way is with a wall hung medicine cabinet. These cabinets not only keep pills off the counter, but you can buy them with LED lights to make your bathroom safer as well (and more lighting is always a good thing).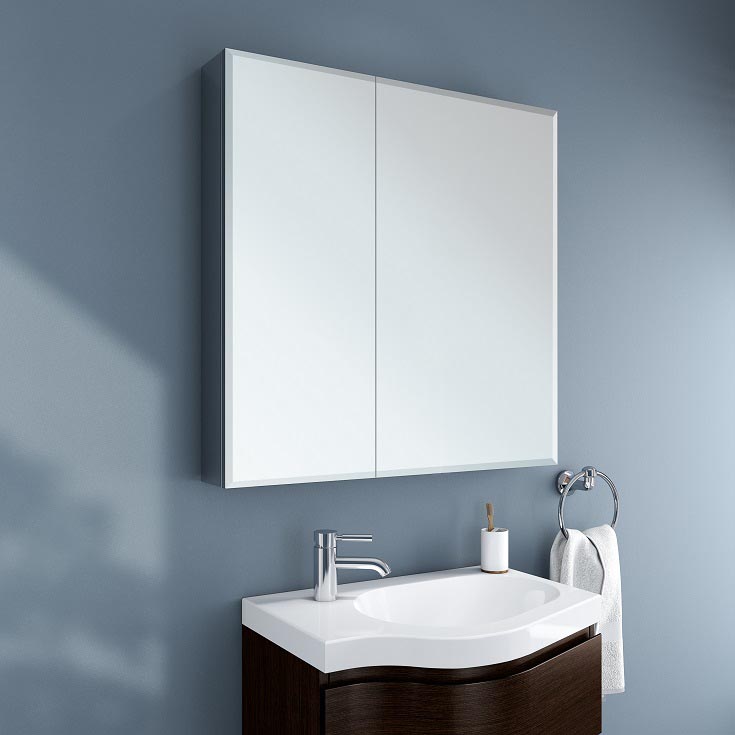 Sign #10 you need to remodel your bathroom– Your bathroom flooring is ridiculous.
OK – I'll admit it, I still have carpet in part of my bathroom floor – although I did pay extra to put tile in when you get out of the shower. And my wife Rose and I are soooo looking forward to replacing the carpeting with luxury vinyl planks in our upcoming remodel.
And since flooring is a big part of the comfort (and maintenance of your bathroom), if you're struggling with a moldy tile floor, or a worn out carpet this is an important reason to remodel.
In today's world there are better choices. If your budget is tight, vinyl sheet material will work. However, if you want a nicer look (at not too big an expense), the luxury vinyl planks – which are waterproof – are taking the bathroom flooring market by storm.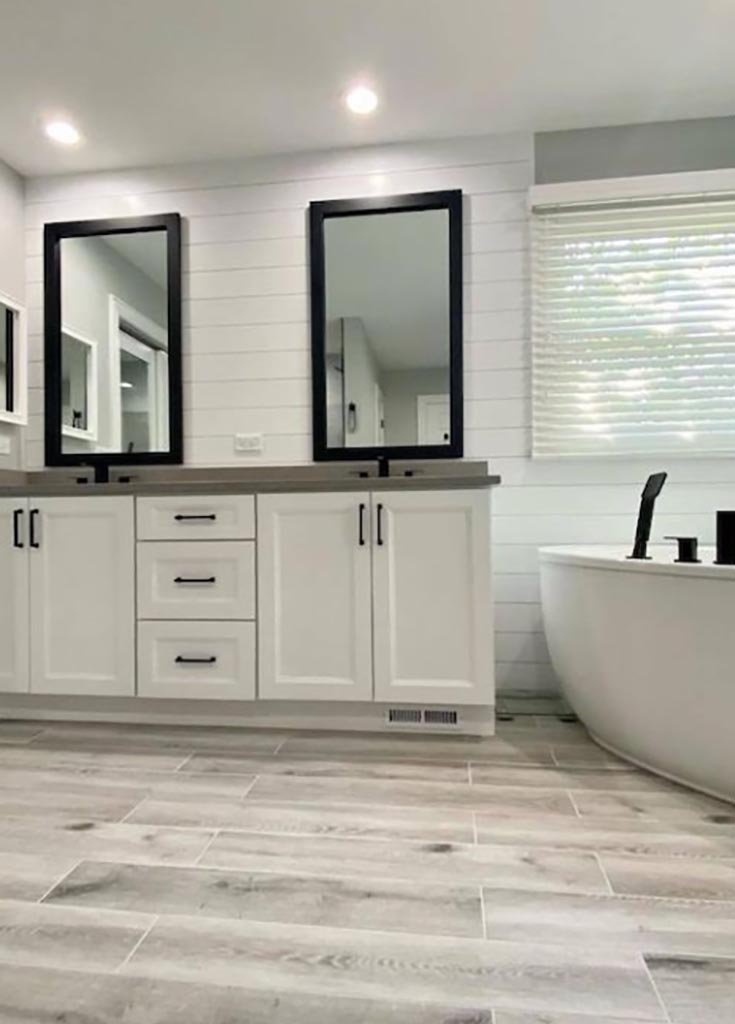 Sign #11 you need to remodel your bathroom– There's no 'wow' to your feature wall.
If you don't know what a feature wall is in a bathroom, I can understand this. A feature wall is what you see when you enter. And if your bathroom today looks as generic as the spec homes your builder cranked out years ago, you may need a bathroom remodel.
Why not add interest and fun into your bathroom? Does it really need to look just like your neighbor's bathroom? And, you may be asking, can I add style without spending a lot?
To add 'wow' factor use a bold paint color on your feature wall. Or if your feature wall is in the shower – you probably shouldn't paint it (says Captain Obvious), but what you could use a bold pattern like black hexagon wall panels, or a rough wood texture for a rustic space.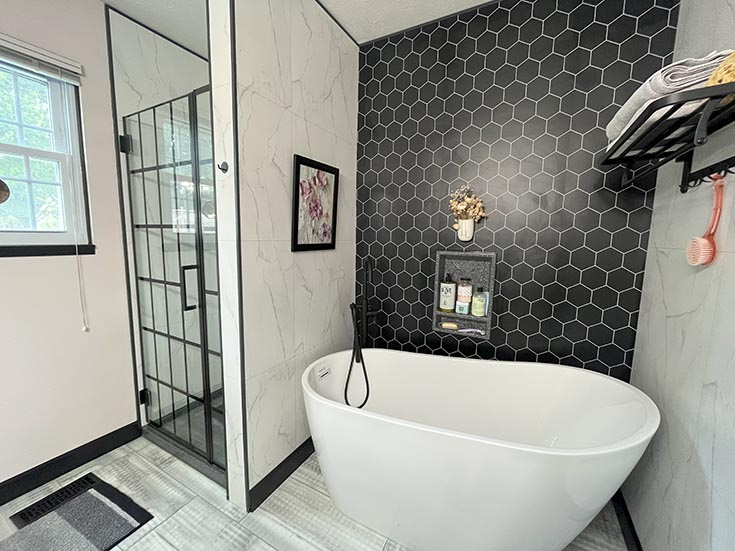 Don't allow your bathroom to be boring.
Get Free Samples!
Click here to request free samples of our Laminated Waterproof Shower Wall Panels.
Sign #12 you need to remodel your bathroom– You're not only the 'family chef,' you're also the 'family maid' (and you're unpaid for both jobs).
My wife was rolling with laughter when I shared the picture below with her. She 'gets to hear' our family asking nightly, "what's for the dinner?" What a chore it is being the (unpaid) family chef.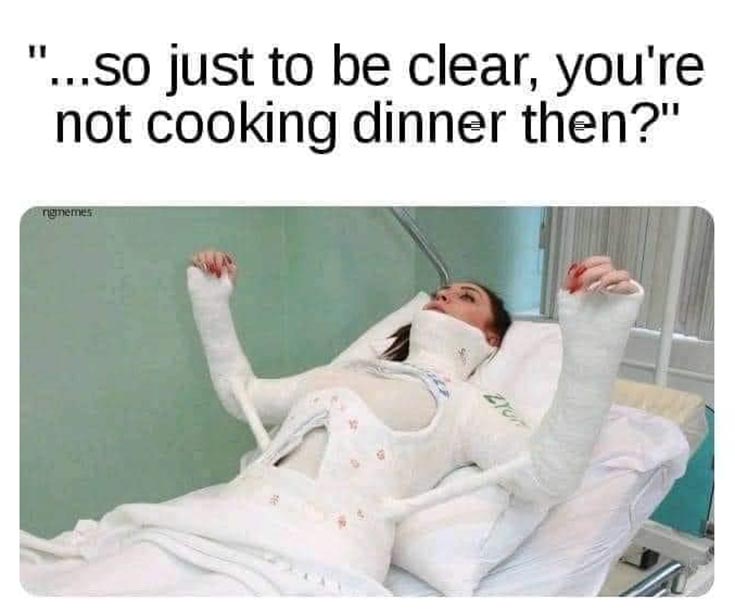 And if, like my wife (at times) you also feel like the 'unpaid' family maid, you know the last thing you want is more 'housework.'
And let's face it, if you've got a tile shower you're gonna have a lot of maintenance. And if you're sick and tired of being the (unpaid) 'hired help,' in your home, now is the time to INSIST on a new bathroom which is simpler to maintain.
Imagine having a grout free shower floor pan which didn't take time to clean.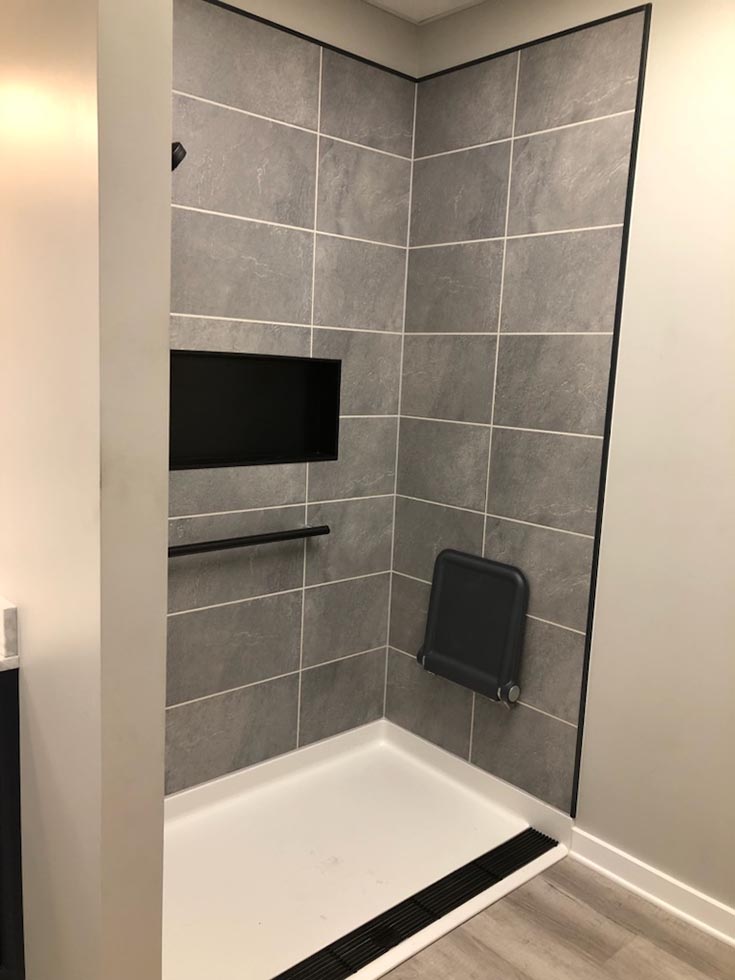 Or using grout free shower or tub surround panels you don't have to scrub.
Or going with brushed or matte finish glass door hardware which don't make you crazy cleaning water spots like you see with polished chrome or brass.
And if you choose products like sturdy acrylic shower pans, stone shower bases, grout free wall panels, and/or brushed nickel or matte black glass shower doors you can save time (and money) on cleaning (and cleaning products). And maybe – just maybe – free up time for yourself!
Sign #13 you need to remodel your bathroom– Your bathroom 'décor' is as random as the Powerball numbers.
Most people are not comfortable making bathroom design selections. And because of what they 'inherited' from the last homeowner, or through their own random selections, they end up with a bathroom which is NOT ready for a photo op courtesy of House Beautiful.
So, if you want to save money on your bathroom (by not making bad bathroom selections which don't work together and end up with materials you can't return), begin by using a bathroom visualizer.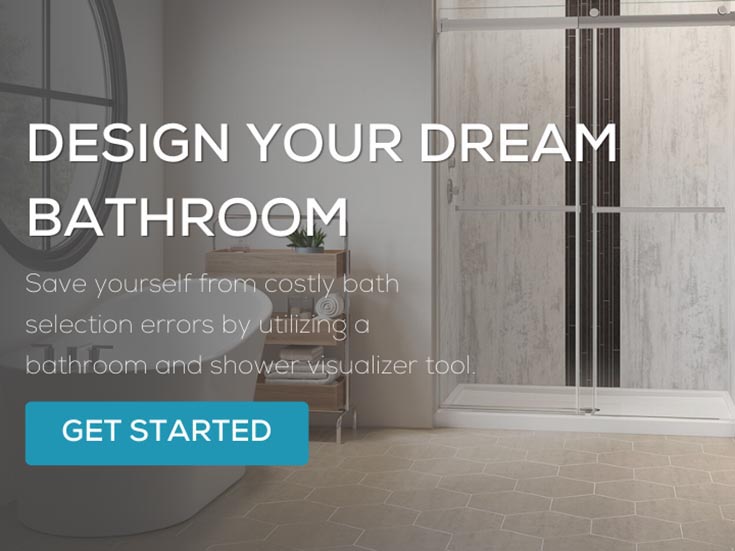 With this tool you can look at how your walls, shower pans, glass doors, flooring, paint and even shower niches look together. Also, a visualizer saves you from going from store to store attempting to figure things out on your own.
And if you're still unsure, share your design from the visualizer with a friend (whose tastes you trust) or an interior designer.
Sign #14 you need to remodel your bathroom– You've got 'room,' but it's in all the wrong places.
Most bathrooms are not as big as you'd like. And to make matters worse, if your bathroom has a big Jacuzzi or soaking tub you NEVER use, and a small shower you're cramming into every day, you're in a prime position for a bathroom remodel.
And although 'reconfiguring' your space (by making the shower larger and ditching the tub) can be costly, you'll save a few bucks by keeping your plumbing in the same place if you need to reallocate the space.
Sign #15 you need to remodel your bathroom– Your tub/shower insert squeaks like a haunted house.
Oh, how you love (sarcasm intended) the fiberglass one piece tub/shower surround put in by the builder. It's not only dirty and can't be cleaned, but it squeaks and feels like it could crack any time now.
And if you're stepping gingerly on a cheap shower insert and want to upgrade but can't spend a ton on the job –choose a sturdy, yet cost-effective shower pan. Two options include: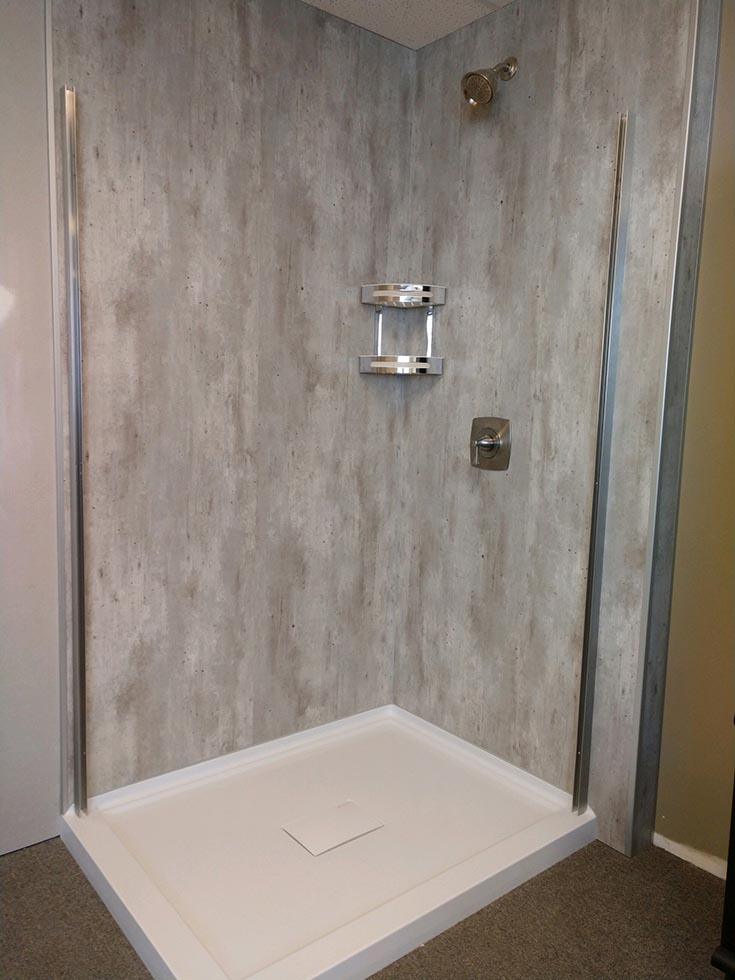 A stone shower pan – These low profile pans can accommodate 2 tons (yes, you heard that right) of weight. So, no matter how much your spouse eats at the buffet line it's not a problem (OK, maybe it's not a problem until they visit the doctor!).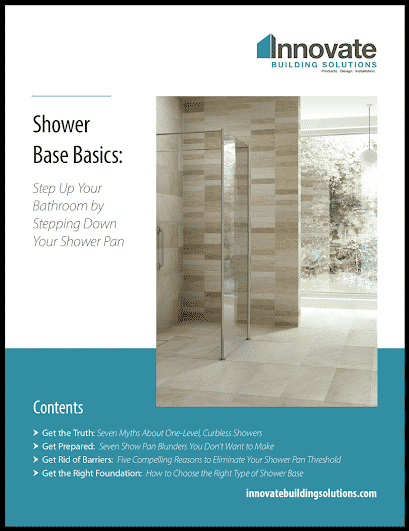 Get Our Ultimate Shower Base Guide!
Step Up Your Bathroom by Stepping Down Your Shower Pan!
Sign #16 you need to remodel your bathroom– Your natural lighting is covered by blinds.
A dark bathroom is a depressing bathroom.
A dark bathroom is a dangerous bathroom.
A dark bathroom is a doggone ugly bathroom.
Since (most of us) don't want to parade around the bathroom nude AND leave the blinds up so the neighbors can 'check us out,' many bathrooms (even those with windows) are effectively darker than they should be.
So, if you want a cost-effective way to take advantage of your natural light (without having the blinds down) replace the window sashes with obscure glass and/or use a high privacy glass block bathroom window.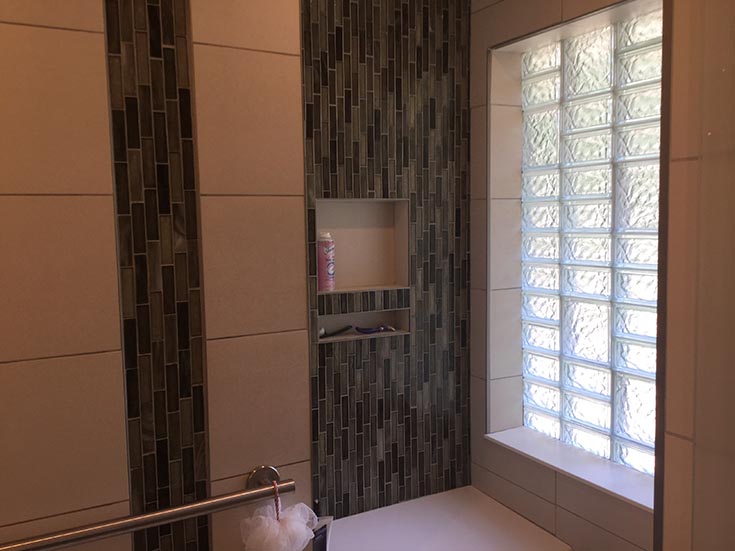 Sign #17 you need to remodel your bathroom– Your place to store shower products is limited or poorly designed.
I hate using the shower in our hall bath with our builder-supplied one piece surround. I hate it because the 'shelves' built into the unit are so shallow. Shower products are practically hanging off the edge and fall into the tub ALL…. THE…..TIME!
And the problem of inadequate storage is not only common in fiberglass one piece units, but also an issue for old tile showers with one small (and now dingy looking) space for soap and shampoo.
And if you'd like to add a larger custom niche into your shower, you've likely learned they're time consuming to build (and if you've priced one lately you know I'm telling the truth).
The good news is, there's a better, more cost-effective way to solve this problem AND ensure you won't be fighting mold or dirty grout joints either. That way is to use a larger stainless steel recessed niche. They're not only stylish, but available in 10 finishes and 7 sizes.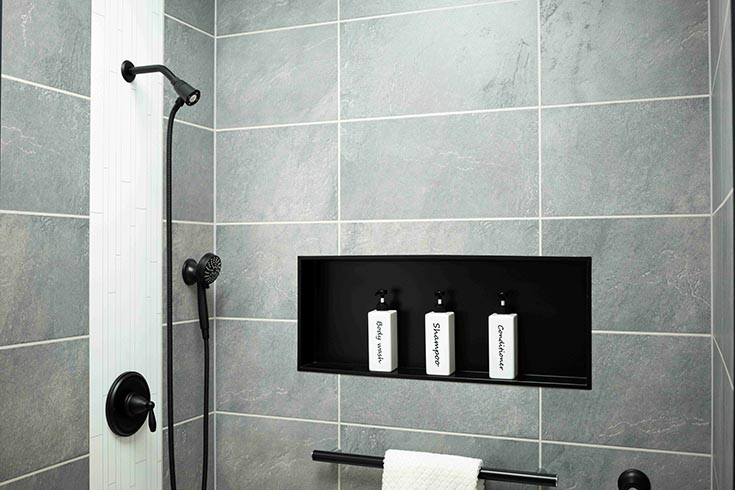 So, which of these bathroom remodeling signs do you have? Do you need help navigating this project and choosing the right products to keep costs down (yet not have a cheap bathroom in the end)?
It's always easier identifying the problems than it is figuring solutions which are stylish and sturdy – yet won't break the bank.
I hope this article has taken you down the path to answering how you can love your bathroom and not break the bank renovating it.
However, I recognize it can be helpful getting assistance – and knowing where to source products which are a good value.
Towards this end, I'd invite you to talk to a Bathroom Design Specialist on the Innovate Building Solutions team at 877-668-5888. Or request a Free Design Consultation.
And if you want to experiment with what your bathroom could look like, tool around the bathroom visualizer.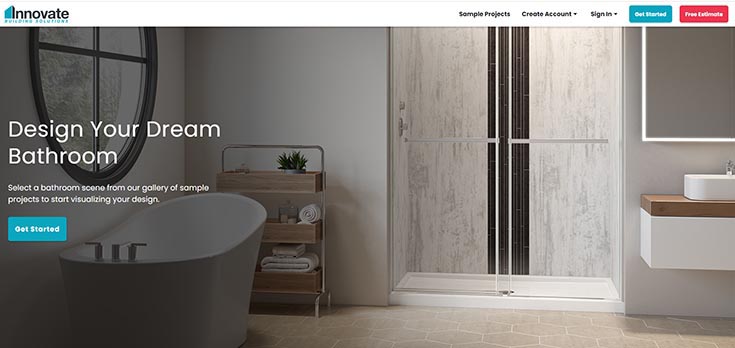 Thanks for reading!
Mike
And BTW – if you're an installing contractor and would like to learn about becoming a dealer of laminate wall panels, grout free modern low profile shower pans, and shower replacement kits call Mike at 888-467-7488.
---
Mike Foti
President of Innovate Building Solutions a nationwide supplier and regional (Cleveland and Columbus) remodeling contractors. Some of our product lines include glass counters, floors, backsplashes, glass blocks and grout free shower and tub wall panels
---