13 Smart Ideas for a Fashionable, Functional, and Affordable Small Bathroom Remodel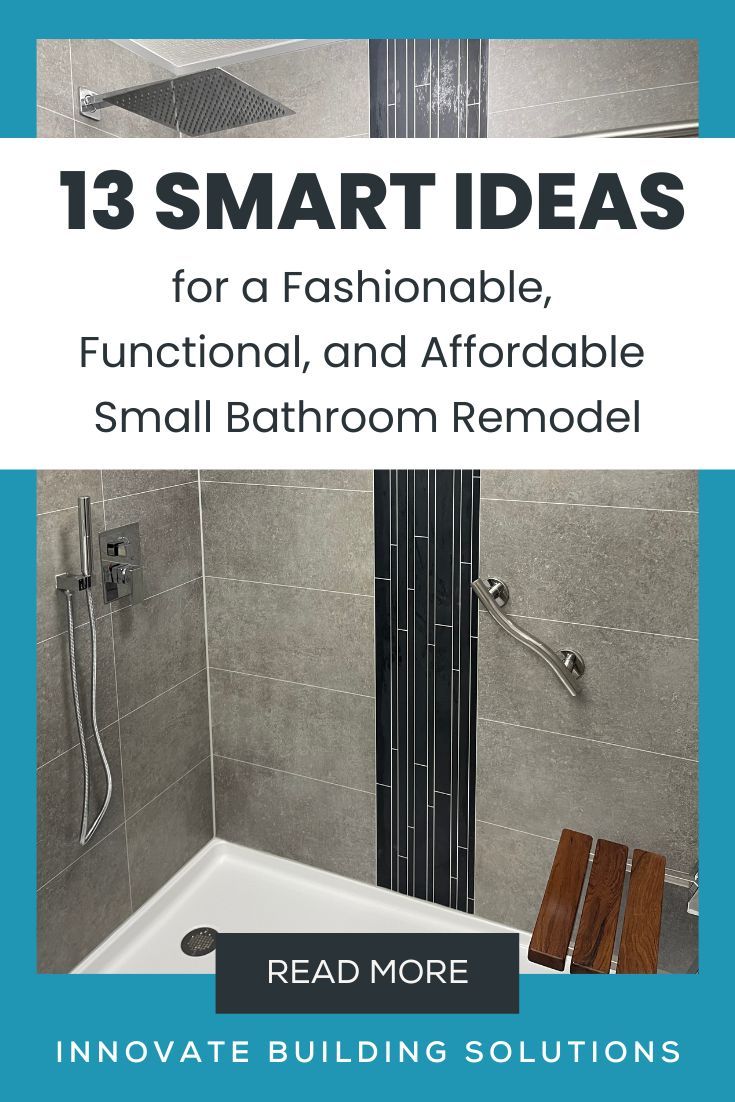 If only you had the space (and budget) to mimic the laid-out bathroom designs you see in fancy interior design magazines (or in celebrity bathroom pictures on Pinterest or Instagram). If this was the case, you'd have room for a large freestanding tub and a humongous walk in shower. You'd get a double bowl furniture grade vanity with a quartz top. You'd use a herringbone tile pattern which looked like it was installed by a tile artist. And oh, you'd also have a place to do your make up.
However, you know that 'ain't happen' in your 5' x 8' bathroom which 'comes joined-at-the-hip' with a small bathroom remodeling budget to match it's smaller-than-you'd-like size.
So, the question becomes how can you get a stylish, functional, fun, AND affordable small bathroom? How can you get a bathroom inspired by those drool-worthy images in the magazines and on the Internet WITHOUT draining your life savings and the kids (or grandkids) college funds?
Well – this is exactly what this article is about. And as a guy who leads a business which has been wholesaling (and installing) bathroom products for more years than I care to imagine (and before I had gray hair), I've seen people make intelligent (and also downright dumb) decisions on small bathroom remodels.
In this article, I'll share with you 13 smart ideas to get a premium look, which works for people of all ages, at modest prices for your small bathroom remodel. Let's get started.
Smart small bathroom idea #1 (for fashion) – Focus on first things first when you want to upgrade the look.
If you're looking to make a 'splash' (OK – bad bathroom pun intended) in a small bathroom you'll be well served to put your money (not where your mouth is), but where your eyes travel.
So, if the first thing you see when you walk in is the shower, DO NOT install ugly, molded fiberglass shower wall panels you grabbed off the bargain shelves at Home Depot. Look for a shower (or tub surrounds) that will create 'wow,' but will be affordable (more about this in idea #3).
Or if the first thing you see is the floor (because your vanity and tub/shower are off to the sides, then upgraded luxury vinyl plank flooring can be the 'ticket' for you.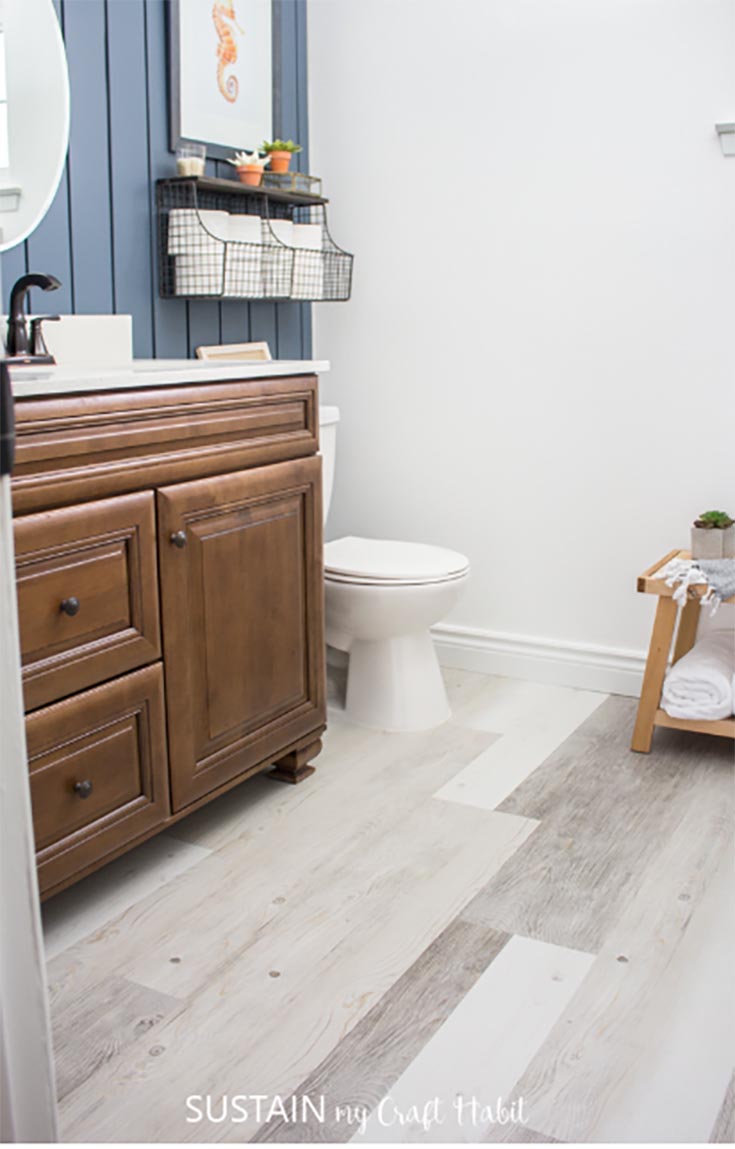 When it comes to the look of your bathroom invest money where it'll have a visual impact. Let's face it, it probably WILL NOT make sense to spend $750,000 like Kanye West (or Ye as he asked me to call him) did on a gold toilet seat you'll see below (that is, of course, unless it's in a prime viewing location – ha! ha!).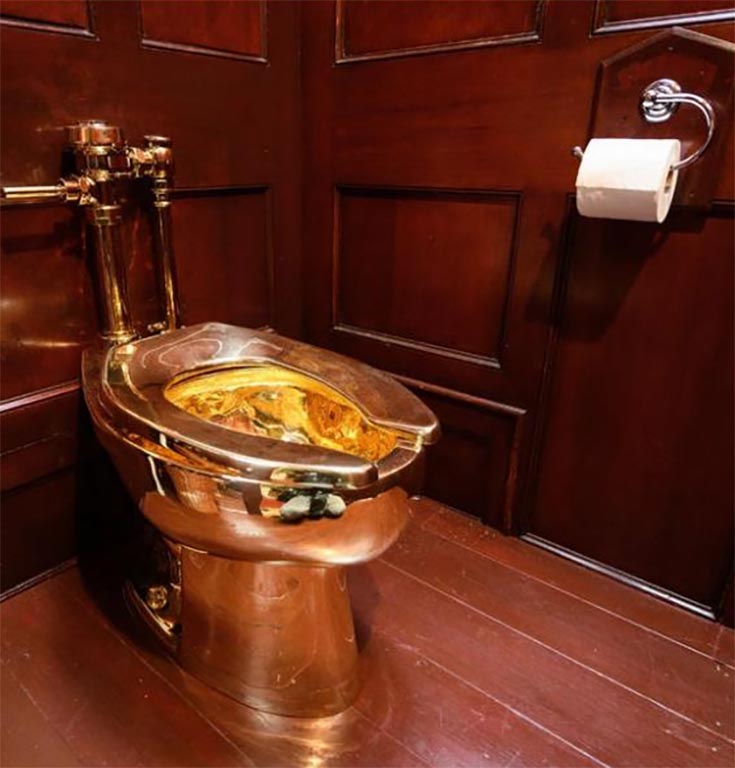 Smart small bathroom idea #2 (for fashion) – Don't choose 'itty-bitty' patterns or overuse dark colors.
If you want to make a small bathroom look even smaller, choose mosaic tiles- or designs with small patterns or dark colors.
The key to making small spaces live bigger is to (visually at least), open the space up.
For example, if you're tiling the walls (or using cost-effective grout-free wall panels), go for large format patterns (like 24" x 24", or 24" x 12") etc.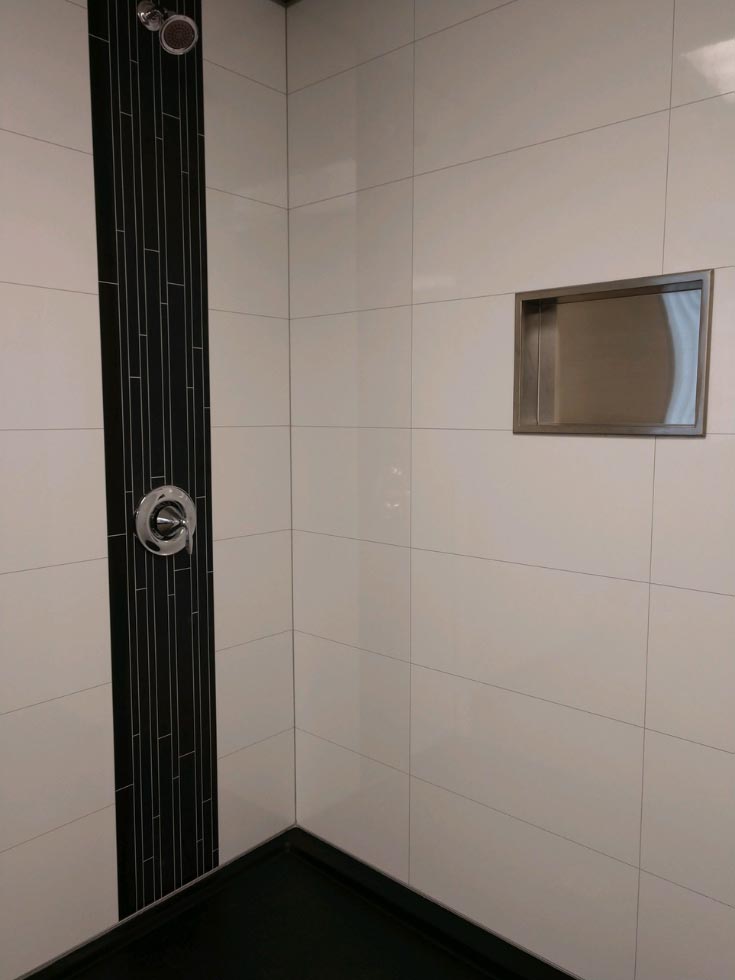 If you're choosing paint, vanity or wall surround colors – go lighter vs. darker.
And if you have low ceilings, choose vertical patterns to make the room feel (at least visually) taller.
Smart small bathroom idea #3 (for fashion, function, and affordability) – Use tub and shower surround panels vs. tile or stone.
Why did so many newly remodeled bathroom floors not use tile and stone? Well – it's because they're expensive, it's hard to find a tile-setter, AND a pain to maintain.
Well – this same trend away from tile/stone flooring is now happening in tub and shower surrounds. As the quality (and realism) of shower surround panels has improved, the use of tile is going down, down, down.
My favorite – cost-effective, yet uber-realistic system – is laminate shower wall panels. They click and lock together and like their 'older brother' laminate flooring, are 100% waterproof, and easy to clean. They'll give you a fashionable look, will not require you to own a scrub brush, and WILL NOT be a breeding ground for mold.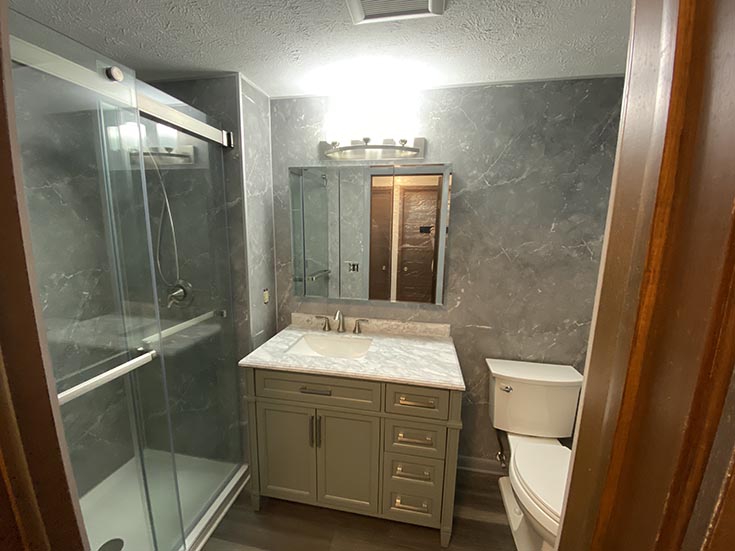 Get Free Samples!
Click here to request free samples of our Laminated Waterproof Shower Wall Panels.
Smart small bathroom idea #4 (for increased function and fashion) – Create (effective) storage where none existed before.
When you've got a 5' x 8' or 6' x 9' bathroom you share with your spouse or partner who has every bath care product known to man (and woman) littered on your vanity top and shower floor, you know when you're remodeling you MUST do something (beyond telling them they need to declutter) to stay ahead of this mess!
And the most important thing you can do (other than attempting to hypnotize them into new Marie Kondo-esque organization behaviors) is to add effective bathroom storage systems. And here are 4 intelligent ways to make this happen:
Add oversized niches in the wall – In-wall niches take up ZERO room and if they're done right (like when you use stainless steel premade units), they're also simple to maintain.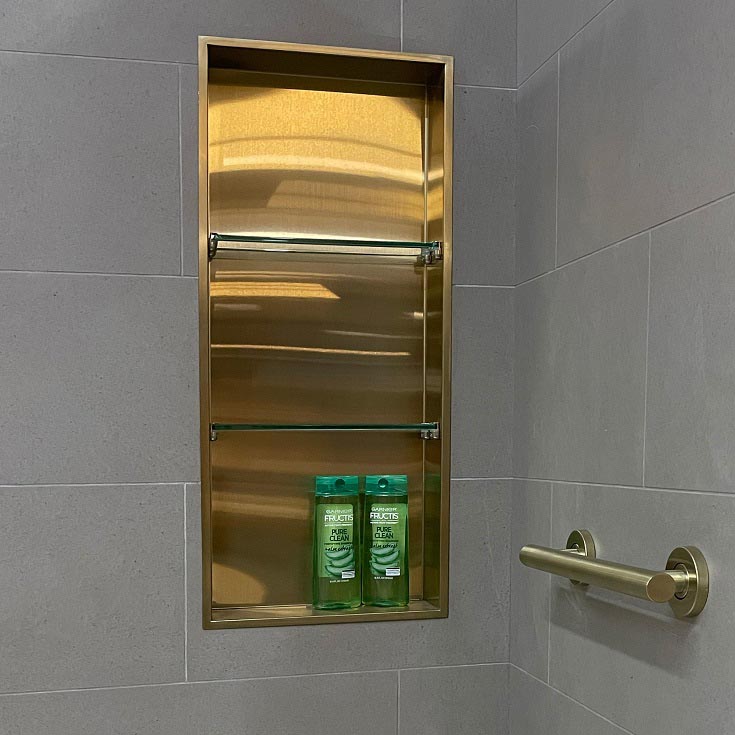 Add a cabinet above the toilet – This isn't a crazy, new-fangled idea – but adding a cabinet above the 'loo' (as the British call it) is an effective place for toilet paper, hand towels or extra soap and shampoo storage.
Use a fun towel storage rack – If your linen closet is non-existent – and sharing towels with your hubby IS NOT something you're brave enough to do – then a large ladder storage rack is fun and functional.
Get a vanity that isn't a P.I.A! – Most vanities are 'mosh-pits' of stuff thrown in. And why is this? It's because the vanity is just one big wide-open box. Look for a vanity with drawers and shelves which slide out to you vs. needing to dig in the back to 'try' to find what you need.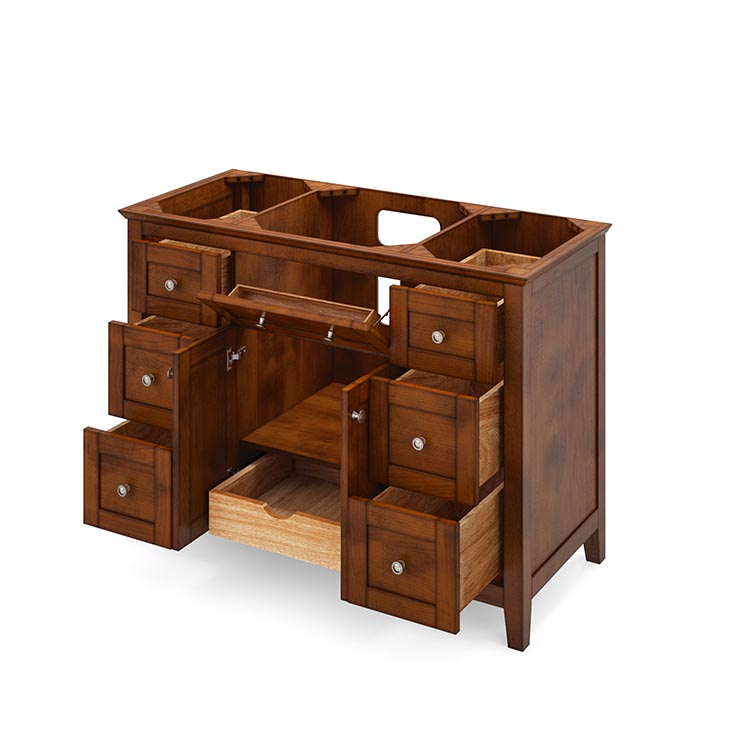 Smart small bathroom idea #5 (for increased function and fashion) – Go low. Low profile that is.
While everyone loves a stylish bathroom, it does you no good if your spouse, Mom, Dad, or child, can't safely step into the tub or walk over the shower curb.
This is the reason the shower pan market has shifted towards low-profile shower bases (note: low profile can be defined as any shower base with a curb of 3" or less).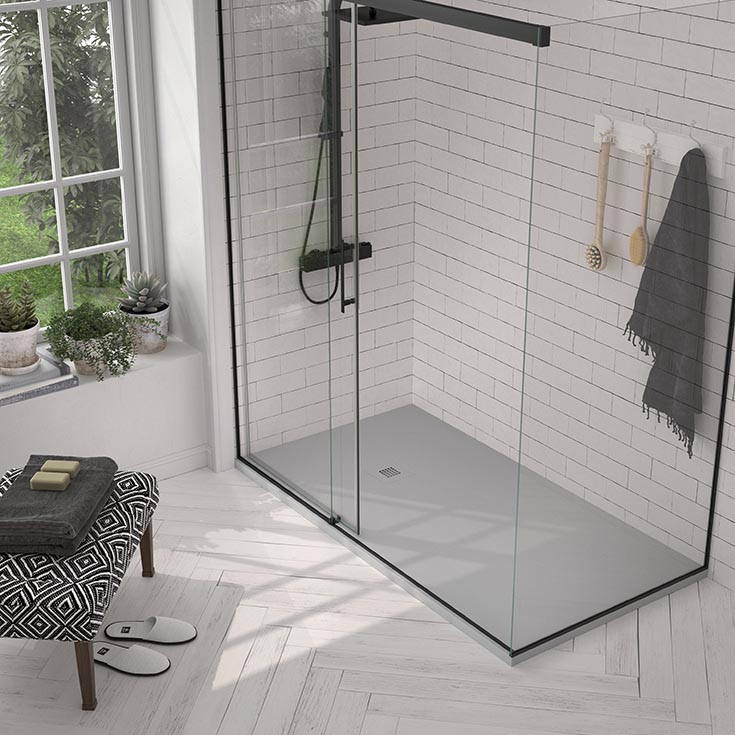 And what's cool is you're not forced to buy a plain-Jane white fiberglass pan to get a safe system. No, today you'll even see cool stone shower pans made with white marble or quartz-look patterns.
You can get (increased) function and NOT sacrifice fashion!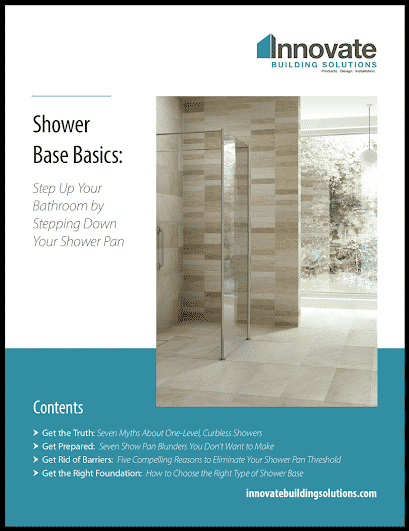 Get Our Ultimate Shower Base Guide!
Step Up Your Bathroom by Stepping Down Your Shower Pan!
Smart small bathroom idea #6 (for increased function, fashion, and affordability) – Seeing is believing. See your selections in a full-scale rendering so you don't screw up!
Have you ever made a material selection for a home remodeling project, seen it installed, and think, "Oh my God, what WAS I thinking???"
If you're not an interior designer (and you didn't play one on Designing Woman back in the day either), you know selections can be a 'biache!' How can you make sure your flooring works with your vanity which works with your shower surrounds? And while getting samples – and visiting multiple stores to see these items is helpful- you're still wondering if they'll 'play well' together.
Well – a smart way to do a small bath remodel (and NOT make expensive selection mistakes) is to look for a supplier with a multi-product bathroom visualizer tool. With this tool you can see how things work with one another – and how small samples can look on entire walls and floors.
If possible – check out a bathroom visualizer tool before buying.
Smart small bathroom idea #7 (for increased affordability) – Choose 'better' even when you emotionally want the 'best.'
Champagne tastes on a beer budget. Is this the story of your life, or what?
Why is it you always gravitate to the most expensive choice? You can blame it on human nature (or on your mother if you're seeing a psychiatrist).
And while you like the best of everything, to not have project costs get out of hand –discipline yourself to use the 'good, better, best' principle to keep your small bathroom remodel costs under control. By that I mean, choose the 'better' option, not the best.
For example – while quartz vanity countertops are the rage today, they're expensive. And although you could choose a cultured granite top (which does look OK) -it's not very exciting. However, a smart way to get style – yet keep things affordable would be to go with a natural stone top. It's a 'better' choice – which is priced between cultured granite and quartz.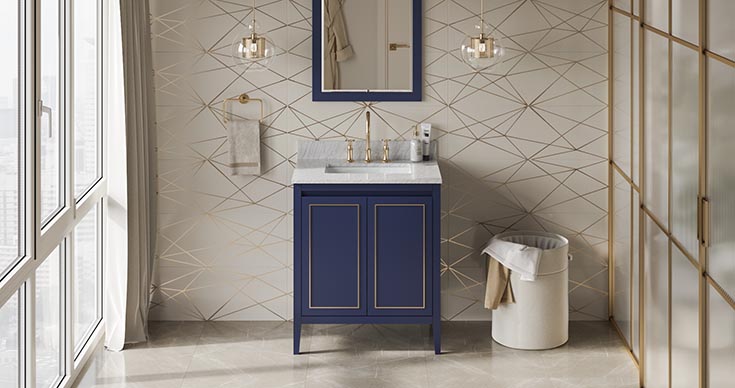 Bottom line – it's better to choose 'better' if 'best' is too costly.
Smart small bathroom idea #8 (for increased affordability) – Don't move plumbing or walls.  
If you've shopped plumbing services these days, you know plumbers are not a cheap date (even those who do the 'butt-crack' thing). And while you may think moving the shower or relocating the toilet is 'no big deal,' you'll find out it's a much bigger thing than you originally thought when the estimate drops you off your chair.
Where possible – keep your layout the same to keep costs down.
Smart small bathroom idea #9 (for increased fashion and affordability) – Buy a 'package,' not pieces-parts.  
As you know buying 'a la carte' in a fancy restaurant costs you dearly. However, what you may not realize, is buying a shower or tub surround system 'a la carte' can cost you dearly as well.
For example, if you need shower wall surrounds, a shower pan, and a glass shower door and buy them separately, you may not only end up paying for freight (with 3 shipments) – and you'll also be responsible to make sure the door works with the panels which work with the base.
A smarter way to buy (and get a better value that you KNOW will work together) is to buy a complete shower replacement kit. With the kit the supplier has not only prepackaged the shower solution, but they'll ship everything to you at once, so you save on (ever-growing) shipping costs. This will allow you to put more money into your products vs. paying freight carriers.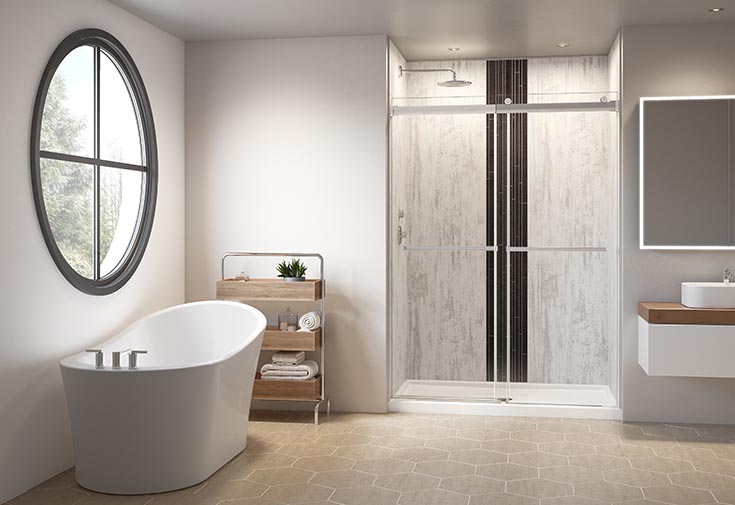 The Ultimate Shower Replacement Kit Guide
Clear advice on bringing your bathroom to the next level
Smart small bathroom idea #10 (for increased affordability) – Don't fall victim to the high-pressure 'one call close.'  
I'm going to tell you a dirty little secret about the installed small bathroom remodeling business the 'big players' in your town don't want you to know. Many of the larger companies focused on selling 'one day bathrooms' are masters in (what's called in the industry) the 'one call close.'
And if you don't know what a 'one call close' is, it's the strategy to get you to buy on the first appointment. Some of these companies will offer 'one day only' offers which (they claim) you won't get if you don't sign tonight. They'll put pressure on you to get a contract signed TO-NIGHT!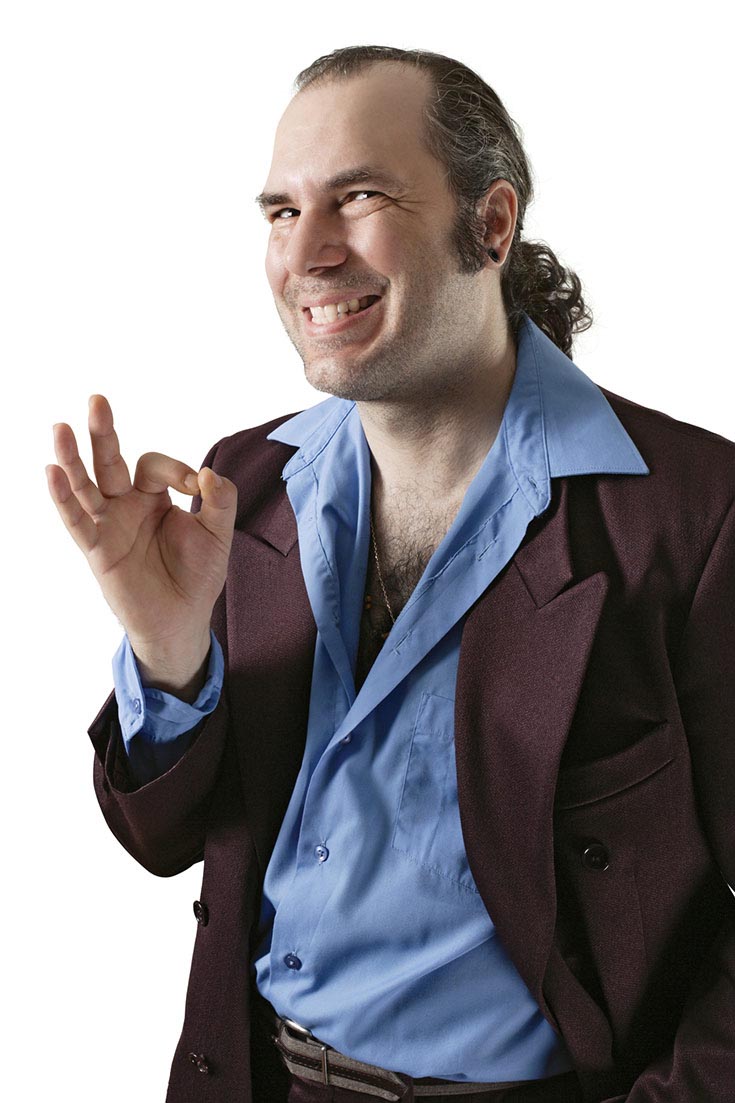 However, what these companies won't tell you is – even with their "quote/unquote" special 'one-night-only' offers, their prices are higher than their competitors (and in many cases, their prices need to be higher because they spend so much on advertising and sales commissions).
And here's a secret (as an industry insider) I'll let you in on. Shh…don't tell anyone.
You DO NOT have to buy tonight to get a good price.
As a matter of fact, the people who 'fall' for these sales tactics often pay more (either today – or through financing charges down the road) than they would have if they shopped their job.
Don't be pressured into buying an installed small bathroom remodeling project (which can range between $7,000 and $27,000) tonight. As my dad used to tell me, "A good deal today, Mike, will be a good deal tomorrow."  And I'll tell you my immigrant father was a master negotiator.
Smart small bathroom idea #11 (for increased fashion, function, and affordability) – Make a thoughtful shower door selection.
I need to warn you about something. Here it is.
The price of shower doors, door styles, and finishes vary wildly. And there's more to choosing a shower door than meets the eye.
There are different styles of doors (from bypass to sliders to pivots to walk in shower doors).  
There are different glass thicknesses (from a framed 3/16" to a frameless ½" door).
There are different heights of glass shower and tub door systems.
There are different handles and material finishes.
Although you thought you were just buying a hunk of glass- there's more to it than meets the eye.
And if you're wondering how to get your 'arms' and 'eyes' around choosing the right shower door, read The Comprehensive Guide on How To Buy a Glass Shower Door (and not screw up).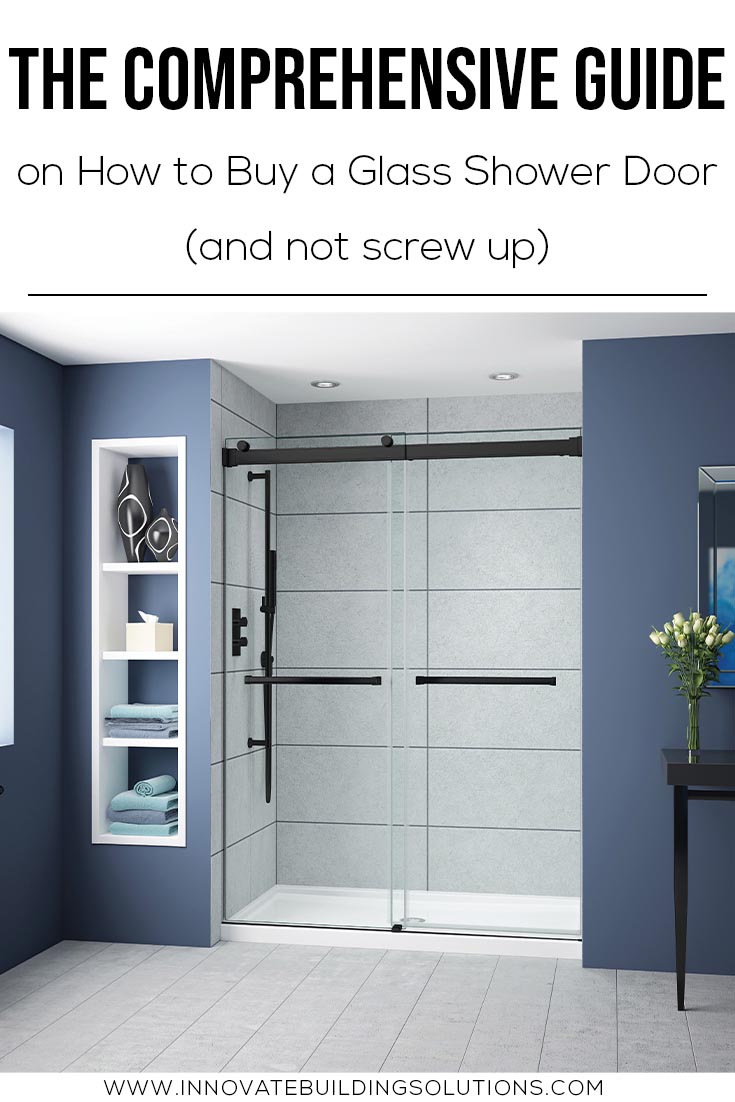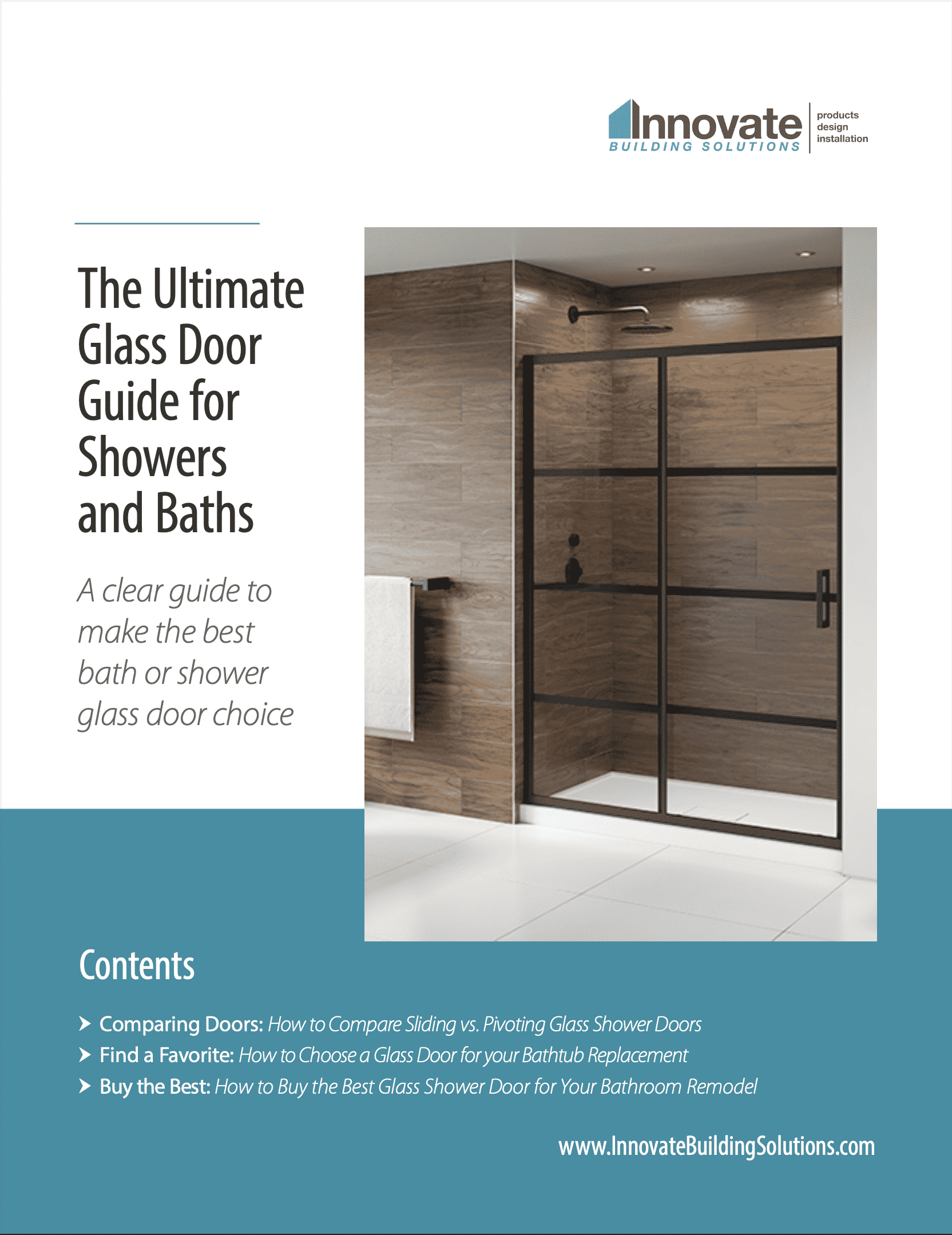 The Ultimate Glass Door Shower Guide
A clear guide to making the best bath or shower glass shower door choice
Smart small bathroom idea #12 (for increased fashion) – Your bathroom can be a 'thing' if you know where to add that bling, doo-wop, doo-wop.
As all V.C. (vertically challenged) people know, great things DO come in small packages (and when I was 5'2" in 9th grade, my mom kept telling me this!).
And as smart small bathroom designers know, cool things CAN be created with small details.
And one of these small details, which makes a big difference, is cabinet hardware. To keep costs down don't replace your old cabinets (except if they're a storage nightmare like discussed in idea #4) but do 'restyle' them with new hardware.
Bathroom vanity hardware is the 'jewelry' of your bathroom. It's a small place where you can make a big 'statement' (as the fancy-schmancy designers like to say).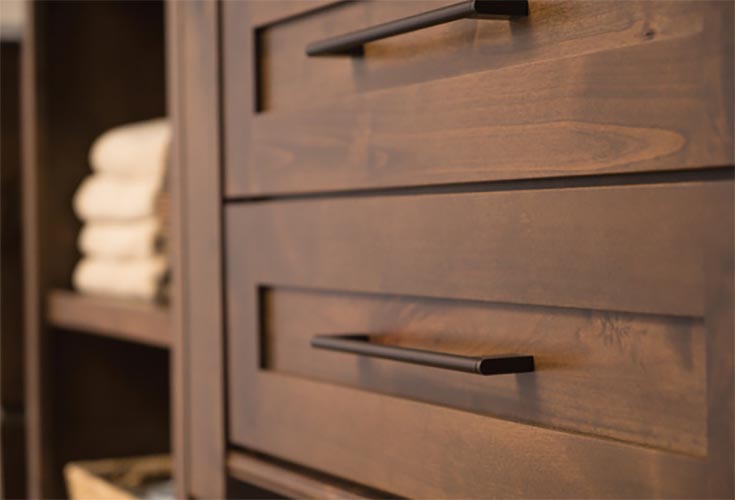 Smart small bathroom idea #13 (for increased function) – Don't forget to build your shower to last.
As the humorous Nationwide Insurance commercial below points out, life comes at you fast!
One day you feel as limber as your old 'high-school-sports-star-self.' The next day you're moaning and groaning like your dad! Ouch.
And when your body isn't moving like your mind thinks it should, that's when a bathroom that isn't thoughtfully designed becomes painfully obvious to you.
And when you're dealing with a small bathroom it's even more important for a design to be well planned. And even if the thought of an 'age in place bathroom' makes you want to throw up – it's still smart to understand how you make a bathroom that will work for you, even if Father Time works against you.
For practical (and dare I say stylish) ideas about age in place bathrooms (which are built to last) read 15 Insider Tips for a Safer, Simpler and Stylish Age in Place Shower.
Did you get fun, functional, and fashionable ideas for your small bathroom remodel? How can my team help you next?
Figuring out a small bathroom remodel isn't as simple as you may have thought initially. Finding your way through the 'weeds' of choices, and different opinions from different contractors and 'buttinsky-like' friends and family can have your head swimming.
However, if you'd like someone to guide you through this process (and even save you money on higher-quality, yet more modestly priced bathroom products), our team would love to help.
Call 877-668-5888 and get advice on bathroom challenges that are making you want to rip your hair (what's left of it) out. Click for a Free Design Consultation. Get assistance from a Bathroom Product Specialists.
Get a nationwide factory-direct supply of easy-to-maintain, yet cool-looking shower and bathroom products. Or if you need a referral to a bathroom remodeling contractor, I know a few (through our dealer network) who can help you along the way.
Thanks for reading and (most of all) putting up with me (and my wackiness along the way). As my family will tell you, it's just how I'm wired. Life's too short to be too serious (at least that's my philosophy).
Mike
###
If you want more advice follow me on LinkedIn @MikeFoti.
And if you're bathroom remodeling contractor interested in being a dealer of shower wall panels, shower pans, glass shower door systems and freestanding or alcove tubs, call 888-467-7488 and ask for Mike.
---
Mike Foti
President of Innovate Building Solutions a nationwide supplier and regional (Cleveland and Columbus) remodeling contractors. Some of our product lines include glass counters, floors, backsplashes, glass blocks and grout free shower and tub wall panels
---