15 Insider Tips for a Safer, Simpler and Stylish Age in Place Shower
Updated July 16, 2023 
If the idea of an 'age in place shower' DOES NOT create a vision of a bathroom you're excited to use, you're not alone.
When people think 'age in place,' their thoughts are locked on safety. And while safety is essential to stay in your home as long as possible (and steer clear of Assisted Living facilities) – who wants a boring, safe (institutional-looking) shower? You want spaces which make you feel young and alive…not just safe.
And if you're like me I'll bet you wish you could be dyslexic when it comes to your age. For example, I'd love to 'turn-back-the-clock' on my 62 years-young age to become a 26 year-old anytime!
However, even in our 'advanced years' (I'll bet that makes you feel young, doesn't it?) if you're like me you still have desire for style. And you have the need for simplicity (and just because you're older doesn't mean your life isn't hectic and needs to be simplified).
So, if you're like me, while you need a safe shower you also want a shower which is simpler to use – and dare I say it, a shower which shows off your good taste. After all, why have you worked hard all these years? It's certainly NOT to leave it all to your heirs, now, is it???
And why can't your age in place shower have it all – safety, simplicity, and style?
And as a 'shower geek' (and insider to the bathroom products market) I'll show you; you CAN have it all…. if you take advantage of the 15 tips below.
I'll start with 5 tips about a safe age in place shower (yes, safety still is the 'price of entry' for an age in place shower).
I'll then look at 5 tips for a simpler to use age in place shower.
And lastly –I'll give you cool ideas for a stylish age in place shower (which WILL NOT look like a hospital room).
So, let's check out the 15 insider tips for a safer, simpler, and more stylish age in place shower (and at the end let me know if any of these tips were 'news to you.').
Insider Tips for a Safer Age in Place Shower
Tip #1 (for safety) – Add a low profile (or ramped) shower pan
A major reason for an age in place shower is existing tubs (or higher curb showers) are dangerous to enter because they're harder to get in if you're not as nimble as you used to be. So, the question becomes how can you make your tub/shower safer?
The best way to do this is with a low profile shower pan or ramped shower base. A low profile pan has a curb which is 1 1/6" to 2 ¾" tall and can be made  from cultured stone, acrylic, fiberglass or be finished with tile. If you're looking for a sturdy (yet stylish) low profile pan – check out the stone option below.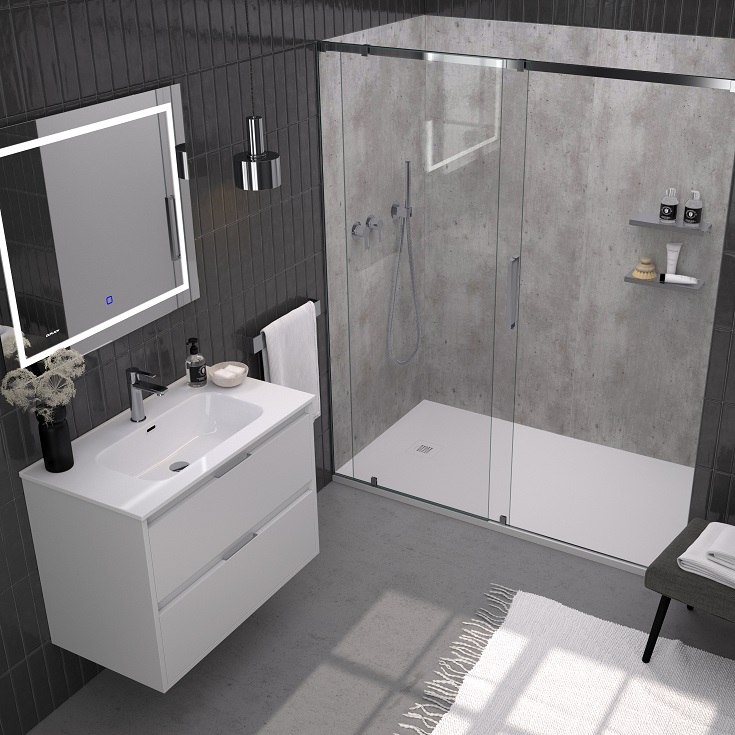 Another option is a ramped shower pan. This pan is a cost-efficient way to shower independently even if you're in a wheelchair (or anticipate it'll be needed later). Just one thing to note, when you go to sell your home, some prospects don't like ramped shower pans.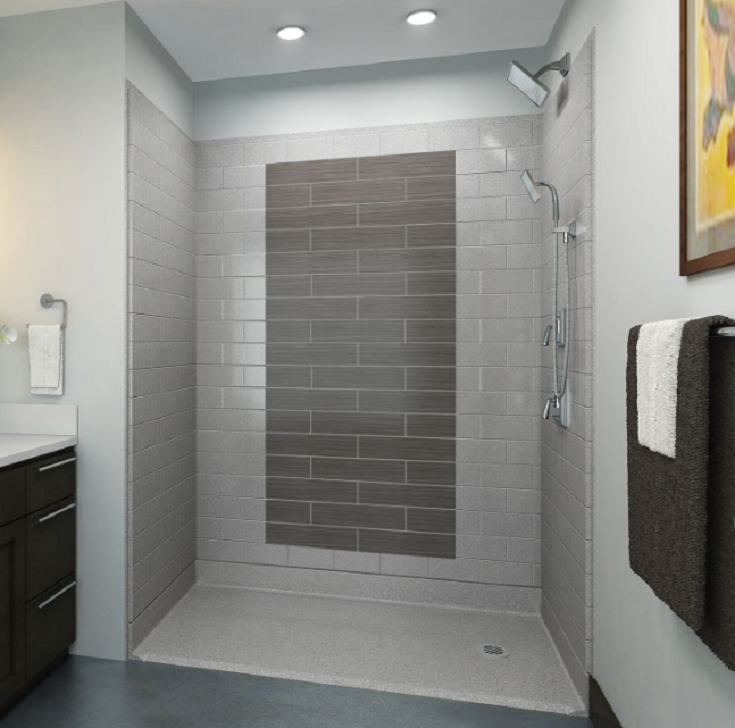 Image Source: Bestbath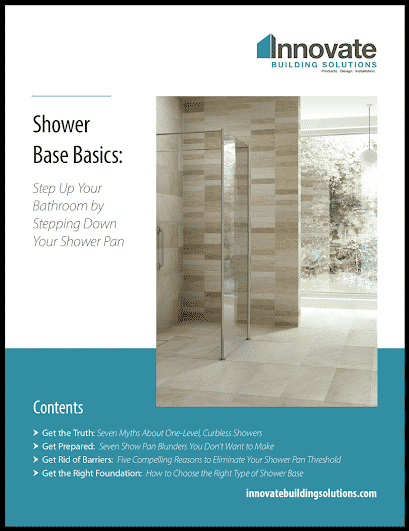 Get Our Ultimate Shower Base Guide!
Step Up Your Bathroom by Stepping Down Your Shower Pan!
Tip #2 (for safety) – Include seating – even if your shower is smaller
If someone in your home isn't as steady on their feet, standing while showering might become a thing of the past.
And while a logical solution is to add a shower bench seat – if your shower is small, a fixed bench seat takes up too much room. A space-saving idea is to use a fold down seat. These seats not only save space – but also look stylish!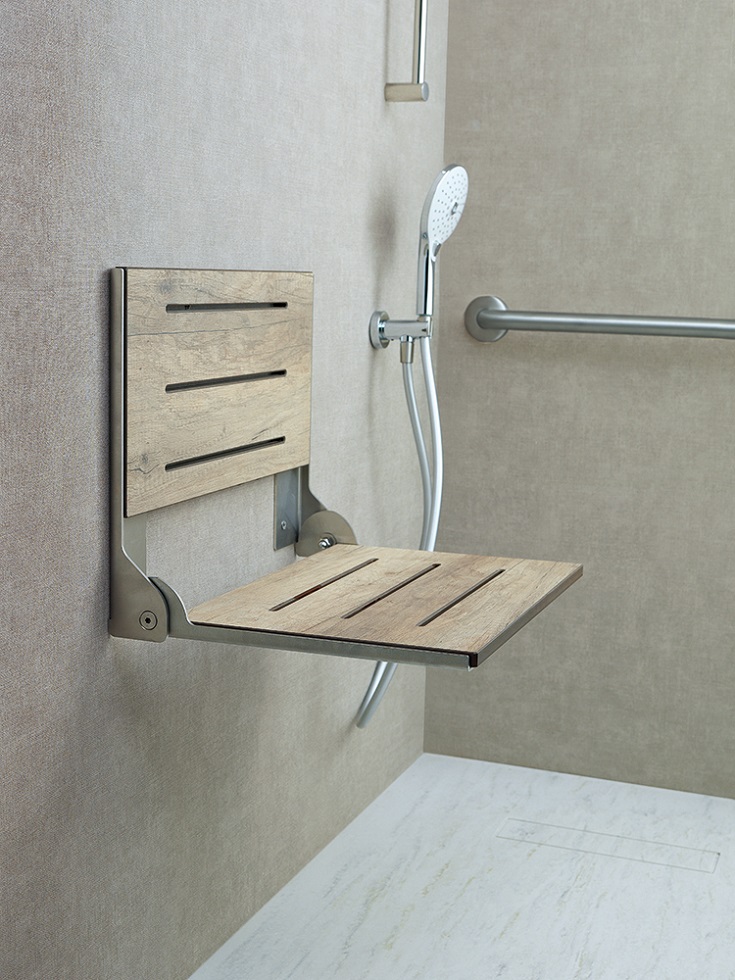 Tip #3 (for safety) – Include a hand-held shower
To shave your legs and/or shower in a seated position, a hand-held shower is a smart addition to an age in place shower. Include a unit with a diverter (so you can either use the fixed shower head or the handheld unit) depending on whose in the shower.
For more style points (and lower maintenance) look for a fixture with a brushed nickel or matte black finish. These finishes are hot (OK – that bad shower pun was intended) today and minimize spotting.
Tip #4 (for safety) – Add decorative grab bars or grab shelves  
Nothing says ugly, institutional age-in-place bathroom quicker than an ugly grab bar. However, what you may not realize is grab bars have come a long way. Now you can get safety AND style – and even use them in a place of a towel bar.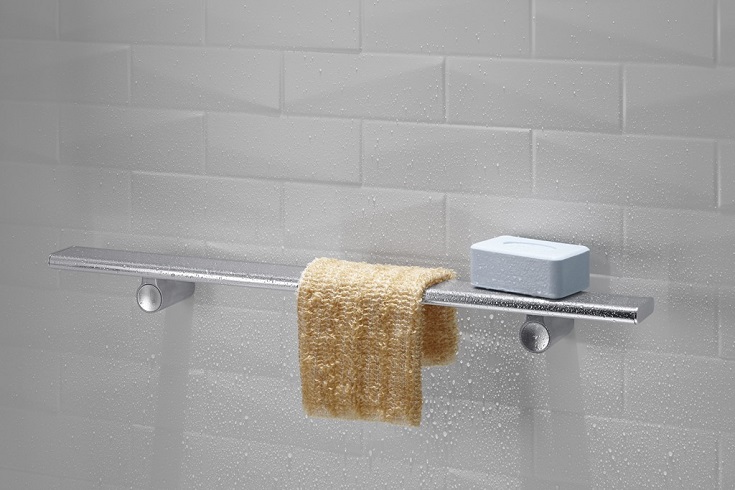 For example, check out this 135 degree stainless steel grab bar. Or what do you think about this 'grab shelf?' It combines the grab bar function with extra storage. How cool is that?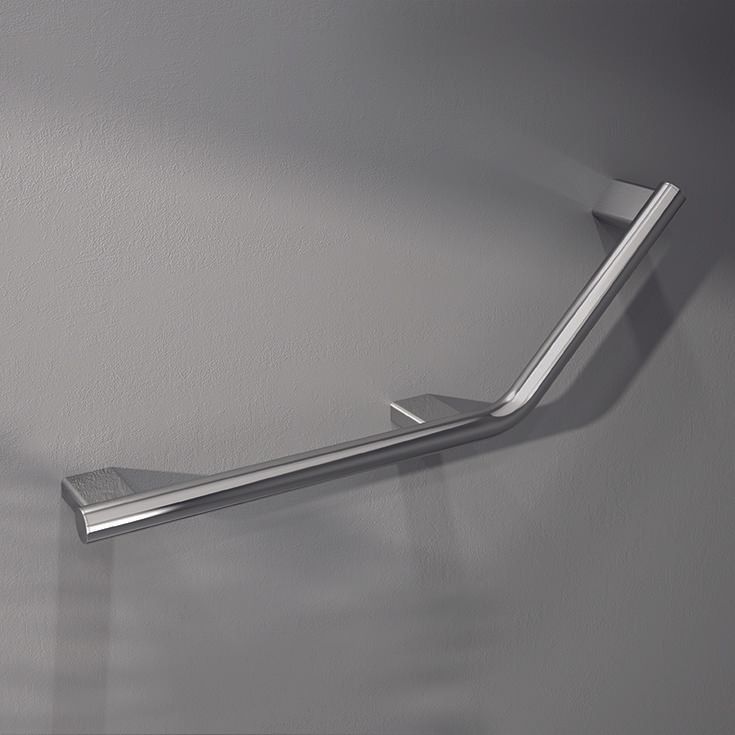 Tip #5 (for safety) – Let the light shine through   
Dark spaces equal dangerous places.
So – if you've been putting up with light-blocking, mold-growing ugly shower curtains for years, now is the time to STOP making more trips to the Bed, Bath and Beyond store.
Replace your shower curtain with a frameless glass shower door. If you need a wider opening (for ease of entry) consider a glass shower screen. Or if you want a full enclosure (but not the ugly – and hard to clean – tracks at the bottom), look for a 3/8" thick frameless bypass shower door.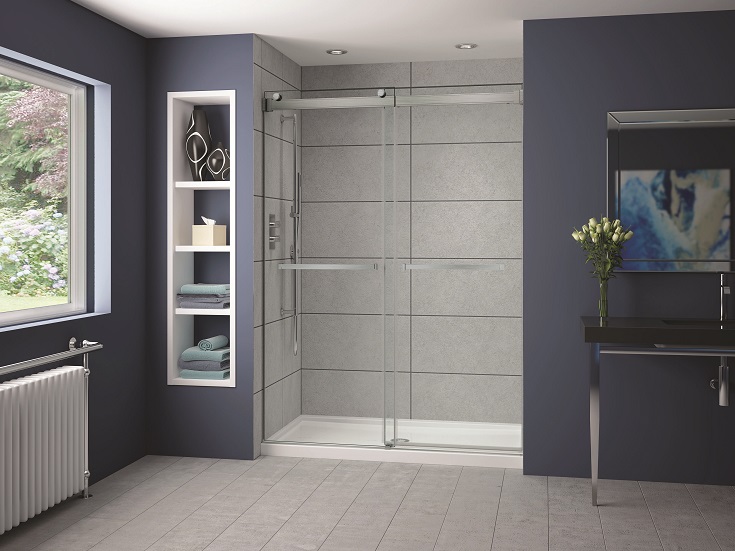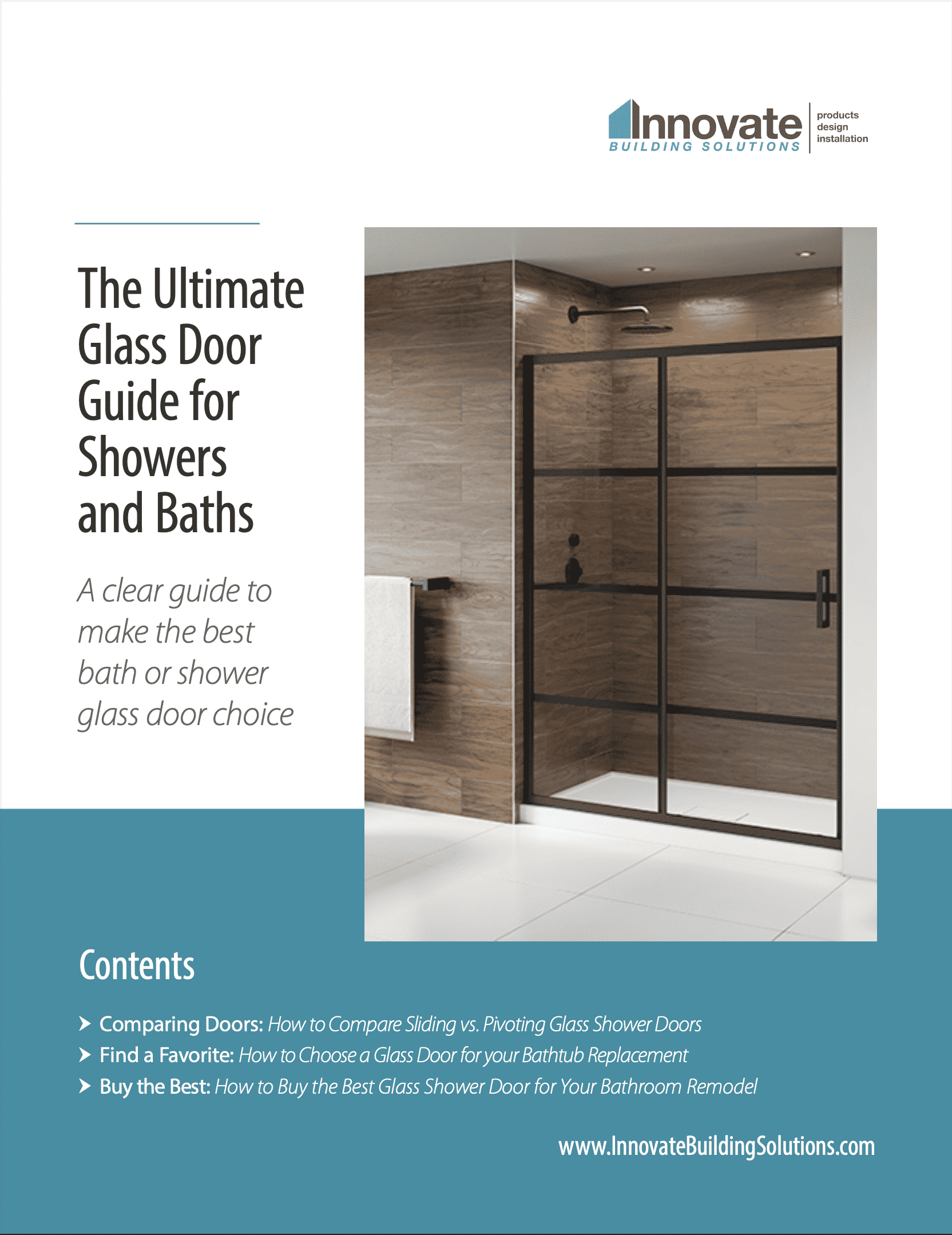 The Ultimate Glass Door Shower Guide
A clear guide to making the best bath or shower glass shower door choice
Insider Tips for a Simpler Age in Place Shower
Tip #6 (for simplicity)– Reduce the amount of grout in the shower.
Who loves cleaning grout joints? 'Er that would be….
NO ONE!
However, most people love the look of tile or stone in a bathroom. The question becomes how can you get the look of tile – without the maintenance of tile? The way you'll realize this goal is with realistic looking grout free shower wall panels.
And one option to consider are laminate wall panels. These panels (which are 23.6" wide x 94.4"high) click and lock together (like laminate flooring), look like tile or stone – yet  have Z-E-R-O grout joints to maintain. They can even be cost-effectively used in custom-sized showers.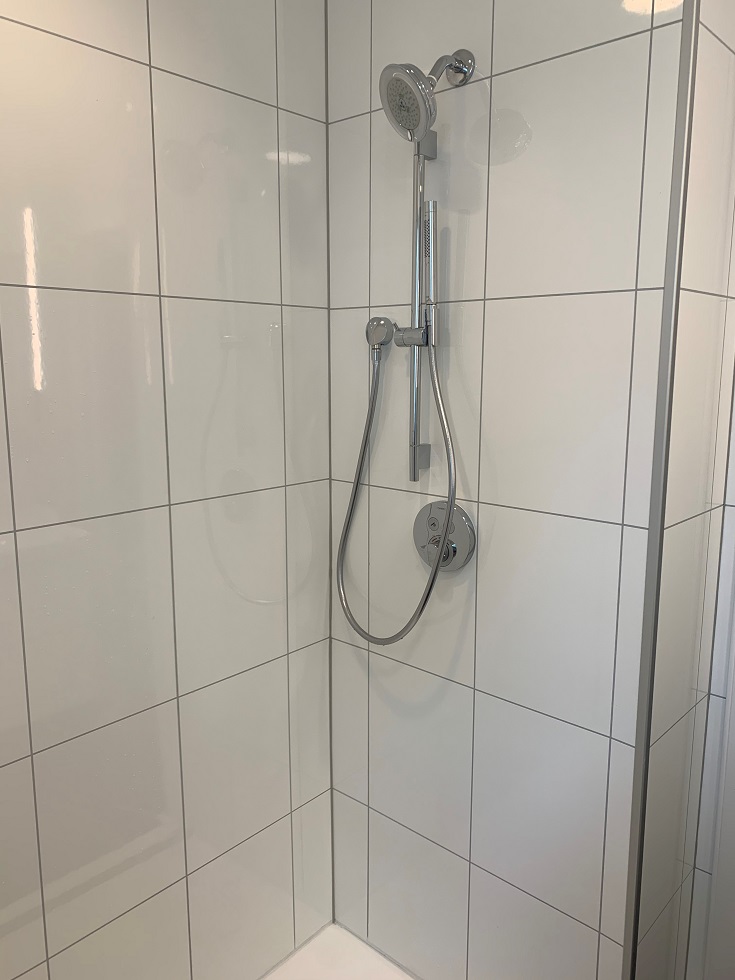 Get Free Samples!
Click here to request free samples of our Laminated Waterproof Shower Wall Panels.
Tip #7 (for simplicity) – Level the 'playing field' between your shower and bathroom with a wet room
If you travel to Europe and Asia this shower design concept is everywhere. It's the one level barrier free wet room. This system includes a sloped shower base former (which is a 7/8" thick piece of glass reinforced plastic) placed directly on your joists, a drain, and a kit to waterproof the entire bathroom (not just the shower). It eliminates the 'separation' between your shower and bathroom floor.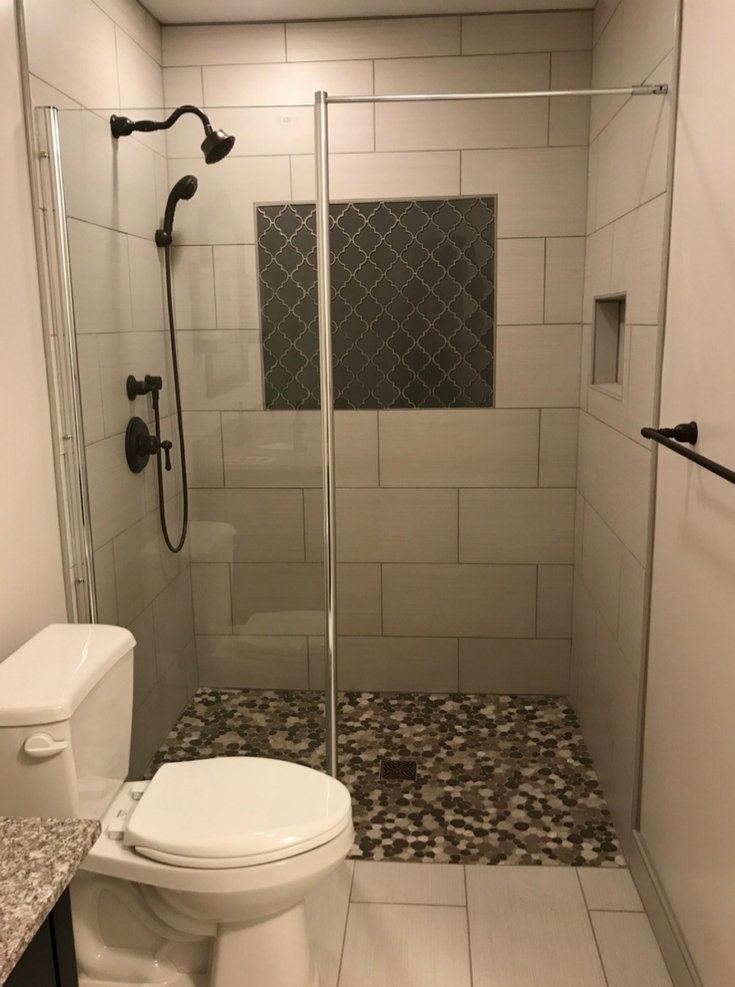 By 'leveling the playing field' (and eliminating barriers between your shower and bathroom floor) – it's easy for someone in a wheelchair and someone standing to use the shower. And what's even cooler, this system has a contemporary look. Nothing about it says 'geriatric' – of course unless you buy an institutional grab bar and slap it in your shower!
And if you want more age in place remodeling tips, listen to this podcast – Remodeling Ideas to Increase Safety, Function, and Accessibility in Your Bathroom. 
Tip #8 (for simplicity) – Use an oversized recessed niche so your (ever growing) shower supplies are at your fingertips
Let's face it, most showers are a storage disaster. And I'll bet if your storage is bad, one of these situations will be familiar to you:
Your fiberglass one piece shower has shampoo bottles which constantly fall onto the shower floor because the shelves are too shallow.
You have no storage at all and resorted to buying a pathetic 'Dollar-Store' plastic shower caddy. Or
Your tile storage niche is dirty and moldy. You don't want to store anything inside it anymore.
To simplify your life – and get you the amount of storage you desperately need – a smarter option is an oversized recessed niche. They can be placed vertically (between the studs) or horizontally (which does require reframing behind the wall) on the wall. They not only look cool – but can be placed anywhere you like on the wall so it's easy to reach for someone in a wheelchair or someone standing. And because they're made of made of stainless steel, they require no maintenance.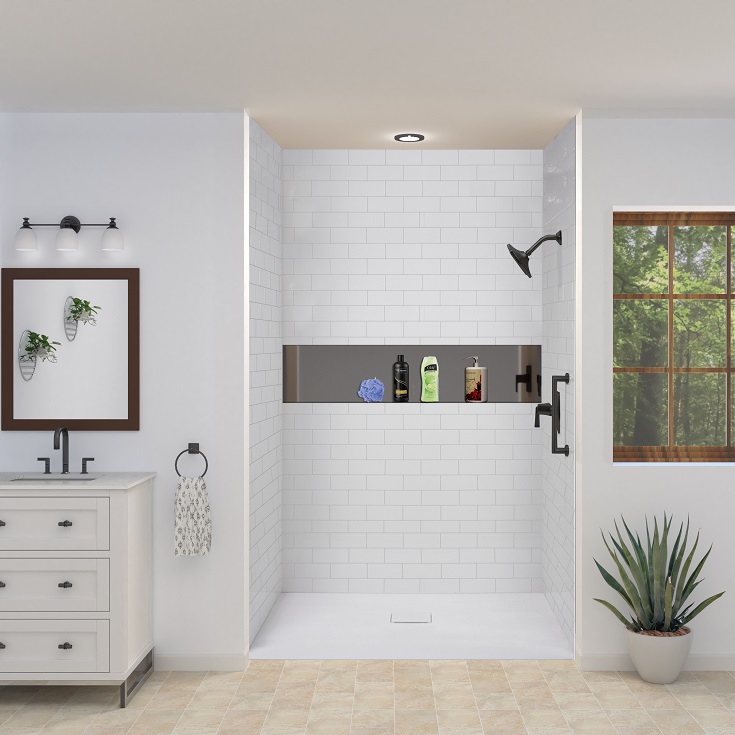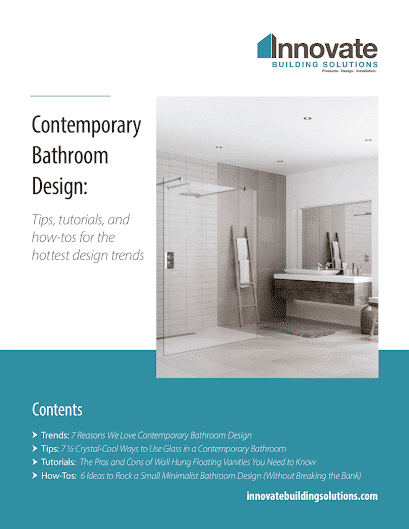 Get Our Contemporary Bathroom Guide!
Tips, tutorials, and how-tos for the hottest design trends
Tip #9 (for simplicity) – Insist on a glass shower door which is simple to clean
If you do the cooking (or are the 'clean up crew' after the cook) in your home I've got a personal question to ask. Do you own non-stick pans? If you want your after dinner clean-up to be simple, I'll bet you sure as heck do.
However, unlike your collection of non-stick pans, when it comes to buying a glass shower door – few (if any) people think about buying a door which minimizes the hard water deposits which stick to it and make it a pain to clean, or leaves spots you can never get out.
However, I'd argue a 'hidden feature' (which in glass door terminology is called a 'glass surface protection') can be worth it's weight in gold if you're the unlucky member of your family who 'gets' to clean the bathroom (and your glass shower door).
So – to make your life simple –see if the shower door you're buying has a glass surface protection system like Microtek or AquaGlide. It'll make life simpler like your non-stick pans (in the kitchen) or RainX you used on your windshield to bead water off.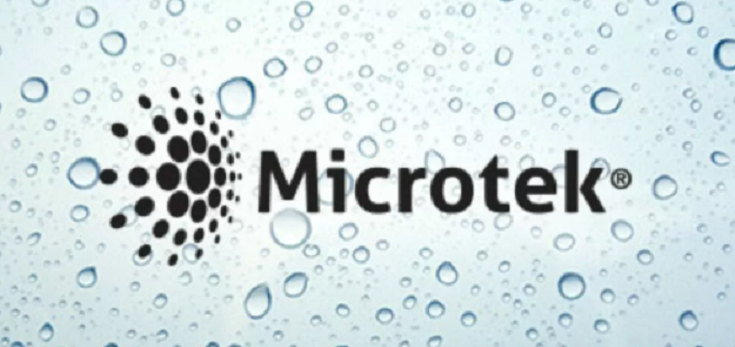 Tip #10 (for simplicity) – Pay attention to your shower handles
I wish I understood why the body is a bunch of 'wear parts' which break down as we age. Yes, it's an unfortunate reality. The dexterity you took for granted growing up – is something you'd pay good money to resurrect today.
And since this article will NOT provide any foolproof tips (or any tips whatsoever) to reverse aging (although I do recommend hair coloring and – please keep my little secret), what I can recommend is products for an age in place shower which'll make it simple to use – even if your dexterity isn't what you wish it was.
And one of these simple to use products are lever style faucet handles. They're simple to turn on. They're simple to adjust the hot and cold.
Insider Tips for a More Stylish Age in Place Shower
Tip #11 (for style) – Take advantage of your 'feature wall'
I wonder how many people are like me and when they grew up their dad (and yes, I'm being sexist here, but stay with me) had his own 'utility' shower in the basement? He would go down there and get clean after a long sweaty day at the construction site or factory. His shower was ALL about utility. There were ZERO frills.
And while showers 'back in his day' where all about function, an age in place shower today doesn't need to be your dad's basement 'utility' shower. And one way to add pizzazz to even a standard 60 x 32 alcove shower is to add a 'feature wall' in your design.
To create this feature wall – use a different shower wall panel patterns (or contrasting tiles) on the wall you see first when you come into your bathroom.
This wall will have the cool tile, stone or pattern which make people say WOW. And even if your dad doesn't 'get it,' you know there's no reason you should go without some style in your life (even if your dad is still stuck on utility!).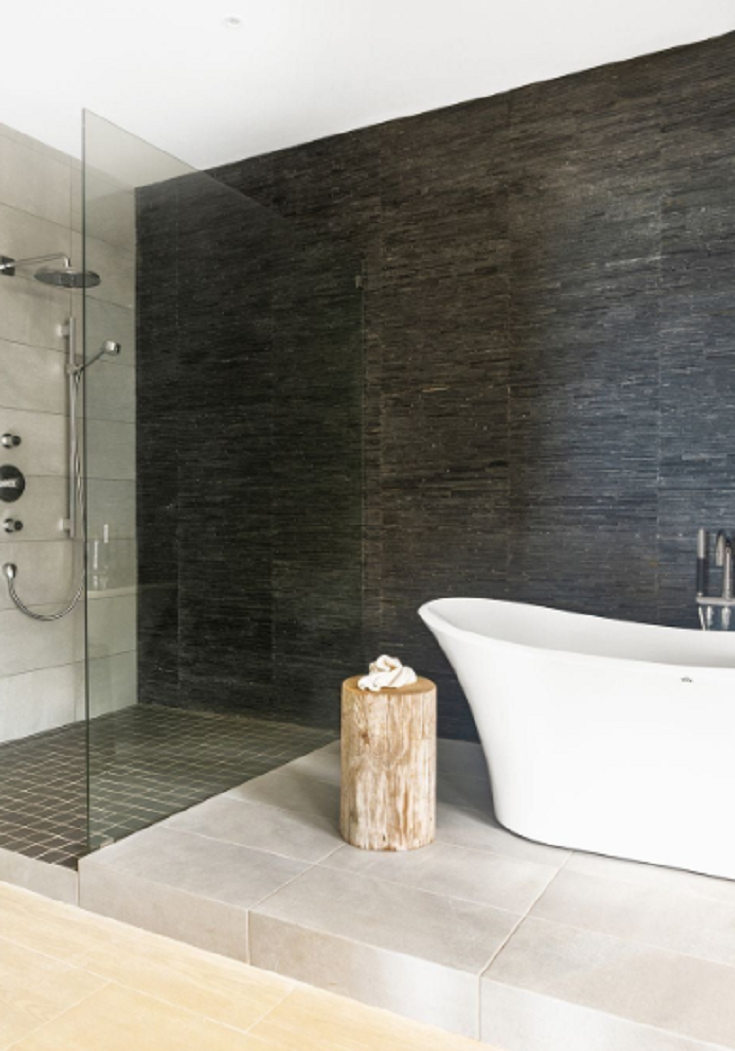 Image Source: House Beautiful
Get Free Samples!
Click here to request free samples of our Laminated Waterproof Shower Wall Panels.
Tip #12 (for style) – Your 'safe' age in place shower pan doesn't need to be stodgy
So many age in place products are generic, white, plastic, and boring.
And, for example, although you (or a family member) may need a safe shower pan (to minimize the risk of a fall and hospital stay), doesn't mean you can't have 'cool' one also.
With low profile stone shower pans you can get fun décor patterns like white marble, black marble, and driftwood.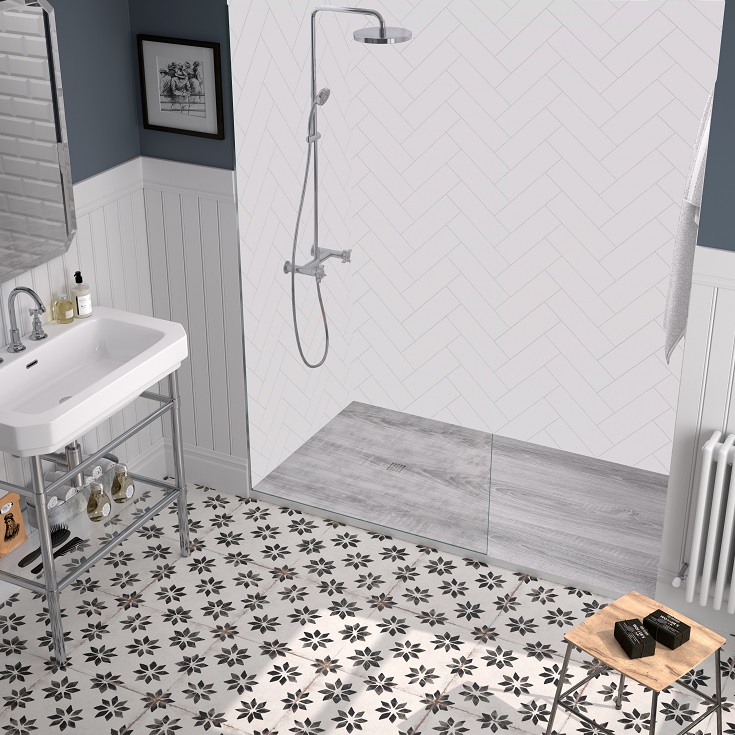 Don't let safe equal stodgy for your shower. Add 'life' to your low entry shower pan.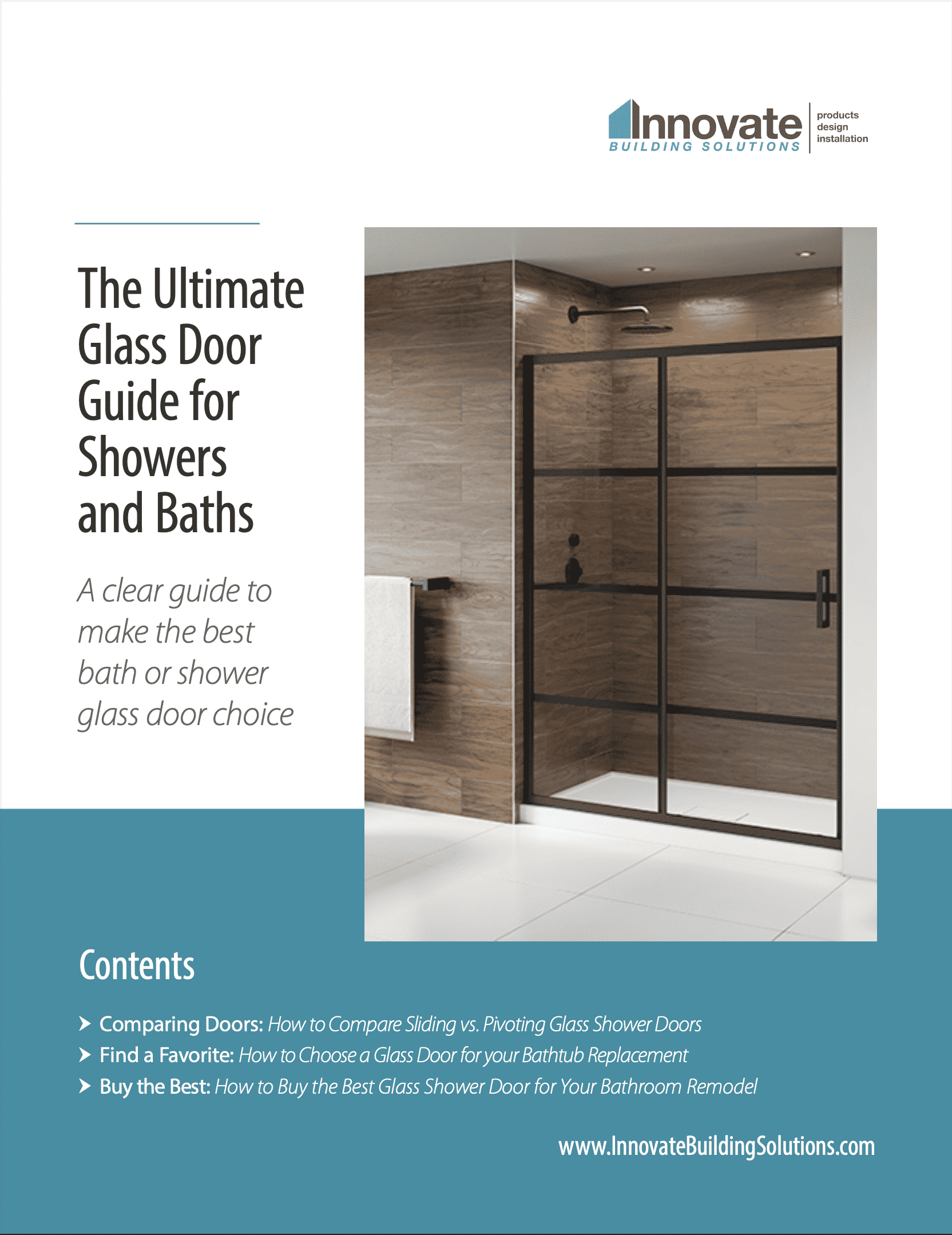 The Ultimate Glass Door Shower Guide
A clear guide to making the best bath or shower glass shower door choice
Tip #13 (for style) – Let your drain 'disappear'
I don't mean any disrespect to shower drain manufacturers, but standard (especially round) shower drains are the ugly stepchild of a shower remodel. They're mundane. They're out of style. They detract from the looks of your shower.
So – you may be wondering if there's a way for the drain in your age in place shower actually add style? There sure is.
One way is to get a drain which disappears. For example, if you're doing a tile shower use a linear drain where the tile can be set into the drain body. Or use a shower pan which has a drain plate designed to match the shower pan pattern.
And here's a crazy Ripley's Believe it Or Not Statement I'll be bold enough to make….
Even shower drains can be cool.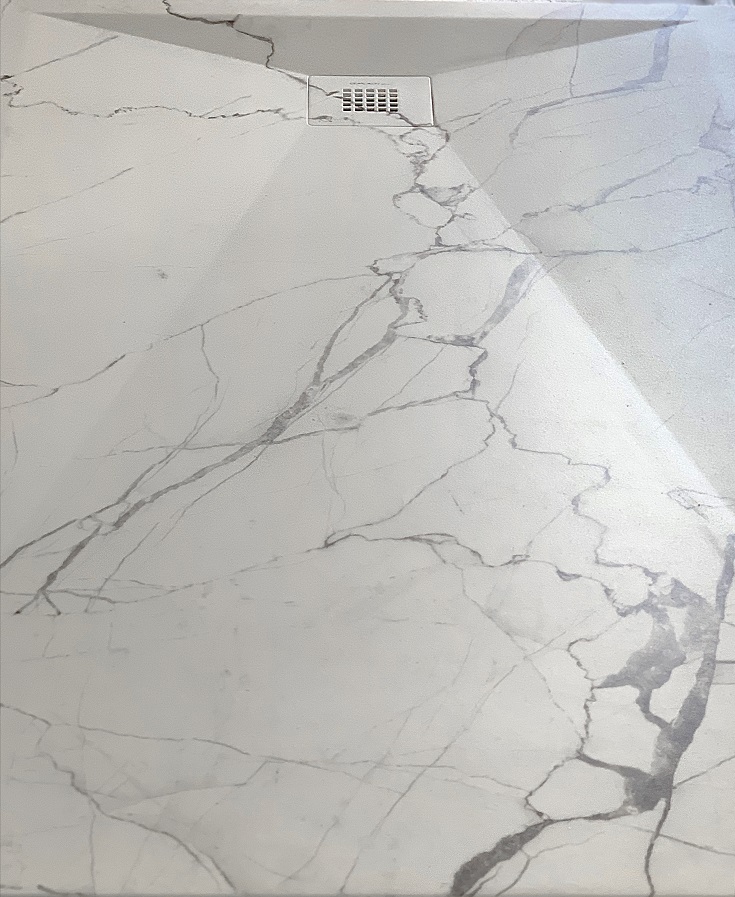 Tip #14 (for style) – Don't settle for a clear, life-less glass shower door or wall
Contrary to popular opinion, shower doors do not need to blend in with the woodwork (or tilework or shower panel-work). You get what I mean.
They don't have to be clear. They don't have to be made with an outdated bright brass or chrome finish which is a pain to clean. And they don't have to have bottom tracks which make you want to S-C-R-E-A-M while cleaning the door!
No, shower doors or walls can be statement pieces which don't make you want to spew words you WOULDN'T want mom to hear.
For example, use a decorative glass shower pattern. It'll add style. It'll add privacy. It'll make it harder for even the OCD person in your house to see water spots.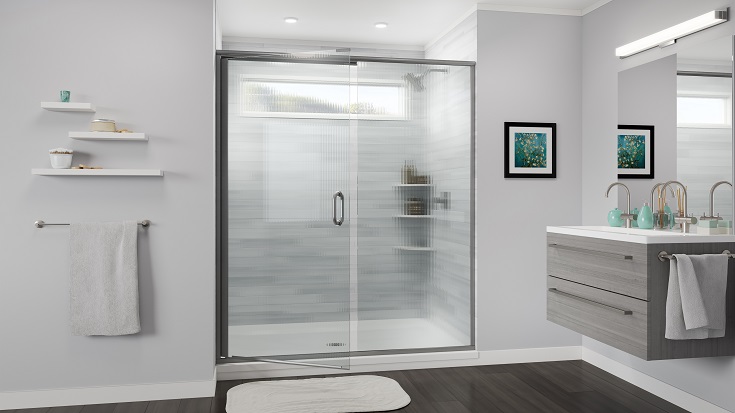 Or how about a decorative glass block shower wall. Add fun patterns. Add different styles. Get a 'stained glass look,' with this nearly indestructible, timeless building material.
Or how about a matte black grid pattern shower door to give your age in place shower punch.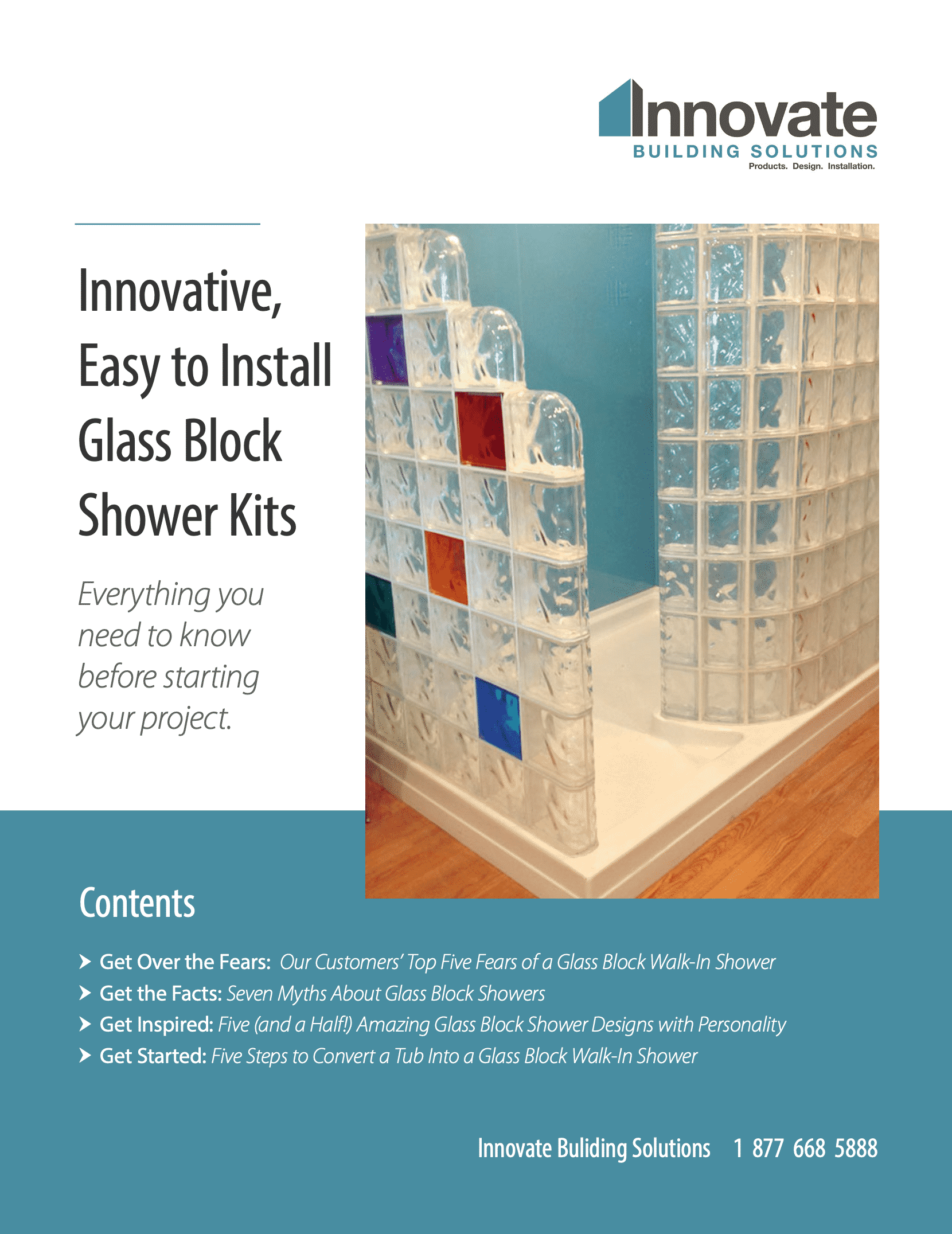 Glass Block Shower Ultimate Guide
The Ultimate DIY Guide for your Next Bathroom Remodel
Tip #15 (for style) – Let your tile shower 'spill out' onto your waterproof bathroom floor
A fun age in place shower knows no boundaries. And one way to design a 'boundaryless' shower is to create a waterproof tile shower which visually 'spills out' onto the bathroom floor. It's a cool way to make your (normally) boring shower and bathroom floor a piece of art.
So, were any of these age in place shower tips news to you? Do you need help with your design?
My goal with this article was to get you to stretch (and not in an 8th grade gym class sort of way) your thinking. My goal was to help you venture beyond the 'safe age in place' shower and see the benefits of a simpler (and more stylish) age in place shower.
At this point I'd love to know if any of these tips covered new ground for you. I hope so. And I hope you've learned how you can add 'style points' for your next shower as well. Why live life (and take showers) if you can't enjoy the experience?
And while this article is wrapped in a neat 'bow' of 15 tips, thinking through your new age in place shower may still be mind-blowing to you.
And if this is the case for you feel free to reach out to my team at Innovate Building Solutions. We help people not only with the design of an age in place shower – but also by wholesaling unique (and simple to maintain products) which'll have you excited to use your shower.
Call 877-668-5888. Click for a Free Design Consultation. Get assistance from a Bathroom Product Specialists. Get nationwide factory-direct supply of accessible shower products. Or if you need a referral to a home access contractor, I know a few who can help you along the way.
Thanks for reading and (most of all) putting up with me (and my wackiness along the way). As my family will tell you, it's just how I'm wired. Life's too short to be too serious (at least that's my philosophy).
Mike
###
If you want more advice follow me on LinkedIn @MikeFoti.
And if you're age in place contractor interested in being a dealer of  shower wall panels, shower pans, glass shower door systems and freestanding or alcove tubs, call 888-467-7488 and ask for Mike.
---
Mike Foti
President of Innovate Building Solutions a nationwide supplier and regional (Cleveland and Columbus) remodeling contractors. Some of our product lines include glass counters, floors, backsplashes, glass blocks and grout free shower and tub wall panels
---