How to save time (and cost) to remodel a bathroom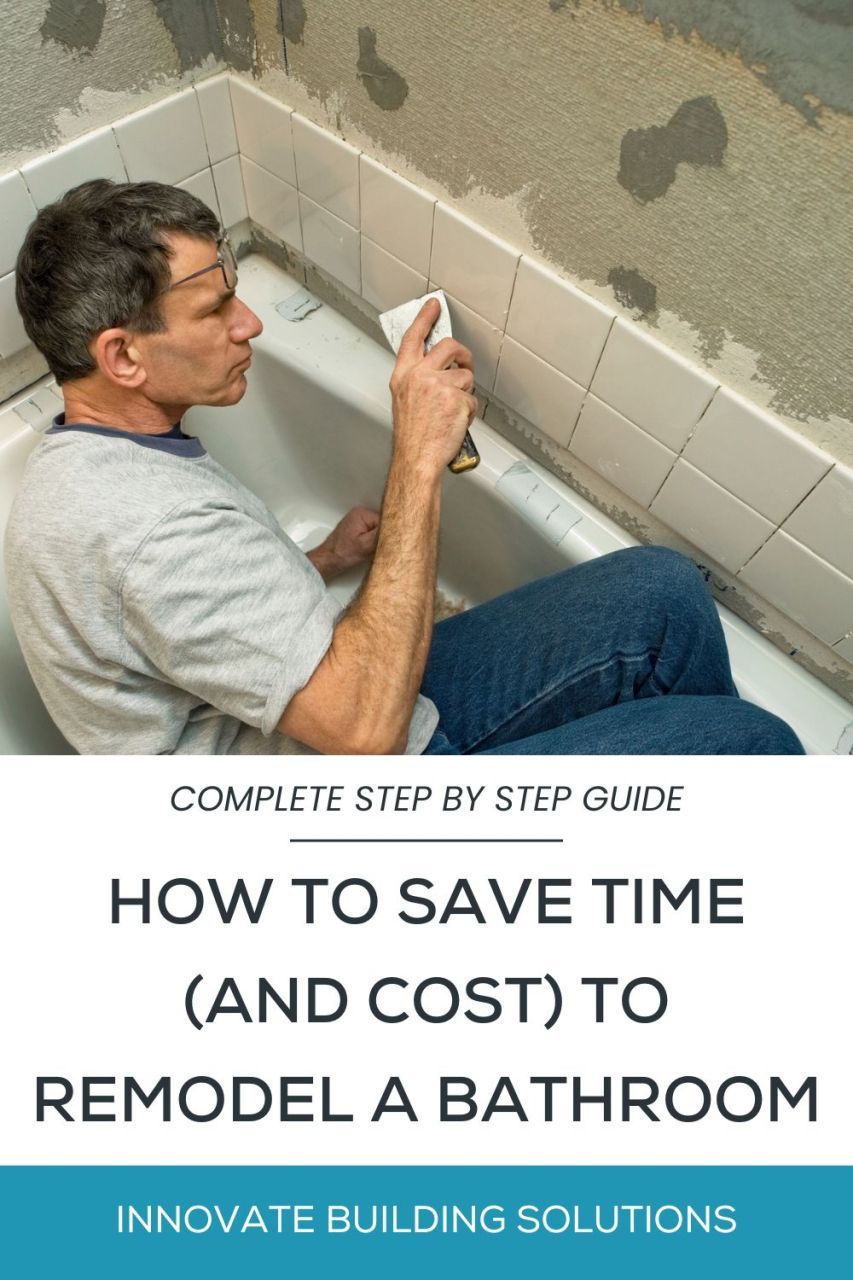 They (whoever 'they' are) say, "time is money." And this statement has never been truer than it is today if you're remodeling a bathroom.
With contractors being more difficult to find (and more expensive), if you're not thinking about bathroom remodeling labor costs as you're choosing products and finalizing your design – you'll pay dearly for this oversight in the end.
It's for this reason I'm listing 10 practical ideas to save time (and money) to remodel your bathroom. I'll identify smarter product and designs choices for you. At the end I'd love your feedback on which ideas helped you, and other time-saving ideas you've used as well.
Bath remodel time saving idea #1 – Stop using tile.
Sorry to be blunt, and I hope this idea doesn't cause the 'brotherhood' of tile setters to put out a 'hit' on me, but tile is a pain in the rear to install.
It takes a long time to cut.
It kicks up dust to beat the band.
And grout joints between tiles are a breeding ground for mold.
And if you want to cut the time (and cost) of remodeling your bathroom, you need to stop using tile.
And while eliminating tile may be disappointing to you, I'm here to tell you the good news.
And the good news is there are excellent product substitutes for tile (and I saw tons of them at the Kitchen and Bath Industry Show I just attended in Las Vegas).
For example, for your shower floor, blow up the 'grout, grout, grout everywhere' mosaic tile shower floor and install a stylish – and sturdy shower pan like the stone low profile pan you'll see below.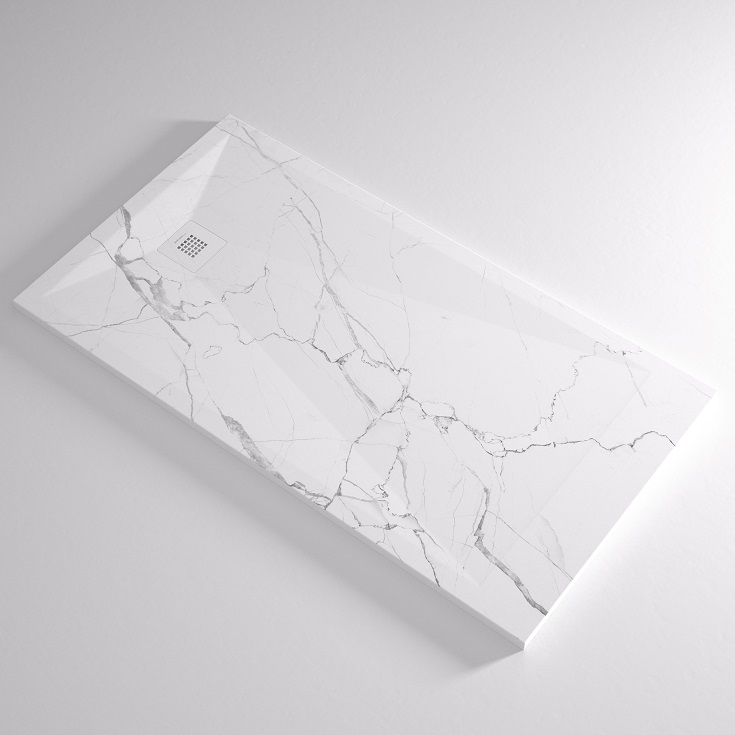 For your wall surrounds cut installation time (and maintenance) with 'click and lock' laminate wall surrounds. This is just one of many wall panel systems which were all over the place at the Kitchen and Bath Industry Show (KBIS) this year.
And lastly, make your bathroom flooring simpler to maintain and quicker to install with luxury vinyl plank or luxury vinyl tile floor.
Get Free Samples!
Click here to request free samples of our Laminated Waterproof Shower Wall Panels.
Image Source: Sustain my Craft Habit
Bath remodel time saving idea #2 – Choose a low profile vs. a curbless one level shower.
One level showers are cool. One level showers are minimalist.
However, one level showers are not the quickest to install (and frequently require cutting into the subfloor or joists depending on the installation method).
A more time and cost-effective alternative is a low profile solid surface shower pan. They're sturdy. They're durable. They go right on top the subfloor. They're easy-peasy to put in.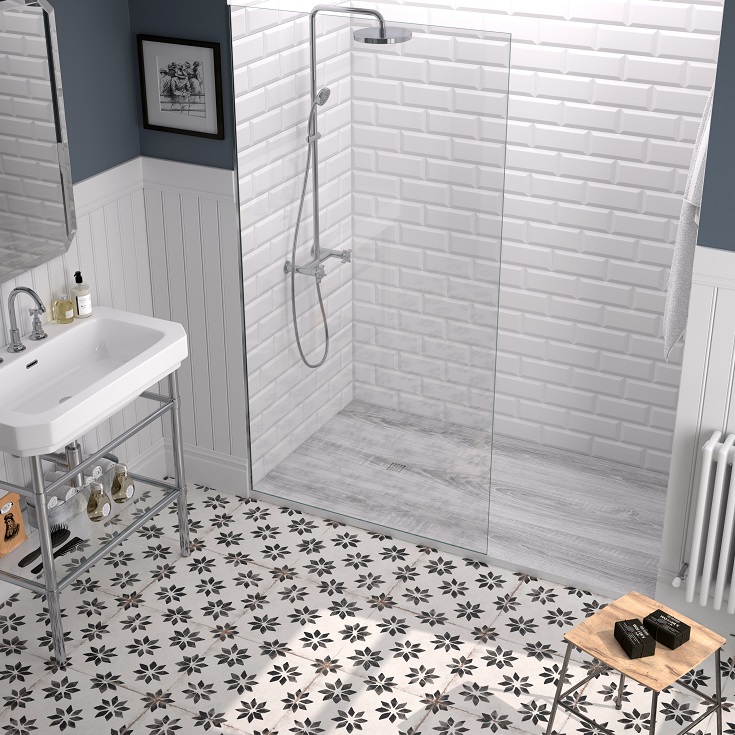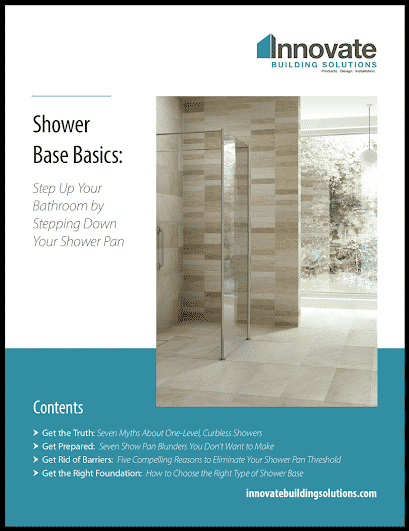 Get Our Ultimate Shower Base Guide!
Step Up Your Bathroom by Stepping Down Your Shower Pan!
Bath remodel time saving idea #3 – Don't become enamored with the whiz-bang new product or system.
Who didn't love to hang out in the Sharper Image store back in the day? Their 'go-go-gadgets' were fun, even if they we're exactly practical.
And while it may be fun buying what's trending in bath and shower products, make sure before you buy, but you can find an installer who knows what the heck they're doing putting your favorite cool, new product in. Otherwise, a cool-looking product can become a thorn (and economic sinkhole) for your project.
Bath remodel time saving idea #4 – Stop using site-built custom niches for soap and shampoo storage.
Have you ever tried framing, waterproofing, and tiling a storage-boosting, horizontal recessed niche?
Sure they look cool, but they're a time-sucking PIA to do (which makes them more costly than you assumed).
Eliminate this hassle with an oversized stainless steel niche. They're made for vertical and horizontal applications, are quicker to put in, and DO NOT have evil grout joints which get brown and moldy as your shower ages.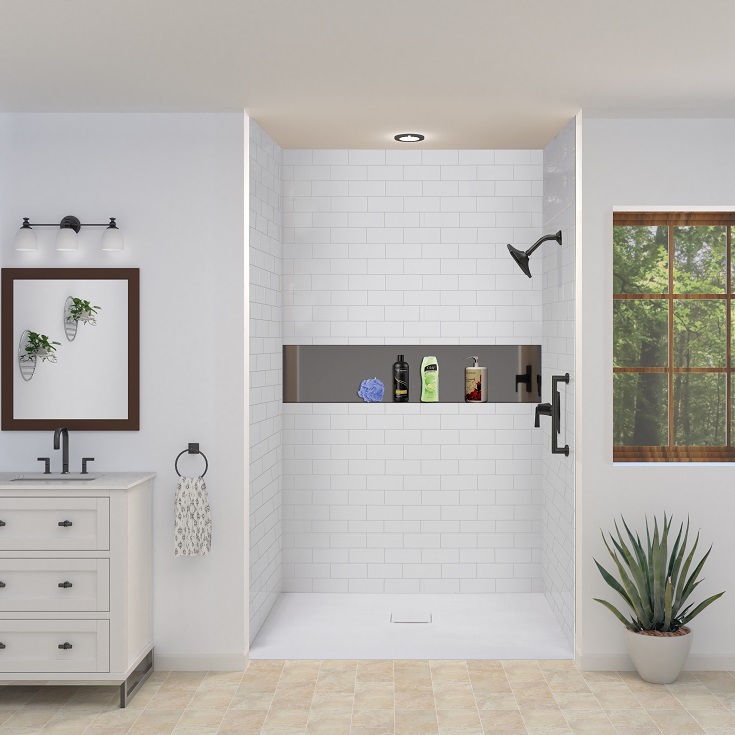 Bath remodel time saving idea #5 – Don't buy 'pieces-parts.' Look for systems.
So, you found the coolest bathroom vanity – then had the darndest time finding the right countertop and sink to work with it.
Or you found a stylish curved shower pan but couldn't find a curved sliding glass shower door (which wasn't custom and uber-expensive) to go with it.
The problem is when you're a 'pieces-parts' buyer you can end up with cool things you have a hard time using because you can't find products which coordinate with them. Be smarter than this.
Look for a vanity which comes with the top, cabinet box and hardware in an integrated system.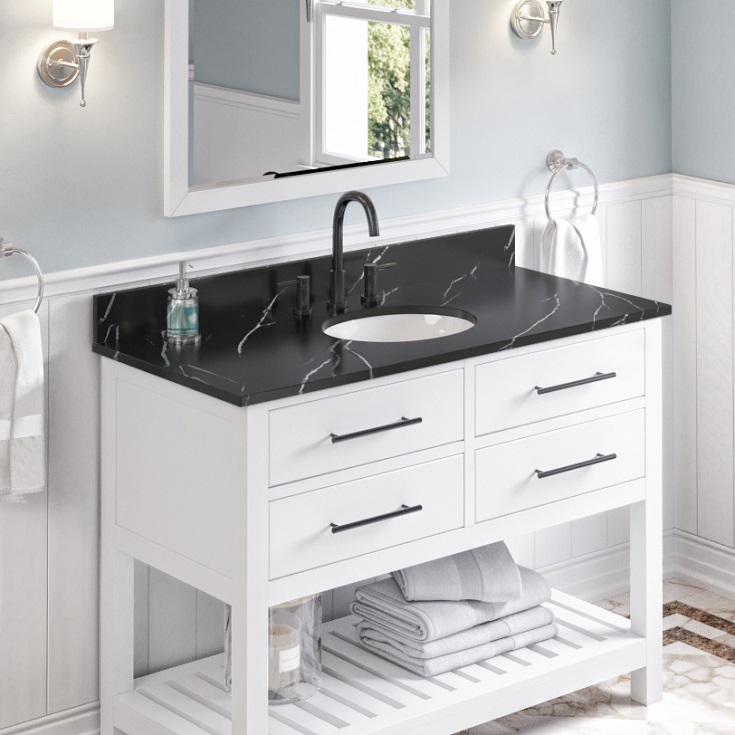 Look for a complete shower replacement kit where you'll get the shower pan AND glass shower door AND wall surrounds which give you everything you need.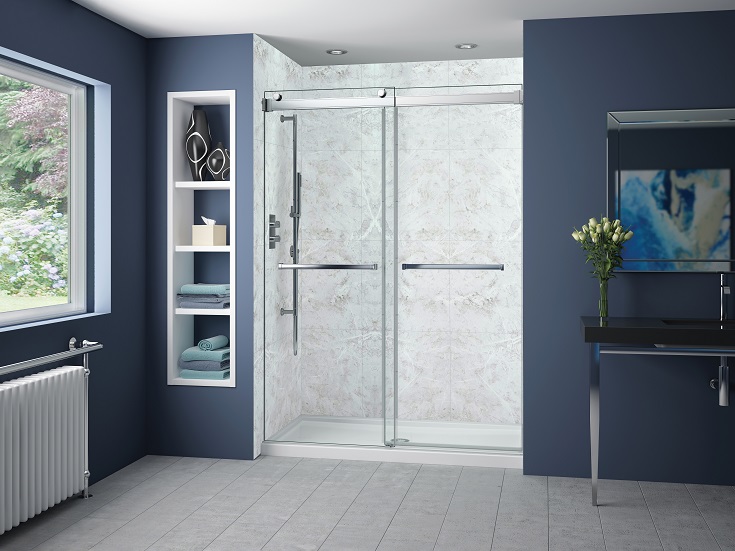 The Ultimate Shower Replacement Kit Guide
Clear advice on bringing your bathroom to the next level
Bath remodel time saving idea #6 – Don't use 'site-built' custom shower pans.
Let's face it, the shower pan is the 'foundation' of your wet space ('er this is the primary area which can leak). If it fails, you're toast!
And if your shower pan is built using component pieces by a contractor, it'll not only take longer to install, but it's susceptible to human error if the person doing the job is having an 'off' day.
A smarter (and quicker) way to go is with a preformed custom shower base. And even if you have a custom size (or shaped) shower, contrary to popular belief, you're not limited to a cheap, white plasticky option you find at a home center.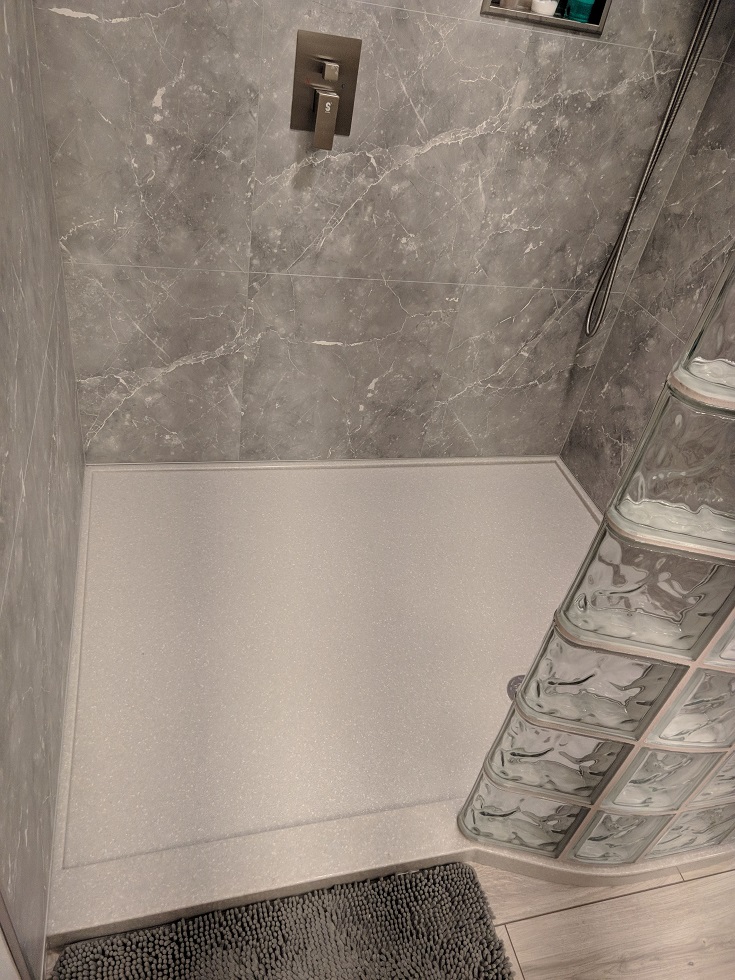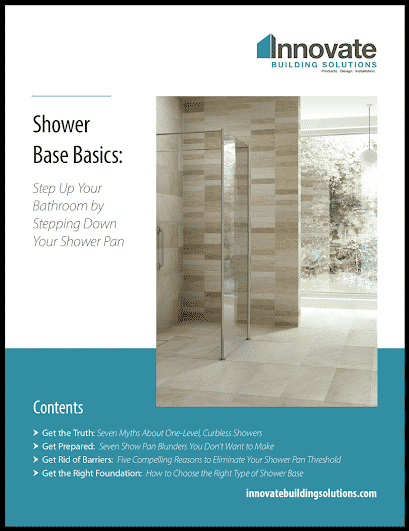 Get Our Ultimate Shower Base Guide!
Step Up Your Bathroom by Stepping Down Your Shower Pan!
Bath remodel time saving idea #7 – Visualize before you buy.
If you're in NO WAY an interior designer – and you don't play one on TV either – you know putting colors and patterns together can be a chore and a half. Frankly, it's a part of remodeling which scares the daylights out of people.
However, it's nice to know there are bathroom visualizer tools which allow you to see how your vanity, floor, shower base and shower wall surrounds look together in one room scene. And if you're still not sure if your selections work well together, email your design to a family member, friend or interior designer who does have a good sense of style to give you their 'final blessing.'
Don't end up living with an ugly product selection which could have been avoided.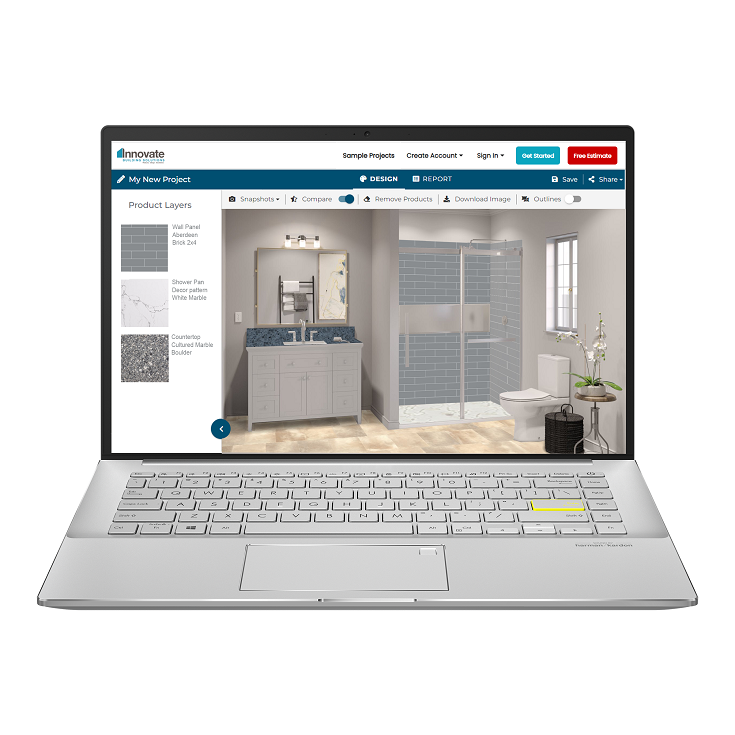 Bath remodel time saving idea #8 – Don't move the plumbing.
Moving your toilet, shower, or vanity doesn't sound like a big deal, or at least until you get the estimate which knocks your socks off.
When possible – keep plumbing where it is to make your project more time and cost-effective.
Bath remodel time saving idea #9 – Make sure you have materials on hand BEFORE you start.
OK – I'd be curious if the term 'supply chain' was even in your vocabulary before the pandemic?
The one thing I can say with 100% certainty, is product availability today is anything but certain.
And if you've been on the receiving end of a remodeling project which came to a standstill (and added more labor and material costs due to your inability to get a product) you know how big a problem supply can be.
However, I'm here to tell you the good news. Supply problems DO NOT have to be YOUR PROBLEM!
Buy (and even store off site if necessary) the products you need BEFORE you start demoing your bathroom. This will save you money and ensure contractors won't be charging extra because they have to return to your home later due to availability problems.
Bath remodel time saving idea #10 – Know your DIY limitations. Know when to 'hold 'em, and when to fold 'em.'
We've all bitten off more than we can chew from time to time.
And while the lure of saving money by DIY'ing the installation can be enticing, it can also be downright dangerous.
If you're considering DIYing a portion of your bathroom remodel you haven't done previously, before you start make sure you've got strong technical support from your supplier or manufacturer. Otherwise, if you're struggling mid-project, you might feel like someone who jumped out of a plane without a parachute. And no one likes to go…
S-P-L-A-T!
So, do you now have ideas to save time in your bath remodel? Can our team help you further?
I know a bath remodeling project can be overwhelming.
There's so many decisions.
There's so much to worry about – contractors, products, and costs.
There's so many moving parts and people to manage.
You want to do the job right, AND on time, AND on budget.
And if you're looking for help choosing time-effective products like ready to install wall panels, shower pans and complete alcove shower kits but also would like design programs (like a bathroom visualizer) to help along the way, we'd be honored to assist.
Call 877-668-5888. Click for a Free Design Consultation. Get assistance from a Bathroom Product Specialists. Get nationwide factory-direct supply of shower and bath products. Or if you need a referral to a remodeling contractor, (depending on where you live) we have installing dealers who can help you along the way.
Thanks for reading.
Mike
###
If you want more advice follow me on LinkedIn @MikeFoti.
And if you're bathroom remodeling contractor interested in being a dealer of  shower wall panels, shower pans, glass shower door systems and freestanding or alcove tubs, call 888-467-7488 and ask for Mike.
---
Mike Foti
President of Innovate Building Solutions a nationwide supplier and regional (Cleveland and Columbus) remodeling contractors. Some of our product lines include glass counters, floors, backsplashes, glass blocks and grout free shower and tub wall panels
---