A comprehensive guide to the cost of an installed tub-to-shower conversion.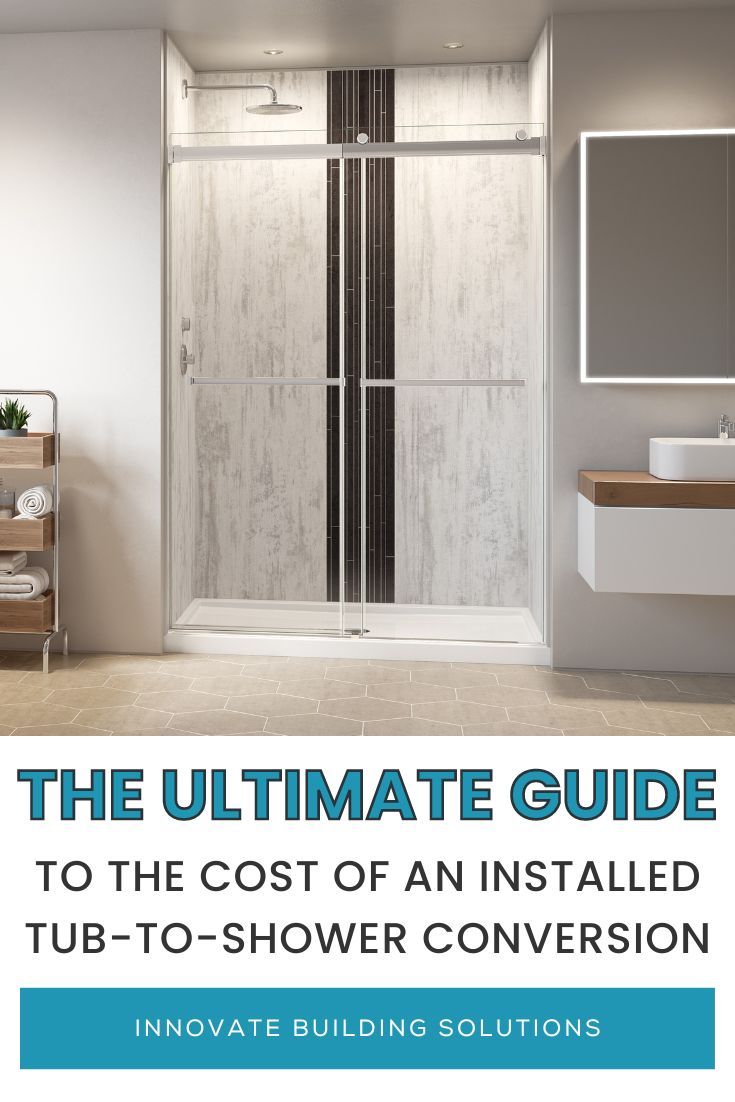 I swear (and don't let my Mom hear that) I get asked this question (whether it's by a homeowner – or a bathroom remodeling contractor starting their business) every day. That question is…
"Mike, what's the cost of an installed tub-to-shower conversion?"
And when I give my standard answer, prices range from $7,000 to $25,000, I think I've literally caused some people to drop off their chairs!
And after I've delivered the bad news of the price range I've had people respond with,
"Mike tell me you're pulling my leg (or arm, or shoulder). I read this article on the Internet which said the range is from $1,200 to $8,000. Tell me you've been smoking something."
And when I tell them I have no idea who the yahoos are who came up with these wacko numbers (or if the writer talked to any actual bathroom remodeling contractors or homeowners before writing their article), the homeowner is bummed. And I get it.
And while my goal in this article IS NOT to be 'Danny Downer,' however I promise you I'm going to keep it real. I'm going to tell you how it is (not necessarily how you wish it was back in the day when you 'walked up hill, BOTH WAYS to school).
And the reason I know I'm giving you the real scoop is I (and my team) sell tub-to-shower conversion systems daily. We not only design, sell, and install tub-to-shower conversions in Cleveland Ohio – but we wholesale wall surrounds, shower bases, glass doors, and accessories used in tub-to-shower conversions to contractors and consumers across the United States.
Short story – we design and install these jobs (through our Bath Doctor installation division) and we supply these projects through our Innovate Building Solutions wholesale division. And while I'm not a fancy-schmancy freelance writer working for a big magazine or Internet website, I am living in the bath remodeling world dealing with real jobs and real customers. I'm livin' it. I'm breathing' it. It's my world (and yes, I know, some guys just have the life).
And if you think all the contractors selling and installing tub-to-shower conversions are all charging crazy-high numbers and getting rich quick –this is not the case. Like any industry some earn good profits, and others lose their behinds because they don't know their costs, don't sell quality products, or know how to run a business.
However, if you're like most people, what you really want to know about bathtub-to-shower conversions is the answer to two questions:
Question #1) Why is there such a wide range of pricing for tub-to-shower conversions? $7,000 to $25,000 IS INSANE.
(Question #2) How can I get my bathroom done for a price closer to $7,000 (or at least get an excellent value without becoming house-poor because of a bathroom remodel)?
So, in this article my goal is to give you answers to these questions by identifying 6 factors driving the cost of tub-to-shower jobs. I'll look at why the price range is so HUGE (or HUGELY as a former President was fond of saying). Then I'll give you (a) ideas on how to do this project IF you need it professionally installed AND you have a razon-thin budget and (b) I'll offer ideas to get the best value (and by that I mean a nice quality project at a reasonable price).
Let's dig in.
Factor #1 driving the cost of a tub to shower conversion– Manage the cost of the major products needed.  
Usually, the largest cost in a tub to shower conversion are material costs. And all bathtub to shower conversions must include a new shower base and shower wall surrounds (and many conversions also include shower doors). So, let's look at these 3 primary products and how you can buy them on a budget, or get a higher value (yet nicer) system.
Item #1) Your shower base – The shower base – while not the sexiest part of a shower is the 'foundation' of the system. If the base fails, Houston you'll have a problem. A shower pan can be thin, and flimsy, yet low cost. Or if you pay more your shower pan can be thick and sturdy. IMHO a cheap shower pan is a big risk because if it fails you'll need to remove everything above it (and that's a B-I-G problem). Here's examples of budget and higher value shower pans.
The budget shower pan – If you want bare-bones choose a fiberglass shower pan. It's cheap, but it's also flimsy, and may squeak when you walk on it. It's the most likely of any type of base to crack.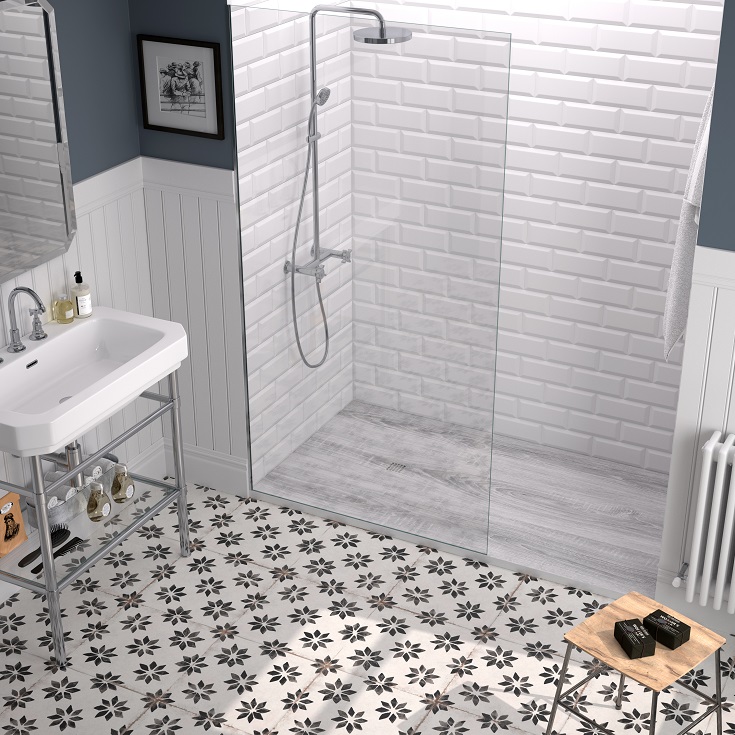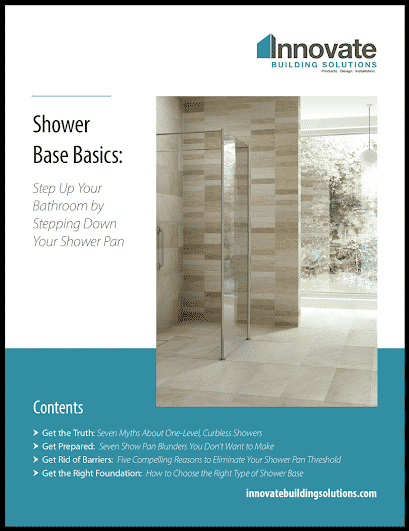 Get Our Ultimate Shower Base Guide!
Step Up Your Bathroom by Stepping Down Your Shower Pan!
Item #2) Your wall surrounds – One area where costs range greatly are shower wall surrounds. The most important questions to ask when choosing wall surrounds are:
How important is it to get the cheapest system?
How important is ease of cleaning?
How important is it knowing the surround is guaranteed to last?
The most luxurious (and most expensive) wall surrounds use tile, marble, or granite walls. However, when you choose these walls (and build shower pans to go with them) you'll end up on the upper end of the pricing scale. In addition, tile showers are a pain to maintain. However, here's ideas for budget and best value wall surrounds.
The budget wall surrounds – The cheapest wall surrounds are fiberglass or F.R.P. (Fiberglass Reinforced Plastic). You'll find them at your local home center store. They'll keep costs low. And (initially) will be easy to clean. However, as the system ages they yellow and get dirt you can't get out. A 'step up' system are acrylic wall panels. They're slightly more expensive than fiberglass but are easier to clean. You'll find TONS of companies selling and installing acrylic wall panels (but as you'll learn later, the price these companies charge will be all over the board, even though the price of the acrylic panels aren't that expensive).
The best value wall surrounds – If you want a nice value wall surround which is simple to clean and looks like natural materials (tile, stone, and marble etc.), my favorite choice is laminate wall panels. These Euro-inspired, on-trend, panels are growing rapidly in the United States and have a lifetime guarantee. Another popular option (which is built like a tank) are cultured granite wall panels. They're sturdy, although they look a bit 1990's-ish (when cultured stone was all the rage and mullets and scrunchies were hot).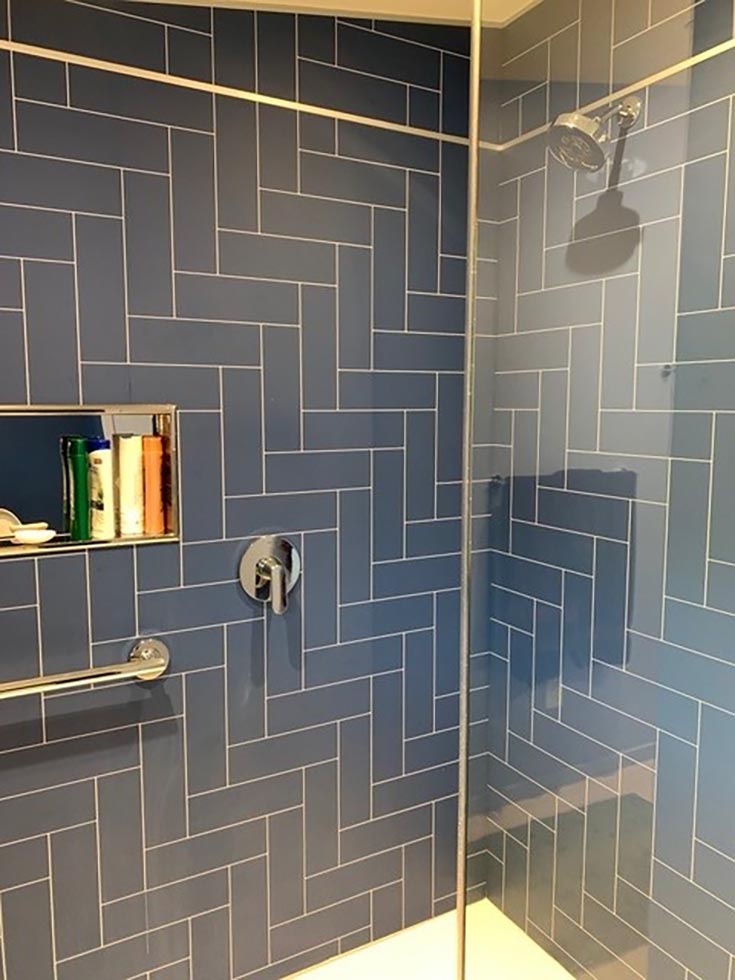 Get Free Samples!
Click here to request free samples of our Laminated Waterproof Shower Wall Panels.
Item #3) You (may) need glass shower doors – One factor which makes a tub to shower project cheaper is to eliminate glass shower doors. And while this will save money in the short run, in the long run you'll continually need to buy shower curtains from Bed, Bath, and Beyond and wipe water off the bathroom floor (because you know your family isn't doing it!). So, if you've decided you want the water to stay INSIDE the shower – but need a low-budget door, or high value glass door selection, how can you achieve this goal? Read these tips:
Buy a budget glass shower door – Just like buying a car, quality of glass doors vary. Cheaper glass shower doors are framed, use thinner glass, and are shorter. Framed glass doors are flimsy. The bypass framed glass doors used in alcove showers have a metal track at the bottom which gets 'gunked-up' (yes, that's a technical word) with hair and scum…. yum!
Get a high value glass shower door – The first thing to figure out in choosing a door is what 'operating' type is best. Do you want a bypass door (both doors slide from side to side which is most expensive), a sliding door (one door slides, one side is fixed), a pivoting door (with a fixed glass on the side) or a glass shower screen for a walk in shower (this option is cheapest). To get a better value door look for a 'stock door.' Stock doors have clear glass (obscure glass is used 10% of the time and costs about 25% more). Then look for a door that is 5/16" thick and semi-frameless or a 3/8" frameless door. It'll have a luxury feel but won't be un-godly expensive.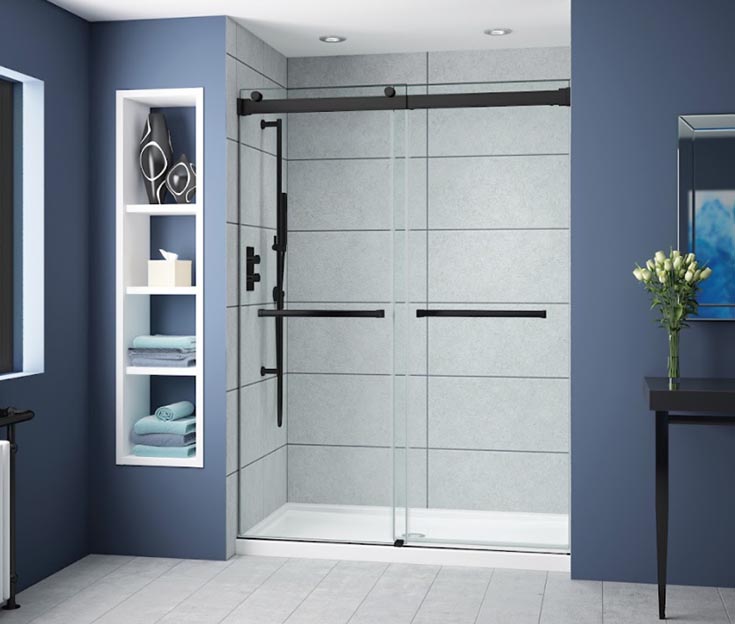 One final tip on buying tub to shower materials. Here's one final idea to drive the cost of your installed tub to shower project down – and get a nicer quality finished system. If you're buying the materials yourself (vs. having the contractor supply them for you) purchase a complete shower kit vs. buying materials a la carte. With a shower replacement kit (which includes the shower base, wall panels, and glass shower door) you'll save on shipping costs and get a better price because you're buying a package. To learn more about alcove replacement shower kits watch the video below.
The Ultimate Shower Replacement Kit Guide
Clear advice on bringing your bathroom to the next level
Factor #2 driving the cost of a tub to shower conversion– Using the right accessories.
Like buying a car, the more accessories you add, the more you'll run your bill up. However, with this being said, would you choose a cheaper car if you could take out seat belts and air bags? Or would you buy a car without a radio or air conditioning? Sometimes 'cheap,' is stupid.
The right accessories helps your shower live well. The wrong accessories makes showering frustrating. And if you choose expensive materials for your walls (like tile) –you'll pay more for accessories because recessed tile niches and tile bench seats are time-consuming to build. So, here's shower accessory ideas for a low budget or higher value shower.
Buying budget shower accessories – The way to keep accessories costs down is to use less accessories and buy cheaper products. Since (at a minimum) showers need a place for soap and shampoo if you have a tight budget purchase a simple chrome shower shelf or an SMC storage niche. Ask your contractor to add backerboard behind the walls so you can add more accessories down the road if needed (like grab bars and fold down seats).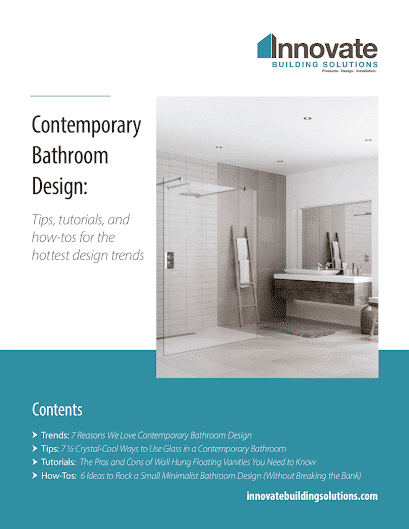 Get Our Contemporary Bathroom Guide!
Tips, tutorials, and how-tos for the hottest design trends
Get higher value accessories which makes your shower stylish (and safe) without breaking the bank – As mentioned above the smartest way to keep accessories cost down is to NOT build a tile shower – because adding bench seats and recessed niches in tile showers are expensive. However, if you want a stylish and safe shower without spending too much use grout free shower surrounds panels. Then choose a fold down seat (vs. a fixed bench seat), preformed recessed niche (vs. a time-consuming site made tile niche), and/or a grab shelf (which does double duty as a grab bar AND a shelf).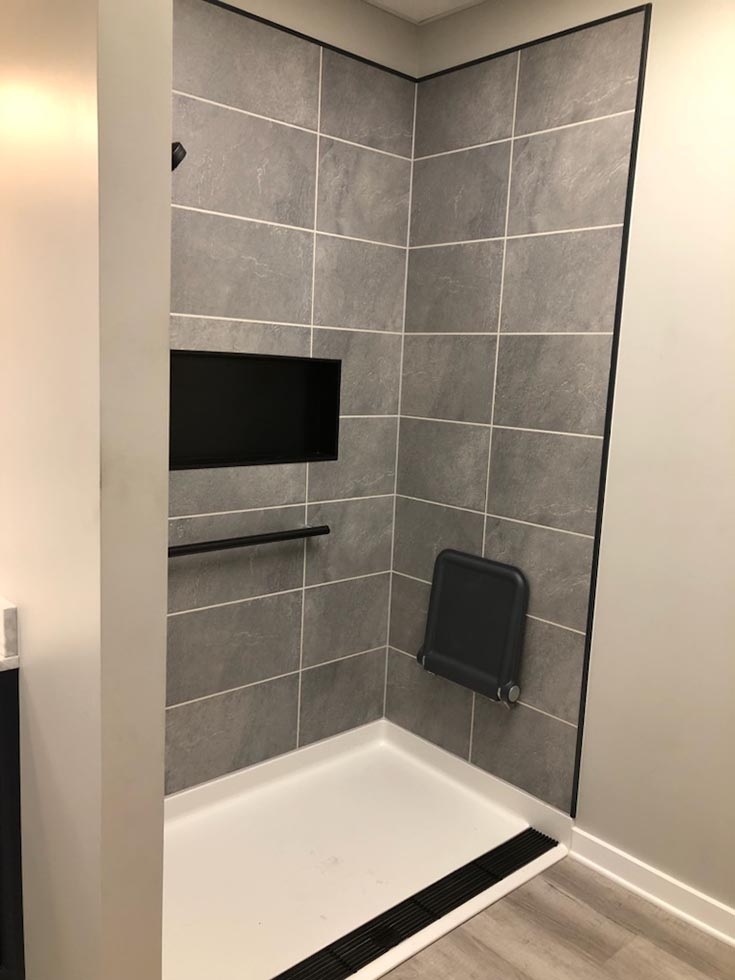 Factor #3 driving the cost of a tub to shower conversion – Having a good plan for the shower window.
I'm sorry to break the news to you, but when you have a window in your alcove tub shower, it'll cost more to keep the window. The reason you'll pay more is it's time-consuming to trim around windows and not all wall surround systems have complimentary trim kits.
And while it's nice to enjoy the natural light the window brings in; it's also NOT nice thinking your cringey neighbor may be checking you out while showering!
So, if you've got a window the question is how to keep your tub to shower conversion costs down, get a higher value (yet not too expensive) finished project and NOT show off your (not-as-hot-as-you'd-like) body? Here's how.
 The low budget approach to the window– To keep window costs for a tub to shower conversion down, cover over the window with wall panels. And while it's possible to do this, I think it's a TERR-I-BLE idea. Natural light makes a bathroom more inviting. Natural lighting makes a bathroom safer. And if you cover over the window with a cheap fiberglass or acrylic wall surround, it's going to look AWFUL from the outside (and when you sell the house this Mickey-Mouse Maneuver may make a buyer think twice about putting an offer in).
A higher value (yet not too expensive) way to finish the window – If you want to keep the window, want more privacy, but don't want to pay too much here's some ideas. First trim around the window, using inexpensive metal trim profiles (around 3 sides of the window) with wall panel pieces which return back to the window. Then add a cultured granite sill at the bottom (to direct water splashing off the window into the shower pan). And finally if you don't want to 'put on a show' through a clear glass window, install a high privacy glass block bathroom window.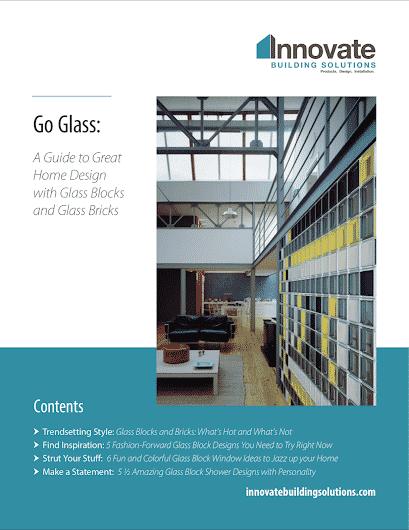 Go Glass!
A Guide to Great Home Design with Glass Blocks and Glass Bricks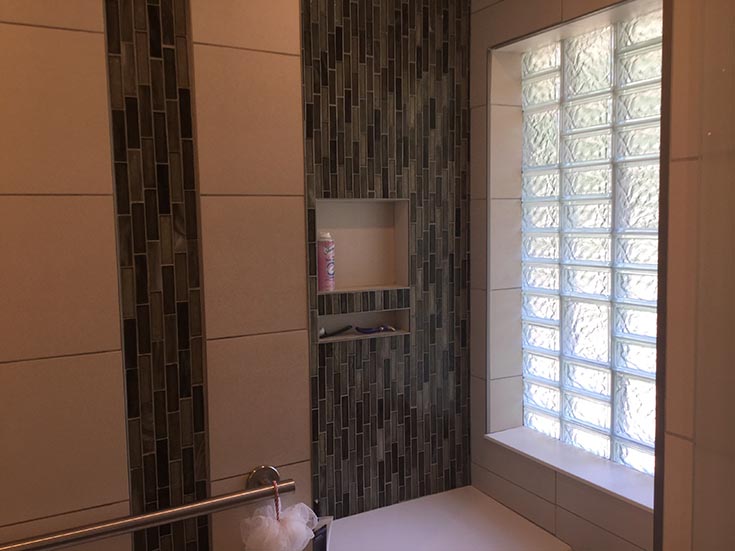 Factor #4 driving the cost of a tub to shower conversion – How large is the sales and marketing budget of the company you're buying from?
You swear you're seeing this company EVERYWHERE. You see them on tv. You hear them on radio. You check out their display at home shows. They're showing up in your Facebook feed. They're listed at the top of Google when you searched bathtub to shower conversion.
How do they do this?
Well, larger companies 'feed the beast.' And what's the beast you may ask? Well, the beast is big-time spending into the marketing universe. And this marketing universe includes bidding to be at the top of Google, flooding your Facebook stream, and media buys on tv, radio ads, and at trade shows. These strategies get more expensive every day. They spend money on sales training programs, samples, and a sales team.
And who – in the end –pays for these sales and marketing expenses? Yes you guessed it…..
You pay the bill!
 And when you see large (often national franchises) advertising the be-Jesus out of 'one day acrylic bathrooms', understand they're added to your price these selling and marketing expenses (despite the whiz-bang 'deal' they're claiming to give you if – and only if – you sign tonight!). And if they don't add these costs in the price they'll go out of business. They won't be around to honor your warranty.
And when homeowners (and the employees who work for these big franchises) see them charging crazy-high prices ($15,000 to $20,000 for a plastic (acrylic) tub to shower conversion) and can't understand why –it's because their sales and marketing expenses range from 20% to 25% of the selling price! Crazy yes, but true.
So, if you don't want to foot the bill for big bath to shower companies sales and marketing expenses how can you do it? Here's how.
Buy from a smaller, low budget bath to shower company– If you want to buy cheap, choose a newer and less experienced company. Maybe the owner used to work for the big franchise and has gone off on their own. They sell products which are similar to larger companies but spend little on marketing. And since they sell it themselves, they aren't any sales commissions, and they have little overhead, they charge less. The risk with these companies will be quality of materials (they often sell cheap plastic systems), their craftsmanship may be inconsistent, and they're NOT well funded. They get in business today. They may go out of business tomorrow. You CAN get left holding the bag.
Buy from a higher value bath to shower installation company – The higher value companies tend to be mid-sized remodelers (in the $500,000 to $2,500,000 sales volume range). You'll find them not only selling lower-priced acrylic systems, but also offering nicer and thicker wall panels which are more realistic looking. They've been around longer and do some marketing – but aren't spending as much on sales and marketing as the big guys/gals.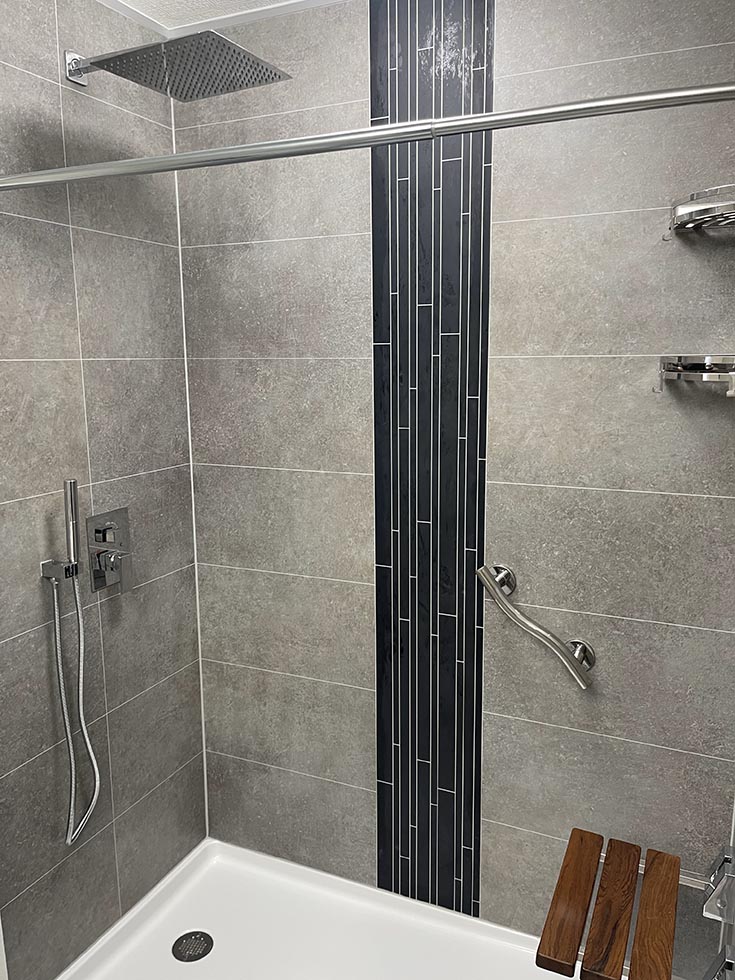 Factor #5 driving the cost of a tub to shower conversion – What installation method (and materials) is your bath to shower conversion company using?
As you know construction labor costs ARE NOT getting cheaper. There's more 'old-time craftsman/craftswoman' leaving the field than there are 'young bucks' to take their place. And rest assured, anyone working in the trades today IS NOT making minimum wage.
Get Free Samples!
Click here to request free samples of our Laminated Waterproof Shower Wall Panels.
This lack of talent (whether you're talking about tile setters, rough and trim carpenters, or plumbers) is driving labor costs for tub to shower conversions up. And not to be Ned Negativo, but the situation isn't getting better.
So, if you want to keep labor costs down use grout free wall panels vs. tile. The reason for this strategy is a 60" x 32" tile shower alcove takes about a week to complete, where a grout free wall and shower pan replacement project is done in 1 to 2 days (depending on the installation method used…. although I'll warn you to be careful about choosing between the low budget one day bathroom, and a higher quality 2 day project with better surround and shower pan materials AND more care and attention to what you don't see.
Using the 'one day bath' low budget installation method– The quickest (and cheapest) way to do to a tub to shower conversion is to slap up 1/8" thin grout free wall panels (usually made of plastic) over old tiles. It's quick. It's easy for the contractor. And although there are companies using this method I'd stay away from it. When you put grout free panels over old, porous tile grout joints, you trap moisture inside. This becomes a breeding ground for mold. And the only fix if you get mold behind the wall is to take everything down!
Insist on a higher value (better quality) bath to shower installation methods from companies who won't 'nickel and dime' you to death – What you don't see (behind the walls of a tub to shower conversion) is as important as what you do see (the stylish shower pan and wall surrounds). And as mentioned above, if you 'cheap out' on the installation method you'll save money today but can cost yourself money tomorrow (it's the 'pay me now or pay me more later' message from the old Fram oil filter commercial you can laugh about below).
To make sure you get a high quality installation– yet one which doesn't take too much time to install check the following 'boxes.'
Go with grout free wall panels which are glued on (or screwed into) new moisture resistant greenboard or O.S.B.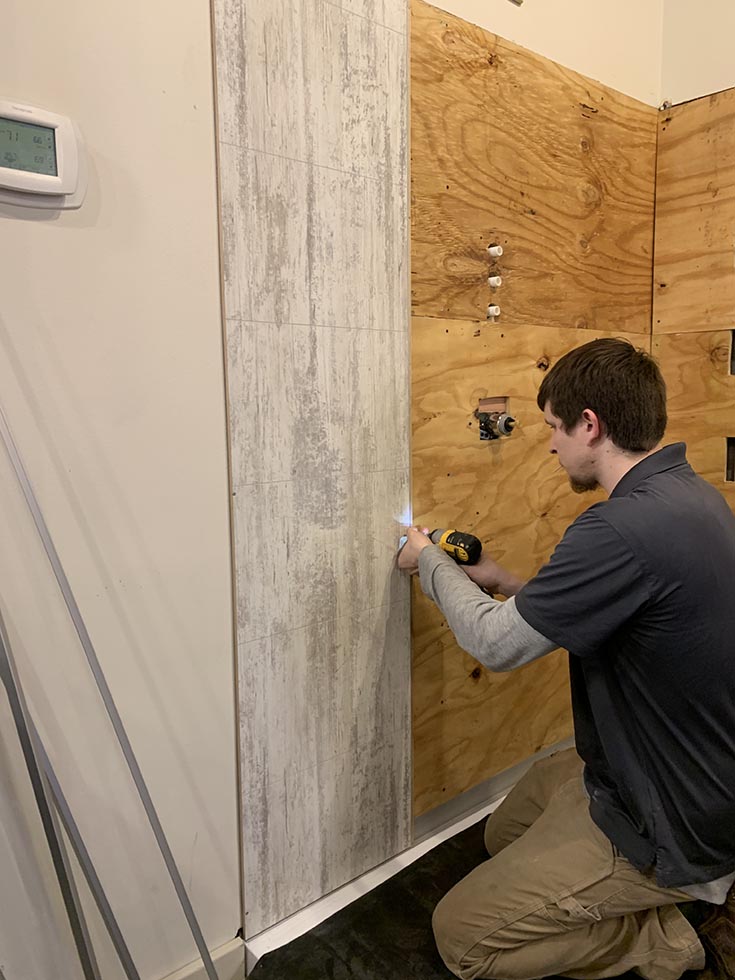 Ask your contractor if their price includes replacement of the subfloor if it's water-damaged.
Ask how they'll handle the transition between the new shower pan and your existing bathroom floor.
If you have exterior walls see if it'll be extra to remove/replace old insulation that has disintegrated.
If you have a soffit (a boxed in area about the tub) ask how they'll work with it (keep it in, take it out to make the shower feel bigger).
Ask how they'll protect your home from dust and dirt.
Factor #6 driving the cost of a tub to shower conversion – Do you need financing?
The slick tub to shower sales guy asks, "Would you like if I could get you this new bathroom for only $199 per month or would you like 12 months same as cash?"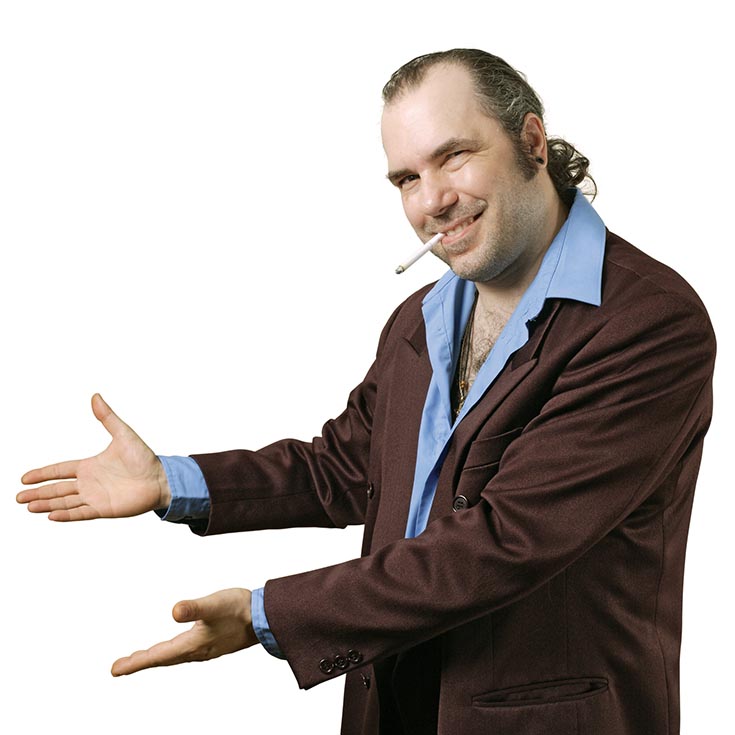 This sounds like a gift from heaven. Order now, pay later. Or get 12 months same as cash (without paying any extra)!
However, there's things the fast-talking sales guy (or gal) are NOT telling you.
When these hard-closing bath remodeling companies offer you 12 months same as cash (to buy today) they're not absorbing the financing costs for you. No, they've brokered the financing to a third party (who is charging them approximately 6% of the price of the job to do this). And behind the scenes they've added the extra 6% to cover their costs (or more so)!
Or, when they're offering you this bathroom for $199 per month, the APR (Annual Percentage Rate) is likely not much better than the credit card bills choking your family finances today. So, what can you do to manage financing costs and make sure your 'lifetime purchase costs' aren't way more than you thought when you signed the deal? Here's some ideas.
The budget way to handle 'financing.'– The best way to handle financing is to choose 'delayed gratification' ('er wait until you have the bucks before signing on the bottom line). This is the 'fancy way' your Depression era grandparents or great-grandparents approached spending. They waited until they had the money. Then when they had the cash, they tried to negotiate a discount if they DID NOT need financing. As interest rates are rising, bath remodeling financing costs are also increasing, so a financed job today costs more than a financed job (at the same project price) from a couple of years ago.
The higher value way to handle financing if you need (or desperately want) to get it done now and DO NOT have the cash– While I won't claim to be a financing expert (and I'll also admit my wife and I are 'old-school' and don't do home improvements until we have the money saved), there are times when this is not possible (for example, the old tile or fiberglass shower leaked, and you don't have the cash to pay for the job now). In this case, research a home equity line of credit vs. the convenience (at a higher rate) of financing through a bathroom remodeling contractor. Home equity lines will be waaaay less expensive.
So, are you prepared to buy an installed tub to shower conversion which fits your budget (and/or desire for higher value system)?
As mentioned in the opening section, my goal was provide a comprehensive guide to not only understand why the range of installed tub to shower conversion jobs is so wide – but more importantly to give you (a) ideas to get the job done with a low budget and (b) pointing out higher value ways to do this project WITHOUT extracting the gold caps or grill from your teeth (OK, just joking, I'm guessing most of you don't have gold caps or a grill!).
So, you may be wondering where should you go from here? How can you get a high quality tub to shower conversion and not pay through the nose? And you may be wondering how my company – Innovate Building Solutions can help.
Well – if you live in Northeast Ohio (Cleveland and Akron markets primarily) call our Bath Doctor division (at 216-531-6085) or request a Free Design Consultation.
We'll look at your job and give you a fair price (and no we DO NOT CHARGE $25,000 – or anything close to it) for our alcove tub to shower conversions.
And if you don't live in Northeastern Ohio we can still help you.
Call our nationwide wholesale division (at 877-668-5888) or request a Free Design Consultation. Through this part of our company we sell complete shower kits (which include a sturdy shower pan, laminate wall panels, and a thick frameless (and trackless) glass shower door. It's a good value system. And/or we can recommend one of our nationwide installing dealers to do the job for you (if we have one in your town).
Thanks for reading and putting up with my personality. I am who I am – and for the life of me – I can't get away from being who I am!
Mike
And BTW – if you're an installing bathroom contractor and would like to learn about becoming a dealer of laminate wall panels, grout free modern low profile shower pans, and shower replacement kits for tub to shower conversions call Mike at 888-467-7488.
---
Mike Foti
President of Innovate Building Solutions a nationwide supplier and regional (Cleveland and Columbus) remodeling contractors. Some of our product lines include glass counters, floors, backsplashes, glass blocks and grout free shower and tub wall panels
---