The Pros and Cons of a Tub to Shower Conversion.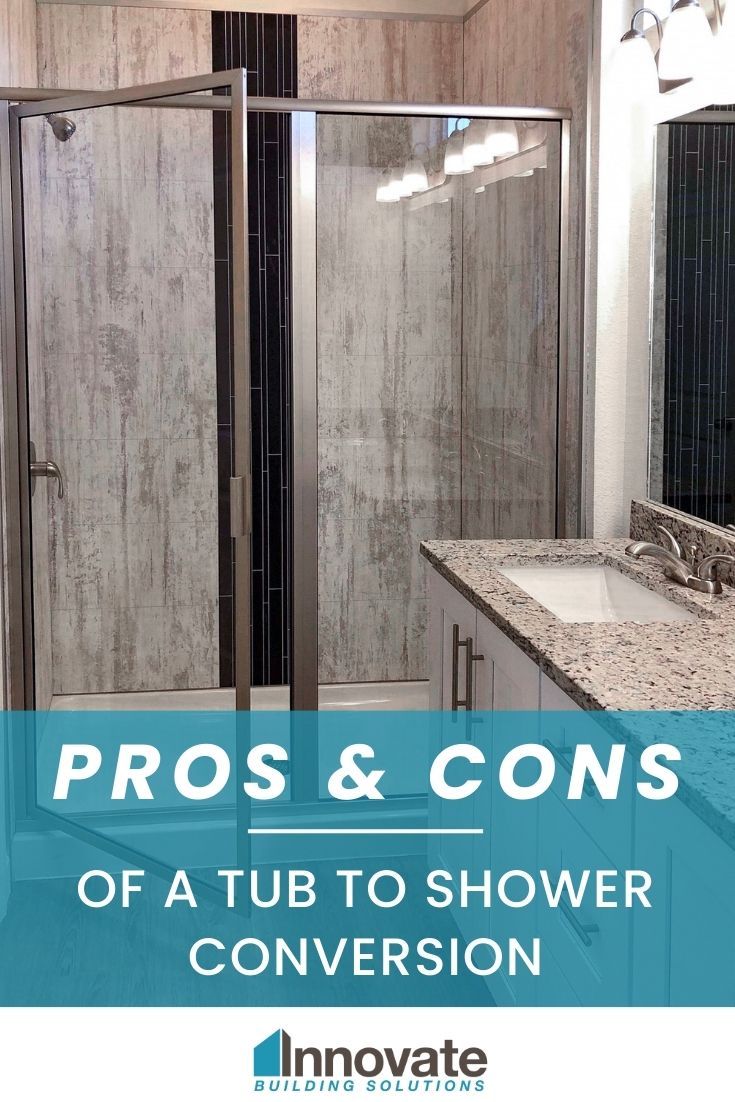 I swear –tub to shower conversion projects are growing faster than new assisted living facilities being built in my town– and even faster than younger people are using AI (artificial intelligence) art applications to create (unblemished) pictures of themselves they're posting on Instagram.
 And while the majority of projects my bathroom products wholesale (and Cleveland bathroom remodeling) businesses are supplying and installing are bathtub to shower conversions, this DOES NOT mean it's the best project for you.
No, before you plunk money down to remove a tub and install a new shower you should be crystal clear what the pros (and cons) are. And you should learn more about the (seemingly) never-ending debate if you MUST have a tub for resale (even if you hate your tub).
And below these are exactly the points I'm going to address. You'll get the straight scoop on the pros and cons of a tub to shower conversion. And at the end I'd love to hear your opinion if a bathtub to shower project is (or is not) right for you.
So, lets first look at the advantages (pros) of a tub to shower conversion.
Pros (advantages) of a converting a tub into a shower.
Pro #1 – A shower is safer than a tub – especially if your mobility isn't as good as you'd like.  
OK, I must start out by saying – no – I'm not older because I realize my 'ripe-young' age of 63 is actually the new 36 (especially if I could claim I'm dyslexic)! However, at my 'advanced age' (and with my knowledge about bathrooms) my logical side tells me it's safer to step over a 2" shower curb vs. climbing into a 14", 18", or 21" high alcove bathtub.
And since the CDC (Centers for Disease Control) has documented over 20 million people each year (in the United States alone) get injured in the bathroom (which, as you know, is a wet, slippery, and dangerous place), it stands to reason anything you can do to make your bathroom safer is smart.
And because many people want to 'age in place' (and yes, this is a term I hate – because it sounds more like 'decay in place' to me), because they love their home and don't want to get 'forced' into a community facility (like assisted living) because of an accident, it's forward-thinking to convert a tub to a shower if your mobility 'ain't what it used to be.'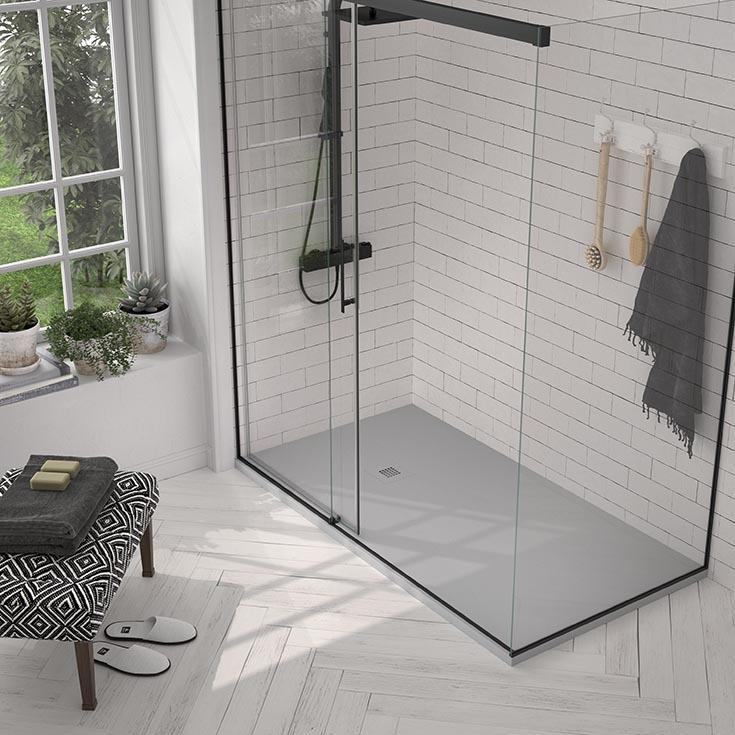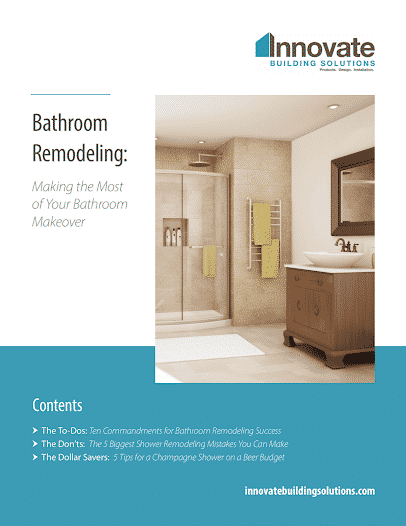 Bathroom Remodeling Ultimate Guide
Making the Most of Your Bathroom Makeover!
Pro #2 – Showers are roomier than tubs.
While it's nice that bathtubs have sloped backs and angled sides to create (what's called in the industry) a 'bathing well,' the problem is tub designs take away room to stand up in the shower.

When you install a shower in the space formerly occupied by a tub, you'll notice you have more room to stand than your old tub. And if you're a bigger person, this can make showering safer and more comfortable.
Pro #3– It's easier to help a loved one use a shower than a tub.
If you have a family member who needs assistance while showering – or help transferring into the space – there's no question a shower is better than a tub.
With a shower you can choose a roll in shower pan, a low profile pan (about 1" to 3" tall), or install a one level wet room (where there's no curb to step over to get in). And you (or a caregiver) can even be inside with your loved one at the same time – if needed.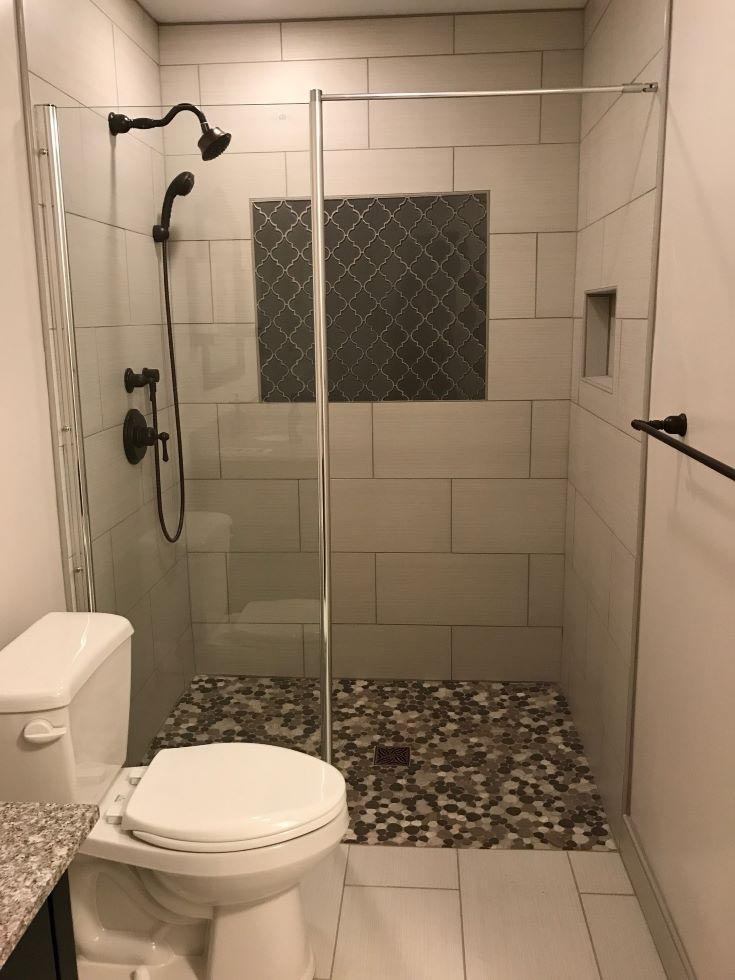 Pro #4 – Showers can be smaller than tubs to free up space for other features.
If your bathroom is smaller than you'd like, raise your hand?
And if I'm a bettin' man, I'll guess at least 75% of you would like a larger bathroom. However, the problem is, to get a larger bathroom you'll need to 'borrow' space from a closet or bedroom which is already too crammed and/or the project will cost too much. So, while a larger bathroom is an option, it's not really an option in most cases.
So, the question is how can you 'gain space' if you can't increase the 'footprint' ('er size) of your bathroom?
Well – one way is to remove the tub and replace it with a smaller stand up shower. For example, take your 60" x 32" tub/shower alcove – and install a new 32" x 32" shower. Then use the extra space for a larger vanity, or linen closet.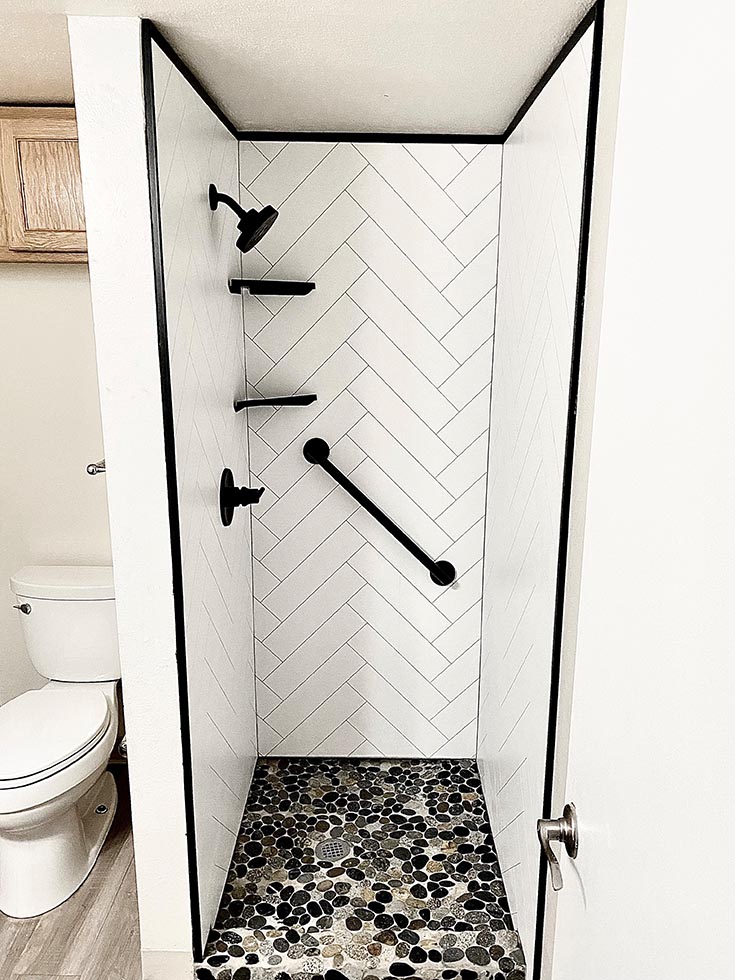 Pro #5– Showers save water vs. tubs (and you can get in right away!)
Filling a tub is not only time-consuming (and you KNOW when you're getting ready in for work, the last thing you have is extra time) but it's not good ecologically. According to the EPA (Environmental Protection Agency) it takes 70 gallons to fill a bathtub vs. the average shower uses from 10 to 25 gallons of water.
So, a tub uses 4 times the water as a shower – not to mention the amount of time required to fill the tub.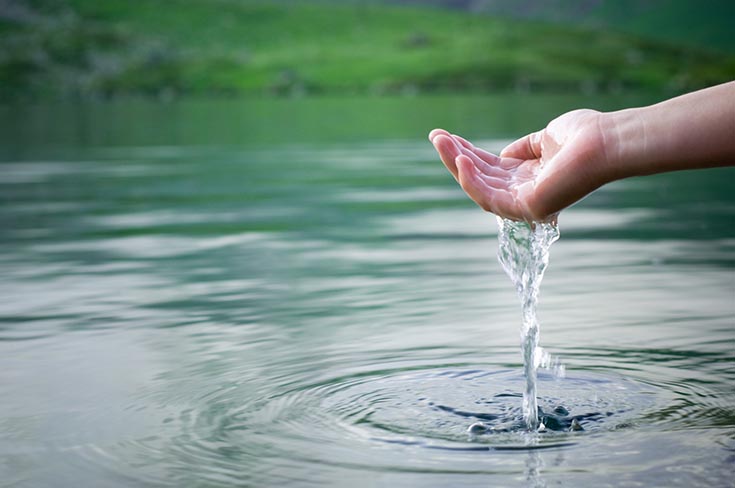 In addition, depending on the size of your hot water tank, you may find the water filling your tub at the end isn't warm AT ALL. And lastly family members aren't 'warming up to you either' (yes, bad pun intended) when they 'attempt to' shower shortly after you filled your bathtub and they're 'blasted with' cold water.
Pro #6– Showers are 'on trend.' Alcove tubs are becoming less popular.
Back in the 'olden days' (as my kids used to say when they were young), people loved using the tub.
However, today this is often not the case. This is why many homeowners are removing alcove tubs or their (super-hot in the 1990's) Jacuzzi tubs which are a pain to maintain and haven't been used in years. Showers are hot, tubs are not.
You'll also see this trend in the hospitality industry. Years ago, hotel rooms had tubs. Today – they're largely built with showers. Who wants to soak in a public bathtub which has been used by god-only-knows how many people?
The fact is, showers are hot, tubs are not.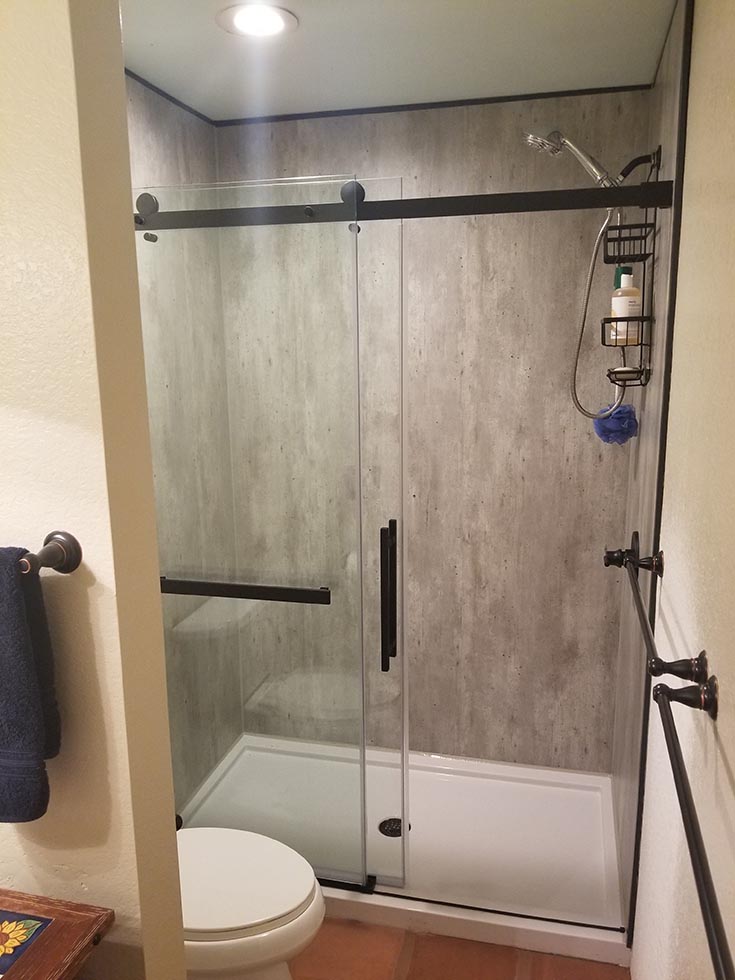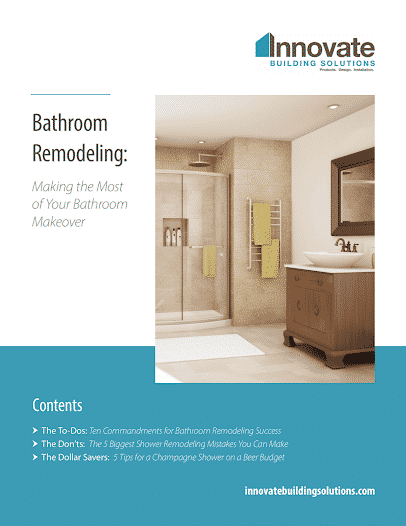 Bathroom Remodeling Ultimate Guide
Making the Most of Your Bathroom Makeover!
Pro #7– Showers get you cleaner than bathing in a tub.
It makes NO logical sense to bathe in your own dirt. Yuck!
Showers wash the dirt off your body, then hit the shower pan and go down the drain. Showering gets you cleaner than bathing, and it's time effective.
Pro #8– You can not only get more accessories in a shower – but they're easier to reach.
Let's face it – as my wife Rose likes to say, "The time from wake-up to pretty takes longer every year!" And if you're a guy like me (with U.M.D. – which stands for Ugly Man Disease), pretty (or handsome) stopped being a goal years ago!
However, while for many guys a bar of soap and a bottle of shampoo is all you need for their spouses (or significant 'utters') this IS NOT the case. Beyond 'the basics' they have 'essential oils' (as opposed to non-essential oils), anti-aging creams, loofas, sponges, conditioners, you name it. These products require more storage. Attempting to put them on the side of the tub is a lesson in frustration (they involuntarily slide off the ledge and drop to the floor of the tub/shower again and again).
So, the need for increased storage today requires more oversized recessed niches and corner shelves. Showers not only provide more wall space for niches, but also there's more space for fold down seats and grab bars.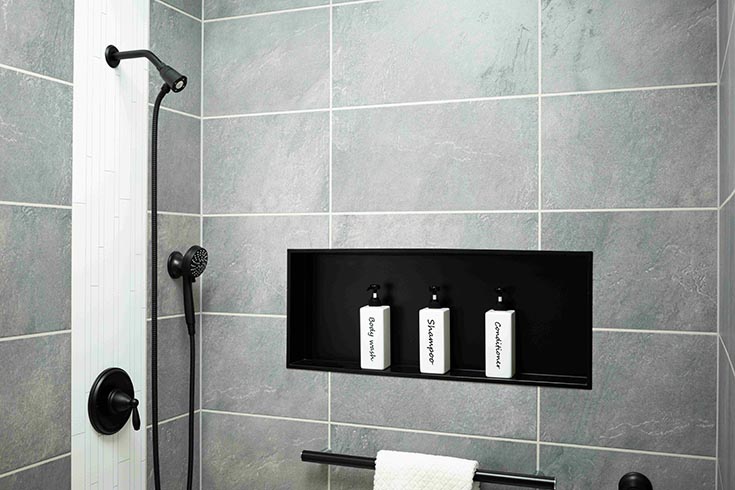 Bottom line. If you need more storage, showers are better than tubs.
Pro #9– There's more flexibility to fit a shower into a smaller custom space than a tub.
Alcove tubs come in standard sizes (usually 60" wide x 30" to 32" deep). Every now and again you'll see a smaller 54" wide tub used in mobile and manufactured homes. However, if the area you have isn't 54" or 60" – or it's smaller than 54", a tub isn't an option.
Showers, on the other hand, can be made in smaller standard or custom sizes (and I've even supplied showers in spaces smaller than 30" x 30)." Size isn't a problem with a shower.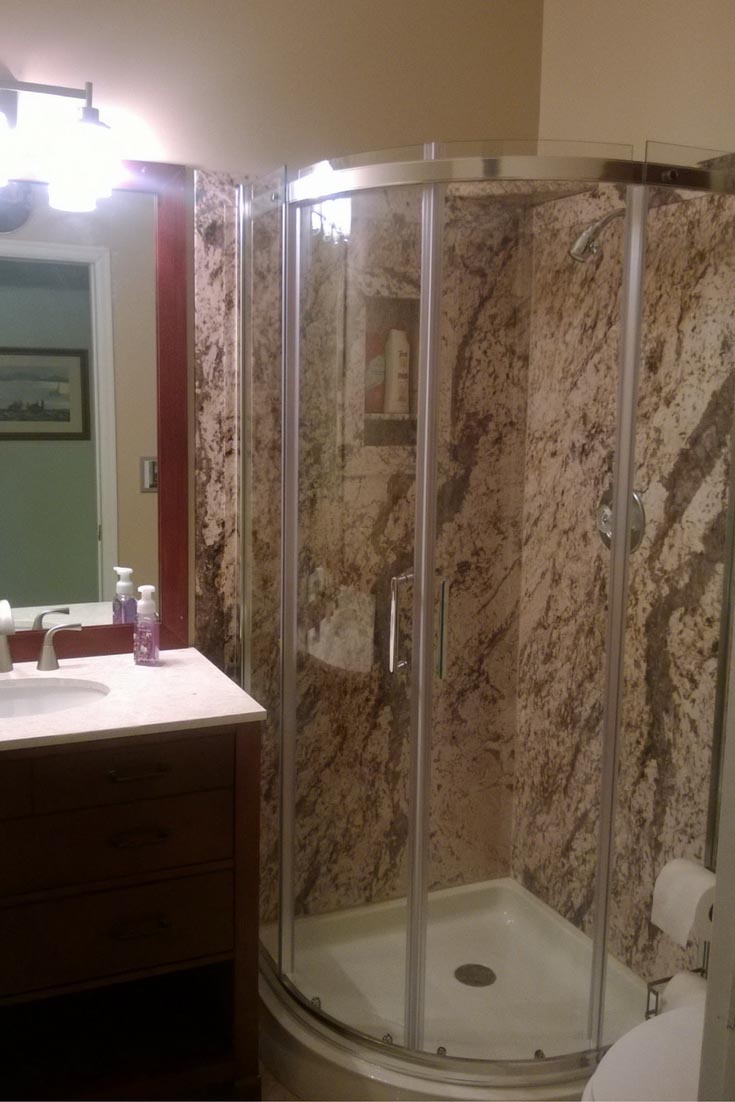 Pro #10– Showers can be designed to 'live bigger' than alcove tubs and become 'one' with the bathroom.
What seems like a monumental challenge with a small bathroom is to try to make it feel (and live) larger. And when space is 'compartmentalized' (for example, when you have a tub 'standing up' in a predefined space in the bathroom) it's hard to create the look and openness of a larger bathroom.
However, with a one level wet room  – you can (literally) make your shower live as 'one' with your bathroom. You can remove 'barriers to entry.' You can waterproof surfaces beyond your shower (including your bathroom floor), so you won't worry about water leaking in the rooms below (even if you have a pivoting door or your family members refuse to dry off before getting out of the shower).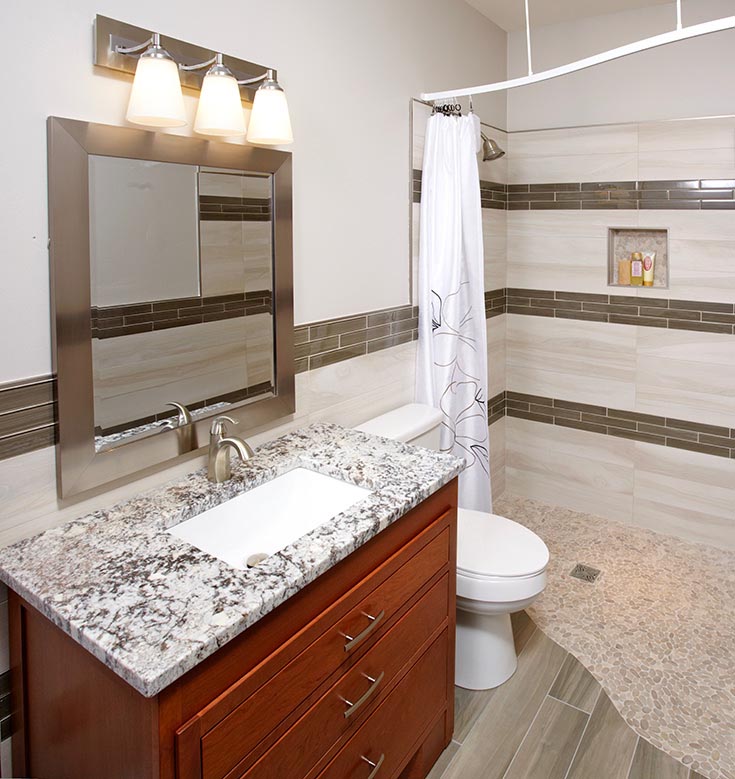 Pro #11– Showers are easier to clean than tubs.
Bending over a bathtub to clean it isn't something your back is grateful for.
With a shower you can not only step into it to clean all the surfaces, but if you're smart you'll add a hand-held shower, grout free wall panels, and a solid surface shower pan to make cleaning a breeze.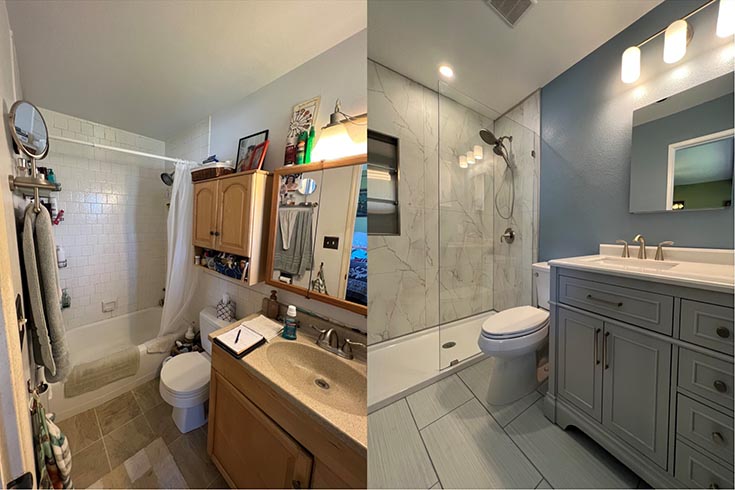 Get Free Samples!
Click here to request free samples of our Laminated Waterproof Shower Wall Panels.
Pro #12– You can show off cooler 'bottoms' in a shower.
OK – I'm going to keep up my reputation as a 'family friendly' blog, so if you have the wrong idea of what I mean by 'bottoms' here, take your head out of the gutter right now.
What I mean by shower bottoms – is the design of the floor of a shower. Since most alcove tubs of made of white acrylic or fiberglass, they're 'plain Jane' (and I mean no offense to anyone named Jane out there!). Yes, they're flat-out boring. And while you could invest in a stylish freestanding tub, they'll cost between $2,500 and $10,000.
However, when it comes to showers – you can add pizzazz with a marble pattern solid surface shower pan or run a fancy tile pattern from the bathroom into the shower – if you're doing a one level wet room.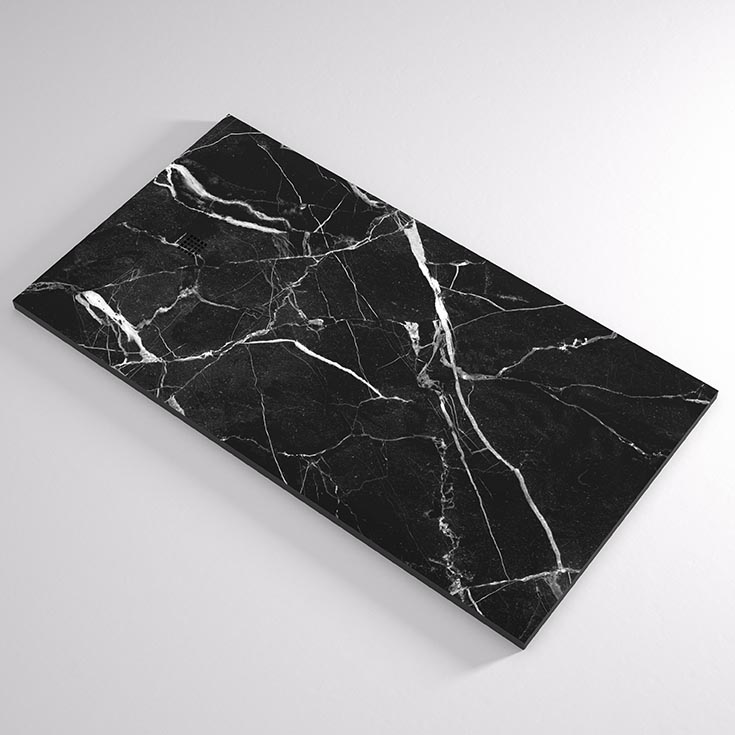 Now your 'bottom' ('er shower bottom that is) can truly be hot, and you'll be proud to show it off!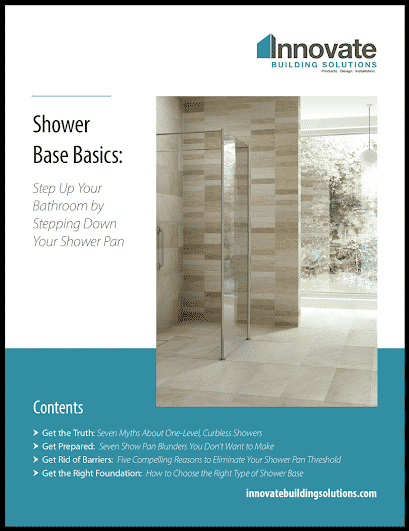 Get Our Ultimate Shower Base Guide!
Step Up Your Bathroom by Stepping Down Your Shower Pan!
Pro #13– Showers can be pet friendly.
If you've ever tried to hoist your St. Bernard into a bathtub to get the stink off them, you know it's not a pleasant experience for either of you.
And while it'd be wonderful to have a dedicated pet shower in your laundry room or garage – the space and cost to create this uber-cool feature may be impractical.
So, it's nice knowing when you do a bathtub to shower conversion it'll be as simple as walking your dog into the shower to begin the 'de-stink-a-fication' (yes, this is a fancy word you won't find in the dictionary!) process (however, I'll admit once you get them inside all bets are off on how cooperative they'll be, but you probably know that by now).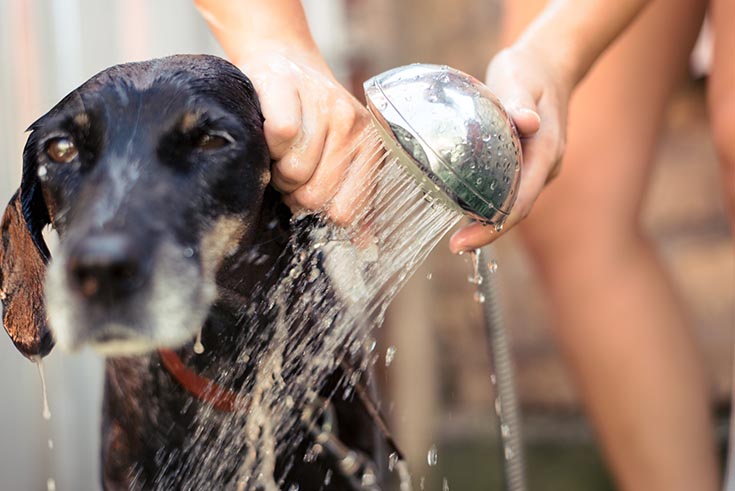 Now, lets turn our sights to the disadvantages (cons) of a tub to shower conversion.
Cons (disadvantages) of a converting a tub into a shower.
Con #1– You'll get rid of the dual functionality of a tub/shower.
What's nice about a tub/shower is it's a tub AND a shower. It serves double duty.
If you like a quick shower – then go for it.
If your partner likes a relaxing tub– they can plop their butt down and go for it.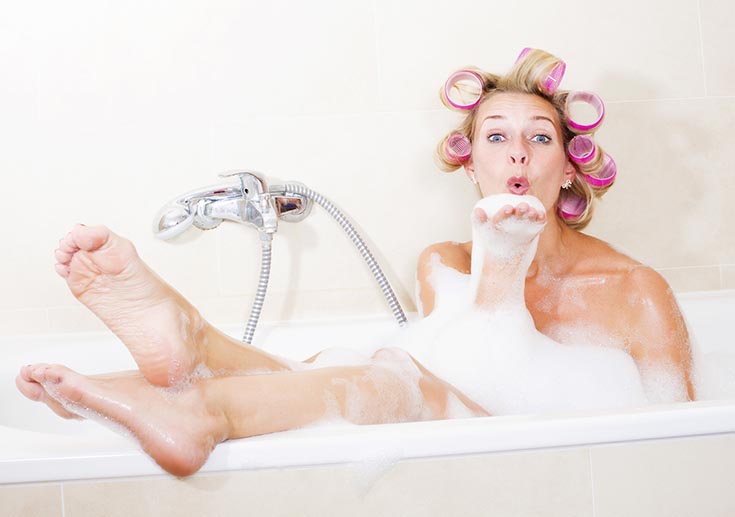 Con #2– With a tub to shower conversion you'll have extra plumbing costs to convert from a 1 ½" to 2" drain.
Since codes require a 1 ½" drain for a tub, but a larger 2" drain for a shower – when you do a tub to shower conversion you'll have extra plumbing costs to convert to the 2" drain. For any qualified contractor this cost will be included in the project because it's standard practice, but it's an extra cost non-the-less.
Con #3– More planning is required to work with a window in a shower vs. a window in a tub.
In most cases, when you're taking a tub your body isn't visible to your nosy neighbors, even if you have a window. However, when you're taking a shower this is not the case. So, if you have a clear glass double hung window, when you convert from a tub to a shower something will have to be done so you won't being showing off your Beyonce or Matthew McConaughey- like body to the entire neighborhood.
And while it's smart to keep the window (not only for light, but also for safety so you can see better), you'll also need to address personal privacy. Smart products to accomplish this are to replace a clear glass window with a glass block bathroom window or obscure glass vinyl window.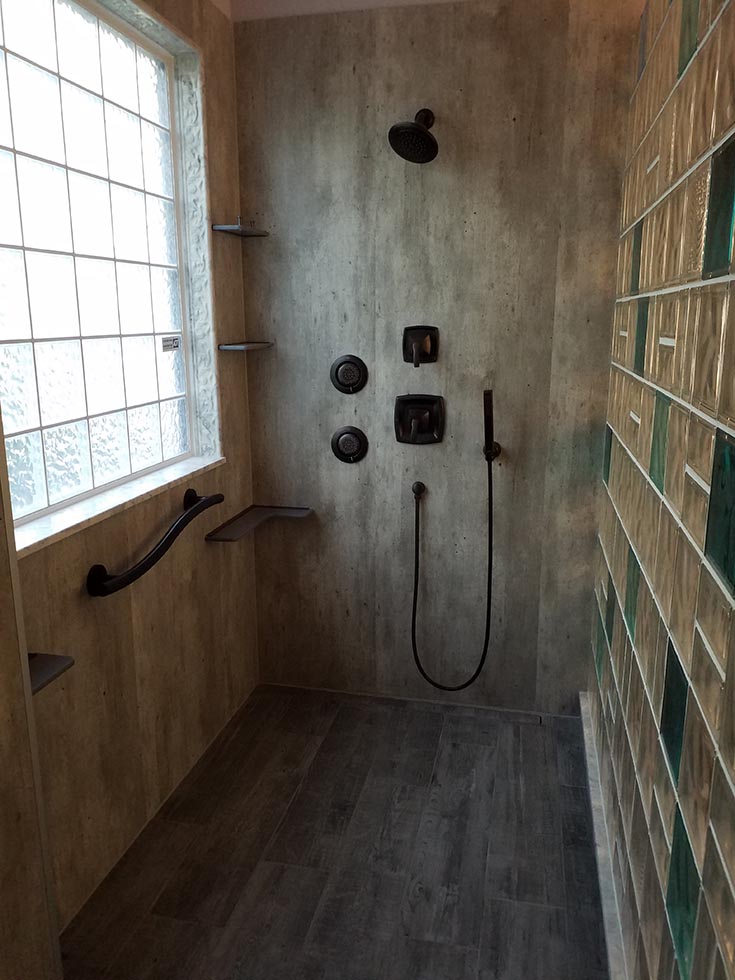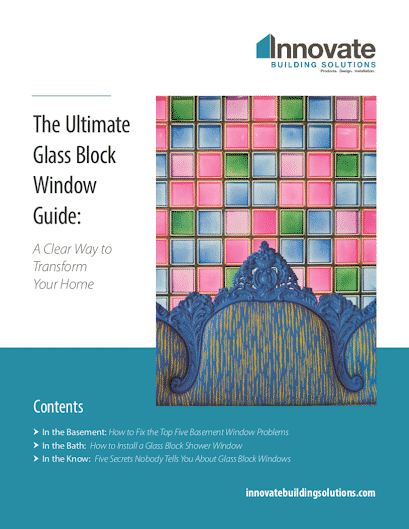 Ultimate Glass Block Window Guide
A Clear Way to Transform Your Home!
Con #4– It's harder to bathe a small child (or grandchild) if you have a shower and no tub.
Even though bending over a tub rail can be a pain on your back, it's still preferred to have at least one tub in the home (especially if you have small children or grandchildren). This is a major reason people hesitate to do a tub to shower conversion.
And although it'll take more ingenuity to bathe a little one without a tub – it isn't impossible. Read How to Bathe a Toddler Without a Bathtub (5 ways) if you'd like a shower – but the occasional need for a tub is standing in your way.
Con #5– It can be relaxing taking a bath.
So, you're looking for a 'take me away Calgon moment' (and for those of you not familiar with this funny commercial 1988 commercial, I've included it below).
You want to relax in a tub to soothe your body and take the stresses of your day away. Tubs are relaxing in ways showers cannot be (even with fancy-schmancy jets and rain shower heads).
Finally – the (never-ending) conversation do you HAVE TO HAVE a tub for resale?
It's funny I couldn't research this article without finding opinions on whether you must have (or it's OK not to have) a tub for resale.
I found articles insisting a tub is a slam-dunk feature you'll omit at your own risk. Then I found articles saying that's old school thinking and buyers overwhelmingly want showers.
And as a matter of fact several years ago I even wrote an article, 4 Reasons You Shouldn't Listen to Your Realtor – why a shower is better than a tub for resale).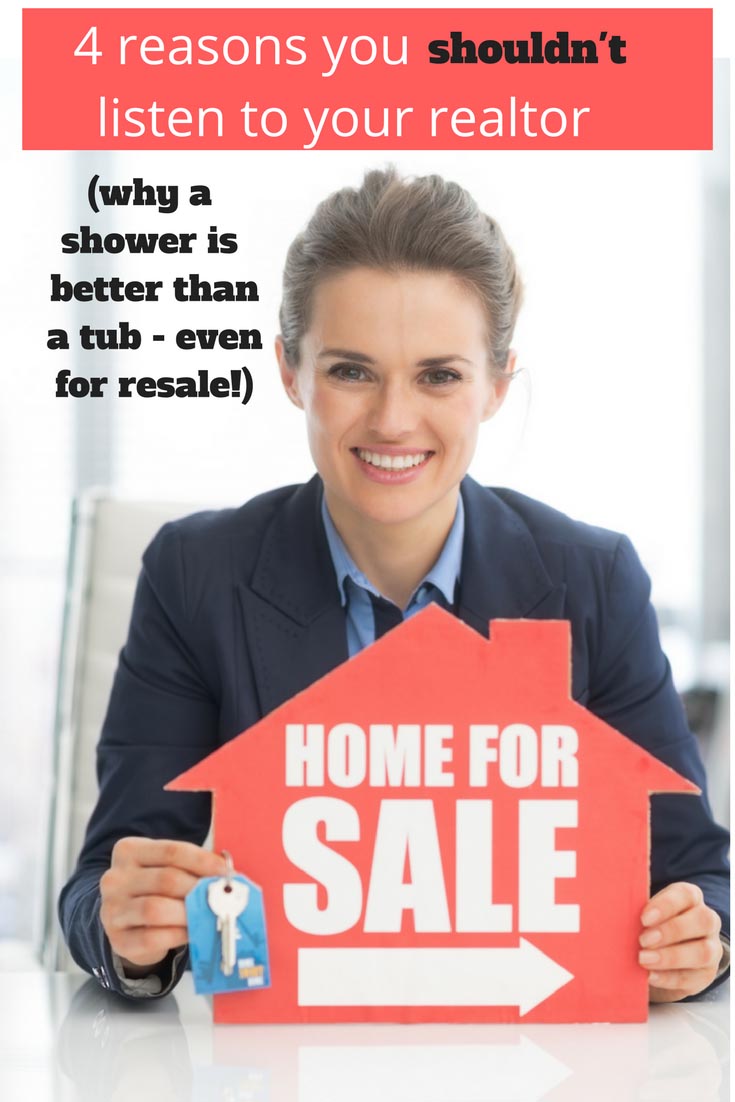 However, with all the point/counterpoint arguments concerning the tub or no tub debate (and if you want to laugh I included the Dan Akroyd/Jane Curtin famous point/counterpoint skit below just for fun), I think this decision can be summarized in 2 words….and they are….
It depends
It depends on who(m) is the target market for your home. If it's young couples with little children, then by all means keep the tub.
On the other hand, if the target market for your home are 50+ adults, then a shower will be preferred (for all the reasons given above) to the tub and can help your home sell at a higher price. Keep your prospective buyer in mind – and what your current (and future) needs may be in choosing between a tub and a shower.
So, is a tub to shower conversion right for you? How can our company help you next?
OK – now that you're equipped with the advantages and disadvantages of a tub to shower conversion (and the conversation of the impact of NOT having a tub for resale), are you a friend or a foe of getting rid of your tub and replacing it with a shower? Please comment below.
And if you're looking for nationwide direct wholesale supply of higher quality tub to shower conversion kit call Innovate Building Solutions at 877-668-5888 or click for a Free Design Consultation. And if you want to get a quote for the cost and design of an installed tub to shower installation in Cleveland or Akron Ohio call 216-658-1280 (or if you're outside this area ask for a referral to one of our installing dealers).
Thanks for reading and putting up with my personality. I hope you got a few tips along the way, and if I made you laugh – all the better!
Mike
And BTW – if you're an installing contractor and would like to learn about becoming a dealer of better quality tub to shower conversion kits, modern low profile shower pans, and decorative wall panels call me at 888-467-7488.
---
Mike Foti
President of Innovate Building Solutions a nationwide supplier and regional (Cleveland and Columbus) remodeling contractors. Some of our product lines include glass counters, floors, backsplashes, glass blocks and grout free shower and tub wall panels
---