How to Get a Wholesale Price on a Shower System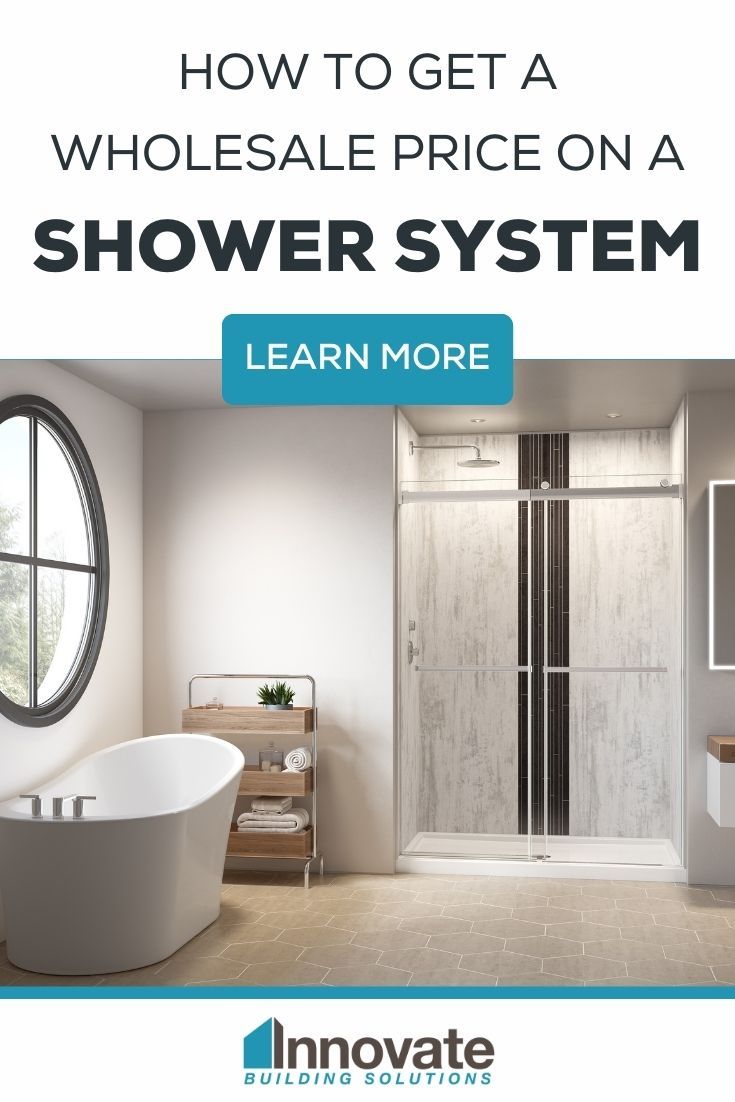 It seemed like a simple enough question from Corrina (one of my blog readers). She asked, "Mike, how can I get a wholesale price on a shower system?"
And while it IS a simple question, you can waste a LOT of time if you (as a homeowner) don't know what you want/need and don't ask the right questions in the right order.
In this article my goal is also simple. I'm going to lay out the steps to get wholesale pricing on a standard – or custom – shower. I'll start with preparation steps, then look into steps focused on shower pans, shower walls, glass doors and (last, but not least) accessories. OK, let's go.
Preparation Steps to Get Wholesale Shower System Pricing
Step #1 – Create a rough drawing of the new shower (and/or take pictures of the existing space).
If you don't know what you want (and what you need) you're going to have a difficult (to impossible) time getting pricing on a shower. So, first develop a rough sketch (with approximate dimensions and an estimated drain location) of your shower. Include the location of your vanity, toilet, and linen closet as well.
Don't get too caught up (yet) if your dimensions are spot-on or if you have the perfect layout. A qualified shower wholesaler will be able to help you finalize actual sizes and the design. This sketch will come in 'uber-handy' for suppliers to get an idea of what you want – and help them guide you on how well they think your overall bathroom (and shower) design will 'live.'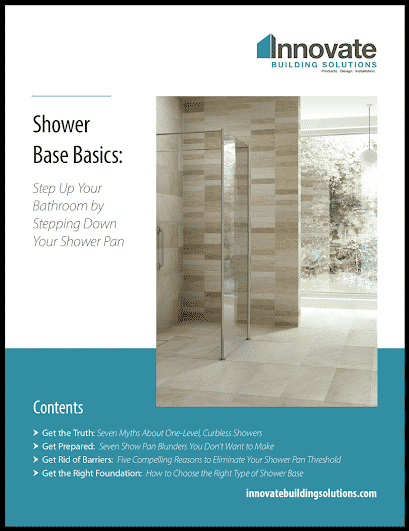 Get Our Ultimate Shower Base Guide!
Step Up Your Bathroom by Stepping Down Your Shower Pan!
Step #2 – Develop a budget.  
I know this may be hard – because the reason you're looking to get wholesale pricing (and likely not find a contractor to supply and install the job) is because you DO NOT have a big budget. However, you need to think through what you're willing (and able) to spend – even if it's a broad range.
If you know you've got a 'low/low' budget, start at the big-box stores first. They offer the cheapest products. Show them your rough drawing. See if they have products to help you. However, be aware the quality of their materials starts at 'bargain basement' and ramps up to a few products in the middle of the quality scale.
If you're looking for an upgraded bathroom vs. your old moldy tile shower or builders grade one piece unit, then specialized bathroom product wholesalers are smarter choices to get pricing from.
Step #3 – Ask the companies you call (right up front) do you wholesale shower products? Do you sell complete shower systems?
Here's something you need to know BEFORE you waste time. Many bathroom companies advertised in print, or you find on the Internet, are only looking to supply AND install the materials. Basically, they're contractors. This means they ARE NOT in the wholesale only business.
So, the first question you should ask is, "Do you sell materials only?" If you get a 'wishy-washy' answer (and isn't that a funny phrase?), you're likely wasting your time.
And even if you do find a product wholesaler, some won't sell you a 'complete replacement shower.' By this I mean a shower pan, wall surround products, a glass shower door and accessories. And when you have to buy a shower system piecemeal (some products here, and some products there), you run the risk components won't work together (which could leave you with products you can't return. Ouch!).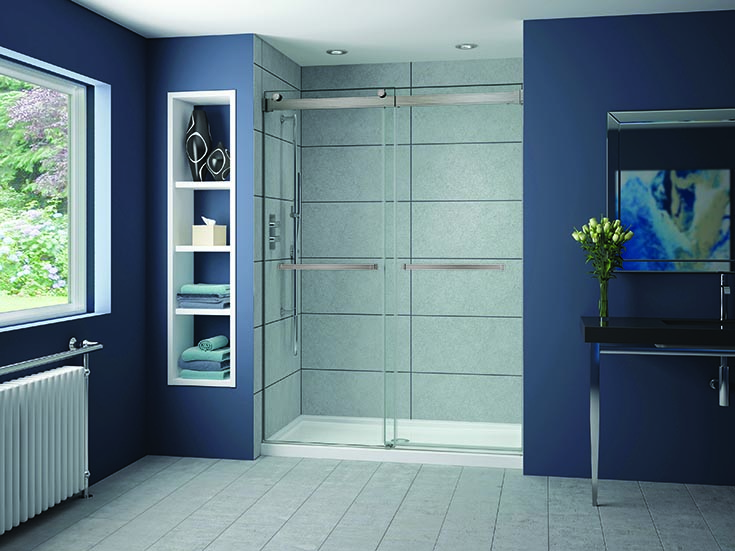 The Ultimate Shower Replacement Kit Guide
Clear advice on bringing your bathroom to the next level
Step #4 – Tell suppliers if your shower needs to 'travel.'
For those of you living in a single family home, condo or apartment this may seem like a bizarre question, but some showers do you need to 'travel.' And by travel I mean they may (literally) move around.
For example if your shower is in a camper, RV, houseboat or tiny home – it'll move from place to place.
Or if your shower is built in a factory (which is true for manufactured and modular housing) a system which is 'mobile friendly' isn't just a 'nice to have,' it's a 'got to have.'  
Step #5 – Determine if you want lighter (or heavier) products.
How you answered question 4 (if your shower needs to travel), can impact question 5 (since lighter products are preferred when you have a shower which needs to 'travel' and keep fuel costs of the 'rig' they're in to a minimum).
However, for 'stationary' showers, heavier products are preferred since bulkier materials (like cultured stone pans or reinforced acrylic pans) have minimal 'flex' when you walk on them, so you won't worry about cracking. The downside is –heavier products are (generally) more expensive than lighter ones.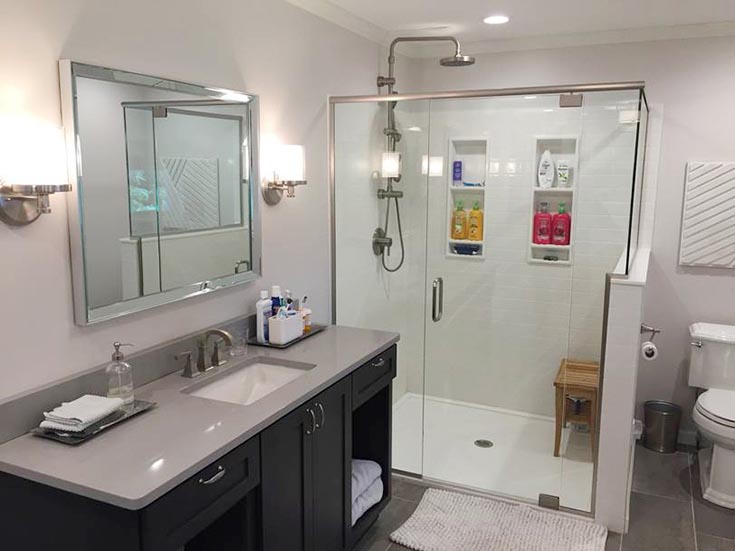 OK – so now, that we've gone through the preparation steps – lets start at the foundation of your shower. Let's look at the steps to determine the best shower pan or shower floor.
Steps to Figure out the Shower Pan or Shower Floor for a Wholesale Shower System
Step #1 – Determine if you want a 'shower pan' or 'waterproof one level shower floor.'
While the bottom of the shower is often the least sexy part of your project – I'd argue (even though I'm more of a lover, than an arguer) it's the 'foundation' of your shower. If your foundation ('er shower floor or pan) fails – Houston, YOU HAVE A PROBLEM!
If you buy a shower pan it'll be placed on your bathroom's subfloor. It will – in effect – be raised from the floor. It can be a 'low profile shower pan' (which is 1" to 3" above the floor). It can have a 'mid-height curb' – about 3" up from the subfloor. It can have a 'full height curb' –from 4" to 6" from the floor. Or lastly you can have a 'ramped shower pan' which sits on the subfloor but can be rolled into with a wheelchair.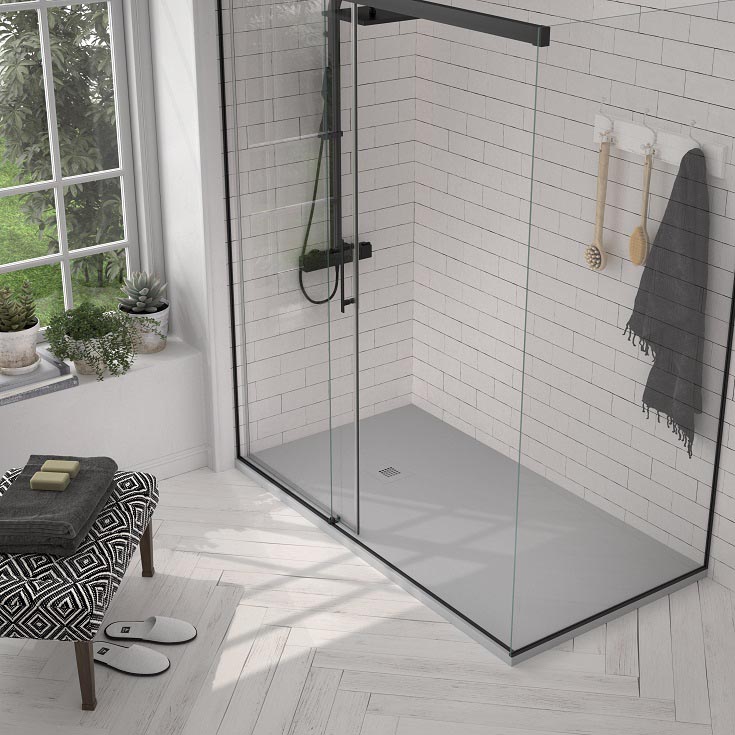 The advantage of the shower pan is it's less expensive and is more straightforward to install than a waterproof shower floor. The disadvantage is pans require you 'step over' or 'roll up' into them.
The other option is a 'waterproof shower floor' (AKA – a one level wet room). With this system the bathroom (and shower floor) are at one level (although the inside of the shower is still pitched to a drain. This is created with a sloped shower component set directly on the joists).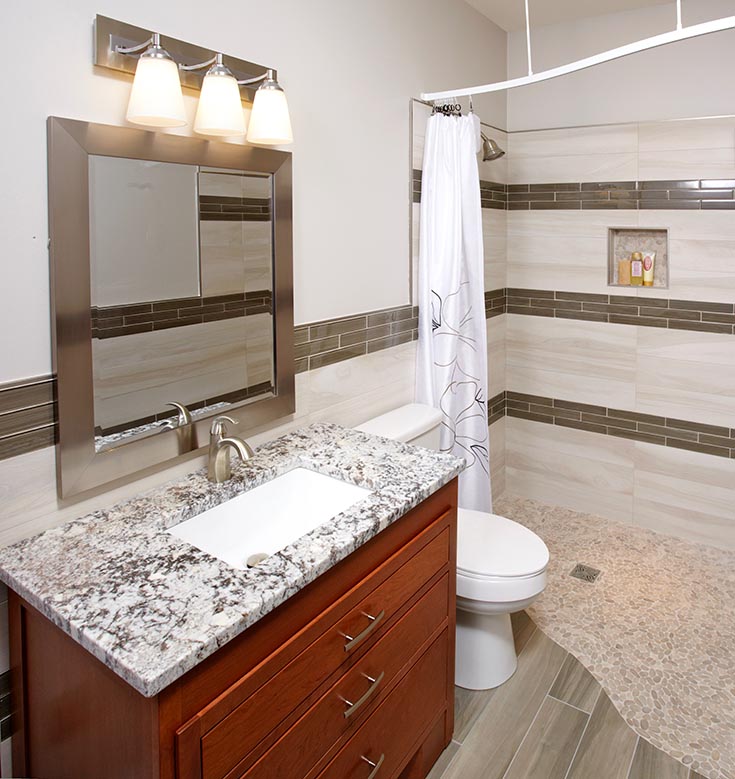 The advantage is waterproof shower floors are sleek, modern, and accessible (even for those with wheelchairs or walkers). In addition, with a waterproof shower floor pan, size isn't as critical because you'll be waterproofing the entire bathroom floor vs. looking for a standard or custom shower pan. The disadvantage is they're more costly and more difficult to install. If you want to learn more about the advantages and disadvantages of these shower pans vs. waterproof shower floors watch the video below.
Step #2 – Assuming you're not going with a 'waterproof shower floor,' figure out the size and shape of your shower pan.
The size and shape of the shower pan makes a big impact on whether the unit you buy will be standard ('er cheaper) or custom ('er more expensive). To figure out the size, the correct measurement is from stud to stud (and if your bathroom isn't gutted to estimate the stud to stud measurement – measure inside the existing walls and add 1-2" to get your approximate stud to stud size for now.  
Step #3 – Figure out your drain (location and type).
Here's something fun and exciting you can do on a Saturday night – figure out your drain location! Won't your friends and family be envious of your 'wild and crazy' lifestyle (kind of like the 2 Wild and Crazy brothers – Yortuk and Georg Festrunk in this Saturday Night Live skit below)?

OK – all kidding aside, your drain location (and type of drain) actually is very important, because if you can use a 'standard' drain location you'll save money (something everyone to do). In addition, cost-effective, stylish shower pans with a cool drain strainer covers (available in standard sizes) do exist (see below).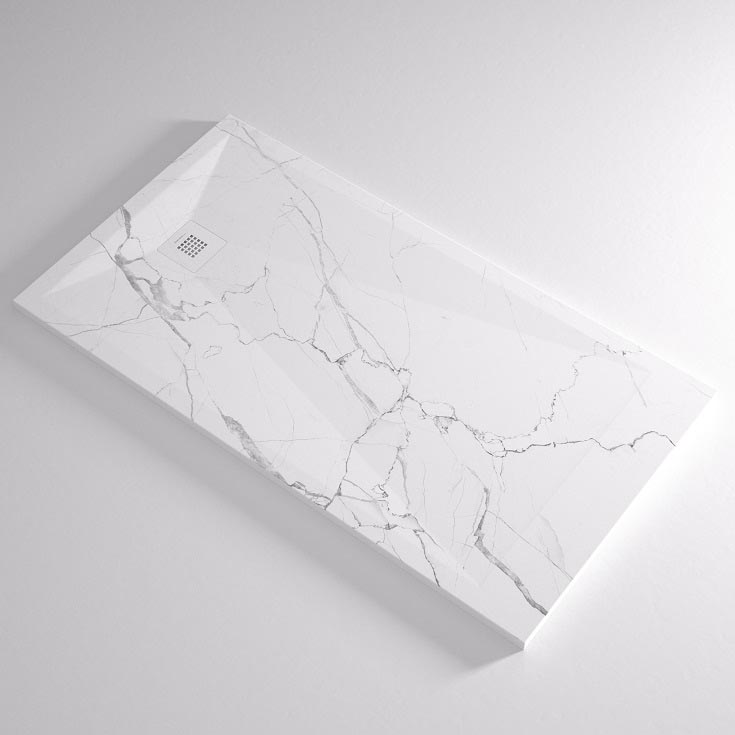 Bottom line – your shower drain DOES NOT have to be the ugliest part of your shower.. but it is important!
If you want to go deep (yes, bad shower pun intended) to understand shower drains, read 5 Smart Tips to STOP Hating Your Shower Drain and Fighting with a Bad Drain Location.
Step #4 – Determine what material you want your pan made from – and if you'd like it to be lighter or heavier.
As mentioned earlier, heavier shower pans (generally made from solid surface materials) are sturdier and available in standard and custom sizes. However, they're more expensive, and harder to bring into and set in small bathrooms on upper floors.
On the other hand, lighter shower pans (like fiberglass and acrylic) are easier to install and cheaper. However, they're (often) only available in standard sizes.
Step #5 – Settle on a color or pattern for your shower base.
Contrary to popular opinion NOT ALL SHOWER PANS ARE WHITE AND BORING!
Yes – even in gel-coat fiberglass pans you can get colors (if you know the right manufacturers). So – if you find white shower pans are uninspired – don't settle for the first pan you see on the shelves in your local home center.
If you need  a custom base – cultured granite pans have been around since Moses was a child. They're as colorful as they are sturdy. And if you want a lighter pan, you can find acrylic and fiberglass pans in custom colors (although not all manufacturers make them).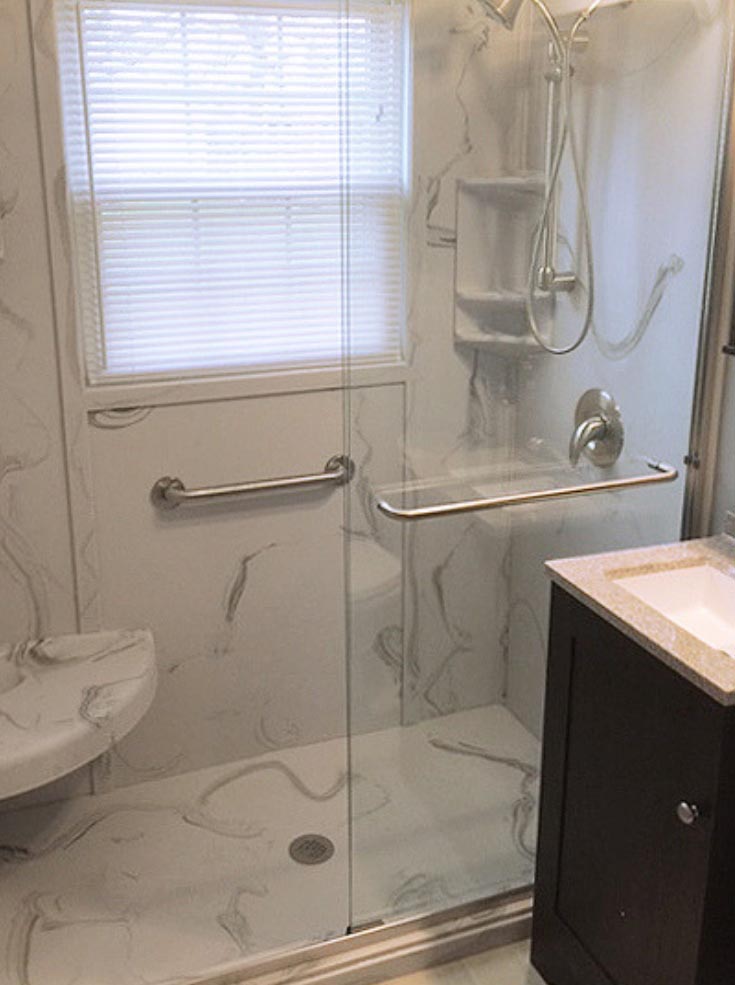 If you're asking if you'll pay more for colorful or a fun pattern– yes, that will be the case. But remember YOLO (You Only Live Once). Ask, "Why should I leave ALL MY MONEY behind to the kids???"
So, now that we're done talking about your shower's foundation ('er the shower pan or shower floor), let's move on to the 'fun stuff' – your shower wall surrounds.
Steps to Figure out Wall Surrounds for a Shower You Want to Buy Wholesale
Step #1 – Deciding to choose tile, stone, or shower surround panels.
One of the biggest style choices (in addition to your bathroom vanity) in a bath remodel are your shower surrounds. And while tile and stone have unlimited design options, they do have their pros and cons. And, in some cases, shower surround wall panels have a 'bad rap' (and not because they're 'rapping' over existing backer boards), but because people assume they're all cheap and plasticky (which isn't true).
Since wall surround decisions are important for a bathroom with style, I'd recommend reading The Pros and Cons of a Ceramic Tile Shower (and better options if you've had it up to here with tile).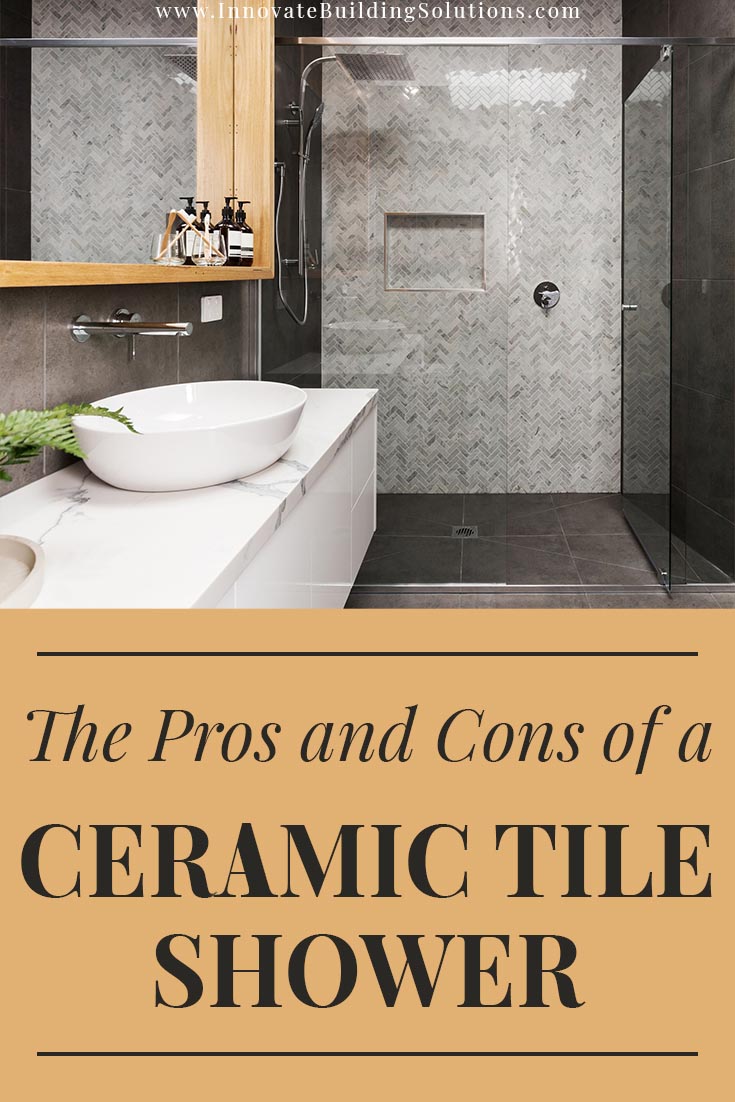 Step #2 – Estimate the width, height, and number of wall panels you need.
Especially if you choose shower wall panels – you'll need to know the size of each wall you need to cover. Some shower wall panel systems (fiberglass, for example) are only available for standard sized showers.
Other products like click-and-lock laminate wall panels or cultured stone panels– can fit any wall width. And if you choose wall panels because you hate tile grout joint maintenance, ask how heavy your potential panel choice is. A cultured stone 'back wall' panel in a 60" shower can weigh 120 lbs. This panel can be a bear to bring up the stairs and into a small 5' x 8' bathroom on the second floor.
And if you're doing a walk in shower (with 4 separate walls) make sure there are trim profiles available so you can 'turn the corner' as you walk into the space.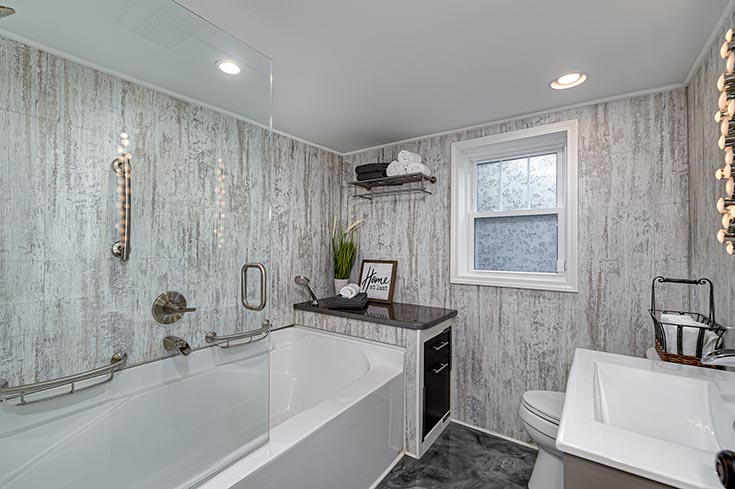 Get Free Samples!
Click here to request free samples of our Laminated Waterproof Shower Wall Panels.
Step #3 – Determine how much you want to spend on your shower surround. How important is it for the system to look realistic?
If you've got a more generous budget (and are OK with the energy and future cost of maintenance) – then a tile or stone shower is an option.
On the other hand, if you HATE, HATE, HATE grout – and don't have a big budget (or the time to do tile), then shower wall panels are the way to go. However, the challenge is there's a lot of difference in better built panels (which are thicker and more realistic) and the thin plastic panels (you'll see advertised by 'one day bath' companies or in home center stores).
To get the 'straight scoop' on the best shower wall panels, read A Brutally Honest Guide to Choose the Right Shower Wall Panels.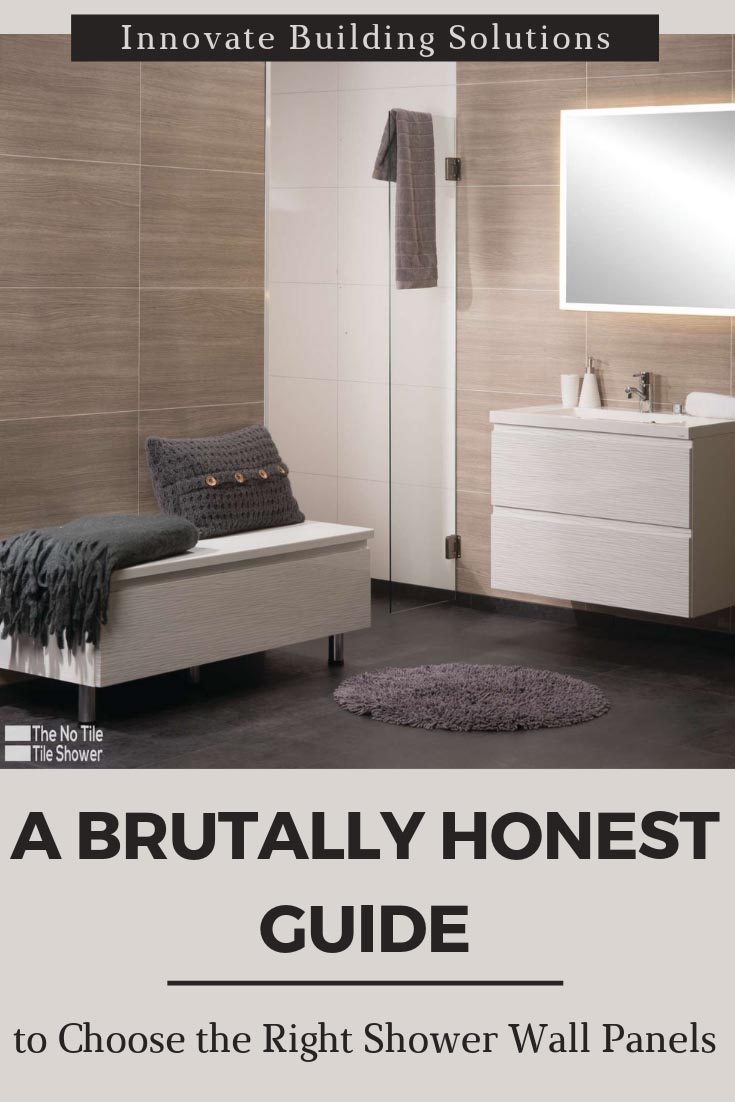 Steps to Figure out a Glass Shower Door for a Shower You Want to Buy Wholesale
Step #1 – Figure out the side(s) you want fixed glass and where you want an operable glass door(s).
Since glass doors are often set on the curb of a shower pan (unless you're doing a waterproof one level shower floor)– it's critical you coordinate both components together. Especially if you're doing a corner shower or want a curved shower pan – you'll want to be careful you buy the glass door from the same company who supplied the base (to make sure they work together).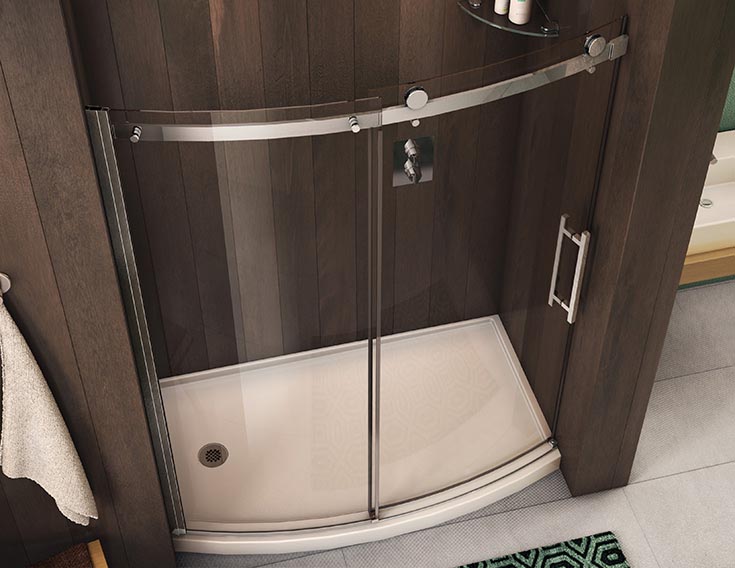 Anyway – consider if you need glass on multiple sides (which is the case with many small corner showers), or which side(s) you want to mount the glass (and have the opening) for a walk in shower. Be strategic where the opening is in relation to your shower head(s), so water won't spill out when it's in use.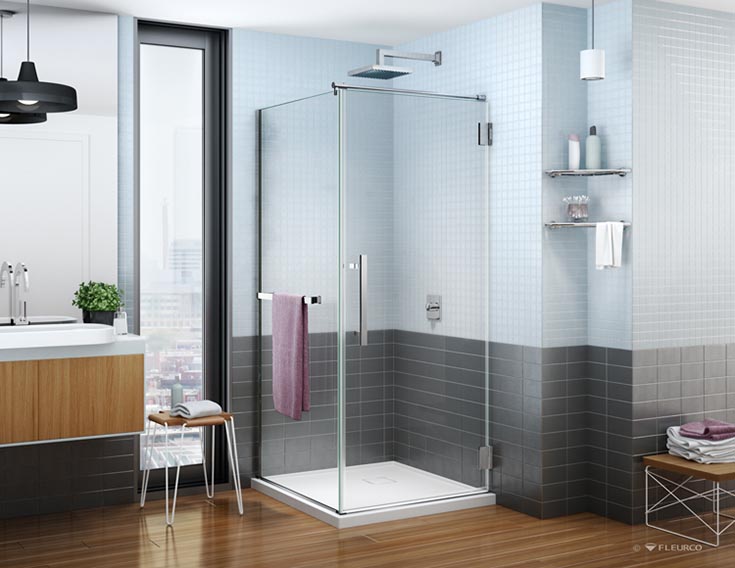 Step #2 – Determine which type of shower door is best.
Shower doors are more than a hunk of glass which keeps the water in.
No, there are different types of doors. For example, bypass (where 2 doors slide), sliding (where one doors moves and the other is stationary), pivot (where a door opens into the bathroom) and walk in glass systems.
In addition, shower doors use clear or obscure (high privacy) glass (although most stock doors are see-through).
Choosing the right door can make your shower a pleasure (or pain) to use and maintain.
For insights on selecting the right shower door read The Comprehensive Guide on How To Choose the Right Shower Door (and not screw up!).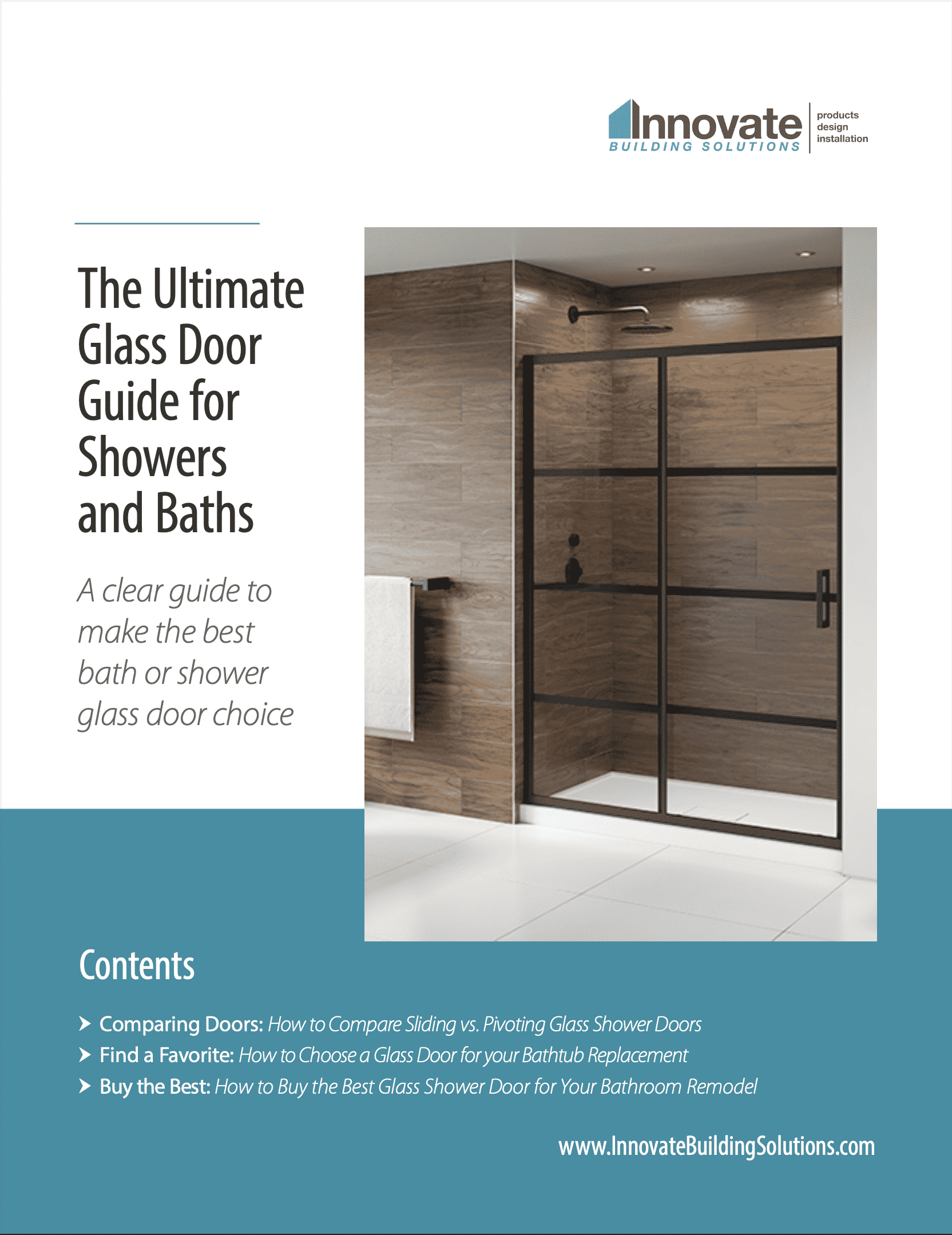 The Ultimate Glass Door Shower Guide
A clear guide to making the best bath or shower glass shower door choice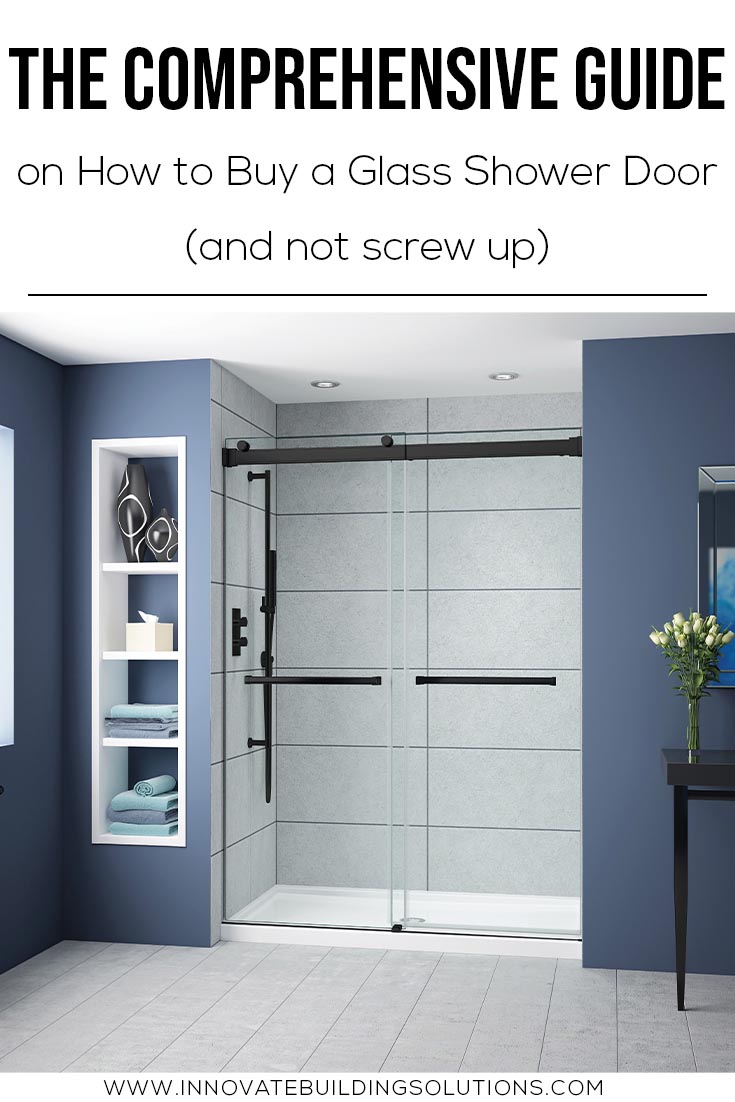 Step #3 – Choose the hardware for your shower door.
Since most (of course not all) shower doors are clear, the style of glass shower doors is elevated in the hardware which comes with them.
Does the handle look square and contemporary or is it rounded and traditional?
Is the finish matte black and moody (which is wonderful in a Mid-Century Modern or Modern Farmhouse look) or is it bright and shiny – fitting a contemporary design? Is a towel bar included?
Does the hardware have a brushed finish (which is simpler to clean) or is it glossy – which can be a spot magnet?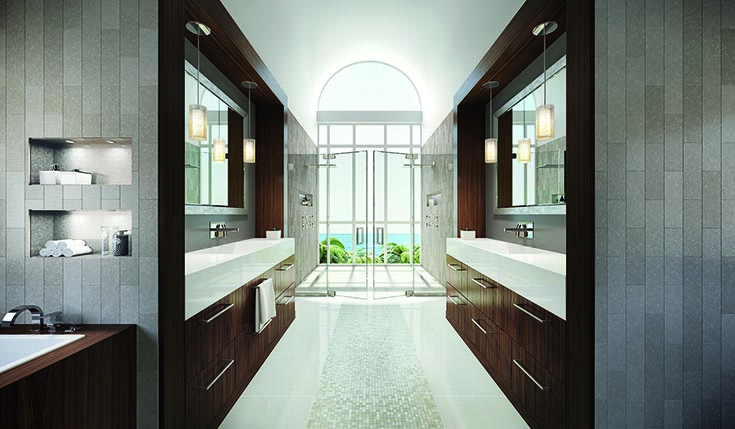 And finally, the last, but it certainly shouldn't be the least (although sometimes it is) important factor for figuring out a wholesale price on a shower system, are your accessories.
The Final Step – Don't Forget to Include Shower Accessories
Unfortunately for many shower designs, accessories are either not thought of at all – or are an afterthought at best. This oversight can not only end up detracting from the looks of your shower (because you're forced to buy ugly Dollar Store systems to make up for your oversight) – but can also hurt your safety (for example, if you didn't include backer board for grab bars or fold down seats, this can be an expensive problem to fix after the project is completed).
Don't make your shower accessories the 'ugly red-headed stepchild' (and my apologies to red-headed stepchildren out there) of your design. Watch The Biggest Blunders You Don't Want to Make Choosing Shower Accessories video below.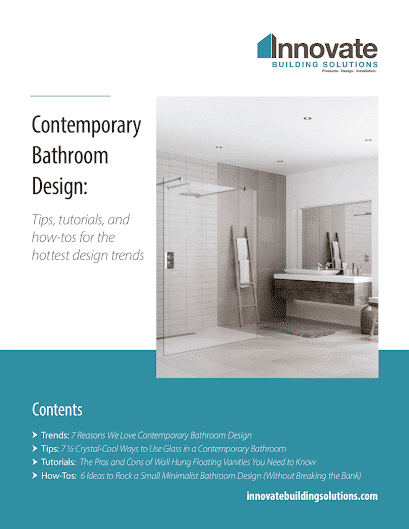 Get Our Contemporary Bathroom Guide!
Tips, tutorials, and how-tos for the hottest design trends
I hope I didn't blow your mind. How our team can help you get wholesale pricing on your shower.
I know there's a lot to know in figuring out (and then getting a price) on a shower system. After all, I've outlined 17 steps in this post for God's sake!
However, I'm here to let you know the good news. If these steps have your head swimming, we'd love to pull you out of the 'deep' and guide you to the 'shallow end' of the shower (pool) to make this process simpler.
You see, me and my team are thinking about (and pricing) shower systems ALL DAY LONG (and yes, some people DO have the life!). And we'd love to help you.
Call 877-668-5888 or click for a Free Design Consultation. Get assistance from our Bathroom Product Specialists.
Get nationwide factory-direct supply of easy to maintain, yet cool-looking, shower and bathroom products. Or if you need a referral to a bathroom remodeling contractor, I know a few (through our dealer network) who can help you along the way.
Thanks for reading and (most of all) putting up with me (and my wackiness along the way). As my family will tell you, it's just how I'm wired. Life's too short to be too serious (at least that's my philosophy).
Mike
###
If you want more advice follow me on LinkedIn @MikeFoti.
And if you're bathroom remodeling contractor interested in being a dealer of  shower wall panels, shower pans, glass shower door systems and freestanding or alcove tubs, call 888-467-7488 and ask for Mike.
---
Mike Foti
President of Innovate Building Solutions a nationwide supplier and regional (Cleveland and Columbus) remodeling contractors. Some of our product lines include glass counters, floors, backsplashes, glass blocks and grout free shower and tub wall panels
---