11 Steps to a Safe, Stylish and Accessible Bathroom for Mom (or Dad) to Age in Place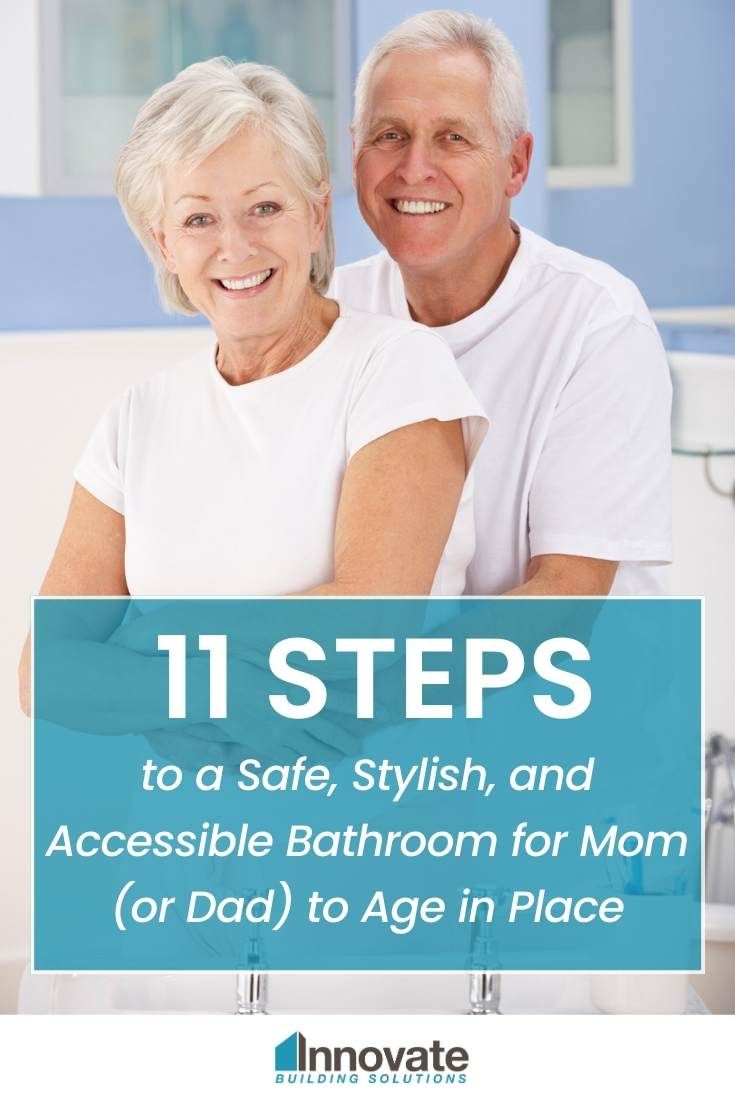 Although Mother's Day has just passed, perhaps the smartest gift you could give Mom (or Dad for that matter) as they're getting up in age to make sure they can continue living in their home. If they're like most, they DO NOT want to be forced into 'community living' (or assisted living as most would call it). And one unfortunate bathroom fall can make assisted living an expensive reality nobody wants.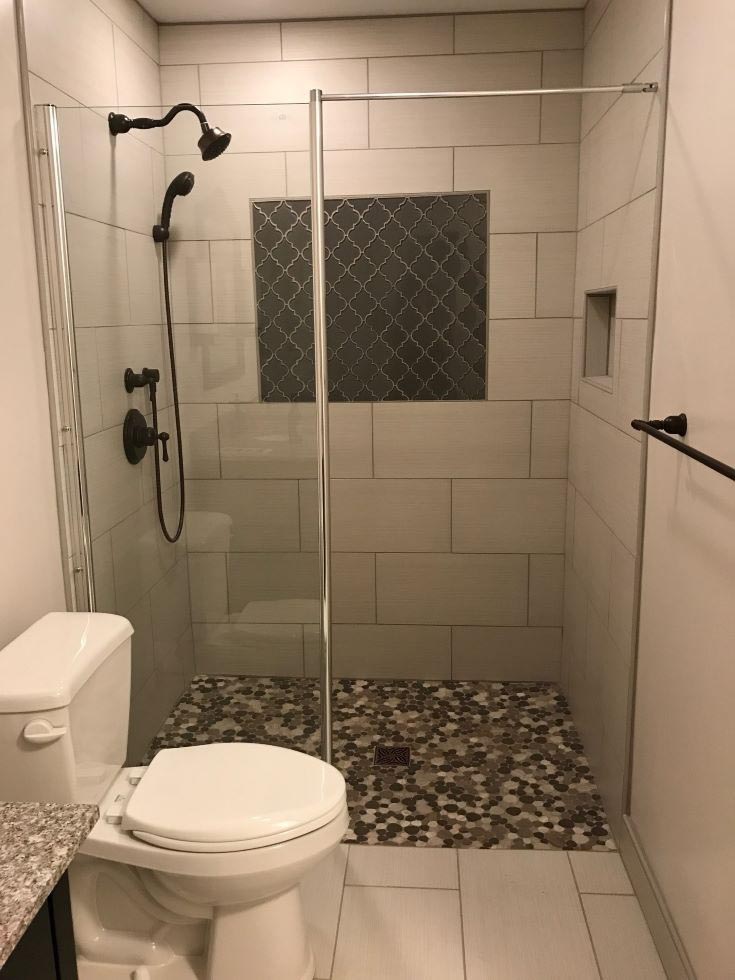 And while you may have heard about 'age in place or accessible bathrooms, or ADA showers, knowing how to create a safe, stylish, accessible space is likely NOT something you've done before. Given this, you may be asking:
What's the best shower pan or bathroom floor system to use in an accessible bath remodel? What options are safe – yet don't look like the showers in a hospital?
How can I find products which not only are simple to maintain, but also make mom and dad's outdated bathroom stylish?
What can I do to reduce the risk of falls?
What are the most important accessories to include?
How can I make sure the vanity will work if Mom (or Dad) needs a wheelchair?
How can I make sure my bathroom selections will look good together and this project won't eat up all my time?
Get the answers to these questions (and more) while reading the 11 steps to a safe, stylish, and accessible bathroom for aging in place below.
Step #1– Eliminate the #1 trip hazard – the tub deck or too-tall shower pan.
The number one place seniors get hurt is in the bathroom. And the #1 'pain-in-the-neck' (or back, or hip or shoulder) is caused by slipping and falling while getting into (or out of) the tub or shower.
This is a problem you must tackle to make sure they can stay in their home (and out of expensive senior care facilities).
And here's 3 smart solutions to combat this problem.
Solution #1 – The composite roll in shower pan – This pan has a beveled edge, so it's simple to navigate even in a wheelchair. It can look quite stylish if you choose a colored roll in pan or add a decorative linear drain (which also helps keep water in).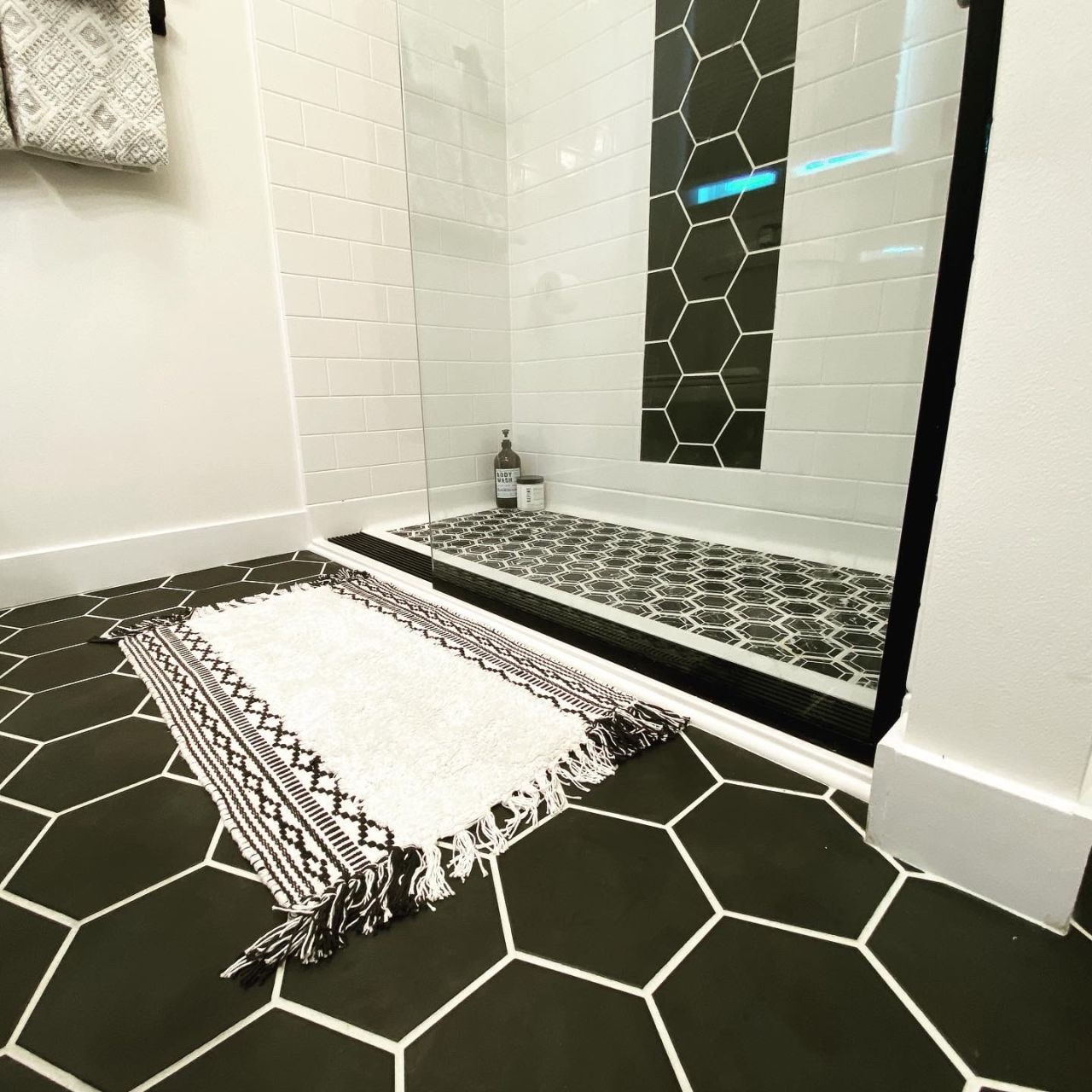 Solution #2 – The one level wet room – If you have a larger budget, the one level bathroom puts your shower and bathroom floors at the same level. With this contemporary system you waterproof your entire bathroom and can use large format tiles (to reduce grout joints) or opt to use small mosaic tiles on the shower floor.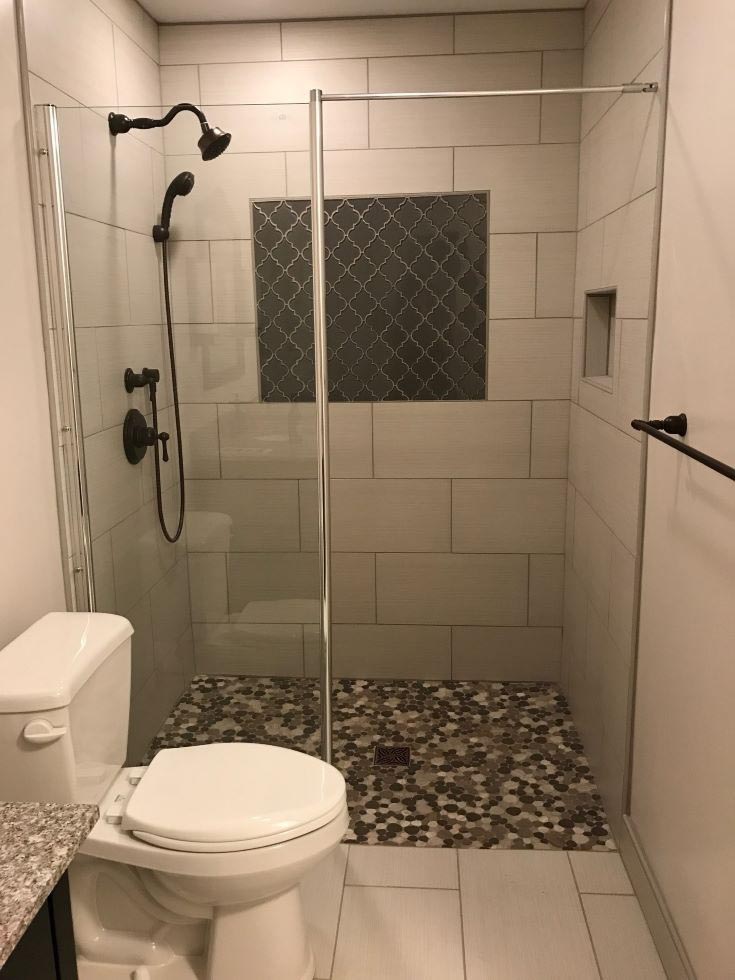 Solution #3 – The low profile stone shower pan – If you're looking for a shower pan with stylish lines – yet built to last – this stone low profile pan is perfect. This 60 x 32 pan weighs in at a sturdy 123 lbs. and comes in stylish options to create a memorable shower pan. And how many times have you said a shower pan is memorable? If I'm a betting man, I'll bet that's NEVER!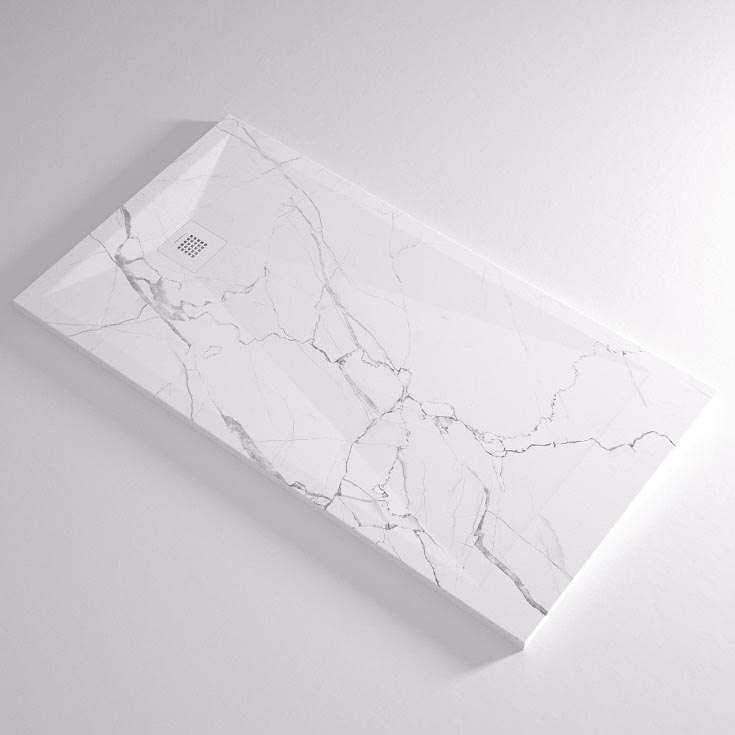 Step #2– Use grout free bath and shower products to make maintenance a breeze.
Yes – mom cleaned up after you for years and years and years. However, now – if you're looking closely you may be noticing her ability to clean has dropped off (along with her mobility). And in a perfect world you'd return the favor and clean for her, but with your crazy schedule and even crazier kids – that ain't happen.'
So, how can you ensure her bathroom will stay clean without her bringing pulling out her scrub brush and possibly hurting herself in the process?
Well –start by ELIMINATING grout joints wherever you can.
For example, use grout free wall surrounds like these 3D textured laminate wall panels which will even fool the most discriminating family who will assume they're real tiles.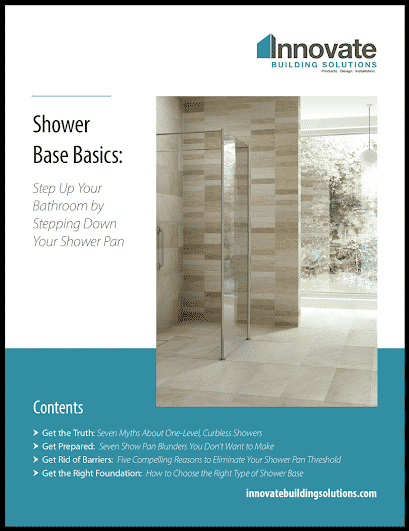 Get Our Ultimate Shower Base Guide!
Step Up Your Bathroom by Stepping Down Your Shower Pan!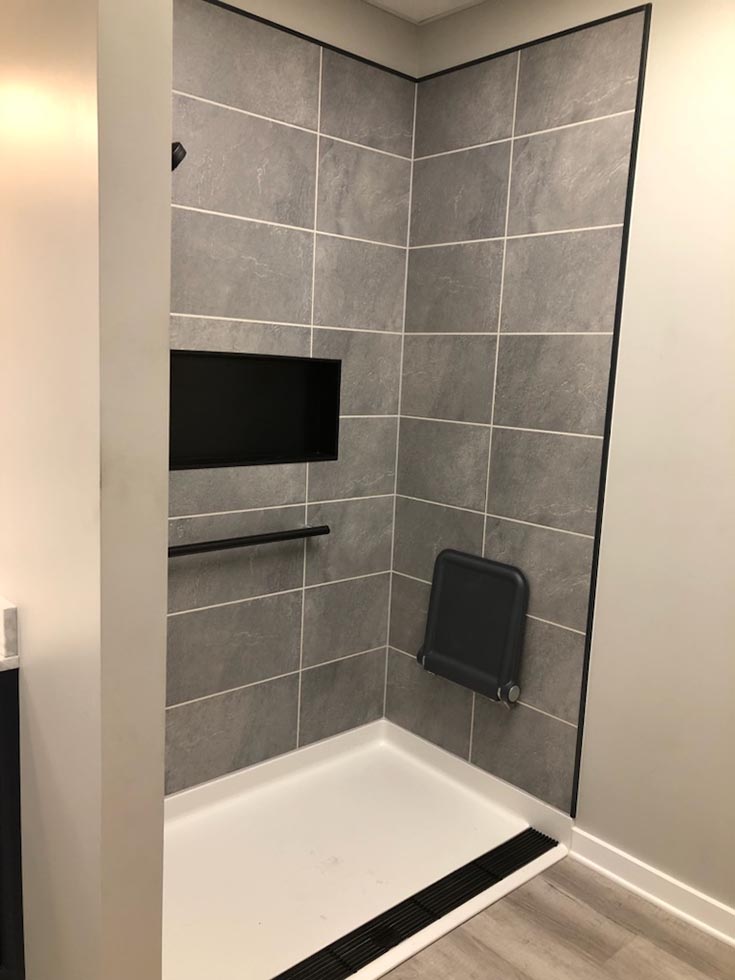 Or use luxury vinyl planks vs. a tile floor. They're waterproof, simpler to install, and waaaaay easier to clean than a tile floor with grout joints.
And by all means get rid of those 'diny-diny' (as Roseanne Roseannadanna used to say) grout joints in her tile shower pan. Use grout free shower bases like the custom cultured stone pan you'll see below.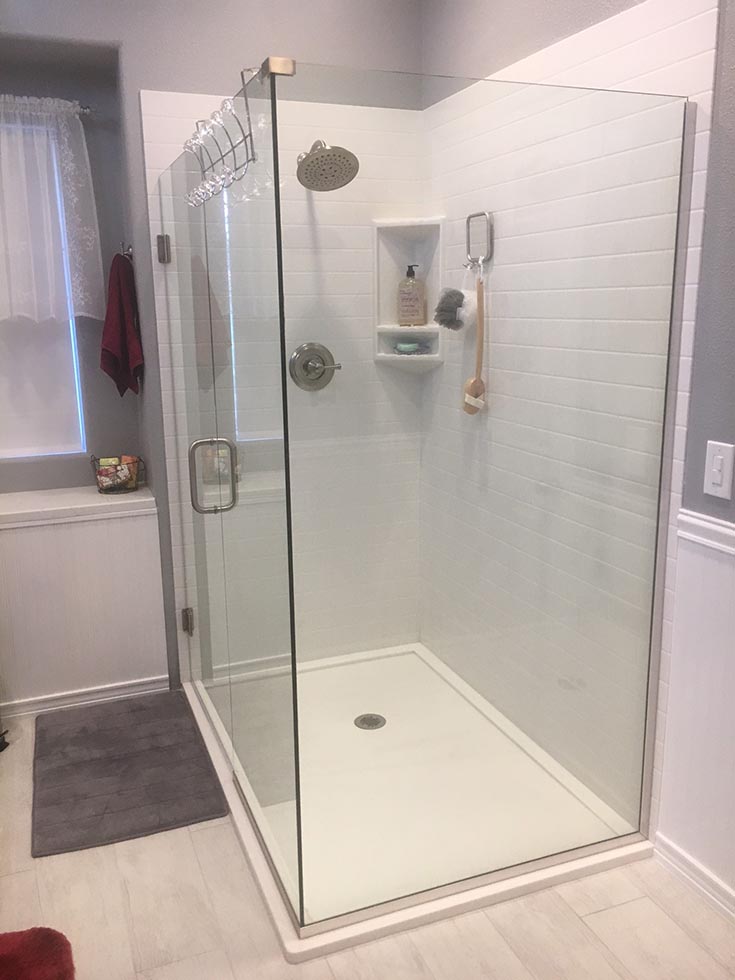 Step #3 – Make sure the shower entry isn't too small (or it can flex to become bigger if required).  
While a 20" wide shower entry might was fine in mom or dad's younger years, if they need a walker or wheelchair this opening will make it difficult (to near impossible) to use their shower without assistance.
To make an entry which will work for the long run (and help them shower independently) here's two options:
Option A – Use a pivoting shower screen – This glass shower door creates a roll in or walk in shower where the fixed glass is 23" wide with a 15" pivoting door at the end. So, when she opens the pivot door (in a standard 60" wide alcove shower) she'll have a 36" wide opening. This works great for wheelchair access.
Get Free Samples!
Click here to request free samples of our Laminated Waterproof Shower Wall Panels.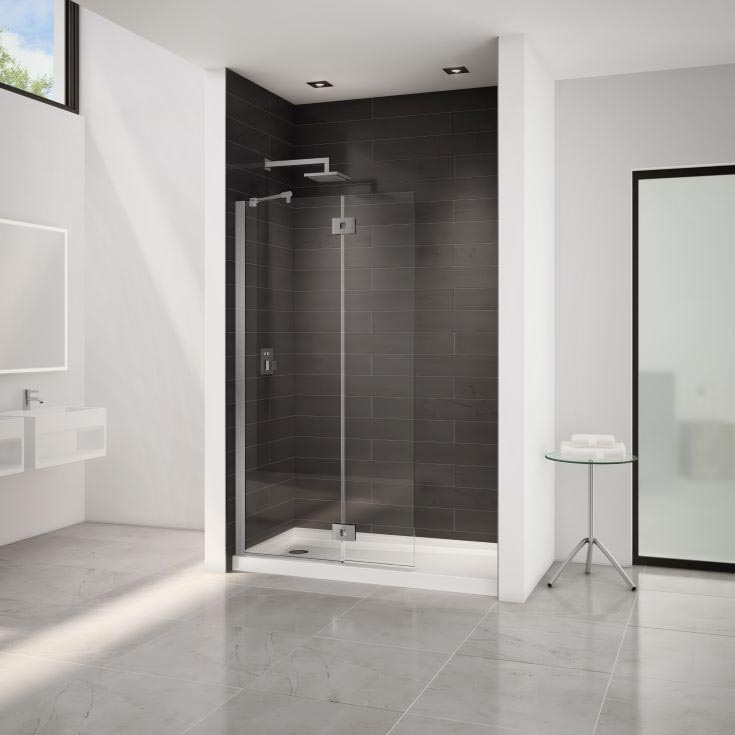 Option B – Don't use shower glass but opt for a roll in shower (with a water stopper) and weighted shower curtain – The way to maximize the size of the shower opening is eliminate a glass shower door. However, if you do this you need a good system to keep the water in – and make sure the shower doesn't feel too cold. A way to accomplish this is to use a water stopper so the water won't come out of a roll in shower pan and add a weighted shower curtain.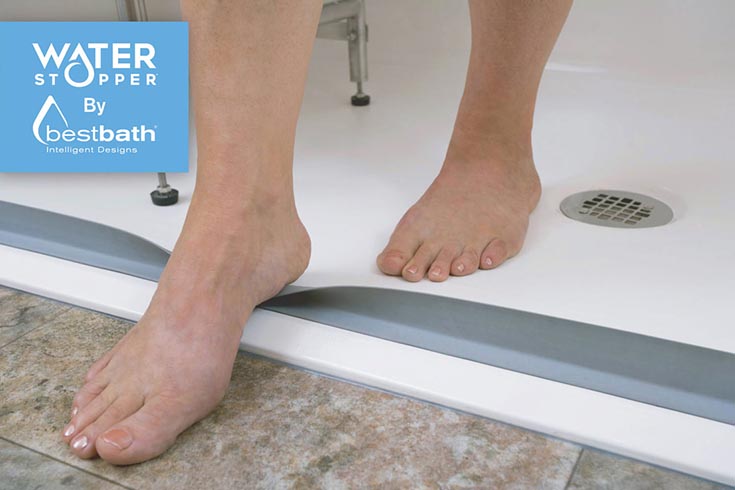 Step #4 – Make sure there's enough light in the bathroom.   
Ever notice how your teenager can read effortlessly in a dark room. Then think how hard it'd be for Mom and Dad (or even you) to do the same thing. It would be a lesson in frustration, for sure.
The unfortunate reality is eyesight is not like wine. Your eyesight DOES NOT become better with age.
This means if you want a stylish and safe bathroom you need to make lighting an asset, not a liability for your age in place design. Here's 4 ideas to accomplish this.
Idea #1 – Use a skylight or transom window – There's no better lighting than natural lighting. And if you want more light (without sacrificing privacy) adding a skylight or transom (which is a window which is placed near the top of a wall) is a thoughtful way to bring in natural light without sacrificing privacy.
Idea #2 – Get rid of curtains – OK, if mom doesn't want to become an exhibitionist in her old age, I get that. But curtains on bathroom windows are blocking precious light. So – if a clear glass window is forcing her to always keep the blinds down, replace these sashes with obscure glass. Or use a glass block bathroom window or an obscure glass awning window which opens from the bottom.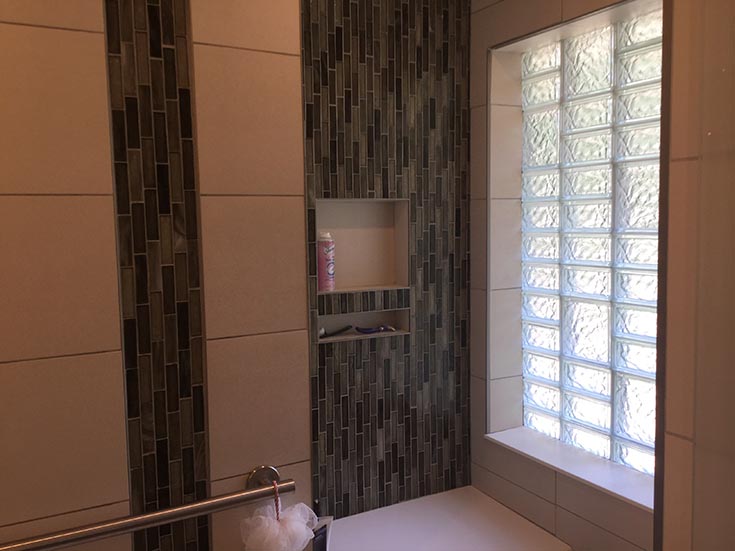 Idea #3 – Install waterproof lighting in the shower – Showers (especially those with curtains) are dark. And dark places are dangerous places. Adding waterproof lighting in the shower prevents this problem.
Idea #4 – Add LED lighting around a medicine cabinet – An LED medicine cabinet not only provides more lighting (and extra storage – and who doesn't need that?), but with long-lasting LED lights, mom won't even need to replace the bulbs (or tell you they've burned out until it's too late).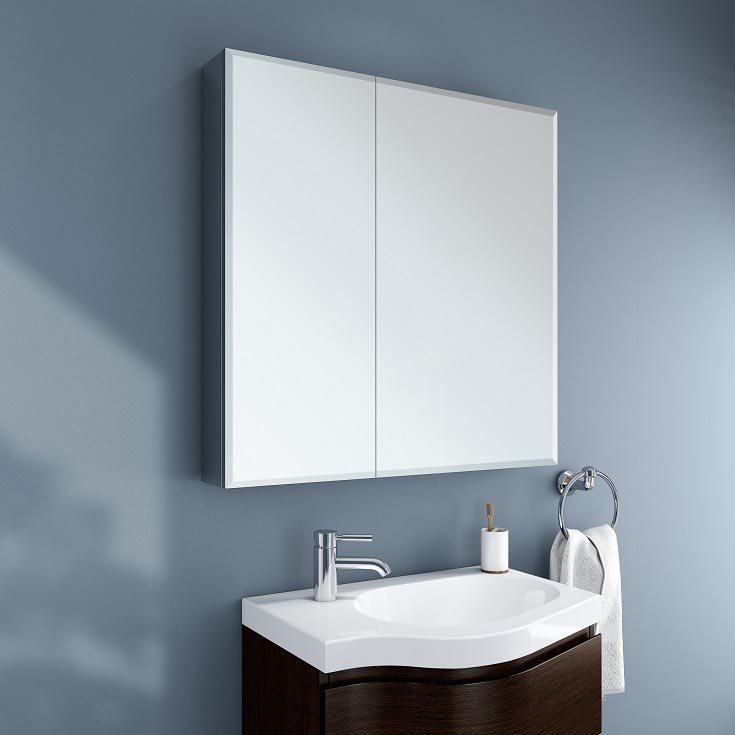 Step #5– Get input from accessible bathroom remodeling contractors and suppliers.    
If you said I never even knew there was such a thing as an accessible bathroom contractor who focuses on age in place bathrooms, you're not alone.
However, given this important fact, before trying to navigate the unchartered waters of accessible remodeling, seek out people who know what the heck they're talking about in this specialized sub-section of remodeling.
If you're wondering how to find (and choose) a contractor, read How to Choose an Age in Place or Bathroom Accessibility Contractor.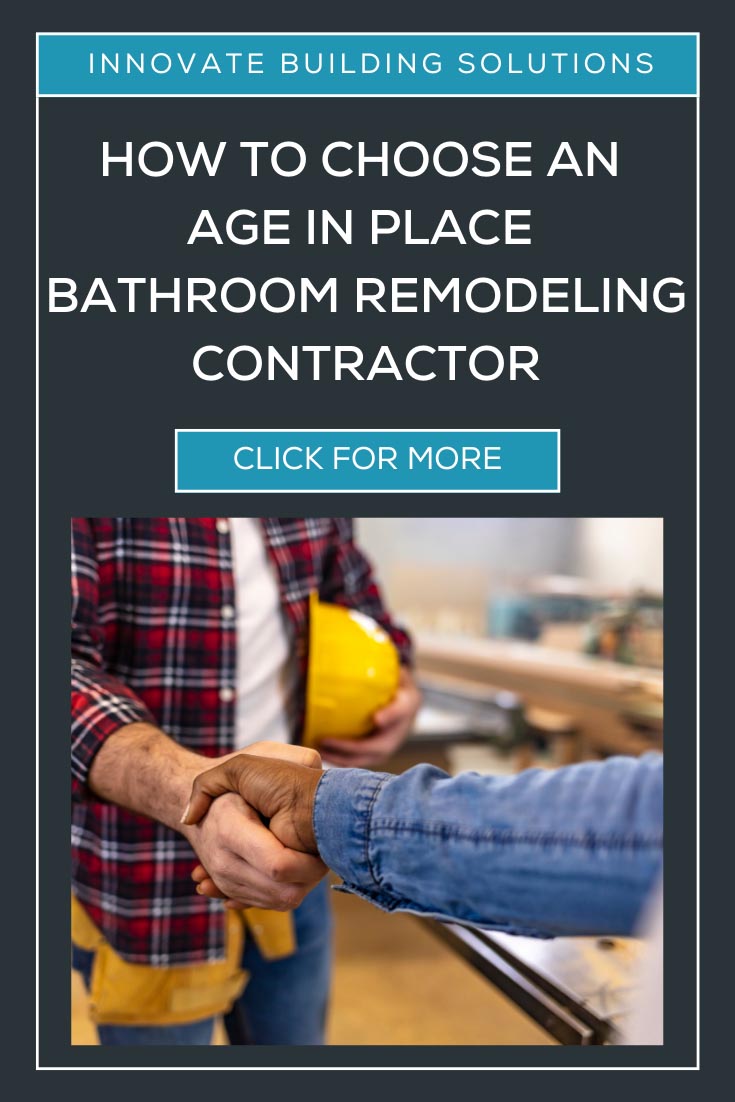 Or if you're looking for age in place suppliers, you'll obviously find they're the people who sell age in place products like roll in shower pans and grout free wall panels.
Or if your parents are working with an occupational therapist they can serve as a referral resource for you to find knowledgeable contractors and suppliers.
Step #6– Remember to include a place to sit in your shower.
Since your balance is just fine (thank you very much) you may take it for granted how hard it is for mom and dad to be steady on their feet in a sloped (and slippery) tub/ shower.
And this is where shower seating is essential. However, many people unfortunately don't have the room for a fixed shower seat. And while this can be true – if you use a fold down bench seat, the seat can be 'in use' when needed (to shave her legs for example) or folded up when it's not needed (so the shower doesn't feel crowded).
To learn more about shower seating read, The Pros and Cons of Built In, Fold Down, or Moveable Shower Seats or Chairs.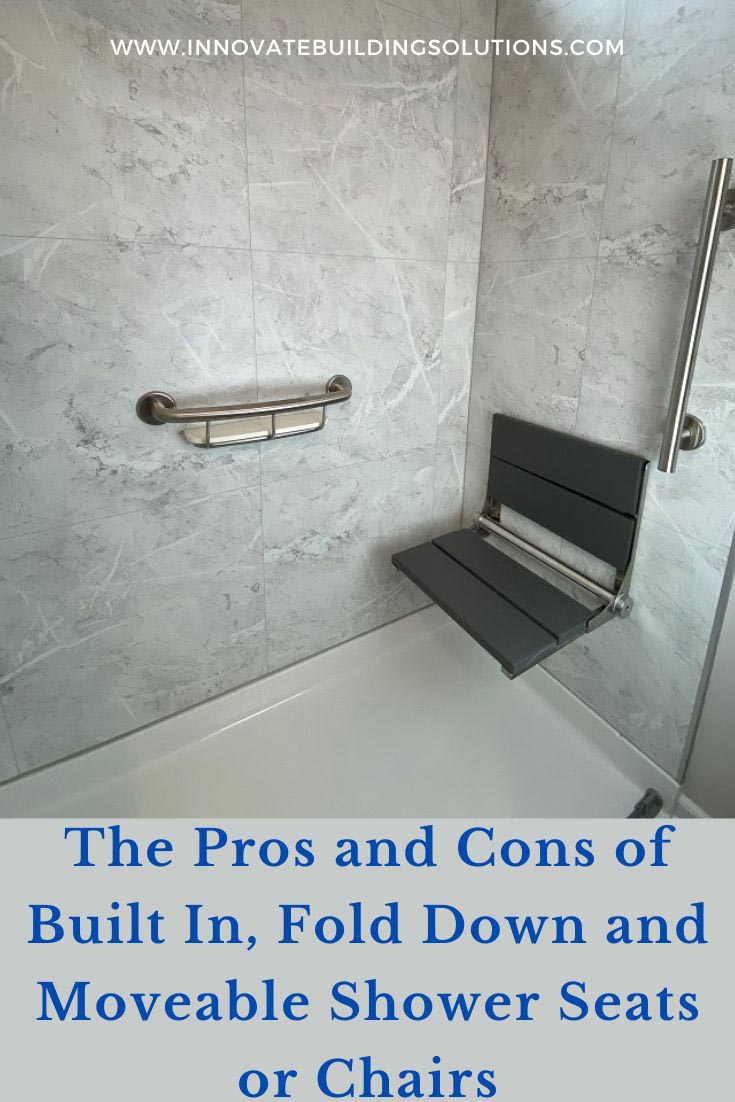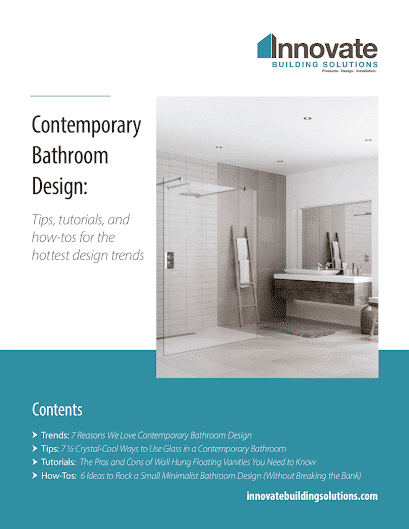 Get Our Contemporary Bathroom Guide!
Tips, tutorials, and how-tos for the hottest design trends
Step #7 – Make sure she has a vanity which will work in a standing or seated position.
The standard 36" high x 22" deep vanity works great – if you can use it from a standing position (and mom or dad is not 'V.C.' – 'er vertically challenged).
However, if Mom's in a wheelchair, a standard height vanity is difficult to use in a seated position – and will be painful on her back.
So, if you're anticipating mom or dad needing wheelchair assistance, a wall hung vanity (which provides room to roll under and can be set at any height you'd like) is smart.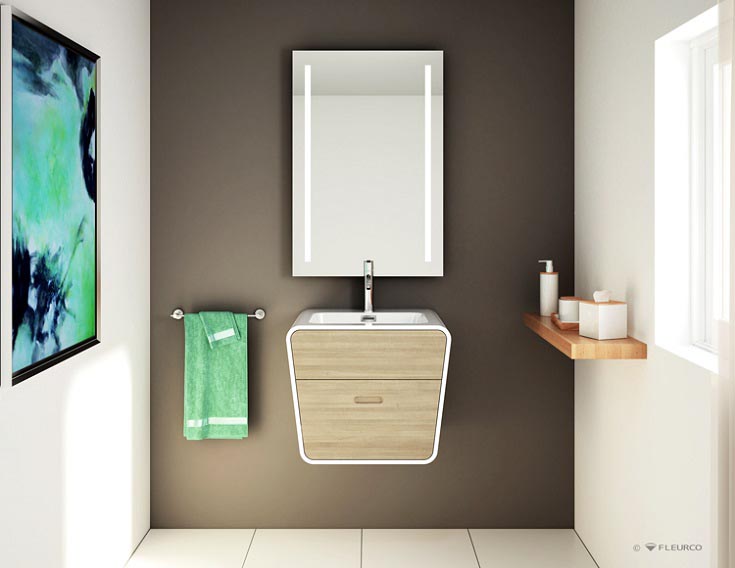 Step #8 –Install (nice-looking) grab bars.  
There's nothing which turns a beautiful bathroom remodel into an ugly looking 'handicap bathroom' (and sorry I WAS NOT politically correct with that phrase!) quicker than choosing institutional grab bars. And while it's smart to install a grab bar as she's entering the shower (and one inside the space), or even by the toilet – if you choose 'standard grab bars,' they'll look nasty and give the space a 'grandma-lives-here' kind of look.
To escape this problem, look for decorative grab bars. They're not hard to find and actually add style (vs. take away from it).
Step #9 – Make sure the faucets and fixtures aren't a pain to use.
Did you ever try to open a carton of milk (or struggle opening a jar of spaghetti sauce) and think, I can't imagine how mom would have any chance to get this doggone thing open!
Well, what many adult children helping their parents redesign bathrooms for aging in place don't think about – is how hard it'll be to operate their fixtures (which require turning handles, much like opening jars). So, here's some things to keep in mind.
Instead of faucets you turn, choose simpler to operate lever handles.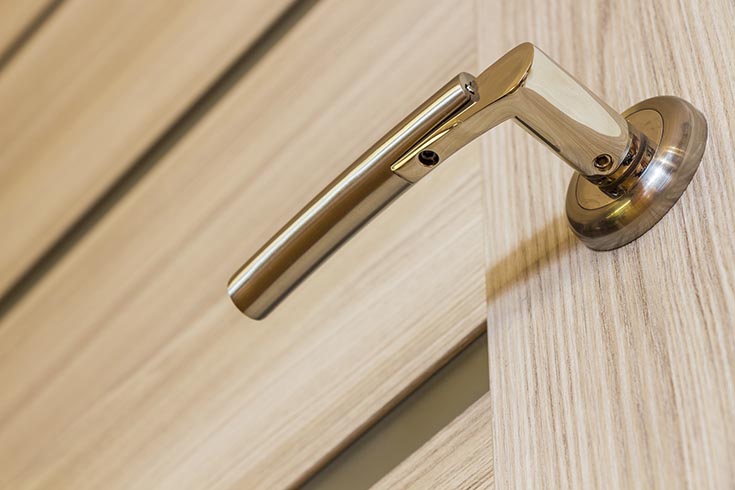 Or instead of only having a wall mounted shower head- consider a shower head on a slide bar which is close to the fold down seat so it can be turned on while seated or standing.
Step #10 – Get rid of clutter, but make sure you have room for storage.
The longer you (or your mom) lives, the more stuff you accumulate (or as my Italian father in law used to call all this stuff – 'junks.') The problem with having too many lotions, potions, shampoo bottles, towels and bathroom supplies is there's no place to put them (except on the shower floor, which can be an accident waiting to happen). Or it's difficult to impossible to find what she needs in the vanity which is a 'mosh-pit' of stuff.
Fortunately, there's smart solutions to eliminate these problems in age in place bathrooms and showers.
In the shower consider using an oversized recessed niche to house soaps, shampoos, loofas etc. They come as large as 58" wide and tall and can be positioned lower on the wall so she can reach them without straining.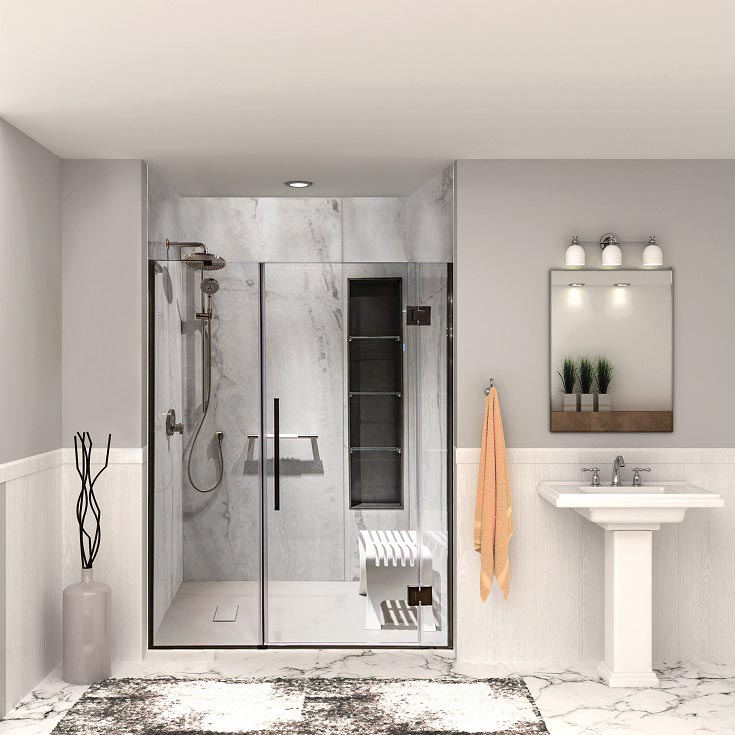 In the bathroom, make sure the vanity has slide-out drawers where the materials come to her vs. bending over to (try) to see what's in the deep, dark crevasses.
Step #11 – Pull it all together with a bathroom visualizer.
Making selections is a time-consuming (and mind-blowing) process. Let's face it, you're not an interior designer, and you don't play one on TV. So, how can you save time running all over town (and then trying to get Mom's OK) attempting to make product selections?
The way to ease this burden is to use a tool – like the bathroom visualizer you can click out below. In one room scene you can pick your shower pan, wall panels, glass door (if you want one), flooring, paint, or vanity.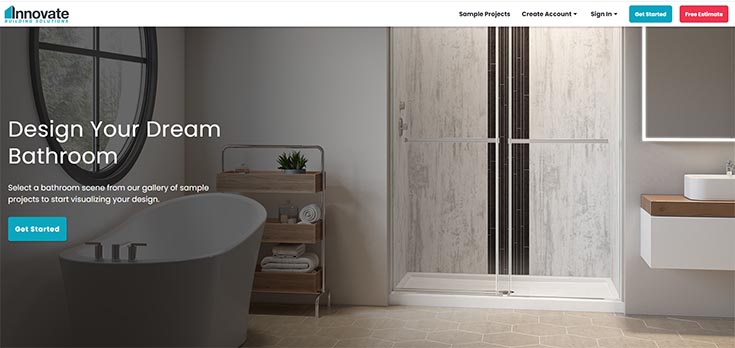 So, have these 11 steps to a safe, stylish, and accessible bathroom helped you to strategize her space? Do you need help?
I hope this article has provided you with concrete ideas to make a safer, stylish, and accessible bathroom for mom or dad. However, if going into a project like this alone (which IS more involved than a standard bathroom) is scary to you, I've got an idea.
If you need help with accessible bathroom design or age in place products, contact Innovate Building Solutions at 877-668-5888 or request a Free Design Consultation.
And if you're looking for an accessible bathroom remodeling contractor, we know companies who specialize in this area through our dealer network (or if you live in Cleveland Ohio area through our Bath Doctor division as well).
Thanks for reading. Comment below or contact me with questions.
Mike
###
If you want more advice follow me on LinkedIn @MikeFoti.
And if you're age in place contractor interested in being a dealer of  shower wall panels, shower pans, glass shower door systems and freestanding or alcove tubs, call 888-467-7488 and ask for Mike.
---
Mike Foti
President of Innovate Building Solutions a nationwide supplier and regional (Cleveland and Columbus) remodeling contractors. Some of our product lines include glass counters, floors, backsplashes, glass blocks and grout free shower and tub wall panels
---