How to Choose an Age in Place or Home Accessibility Bathroom Remodeling Contractor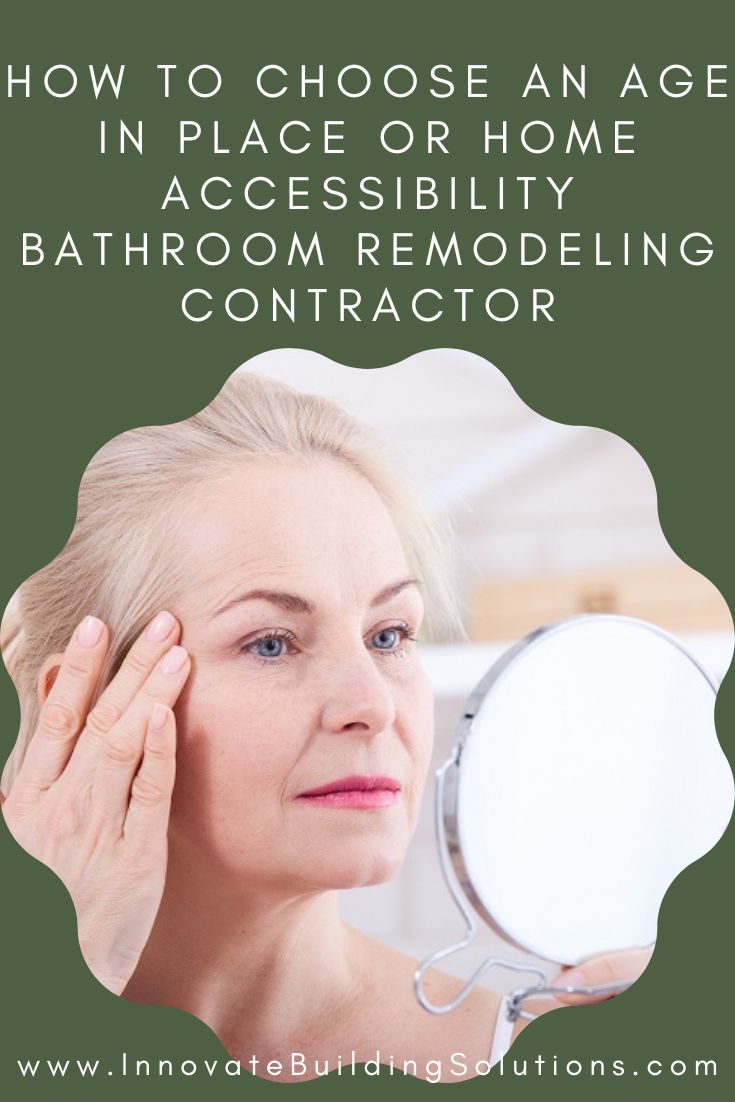 I don't mean to be 'Danny Downer' or anything but for older adults, falls are a big problem. Consider these statistics from the CDC (Centers for Disease Control).
36 million older adults fall each year. Of this group, 32,000 die.
1 out of 4 older adults will fall each year.
1 out of 5 older adults will experience broken bones or a head injury due to a fall.
Over 235,000 people per year are injured from a fall in the bathroom – which, as you know, is a slippery place.
So, why do I tell you these depressing statistics? Well – I know from calls I get from wives, husbands and concerned 'kids' (and by this I mean adult kids) –bathrooms are a huge source of worry. They WERE NOT designed with the needs of older adults (or those with mobility challenges) in mind.
This concern about safety has driven an increased need for age in place bathroom remodeling contractors. These contractors know the products to make bathrooms safer and how to keep your relatives, friends, and family in their homes longer.
And who doesn't want to stay in their homes longer? For anyone who experienced not being able to visit a loved one in assisted living, memory care, nursing or independent living during COVID – you know now – more than ever – it's smart (both emotionally and economically) to extend the time your mom, Dad, Aunt, Uncle, Husband, Wife or Partner stays in their home.
And while it's simple to say let's find age in place products and an age in place contractor, actually finding competent contractors who also understand the health (and accessibility) challenges of someone you care about, and knows the right products to make this bathroom work, is not easy.
And if you're looking to choose an aging in place contractor (or home accessibility bathroom remodeler) you may be asking, "Where can I find this 'needle in a haystack' contractor? Where can I find a company who not only knows age in place (and home modification) products and construction processes, but also who doesn't 'take advantage' of old people in the process?"
If these are your concerns you've landed on the right article.
Below you'll find 9 practical tips to find an age in place or home accessibility bathroom remodeling contractor. At the end, let me know which tip(s) were helpful to you and other tips and tricks which have helped you through this (often) stressful process.
Tip #1 – Know how to conduct time-effective Internet research
As you know researching ANYTHING on the Internet can feel like you're thrown into a bottomless pit. Sometimes you go down a 'research rabbit hole' and aren't sure how you got there in the first place.
When it comes to conducting time-effective research to find an age in place contractor, here's time-saving ideas you need to use.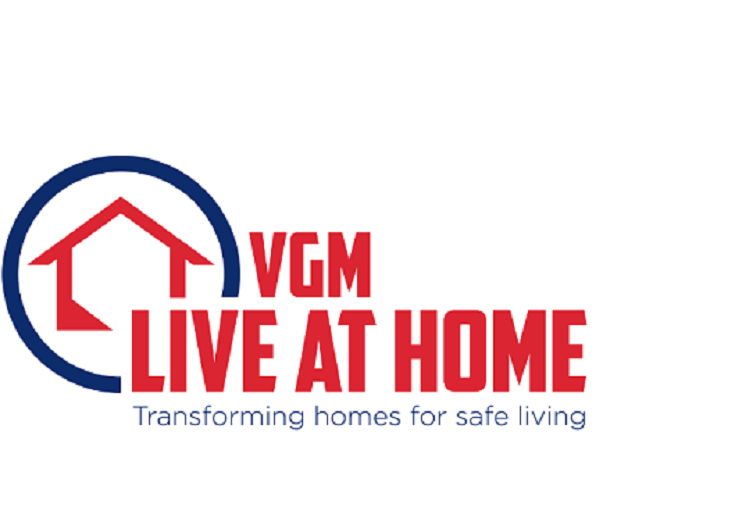 Call the National Association of Home Builders at 800-368-5242 and ask for a list of CAPS (Certified Aging in Place Specialists) in your area.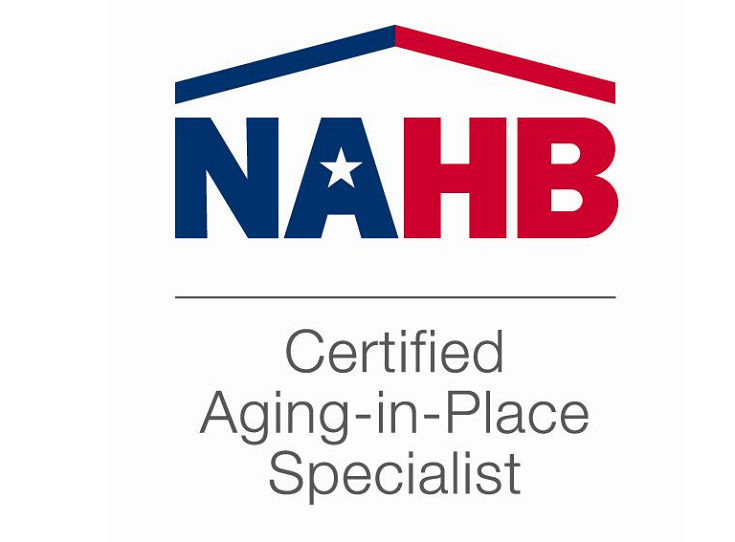 Search the name of your town and home bathroom modification. For example, Cleveland home bathroom modifications.
Search the name of your town and age in place contractors.
Search the name of your town and universal design contractors.
Ask your physical therapist or occupational therapist for a referral.
Tip #2 – Before calling age in place contractors, visit their web sites
There's no use wasting your time or a contractor's time only to find out they're a 'general remodeling contractor' and have no expertise in bathroom modifications or accessible remodeling.
The smartest way to save your time is visit contractor web sites. If you look at this web page from JTEK Solutions Group in Canton Ohio (https://www.jtekgroup.com/services/) you'll see what a web page of a focused home modifications company looks like. You'll see JTEK offers barrier free showers, wet rooms, grab bar installations, stair lifts and ramps. This company is focused on accessible remodeling.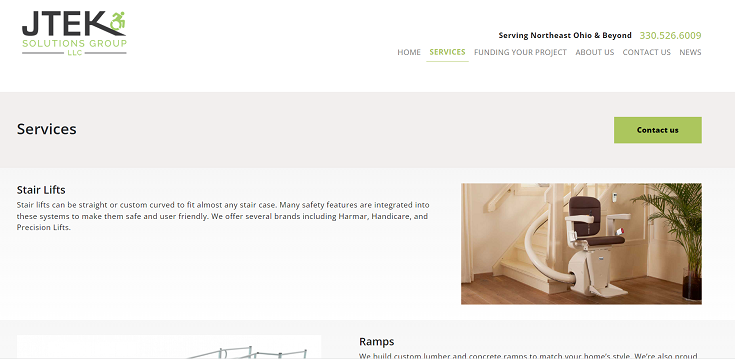 While a 'general remodeling contractor' may know a few things about aging in place, this DOES NOT make them a bonified home access contractor who lives and breaths aging in place projects and makes them the focus of their business.
Check out web sites and if you don't see anything about aging in place, accessible or universal design remodeling, move on so you don't make the mistake of hiring a rookie to handle this important (and specialized) project.

Tip #3 – Find out what background, designations, and qualifications team members have.
There's no substitute for knowledge and experience. And when it comes to the health and safety of your mom, Dad, husband or wife – you know you wouldn't trust their 'brain surgery' to a 'wet-behind-the-ears' resident (also known as a new doctor) studying to be a chiropractor, would you?
This same logic should also apply to choosing a bathroom home modifications contractor. You want people who not only know the correct accessible or universal construction processes, but you also want companies who will 'prescribe' (along with a health care professional) the right products which assist the short and long run health of your loved one.
So – what should you look for on a web site (or in an introductory phone call) about the backgrounds of potential bathroom modifications or home access contractors? Here's some 'designations' which will tell you if they have specialized training and certifications in this field.
CAPS – Certified Aging in Place Specialist.
CEAC – Certified Environmental Access Consultant.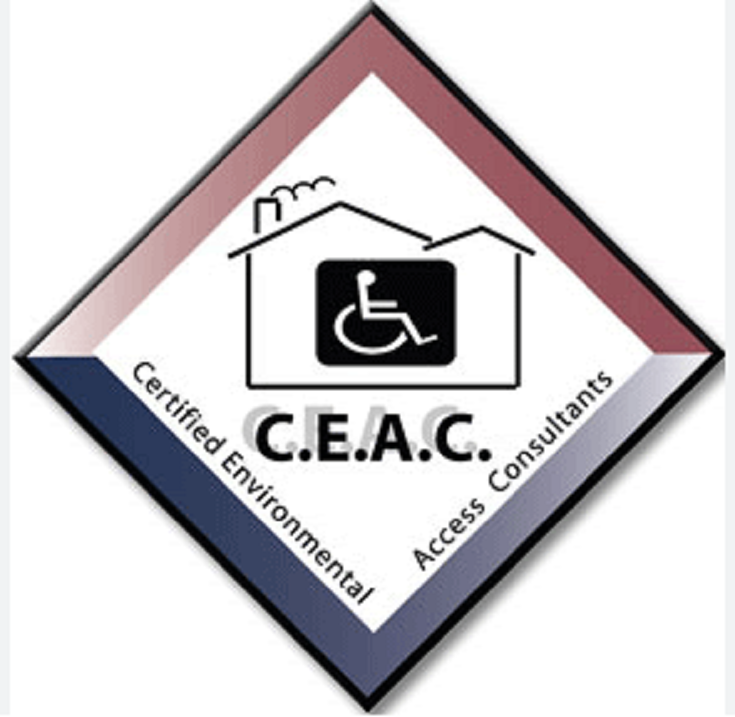 OTR/L – Occupational Therapist, Registered, Licensed.
If you're lucky, you'll find a company with people who have knowledge of health care and construction.
Tip #4 – See if your potential bathroom modification contractor does big and small jobs.
Not all bathroom modifications and remodeling projects are big. Maybe you only need a few strategically placed grab bars to make a shower safer for Mom or Dad. Or, on the other hand, you might need a larger project like a tub to shower conversion, or a walk in bathtub installation.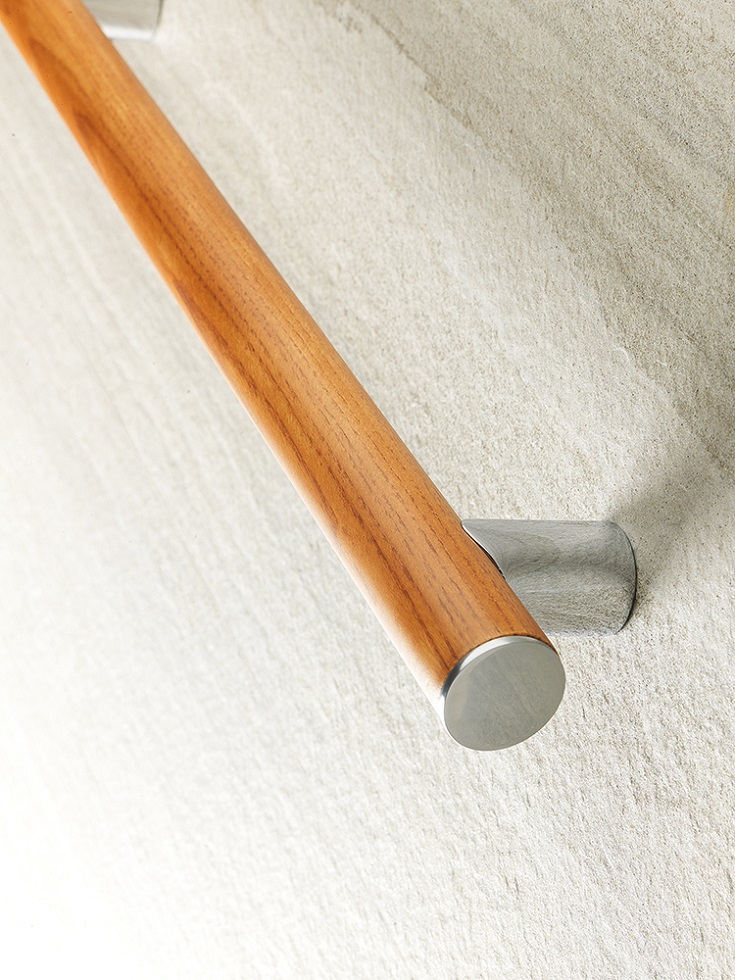 When you're looking at web sites for your age in place contractor see if they do big AND small jobs. A reputable company who works in this area, will help to assess your situation, and not 'over-prescribe' big solutions if you and your family only need minor modifications.
Tip #5 – See if your contractor understands (and can deliver on) your 'need for speed.'
The business of home modifications can be 'joined-at-the-hip' with the world of health care. And if you're in a situation where mom or dad will be coming home from the hospital shortly and you might NEED basic modifications like a wider doorway, a ramp, or adding grab bars in the shower done ASAP.
So, what does this have to do with your choice of a home modifications contractor, you may be asking? Well – it has everything to do with their focus on speed of delivery and installation. This may be why you have companies with names like Right Now Mobility (in Cincinnati Ohio) or Next Day Access (with multiple locations) who have named their businesses to point out this need for speed. They will install simple home modification products (or supply medical equipment) the next day after they're ordered.
And I've even seen first hand one of my dealers –On The Mend Medical (run by Liam O'Keefe) who had two technicians drive 517 miles from Southbury, Connecticut to our warehouse in Cleveland Ohio one night to get a low profile shower pan he needed for a project. Now – that's speedy service in real life!

Tip #6 – Make sure your age in place contractor is NOT ONLY focused on function but understands your desire for fashion.
So – who wants an ugly, yet safe, bathroom which looks like a hospital room? 'Er that would be…..
No one!
But I'd argue too many products in age in place bathrooms S-C-R-E-A-M out……
I'll bet someone's grandmother lives here!
And even if you are a grandmother (or a grandfather) the last thing you want is to 'feel' old – or have the spaces you live in look ugly. Maybe you've worked hard over your career to live in stylish spaces. And now that your mobility is (unfortunately) not getting better – you certainly don't want to go into a bathroom which looks like a hospital room, because that's the last place you want to be reminded of. So, what can you do about it?
First, insist on bathroom modification (or home access) contractors who offer stylish AND safe products. And what might some of those ideas be? Well – here's 3 products you can use instead of common (and uglier) alternatives.
Product #1 – A modern low profile shower pan – Instead of 'settling' for a fiberglass pan (which is hard to clean when it gets dirty), how about a modern low profile shower pan. It has a 1 1/6" curb height and looks as cool as it is safe and simple to clean. And with 4,000 lbs. weight capacity, you know it won't flex or squeak when you walk on it.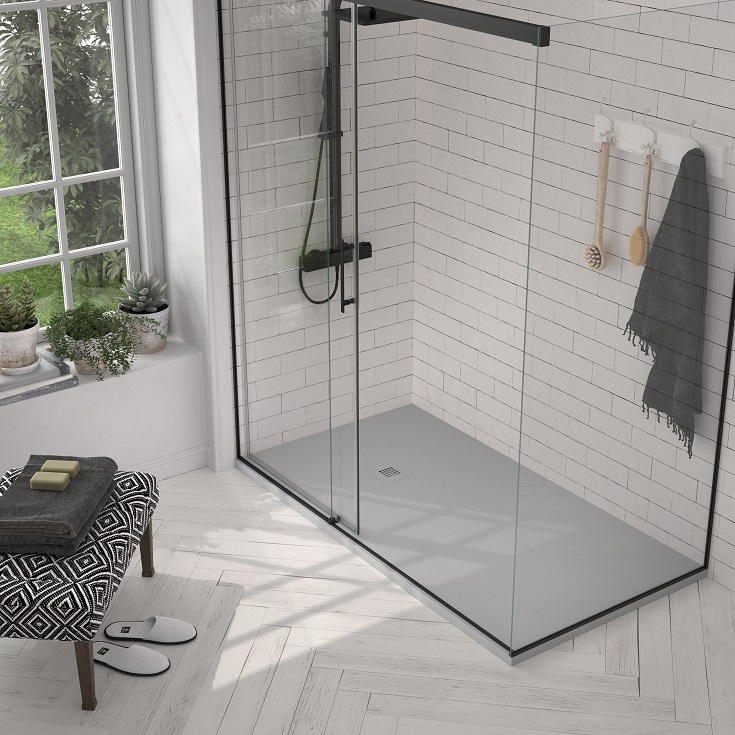 Product #2 – Grout free wall panels which can fool a tile setter into thinking they're real – You know cleaning mold and dirt off your tile shower IS NOT your idea of a good time. In addition, the plasticky fiberglass and acrylic shower wall panels you see advertised in 'one day bath' TV commercials also ARE NOT your idea of a 'quality' system. If this describes you, check out laminate shower wall panels. They look like real tile, stone – or even cracked cement. What's even cooler is you'll never, ever, ever have to bring out your tile scrub brush again.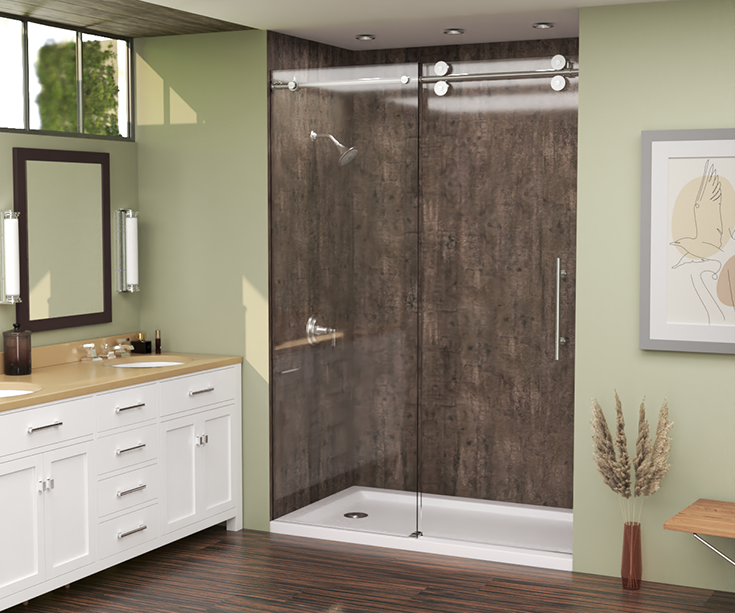 Product #3 – Grab bars which don't look like……grab bars! Don't settle for institutional grab bars. Many manufacturers make decorative grab bars which are not only safe, but stylish. And many have grips on the inside to help you hold on. Don't settle for ugly!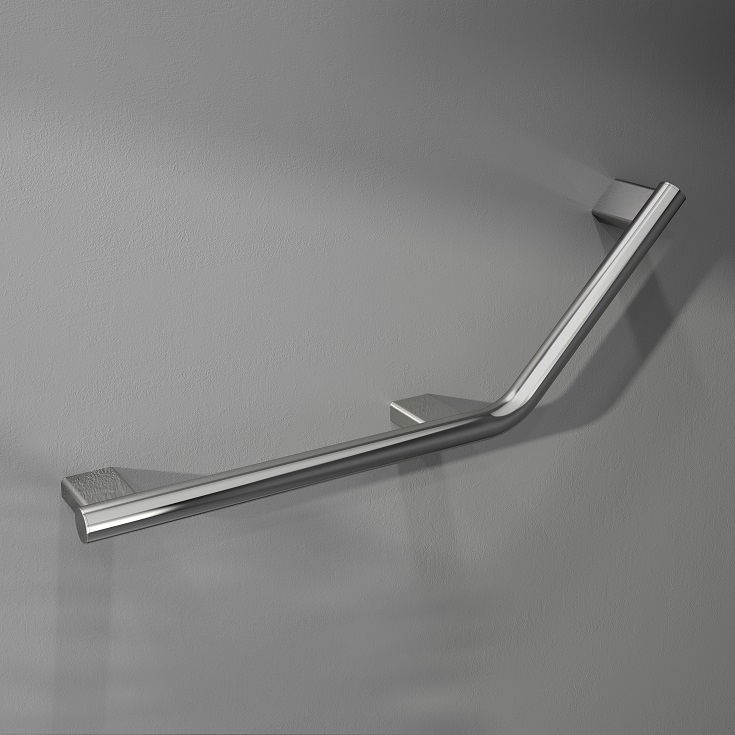 Tip #7 – Ask about warranties (and no this isn't a joke!).
I know when you talk to older people about product warranties and say a product has a 'lifetime warranty,' they'll joke and say, "Whose lifetime?" And while I know warranties can be a slippery-slope (no bathroom pun intended), it's an important question to address, especially if you're purchasing a bathroom remodel which is SUPPOSED to last a long time (and if it doesn't you could be spending A LOT OF MONEY…..AGAIN!).
And while you may love products like tile shower walls and floors, what you may not realize (until it's too late and you're dealing with mold and maintenance problems), is most contractors provide either no guarantee or only a one year guarantee (yes you heard that right) on a tile bathroom floor or walls. In addition, if this tile-grouted system leaks, you'll have a B-I-G problem on your hands which is costly to fix.
So, if you're looking at this bathroom modification and renovation to be something you can count on for 10, 20 or ever 30 years, you need to talk to your contractor about warranties. How long are they? Who stands behind them? What will I get if the product fails? What's the history of this product?
Don't gloss over warranties and end up stuck with a big bill years from now you didn't anticipate.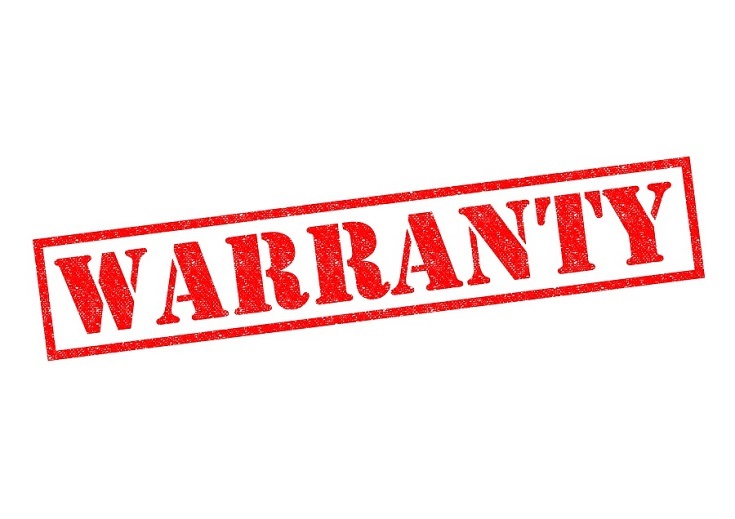 Tip #8 – Get advice from health care AND construction professionals to make sure you bathroom modification will still work if a health condition gets worse.  
In a perfect world you're like fine wine…. you get better with age.
However, when it comes to personal mobility, eyesight, or hearing this is seldom (OK – if I've being real, never) the case.
And if you – or a loved one – has a progressive condition, what works for them today MAY NOT be what works for them tomorrow.
In these situations, you'll want feedback not only from your home access contractor, but also from a trained Occupational Therapist or Physical Therapist. And having your home modification contractor AND therapist work on a construction plan together is the surest way to provide a long-run solution which won't be 'penny-wise and pound-foolish' as my dad used to say.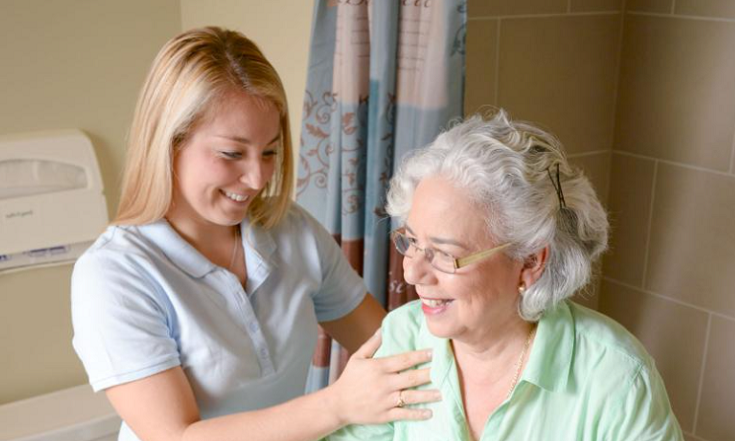 Tip #9 – Make sure you contractor is 2 Legit 2 Quit!
You've heard the horror stories on the evening news. The 'dirt-bag' remodeling contractor took deposits from the elderly, NEVER did any work, and skipped town. And much as you'd like to think this could never happen to a member of your family, I'll bet all of us can think of a situation where we've felt taken by somebody we did business with.
And my recommendation for you is you need to look for a home modifications contractor who (in the words of MC Hammer, the hip hop artist who was uber-popular in the mid 1990's) is 2 Legit 2 Quit. You need a contractor whose been a staple in the industry. And if you need a little throw-back MC Hammer music to lighten up this topic, I've included a video clip below for a laugh.
https://www.youtube.com/watch?v=wiyYozeOoKs
So, in researching potential suppliers and contractors find out how long they've been in business. When did they started focusing on home accessibility projects and products. And learn if they're educated in this field (see tip 3).
This is a specialized field. You need an expert who knows what they're talking about AND will be there to service your business and warranties.
So, has this article provided you with useful tips to find an age in place contractor? Do you need help with age in place products or a referral?
I know finding an age in place contractor (or a contractor of any sort for that matter) IS NOT simple. I hope these 9 tips have you started you down the road to success.
However, if you need more insight on age in place products (like low profile shower pans, one level wet rooms, stylish grout free shower wall panels to name a few) and/or a referral for an age in place contractor (I know a good number through my affiliation with the VGM Live at Home group), I (and my team) would be glad to help.
Call 877-668-5888 or click for a Free Design Consultation to get assistance from a Bathroom Product Specialists at Innovate Building Solutions.
Thanks for reading (and putting up with my – at times – wacky humor!).
Mike
###
If you want more advice follow me on LinkedIn @MikeFoti.
And if you're age in place contractor interested in being a dealer of  shower wall panels, shower pans, glass shower door systems and freestanding or alcove tubs, call 888-467-7488 and ask for Mike.
---
Mike Foti
President of Innovate Building Solutions a nationwide supplier and regional (Cleveland and Columbus) remodeling contractors. Some of our product lines include glass counters, floors, backsplashes, glass blocks and grout free shower and tub wall panels
---