10 Things Nobody Tells You About a Glass Block Shower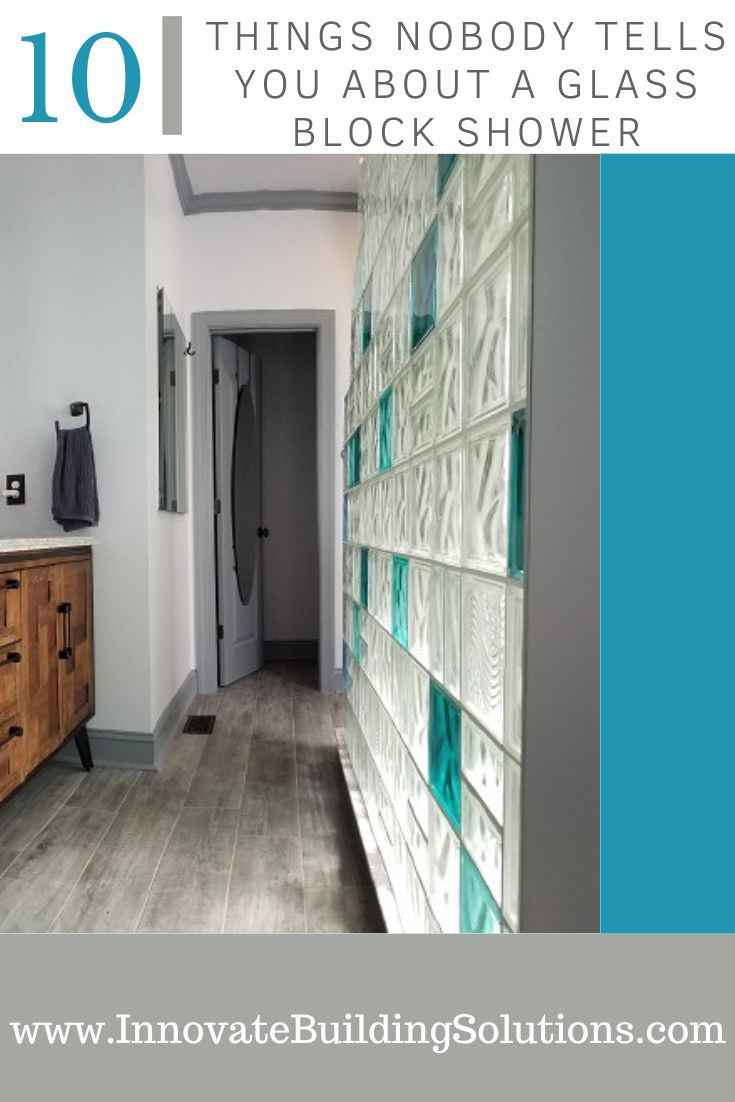 If you'd love to have a glass block shower in your new home or bathroom remodel but feel your builder, remodeler or building supply store are clueless about this specialty glass product, you're not alone.
And when contractor and suppliers are ignorant about glass block showers, here's a few things many of them will try to do.
First, they'll tell you why you SHOULDN'T use the product.
Second, they'll tell you their version of the 'facts' about glass block showers, even if they're blowing smoke and don't know what the heck they're talking about.
Third, they'll price the job crazy-high to get you to move onto a shower alternative they use all the time.
Or, lastly, they'll tell you they don't have anyone to install the blocks, so you'll have to choose another product.
If you're really serious about a glass block walk in shower – but need to know facts from fiction, you've come to the right article.
As a guy who leads a company whose been installing and supplying glass block shower systems nationwide since Moses was a child (OK – we haven't been doing it that long, but my gray hair will tell you I haven't fallen off the glass block wall yesterday either), I've heard many crazy mistruths about block walls and want to 'set the record straight.'
So, in this article I've going to tell you 10 things I'll bet your builder, contractor or general building material supplier– HAS NOT told you about a glass block shower. And I hope this article gives you the 'straight scoop,' so you can figure out (A) if a glass block shower is right for your project and (B) how to 'sell' your contractor or subcontractor that it's not a difficult job to do or (C) will give you the confidence to roll up your sleeves and do it yourself, if you're so inclined.
Without further delay, let's look at 10 things nobody tells you about a glass block shower.
#1 – Knowing how much a glass block shower costs should NOT be an 'ancient Chinese secret!'
I could give you the 'cop-out' answer and say the cost of a glass block shower depends on a number of factors. And these factors would include the following:
Factor #1 – Whether the glass block wall is straight or curved (note a curved wall is more expensive).
Factor #2 – Whether the glass block shower wall is prefabricated in sections or built block by block by a bricklayer (note – a prefabricated wall will not only be more cost-effective, but the quality will also be better than the bricklayer who normally lays bricks and blocks…not glass blocks).
Factor #3 – If the glass block wall uses one size/pattern of blocks or whether you have a multi-block design (note – the wall with one size/pattern of blocks will be cheaper).
And while all 3 factors above are true – they still DO NOT give you concrete answers to your question about the cost of a glass block shower. For that, I'd recommend reading this article I wrote called 'How Much Does a Prefabricated Glass Block Walk in Shower Wall Cost.'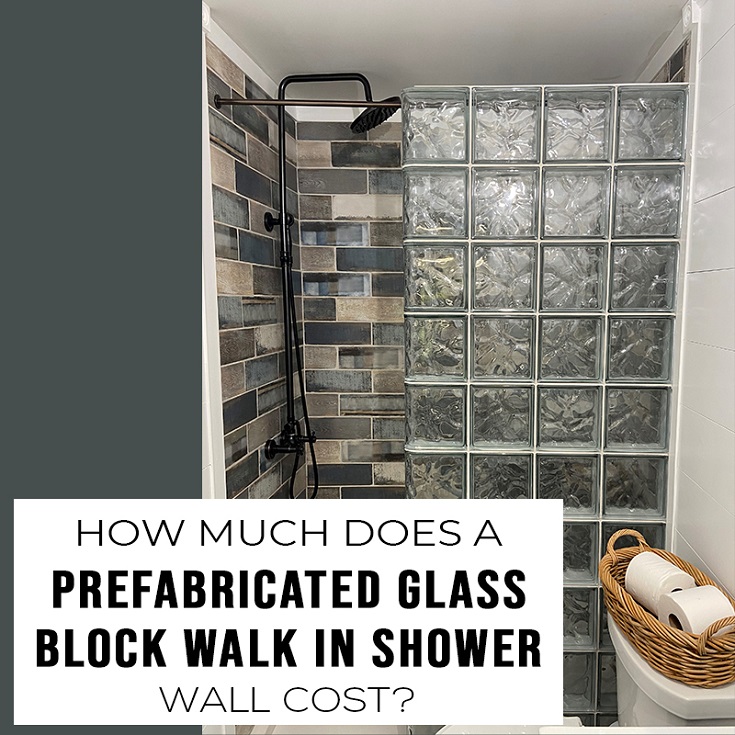 #2 – Finding someone to install your glass block shower wall SHOULD NOT be difficult…. if you know this one important secret
Finding a mason contractor who is ready, will, and able to install a glass block shower block by block might be harder to locate than winning mega-millions choosing the Powerball numbers. It's hard enough finding a good residential bricklayer (or mason contractor), and then trying to find one who is patient, skilled, and willing to allocate time to build a glass block wall (which are not as simple to lay as bricks and blocks) is even tougher.
So, how can you find someone to install a glass block wall?
Well –the first key is to buy a prefabricated glass block shower wall vs. picking up a bunch individual blocks which need to be installed unit by unit.
The prefabricated wall system has sections which are simply stacked on top one another. It's super-easy way to even install a curved glass block shower – even if you (or your contractor) have ZERO experience with it before.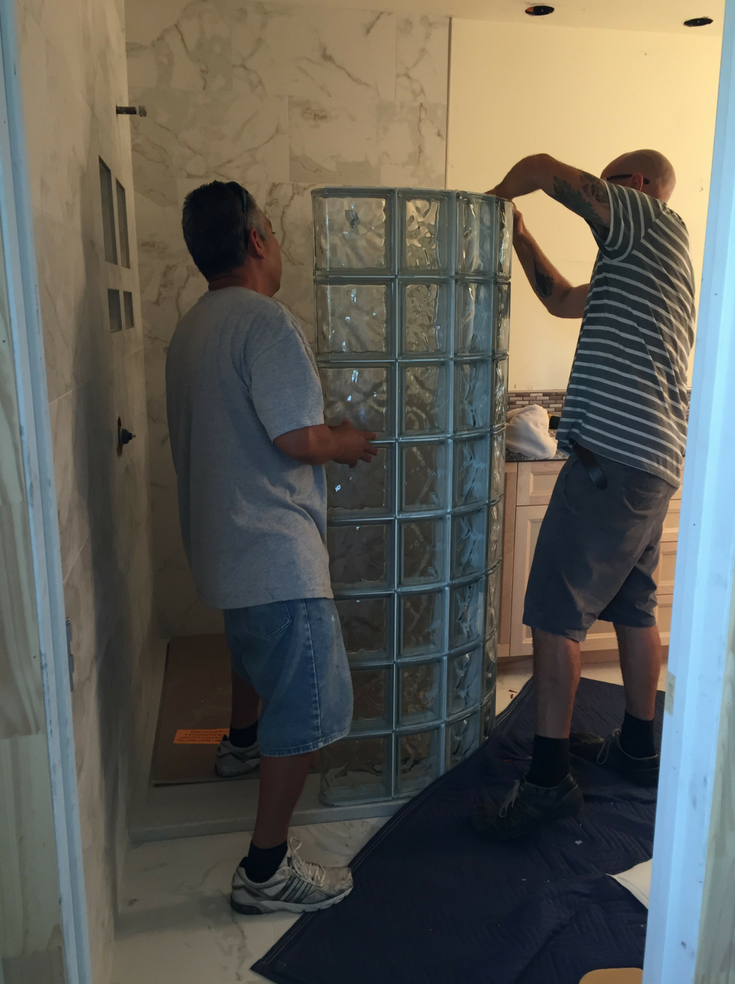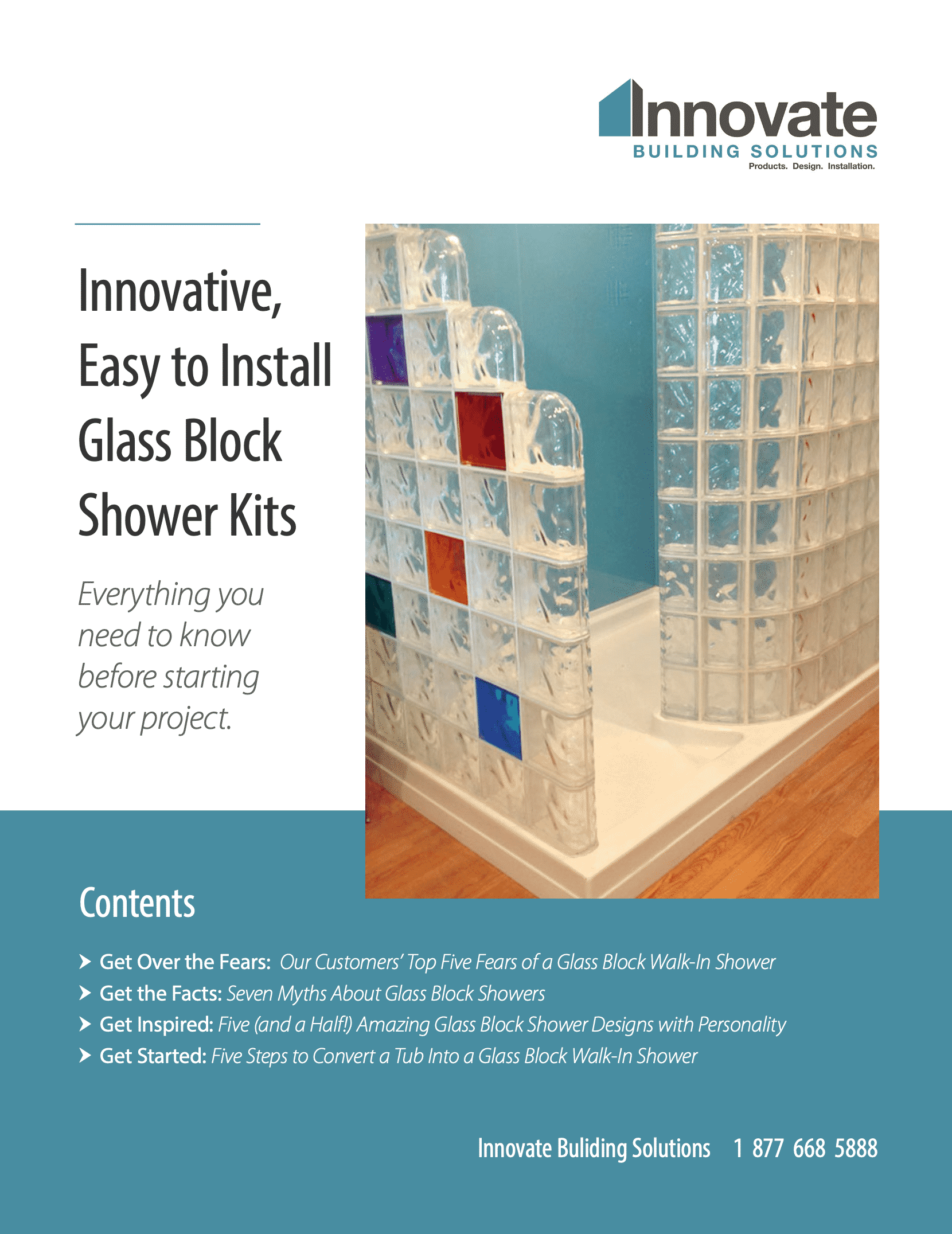 Glass Block Shower Ultimate Guide
The Ultimate DIY Guide for your Next Bathroom Remodel
#3 – A glass block wall DOES NOT have to be one wavy block stacked on top another
It's true most glass block shower walls have one wavy block stacked on top another. And while this pattern is timeless, simple to clean, can be made in a wide array of designs, but it's not the most exciting look.
However, it's nice to know you can lay glass blocks in varied patterns to create a look you can't get with a clear glass shower enclosure.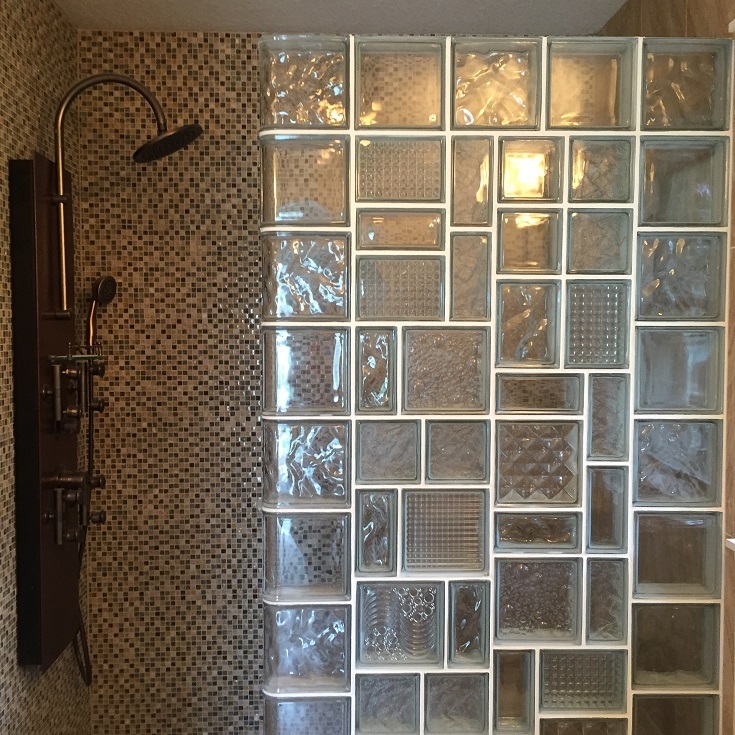 #4 – You can save A LOT of money with a curved glass block shower vs. curved and bent glass wall
A traditional curved glass wall IS NOT a cheap date. However, with a glass block wall you can use blocks which are pre-curved (and can be prefabricated) to make a walk in shower with a curved shape cost-effective.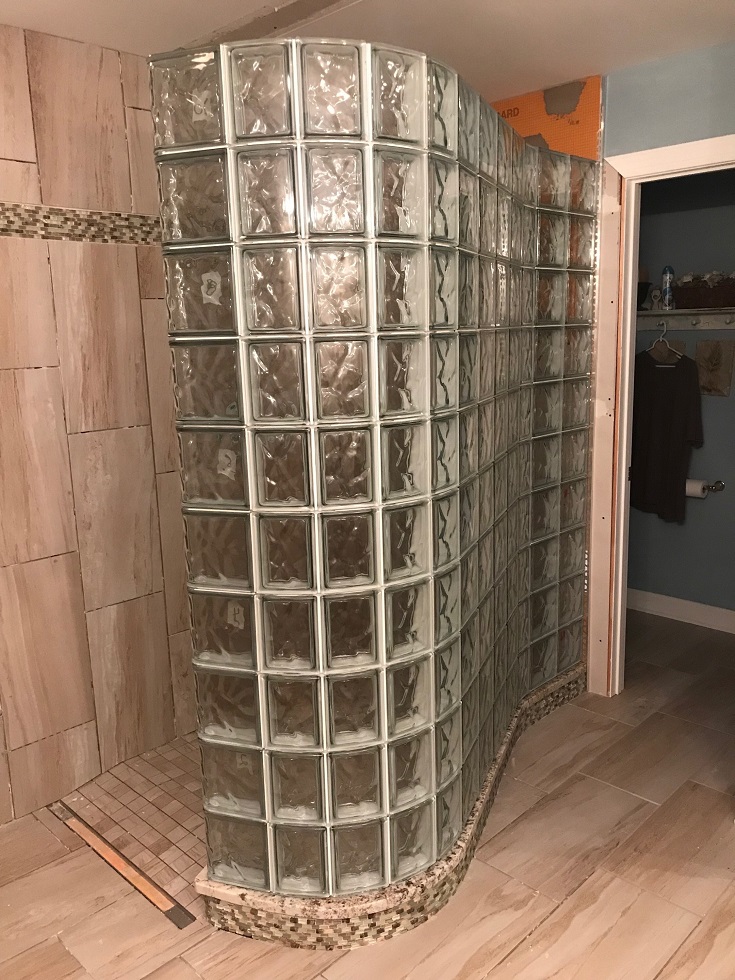 If you compare the cost of a 3/8" to ½" thick curved and bent glass wall to a glass block shower wall, you'll find it'll be 3 to 4 times more expensive. If you like the look of curved glass – or need a curved design to keep water inside a smaller walk in shower –glass blocks will save you a lot of money.
#5 – Glass block showers ARE NOT out of style  
Are there glass block patterns which have seen their better days … years ago? That'd be correct.
However, when you see glass blocks used at the front entrance of Coach stores across the country and also used in hip, urban upscale hotels you'll see ALL glass blocks are not out of style. However, you do need to choose cool patterns which fit your interior design.
I think saying 'glass block showers are out of style' is just the easy excuse many builders/remodelers use because they aren't knowledgeable about this product AND don't know (especially if you try to do this job block by block) who they're going to get to install it.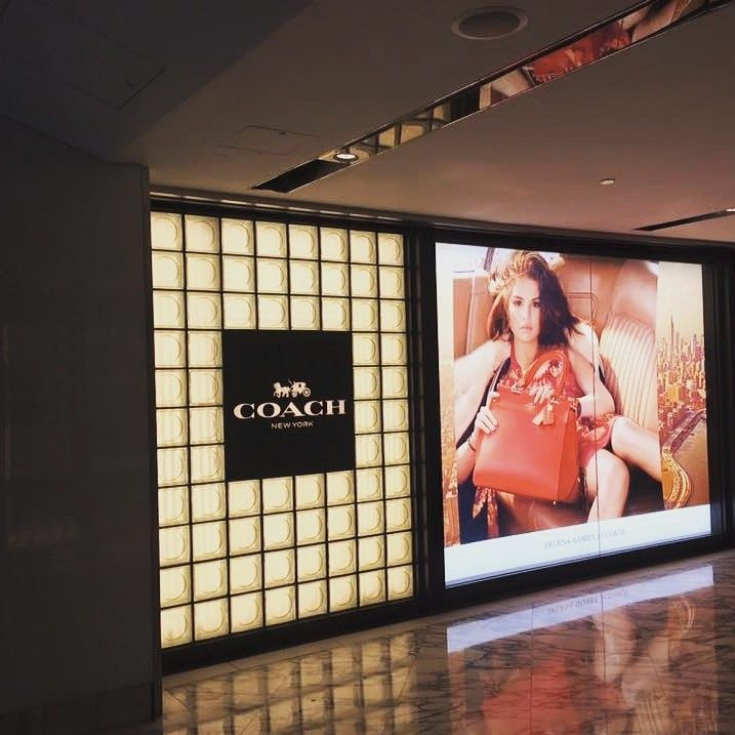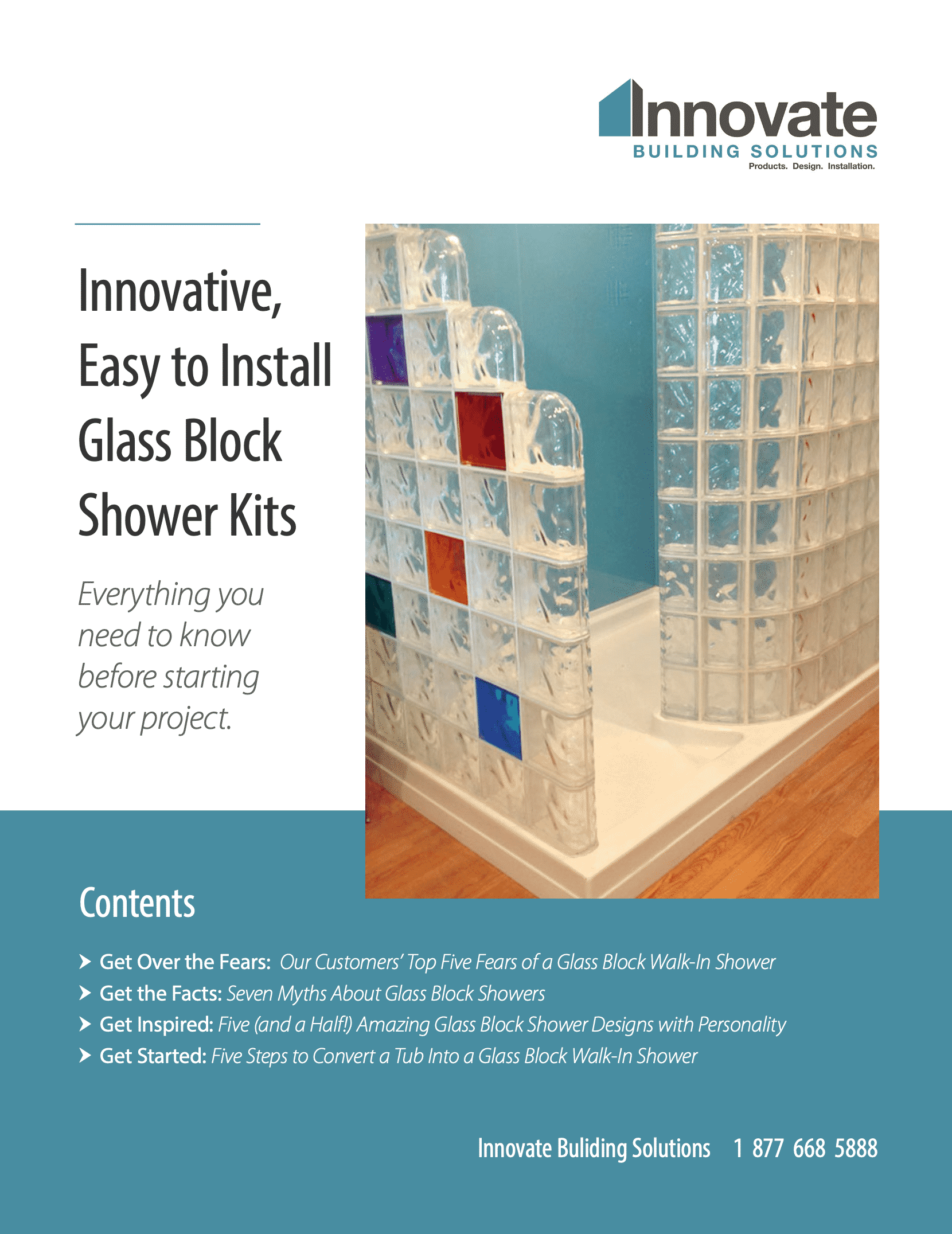 Glass Block Shower Ultimate Guide
The Ultimate DIY Guide for your Next Bathroom Remodel
#6 – It's much simpler to do a glass block shower if you buy a complete shower kit
Using a product your remodeling contractor or builder doesn't work with every day is challenging. They may be worried how to make sure the glass block wall will fit on the shower pan. They may be worried how the interior shower wall surrounds will work with the glass block shower wall. They may be worried they won't be able to find an installer.
The simplest way to take the complexity out of glass block wall installation, is to buy a complete glass block shower kit. And this kit will not only include the prefabricated glass block wall discussed in points #1 and #2, but will also include a solid surface shower pan made to work with the shape of the glass block wall and grout free shower wall panels. These products are not only stylish but reduce installation time (and labor costs) and make maintenance uber-easy as well.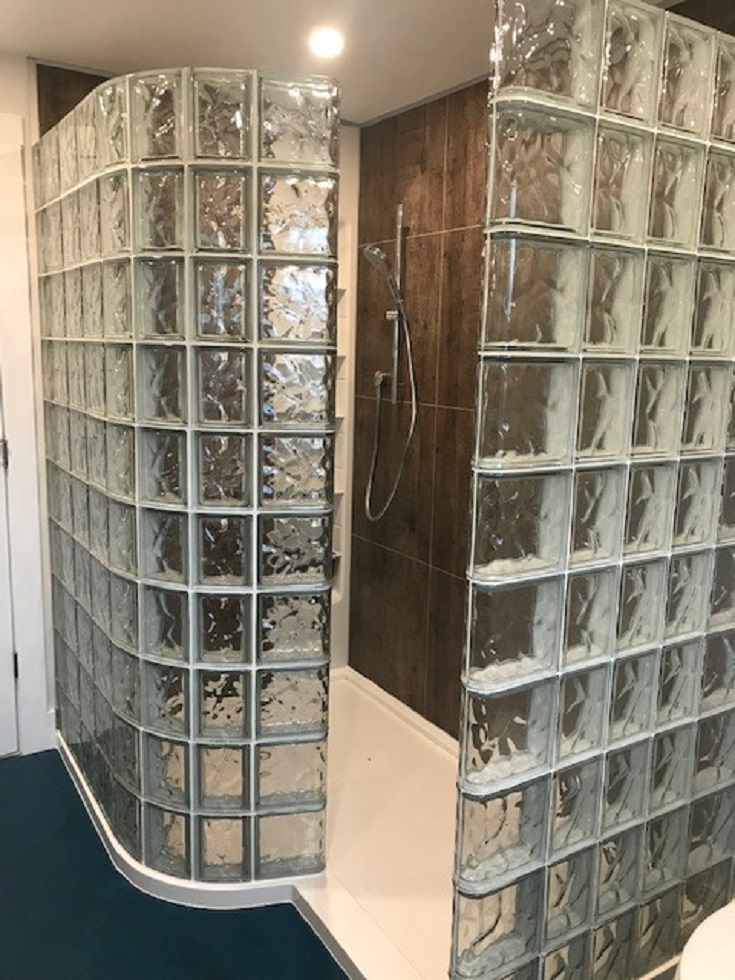 Get Free Samples!
Click here to request free samples of our Laminated Waterproof Shower Wall Panels.
#7 – Pay attention to the thickness of the glass blocks – and remember thin is in
Since glass blocks are substantially thicker (they're either 3 1/8" or 4" thick) than frameless glass showers (which are 3/8" or ½" thick), they're also sturdier.
However, when you're looking at a shower which can't be as deep as you'd like it, you'll want to choose the thinner (3 1/8" thick) glass blocks. They create more room for showering, are simpler to work with (thinner prefabricated sections are lighter than the thicker blocks), and more cost effective.
So – when using glass blocks ask for 'thin line glass blocks' for a smarter purchase.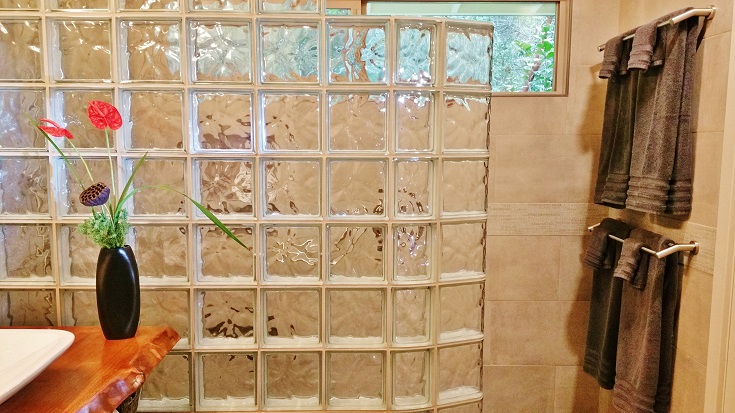 #8 – Install tile wall surrounds or wall panels BEFORE installing the glass block shower wall…and put wood behind the wall so it's properly anchored
Just like any building material – doing a glass block shower installation properly is THE BEST WAY to make sure it lasts. It's for this reason you want to put wood blocking inside the wall cavity where you're going to anchor the glass block wall (so it's properly supported).
In addition, install your grout free wall surround panels or tile shower walls BEFORE anchoring the glass block wall. This will make the shower wall more water resistant.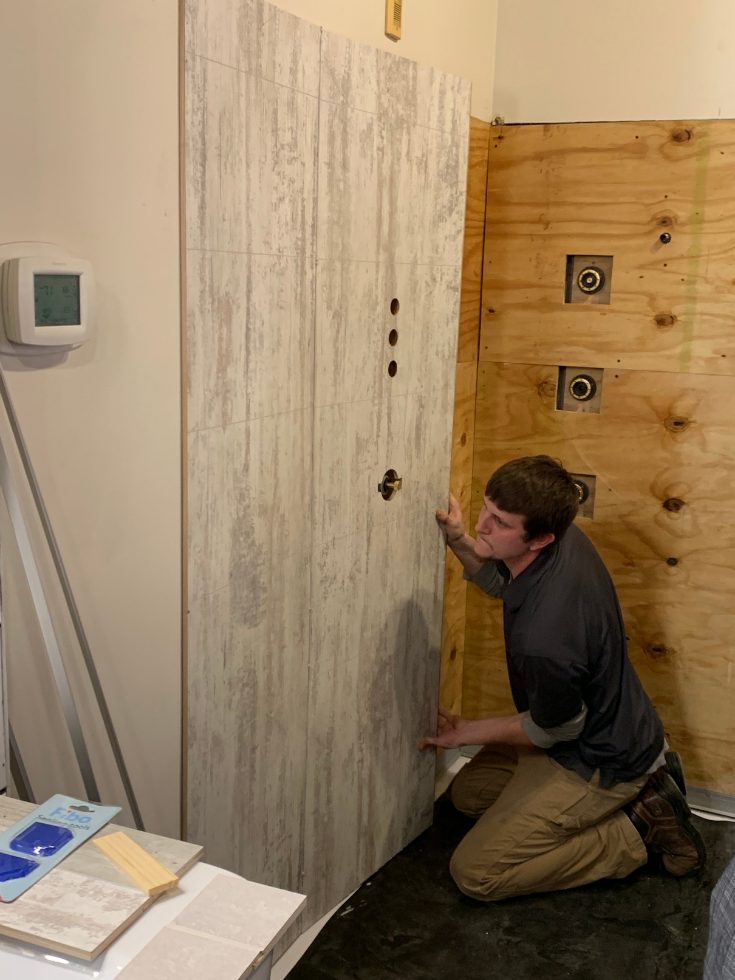 #9 – It's best to use (the right) grout vs. silicone to hold your glass block wall together  
There are a lot of questions about the best way to build a glass block wall. Over our years of shipping prefabricated glass block wall sections around the country and installing them (or guiding the installation of them) our company recommends using urethane grout vs. silicone for the visible joints of a glass block wall. The reason is grout will make your wall stronger than silicone joints– and if you use urethane grout you won't need to reseal the wall.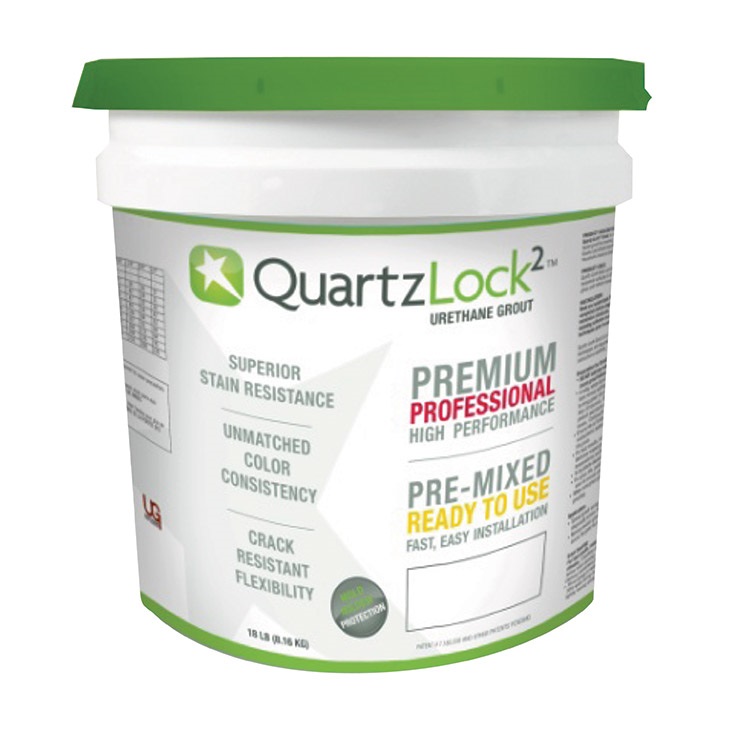 #10 – Glass blocks can't be cut and come in standard sizes. Therefore, you need to design first BEFORE buying or building a shower pan or glass block wall sections
Most glass walls (whether you're using glass blocks or tempered glass shower doors) CANNOT be cut to fit at the job site. And in the case of the glass blocks, the units are made in specific sizes and shapes which drive which finished designs are possible.
It's for this reason you MUST begin with the end in mind. Design your glass block shower wall BEFORE buying a shower pan and/or buying the prefabricated sections.
You need to make sure the size of your opening is big enough to comfortably work for your family (and if you want more insights on the size of a shower opening read 5 Proven Questions to Get the Size of Your Shower Opening Right).
You need to make sure the wall is tall enough so no water comes over the top (I recommend a 10 block high wall which is 80" tall).
You need to make sure the end of the wall is finished with either rounded end glass blocks or waterproof materials like cultured granite or quartz.
Bottom line is you need to design BEFORE buying anything. And if you're uncertain what type of designs are possible, call a glass block shower specialist to assist you. A glass block shower designer can show you (or send you) layout cards (like you'll see below) so you can 'experience' how the glass block shower wall will 'live' before you buy it.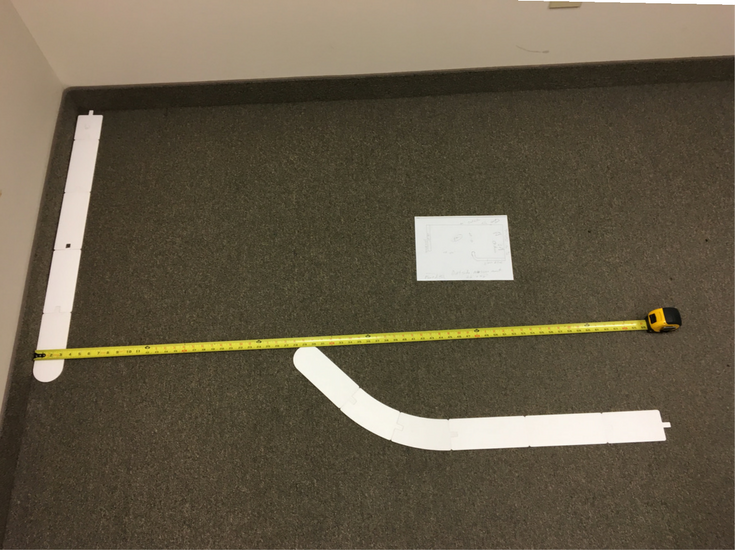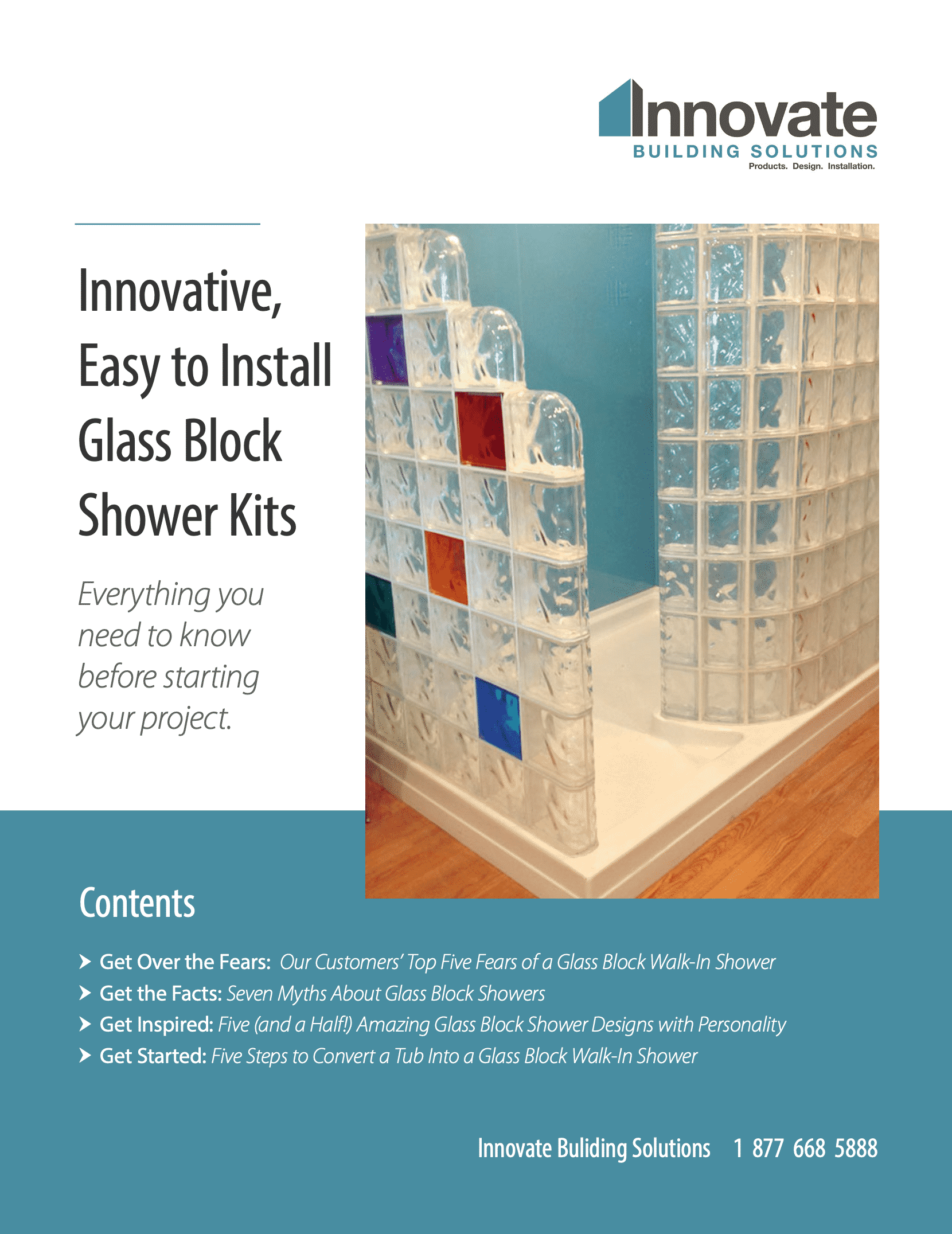 Glass Block Shower Ultimate Guide
The Ultimate DIY Guide for your Next Bathroom Remodel
So, do you feel more knowledgeable about a glass block shower system? Do you need help getting your project designed, built and off the ground?
I know glass blocks showers are not as common as a standard fiberglass one piece surround or the tile shower your builder or remodeler installs every day.
However, if your heart is set on the look, durability, and ease of maintaining a glass block shower – I hope this article has taught you little known facts you haven't learned elsewhere (and blown up myths you've been told by contractors and suppliers trying to get you to NOT use this material).
With all this said, I also know most glass block showers are designed on a bathroom by bathroom basis. And if you're struggling to figure out the right materials, size and design for your glass block shower, me or one of my glass block shower specialists would be happy to help.
Call 877-668-5888 or request a Free Design Consultation. Our team of glass (or glass block) shower designers will give you honest input which system is best for you – and provide pricing since we design, supply, and install both options.
And if you're looking for a glass block shower or glass shower door installed in your home in Cleveland Ohio, call The Bath Doctor at 216-531-6085. For a glass block shower in Columbus Ohio call Columbus Glass Block at 614-252-5888.
Thanks for reading,
Mike
###
If you want more advice about bathroom remodeling (and bath products and trends) follow me on LinkedIn @MikeFoti.
And if you're a bathroom remodeling contractor interested in being a dealer of unique shower wall panels, shower pans, glass shower door, high quality shower kits, and glass block walls, call 888-467-7488 and ask for Mike.
---
Mike Foti
President of Innovate Building Solutions a nationwide supplier and regional (Cleveland and Columbus) remodeling contractors. Some of our product lines include glass counters, floors, backsplashes, glass blocks and grout free shower and tub wall panels
---