The Comprehensive Guide on How to Buy a Glass Shower Door (and not screw up)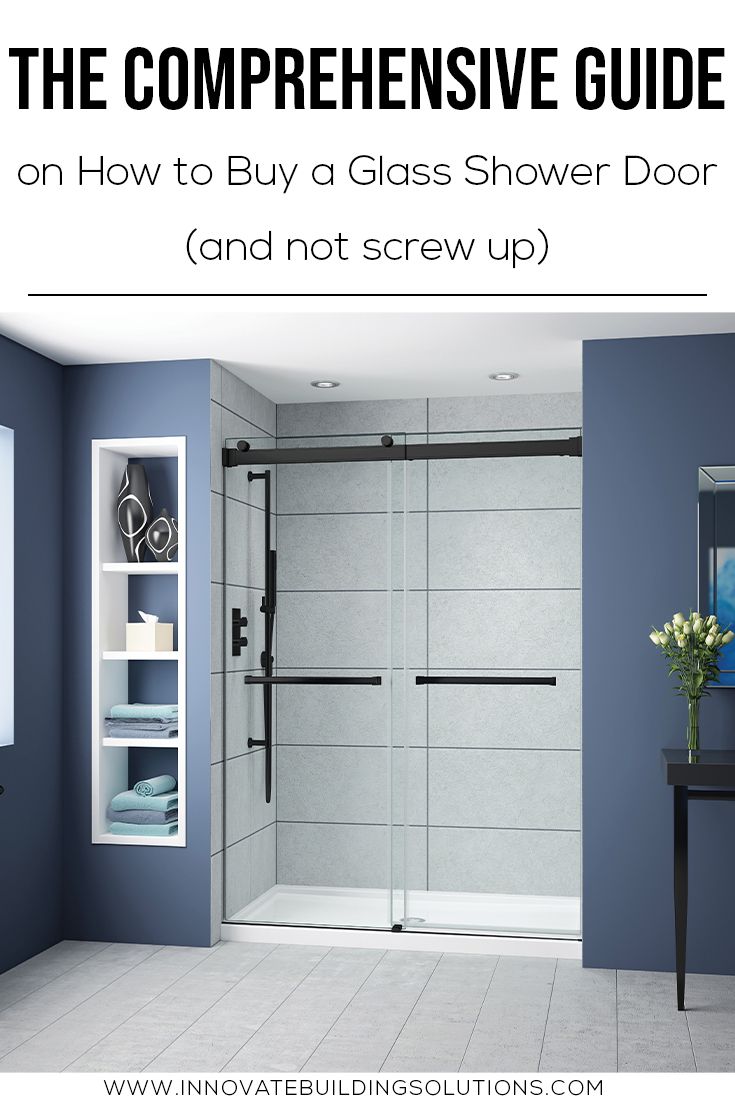 Most people have heard of FOMO (the Fear of Missing Out).
However, I'd argue a bigger fear which is not often talked about is FOSU (this would be the Fear of Screwing Up).
And you know if you're remodeling a bathroom – or making selections for several new home bathrooms – you'll have to make important decisions like choosing what shower door to use (even if you don't know your 'butt from a hole in the ground' – as my dad used to say). And if you don't buy a glass shower door, then plan to become a 'regular' at the shower curtain section of your favorite local Bed, Bath and Beyond. And if you HATE moldy shower curtains as much as I do, this IS NOT an option you want to be stuck with.
So, if you know you want to use glass shower doors the question becomes how do you choose one which fits your budget, will function flawlessly, and will look stylish?
In this article I'm going to present to you 13 questions a smart buyer of glass shower doors will want answers to BEFORE they put their hard-earned money down on a custom or standard-sized glass shower door. Let's check out the questions.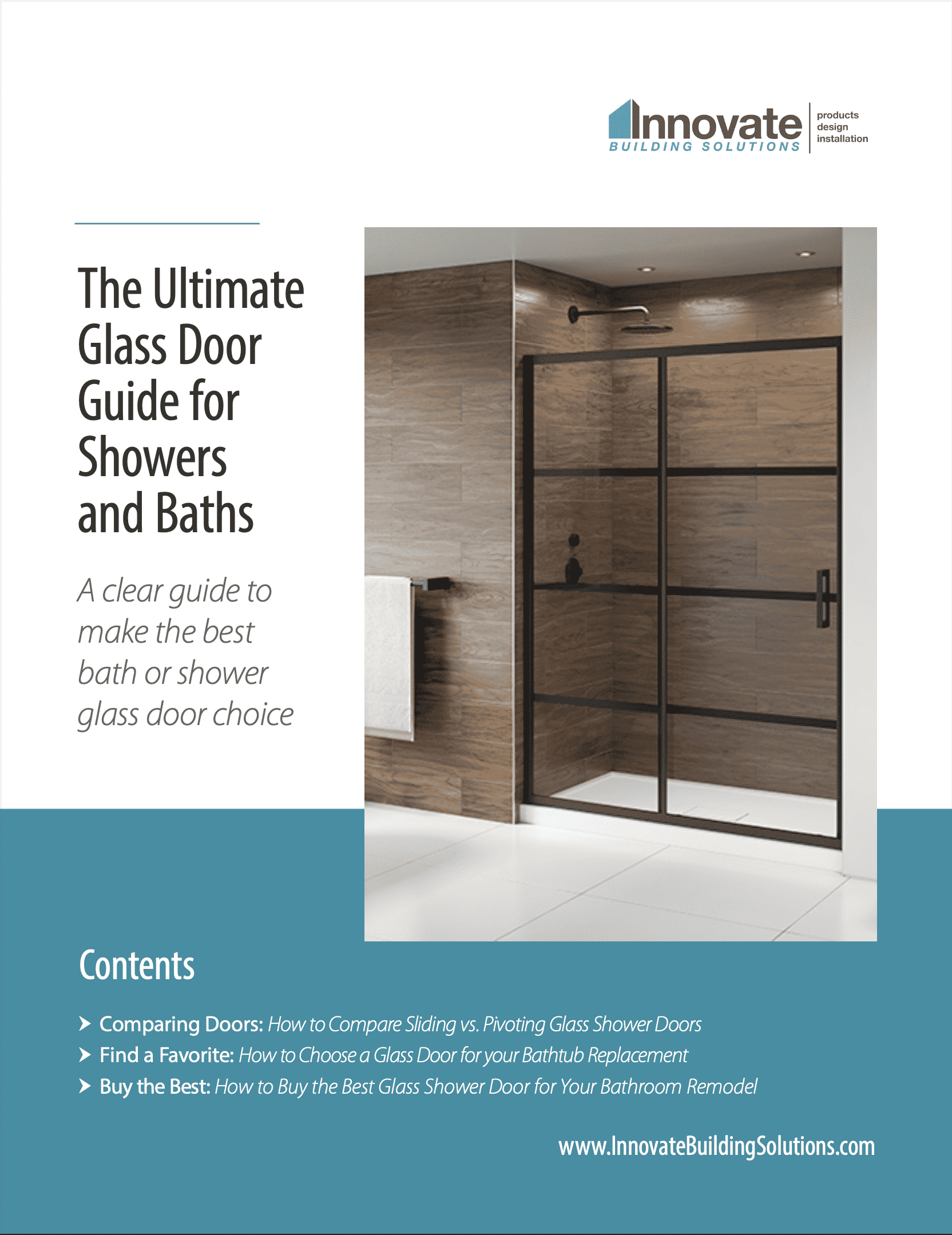 The Ultimate Glass Door Shower Guide
A clear guide to making the best bath or shower glass shower door choice
Question #1 – What type of glass shower door will work best?  
There are 3 'types' of glass shower doors. They are: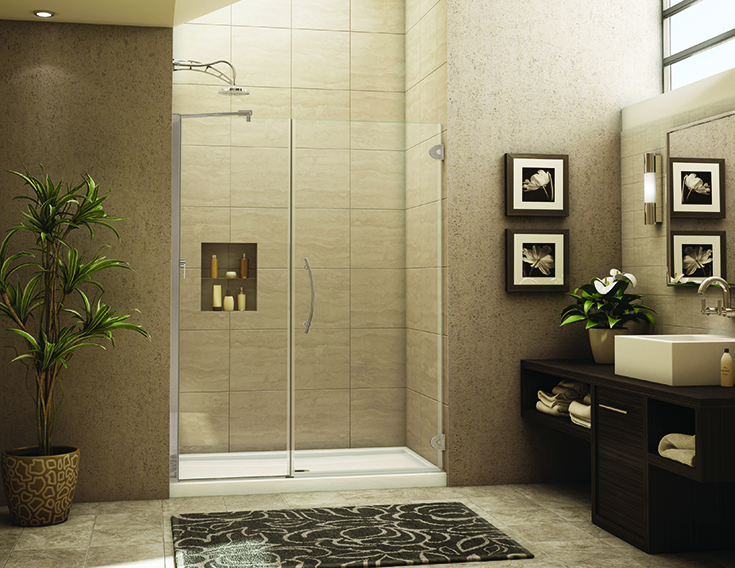 A glass shower with a return panel – In these showers there's operable glass along one wall, and a fixed glass panel which runs 90 degrees from the operable glass panel.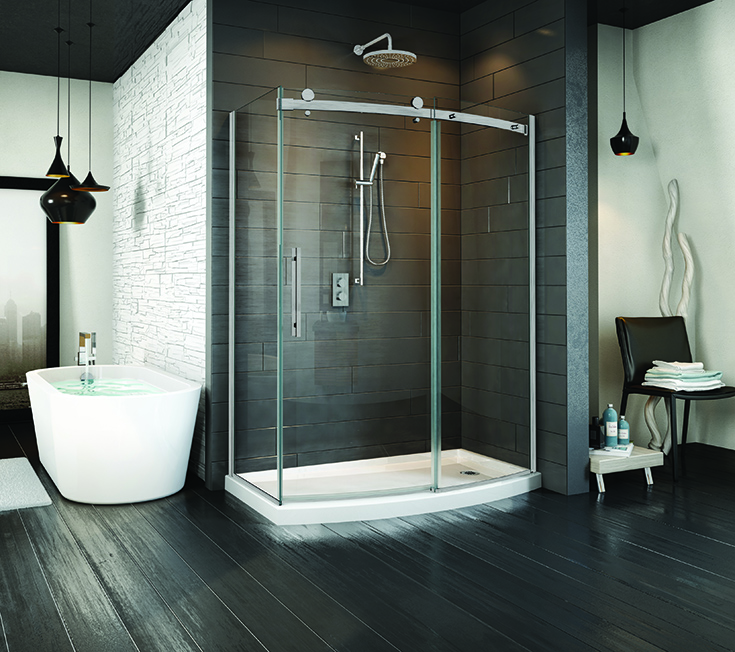 A corner shower – Just as the name implies, corner showers are installed in the corner of the room. They can have continuous rounded glass – or multiple glass sections in a NEO angle design where the door is positioned at a 45-degree angle.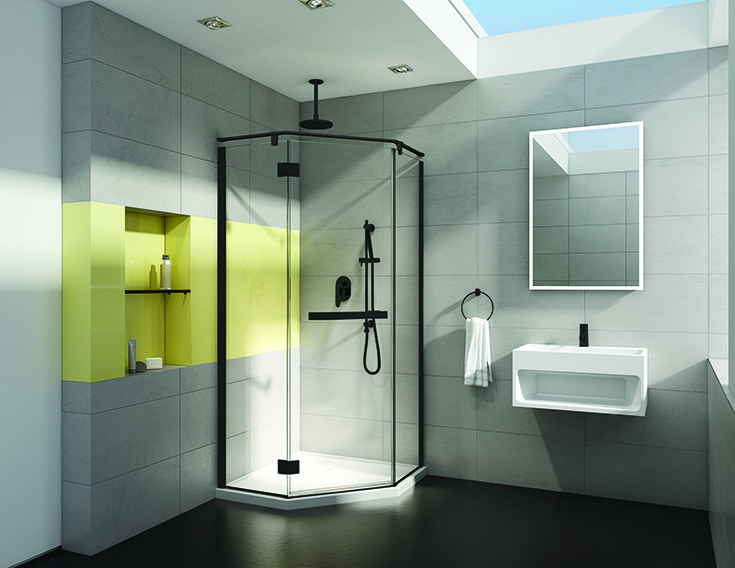 While more than one of those options may work for your shower, there are some factors which will make it logical for you to select one type over another.
For example, if you want to keep costs down, it'll often be smartest to keep the same type of glass shower door you have. So, if you have a bathtub (which is between 2 walls) and you're converting to a safer shower, the in-line alcove shower doors will be smartest, if you're on a tight budget.
Or if you have a standard corner shower today, and want to keep plumbing costs down and minimize the space your shower takes up, replace it with a new corner shower with the drain in the same place.
And if you're looking to have the most light – and a safer shower – a glass shower door with a return is a good choice (although it will be more costly than in-line alcove and corner shower options).
Question #2 – How should the glass shower door function or should I use a walk-in and omit the door entirely?
If you've been shopping for shower doors before you know there's a bunch of choices in how the doors can operate. Here's the 4 most popular options.
(Option 1) A sliding shower door (one door slides)
(Option 2) A bypass shower door (two doors slide)
(Option 3) A pivoting shower door
(Option 4) A walk-in shower with fixed glass
And selecting the right one IS NOT a simple process (I wish I could lie to you and say it was). The factors which drive this decision include:
Factor #1 – Cost – Walk in showers with fixed glass are least expensive because it's the simplest design and uses the least amount of glass. The problem is not everyone likes a walk-in shower.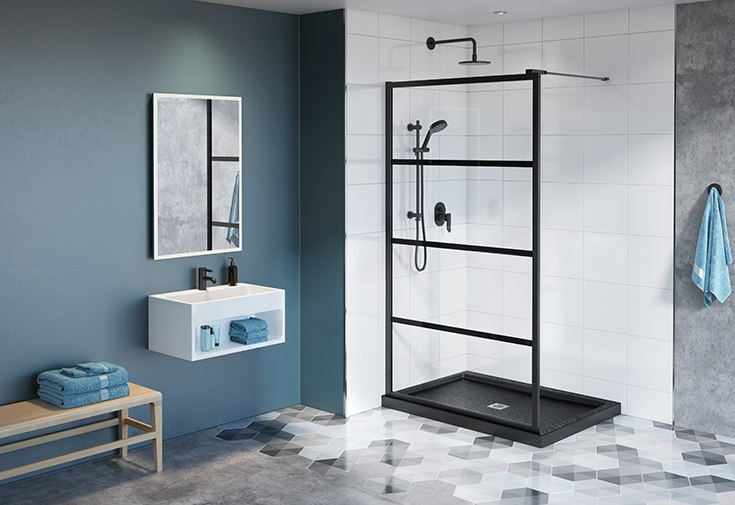 Factor #2 – Water dripping on the floor – If you hate water on the bathroom floor rolling off your shower door, you'll want to shy away from option 3 (the pivoting door).
Factor #3 – Maximizing the size of the opening(s) – Bypass doors can create the most amount of space (because both doors open). However, with pivot doors you can create the largest single-door opening if you have a small stand up shower.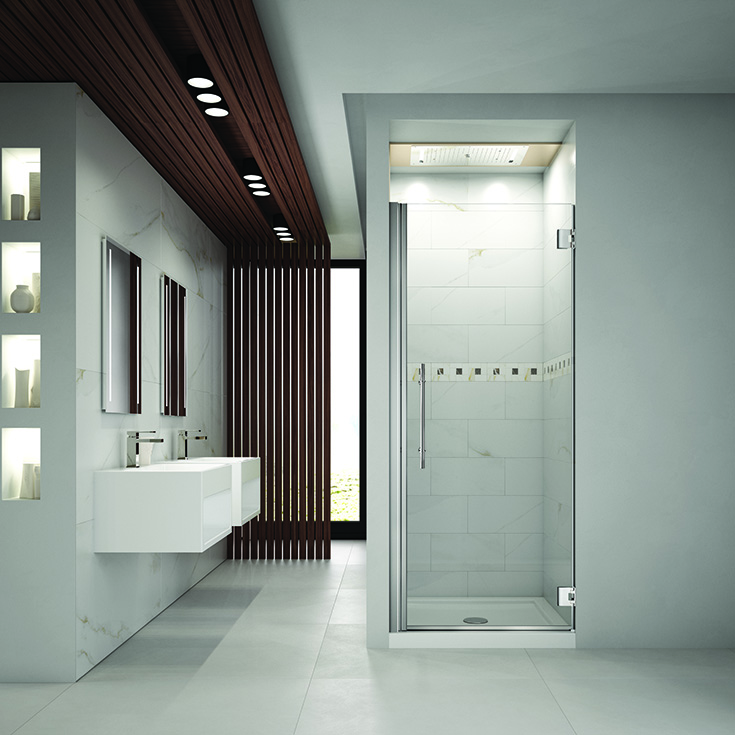 Factor #4 – Having a warmer shower – To keep the steam – and warmth – inside your shower the preferred choice will be pivot or sliding glass doors. Stay away from the walk-in shower with fixed glass panels.
Factor #5 – Ease of cleaning – If you H-A-T-E cleaning stay away from framed sliding shower doors with tracks at the bottom. Frameless showers doors are simplest to clean (however they will cost more).
Factor #6 – Not wanting your shower door to bang into your vanity, toilet, or family member – Pivot doors – which open into the room – can be a nuisance if you're trying to make sure the shower door won't bang into your vanity, toilet or significant 'utter' in your teeny tiny bathroom.
If you'd like to learn more about this topic read, How to Compare Sliding vs. Pivoting Glass Shower Doors.
Question #3 – Is there a track at the bottom of the shower door?
If you're the unlucky family member who 'gets to' clean your old, framed shower system you know you've been to 'hell and back.' Looking at – and cleaning out- scum, dirt, and hair inside the rusty, metal bottom shower door track is a stomach-turning experience. You wouldn't wish this on your worst enemy.
And it's NOT a task you want to repeat in your remodeled bathroom.
And if this describes how you feel, you'll want to make sure there's no frame at the bottom of your next door to clean. And if you choose a frameless sliding or bypass door, a pivoting door or walk in shower you'll rid yourself from this tasty task.
Stay away from framed bypass or sliding glass doors. Sure – they're cheap, but you'll be a slave to them for the life of the door (or until you sell your home, and it becomes someone else's problem!).
Question #4 – Can tall people get in without bumping their head?  
If you use a barn door style shower door with a sliding bar or frame at the top (which is common for sliding or bypass shower doors) pay attention to not only the height of the glass doors, but also to the height of the glass doors UNDERNEATH the sliding bar at the top. Make sure the height under the door is taller than the tallest person using your shower, unless you want them to experience a good whack upside the head – ever now and again – when they're getting in.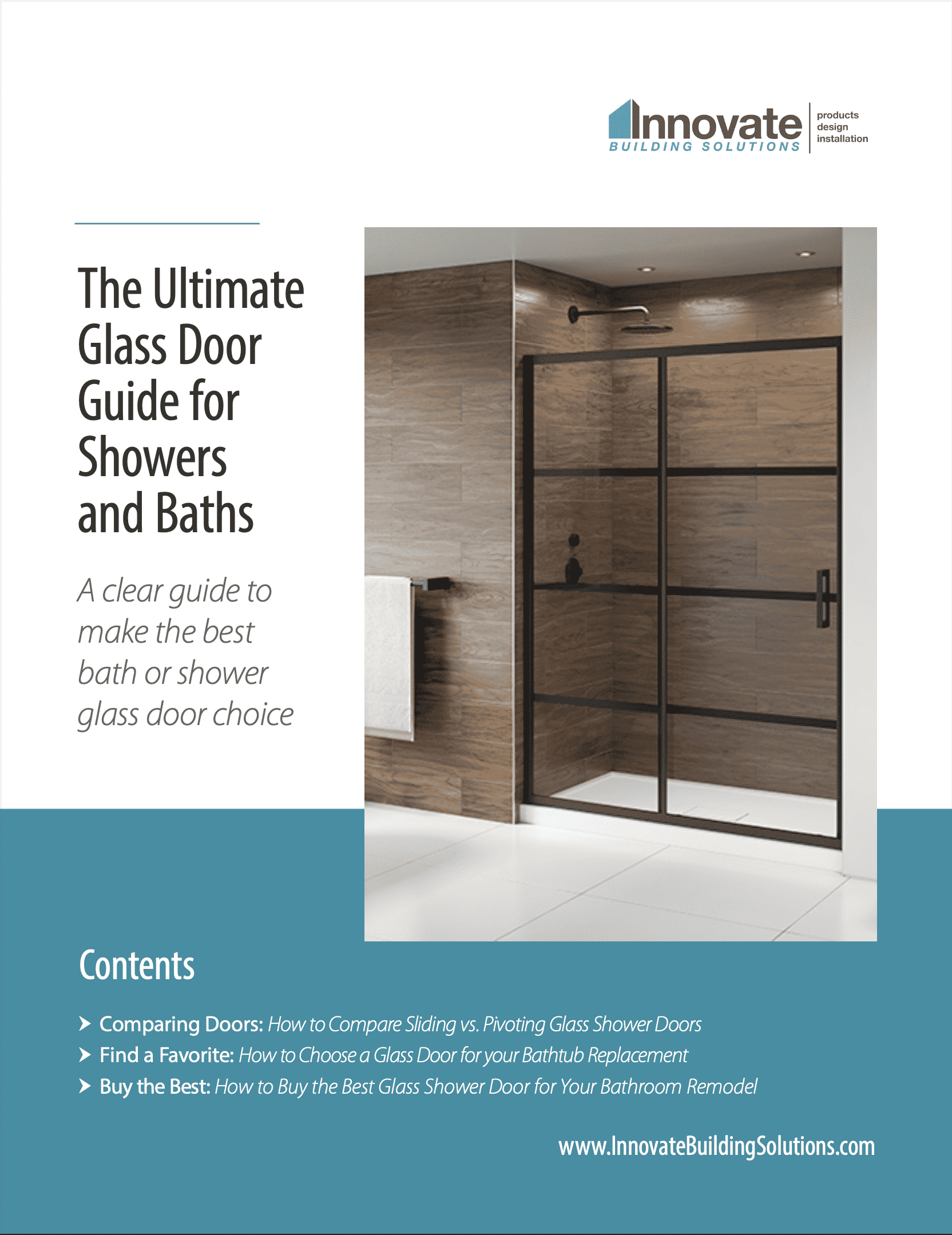 The Ultimate Glass Door Shower Guide
A clear guide to making the best bath or shower glass shower door choice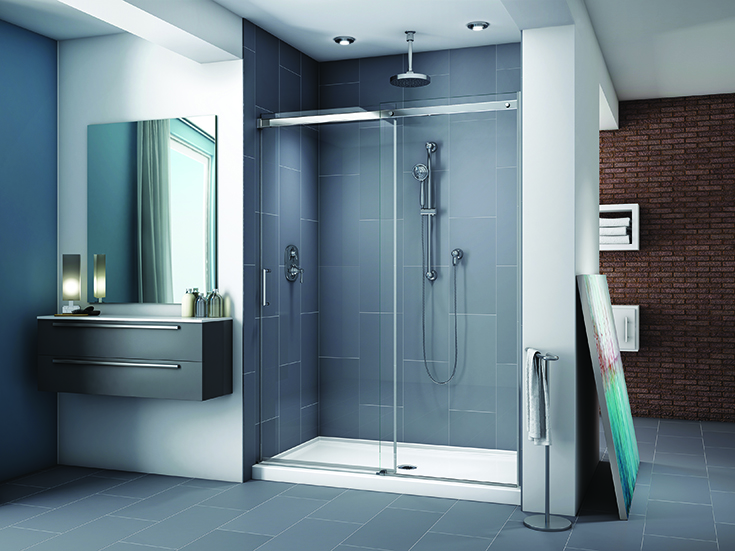 Question #5 – Is there room to shower without banging my elbows?
If you have an alcove shower – where the 2 side walls are as fixed as your dad's politics – AND you're not quite as thin as you were in your college days, you know it's NOT pleasant banging your elbows on the shower doors in your shallow 30" deep shower.
And if you no choice but to use your existing space for your new shower and assume the depth 'is what it is,' I'm happy to tell you there's an option to 'creatively create space' without tearing out walls.
You can make space out of nowhere when you use a curved sliding in-line shower door. With this system the center of the glass is 36" deep. These 4 inches can make a huge difference in how your shower 'lives' and will also protect your 'oh-so-delicate' elbows.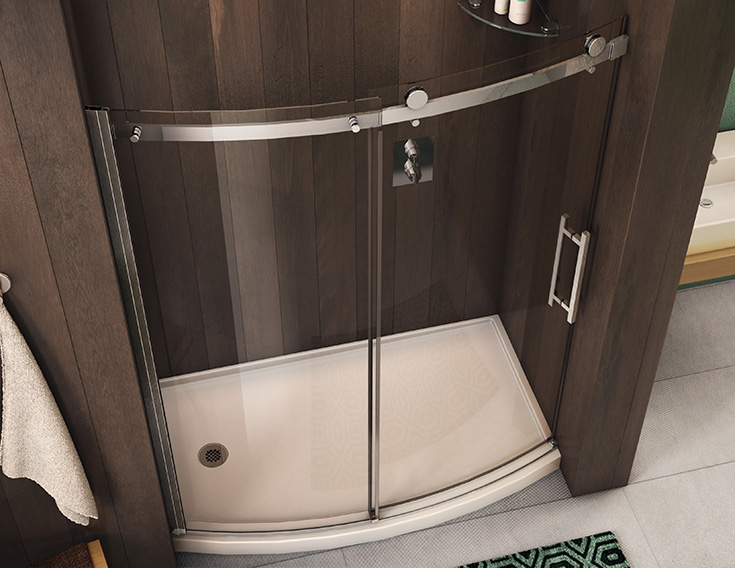 Question #6 – How large will the framing be around the door?
While a framed shower door will be lighter on the pocketbook, the negatives are its wider framing reduce light flowing into the shower – and cut down views
of stylish grout free shower wall panels or tile patterns you've installed.
Get Free Samples!
Click here to request free samples of our Laminated Waterproof Shower Wall Panels.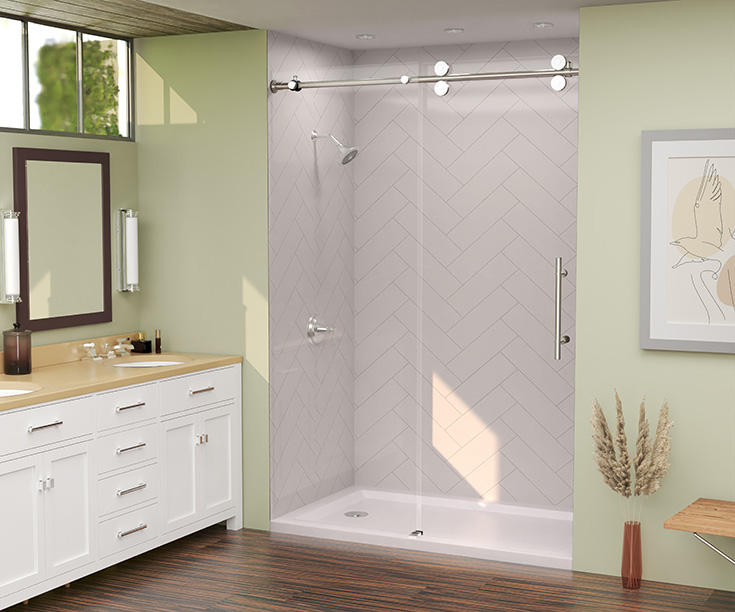 A fully framed shower door (where the door and side panels have frames around them) will have the largest amount of framing.
A semi-frameless door won't have a frame around the operable door, but there will be framing on the side panels.
And if you want to eliminate framing, a frameless shower door – while most expensive, will have the sleekest look and the best views into your stylish new shower.
Question #7 – What hardware finishes are available?
Whether you want to go 'matchy-matchy' with the finish of your hardware, or use 'mixed metals' (which is hot in interior design now) it's important to consider both the short and long-run implications of your hardware selections.
For example, if you choose a shiny chrome glass shower door (which is often the least expensive finish)– be prepared to be wiping off spots for the life of your door.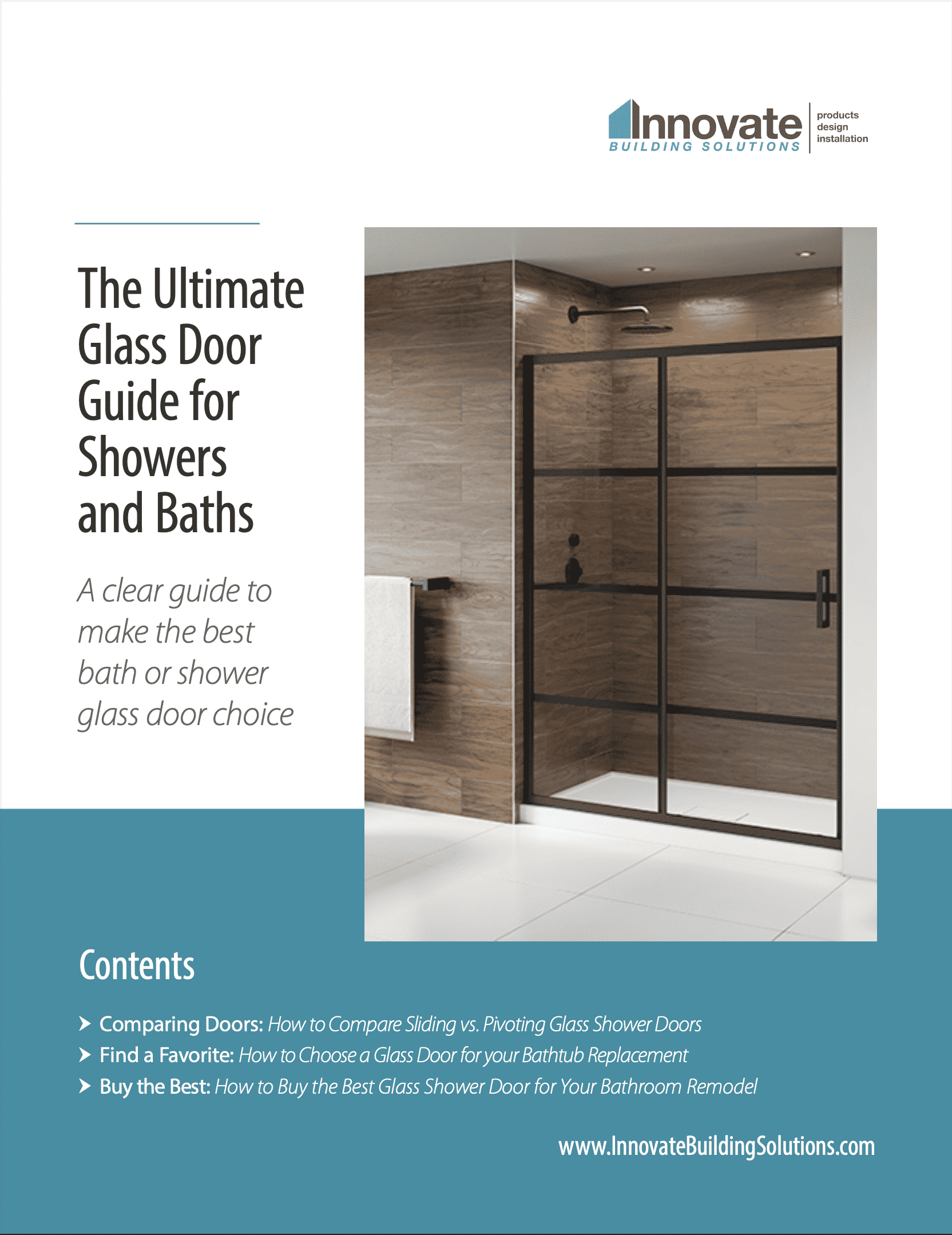 The Ultimate Glass Door Shower Guide
A clear guide to making the best bath or shower glass shower door choice
And if you use a trendy matte-black finish (which I love) – it's uber cool today, but will the trend stand the test of time? It's hard to know.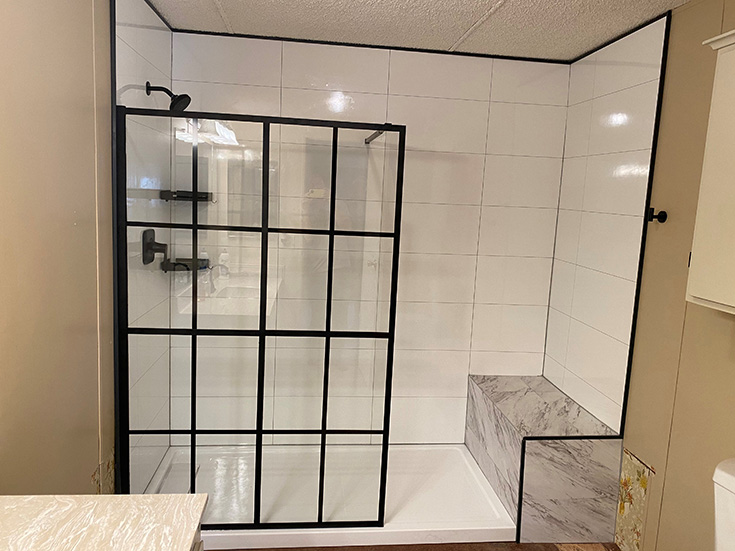 With brushed nickel you'll be making a 'safe' choice. It doesn't show spotting and is a 'middle-of-the-road' (although not as dramatic as polished chrome, matte black or oil rubbed bronze – IMHO) choice.
And while most of your shower is glass – it's the decorative hardware which is the 'jewelry' of the shower door. So, don't miss out on an opportunity for it to be your fashion statement.
Question #8 – How do I know the glass won't get scummy if I have hard water?  
There's nothing quite as fun as cleaning 'algae' off your shower doors. And if you have hard water or well water – you know keeping the shower glass clean is no small feat!
That's why you'll want to ask if glass surface protection has been added to the outside of your glass shower door.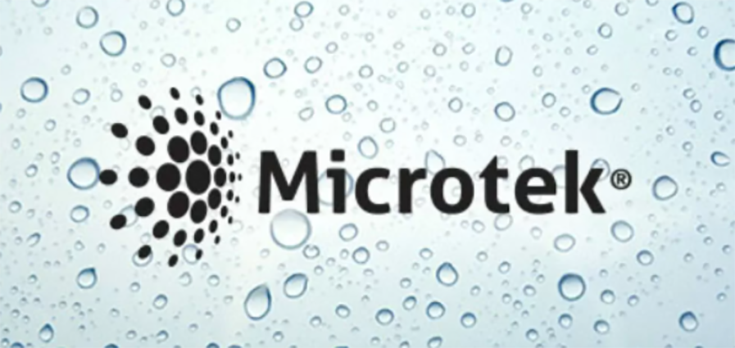 Question #9 – Is the glass tempered? How should the door be secured into the sides of the wall?
A problem to avoid at all costs is a shower door which breaks or falls out and cuts someone while showering. The question is how do you do this?
First, make sure your door is anchored properly (note for heavy 3/8" thick pivoting glass shower doors use two studs in the side wall to support the glass).
Second, ask if the glass is tempered (so if it does break, it breaks into small, rounded pieces which won't cut you).

Question #10 – Can I use a standard shower glass door and save a few bucks?
Like you'd expect a custom glass shower door costs significantly more than a standard-sized glass shower door.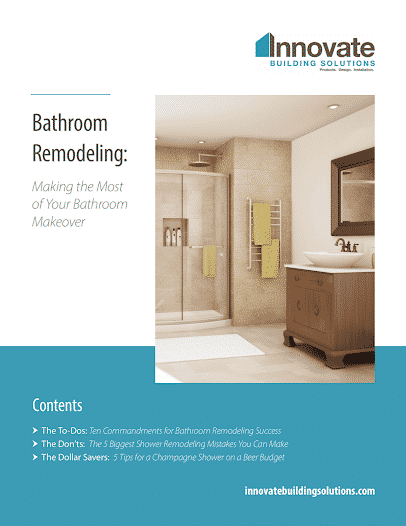 Bathroom Remodeling Ultimate Guide
Making the Most of Your Bathroom Makeover!
However, many people aren't sure if they have a 'standard' or 'custom' ('er more expensive) size. And when they measure between their existing tiles (let's say in an alcove shower you get a 58" wide measurement, you may assume it's a custom vs. a standard 60" size).
Since many standard shower doors can be adjusted to work with tile or shower wall panels on the sides, a 58" size can be standard, and therefore lower cost.
Before you buy a custom shower door, ask your supplier if your size is standard or if there's anything which can be done to it to make it standard (maybe the walls could be framed in to make the opening smaller, for example).
Don't assume you need a custom size – and spend too much money. Ask about standard size possibilities BEFORE buying a custom shower door.
Question #11 – How should I measure for a shower door?
While it's best to measure for a custom shower door AFTER the tile or shower surround panels have been installed, in many cases you can pre-buy a standard shower door at the beginning of your project (and with lead times – and supply chain issues – like they are today, that's a smart idea).
If you're replacing a NEO angle style corner shower, for example, with another NEO angle corner shower – measure at the 'centerline' of the existing shower curb ('er in the middle) to get the correct size).
If you want to be certain your 'shower pan and glass shower door' will 'play well together,' buy a glass shower kit which includes both the door and the shower base.
And finally if you're uncertain if you took the right measurements, take a picture of your measurements (with the tape extended) and send it to your shower door supplier). It's better to have someone double-check your measurements before buying the wrong sized door.
Question #12 – I'd like to add a shower seat, but don't want to a custom glass shower enclosure. Is there a cost-effective way to add seating without needing custom glass?
I'll tell you right now bench seats can be a pain in the rear (yes – this 'rear' pun was intended). You see, bench seats not only add cost to the inside of the shower, but if the bench seat extends past the glass, it forces you to buy a custom glass door system as well (note – custom is the 'code-word' for be ready to fork over more money). And lastly, fixed bench seats eat up A LOT of room for everyone else using the shower who never use them.
And while it's nice (and sometimes essential to have a shower seat), it doesn't have to be a fixed shower bench which eats so much room and costs a lot of money.
You see with a fold down seat, you'll get the seat function, yet it's only takes up room when it's down. AND the big bonus is you won't have to fork over big bucks for a custom glass door.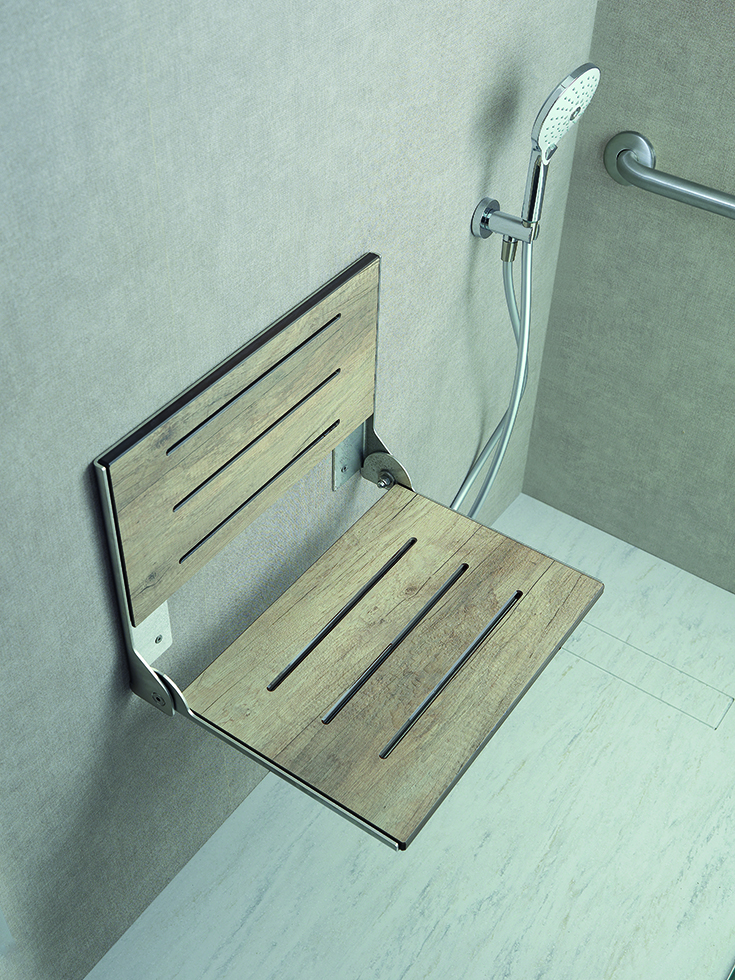 Question #13 – Where should the handle(s) be located?
This can be a trickier question than it appears on the surface. While you'll want the handle in your best place to enter the shower – it can also be nice to have a handle on the wall closest to the shower head (even if it's next to your toilet or vanity) so you can turn on the water to get it warm BEFORE getting blasted with cold water.
Before buying a glass shower door ask if door handles are reversible, or make sure you're clear the handle is on the correct side to make the shower as simple to use (and as comfortable to get in) as possible.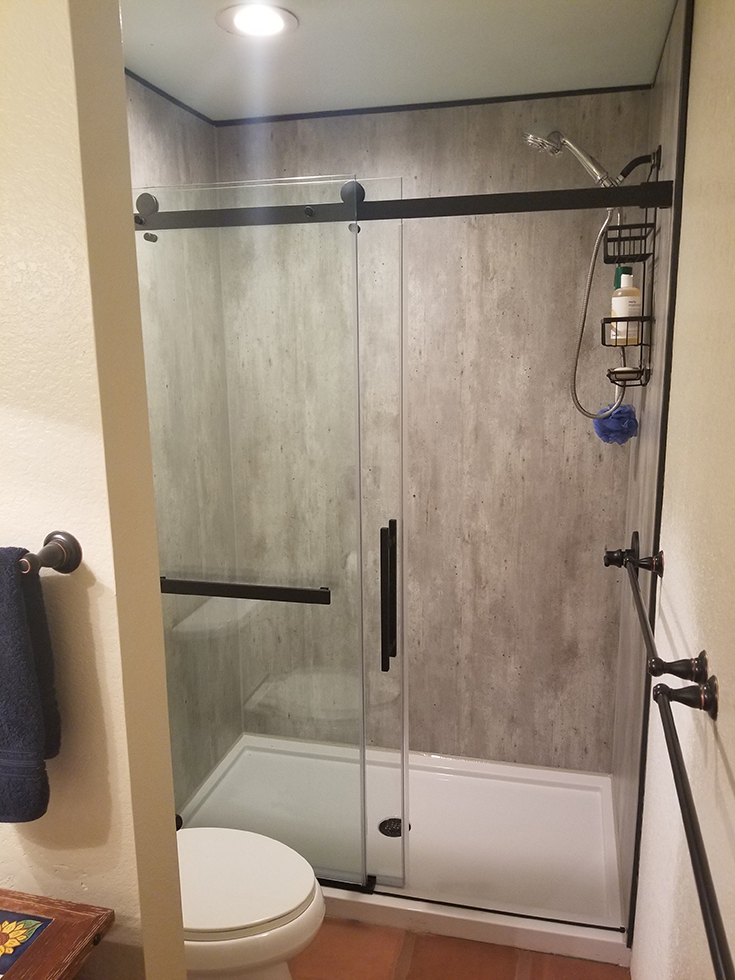 So, what questions are you most worried about, so you don't screw up and buy the wrong glass shower door?
I know I've thrown A LOT of questions at you to make sure you purchase the best shower door for your job. And hopefully- you're more educated now – even if there's more things to think about to make a sound glass shower door decision.
And if all these 'shower glass variables' are blowing your mind, here's how I (and my team) can help. Send us a rough sketch of your bathroom design (including not only the shower but also where the toilet, vanity and other walls are in the space). Let us know the size of your shower and the type of door you think is best.
Then we'll be happy to give you our opinion of the best glass shower door choice. We can even price a door for you whether you're looking for nationwide wholesale or want a Cleveland bathroom remodeling contractor to do the heavy lifting (and decision-making) for you.
And if you have more questions and want free design help –click for a Free Design Consultation or call 877-668-5888 (for nationwide wholesale). For a shower replacement in Cleveland call 216-531-6085. Our team is not only knowledgeable about shower glass, but also about shower pans and shower wall surrounds as well.
We know you have a lot of choices in shower and bathroom products. We're committed to making your journey through the sea of selections simpler (and we may even be able to help you find a reputable contractor through our dealer network as well).
Thanks for reading.
Mike
###
If you want more advice (with less wacky humor because you'll see the 'buttoned-up' business version of me) follow me on LinkedIn @MikeFoti.
And if you're a bathroom remodeling contractor interested in being a dealer of unique shower wall panels, shower pans and glass shower door systems, call 888-467-7488 and ask for Mike.
---
Mike Foti
President of Innovate Building Solutions a nationwide supplier and regional (Cleveland and Columbus) remodeling contractors. Some of our product lines include glass counters, floors, backsplashes, glass blocks and grout free shower and tub wall panels
---