What's Included in an Alcove Shower Replacement Kit?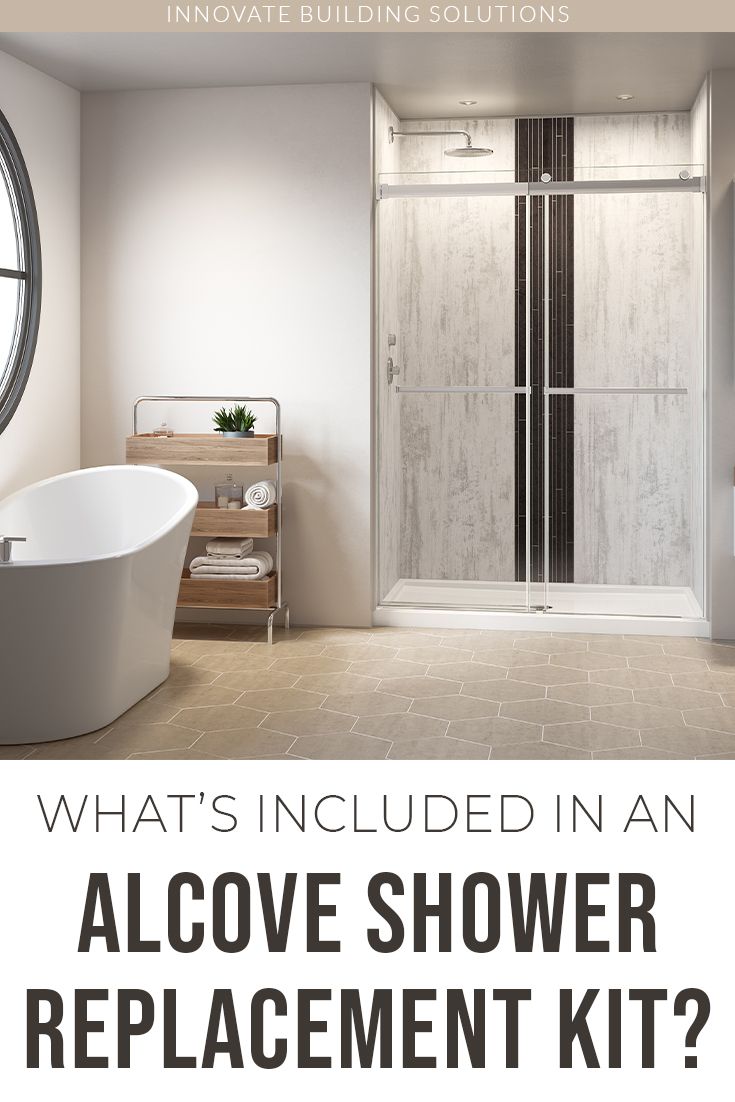 If I was asked to answer the question of what's included in most alcove shower replacement kits in two words, I'd say….
Not enough!
You see when you're online (or in a home center store) looking for the perfect alcove shower replacement kit to upgrade from the cheap builder's grade shower (or outdated and moldy tile shower), you're looking for 2 things:
A complete shower kit

An upgraded shower kit
First, you want a complete shower kit. You don't want to order your kit only to discover you're missing a door, or wall panels or a drain assembly. You don't want to be 'nickled and dimed' when you need to find (after you thought – incorrectly – you got a full kit) pieces-parts and adhesives for a quality installation which were not included in the shipment.
Second, you want a new shower which is way better than the old, dated, and hard to clean shower you own today. You don't want to replace your ugly old shower, with a new shower which will get ugly, old, and nasty faster than you can say, "Is my warranty over already?"
The question is how can you make sure you're getting a complete AND high-quality shower kit you'll be proud to own for years to come?
In this article, I'll lay out in Part 1 what's often NOT included in standard shower kits you'll find on the Internet or in Home Center stores. I don't want you to be surprised when essential parts 'come up missing.' Then you end up spending waaaaaay more than anticipated because the kit price you thought was 'too good to be true,' was 'too good to be true.'
Second, I'll identify in Part 2 features you should insist on for an upgraded high quality shower kit. Assuming you're not looking to buy a 'bargain-basement' system for a 'fix and flip' property, you want to know you'll not only get good value for your money, but you'll actually enjoy walking into (and using) your shower for years to come. You deserve an upgraded shower. However, you'll need to be a thoughtful consumer to make sure you get one!
So, let's explore alcove shower replacement kits further.
Part 1 – What's often NOT included in a complete shower kit
Item #1 often not included in a shower kit– shower wall panels 
You may wonder why some kits don't include shower wall panels (besides the fact leaving them out makes the shower kit seem waaaay less expensive). The reason is the company's marketing these kits generally are shower glass door manufacturers who don't offer wall surround panels.
And while, in some cases, this can be OK (for example if you're building tile shower walls), in most instances this isn't good. Most people buying replacement alcove shower kits wants a project which is low maintenance AND simple to install (and tile shower walls with grout joints are NEITHER of these).
So, make sure you're getting shower wall panels with your kit.
Get Free Samples!
Click here to request free samples of our Laminated Waterproof Shower Wall Panels.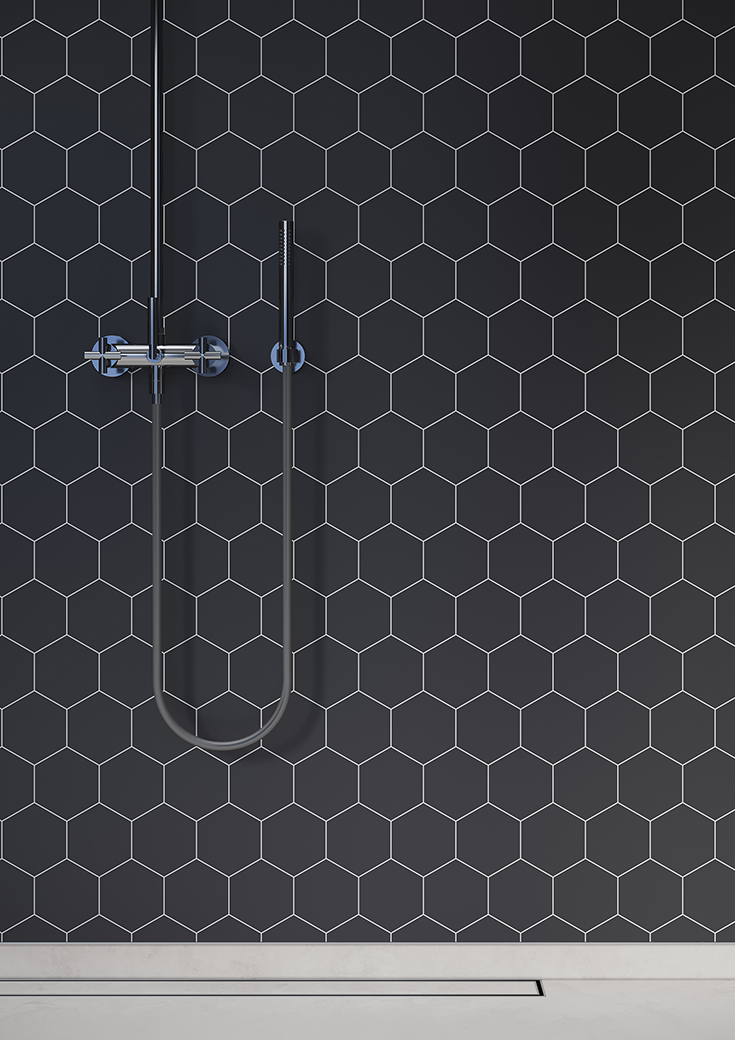 Item #2 often not included in a shower kit– a glass shower door, or walk in shower glass
If I'm being 'real' with you, I'll let you know supplying glass shower doors can be a PAIN! There are multiple styles of doors (bypass, sliding, pivoting and a walk in to name a few). There are multiple hardware finishes (chrome, brushed nickel, oil rubbed bronze and matte are the most popular choices). And there's multiple heights and widths. The choices are endless.
However, the #1 reason many E-Commerce suppliers don't like to offer shower glass is they not only require a larger inventory investment, but they also require more technical skill from their C.S.R.'s (Customer Service Reps) to advise homeowners and contractors on what shower door or shower screen is best for their job.
So, once again to keep the 'advertised price' low, and the complexity down – the shower door is often omitted from the shower kit.
The problem for you is – if you hate moldy shower curtains which need to replace all the time AND want a quality shower door WITHOUT a nasty track at bottom – you'll want a kit which includes a door which is specifically designed to work the shower pan you chose.
It's a pain when the glass shower doors aren't included. Make sure their part of the package.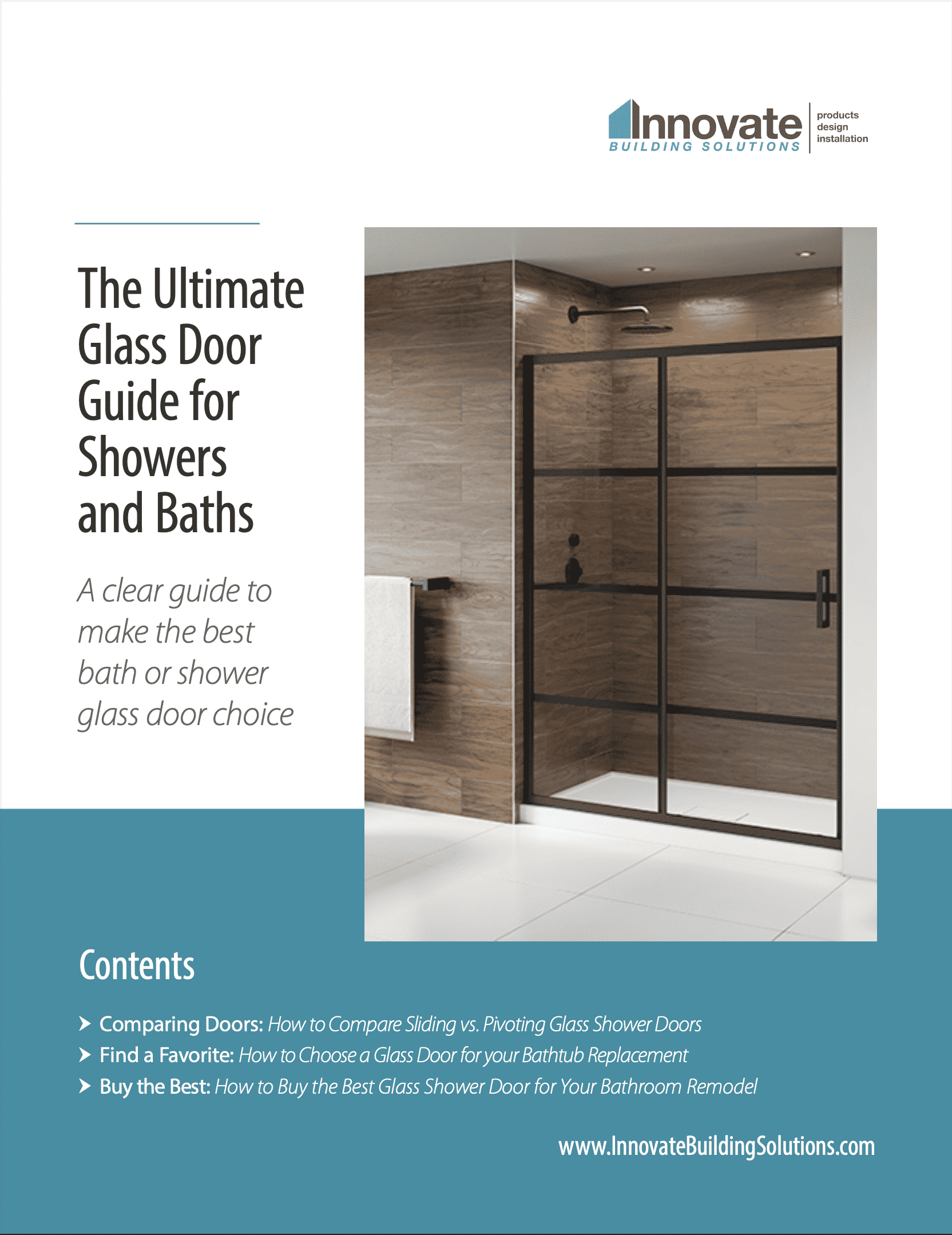 The Ultimate Glass Door Shower Guide
A clear guide to making the best bath or shower glass shower door choice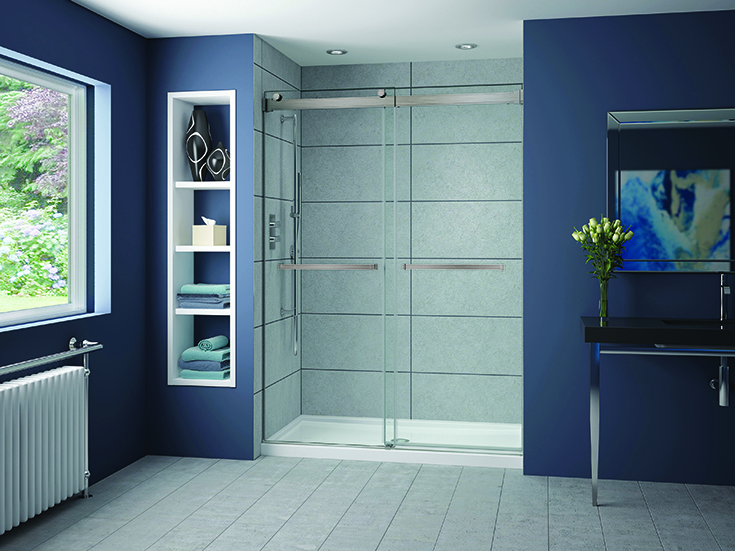 Item #3 often not included in a shower kit– a drain for your shower base (and especially one which doesn't look ugly)
Shower drains are like batteries for kid's toys you assemble before the holidays. It's unbelievably frustrating when you find out the batteries (or shower drain and strainer cover) aren't included. Sure – the shower kit supplier saves a few bucks (about $30 to $70) not including a drain kit. But for you it's a hassle to shop for the drain and then worry IF the drain you bought will work with the shower pan included in the kit.
Bottom line – make sure you get a shower drain. And for 'style points,' see if the drain cover is designed to blend into the shower pan (like you'll see in the decorative shower base below). It's nice to know drains don't have to be the 'red-haired-stepchild' of your new shower.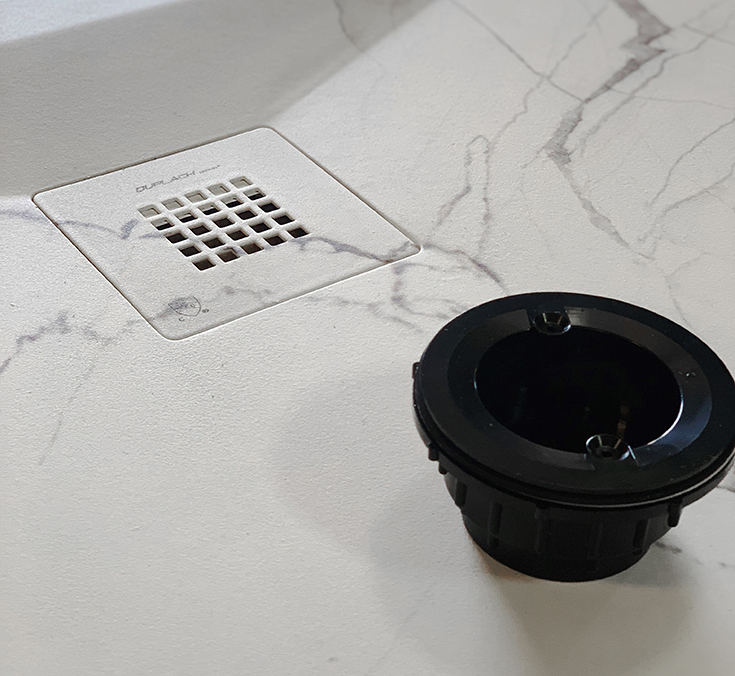 Item #4 often not included in a shower kit– sealants and adhesives for the shower wall panels
I'll tell you one simple truth.
Shower wall panels don't go onto your wall backer board by 'magic.'
Some shower wall panels need adhesives to be glued up. Other wall panels require screws to be mechanically fastened to wall backer boards.
In all cases though there's SOMETHING needed to install the shower wall panels.
Make sure you're getting the sealants, adhesives and screws you need. And if you're not, budget into your total cost money to go out and buy them so you can properly install your shower wall surround kit.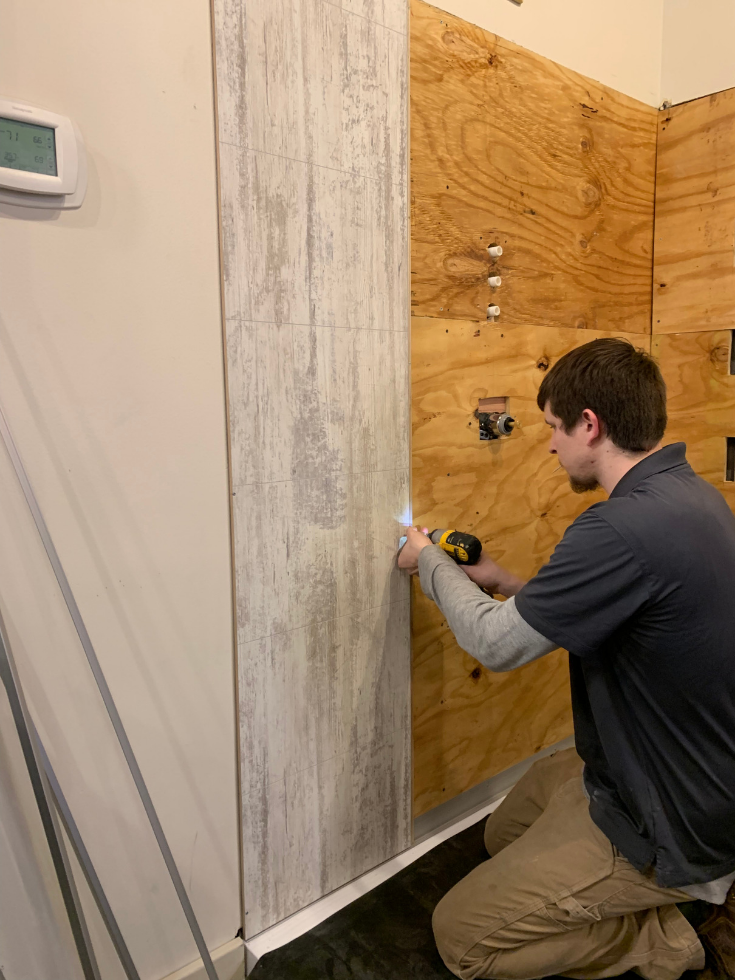 Item #5 often not included in a shower kit– A direct line to a 'shower specialist' who can answer your questions
Whether you're a DIY'er ('er weekend home improvement warrior) or a contractor, you'll likely have questions about the products and installation of your shower kit. And with many ecommerce companies (or big box stores) you're downright lucky if you can talk to the same person twice about your project (and you'll know you've really 'won the lottery' if they actually know what they're talking about).
Ask (before you buy the shower kit) for the cell phone (or direct line) of a shower specialist who can help with technical and installation questions.
Item #6 often not included in a shower kit– A corner shower shelf or recessed caddy
OK, everyone needs to store soap, shampoos, loofas, and body lotions (and if you're living with my family this list is endless).
You need to make sure you have place for your shower and bath products so they're not sitting on the floor oozing slippery liquids which could cause a nasty fall.
Make sure you're getting a corner shower shelf or caddy. Know up front how much they'll cost, what types of accessories work with your shower wall panels and how they're installed into the wall panels.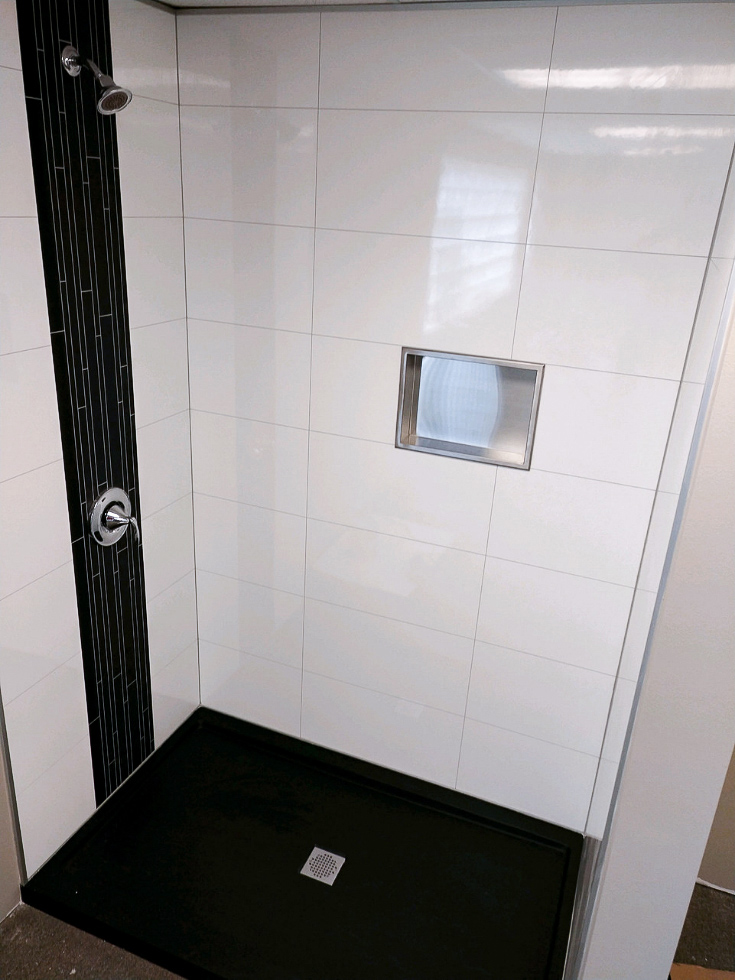 Part 2 – What you should look for if you want an upgraded shower kit
I'll be blunt.
Many 'off the shelf' budget shower kits are NO BETTER than the 'low-low-price' cheap builder's grade shower system you're desperately trying to get rid of!
Most people are looking to upgrade their shower (or tub which is being replaced with a shower). However, they aren't sure if they've actually realized their goal until they receive the shipment on their doorstep. And if you're let down when you ACTUALLY see your kit, it's too late. Because at that point, even IF you're able to return the shower kit, you're absorbing restock and shipment fees which effectively makes you STUCK with a substandard system.
So, the question is what should you look for to make sure you're getting an upgraded shower kit? Here's 7 features to know so you're 'not fooled again' (as the legendary rock band The Who would say) and end up stuck with a shower you're not happy with…again.
Feature #1 in a high-quality shower kit– A 'solid' shower pan
It's not good when you walk into a cheap shower pan and it not only squeaks, but it also moves under your feet! You start thinking, "I hope this 'puppy' doesn't crack on me!"
You need a shower pan which is sturdy. You need one which is built to outlive your time in this house. It's for this reason you should look for either a stone shower pan or a reinforced acrylic shower base.
Stone shower pans are durable and thick. For example, a 60" x 32" pan weighs 123 lbs. They don't flex because they're solid stone.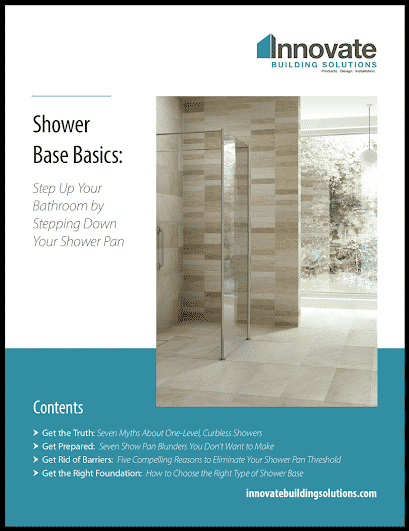 Get Our Ultimate Shower Base Guide!
Step Up Your Bathroom by Stepping Down Your Shower Pan!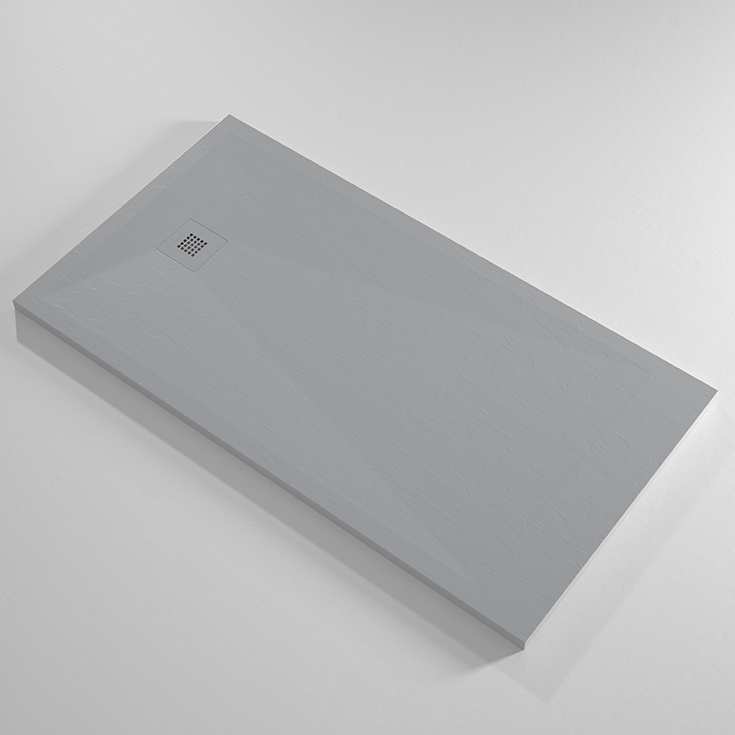 Or another option is an MDF (multi-density fiberboard) reinforced acrylic shower pan. These units are more cost-effective than stone pans while still being 'beefier' under the surface to withstand the 'big boys and girls' in your family with minimal flexing.
Feature #2 in a high-quality shower kit– The shower pan is designed to work for the 'long-run'
Sometimes when the unexpected happens the beautiful shower you installed a few years ago becomes useless.
Mom was doing fine, until that fateful day she fell. Now she can't step over the 4" high curb in the shower pan you paid your remodeling contractor big-bucks to install.
It's for this reason a high-quality shower kit should be designed to work for the long run. To ensure your shower will work as you, or a loved one ages insist on a low-profile shower curb. With shower pans with low thresholds, you'll know Mom will be able to get in no matter how good (or not so good) her mobility is.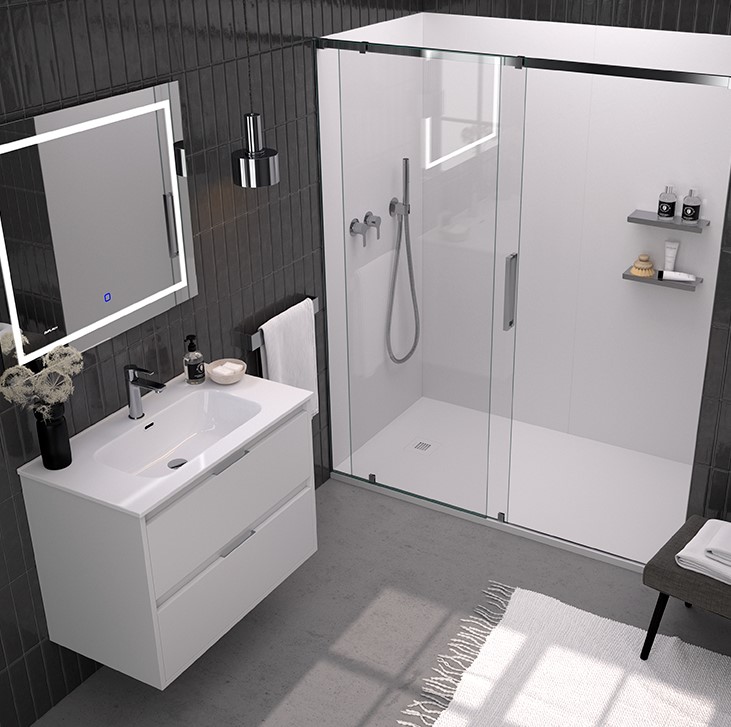 Feature #3 in a high-quality shower kit– You get thick – and stylish- shower wall panels
While you LOVED, LOVED, LOVED the looks of the tile shower when it was installed 20 years ago, today it's a disaster with brown, moldy grout joints. And while you considered cheaper shower wall panels alternatives, you couldn't bring yourself to buy a 1/8" 'wafer-thin' plastic surround to replace the tile. You want a stylish and grout free shower wall system which is built to last.
If this is your goal, check out laminate shower wall panels. This product is not only 3/8" thick (3x thicker than most shower surrounds), but you have 28 choices for your upgraded shower kit. And since the panels are so realistic with their indented tile and stone look joints, only you'll realize it's not the real thing!
Get Free Samples!
Click here to request free samples of our Laminated Waterproof Shower Wall Panels.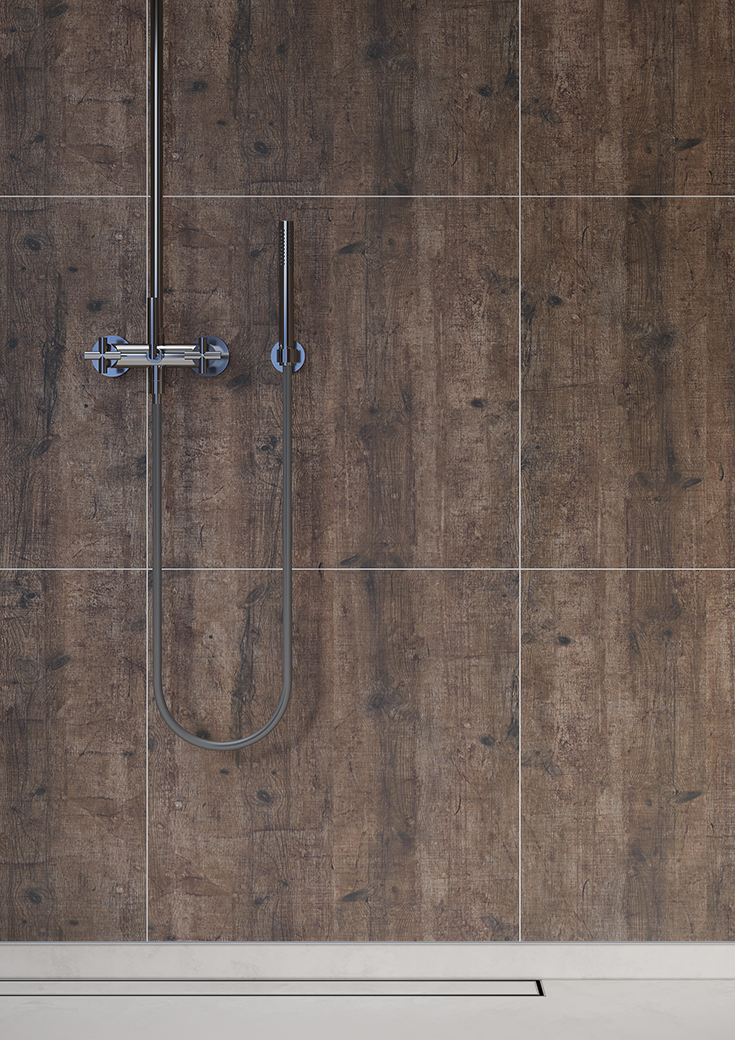 Feature #4 in a high-quality shower kit– Your wall panels reach the ceiling in a standard 8' high bathroom
One of the ways shower kit suppliers 'cheap out' on their systems (and keep the advertised price lower) is they make the panels 72" to 76" high. As a result, these panels don't reach the ceiling. This leaves you with exposed drywall above the shower walls you 'get' (sarcasm intended) to maintain. Quite frankly this is a….
Pain in your rear!
Look for shower wall panels which reach the top of your 8' ceiling and also have trim pieces you can use above them to cover ceiling height variations or installation cuts which aren't as perfect as you would have liked.
Feature #5 in a high-quality shower kit– Your shower doors are thick and tall  
You swear (even though you try NOT to do this around the kids and grandkids), your original home builder chose the cheapest framed shower door on the market. It not only wobbles 'to and fro,' but your 6' 2" spouse has to 'duck' to get in! You DO NOT want to deal with another substandard shower door again.
High quality shower kits include heavy glass shower doors which are 3/8" thick and 79" high or taller. When you open them you'll know you own a luxury shower door (just like the ones you've experienced when staying in fancy hotels). And another big bonus is your spouse won't bang their head getting in either.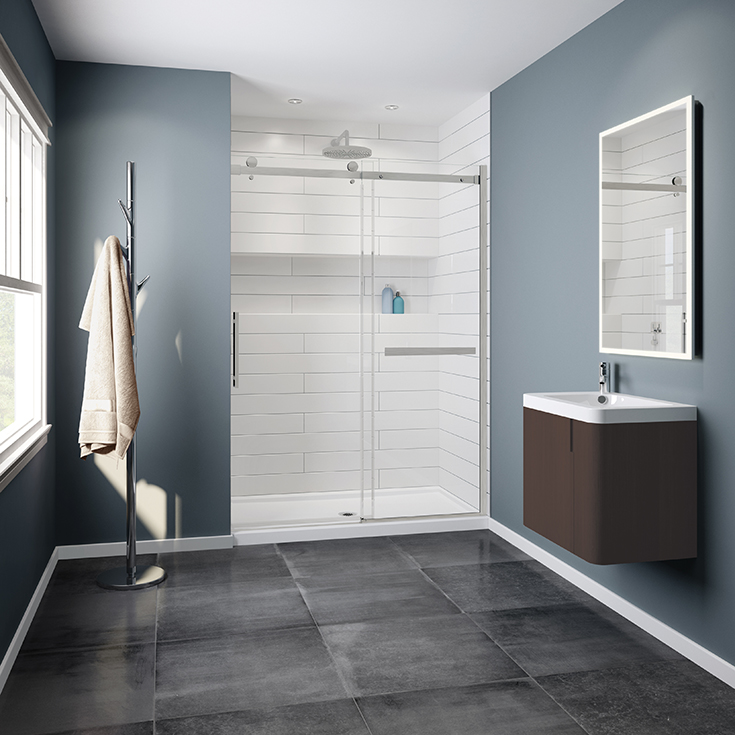 Feature #6 in a high-quality shower kit– Your shower door and framing system is oh-so-simple to clean
If you're the one who 'get stuck' with the chore of cleaning your glass shower door and shower door frames you know what a chore it is.
First, you 'get to' clean out hair, dirt, and scum from the bottom 'U-track' of your wobbly bypass shower doors. Oh, the 'glory' of your life never ends!
Then you 'get to' wipe off spots on your chrome (or worse yet, outdated bright brass) shower doors.
Finally, you 'have the pleasure' of staring at water spots you can't get out of the glass which were caused by hard water. You've come to this conclusion….
Your cheap shower doors are IMPOSSIBLE to clean!
A low-maintenance (yet high style) shower door system is essential in a high-quality shower kit. And here's 3 features you want to zero-in on to make sure your door WILL NOT be a pain to maintain.
Feature 1) Look for a sliding or bypass shower door which doesn't have nasty tracks at the bottom.
Feature 2) Look for a shower kit which has a brushed nickel finish (vs. chrome) so spotting doesn't show like a sore thumb.
Feature 3) Insist on a shower kit with glass surface protection. This process allows the water to bead off your glass shower door like RainX on a car windshield and keeps mineral deposits from being permanently embedded in your glass doors.

Feature #7 in a high-quality shower kit– You'll get people (and a warranty) which 'have your back' during and after the installation
Initially you might feel like you got 'such a good deal' (as New Yorkers love to say) buying a low-priced shower kit on the Internet (or in a retail store). However, then you find out there's NO ONE to answer your (seemingly endless) installation questions. And then when you learn your warranty was voided because you were DIYing the job (OR didn't have a licensed plumber install the shower pan), you not only 'blew your cork,' but you also realized you blew your money!
Before putting cash down on what you (think) is a high-quality shower kit, make sure you have the name AND direct phone number of someone to call for technical advice. After all, you don't do this project every day. Also make sure your warranty won't be voided if you're DIYing the job. This is a game some Ecommerce retailers use to 'wiggle out' of warranty claims.
So, do you now know what should be included in a high-quality shower kit?
I know there's a lot of factors to make sure you don't buy a new shower replacement kit which isn't any better than the old, moldy tile shower or flimsy, and dirty fiberglass insert you're looking to replace today.
However, If I did my job right you should now have a clearer picture of what to look for in not only getting a 'complete' shower kit, but also one will be an upgrade over what you're reluctantly living with today.
And while this article outlined the main features to evaluate, you may still be wondering about the cost of a high-quality shower kit, or how to choose the best shower pan, or what color or patterns of wall panels will work with your decor.
And if this describes you, call me or my team at 877-668-5888 or click for a Free Design Consultation. Our company (Innovate Building Solutions) wholesales high quality shower kits nationwide and would be happy to answer any of your questions.
And if you're looking for a nicer shower kit installed in your Cleveland Ohio home, call The Bath Doctor at 216-531-6085. If you're outside Cleveland Ohio (which is undoubtedly most of you) ask for a referral to one of our installing dealers.
Thanks for reading,
Mike
###
If you want more advice (with less wacky humor because you'll see the 'buttoned-up' business version of me) follow me on LinkedIn @MikeFoti.
And if you're a bathroom remodeling contractor interested in being a dealer of unique shower wall panels, shower pans and glass shower door systems and purchasing quality shower kits, call 888-467-7488 and ask for Mike.
---
Mike Foti
President of Innovate Building Solutions a nationwide supplier and regional (Cleveland and Columbus) remodeling contractors. Some of our product lines include glass counters, floors, backsplashes, glass blocks and grout free shower and tub wall panels
---