13 Shower Replacement Kit Problems You Can Avoid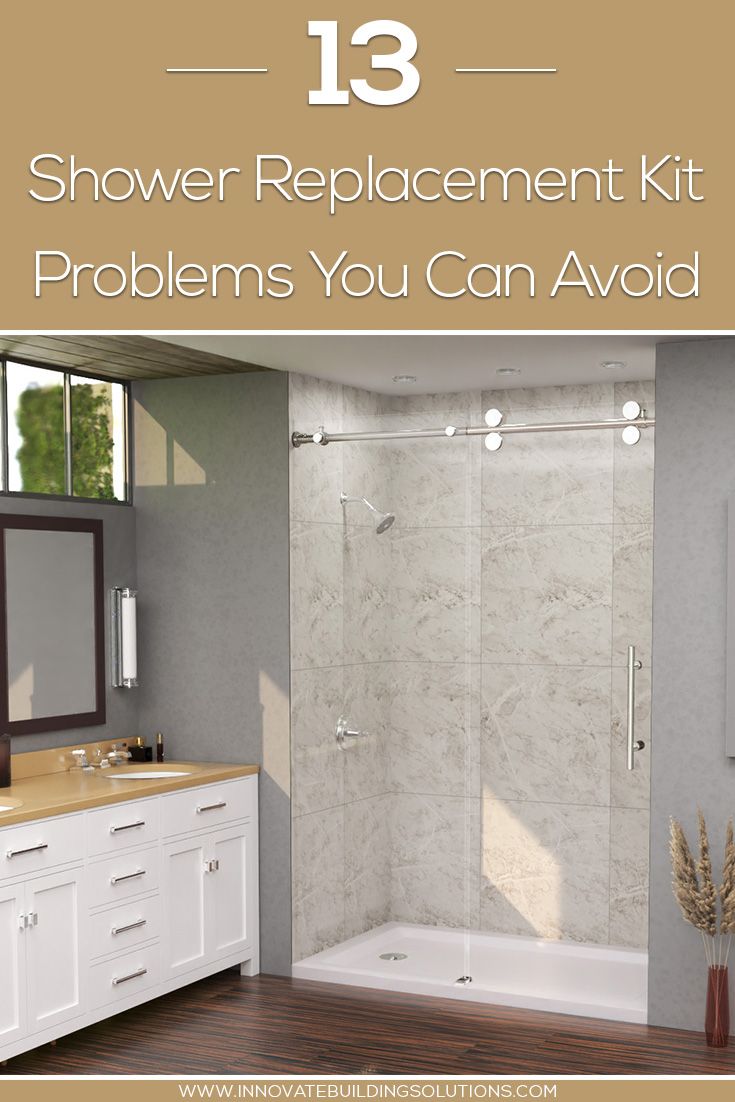 Who wouldn't LOVE to save money on a lower cost shower replacement kit? Unless you've got an Elon Musk or Bill Gates budget you need to watch what you spend.
And when you're looking to replace your shower stall or convert from a tub to a shower, and you start 'letting your fingers do the walking' (OK – not through the yellow pages, but certainly on your keyboard'), you find so many options. It's overwhelming.
However, one thing becomes painfully obvious. Many of the shower kits you've researched are NO BETTER than the cheap plastic shower (or high maintenance tile shower) you're looking to get rid of today. And you may be asking yourself this question….
"Why should I replace one cheap plastic shower (or high maintenance tile shower) with another cheap plastic shower or another (pain in the rear to maintain) tile shower?"
You want to upgrade your shower. You don't want to deal with the pains of the past. And you don't want to overpay to make this happen.
The challenge becomes how you can avoid repeating the problems of 'bad showers of the past' with a new (and upgraded) shower kit you're looking to buy today?
And in this article my goal is to help you do just that. I'll identify 13 problems with cheap replacement shower kits you'll find most often on the Internet. Then I'll give you practical solutions to make sure issues with these low-cost kits don't become YOUR PROBLEMS. In addition, you'll learn about higher-quality shower kits to get the low maintenance, high-style bathroom you've dreamed of!
I'll break the problems into 4 categories
Shower pan problems
Shower wall panel problems
Shower glass problems
General shower kit problems
OK – let's go.
Shower Pan Problems to Avoid in Your Replacement Kit
Shower Replacement Kit Problem #1 – The drain is on the wrong side
The problem – There's nothing worse than getting mentally ready to do a home improvement project and find out at step #1 you've ALREADY made a big mistake! And one big mistake can be NOT paying attention to what side the drain is on. You see when you get the typical flanged shower pan which comes with low-cost shower kits the base has flanges built into the sides. With popular sizes (like 60" x 30" and 60" x 32") the drain will be on the left- or right-hand side. They're designed for bathtub to shower conversions with side drains so you save money and don't need to move your plumbing.
The problem is if you get a pan with a left-hand drain – but need the hole on the right side, with a flanged pan you have a problem which CANNOT be fixed without returning the base (and eating the shipping and restock fees). OUCH!
The solution –The answer to this dilemma is to buy a shower kit with a reversible shower pan. And if you're not sure what a reversible pan is, it's simply a pan with curbs on all 4 sides of the base where the flanges are added at the job site. With these pans you can shift the drain hole to either side. Here's an example of a stylish reversible low profile solid surface pan.
The Ultimate Shower Replacement Kit Guide
Clear advice on bringing your bathroom to the next level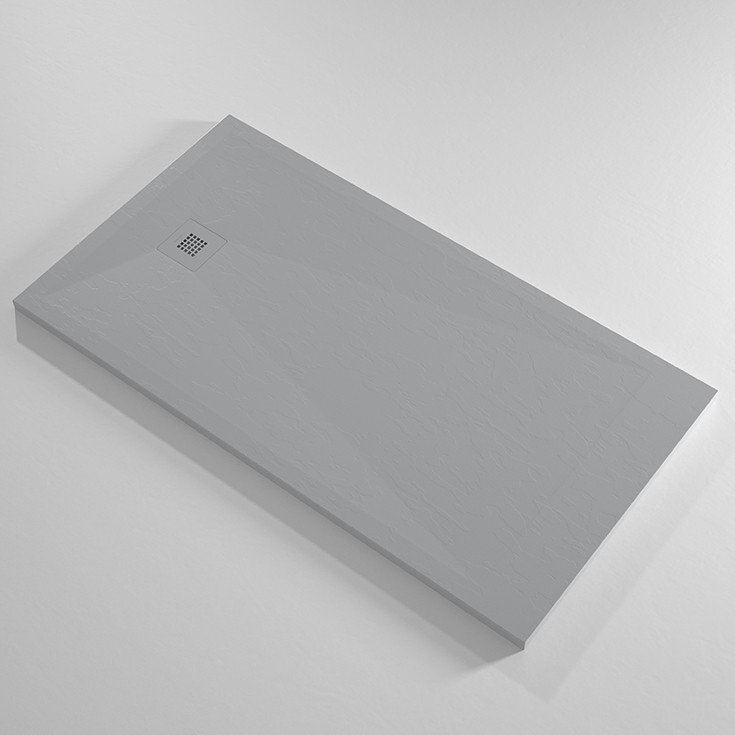 Shower Replacement Kit Problem #2 – The base is wafer thin
The problem – When you step in a shower pan of a budget shower kit and feel it flex and squeak, you know it's a bad sign. It's at this moment you know why this shower kit was so cheap, it's wafer-thin. And thin shower pans are more likely to crack than thicker shower bases. And since the pan is the 'foundation' of your shower, you know if it fails you've got BIG PROBLEMS because the walls above it will likely need to be replaced as well.
The solution – Whether you're buying an acrylic shower pan or a solid surface shower base there ARE sturdy options. However, if I'm keepin' it real (as Randy Jackson from American Idol used to say), expect to pay more for better choices. If you want a lower cost (yet good quality) pan, look for acrylic bases with a reinforced design like the base you'll see below. It's supported by MDF – multi-density fiberboard, giving it more rigidity.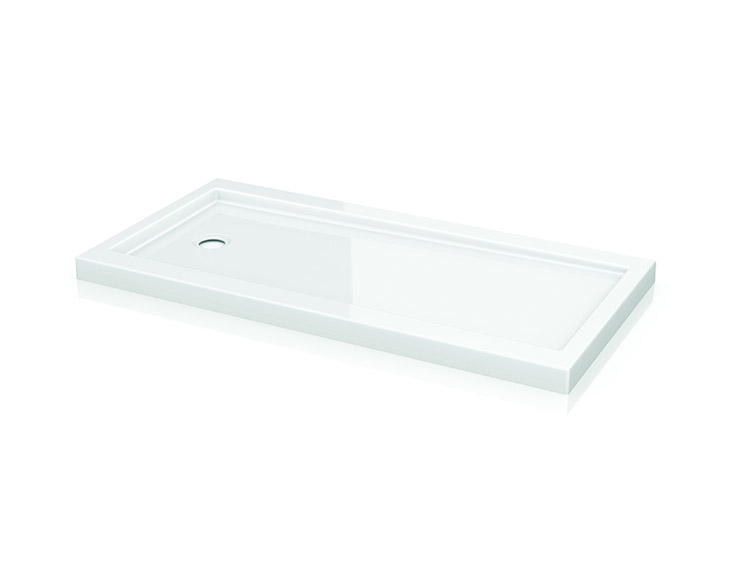 And if you really want to 'notch up' your base game, go with a modern low profile solid surface shower pan below. It's unbelievably stylish. It's ultra-sturdy. It's uber-safe.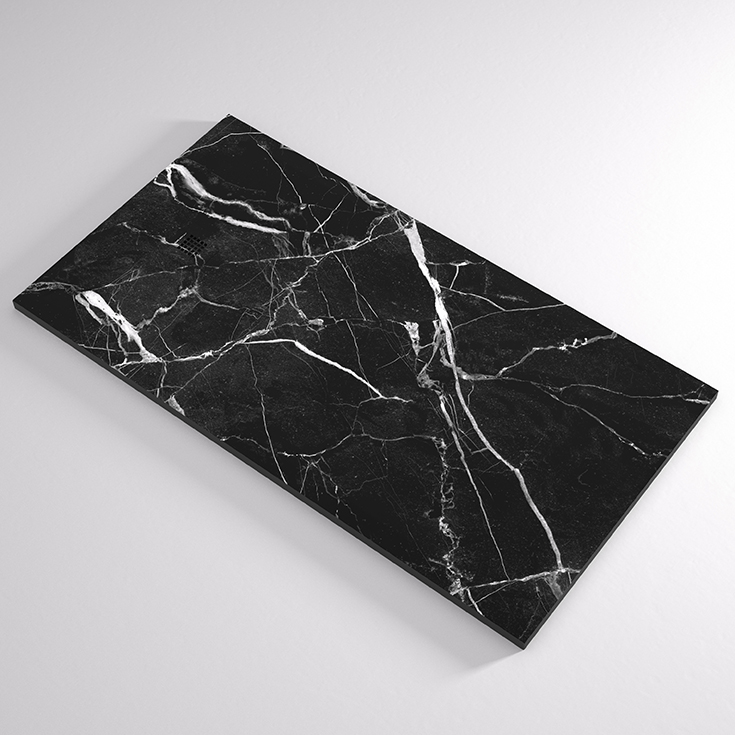 Shower Replacement Kit Problem #3 – The curb height is too high
The problem – You didn't expect Dad's health to go downhill so fast. His mobility is headed in the wrong direction – FAST! The standard 5" high shower curb with the fiberglass shower pan you installed 2 years ago is an accident waiting to happen. You know something needs to be done. Now what?
The solution – One important detail not everyone considers when buying a shower pan is how tall the curb is you'll step over. And when it comes to curb heights and safety, the shorter the curb the better. In the images below you'll see a low threshold 3" curb in this acrylic shower pan and a very low profile 1 1/6" high curb in this modern solid surface shower pan.
When in doubt – go with a lower curb pan.
The Ultimate Shower Replacement Kit Guide
Clear advice on bringing your bathroom to the next level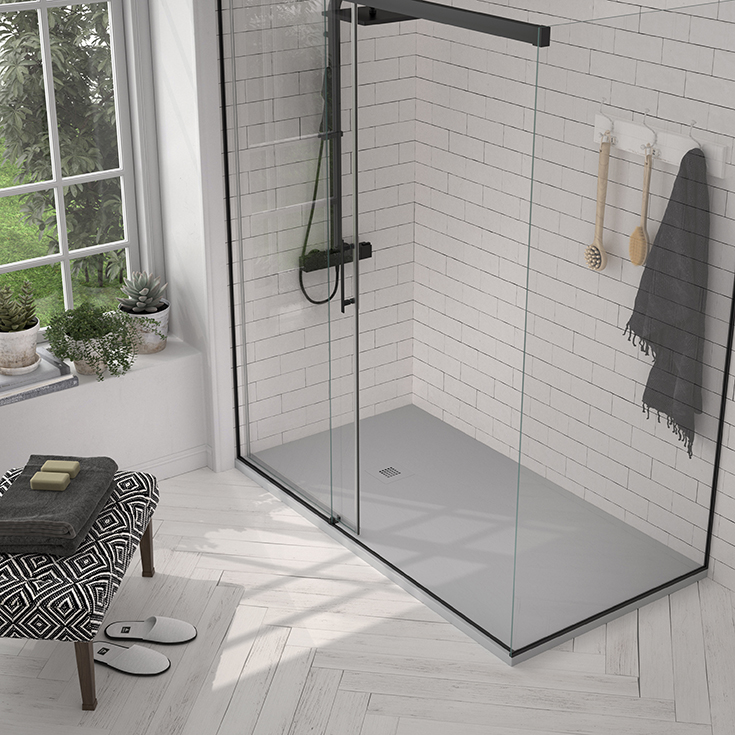 Shower Wall Panel Problems to Avoid in Your Replacement Kit
Shower Replacement Kit Problem #4 – The wall panels are flimsy
The Problem – When you started researching wall panels for your tub to shower conversion kit, they looked so nice …online. Then after you bought them and cracked open the box you saw how flimsy they truly are. You shouted, "Oh, shucks!" (OK – these weren't the exact words you used, but gotta keep things family friendly on this blog).
Wafer thin 1/8" 'thick' shower walls are NOT the quality you want. You're wondering how this is an improvement over the 'builders' grade' (which you don't say in an affectionate way) one piece fiberglass shower you're replacing?
The Solution – Choose a shower kit with wall panels which are as thick as tile or stone. One example is 3/8" thick laminate shower wall panels. This uber-popular product in Europe is growing like wildfire in the United States. The panels click, lock and seal together (like laminate flooring), AND you get a lifetime warranty (which beats the pants off the short warranty of thin wall panels or the non-existent warranty you get with a tile shower).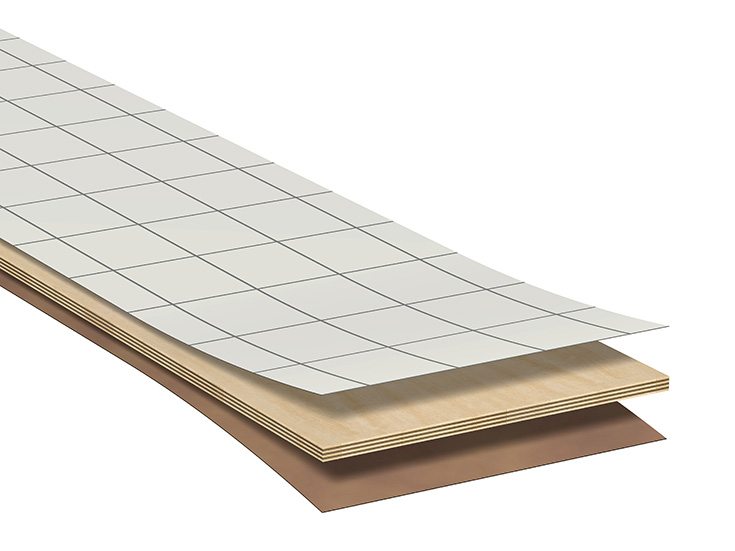 Shower Replacement Kit Problem #5– The shower panels don't go to the ceiling
The problem – You hate, hate, hate the peeling paint and mold above your existing fiberglass shower surround or tile shower. You want a maintenance free shower for God's sake. And when you look at the 'shower kits' on the market, they all 'cheap-out' with shower wall panels which are 72" or 76" tall. This leaves 20" to 24" above the panels you 'get' (and I don't mean that in a flattering way) the 'opportunity' to maintain.
The solution- Insist on a shower wall panel kit which reaches the top of your standard 8' high bathroom ceiling. This can be accomplished with 96" high DIY PVC shower panels or 94.4" high laminate shower wall panels. Don't be fooled by cheap (fiberglass or acrylic) imitations.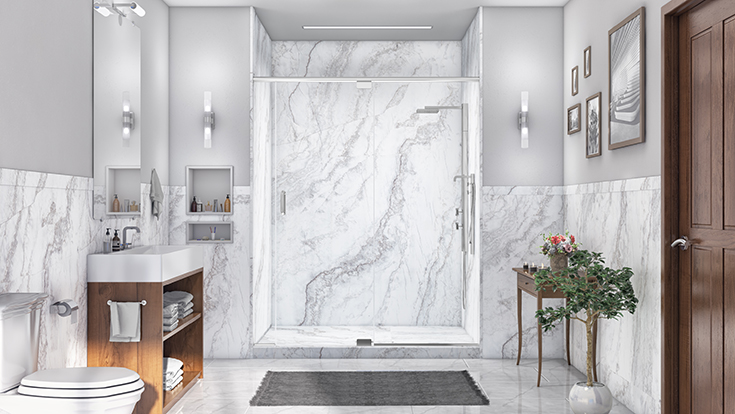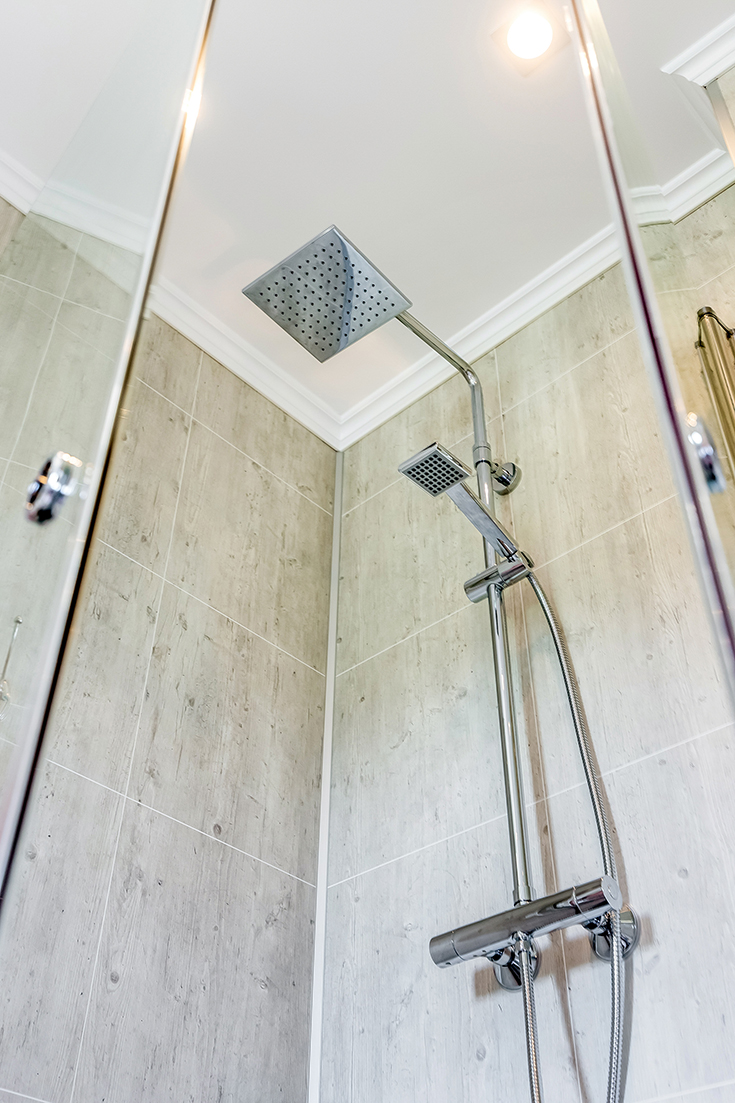 Shower Replacement Kit Problem #6– The shower panels look FAKE AND BORING!
 The problem – The wall panels in the pics on the Internet looked pretty good. Then you unpackaged your shower kit. You WERE NOT pleasantly surprised. You knew immediately no one would think this molded white acrylic wall panel would make ANYONE think it's real tile (unless real tile is reincarnated to become white, plasticky and molded).
The solution – You want shower wall panels which are thick, stylish, and don't look fake. But where can you find them? Here's 2 fun options
Option #1 – Laminate shower wall panels – These 3/8" thick panels click and lock together like laminate flooring and are mechanically fastened to stay in place (they're not glued up). They have faux grout joints which are indented and look just like tile, or you can get an organic modern minimalist pattern like the cracked cement shower panels seen below.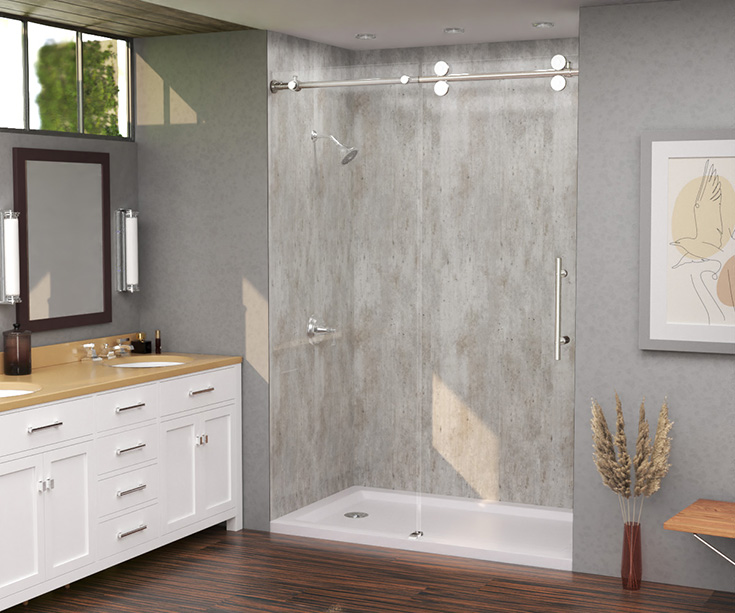 Option #2 – PVC shower wall panels – These panels are ¼" thick and are a digital replica of many uber-expensive marble and granite patterns. They're very easy to install.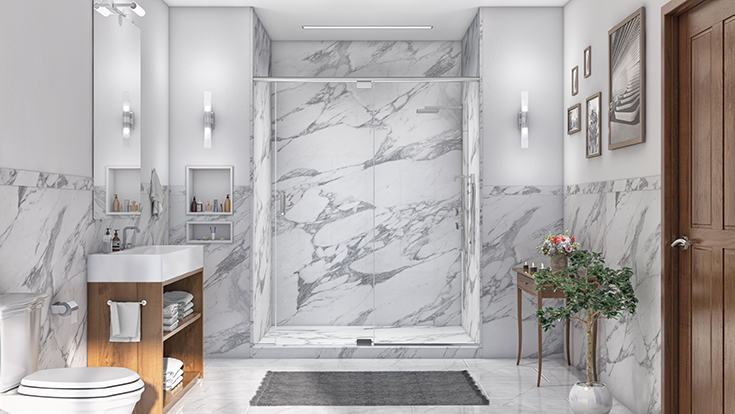 Shower Glass Door Problems to Avoid in Your Replacement Kit
Shower Replacement Kit Problem #7 – Doors which wobble to and fro
The problem – Just like you judge the quality of a car or SUV by shutting its doors, you can also feel the quality (or lack thereof) of a complete shower kit by how the doors feel when they're opened or closed. The way many retailers cut corners on shower kits is using 3/16" or ¼" 'thick' (and yes – this word does belong in quotation marks) glass doors with frames around them. You can feel the door wobble when you operate them.
The solution – The simple way to fix this problem is to use heavy glass shower doors. Sure –3/8" thick doors are more expensive, but if you  want a door which won't feel like it'll come off its rails any moment now, insist on a better quality shower door.
The Ultimate Shower Replacement Kit Guide
Clear advice on bringing your bathroom to the next level
Shower Replacement Kit Problem #8 – Your chrome shower door frame has more spots than a Dalmatian 
The problem – Who doesn't love a Dalmatian with it's funny mix of black spots? And while spots on a Dalmatian are adorable, water spots on a chrome shower door are A PAIN IN THE REAR (especially if you're the OCD person who gets to clean them)!
And you may be asking why cheap shower kits use chrome finish doors which are spot-magnets, the answer is simple. Chrome is cheap.
The good news is there's a smarter – which matches perfectly with today's most popular hardware finish.
The solution – Instead of a chrome sliding, pivot or bypass shower door make sure your higher-quality alcove shower kit uses a brush nickel finish. It won't show the spots. It'll match also go with popular brushed nickel handles and knobs on your vanity and interior doors.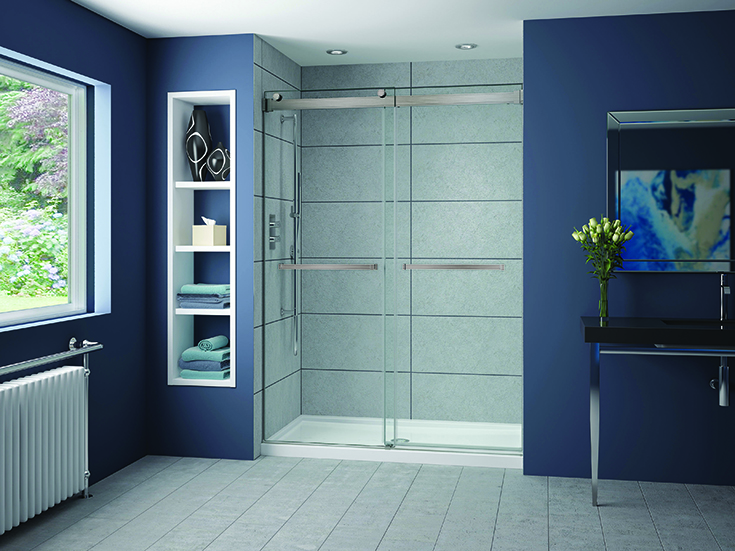 Shower Replacement Kit Problem #9 – You're constantly bumping your head on the shower door frame when trying to move into and out of the shower
The problem – You loved being 6'2" in high school. You were the star on your basketball or volleyball team. However, now that your 'sports glory days' are in your rearview mirror (and you've gained a few gray hairs and don't run as fast either…oops, sorry to depress you)– you've seen how being tall can be a big disadvantage as a homeowner. You wish you could 'only' count on one hand the number of times you've bumped your head while attempting to duck under the rail of your sliding glass shower door.
This is one problem you want to eliminate.
The solution – One of the hidden problems you might not notice when buying a 'low-cost shower kit' is they're cheaper BECAUSE they use shorter parts. Shorter wall panels AND shorter (72" high) shower glass doors. If you're tall, these short doors are a pain which keeps on giving UNLESS you pay attention to the height of the shower glass door. Look for sliding – or bypass glass doors – which are 79" high or taller. Stop 'seeing stars' after running into your shower door framing.
Shower Replacement Kit Problem #10 – The bottom track of your sliding glass shower door is a pain to clean!
The problem – You've hated cleaning the bottom track of your sliding glass door. Scraping out hair, scum, and mold from the shower door track is not a task you'd wish on your worst enemy. So, imagine your dismay when you see the evil bottom track has come back AGAIN in your new low budget shower kit! Ouch!
The solution – Most framed sliding and bypass glass shower doors have U-shaped tracks at the bottom which are a chore to clean. To not put yourself through this hassle again, insist on a frameless glass sliding door. It eliminates the track you love to hate at the bottom.
General Shower Kit Problems. 
Shower Replacement Kit Problem #11 – The advertised 'shower kit' is not actually a complete shower kit
The problem – The price for the 'shower kit' seemed too good to be true. And when you read the 'fine print' you saw the low, low price of $995 was only for the 1/8" thin prefabricated fiberglass shower wall panels and the flimsy shower pan. It wasn't a complete kit. It was a sale with 'items sold separately.' And it wasn't even a quality product.
The solution – Make sure you're getting a complete shower kit, not just a component or two. A complete kit includes shower wall panels, a shower base and glass shower door. If the 'system' doesn't include all 3 elements it's not a kit, it's a component.
The Ultimate Shower Replacement Kit Guide
Clear advice on bringing your bathroom to the next level
Shower Replacement Kit Problem #12 – Your CSR (Customer Service Rep) knows less than Sergeant Shultz from Hogan's Heroes
The problem – So, you couldn't for the life of you figure out where to install the wall panels in relation to the shower pan. You didn't know if you should install the wall panels first, then put in the pan, or vice versa. You tried calling your "CSR" ('er Custom Service Rep). When you finally got through to 'Mary T.' (not her real name) it was painfully obvious she knew less than Sergeant Shultz from Hogan's Heroes (and for those of you not old enough to know this reference watch the "I Know Nothing' video below).
Let's face it – when you buy from an Internet retailer who sells over 10,000 items, what's the chance the person who 'takes your order' will have ANY IDEA how to guide you through the challenges of installing your shower?
If you said – fat chance, you're the lucky winner! The question becomes how can you make sure you'll get the support you need?
The solution – Making sure you're not a 'lack of after-sales support' victim isn't easy. You want to buy from someone who not only wholesales shower products, but also employs technical shower specialists who are knowledgeable about every element of a shower kit – the shower pan, the shower glass doors and the shower wall panels). Ask your rep if they have team members who know the ins and outs of installing these products. Ask how you would reach this person. Would the CSR be willing to give you the technical reps cell number?
While it may be tempting to buy the cheapest shower kit you can find from a cut-rate Internet retailer, you'll often find technical support lacking (or non-existent). Check review sites to get a feel of what post-sales service looks like. As The Who would say…" Don't be fooled again!"
Shower Replacement Kit Problem #13 – Warranties are short and 'slippery'
The problem – 4 years ago you bought a brand-new shower kit. Today you woke up and find it leaking onto your spouse's new wood dining room table. Water came through the shower pan in the second-floor bathroom.
You pull out your receipt. You're 'a 'hopin and 'a-wishin' your warranty will (at least) cover the cost of new materials. You see you have a 5-year warranty and think, 'so far, so good.'
You call the Internet supplier. They start by asking who installed the shower pan. You say – in a worried tone – I did. Then they 'inform' you your warranty is ONLY VALID IF it's installed by a professional plumber. You're livid. You start throwing up words even Old Man Parker from a Christmas Story would be embarrassed to say!
You 'escalate' the problem. Then some snotty 'supervisor' tells you that's the company policy (oh and how you love to hear 'company policy' – 'er NOT!) She goes on to say they will sell you another base if you'd like (although lead times are 2 months out). You're thinking…thanks, but no thanks.
Wow – this IS NOT turning out to be a good day!
The solution – When you buy a shower kit look for company's who offer warranties which are at least 10 years long. Make sure they'll replace the product no matter who installs them. Don't get burned with 'company policy' and 'warranty loopholes' because you didn't do your homework.
So, are you confident you now know how to buy a quality shower kit?
Unfortunately, buying a shower kit is more complex than many think. You need to be thorough. You want a sturdy and stylish system but can't afford to overpay for it either.
And if you're struggling to find a high-quality luxury shower kit – at a fair price – whether you're looking to DIY or find a nice system for your bathroom remodeler to install for you, we understand you'll have questions.
And here's where me and my team would love to help. If you need technical advice, product supply or nationwide direct pricing on high quality shower kits call 877-668-5888 or click for a Free Design Consultation. And if you're looking for a shower replacement contractor in Cleveland Ohio, our Bath Doctor division would love to help. Call 216-658-1270 or click for a Free Estimate.
And lastly if you're struggling to find a bathroom remodeling contractor, ask for a referral through our contractor dealer network.
Thanks for reading (and putting up with my wackiness)– Mike
###
If you want more advice (with less wacky humor because you'll see the 'buttoned-up' business version of me) follow me on LinkedIn @MikeFoti.
And if you're a bathroom remodeling contractor interested in being a dealer of unique shower wall panels, shower pans and glass shower door systems or purchasing our quality shower kits, call 888-467-7488 and ask for Mike.
---
Mike Foti
President of Innovate Building Solutions a nationwide supplier and regional (Cleveland and Columbus) remodeling contractors. Some of our product lines include glass counters, floors, backsplashes, glass blocks and grout free shower and tub wall panels
---