How Tall a Glass Shower Door or Shower Wall Should You Buy?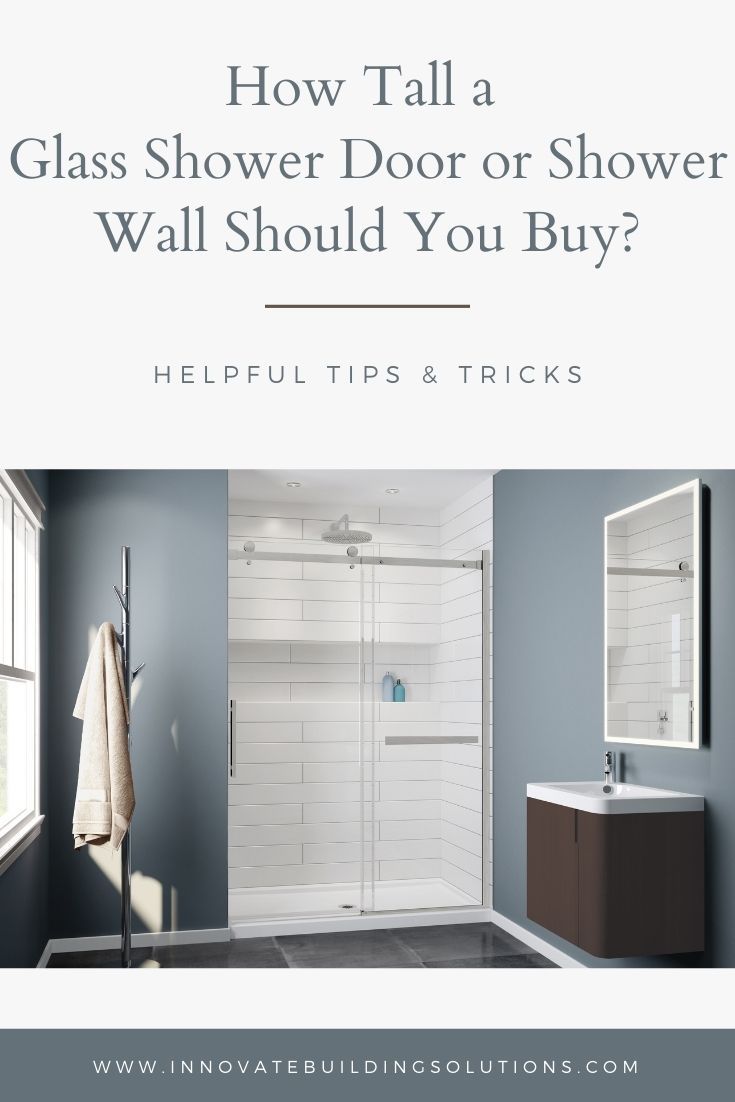 If you're experiencing 'decision and selection fatigue' in your bathroom remodel you're not alone.
Just when you think you've got things 'figured out,' there's another decision you need to make which draws you back onto the Internet for more research.
And when it comes to choosing the best glass shower door for a full enclosure, or glass shower wall for a walk-in shower, you'd think the process would be relatively straightforward. However, it's not as simple as you thought at first.
First you had to choose the best type of shower glass door. You looked at swinging (or pivoting) doors, sliding doors and even fixed glass walk in shower systems (and if you're still debating the best type of shower glass door read, How to Choose the Right Shower Glass Door or Wall).
Once you had that figured out – you went on to select the finish for your door or wall.
However, then you encountered another question. You're trying to get your arms around how tall a glass shower door or shower wall would be best. And once again you were stumped (and no, that wasn't meant to be a bad height pun – although it came out that way).
Since the height of the door is hard topic to find advice on, I decided to dig into this question in this post.
I'm going to break this article into 2 sections. First, I'll identify 6 reasons to choose a tall glass shower door or wall. And then I'll look at 6 reasons to buy a short glass shower door or wall.
At the end I'd love to hear which choice makes the most sense for your project and/or to answer questions you have. So, let's look at reasons to choose a tall shower glass door.
6 Reasons to Choose a Tall Glass Shower Door or Wall
Reason #1 to choose a tall shower glass door or wall – Banging your head on the door framing while getting into the shower IS NOT something you want to deal with
You've lived with a short, cheap framed shower door for years and have the scars on your head – from banging it getting in – to prove it. And while it was nice being 6'1" and making the basketball team in high school, your height has proved to be a problem when it's come to your budget-friendly 'builders' grade' (and I don't say that in a positive way) bypass sliding shower door.
And this is where a tall shower door is your 'little Fre' (as Tony Montana would say from the movie Scarface). Look for a 79" or 86" sliding (one door slides) or bypass shower door (two doors slide) system and you'll no longer be banging your head (or ducking) to get into the shower.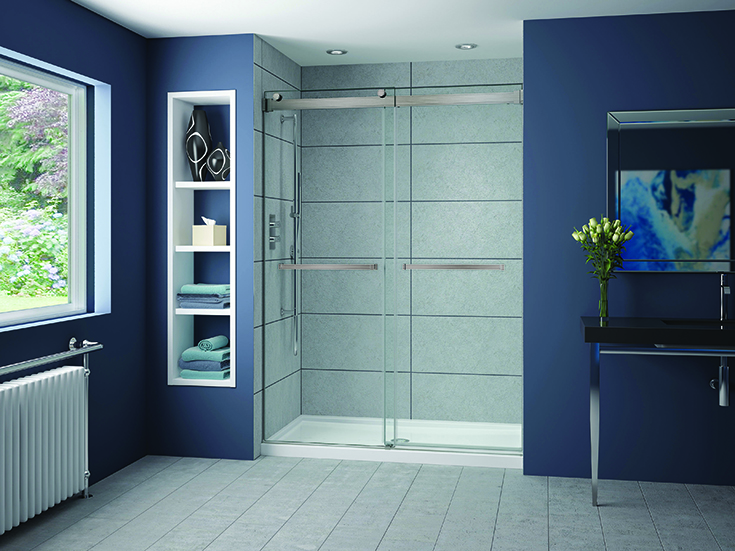 Reason #2 to choose a tall glass shower door or wall – You need floor to ceiling coverage for your steam room
You've always dreamt about relaxing in a steam room after a long day at the office to sweat out your problems. And now you're finally going to get one!
However, as you know it's not a steam room IF you let the steam out! You need a fully enclosed glass shower wall and door system. So, if you're planning on a steam room, you'll logically need a tall glass shower wall and door system to go with it.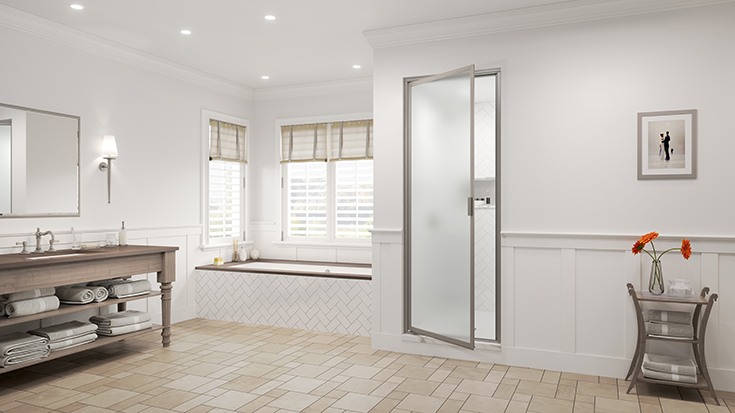 Reason #3 to choose a tall glass shower door or wall – You're planning on building a glass block walk-in shower
Glass block walls not only offer privacy, but also have the benefit of creating a curved walk-in shower-at a reasonable cost.
However, there's a drawback to glass blocks you'll need to keep in mind. Glass block walls are built with finishing end blocks which are only made in 8" high sizes. And since the top of glass blocks are often 'unfinished,' its preferable to build an 80" high wall so you don't have the cost of finishing the top with an expensive solid surface cap.
So, if you are thinking of a glass block shower wall – building it 80" high (which is 10 finished blocks tall) is best.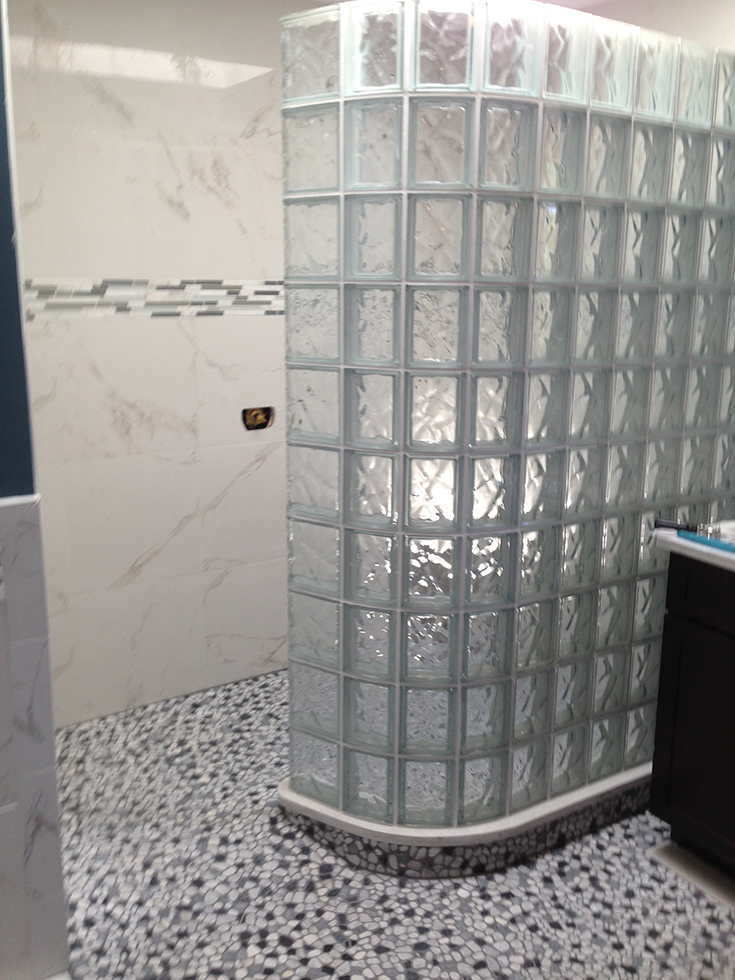 Reason #4 to choose a tall glass shower door or wall – You don't want water coming over the top
When you select a low-cost 65" high shower door you'll need to recognize if you're taller than 5' 5" (or 65") you run the risk of water spraying off your head and onto the bathroom floor. It's for this reason if you're even moderately tall, I'd recommend a glass shower which is 72" high – or taller.
Reason #5 to choose a tall glass shower door or wall – You don't want to freeze your butt!
While it's cheaper to have a shower which has a larger gap at the top – because the glass is shorter – you'll also want to accept the bare (literally) fact it allows more heat to escape. This makes your shower colder. And if you live in a Northern or Midwestern climate you know winters are BRUTAL (or as I like to tell my daughter Jade, "Winter is evil!").
To stay 'toasty-warm' buy taller shower glass to retain more heat and steam inside.
Reason #6 to choose a tall glass shower door or wall – Taller shower doors are more elegant – especially in rooms with tall ceilings
So, you're looking to remodel the master bathroom in the home you just bought. You love the soaring 9' ceilings. You have the volume you've always wanted (unlike the cramped 5' x 8' bathroom you DID NOT enjoy in your last house).
You want your shower to give you a sense of volume AND be comfortable for your 6'3" partner. To do this you'll want tall shower glass. And it's nice to know you can even get a standard, high quality glass shower door which is 79" or 86" high WITHOUT spending the big bucks for a custom size (assuming you have a standard shower footprint to work with).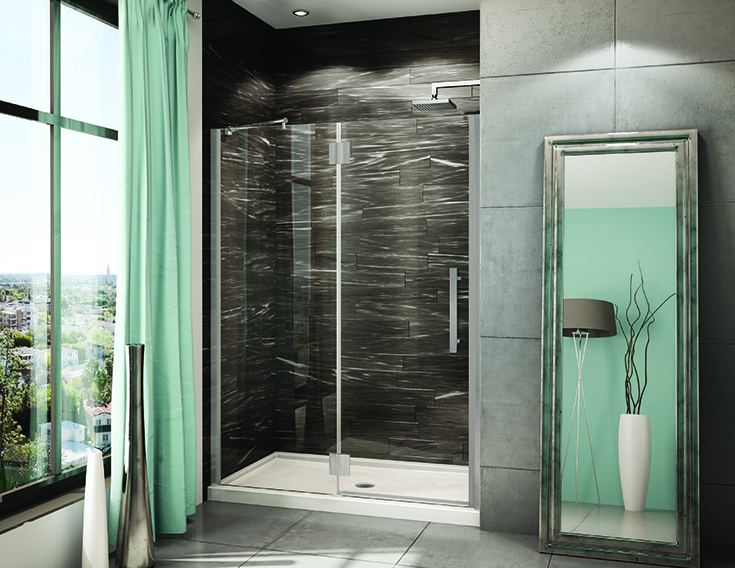 6 Reasons to Choose a Short Glass Shower Door or Wall
Reason #1 to choose a short glass shower door or wall – Your budget is also small
Here's a simple fact to keep in mind when buying shower glass. The taller the glass shower door or wall, the more it will cost (wow – that certainly took a genius to write, didn't it?). And if your budget is small, a 65" to 66" high glass shower door can do the trick to keep costs down. Sure, this door is 6-7" smaller than a 'standard shower door,' but if you need to cut costs a shorter door is one way to do it.
However, if you're looking for other ways to slim-down shower door prices (without shortening the door), consider these 2 ideas:
Idea 1) Choose a framed shower door vs. a frameless one.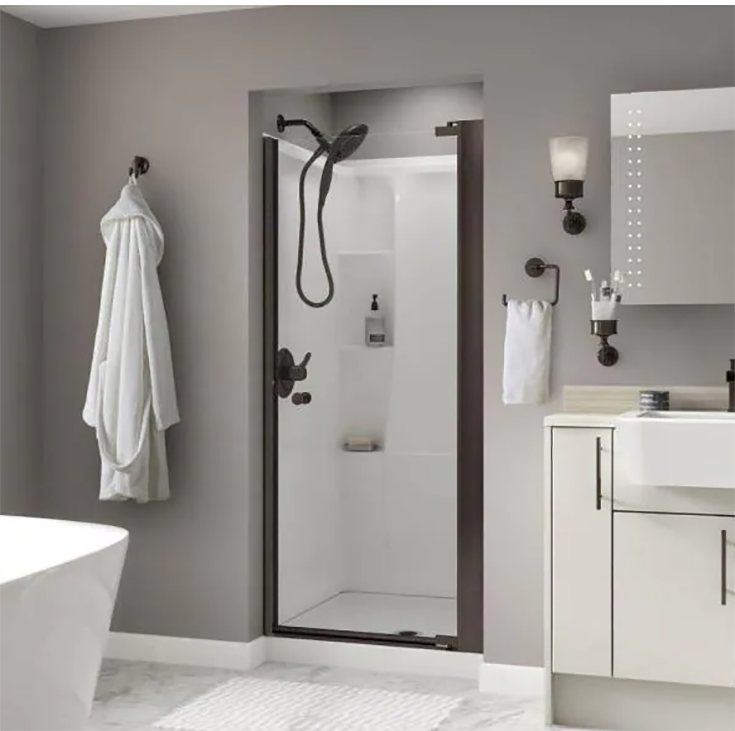 Image Source: www.homedepot.com
Idea 2) Choose a chrome door over one with a more expensive brushed nickel or contemporary matte black finish.
Reason #2 to choose a short glass shower door or wall – Your shower is under a stairwell or attic
Sure – it would be nice if your shower WASN'T tucked under a stairwell, soffit, or low vaulted ceiling. However, sometimes you need to work with what you've got. And if a low ceiling height is your nemesis, a short glass door or wall will be the way you must go.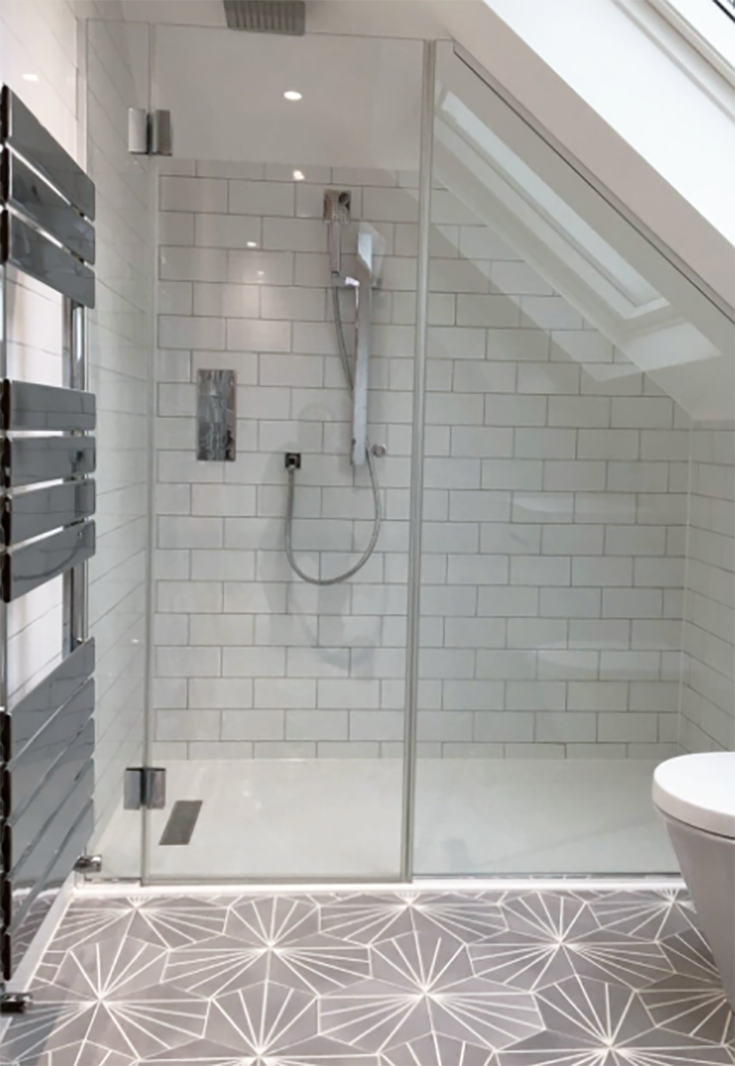 Reason #3 to choose a short glass shower door or wall – There's not enough support inside the wall cavity for a tall, heavy glass door and hinge system – but you still want heavy frameless glass
You LOVE, LOVE, LOVE the 3/8" or ½" thick heavy frameless glass shower doors but you also know these doors weigh significantly more than a framed 3/16" budget shower door. You've also learned you need double 2 x 4's behind the tall and thick custom doors for proper support. If it simply isn't cost-effective to tear out your existing tile and improve the 'blocking' (AKA known as studs behind the wall), a shorter heavy glass door can be a way to get the thickness you like if you only have one stud behind the wall.
Reason #4 to choose a short glass shower door or wall – Your shower has a soffit, yet you still want room for moisture to escape
You wish your tub/shower alcove DIDN'T have a soffit (or low ceiling) which made your enclosure feel even smaller and more claustrophobic! And you know with the lack of ventilation in your bathroom, this uber-tight tile shower has been a magnet for mold and mildew. Given this, the last thing you want to do is create a 'buttoned-up' enclosure to retain the moisture.
In these situations, you'll want to opt for a shorter shower door – in the 65" to 70" high range. It'll allow room for moisture to get out. And if you really want to fight mold, choose a stylish grout free shower wall panel system like the one seen below.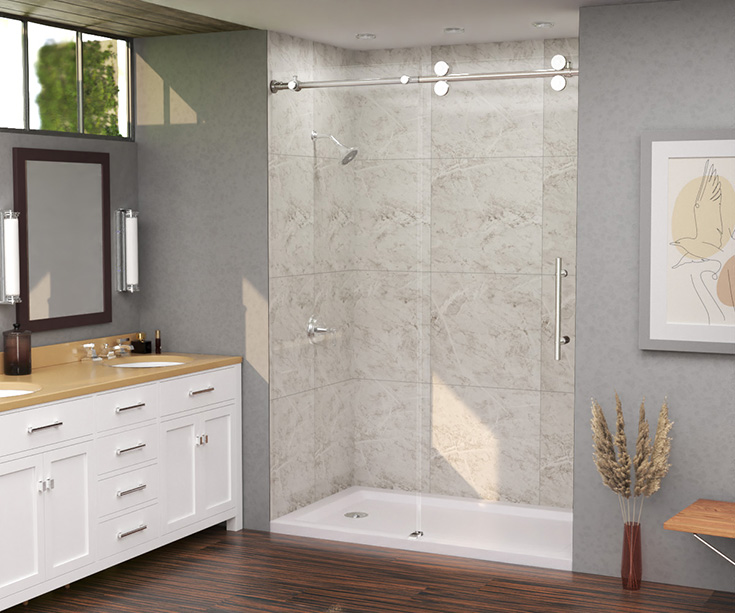 Reason #5 to choose a short glass shower door or wall – There's less surface area to clean!
Cleaning your old shower doors has been a pain. And although you know new glass surface protection technologies help minimize scum and build up on the doors, you'd still prefer less (not more) door to squeegee.
For this reason, consider shorter doors to keep your cleaning to a minimum.
Reason #6 to choose a short glass shower door or wall – Shorter glass walls show off intricate tile patterns or grout free shower wall panels
The good thing about glass shower doors and walls (especially those with obscure glass or wavy glass blocks) is they create privacy. However, the bad news is with taller and obscure glass, you'll see less of your fun tile patterns or grout free shower wall panels you've installed.
So, if you love your fun herringbone shower wall panels or subway tiles, it'll be nicer to go with a shorter glass shower door or wall (even if it is obscure).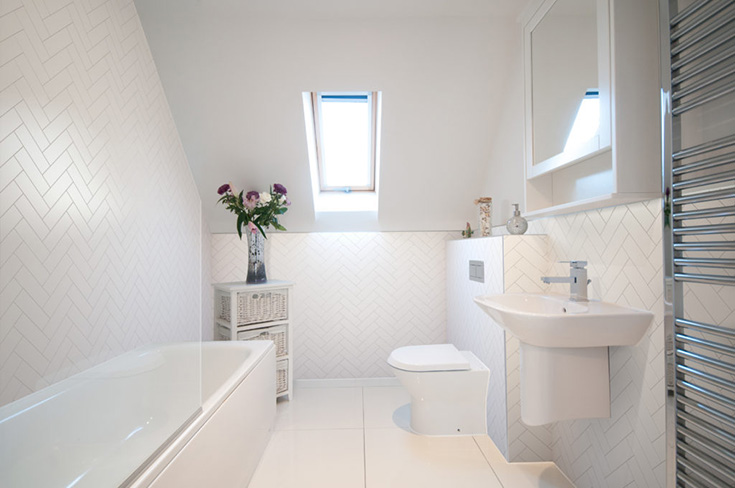 So, is a shorter or taller glass shower door or glass wall best for you?
After reading the reasons for choosing a tall – or short – glass shower door or wall which is best for you? Share your opinions in the comments below.
And if you're still struggling to choose the best type of shower glass – or you'd like wholesale pricing for a shower enclosure , call 877-668-5888 (nationwide) or click for a Free Design Consultation. And if you're looking for a Cleveland shower remodeling contractor, call The Bath Doctor at 216-531-6085. Our business wholesales (and installs) a broad line of glass shower doors and prefabricated glass block showers and would be glad to help you.
We know you have a lot of choices in shower and bathroom products. We're committed to making your journey through the sea of selections simpler (and may even be able to help you find a reputable contractor through our dealer network as well).
Thanks for reading!
Mike
###
If you want more advice follow me on LinkedIn @MikeFoti.
And if you're a bathroom remodeling contractor interested in being a dealer of unique shower wall panels, shower pans and glass shower door systems, call 888-467-7488 and ask for Mike.
---
Mike Foti
President of Innovate Building Solutions a nationwide supplier and regional (Cleveland and Columbus) remodeling contractors. Some of our product lines include glass counters, floors, backsplashes, glass blocks and grout free shower and tub wall panels
---