How to Compare Shower Replacement Kits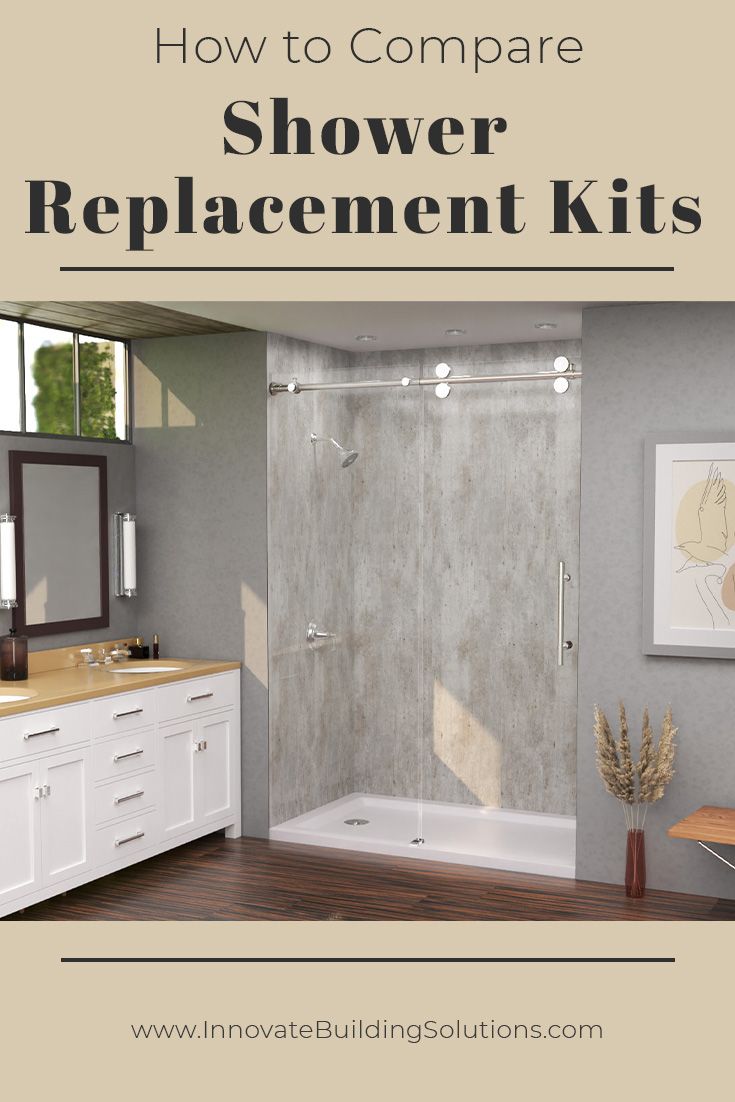 You never knew replacing your existing fiberglass or tile shower (or tub/shower combo) in your bathroom alcove could be so tough until you started researching your options.
You found shower replacement kit prices are all over the board.
You found it difficult to do a 'side by side' comparison of shower kits you thought looked interesting.
And you've found the time it'll take to get your new shower delivered to your home is so long – with supply chain issues being what they are.
Your question is how in the world can you compare shower replacement kits and make sure you're buying the right system for your bathroom?
Knowing how difficult this task is has prompted me to write this article.
Below you'll find 11 factors to help you 'sift through' the wide range of options and find what's best for you. So, without further delay let's check out the key factors to compare shower kits.
Factor #1 – What's your budget?
Comparing pricing amongst shower kits can be a 'slippery' process at best.
The first thing you must zero in on is 'what's included in the cost of the kit.' And if you're struggling with this question, read What's Included in an Alcove Shower Replacement Kit.' You'll find all 'shower kits' are NOT ONLY NOT (OK – sorry about the double-negative) created equal, but they all don't even include the same elements.
For example, some shower kits only include the shower glass and shower pan. This is OK IF you're doing a custom tile job on the inside walls.
Other shower kits only include shower wall panels and a shower pan. This works OK if you're planning to use shower curtains.
However, most people want a 'complete shower kit' (which includes the shower pan, the shower walls and glass shower doors).
And if you want to make an 'apples to apples' comparison, make sure you determine if the kits you're comparing include all 3 elements (base, wall panels and glass).
Assuming it does, you'll find a great deal of pricing difference if you're buying a low-cost shower kit (with thinner and shorter acrylic or fiberglass walls and glass doors, and bases which aren't as thick and durable) or a higher quality shower kit. For a low-priced kit they'll generally include 1/8" thick (or thin, depending on your perspective) acrylic or fiberglass wall panels, a ¼" thick framed (or semi-frameless) shower door and an acrylic or fiberglass base for around $1,800 to $2,200.
If you want a higher quality shower kit with 3/8" thick laminate wall panels, a solid surface (or reinforced acrylic) shower pan and a 3/8" thick heavy glass shower doors expect to pay $3,600 to $4,400.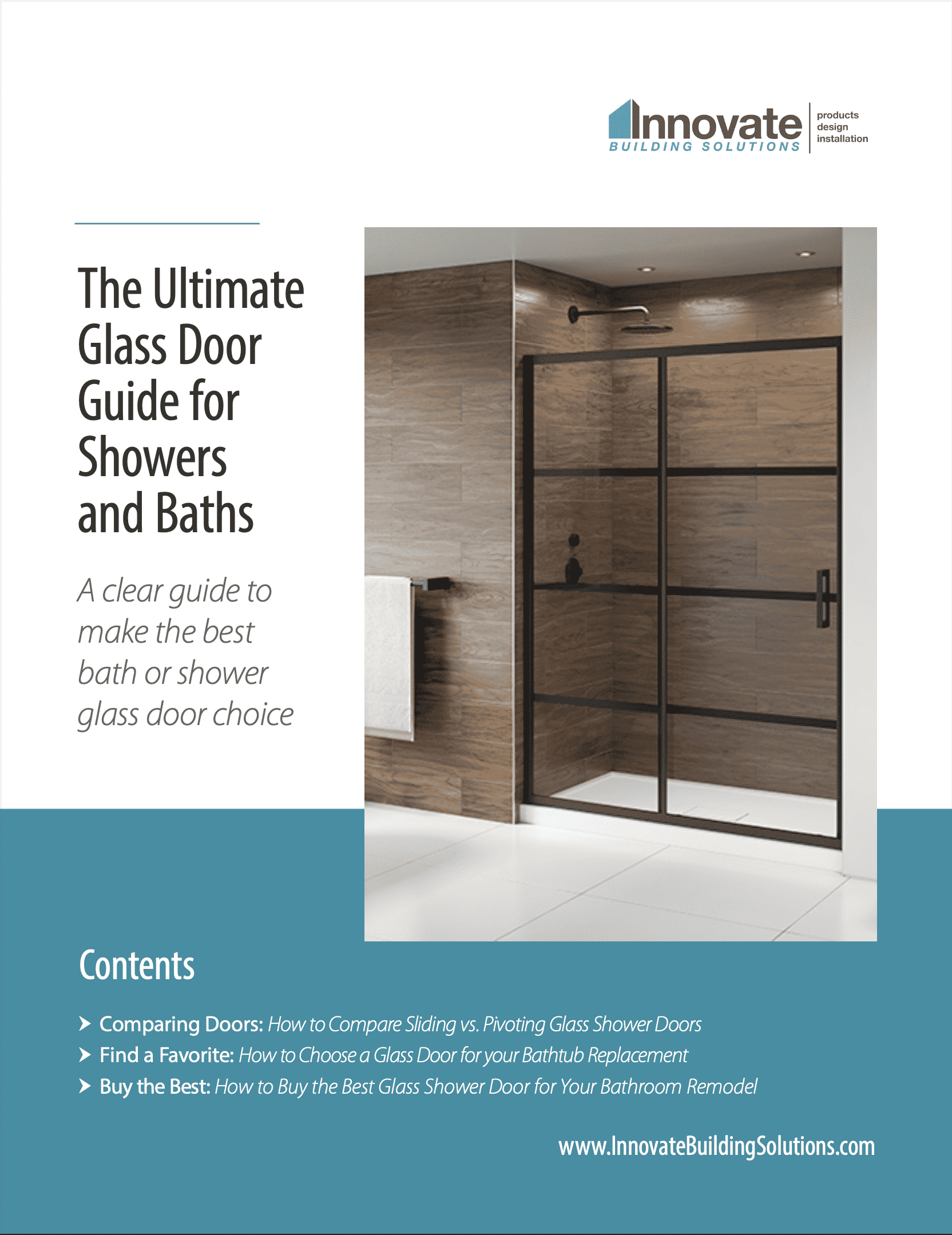 The Ultimate Glass Door Shower Guide
A clear guide to making the best bath or shower glass shower door choice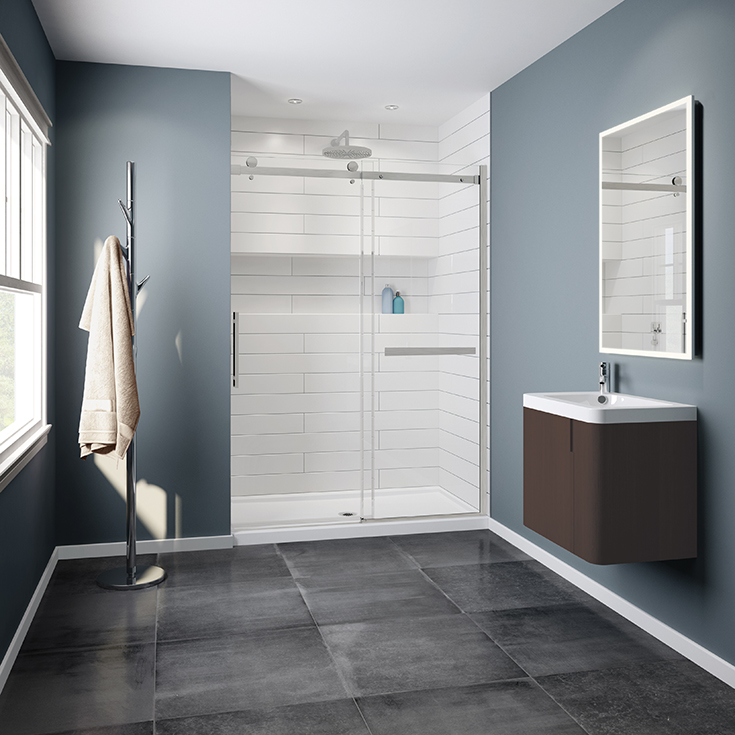 Factor #2 – Will you DIY your shower project?
If you're a DIY'er who HAS NOT done a complete shower kit installation before, a shower remodel can be an overwhelming project.
And while it can be nice to (theoretically) 'save' money with a cheap shower kit, it can be frustrating if the on-line retailer or home center you bought your 'low-priced shower kit' from doesn't have anyone to help you through the nitty-gritty of doing the job.
So, before you plunk money down on a shower replacement kit, ask if your supplier or manufacturer will give you the direct line number of a technical person to help you through the process. If not – you may want to go 'Gingerbread-man' on this supplier and 'run, run, as fast as you can and say, "You cannot sell me I'm the Smart-Shower-Kit-Buying-Man!"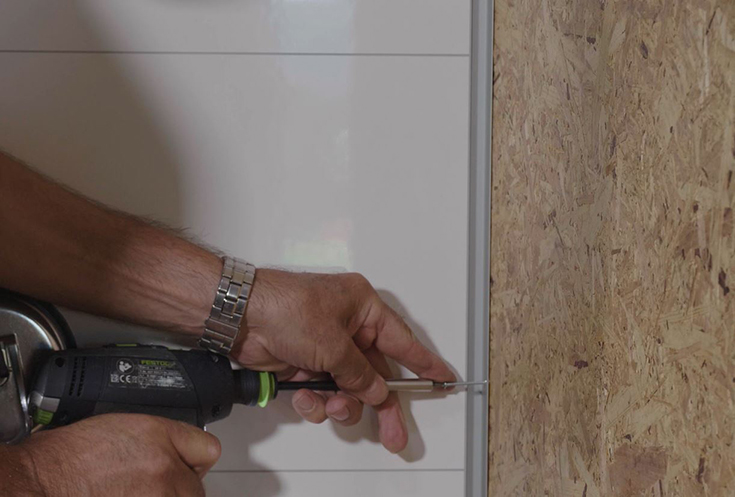 Factor #3 – How long will it take to get the kit?
I don't know about you, but supply chain problems have been a major challenge over the last year (ask anyone who's tried to buy an appliance lately). And as of this writing, supply issues don't appear to be completely in the rearview mirror either.
And while it may be nice to get a 'deal' on a shower system, it's not nice when you're down to one bathroom in the house and can barely get time to take a shower because your teenage daughter is hogging the space (and the shower kit you ordered is STILL on backlog).
Before buying a system, find out how long it'll take to get the product. And IF it does take a long time, ask if you're required to put all the money down RIGHT NOW for products which will take months to arrive.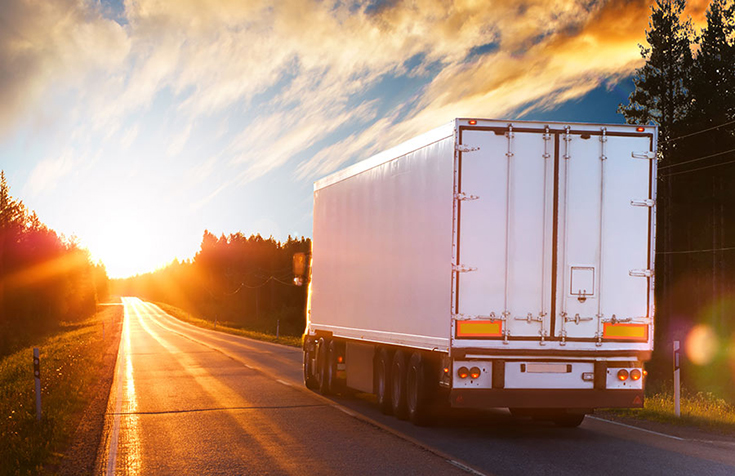 Factor #4 – Should you put your 'money where your feet are?'
You've heard the saying to put your money where your mouth is. However, I'll bet you haven't heard the saying you should put your money where your feet are (or at least when you're talking about your feet in a shower).
You see, a shower pan is the 'foundation' of your shower. If it cracks, you'll have an expensive repair on your hands and be forced to replace products (like your shower wall surrounds) above the pan as well.
And while it's not 'sexy' to spend a lot of money on a shower pan, if a thin flimsy fiberglass or acrylic pan cracks you'll be sorry you 'cheaped-out' on your base.
For this reason, give serious thought to sturdy solid surface shower pans. While your pan won't get as many oohs and aahs from your relatives and friends (unless you have one like this black marble low profile shower pan below), it'll be a smart 'insurance policy' to ensure against cracks.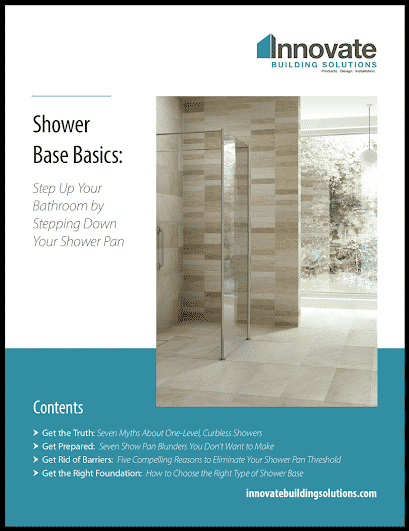 Get Our Ultimate Shower Base Guide!
Step Up Your Bathroom by Stepping Down Your Shower Pan!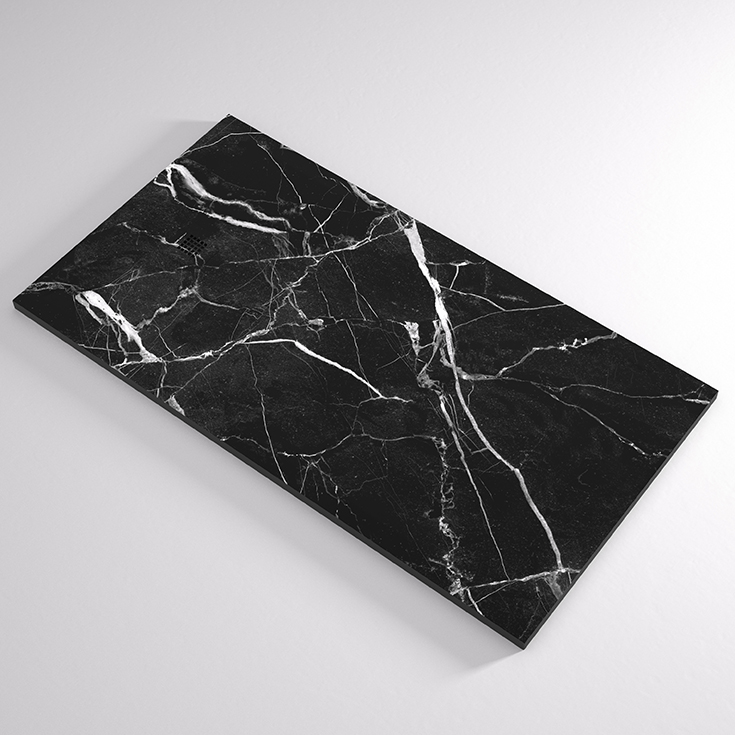 Factor #5 – Are you the one cleaning the shower door?
There are 3 problems many people are fighting with when cleaning their existing shower doors:
Problem #1 – A U-shaped track at the bottom of the sliding tub or shower door gathers dirt, hair, and other disgusting things I won't mention.
Problem #2 – Shiny chrome or bright brass doors (can you say 'out-of-date?') are spot magnets. If only you had a brushed finish which didn't show so many spots and aggravate your ADD when you have to look at the door every day.
Problem #3 – Cheap existing glass doors are spotted and cloudy and can't be cleaned no matter what crazy cleaning concoctions you try.
And if you don't want to 'fight' these 3 problems you need a smarter shower door this time around. Look for these 3 features to lick (OK – not literally) the problems listed above.
Feature #2 – Insist on a brushed finish vs. a shiny finish for shower door frames and hardware.
Feature #3 – Make sure you get glass surface protection applied on the glass at the factory to protect against cloudy or spotted glass.
Factor #6 – Will your shower kit add to – or take away- from your new bathroom décor
You're so excited about your bathroom remodel. You're finally getting rid of the tired (and moldy) tile shower walls or stained fiberglass one piece surround. You'll finally replace the rickety, behind-the-times vanity with the swirly cultured marble top the original home builder put in eons ago when mullets were in fashion.
You've found the perfect Modern Farmhouse shaker cabinets. You've found fun sinks and faucets. You've even purchased the perfect bath towels and one of those cool, trendy 'ladders' to set them on.
However, when you've researched shower replacement kits, you're seeing the same, boring white, plasticky shower stalls which look like they belong in a low-priced rental apartment. You're thinking, isn't there something better than this? And the good news is… there is!
Don't settle for white, plasticky and boring in your shower alcove. Look at products like 3/8" thick laminate shower wall panels (which come in 28 patterns) or patterned solid surface shower pans (with 6 color/texture options) or shower glass with thick modern handles. Don't settle for a boring, white, low-budget shower!
Stylish and shower kits should not be terms which are mutually exclusive.
Get Free Samples!
Click here to request free samples of our Laminated Waterproof Shower Wall Panels.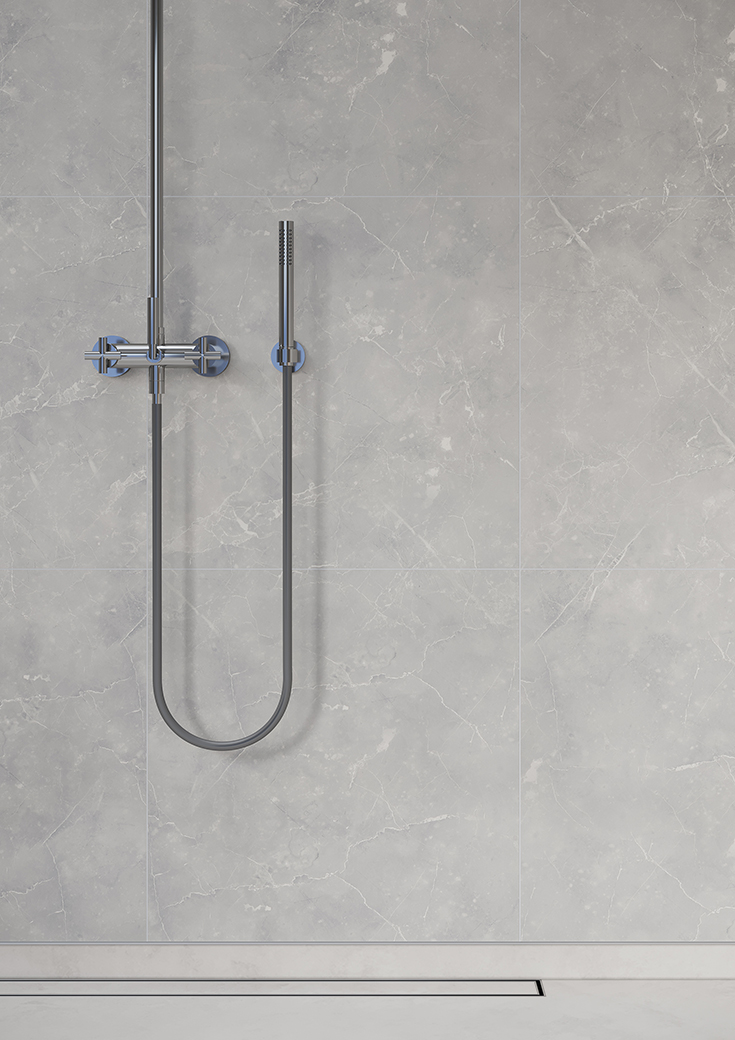 Factor #7 – Will the system live well as you age?
None of us likes to think about that evil dude – Father Time. However, no matter how hard we try (even with all the Botox, Pilates, and hair replacement – and hair coloring – and I resemble that remark – treatments in the world), that dude still catches up on us.
The mobility you had when you were the star on your football or volleyball team 'back in the day,' isn't quite the same today. OK, if you're being honest, you're not even in the same league!
Stepping over a shower curb – or getting into the tub – isn't as simple as it used to be.
And given this challenge, you need to make your new shower simpler to use. And a smart way to do this is insist on a low-profile shower pan. Not only do these pans look modern and stylish…BUT they also make your bathroom safer (whether you're designing it for yourself, mom, dad or even Mother-in-Law).
Modern low-profile pans are only 1 1/6" high. They're a cinch to enter AND look 'in-vogue' (if I was to go 'high-brow' on you) as well.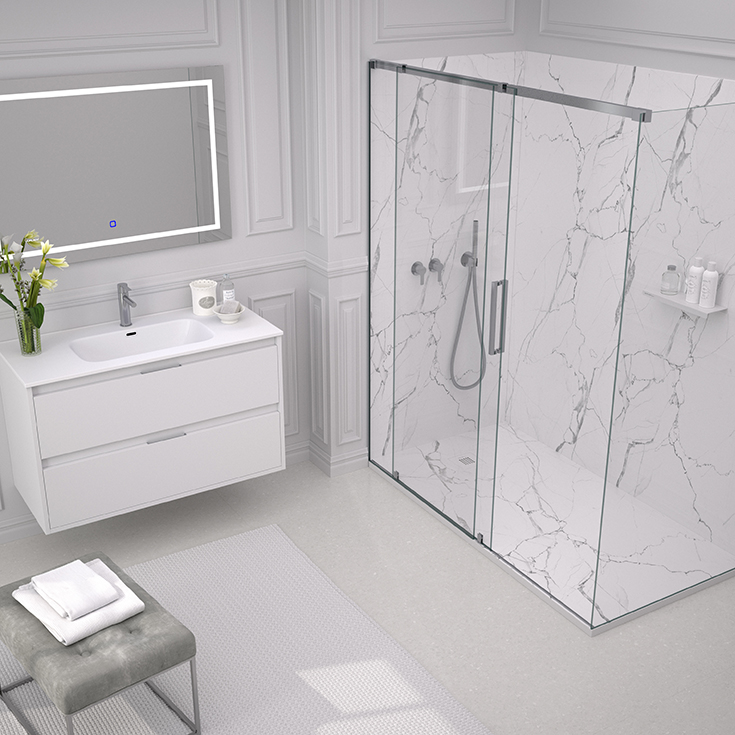 Factor #8 – Are you getting a 'complete' shower kit? Will you get 'nickled, dimed and 'dollared' as you 'attempt' to install the shower?
As discussed in factor #1 a complete shower kit should include three major components. They are:
#1) A shower pan
#2) Shower wall panels
#3) A glass shower door
However, a complete shower kit SHOULD NOT end there. You see many shower kits skimp (to make the price seem lower) on small elements you'll still need AFTER you buy the kit. And this is how you get 'nickled and dimed' (and 'dollared' if there was such a word) along the way. To prevent against this, make sure these 3 small items are included in your kit.
Small item #1) A shower drain and strainer cover. Bottom line is I've never seen a shower pan installed WITHOUT a drain! Never!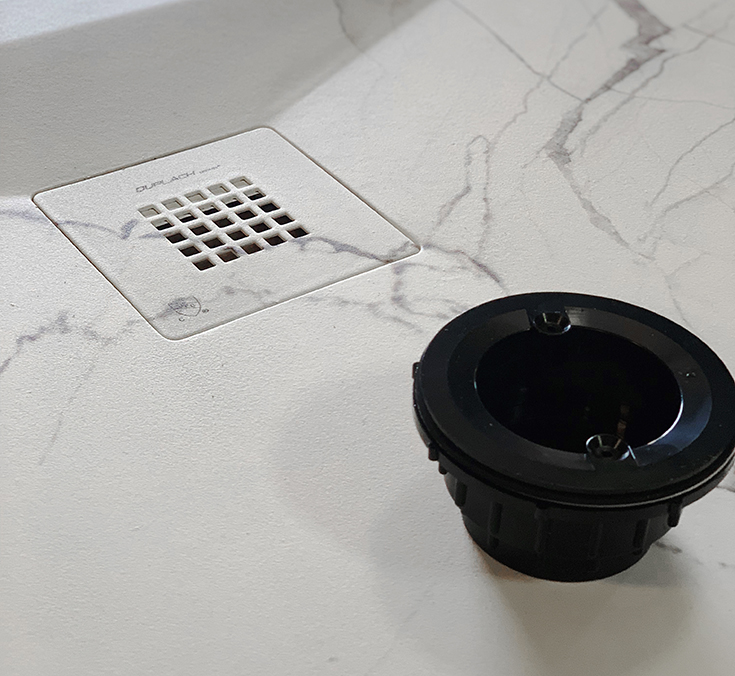 Small item #2) Sealants, trims, and fasteners for your wall panels. Wall panels won't get 'magically' applied to wall backer boards without sealants, trims and fasteners.
Small item #3) A 'security glass' shower door which won't explode on you! While tempered glass is good (and required for shower doors), security glass (which won't explode) WILL protect your 'assets' (hope I don't offend anyone) while showering in your 'birthday suit.'
Factor #9 – How long are you planning to stay in this home? What's the value of the neighborhood?
While we all want the best of everything, sometimes it's smart to be frugal. For example, if you live in a modest neighborhood and are only planning to stay for a couple of years, a lower priced shower kit may be good enough. Or if you're doing a 'fix and flip' on a home in a lower-rent neighborhood, cheaper shower kits can be a sound investment.
When determining if you want a cheaper or high-quality shower kit, consider the value of your home AND how long you're planning to stay.
Factor #10 – As Clara Peller might have asked, "Where's the beef….in this shower kit?"
For many of you, I know this commercial may be before 'your time.' However, an uber-popular commercial (before the word 'uber' even meant was it does today) in the mid-1980's was Wendy's "Where's the Beef" series starring American character actress, Clara Peller. This old lady was a crackup (see below to see what I mean). After all, who likes a hamburger, which is short on the burger, or a funny lady posing the question?
And just like you can't get a quality hamburger if it's thin on the beef, I'd contend you can't get a quality shower if it's 'thin' on its base, shower wall panels and glass shower doors.'
Better quality shower bases are thick, weighty, and durable.
Better quality shower wall panels are 3/8" thick – not wafer thin and flapping all around when you install them.
Get Free Samples!
Click here to request free samples of our Laminated Waterproof Shower Wall Panels.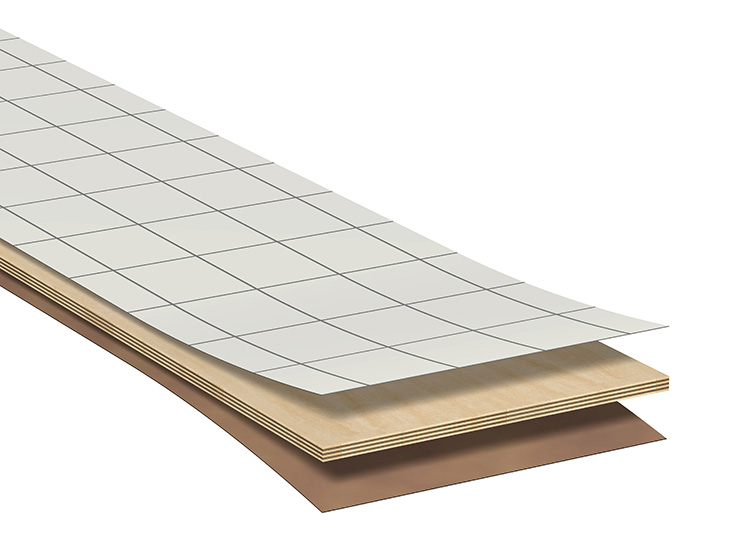 Better quality shower glass is heavy and 3/8" thick. When you operate these doors, it's like what you experience in a luxury hotel suite.
Before you plunk down your 'dough' (yes, that bad hamburger bun pun was intended…sorry!), make sure you 'get the beef' – as in a beefier shower system.
Factor #11 – What's the quality of the customer service and warranties which come with this kit?
It's easy to remember times you've experienced customer service which made you want to scream. When you needed help NOW you were put on hold for 45 minutes. Then you had the 'privilege' (sarcasm intended) hearing 'how their menus had changed' and 'how important your phone call was to them!' What a bunch of crap!
You get mad at yourself because you didn't realize this service was going to be so bad UNTIL AFTER you became a customer!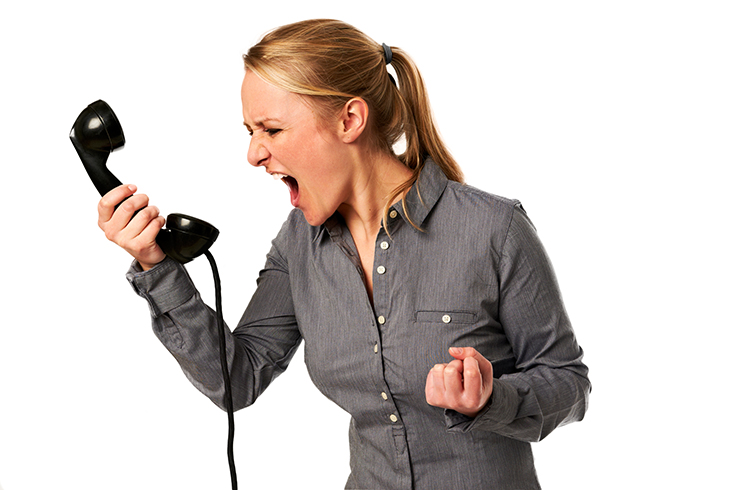 To make sure you don't get victimized with bad service after buying a shower replacement kit, read on-line reviews of the companies you're considering. No matter what company you'll buy from things can – and do – occasionally go wrong. The question becomes, how does your potential supplier handle challenges? How will they treat you when your phone call isn't a pleasant one and the crap is hitting the fan?
In addition to investigating the customer service experience (or lack thereof), dig into product warranties. How many 'loopholes' are built into the warranty which allow the supplier 'wiggle out' of helping you? As a matter of fact, some on-line retailers (who often to sell to DIY'ers) even void the warranty if the materials are installed by a DIY'er. Imagine that, you sell to DIY'ers and then tell them to 'hit the bricks' when the proverbial (you know what) hits the fan!
So, do you now know how to compare shower replacement kits?
I recognize buying a shower kit IS NOT an everyday event (unless you're a bathroom remodeler). And I also know there's a big cost (literally) to buying the wrong product from the wrong supplier or manufacturer.
My goal in this article WAS NOT to tell you what the best system is for you. The goal of this article is to guide you with 11 factors to help it become crystal clear (kind of like a shower door with glass surface protection) what system will make the most sense for you.
And while I hope I've helped you do this; I also recognize you may have specific questions about your shower and need answers to determine the perfect shower kit for you.
And towards this end, I'd love for you to reach out to me and my team for assistance (whether this is with bathroom design, pricing your shower kit, or simply to get more educational resources to make an informed decision).
Call 877-668-5888 or click for a Free Design Consultation. Our company (Innovate Building Solutions) wholesales high quality shower kits nationwide and would be happy to answer any of your questions.
And if you're looking for a nicer shower kit installed in your Cleveland Ohio home, call The Bath Doctor at 216-531-6085. If you're outside Cleveland Ohio (which is undoubtedly most of you) ask for a referral to one of our installing dealers).
Thanks for reading,
Mike
###
If you want more advice (with less wacky humor because you'll see the 'buttoned-up' business version of me) follow me on LinkedIn @MikeFoti.
And if you're a bathroom remodeling contractor interested in being a dealer of unique shower wall panels, shower pans and glass shower door systems and purchasing quality shower kits, call 888-467-7488 and ask for Mike.
---
Mike Foti
President of Innovate Building Solutions a nationwide supplier and regional (Cleveland and Columbus) remodeling contractors. Some of our product lines include glass counters, floors, backsplashes, glass blocks and grout free shower and tub wall panels
---