How to Compare Sliding vs. Pivoting Glass Shower Doors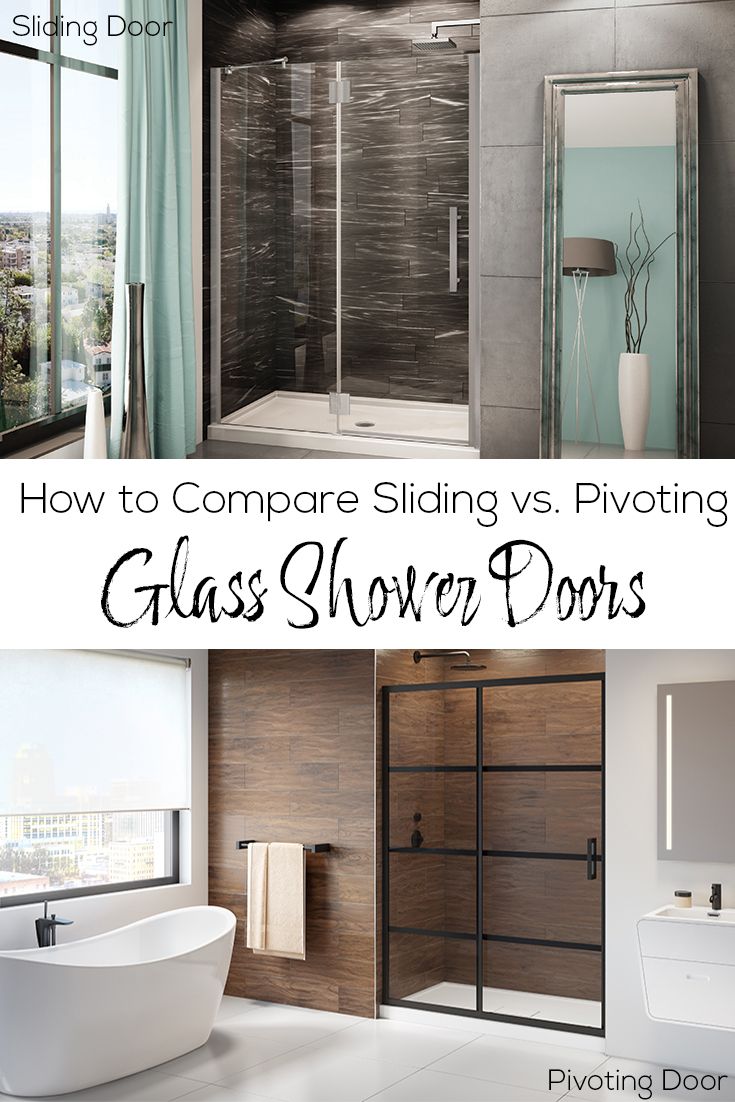 If you have to go into Bed, Bath and Beyond ONE MORE TIME to buy ANOTHER shower curtain for your kid's hall bathroom you're going to scream!
And you're certainly NOT LOOKING FORWARD TO cleaning (AGAIN) the dirt and hair out of the shower door track in your master bathroom either.
You're desperately trying to find the best solution to keep water inside your shower, add style to your bathrooms and NOT break the bank. This has led you to start researching sliding glass shower doors and pivoting doors for your upcoming remodel.
You've found benefits you can love about either choice:
Sliding and pivoting doors add light into the shower vs. using shower curtains. This light makes your shower or tub safer.
You can get both in obscure and clear glass.
You can get Microtek glass surface protection to prevent against scum buildup.
They'll both save trips to Bed, Bath and Beyond buying ANOTHER new shower curtain which looks as brown at the bottom as the dirt outside.
You can get 'cool curved glass' showers with either type of glass door system (and here's one sliding curved shower glass example to prove it).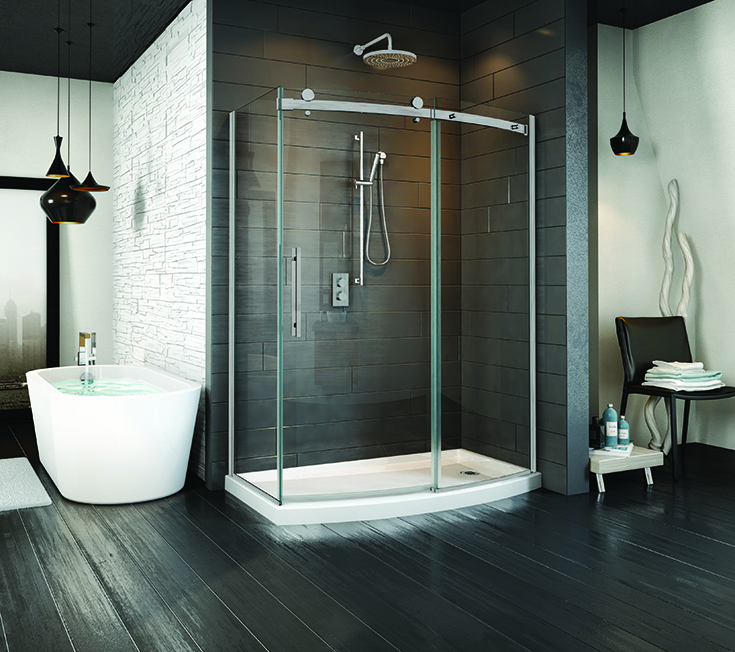 And while it's nice to know what's to like about both sliding and pivoting glass shower doors, you're trying to figure out their advantages and disadvantages, so you'll choose the best one for your master shower or kids hall bathtub/shower combo.
In this article my goal is to give you the straight scoop so you can figure out which is right for you.
I'll first look at the advantages of sliding glass shower doors vs. pivoting doors. Then I'll turn our attention to the advantages of pivoting glass shower doors vs. ones which slide. So, let's dig in.
Advantages of sliding glass shower doors vs. pivot doors
Advantage #1 – Sliding doors save money vs. a pivot door
If money isn't a factor (since you recently got the big fat inheritance check from Uncle Louie untimely passing…as if there ever was a 'timely passing'), then don't worry about this advantage. However, for the rest of us, cost (and budget) is an issue. For a comparable sized door, sliding glass door will cost less than a pivoting door. And that's a good thing with the challenge of skyrocketing building material costs these days.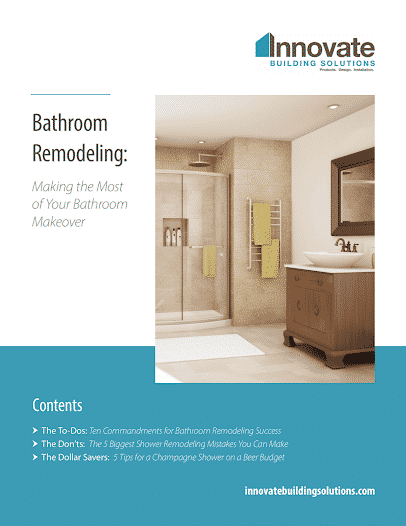 Bathroom Remodeling Ultimate Guide
Making the Most of Your Bathroom Makeover!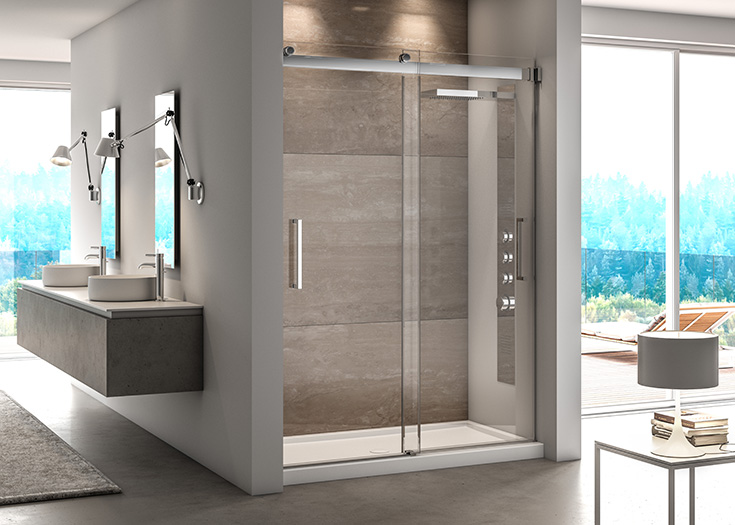 Advantage #2 – You won't get water on the floor
Water on the floor is a major disadvantage of pivoting doors since they open onto your bathroom floor, leaving water on your tile, wood (or dare I say it – carpeted) floors. And this water if it's not wiped up (and if you have teenage boys, do, they EVER wipe up the water?) will seep through the tile grout joints and create stains in the ceiling below (OK – I've been there and seen that when my boys were teenagers!).
With sliding glass doors, the water stays inside the shower pan – where it belongs.   You won't need to clean water off the floor… or hope and pray your kids wipe down after themselves (fat chance!).
Advantage #3 – With a sliding 'bypass' door you get 2 operable doors
If your shower head is located behind your toilet (and you have to enter through a pivoting glass shower door which is next to the toilet), you know what a pain it is to walk into the shower AND get blasted with cold water while getting the shower warmed up.
Well with bypass sliding glass shower doors you have 2 doors which move side to side. All you need to do if the shower valve is behind the toilet is slide the door where the shower head is, extend your arm, turn on the warm water and ELIMINATE getting blasted by cold water!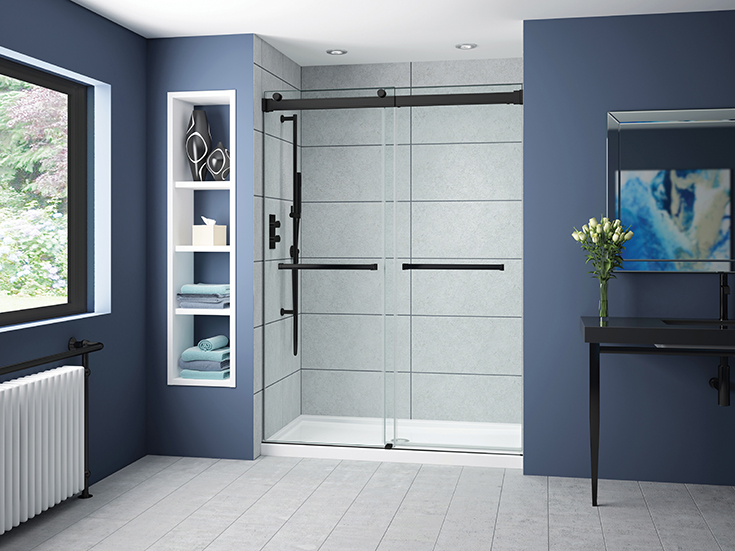 You can stop your 'good morning' (sarcasm intended) 'cold water shock therapy' from happening ever again. You'll be able to turn the water on without stepping into the shower.
Advantage #4 – There's no 'gap' at the edge of the sliding doors for water to escape
Since pivoting doors have hinges, or clips at the sides, there can be a small gap between the glass and your inside shower walls which allows water to escape.
With sliding doors, the fit at the sides is tight.
Advantage #5 – Sliding glass shower doors don't swing out and bang into your spouse, your toilet or inswing bathroom door
If you're frustrated how your small bathroom lives today because you're always banging into your shower door you're not alone. However, no matter what size your bathroom is, there's something you can do about it.
For your glass shower doors see if a sliding or bypass glass shower door will work. You'll eliminate the inswing… and banged elbows… and nicked doors.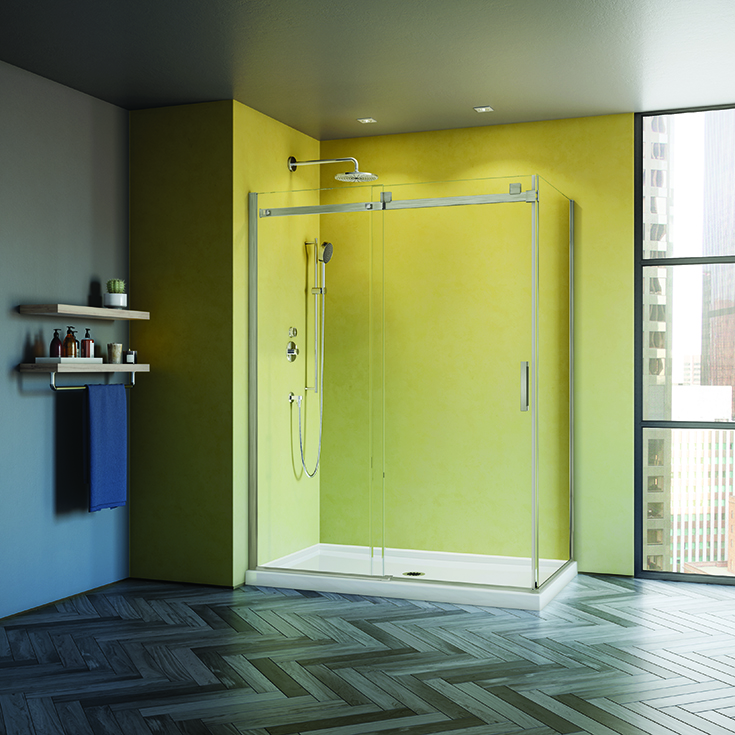 Advantages of pivot glass shower doors vs. sliding doors
Advantage #1 – Pivot shower doors NEVER have tracks at the bottom
The biggest negative (especially with cheap framed sliding glass doors) is the track the doors slide in. This metal track is a magnet for dirt, scum, and general grossness somebody (and that somebody is too often you) has to clean.
With pivoting doors (like you'll see below) which open out there's ZERO (that would be nada, niente, zilch) metal doors track to rust or fill with general yuckiness.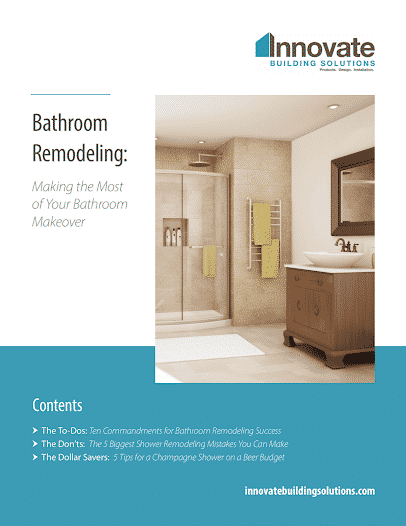 Bathroom Remodeling Ultimate Guide
Making the Most of Your Bathroom Makeover!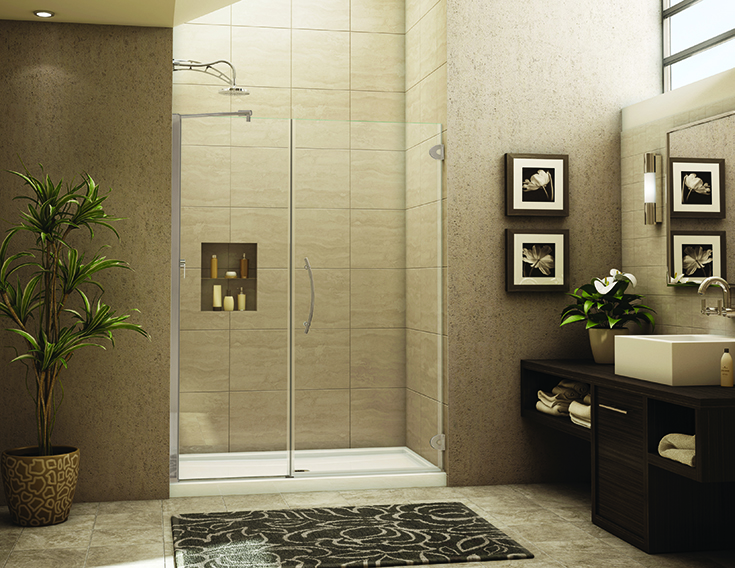 Now in fairness to sliding glass doors– when you buy a nicer frameless sliding glass door you can get rid of this track (which I'd highly recommend if sliding is the best option for you). Here's an example of a frameless glass sliding door with none of those evil bottom tracks.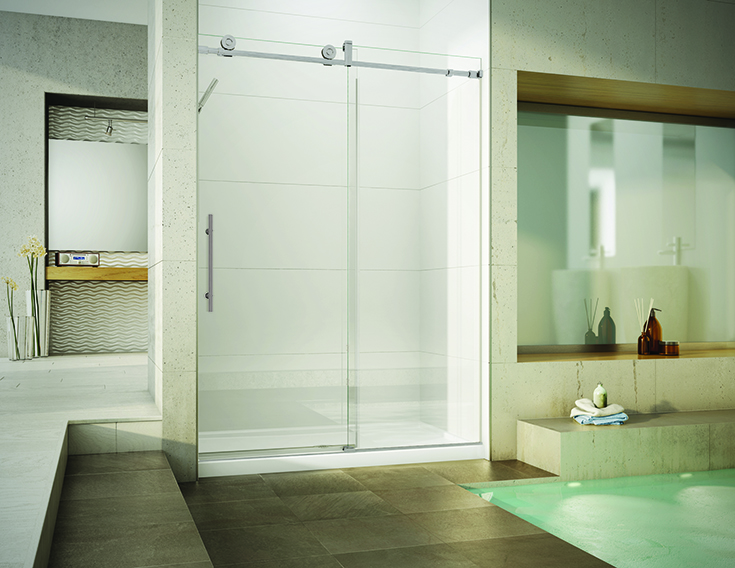 Advantage #2 – Pivoting doors allow larger openings
One disadvantage of sliding doors is one door needs to 'overlap' the other. This makes the shower opening smaller. With a hinged glass shower door, there's no overlap between doors. You get a larger opening to walk in or roll in.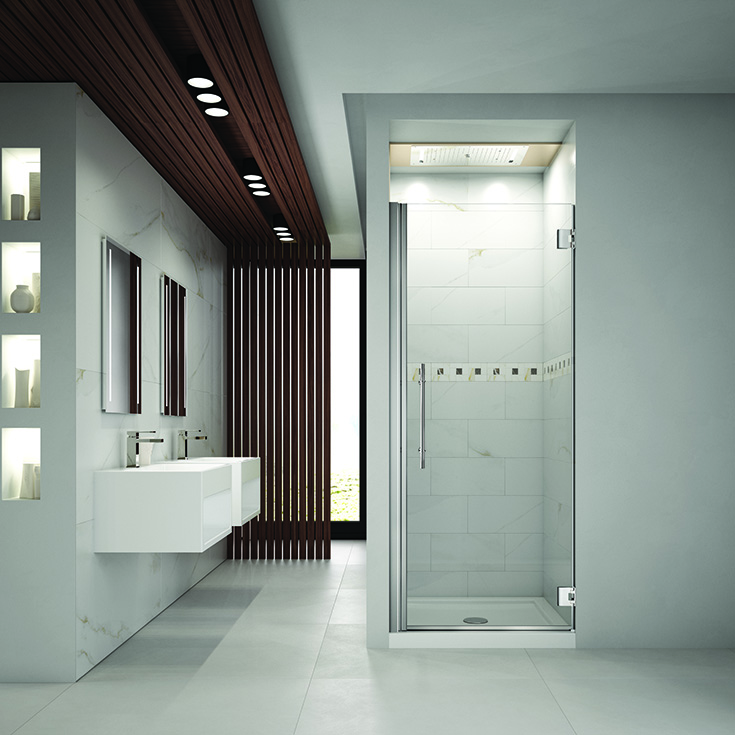 This feature is critical for those building an age in place bathroom or for a family member using a wheelchair or walker to enter.  
Advantage #3 – Pivoting doors are designed to work in smaller corner spaces
If your bathroom is smaller than you'd like, raise your hand. I'll bet there's waaaay more than one hand up right now!
Sometimes your stuck with a tiny bathroom and need to do everything to save a few inches.
In these instances, pivoting glass doors can be your saving grace. The popular NEO angle pivoting glass shower door is smart when space is at a minimum.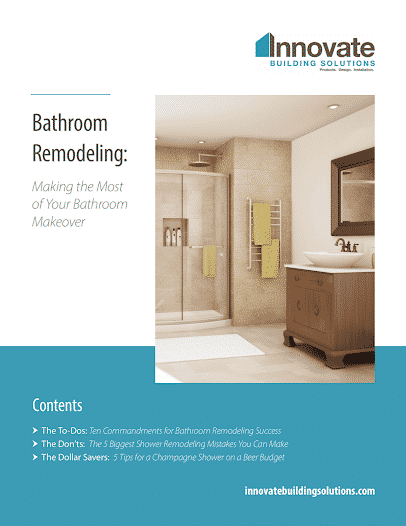 Bathroom Remodeling Ultimate Guide
Making the Most of Your Bathroom Makeover!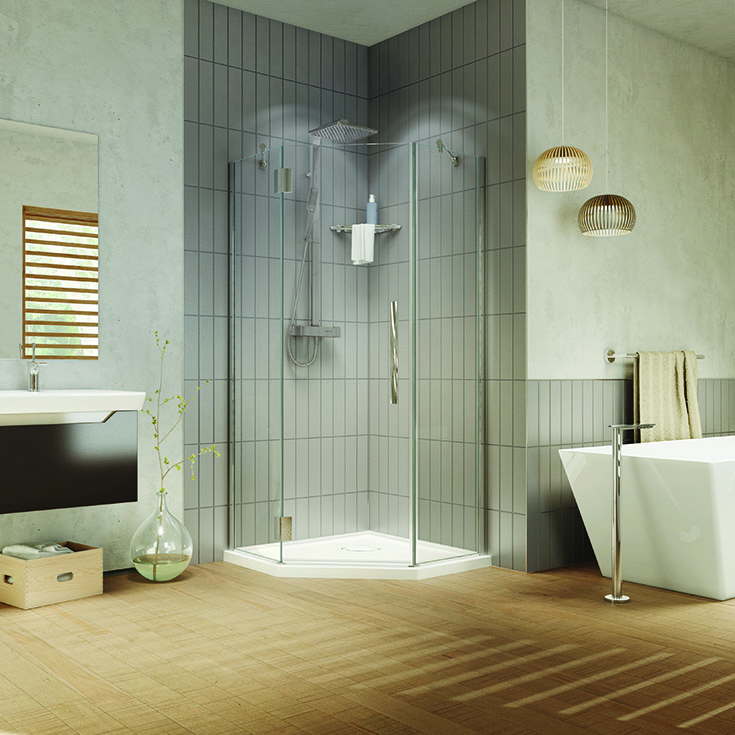 Advantage #4 – Pivoting doors don't get 'stuck' in their tracks or require as much maintenance
The rollers on sliding glass door can get misaligned in the tracks. Sliding glass doors can become harder to use if the rollers get bent or broken. You won't deal with these problems with pivoting glass doors (although you can – on occasion hear the creak of the hinges which may need lubrication).
Advantage #5 – Pivoting doors are easier to clean
Since pivoting doors never have an evil track at the bottom, there's simple to clean. Now, to be fair, if you upgrade to a nicer frameless sliding glass door, you'll also get a simple to clean shower door because they also don't have tracks (but whatever you do, avoid the framed glass sliding glass doors with tracks like the plague – or Coronavirus).
So, which glass door system best for you? Can my team help you decide?
OK, you've read the 5 advantages of sliding glass doors and 5 advantages of pivoting glass doors. Is it now easier to decide which is right for you? If you're still struggling, I get it. There's a lot more decisions you have than just the glass for your bathroom remodel. You'll also need to find the right shower pan for the glass and the best wall surround system. And this is where me and my team (yes – this is the shameless plug) would love to help.
Click for a Free Design Consultation or call 877-668-5888 for assistance and nationwide supply. And if you're looking for a professional shower remodeler in Cleveland Ohio, call our Bath Doctor division at 216-658-1270. Our team is not only knowledgeable about shower glass, but also about shower pans and shower wall surrounds as well.
We know you have a lot of choices in shower and bathroom products. We're committed to making your journey through the sea of selections simpler (and in some cases we can even help you find a contractor through our dealer network). Thanks for reading.
Mike
###
If you want more advice (with a less wacky humor because you'll see the 'buttoned-up' business version of me) follow me on LinkedIn @MikeFoti.
And if you're a bathroom remodeling contractor interested in being a dealer of unique shower wall panels, shower pans and glass systems, call 888-467-7488 and ask for Mike.
---
Mike Foti
President of Innovate Building Solutions a nationwide supplier and regional (Cleveland and Columbus) remodeling contractors. Some of our product lines include glass counters, floors, backsplashes, glass blocks and grout free shower and tub wall panels
---