How to Buy the Best Glass Shower Door for Your Bathroom Remodel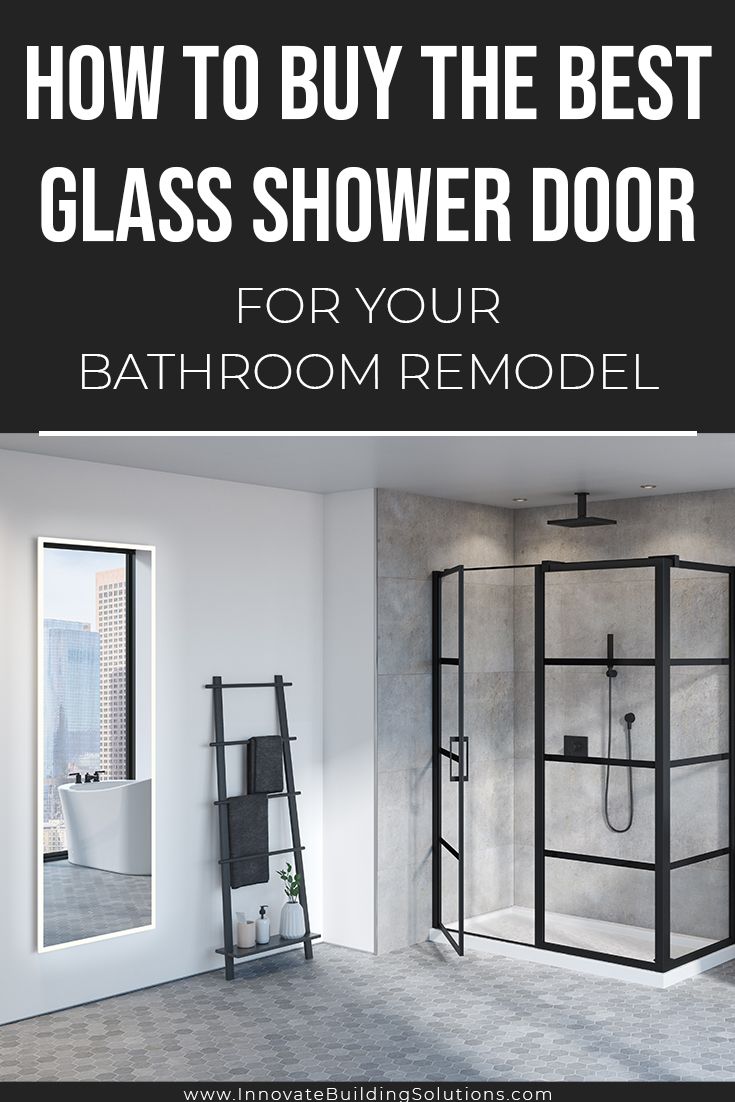 The options are overwhelming.
Should you choose a pivoting shower door with a matte black finish?
Would a 3/8" thick sliding (or bypass) glass door work better in your small bathroom?
Or maybe you should go with a walk-in glass shower with no door. It would be so simple to get in.
No matter what you choose you know one thing for certain….
You've had it 'up to here' (as Mom used to say) with your cheap 1/8" thin builders-grade framed shower door in your home today.
Your door 'wobbles to and fro.'
The polished brass finish is pitted, worn and soooo out of style.
Soap scum is a pain to clean off the glass.
And if the quality of the door wasn't bad enough, cleaning the track at the bottom makes you want to SCREAM!!!
You've taken a 'solemn oath' (or something like that) to stop being 'victimized' by another cheap glass shower door. For your next remodel or new home, you're not going to settle for a crappy door.
However, you're not sure where to start to buy the best glass shower door. And if this is your dilemma you've landed on the right article (or at least I hope you'll say this after you're done reading).
I'm going to provide 9 critical questions to guide you to the best glass shower door choice for your new home or remodel. Let's dig in.
Question #1 – How can I determine if a more cost-effective standard-sized glass shower door system will work for my project?
A big driver on whether you can buy a 'standard glass shower door' (which saves money) or if you need a custom size is driven by the dimensions of the shower base.
And if you're working with an existing shower you'll want to measure these dimensions AFTER the tile or grout free wall panels have been installed.
However, if you're still in the rough framing stage (and the finished walls aren't yet up), but you still want to purchase the shower door, do the following:
Take measurement #1 – measure your wood-to-wood rough opening.
Estimate measurement #2 – add the estimated thickness of your backer board + the thickness of your tile or grout free wall panels on both sides. (measurement #2)
Get your calculator out and…. subtract measurement #2 from measurement #1 to get the estimated size available for your glass shower door(s).
Now, let's look at an example. Say you have a 'standard' 60" wide alcove shower. The size of standard finished glass is likely to be 56" to 60" wide. So, if you get what you think you have is a 'weird' finished size of 57" – the good news is you can still buy a 'standard 60" glass shower door' because they'll fit in openings from 56" to 60" wide.
Also make sure to measure the bottom, middle and top of the opening, since your opening may not be plumb and square.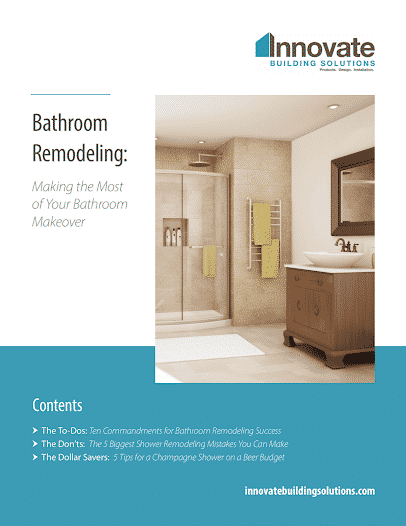 Bathroom Remodeling Ultimate Guide
Making the Most of Your Bathroom Makeover!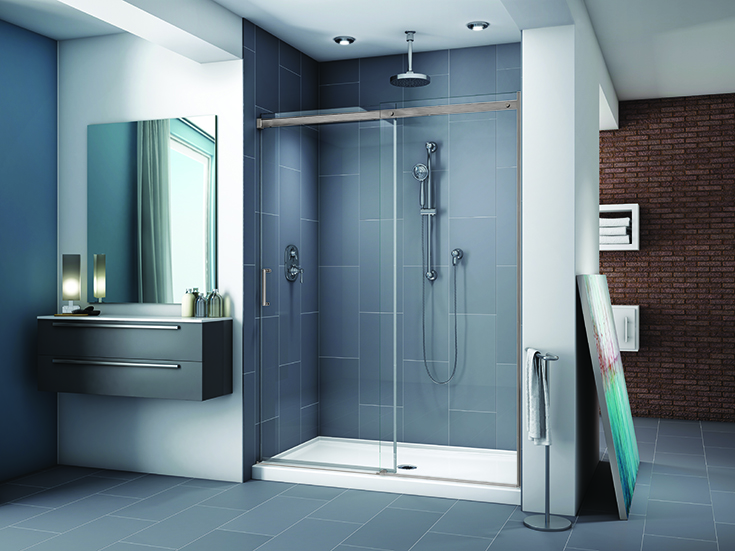 Question #2 – Do you need a corner shower?  If so, what are your options?
If you have limited space for your shower, a corner glass shower is a popular option. To figure out what size shower you can fit into your small bathroom, measure the distance available from the corners BEFORE you'll be too close to a toilet, vanity, window, or other obstruction.
And if you're looking to save money and NOT need to buy a custom shower pan or glass system, then you'll want to find a standard base and glass shower door kit which works in your available space.
One popular option is NEO angle showers. Standard sizes include 36" x 36", 38" x 38" and 42" x 42". These styles have a pivoting (outswing) glass door in the center with equal-sized glass panels on the sides.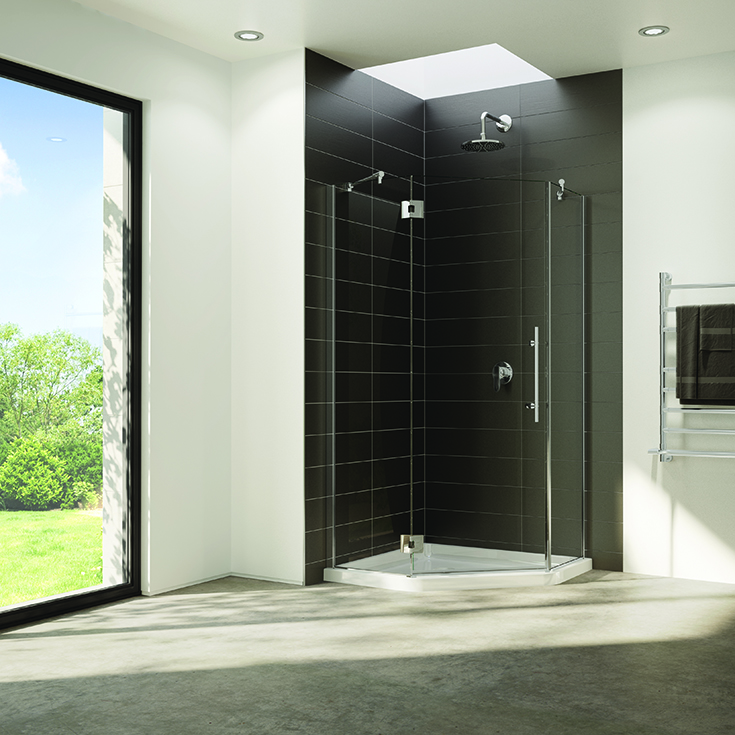 If your available side wall measurements aren't the same, consider a round sliding corner glass shower in 42" x 36" size like you'll see below.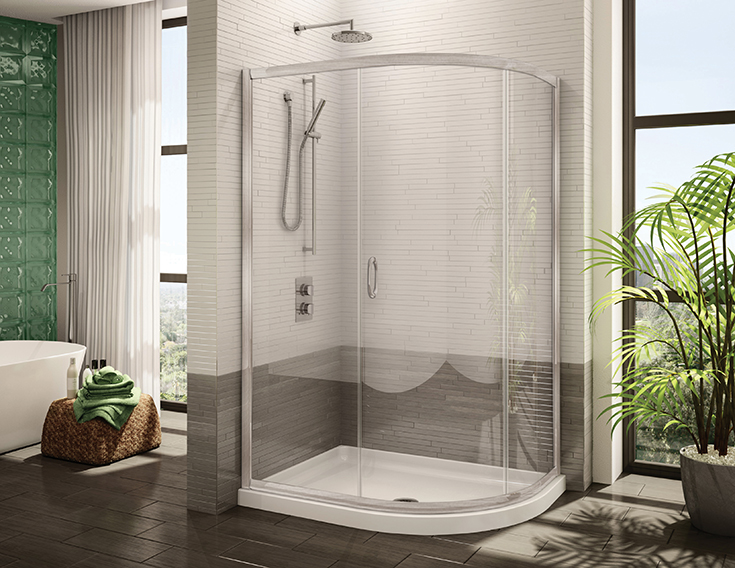 Whatever you do, see if a standard sized corner shower will work. It'll save a few bucks -and if your remodels like most, you're going to need them!
Question #3 – What are the different types of glass doors and where should they be used?  
It's impossible to know which glass shower door is best for you if you're uncertain what the different types are – and where's it's best to use each. Below I'll present a quick 'Shower Door Type 101' lesson to give you the basics.
Sliding (or by-pass) glass shower door – A sliding glass door moves from side to side (wow, that's logical). It'll either have one door which slides (called – believe it or not – a sliding glass door) or 2 doors which slide again each other (this option is called a bypass door). Here's where it's best to use a sliding door ….
You want a full glass enclosure AND you don't want the door opening into the bathroom.
Where bathroom floor space is tight.
Where part of the glass is behind a toilet, but you still want access to reach in to turn on the water, so you don't freeze your butt when entering the shower. In this case a bypass door is perfect.
When you don't want water dripping on your bathroom floor.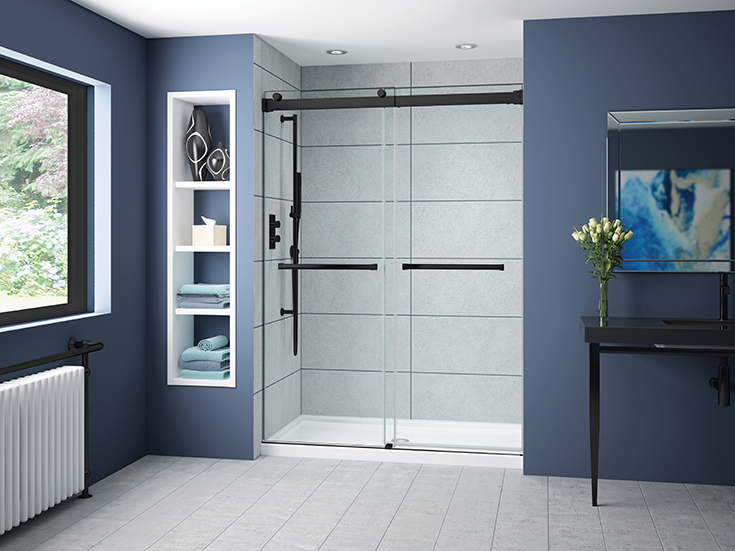 Pivoting glass shower door – A pivoting door opens into the bathroom, opens into the shower – or both. Pivoting doors are used in the following situations:
In smaller total width openings (where you only have room for a single door – see below)
For a larger opening. Since these doors don't slide in front of one another (like a sliding glass door), you can use a wider pivoting door for someone with limited mobility.
For corner showers (like NEO angle showers) where there's no room for one door to slide behind another.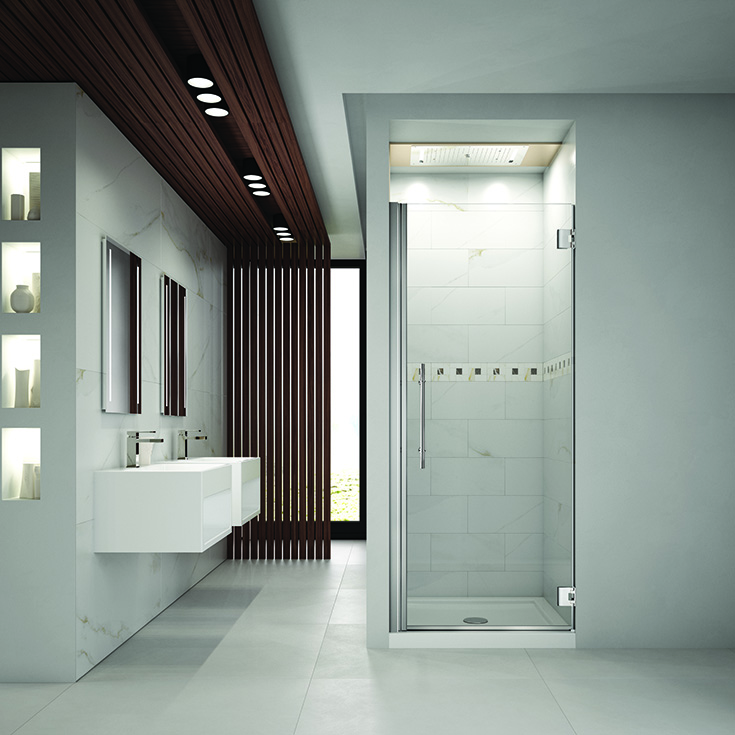 Walk in glass shower – With a walk-in shower you can either use fixed pieces of glass anchored into your walls and/or a partially pivoting door. This partially pivoting door can make the opening larger and help direct water back towards the drain. Walk in glass showers make sense when….
You need a much larger opening. For example, when you're creating an accessible shower for a wheelchair.
You like a clean, contemporary look.
You want to eliminate door tracks under an operable door.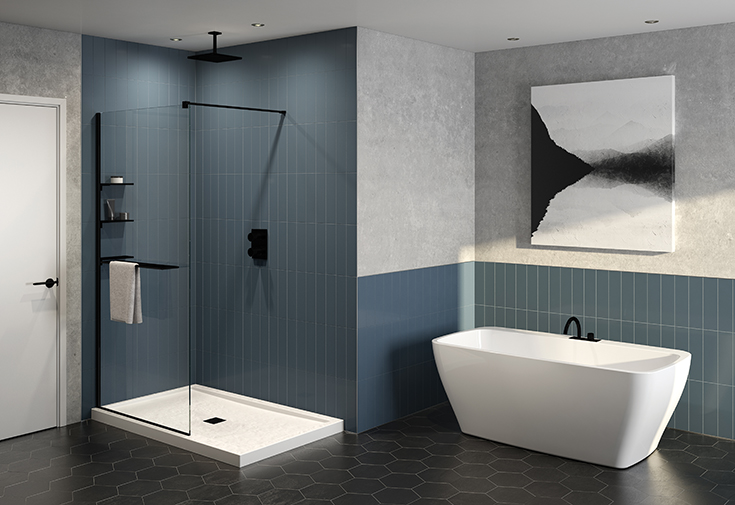 Question #4 – Do you need a shower which will let you 'age in place?'
First off – I'll give you my opinion (whether you like it or not) about the term 'aging in place.' I'll tell you I HATE THE TERM. Ok – maybe this is because I'm a very young (at least as far as maturity goes) guy who is now 61. Ouch! And the idea of 'aging in place' (like a rock) has ZERO appeal to me. I want to keep moving.
However, the idea of making your home work for you for a long time (and not needing to move into an 'old folks' home' as my parents used to say) is smart and something I – as well as many others, want to do. So, what does this have to do with glass shower doors?
Well, you need to buy the best glass shower door which works for your family now and into the future. And for some family members the future might come with less mobility than today (sorry to be Danny Downer).
It's for this reason you'll want to be thoughtful in choosing your glass shower doors.
If you're buying a glass shower you may want to convert to a walk in or roll in down the road the one ABSOLUTE KEY is to make sure there is no frame at the bottom of the door. A framed shower door system won't allow a wheelchair to roll in. Besides framed doors are UGLY and EVIL (Ok – I'm being a bit dramatic here!).
Another option is to use a partially (or fully) pivoting walk-in shower screen. You see with pivoting and walk in shower glass (also called a shower screen), you can have a larger opening than with a sliding shower door (in the same space).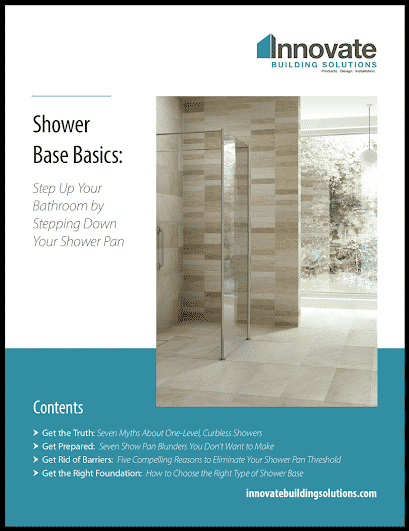 Get Our Ultimate Shower Base Guide!
Step Up Your Bathroom by Stepping Down Your Shower Pan!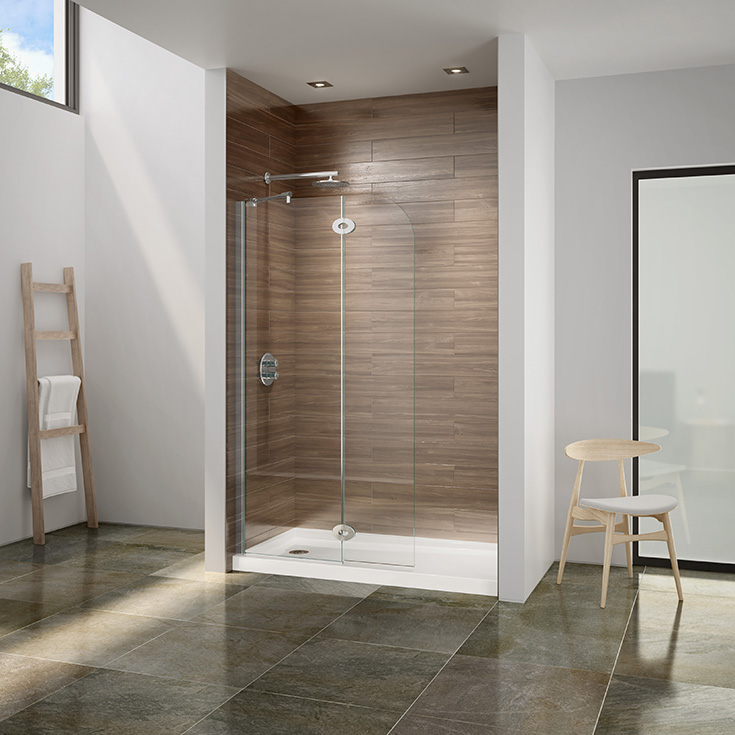 Question #5 – How tall a glass shower door do you have room for?
Some showers have soffits which reduce their height.
Other showers have slanted ceilings and one side is lower than the other.
Since the heights of standard glass shower doors can range from 72" to 86" high, you'll want to know your 'maximum available door height' before buying anything. You can figure this out by measuring the distance between the top of the shower curb and your finished ceiling to see if your favorite door will fit.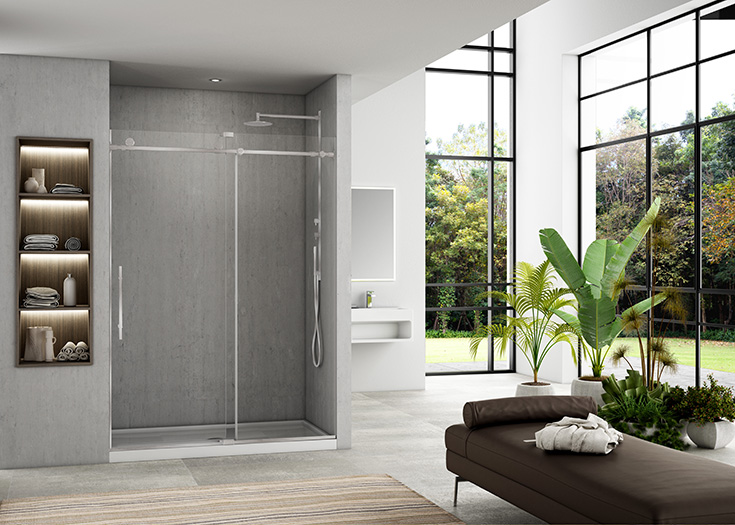 Question #6 – Are you looking for a top of the line, mid-grade, or budget glass shower doors?
For most of us who aren't enjoying the privilege of a Bill Gates or Kim Kardashian bank account, MONEY …. unfortunately….IS A FACTOR! And bathroom remodeling projects seldom cost less than you thought going into them (am I Nostradamus or what?).
So – when you're planning your bath remodel, you'll want to get clear (OK – that bad glass shower pun was intended) how much door you can afford.
If you're remodeling a lower-priced home you're not going to live in long, a budget glass shower system will be best. For these units, the glass will be thinner (generally 1/8" or 3/16" thick). The framing will be more visible (using either framed or semi-framed glass enclosures). The hardware will be cheaper. The doors will be shorter.
If you're wanting a 'mid-priced' unit, you'll use ¼" or 5/16" thick doors. They'll be semi-frameless (meaning the door won't have a frame) or fully frameless. The hardware will be ramped up from the budget doors. The doors will be taller.
If you're wanting a luxury glass shower door the glass will be 3/8" or ½" thick. These systems will be frameless with thicker, bulky, and highly engineered hardware.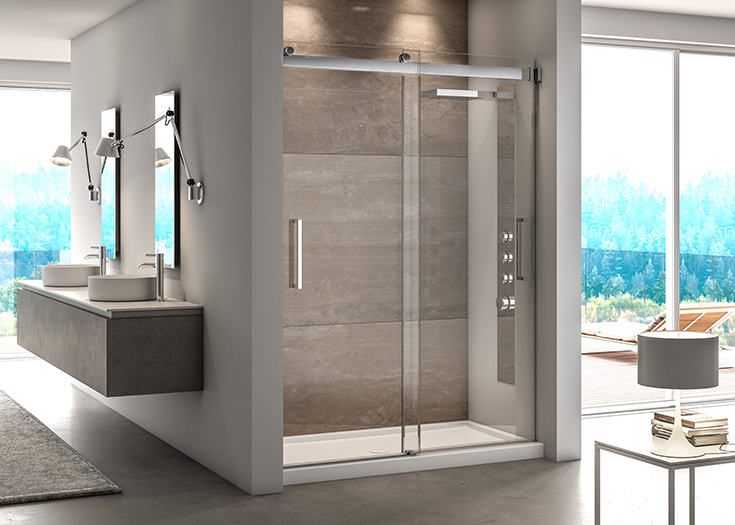 Question #7 – What hardware finish would you like?  
Whether you're choosing a completely framed shower door (an option I'm not a fan of unless you're flipping the property and you personally aren't stuck on the 'bad end' of the scrub brush cleaning the door tracks!), a semi-frameless shower, or a completely frameless shower, hardware is a 'fashion accessory' you'll want to take advantage of.
This hardware can be hinges for a pivoting door, or a handle, towel bar or top track in a sliding or barn door style shower door.
You not only want to make sure you have good quality hardware with a solid warranty (I'd look for 10 years + warranty). You also don't want a door which leaves you with a 'pit' (bad shower analogy there) in your stomach when the door becomes stained (or worse yet, rusted) down the road. You do want hardware which adds to the architectural style of your new bathroom.
Popular hardware choices today include chrome, brushed chrome, nickel, brushed nickel, antique brass, and the hot-new selling matte black. The right hardware can make your glass shower doors the focal point of the room.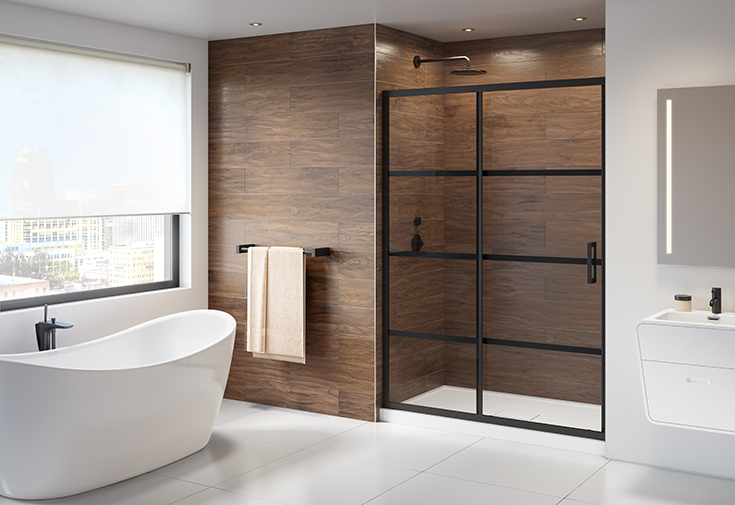 Question #8 – What ideas will prevent your glass shower doors from being a P.I.A.  to clean (OK – since this is a 'family-friendly' blog, I can't tell you what P.I.A. means)?
Hard water (and soap scum) are HUGE sources of frustration cleaning glass shower doors. AND let's not even talk about those evil tracks on the bottom of the framed shower door system. So how can you make sure your glass shower door system isn't a pain to clean? Here's 3 smart ideas
Idea #1 – Avoid framed shower doors – These doors are not only a pain to clean, but dirt, hair, and scum buildup in the door tracks making it hard for the doors to move from side to side.
Idea #2 – Insist on glass surface protection – Glass surface protection systems minimize soap scum which build up on the glass, making cleaning a breeze.
Idea #3 – Use obscure glass or a glass block shower – While clear glass showers look very cool in builders model homes (where NO ONE – especially your sloppy, young sons- who are actually taking showers…when prompted), in real-life homes most of us can't rely on our families to clean the glass shower doors (to wipe off evil spots which rev up your O.C.D.). A smart way to eliminate the ugliness of spotting is to use obscure glass or glass block walk in shower. These options make spots magically disappear (especially since they're not 'magically delicious' like Lucky Charms).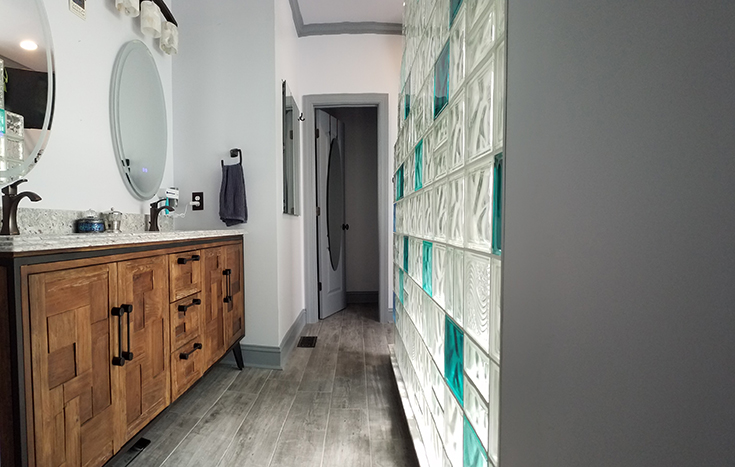 Question #9 – Is the glass tempered and secured into the sides of the wall?
A huge problem to avoid at all costs is a shower door system which breaks or falls out and cuts someone while showering. Make sure your door is anchored properly. Ask if the glass is tempered (so if it does break, it breaks into small, rounded pieces which won't cut you).
So, what's the best glass shower door for your bathroom remodel? Can my team help you decide?
I realize there's not only a lot of choices in glass shower doors – but you also have to find the perfect shower base and wall surrounds to make your shower (and remodel) a success. And while you can read article after article to make better choices, sometimes it's nice to get input from a 'real live human being' who specializes in bathroom products and remodeling.
And this is where me and my team (and yes this is a shameless plug) would love to help.
Click for a Free Design Consultation. Call 877-668-5888 for assistance and nationwide supply. And if you're looking for a professional shower remodeler in Cleveland Ohio, call our Bath Doctor division at 216-658-1270. Our team is not only knowledgeable about shower glass, but also about shower pans and shower wall surrounds.
We know you have a lot of choices in shower and bathroom products. We're committed to making your journey through the sea of selections simpler (and in some cases we can even help you find a reputable contractor through our dealer network). Thanks for reading (and putting up with my wacky humor).
Mike
###
If you want more advice (with a less wacky humor because you'll see the 'buttoned-up' business version of me) follow me on LinkedIn @MikeFoti.
And if you're a bathroom remodeling contractor interested in being a dealer of unique shower wall panels, shower pans and glass systems, call 888-467-7488 and ask for Mike.
---
Mike Foti
President of Innovate Building Solutions a nationwide supplier and regional (Cleveland and Columbus) remodeling contractors. Some of our product lines include glass counters, floors, backsplashes, glass blocks and grout free shower and tub wall panels
---