11 Cool Alcove Shower Ideas If you HATE Cleaning and DON'T Have an Unlimited Budget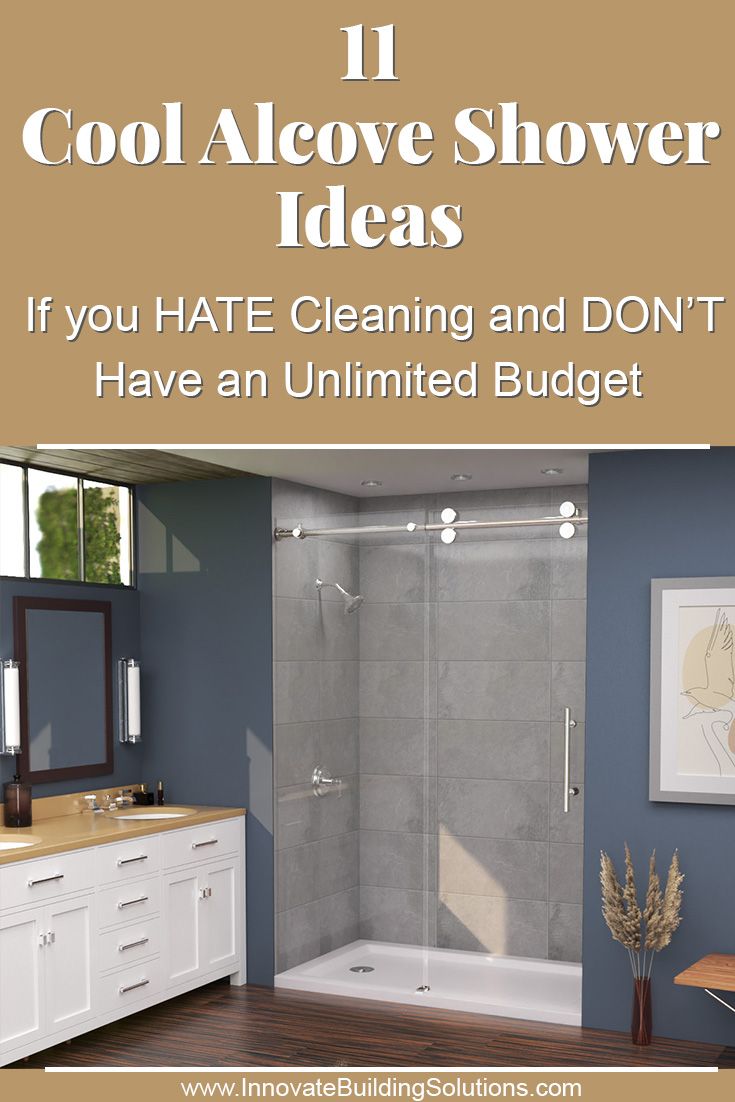 Anyone can make a 60" x 30" or 60" x 32" alcove shower (this would be a standard-sized shower with 3 inside walls) beautiful IF they have unlimited funds. But for most of us, unlimited funds IS NOT our reality! And I know you not only want a shower which fits into your budget, but also one which is stylish and easy to clean.
The question becomes how do you make this happen?
In this article I'll tackle this challenge head-on. I'll give you 11 cool alcove shower ideas which will not only NOT cost you an arm and a leg (sorry about the 'double negative) but will also keep your evil scrub brush and toxic cleaning solutions inside your bathroom vanity where they belong.
In section 1 I'll look at ideas for the 'foundation' of your shower – it's base. In section 2 I'll turn our attention to your shower wall surrounds. Section 3 will cover glass options and in section 4 we'll look at those all-important accessories.
Let's check out these 11 ideas.
Section 1 – Cool (and low maintenance) alcove shower ideas start from the shower pan up
Cool alcove shower idea #1 – Using a 'bottoms up' strategy   
OK – I'm not telling you with this 'bottoms up' strategy to go out drinking BEFORE you start your remodel (although with the number of decisions facing you with a bath remodel, you may feel like you need to). No, with this 'bottoms up' strategy I'm recommending is to create 'cool factor' in what's not usually thought of as a stylish element of your shower –your shower base. And here's what you need to know first.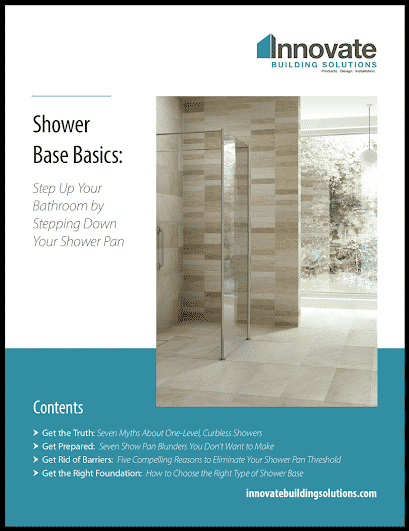 Get Our Ultimate Shower Base Guide!
Step Up Your Bathroom by Stepping Down Your Shower Pan!
Your shower base DOES NOT have to be the ugly red-haired stepchild of your shower.
Sure – shower pans DO NEED to be safe and easy to clean (if you have any hopes of chucking your hated scrub brush), but they DO NOT have to be ugly. And here's 2 stylish and low maintenance shower pan examples which prove my point.
Example 1 – The stone matte black shower pan – This textured pan not only is a 'fashion-forward' matte black color, but it's textured (for safety) and made of an engineered stone. It's super-simple to clean and as durable as all 'get-out.'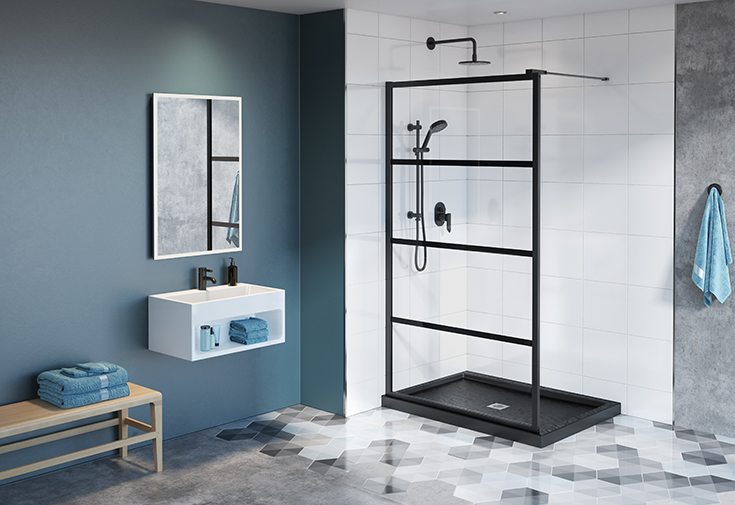 Example 2 – A curved acrylic shower pan – This pan creates more elbow room because it curves out, and since it's acrylic it'll wipe down with soap, water and a cloth. Now, that's super-simple! We'll talk more about this product (and its corresponding curved shower glass door system in idea 7).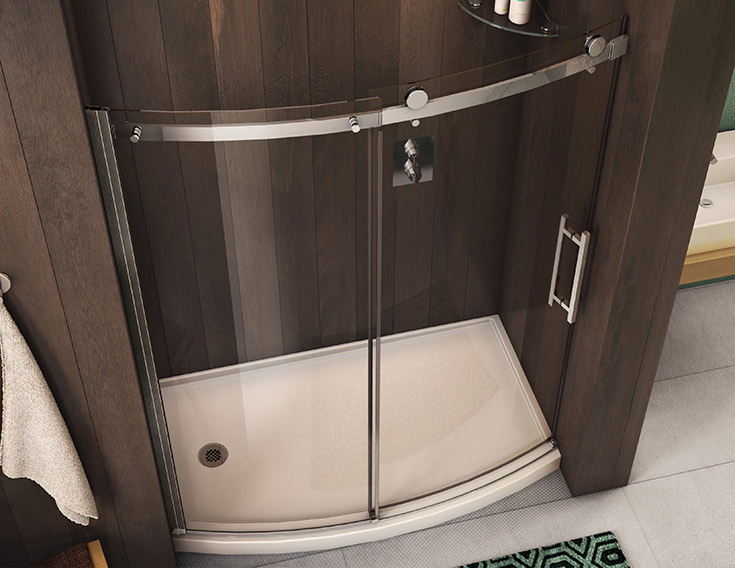 Cool alcove shower idea #2 – Eliminate the ugly shower drain
Now here's a subject which isn't on ANYONE'S list of sexy shower topics (except companies who sell shower drains). This topic is your shower drain. However, when you think about difficult cleaning jobs and ugly showers, drains are a pain which keeps on giving (or clogging).
The good news is a drain you'll love (imagine that) doesn't have to be expensive (like stylish linear drains) and it doesn't have to be ugly (like your pitted round brass drain you 'love' so much right now). No, the coolest drains are simple, cost-effective, and nearly invisible. Check out the 'square hidden shower drain' in the image below. This 'invisi-drain' makes your shower pan simpler to clean and creates a stylish minimalist look which fits today's contemporary bathrooms.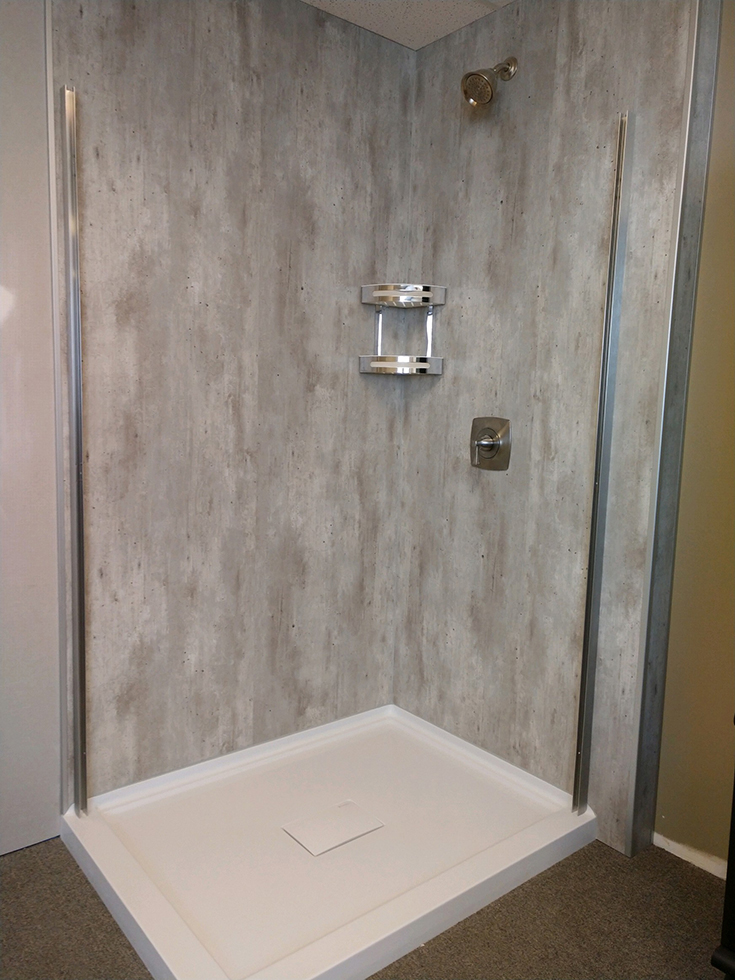 Section 2 – Cool (and low maintenance) alcove shower wall surrounds
Perhaps there's no bigger focal point for your shower than your shower walls. But having stylish shower walls is not enough if they're a constant pain to clean (just think how much you HATE, HATE, HATE cleaning your tile shower walls today). Here's 3 ideas to spruce your walls up while making sure your time doesn't get sucked up cleaning them. 
Cool alcove shower idea #3 – Add a spa (or fancy hotel) feeling with cost-effective 'marble look' shower wall panels
You LOVE, LOVE, LOVE marble showers. When you've been lucky enough to spend a few nights in a 5-star hotel with marble showers on a business trip or vacation, you've thought they're the most drool-worthy showers EVER. You thought it would be soooo cool to have one in your home as well. Then you wake up! They're way too rich for your blood (or wallet).
Well, I'm going to be the bearer of good news for you today. You CAN afford the marble shower look – and have a shower you DON'T need to hire a housekeeping staff to clean either (as if you were actually going to hire a housekeeper… in your dreams!) You may be wondering how you can get a simple to clean marble looking showers which won't drain all your kid's college funds. Here's two options you'll want to know.
Option 1) 3/8" thick Laminate shower wall panels. This white marble shower wall panel system is simple to install (it clicks and locks together). It gives you a marble tile look with Z-E-R-O grouts to clean. It's light on the budget. Now, that's cool.
Get Free Samples!
Click here to request free samples of our Laminated Waterproof Shower Wall Panels.
Option 2) ¼" thick PVC composite shower panels. They come in 20 patterns. They're a cinch to install (they glue onto moisture resistant green board). They wipe down with soap and water. They're not expensive.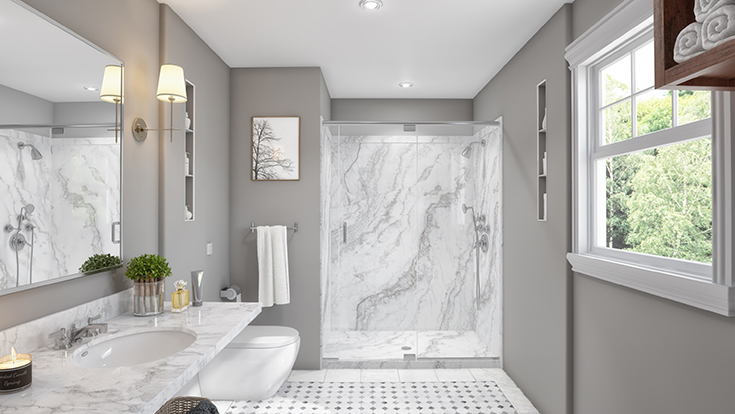 Cool alcove shower idea #4 – Add a decorative vertical stripe to increase 'visual volume'
If your small 5' x 8' bathroom feels even smaller because your ceilings are so low, I'll share an industry trick you'd pay a big-time interior designer big-bucks for. This trick is to create the 'illusion' of space (the illusion word reminds me of David Copperfield, but I digress). And the perfect way to create this space-growing illusion is through 'visual vertical volume.' Running shower wall panel patterns vertically like you'll see in the image below is a way to make this happen.
This vertical stripe makes the room feel taller. It won't cost a lot of money. And since this stripe is a grout free panel – there's ZERO nasty tile grout joints for you to clean!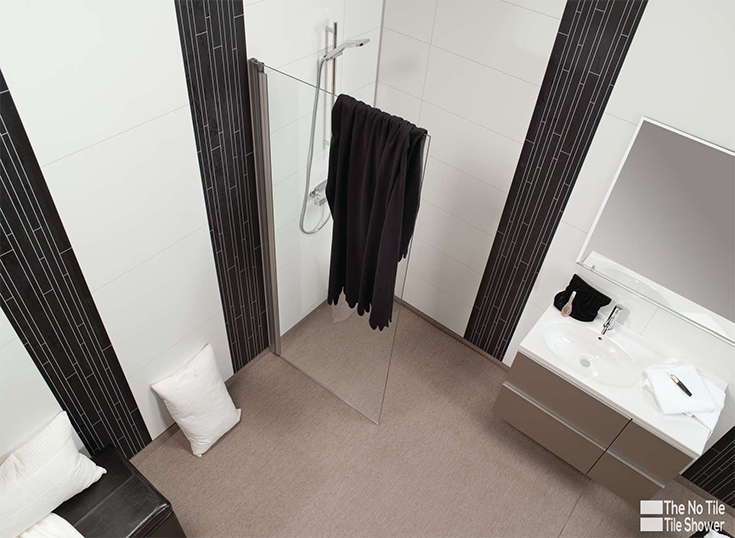 Cool alcove shower idea #5– Create a rustic, organic, or calming look using shower wall surrounds
You want your shower to feel like an oasis. You want it to 'take you away Calgon' (that's a reference to an old TV commercial a few of you recognize and have some fun watching below) from the daily grind which WAS your day.
Get Free Samples!
Click here to request free samples of our Laminated Waterproof Shower Wall Panels.
You want a clean, natural organic shower which brings the feeling of outside in. If this is you, you'll want to check out laminate wall panels.
There are patterns like 'rough wood' for a rustic look. There's 'cracked cement' – for the Modern Minimalist motif. There's 'sea green' for a calming seaside feel. You'll get a Dom Perigon designer look for your Budweiser-esque budget. It's also nice to know they're simple to install using a 'click-lock' feature similar to the laminate flooring you've installed before.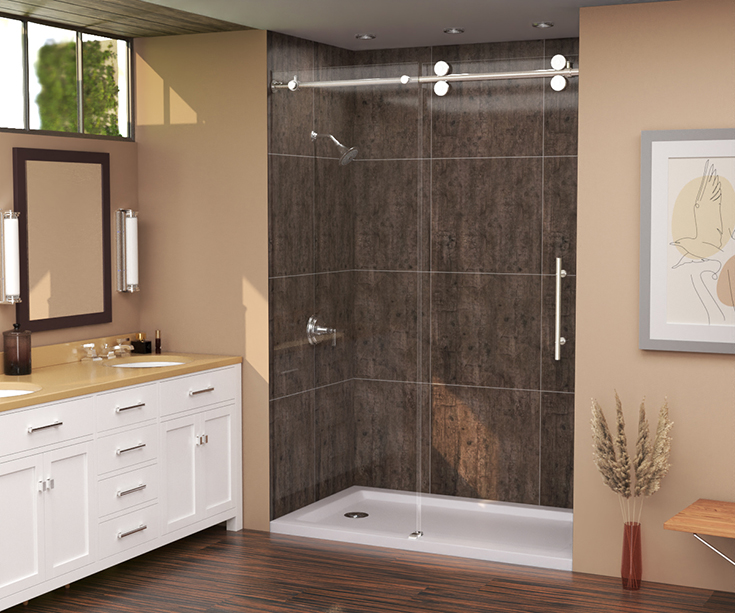 Section 3 – Cool (and low maintenance) alcove showers use the right glass systems
You're desperate to find the right glass to blow up your disgusting and flimsy builders-grade framed shower doors you're fighting with today. However, you're unsure what glass systems are stylish, NOT be a pain to clean and will stop your shower from feeling cramped. If you struggle with these questions, here's 3 ideas you'll want to consider. 
Cool alcove shower idea #6 – Get the walk-in shower you always wanted even in your small 60" x 30" or 60" x 32" alcove space
Perhaps you've given up your dream of a walk-in shower because you assumed there was no way you had room in your tiny alcove space. Well – I'm here to tell you, you'll be happy you're wrong about this.
Using a 'pivoting shower screen' you can ditch cleaning the bottom of your ugly framed shower doors and enjoy your new walk in shower. It's contemporary. It's stylish. The door pivots to keep water inside your shower, not spilling onto the bathroom floor. And it's simple to wipe down a door which DOES NOT have a nasty track at the bottom you HATE, HATE, HATE to clean!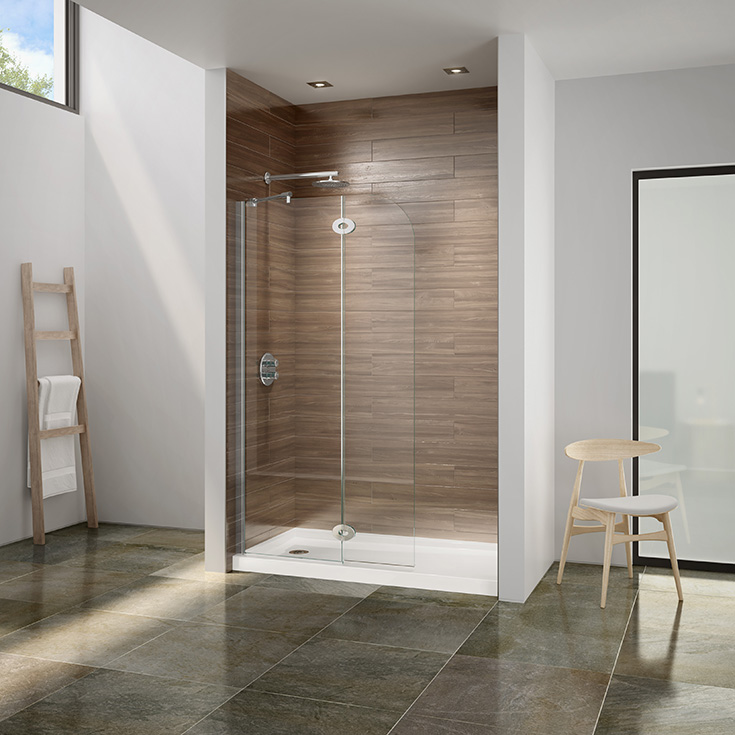 Cool alcove shower idea #7 – Getting the elbow room your family needs, without the cleaning hassle you can do without
OK, the the 'big boys' and 'big girls' in your family hate banging their elbows on your flimsy, pitted and behind-the-times bright brass, thin framed shower door the builder slapped in years ago. And you HATE fishing 'gunk' (that's a technical term) out of the bottom tracks of this nasty sliding glass door. If this describes your situation, I've got a solution for you.
Check out this frameless curved sliding door.
With this curved sliding glass enclosure (and matching reinforced curved acrylic shower base), your shower with 30" deep sides can curve out to 36" in the middle. This deeper center section protects your family's petite and precious elbows. And you'll love its frameless design with NO TRACK TO CLEAN. Yeh YOU!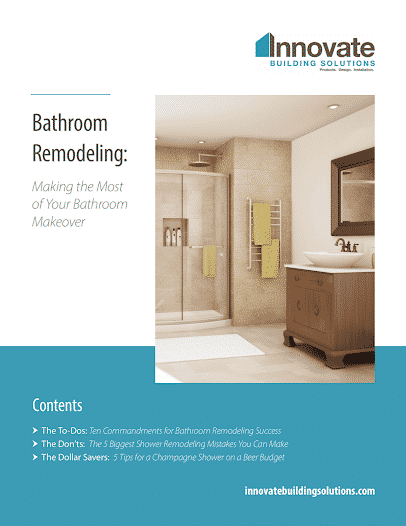 Bathroom Remodeling Ultimate Guide
Making the Most of Your Bathroom Makeover!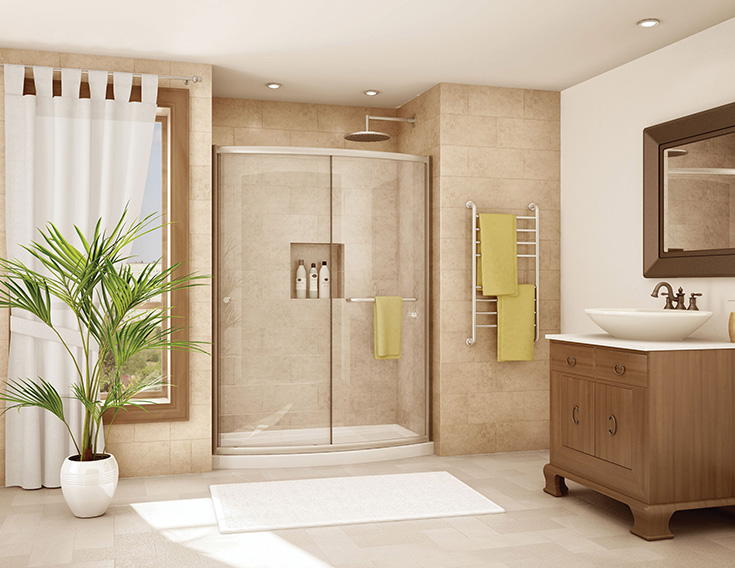 Cool alcove shower idea #8 – The 'reimagined' glass block shower
Most people know glass block showers are durable (after all these blocks are 7 times thicker than luxurious ½" frameless shower glass). They also know they're simple to wipe down. However, what most don't realize is they DO NOT have to be built with one boring block on top another.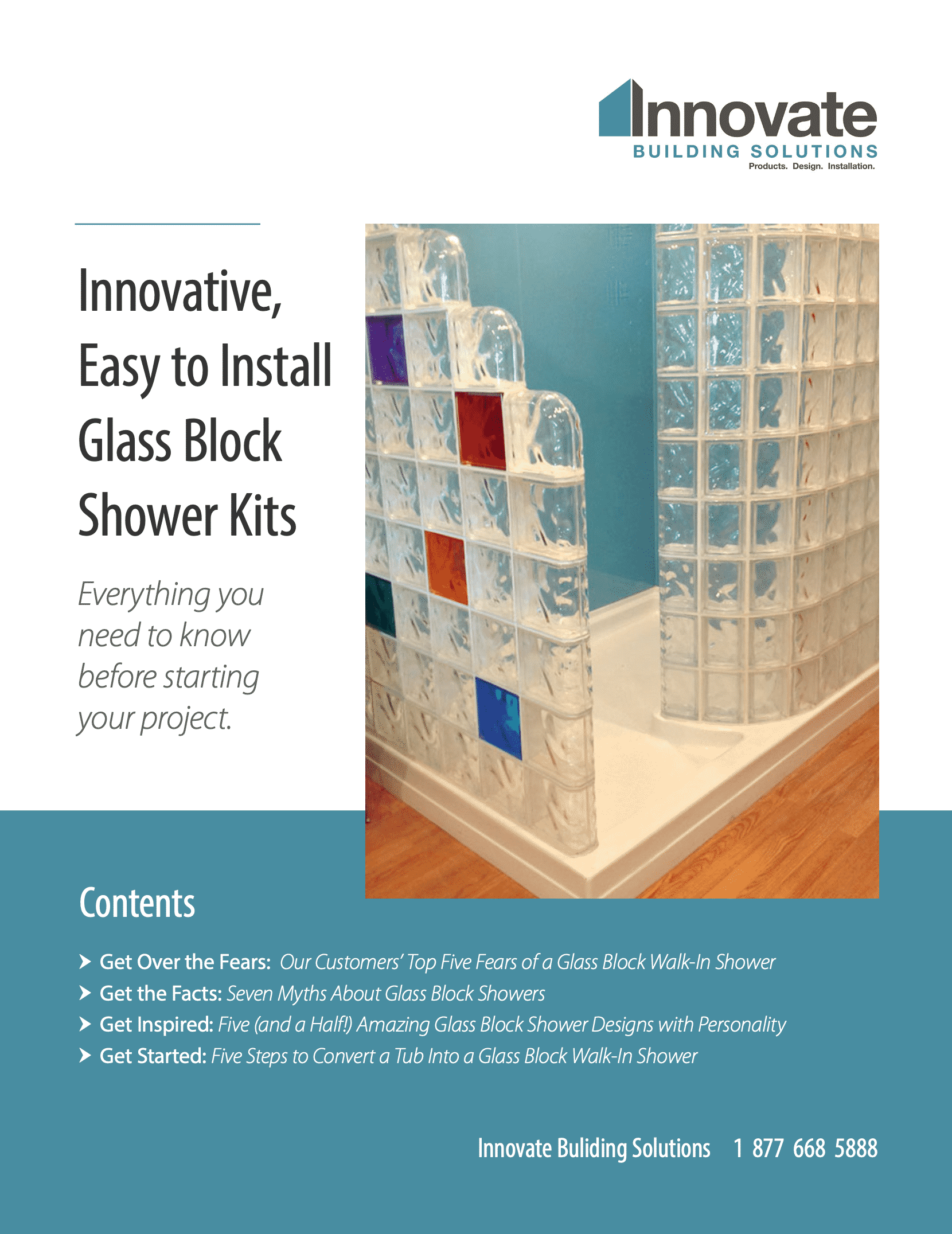 Glass Block Shower Ultimate Guide
The Ultimate DIY Guide for your Next Bathroom Remodel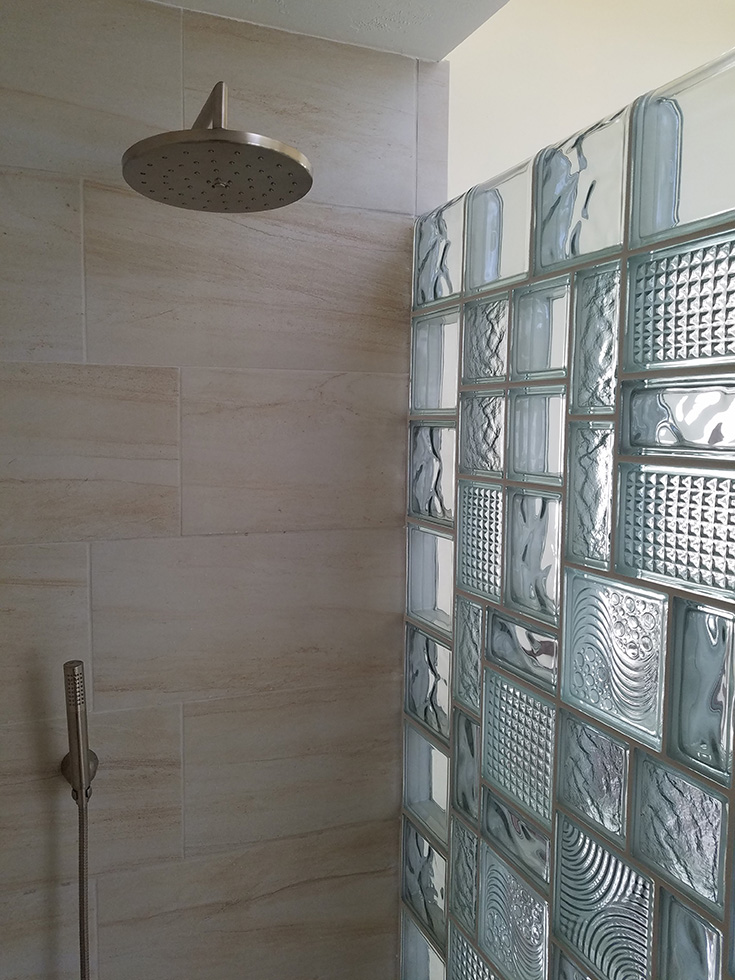 No, glass block showers can be mosaic works of art AND still simple to maintain. Here's how. Combine modular sized glass blocks and multiple patterns. You'll unlock a creative glass shower wall which makes even your alcove shower a work of art!
You need to reimagine glass blocks to truly see their potential.
Section 4 – Cool (and low maintenance) alcove showers use the right accessories to pull it all together
Just like an outfit isn't complete without the right accessories, the same holds true for low maintenance (yet stylish) showers. You need the right accessories. You need a plan for your shower fixtures, seating and where you're going to store your (ever-getting- larger-as-you-get-older) supplies (face creams, moisturizers, Scandinavian body scrubs, body serums as well as soap and shampoos)? If you don't have a clue what accessories you're going to use read section 4.
Cool alcove shower idea #9 – Add a rain head
Nothing makes a shower feel like a spa than the relaxing sensation of 'rainwater' gently falling on your head. And this is where rain heads come in. New air-infused rain heads not only create a calming shower experience, but also help keep water inside your alcove shower (and not spraying all over your bathroom floor) … even if you choose a walk-in shower (see idea 6). Wiping up a wet bathroom floor is one less thing you have to deal with.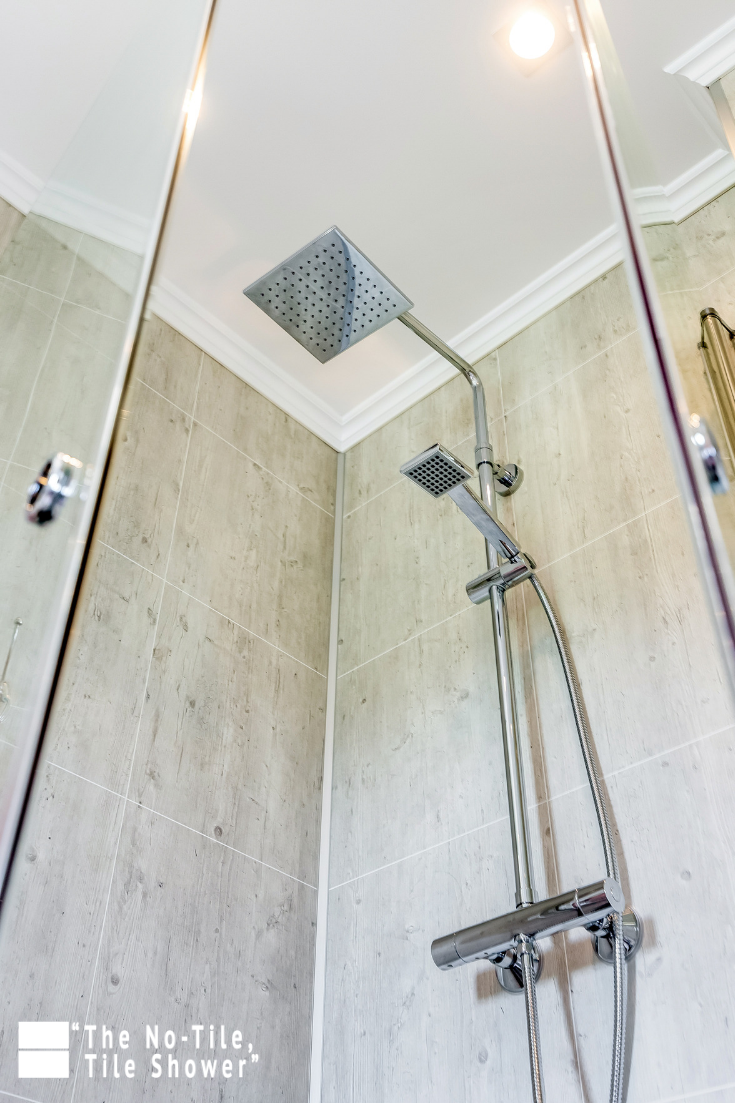 Cool alcove shower idea #10 – Get your seating right!
Most alcove showers have no place to sit. This requires you to do a Mary Lou Retton routine every time you try to shave your legs. And some alcove showers have the wrong type of seating. You've seen showers with H-U-M-O-N-G-O-U-S bench seats which make your shower as tight as an old-school phone booth.
Bad seating (or no seating) makes your shower 'live' poorly. It's nice to know however, there are smart seating solutions.
One of these options is a fold down teak bench seat. They're simple to maintain. They take ZERO room when folded up and out of use. And they'll give an organic, spa-like feeling.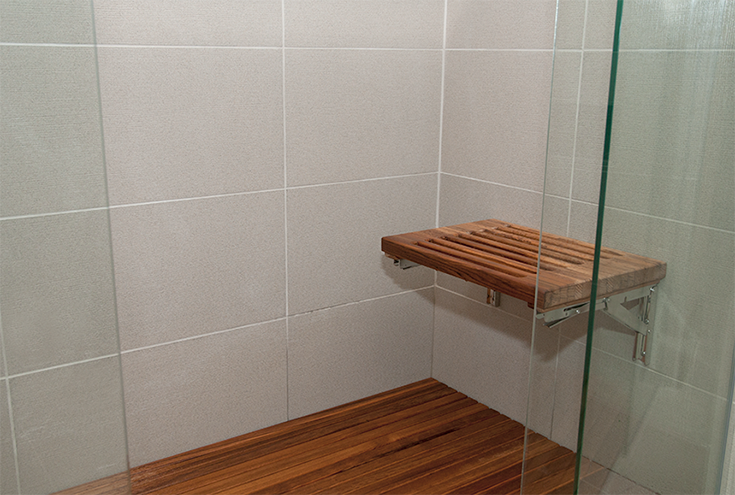 Image Source: ww.teakworks4u.com
Another option is corner bench seats made of solid surfaces. They're a breeze to clean. And since they're in the corner, they're a seating accessory which won't eat up all the space in your shower.   
Cool alcove shower idea #11 – Make sure your niche isn't a b_ tch to clean!
If you have a tile shampoo and soap niche today you know how nasty it looks and how much FUN (sarcasm intended) it is to clean.
Well, this is a hassle your alcove shower can do without IF you choose the right accessory.
I'm a fan of stainless-steel niches (especially ones in a brushed nickel finish). They're simple to install over grout free wall panels. They never require maintenance. And with the brushed nickel finish they don't show spotting like polished brass or chrome.  
How can me and my team help you?  
So, did you get practical ideas for your alcove shower? I sure as heck hope so.
And while I realize shower ideas can be helpful, I also know you need specific advice and 'bottom-line' pricing to effectively design your alcove shower and make sure you can afford it. If so call 877-668-5888 or click for a Free Alcove Shower Design Consultation.
And if you have a bathroom remodeling project in Cleveland contact our Bath Doctor division at 216-658-1270. And if you're not in Cleveland ask for a referral to one of our installing dealers.
Thanks for reading…and putting up with my wacky humor.
Mike
###
If you want more advice (with a less wacky humor because you'll see the 'buttoned-up' business version of me) follow me on LinkedIn @MikeFoti.
And if you're a bathroom remodeling contractor interested in being a dealer of unique shower wall panels, shower pans and glass systems, call 888-467-7488 and ask for Mike.
---
Mike Foti
President of Innovate Building Solutions a nationwide supplier and regional (Cleveland and Columbus) remodeling contractors. Some of our product lines include glass counters, floors, backsplashes, glass blocks and grout free shower and tub wall panels
---