How to Choose a Glass Door for your Bathtub Replacement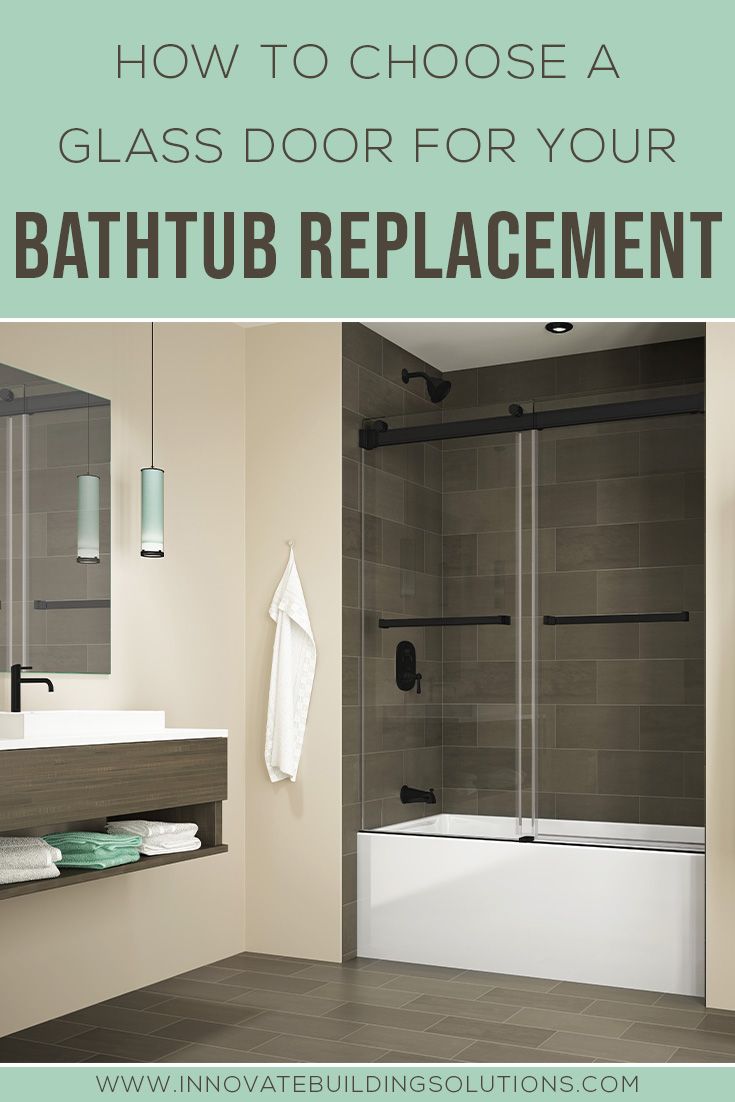 Do your tub curtains have you so frustrated you KNOW (even if it's the last thing you do) you're going to replace them with glass doors in your upcoming bathtub replacement?
Have you had it 'up to here' (as Mom used to say) with moldy, smelly curtains? You're also sick of cleaning water off the floor AND replacing the rotten wood trim outside the tub.
You HATE, HATE, HATE trying to clean tub curtains from normal daily use, and never mind even trying to get the hair dye off when you're attempting to turn the clock back on your age.
You want your tub/shower to be brighter – and don't want to feel the cold shower curtain 'hugging' you when you get in to take a shower ever again.
You're 100% committed to choosing a glass tub door this time. However, as you're researching, you're getting more confused which glass door will be best. You're not sure how to order the right size or whether it's best to choose clear or obscure glass. You have waaaay more questions than answers.
Bottom line – you've had it with curtains around your tub, but still aren't sure what the best glass door choice is either.
And if this describes you, you've come to the right place.
My goal in this article is to 'give it to you straight' (or curved, if a curved glass door is best). You see me (and my team) are asked questions daily on how to choose a glass door for a bathtub replacement – and for the most part – we give the same answers time after time after time.
So, in this article, I thought I'd save you time and give you the 'straight scoop' to the Top 10 questions we get when a homeowner (or contractor) is attempting to choose glass doors for a bathtub remodel. At the end, let me know if these answers surprised you and post any questions, I didn't address which you're looking to get to the bottom of.
Let's dig into the Top 9 questions about glass doors for bathtubs.
Question #1 – What styles of glass tub doors are available?  Which one would be best for my project?
There are 4 styles of glass tub doors – and while they all have their pros and cons, I'll give you reasons to consider each one. They are:
Walk in tub glass (fixed or pivoting)
Walk in glass tub systems is basic (and low cost) when you choose a fixed glass panel. Fixed glass tub panels keep costs down and give you access to your tub/shower without opening a door. However, they're not as effective keeping water inside the space (and can make it harder to reach in and turn on the shower).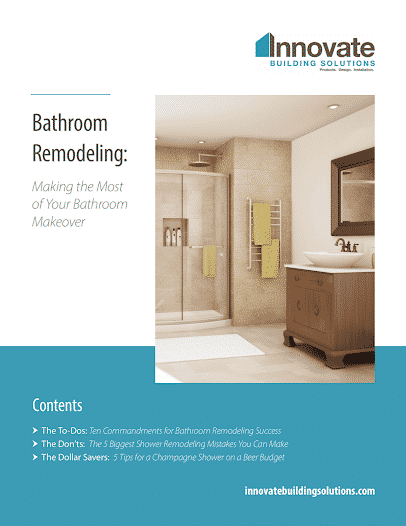 Bathroom Remodeling Ultimate Guide
Making the Most of Your Bathroom Makeover!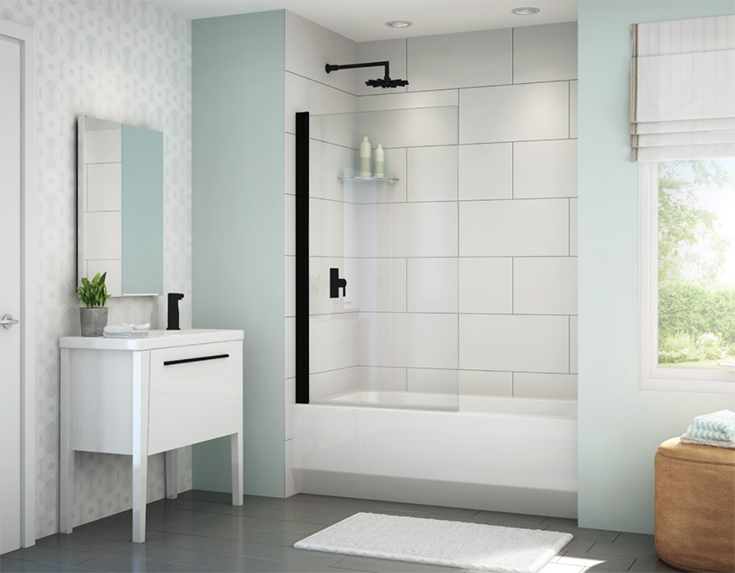 The other type of walk-in tub glass is pivoting tub screens. These units keep water inside (simply angle the door towards the inner walls when showering) and create a larger opening than fixed glass panels. Their negative is they're more expensive than the fixed glass.
Pivoting glass tub door
Pivoting tub doors fill the entire alcove (from wall to wall) so no water can escape onto the bathroom floor. The good news about pivoting doors is they have no bottom track which makes cleaning easier. They also allow for wider openings. The bad news is they're (1) (generally) more expensive than sliding or bypass doors discussed and (2) when you open the door some water can drip out.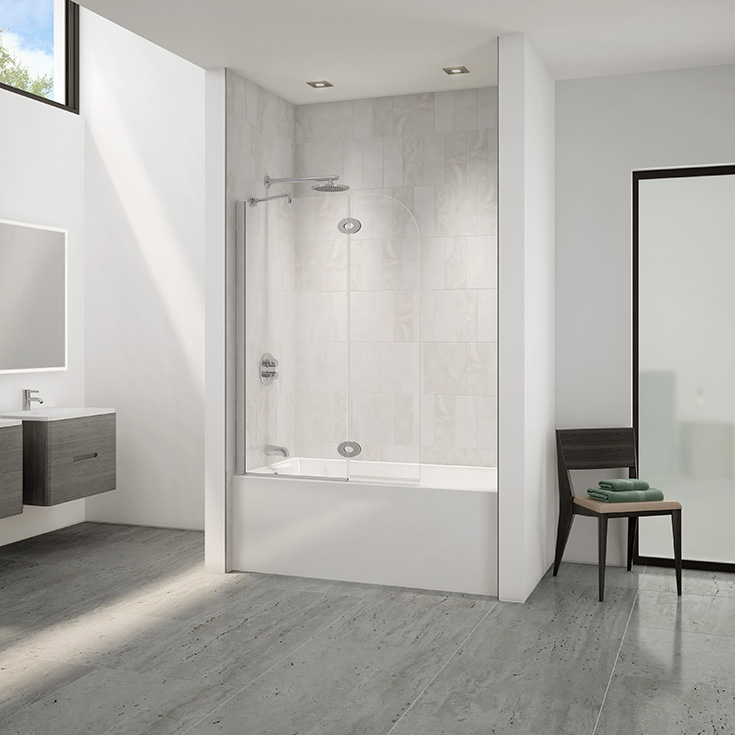 Bypass sliding glass tub door
The bypass sliding unit has 2 doors which slide into one another. This gives you access to both sides of your tub/shower. This makes it simpler to turn on the water and offers flexibility on which side you get in. Bypass tub doors usually have two bars for towels – one on the inside and one on the outside. The negative of sliding bypass doors is some styles have framed door tracks at the bottom which are pain to clean (note – you can eliminate this problem using a semi-frameless or frameless bypass tub door).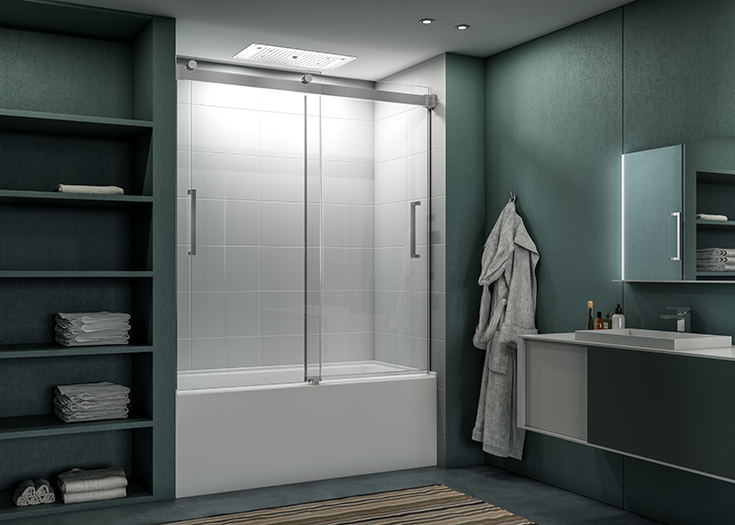 Sliding glass tub door
The sliding tub door has one operable door to enter (or open to turn the water on). It's a simpler design than the bypass door but gives you the option of creating the ever-so-popular 'barn door glass' look. The negative of sliding tub doors (unlike pivoting or walk in tub doors) is you need to make sure there's enough room for tall people to get in without bumping their heads (learn more about this in Question #4).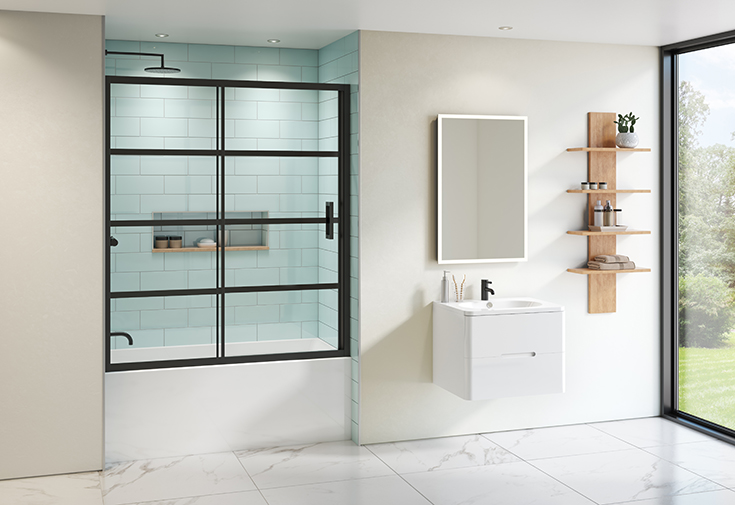 Question #2 – How do I measure to figure out the right sized glass tub door to buy?
There's nothing worse than learning (after the fact) you measured wrong and bought a custom glass tub door when a standard door would have worked. Or worse yet you bought the wrong sized custom door, AND it won't fit, AND you can't return it.
Although measuring a tub door isn't 'rocket science' (as they – whoever 'they' are – say), but here's 5 pointers to order the right size door the first time.
 Pointer #1 – Take 3 measurements – Since your tub can be out of square, you'll want to take a measurement near the top of the tub, in the middle and at the top of the opening.
Pointer #2 – Measure the width AFTER the wall surrounds or tile is installed – The most accurate measurement for a tub door IS NOT the 'stud to stud' measurement. Since your door will be added AFTER your finished shower wall panels or tile is installed – the best measurement will come after the walls are up. And if you can't wait for the walls to get done to take the measurement – then simply take your stud-to-stud measurements and subtract for the wall board and finished materials (tile or wall panels) to get the 'net finished size' of the opening.
Pointer #3 – Measure the height from the center of the ledge to the ceiling – Since the door will be set in the middle of the tub deck – you'll measure your height from the mid-point of the tub deck to the ceiling to see how tall a door you can purchase.
Pointer #4 – Know how tall your family members are – If you're using a sliding or bypass door (which has a track or rail the glass travels across the top), you need to know the bottom track is higher than the people getting into the space, or they'll bang their heads getting in.
Pointer #5 – Know the minimum and maximum widths – Since there's some play in the size of tub doors – especially those with tracks on the sides – you'll want to know your actual (or estimated) door size will fit your finished opening.
Question #3 – Is it better to use clear or obscure glass in a tub door?
 The debate on whether to use clear or obscure glass is not a 'slam-dunk' decision either way. However, here's 5 reasons to use clear glass:
Reason #1 – It's less expensive
Reason #3 – Your space will be lighter and brighter.
Reason #4 – Your bathtub 'feels' larger and you won't feel claustrophobic.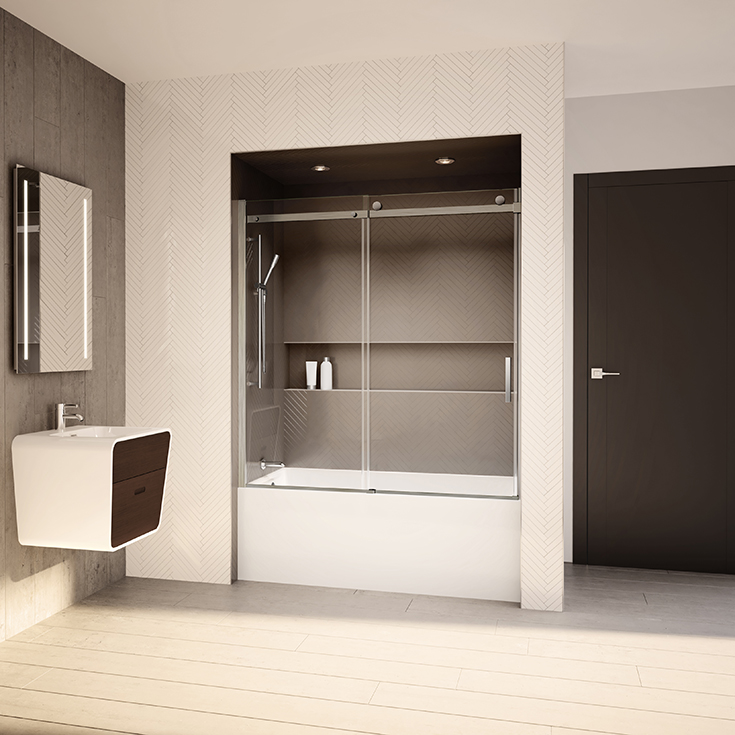 On the 'flip-side' here's 3 reasons to use obscure glass.
Reason #1 – If your figure won't make anyone forget Jennifer Lopez or Matthew McConoughey any time soon.
Reason #2 – You love your privacy and creating some 'temporary' separation from the kids or your spouse barging in the bathroom.
Reason #3 – You won't see water spots as clearly as with clear glass. Simply put, your cleaning will be simpler.
Question #4 – Can tall people get in without bumping their head?  
If you use a barn door style tub door with a sliding bar and frame at the top (which is common for sliding or bypass shower doors) pay attention to not only the height of the glass doors, but also to the height of the glass doors UNDERNEATH the sliding bar at the top. Make sure the height under the frame is taller than the tallest person using your tub/shower, unless you want them to experience a good whack upside the head – ever now and again – when getting in.  
Note – if you choose a pivoting door or walk in tub glass, height will not be a problem since there's no bar at the top of the opening.
Question #5 – What's the best hardware to use for my glass tub doors?
While tub door hardware is a personal choice (some people like to go 'matchy-matchy' and have the door hardware match the drain and shower head finishes), there's no 'rule' you have to do it this way.
'Mixed metals' are in for new bathroom designs. So, don't worry about 'breaking the rules' and mixing things up a bit.
However, there are finishes I'd shy away from. First I'd stay away from polished brass because it still looks like a throw-back from the 1990's. In addition, think twice about chrome tub doors. Chrome – while still in style and popular – is a magnet for spots. So, if you're doing your own cleaning keep this in mind.
My favorite hardware finishes are brushed nickel (it's very popular and minimizes spotting) and matte black (it's moody, trendy, and cool).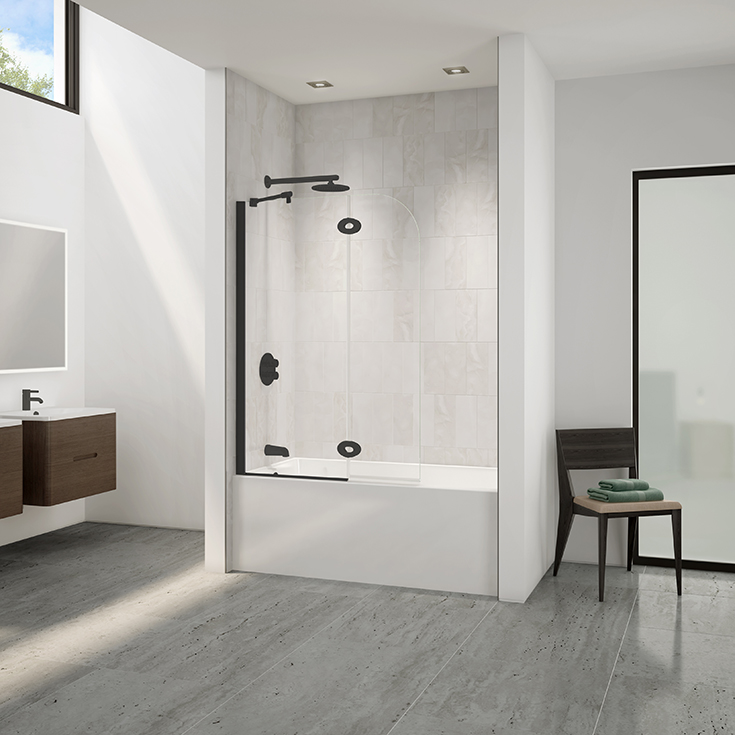 Question #6 – What type of frame or anchoring hardware should I use around my bathtub glass doors? Which tub door system will be cheapest?
There are 3 types of 'framing' systems you can use for your glass tub doors. They are….
A frameless tub door where there's no frame around the tub door(s) or at the side of the doors. These systems use the thickest glass and are most expensive.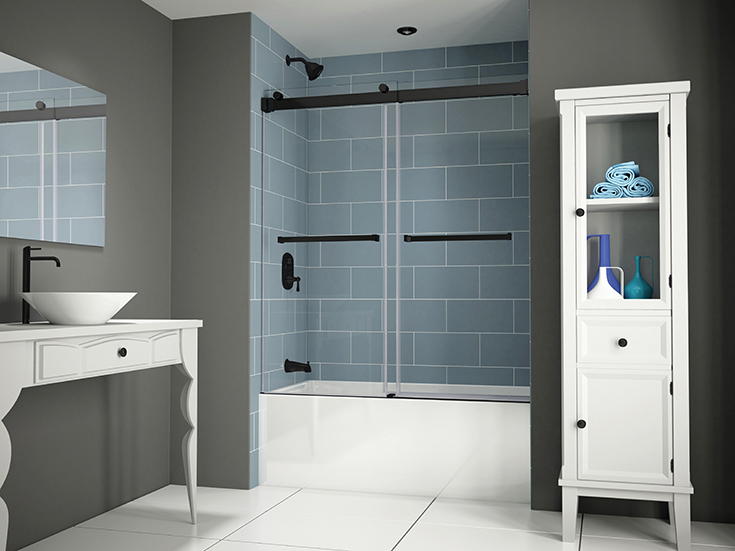 A semi-frameless tub door where there is no frame around the tub door, but there is a frame around the sides of the door. This system will be a mid-priced option.
A framed tub door where there is a frame around the glass doors and around all 4 sides of the system. This option will be cheapest.
And while all 3 systems can 'do the job' you'll also see you'll get what you pay for. With the framed tub doors, the track at the bottom, and the thinner doors will make them feel cheap and wobbly as the doors move from side to side or pivot when opening outwards. Expect to spend between $150 and $350 for a framed shower door with thinner glass.
The semi-frameless system is a smart, mid-priced alternative which will price between $400 and $900.
And if you want a luxury look – and you have the budget – the completely frameless option is most stylish and sturdy. You'll spend between $700 and $2,000.
Question #7 – How do I know the glass won't get scummy and moldy if I have hard water?
There's nothing quite like trying to clean mold off curtains in your tub. This is one of the main reasons you're looking to ditch the curtains and choose glass tub doors. But you may be wondering how you can make sure your tub doors you won't end up with the same hassle you have with your curtains.
Well – the smartest way to make sure you're on the 'right track' (OK – this bad glass tub door pun was intended) is to ask if glass surface protection has been added to the outside of the doors. Glass surface protection will save you time cleaning and you get a better-looking door as well.
Question #8 – Are there standard glass systems available for my corner tub?
If you have a corner tub you've likely already learned, it's hard to move away from curtains because your choices of glass tub doors are oh-so limited. And while this statement is true, there are still standard options in corner glass tub doors like the one you'll see below.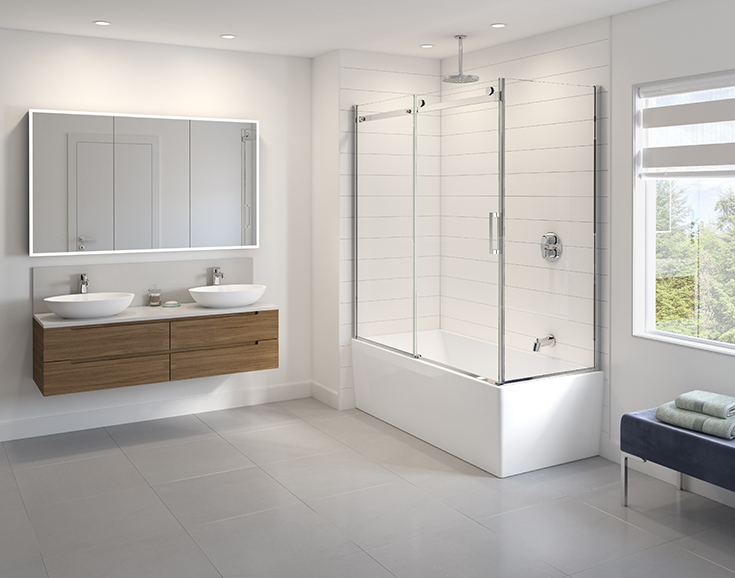 Question #9 – Is there a way to create a walk-in tub opening and NOT end up with water spilling onto the bathroom floor?
If you love the contemporary look of a walk-in but are worried about water escaping from a fixed glass tub door– this is a legitimate concern. However, here's the good news. There's a way to get your walk-in tub AND not worry about pools of water on the floor.
The secret is to use a tub door which is fully (or partially) pivoting. You see with the pivoting tub door you can angle the door to the inside while showering. This will keep water inside the tub. And if you use a partially) pivoting shower screen (like seen below) you'll also have more room to enter the tub than with fixed glass. The only negative to a pivoting tub screen vs. fixed glass is they cost $200 to $400 more.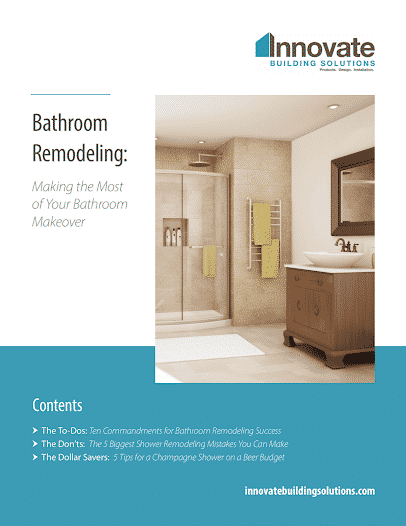 Bathroom Remodeling Ultimate Guide
Making the Most of Your Bathroom Makeover!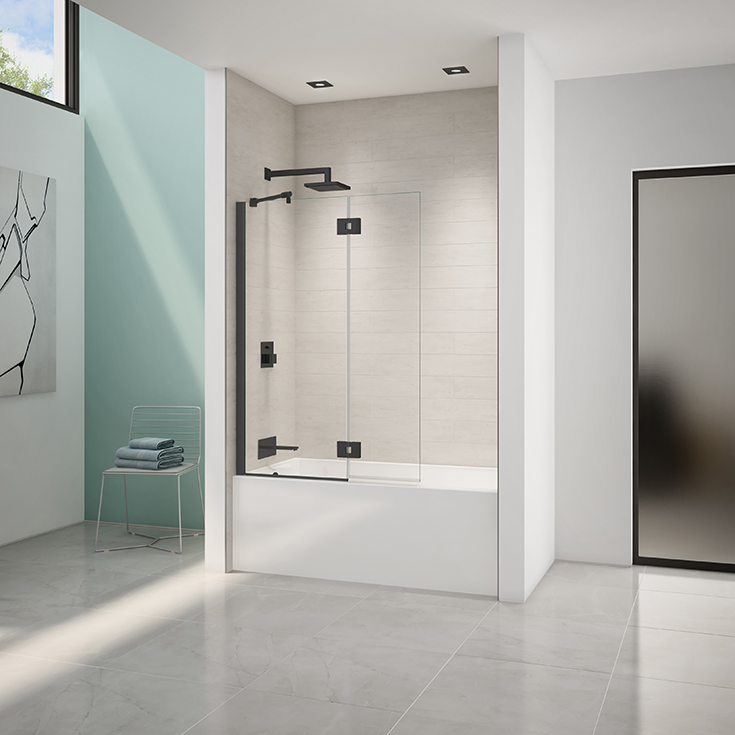 So, what's the best glass tub door for your project?
Now that you've read this article have you identified a favorite glass tub door? If you're still struggling to compare options, the simplest thing to do is pick up the phone, call us and get specific answers to your questions.
If you're looking for nationwide wholesale supply, call Innovate Building Solutions at 877-668-5888 or click for a Free Design Consultation. And if you're looking to hire a Cleveland bathtub replacement contractor to assist with your remodel, call The Bath Doctor at 216-531-6085.
We know you have a lot of choices in tub and bathroom products. We're committed to making your journey through the sea of selections simpler (and may even be able to help you find a reputable contractor through our dealer network as well).
Thanks for reading.
Mike
###
If you want more advice follow me on LinkedIn @MikeFoti.
And if you're a bathroom remodeling contractor interested in being a dealer of unique shower wall panels, shower pans and glass shower door systems, call 888-467-7488 and ask for Mike.
---
Mike Foti
President of Innovate Building Solutions a nationwide supplier and regional (Cleveland and Columbus) remodeling contractors. Some of our product lines include glass counters, floors, backsplashes, glass blocks and grout free shower and tub wall panels
---