The Advantages and Disadvantage of Thicker Frameless Glass Shower Doors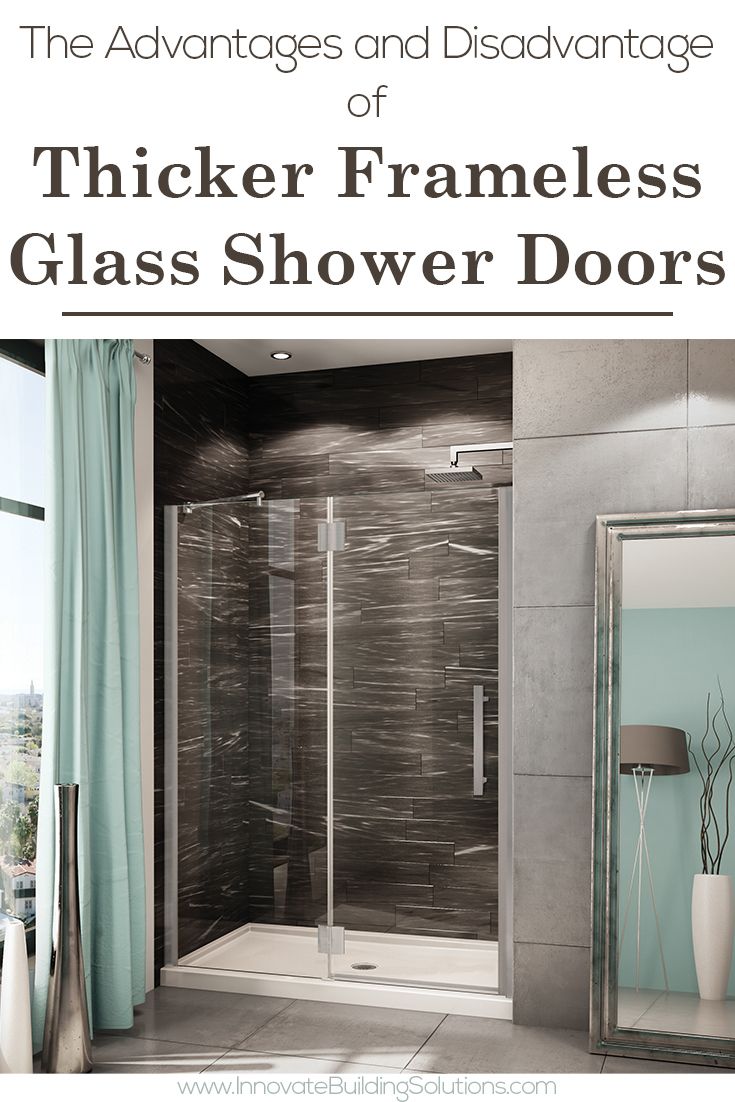 Is the 'glass always greener' on the thicker side? OK – I know this is a play on words for the often-used phrase we'll tell our kids when we say the 'grass isn't always greener on the other side' after they tell us all the fun things those 'other parents' let their kids do. However, this article IS NOT about raising kids, but it is about the much, much, much simpler task of choosing the right glass shower door.
And if you're read any of my articles about shower doors before you know by now luxury glass shower doors are frameless doors and use thicker glass (which ranges from 5/16" to ½" thick). And while we all want the 'best of everything' during a bathroom remodel– our 'champagne tastes' rarely match our beer budgets.
The real question becomes when should you choose thicker glass shower doors – which are more expensive, and when thinner framed glass shower doors (which use 1/8" to ¼" thick glass) will be 'good enough?'
While thinner and thicker doors will 'outlive' (and be more hygienic) than shower curtains, choosing between thick and thin glass may not be the 'slam dunk' decision you hoped it would be.
And this is exactly what this article is going to tackle. Below I'll explain the advantages and disadvantages of thicker glass shower doors so you can figure out if they're best for your project. At the end I'd love to hear which door feels right for you (and would also glad to help you if you need pricing or technical information before making your choice)!
Well without further delay, let's look at the advantages and disadvantages of thicker glass shower doors.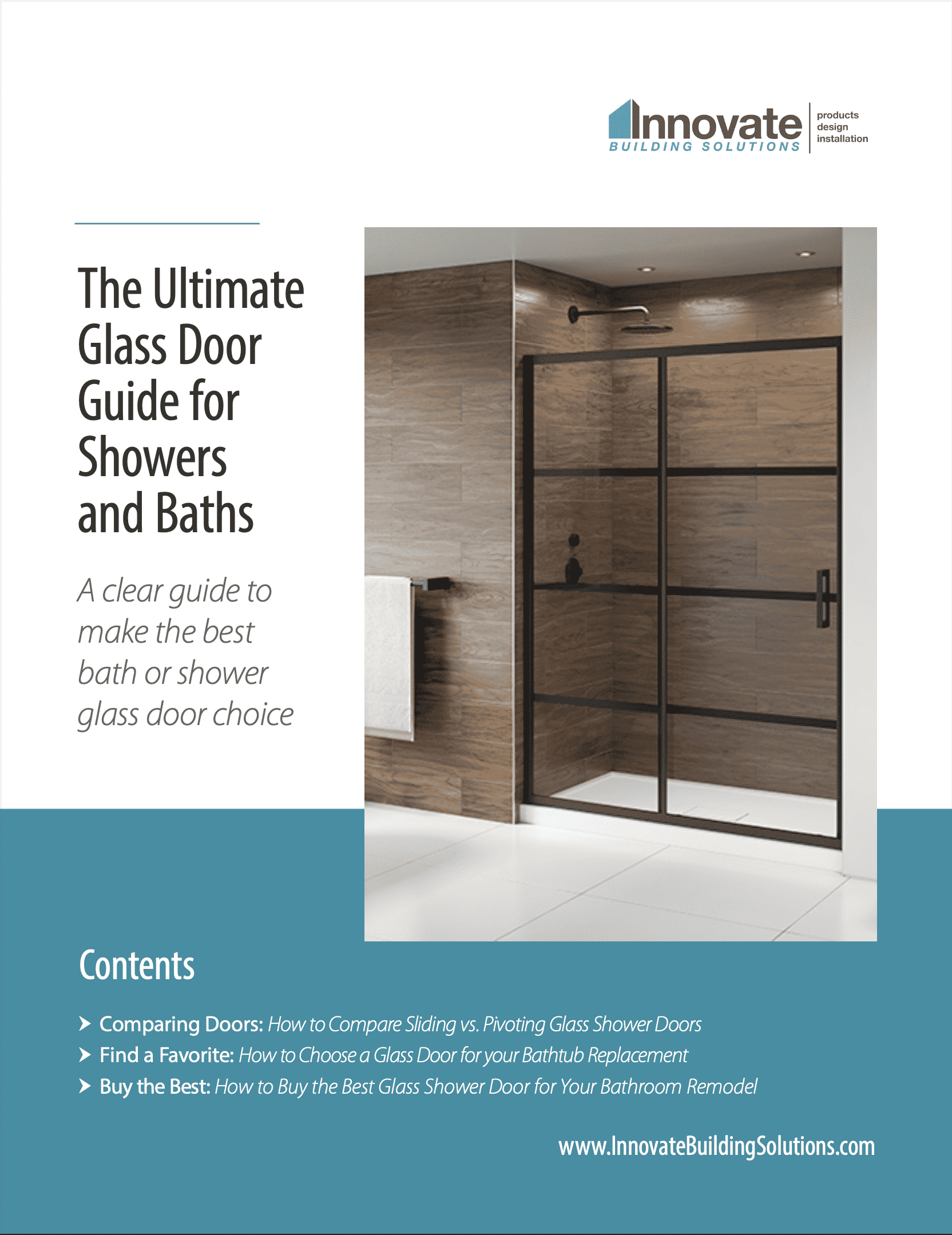 The Ultimate Glass Door Shower Guide
A clear guide to making the best bath or shower glass shower door choice
Advantages of Thicker Frameless Glass Shower Doors
Advantage #1 – You'll get a better view of the inside of your shower
Think about this. You invested (heavily) in the Moroccan tile manufactured in Spain (how ironic was that?). Your interior designer told you this pattern was HOT, HOT, HOT. Or you found this cool line of grout free (and cost-effective) white herringbone laminate wall panels which gave you a high-end look at a budget friendly price. And the last thing you want to do is 'cover these walls' with a clunky framed shower door with obscure glass.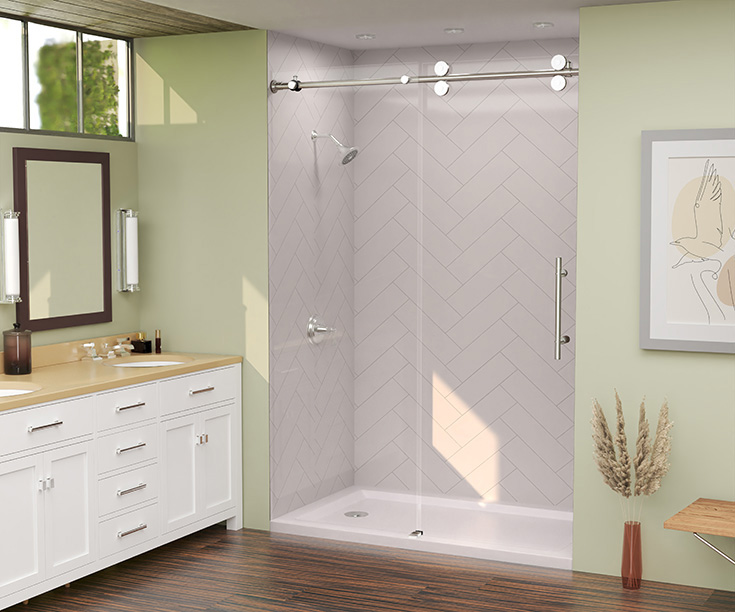 And this is exactly where a thicker frameless glass shower door is a must. Don't invest in a wonderful looking shower surround walls only to cover them up with bulky metal framed shower doors. It makes no sense.
Advantage #2 – With thicker glass your shower door won't wobble 'to and fro' 
Framed shower doors use thin glass surrounded by metal frames. Although the framing provides rigidity to the glass inside the door, they still wobble to and fro when they're opened. And if we're being real, it's not hard to understand when you buy a 'bargain-basement' $300 sliding bypass door off the shelf from a home center store, you're getting just that …a cheap $300 door.
Thicker doors feel better to open and close. Bottom line – thicker is sturdier.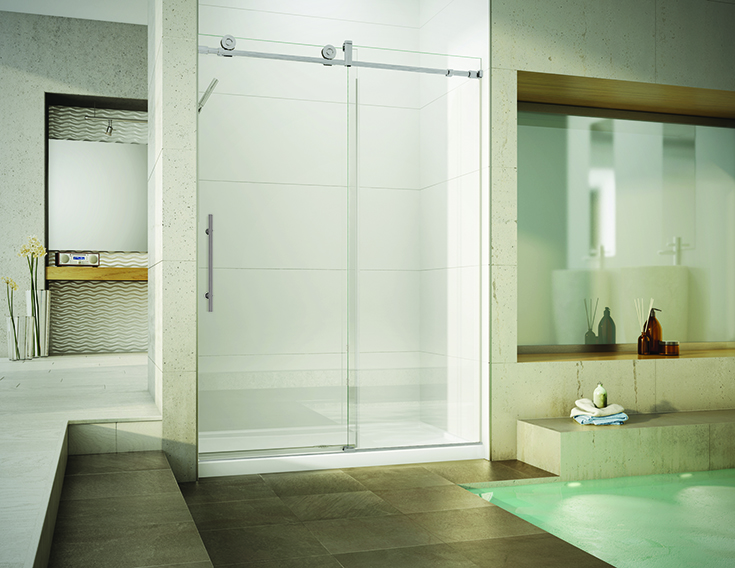 Advantage #3 – Your resale value will be higher with frameless glass doors
You'll be hard pressed to find ANY high-end custom showers using framed glass shower doors. This would be like using a plastic knife to cut your steak at Ruth Chris steakhouse. The two simply don't go together.
If you want your bathroom to have better resale value, cheap framed shower doors WILL NOT impress potential buyers! It doesn't take a construction genius (or a regular homeowner) to know a cheap shower door when they see (and feel) one.  
Advantage #4 – Thicker shower doors eliminate the nasty shower door track at the bottom of the door
If you've lived through the drudgery of cleaning the bottom of a framed shower door – and can still tell the story about your experience – you know the last thing you want to do is put yourself through this unpleasant cleaning experience again.
Cleaning hair, scum, mold, and mildew and 'god-only-knows-what' from the bottom of a framed shower door track can only be called one thing….
D-I-S-G-U-S-T-I-N-G!
With a thicker frameless shower door, there's NO track at the bottom.
Maintenance is infinitely simpler. This may be the most important advantage of all for choosing a thicker frameless shower door over a framed door which has those 'wonderful' (sarcasm intended) tracks at the bottom.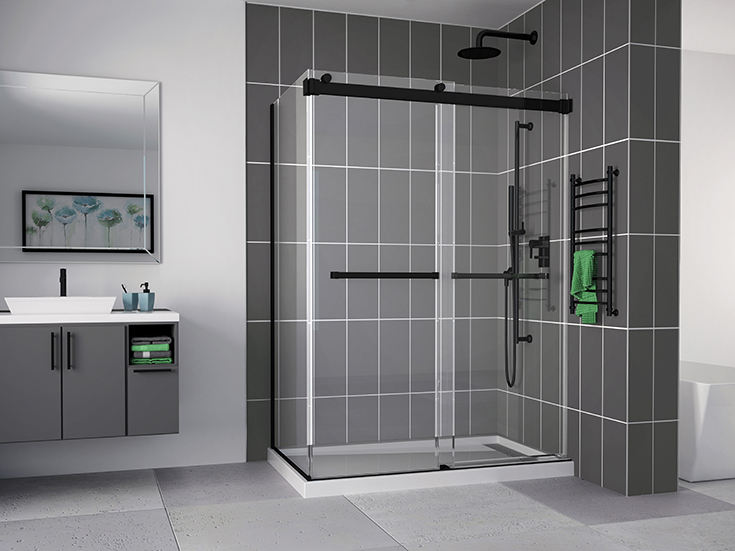 Advantage #5 – You can order taller and wider shower doors and glass walls
If you still want to use a door (to keep the shower cozy and warm) but need a wider opening (for someone using a wheelchair or for the 'long retired' former offensive lineman living in your house whose gotten 'just a bit bigger' over the years) you'll need thicker glass which can be made in larger sizes.
Or if you're designing a longer glass wall for a walk-in shower – thicker glass will be a must.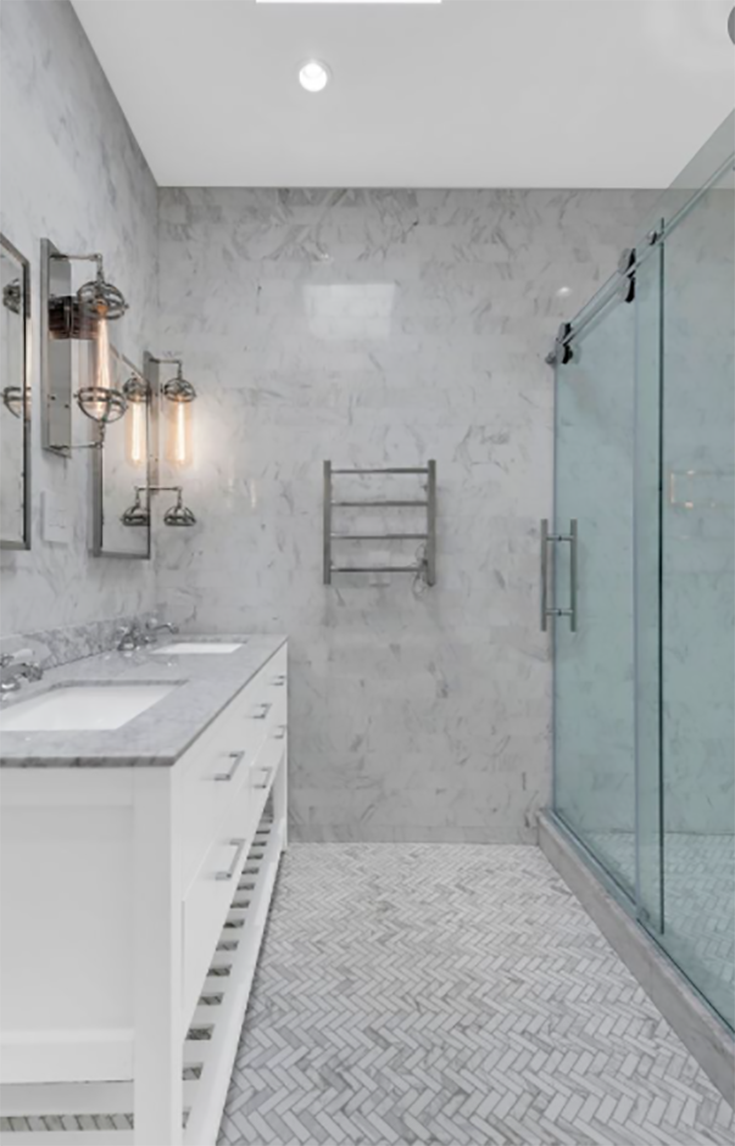 Image Source: www.glassdoor.com
Advantage #6 – Less framing to cut your worries about corrosion
Framed shower doors have metal EVERYWHERE! Around the shower door. Around the sides. Even at the top and at the bottom with the evil track discussed earlier. And while there are powder coated processes for metal doors, with lower quality door with shorter guarantees, you'll find metals do corrode in your damp bathroom.
With frameless doors there's far less metal to worry about.
When it comes to metal around shower doors – this is one case where 'less is more!'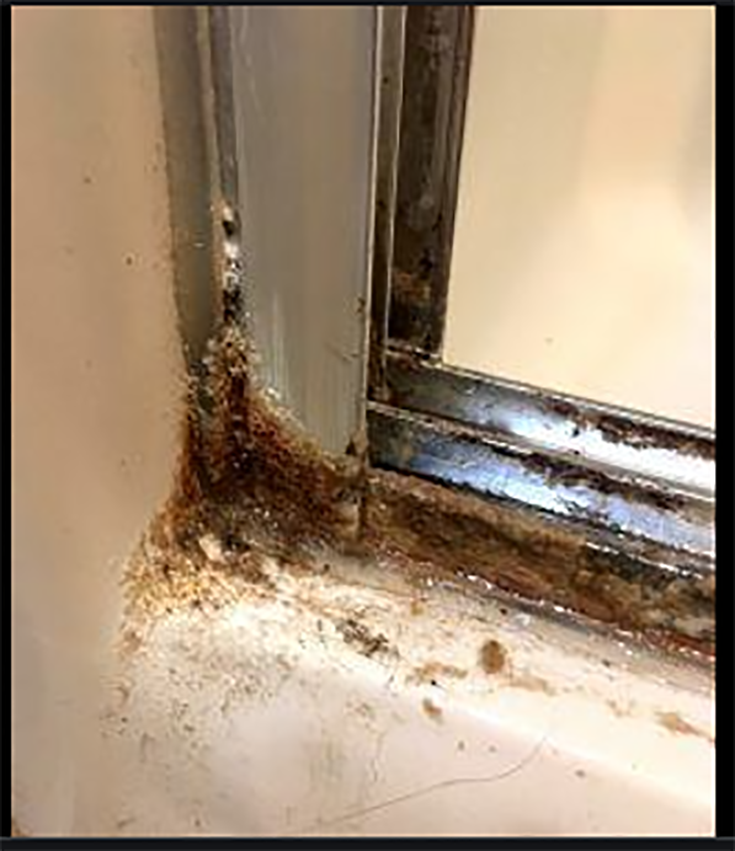 Image Source: www.myreallifeathome.com
Advantage #7 – There's a wide selection of custom glass design alternatives with thicker frameless glass
Perhaps you'll need custom glass manufactured to fit around your bench seat. Or you'd like two pivoting French doors for your two-shower head walk-in glass shower. With thicker glass, shower design possibilities are endless. You can even get curved and bent glass if you've got a 'skies-the-limit' budget.
Basically, if you have a complicated shower design, I'll bet a 'dollar to donuts' (and I swear that is the weirdest saying ever …isn't it?) you'll need to use thicker frameless glass to make your design a reality.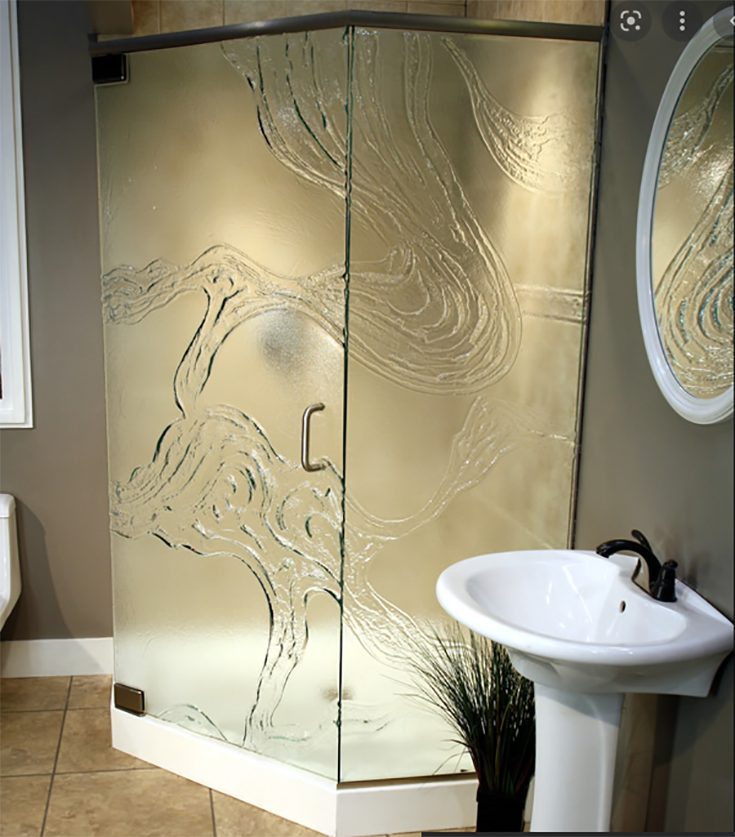 Image Source: www.kcprecisionglass.com
Advantage #8 – You can enjoy a trend-setting shower design whether you love a contemporary or classic farmhouse look
Clean, contemporary showers are the rage in interior design magazines. And, quite frankly, their open look doesn't work with bulky metal framed shower doors. The clearer the glass –free from visual, metal obstructions – the better. Thicker frameless walk in or pivoting shower door systems create this contemporary look.
And if you love, love, love the barn door style, a thicker frameless sliding shower door will be the ticket.
Bottom line – IF you want a fashionable shower, you WILL be using thicker frameless glass!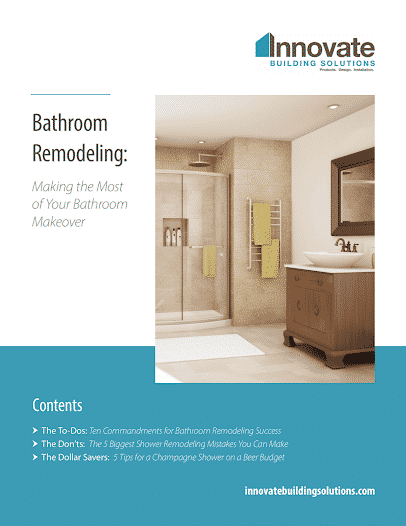 Bathroom Remodeling Ultimate Guide
Making the Most of Your Bathroom Makeover!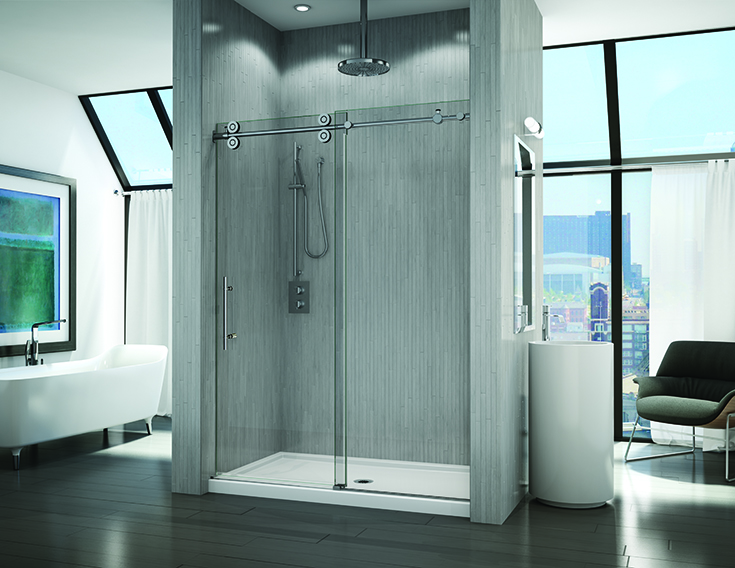 Disadvantages of Thicker Frameless Glass Shower Doors
Disadvantage #1 – As Pink Floyd would say, "Money, money, money…. MONEY!"
If you grew up in the rock-n-roll era (and yes, I'm dating myself by admitting that would be me), you'll relate to this song from Pink Floyd below.
And while we'd all like to be 'traveling first-class' in everything we do (and every purchase we make), this is not our reality.
A cruel fact about thicker shower doors is you'll have to fork over more money to buy them (and to have them installed as you'll see disadvantage #2). You can buy cheap framed shower doors from $250 to $550 if you have a small budget.
However, if you want thicker frameless shower doors, expect to pay from $750 to $1,900 depending on the size and shape of your shower. And when you need a larger shower system with 2 glass walls, you'll pay even more than that.
Thick frameless shower doors aren't cheap. You need a bigger budget. And that's my '2 cents' on that.
Disadvantage #2 – Thicker frameless shower doors are more complicated and heavier to install
Not only will you pay more for the thicker frameless glass shower door itself, but it's also a more complicated installation. Thinner doors are lighter. They have metal tracks on the sides to guide the glass inside. The thicker glass doors have clips which need to be level to prevent sagging over time.
And if you're a DIY'er the framed shower door will be simpler install. In general, a thicker frameless glass door takes twice as much installation time than a thinner framed shower door.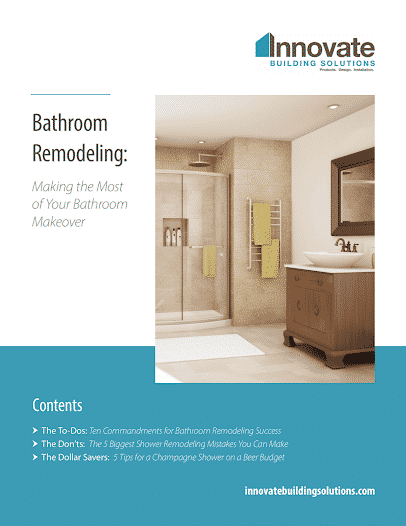 Bathroom Remodeling Ultimate Guide
Making the Most of Your Bathroom Makeover!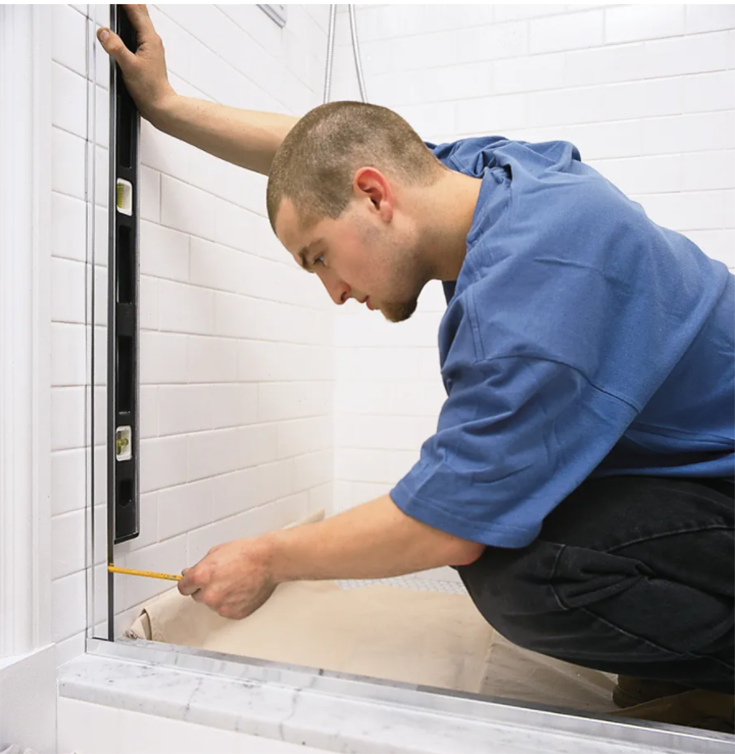 Image Source: www.thisoldhouse.com
Disadvantage #3 – Thicker doors are more prone to leaking
Although rubber gaskets are used at the sides of frameless shower doors, the edges can be the source of leaking if the rubber gaskets crack. And while gaskets can be replaced, leaking problems happen more with frameless shower doors (ESPECIALLY frameless shower door which weren't installed correctly).
So, does a thinner, or thicker, glass shower door make more sense for you?
There's no 'one right answer' on whether a thicker (or thinner) glass shower door is best. And although I hate being P.C. (politically correct), your best choice (framed or thicker frameless doors) really does depend on your circumstances. However, here's 3 points to lead you to the best choice.
Point #1) If your budget is uber-tight…you'll need to use a cheaper framed shower door and live with the consequences (more maintenance and a cheaper feeling door).
Point #2) If you want STYLE AND HAVE THE BUDGET choose the thicker frameless shower doors. They're stylish, sturdy and offer unobstructed views of your tile or grout free wall panels.
Point #3) If you have NO IDEA what to do and aren't sure you IF you have the budget or not get 'professional help.' And no, I don't mean the type of counseling where you must lay down on the couch! No, get input from companies who offer a broad range of glass shower doors AND even those who can install them for you.
And if you don't know of any such companies – here's where I'm gonna plug my business (sorry about that). We not only install glass shower doors in Cleveland Ohio, but we help customer with design and sell glass shower doors (mostly frameless and semi-frameless styles) nationwide. Call 877-668-5888 or click for free shower design help.
And if you need to do a Cleveland shower remodeling project, call The Bath Doctor at 216-531-6085.
We know you have a lot of choices in shower and bathroom products. We're committed to making your journey through the sea of selections simpler (and we may even be able to help you find a reputable contractor through our dealer network as well).
Thanks for reading.
Mike
###
If you want more advice (with less wacky humor because you'll see the 'buttoned-up' business version of me) follow me on LinkedIn @MikeFoti.
And if you're a bathroom remodeling contractor interested in being a dealer of unique shower wall panels, shower pans and glass shower door systems, call 888-467-7488 and ask for Mike.
---
Mike Foti
President of Innovate Building Solutions a nationwide supplier and regional (Cleveland and Columbus) remodeling contractors. Some of our product lines include glass counters, floors, backsplashes, glass blocks and grout free shower and tub wall panels
---