The Pros and Cons of a Corner vs. an Alcove Shower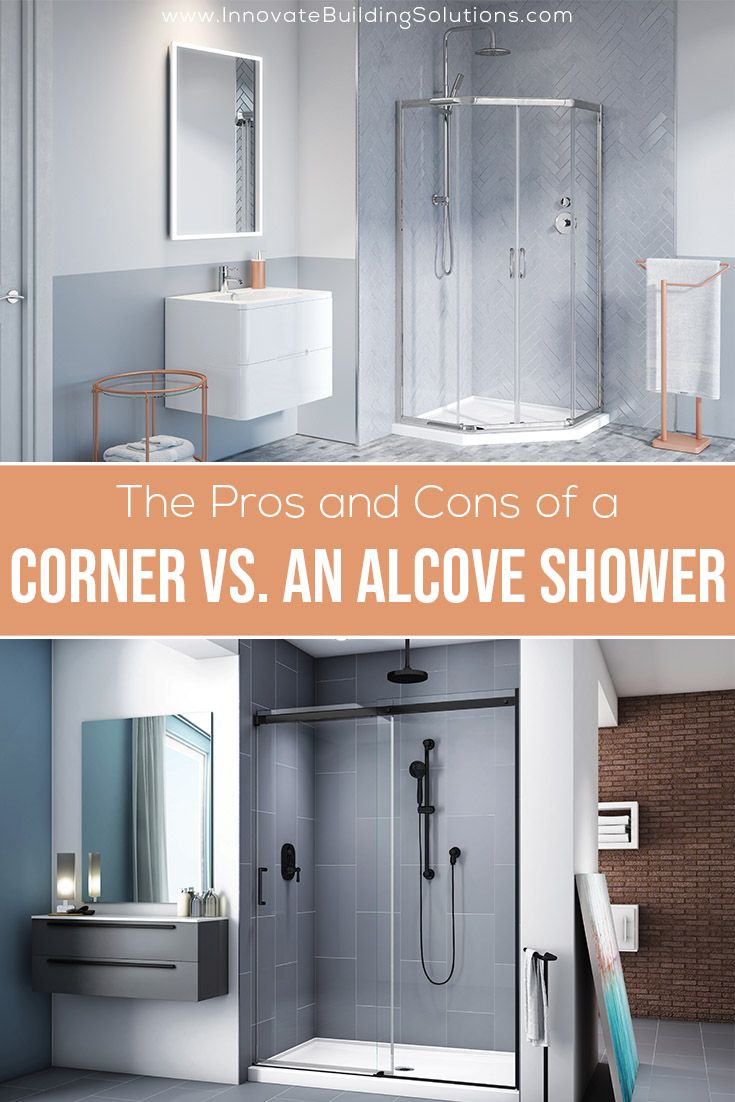 If you WISH you had room for a big shower, but you know 'that ain't happening,' you're likely debating whether to install an alcove shower or a corner shower in your smaller-than-you'd-like space.
And while both are available in multiple finishes, in an array of sizes, with different wall surrounds, glass thicknesses, and shower door styles (including pivoting or sliding door systems), this is where the similarity ends.
Corner showers have their pros and cons, and alcove showers have their advantages and disadvantages as well. In this article the goals are simple.
Define what a corner shower and an alcove shower are.
Provide an in-depth look at the pros and cons of both systems.
So, let's begin by looking at the definition of a corner shower and an alcove shower.
Definition of a Corner Shower
A corner shower is simply a shower which is installed in the corner of the bathroom. It (generally) has two internal shower surround walls. It can be made in NEO angle, curved, square or rectangular designs. It's often used in small bathrooms.
Definition of an Alcove Shower
An alcove shower is a shower which is enclosed between 2 walls and has 3 internal shower surround walls. It's generally rectangular in design. While an alcove shower can be used in a small bathroom, it can also be used in larger spaces.
And while it's nice to know the definition of corner and alcove showers, the real place where you're likely looking for input is where you should use each. To do this, I'll start with the pros and cons of a corner shower, then I'll turn our attention to the advantages and disadvantages of an alcove shower.
At the end, I'd love your feedback on which system is best for you.
The Pros (Advantages) of Corner Showers
(Pro #1) Corner showers work well in smaller spaces
Corner showers can be as small as 32" x 32", 34" x 34" and 36" x 36" or even smaller if you're putting one in a tiny home or RV. Granted these tiny spaces can make you feel they're as small as a phone booth (OK – that's assuming you even know what a phone booth is). However, if you've got a compact area, they're sometimes THE ONLY WAY to get a shower into your bathroom.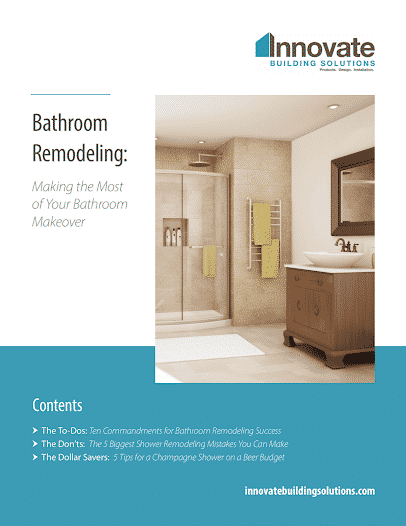 Bathroom Remodeling Ultimate Guide
Making the Most of Your Bathroom Makeover!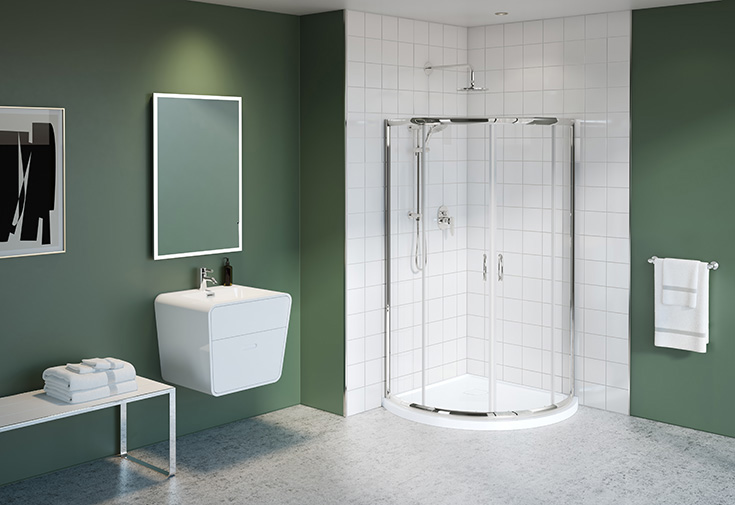 (Pro #2) – They make a small bathroom feel bigger when they're enclosed by glass  
If your bathroom is tiny, you know you need to do WHATEVER you can to 'open it up.' And since a corner shower has glass on two or more sides, it can create a more open feeling than using an alcove shower (especially an alcove shower with curtains).
To increase the feeling of 'space' use clear vs. obscure glass in your NEO angle, curved or rectangular corner shower.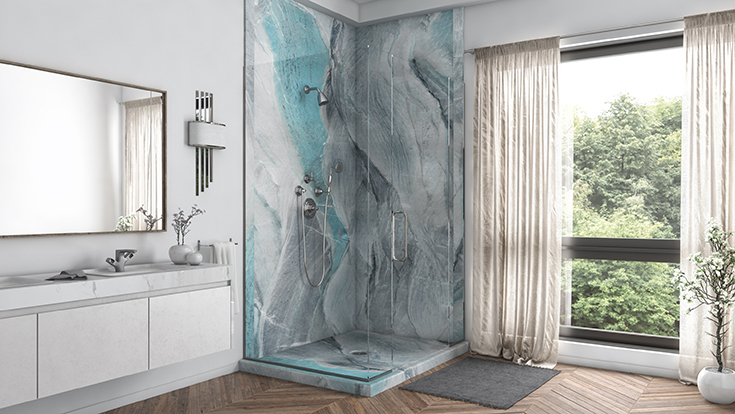 (Pro #3) – Corner showers work well in square bathrooms   
If you have a 5' x 5' or 6' x 6' square-shaped bathroom installing an alcove shower (which goes between 2 walls) can be a tough fit.
With a 3' x 3' corner shower, you'll not only have a compact shower for your small square-shaped bathroom, but if you use a sliding glass door or a NEO angle design, you'll have room for the door to open (or slide) and place your toilet or vanity next to your shower.
(Pro #4) – Corner showers are made in multiple shapes    
It's always nice for your shower to add style – as well as function well. And one fun factor about corner showers is they come in multiple shapes.
You can use a NEO angle corner shower where the door pivots on a 45-degree angle and leaves room for your toilet or sink on the side.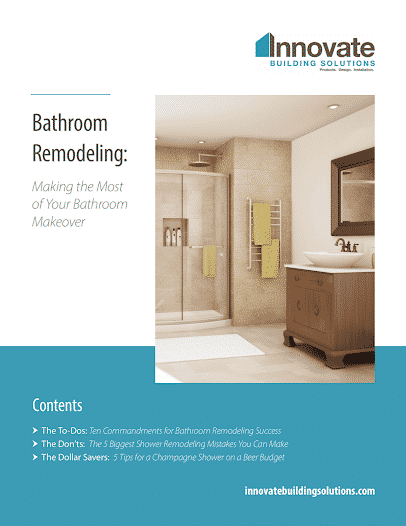 Bathroom Remodeling Ultimate Guide
Making the Most of Your Bathroom Makeover!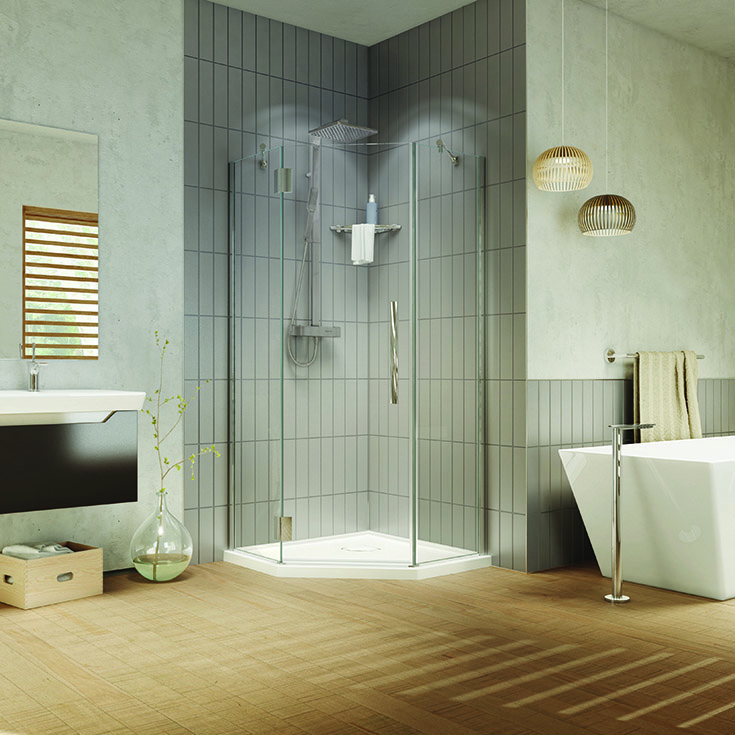 You can use an arc-shaped or curved sliding shower door, so the door doesn't swing into your tiny bathroom and water stays inside the pan.
And lastly you can use a rectangular shaped corner shower – where you can enter on the long side – or short side – for larger corner showers.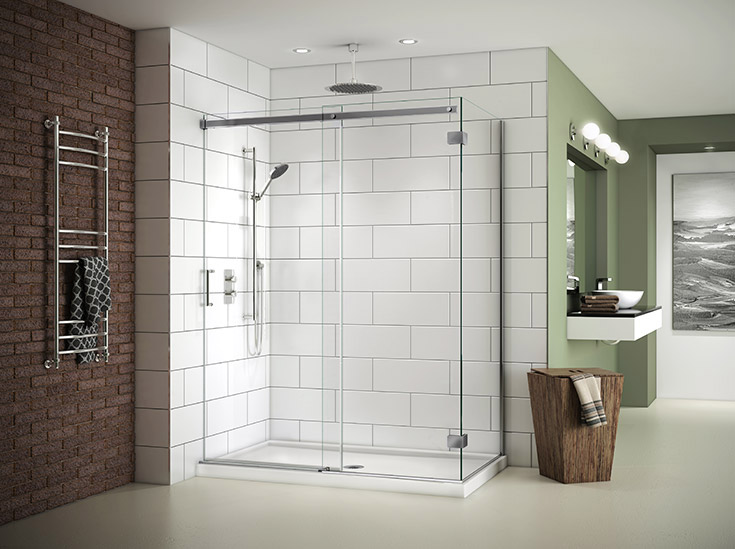 The Cons (Disadvantages) of Corner Showers
(Con #1) Standard-sized corner showers are 'teeny-tiny' as Roseanne Roseannadanna used to say!
A small shower is good…. except when it isn't. if you're a 'large body,' and have to use a 32" x 32" or 36" x 36" corner shower you need to be ready, willing, and 'able' to take the body blows which come with banging your elbows on the side your corner shower.
(Con #2) Walk in corner showers are hard to design
If you've had your heart set on a glamourous (and door-free) walk in shower, the chance of pulling this feat off with a corner shower is unlikely. For most walk-in showers, you need the opening to not only be 20" to 24" wide, but also to design the space so water won't gush out. Frankly, this likely just ain't happen' with a corner shower.
(Con #3) Framed corner showers use bulky hardware
If you're trying to keep costs down, you're likely planning to use a framed shower door (where the door and the sides have stainless steel framing so the glass can be thinner). And when you look at framed corner shower doors the thickness of the framing IS NOT the prettiest thing. Sure – they cost less. However, they won't win any 'style points.'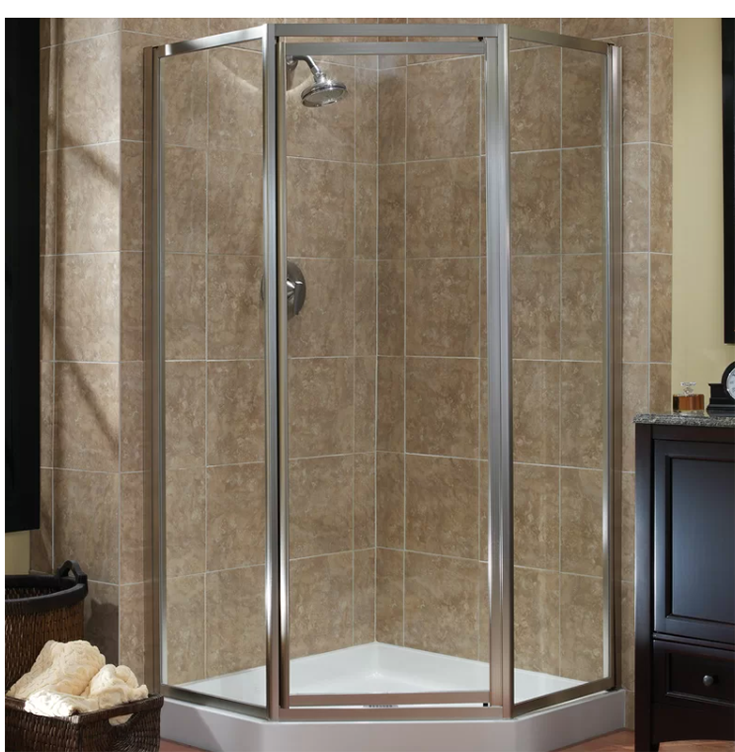 (Con #4) You'll need a taller curb to make sure water doesn't overflow when the drain is clogged
Since corner showers are smaller you have a higher risk of water overflowing because there's less surface area for water when the drain is clogged. It's for this reason I recommend a mid-height (3" tall) or full height (4" tall) curb for corner showers.
It's better to be safe than sorry when it comes to water spilling onto the bathroom floor (especially if this corner shower is used by your teenage daughter or son who has 'better things to do' (text, talk to their friend etc.) than pay attention to the shower which is overflowing (this is coming from a guy whose experienced a leaky shower due to a teenager – who will remain nameless…..'er Grant!).
The Pros (Advantages) of Alcove Showers
(Pro #1) The selection is HU-MON-GOUS
It's such a pain when you're shopping for the perfect shower pan, shower glass and shower surround walls and come up empty finding what you like. And one massive benefit to alcove showers is they're the most popular type. This popularity provides choices.
If you're doing a tub to shower conversion, where you'll need a 60" x 32" alcove shower pan, you can not only get the 'run of the mill' fiberglass pan, but can even find uber-cool low profile stone shower pans like you'll see below.
And if you're looking to get a sliding, pivoting, bypass or walk in glass shower for a 60" wide alcove, your eyes may get tired looking at options.
Get Free Samples!
Click here to request free samples of our Laminated Waterproof Shower Wall Panels.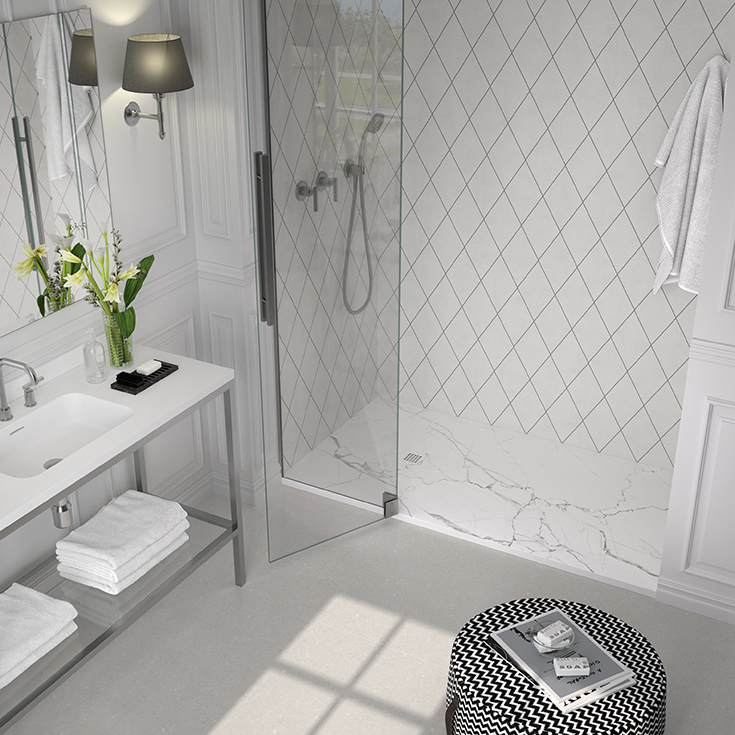 And if you want a grout free shower surround kit, you'll even find fun patterns like this herringbone laminate wall panel system to use in your alcove shower.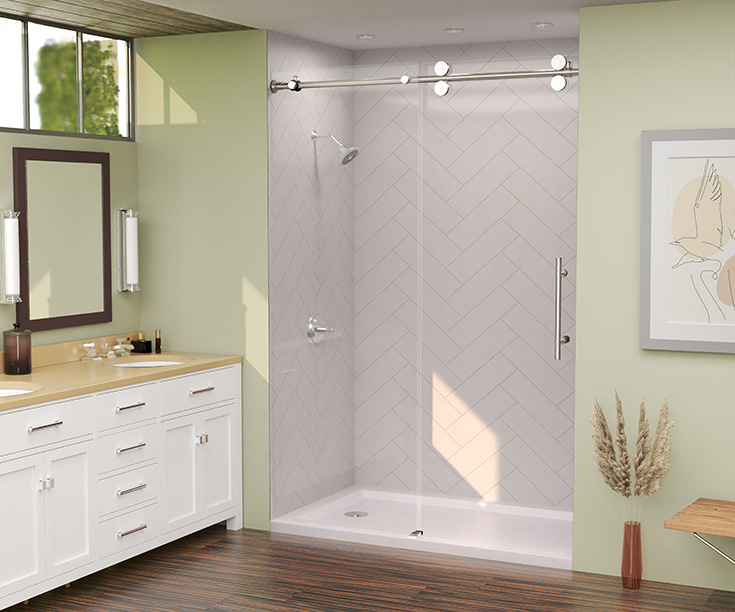 The bottom line is – if you're putting in an alcove shower, you'll have a wide range of options.  
(Pro #2) Alcove showers work well with shower curtains
Although I'm not a fan of shower curtains (because they get scummy and need to be replaced often), they do have their place if you want to save money (vs. glass shower doors) or need easy access to help a family member shower.
And installing a shower curtain in an alcove shower is as simple as putting a tension rod between 2 walls. It's far simpler than finding curtains for a curved or angled corner shower.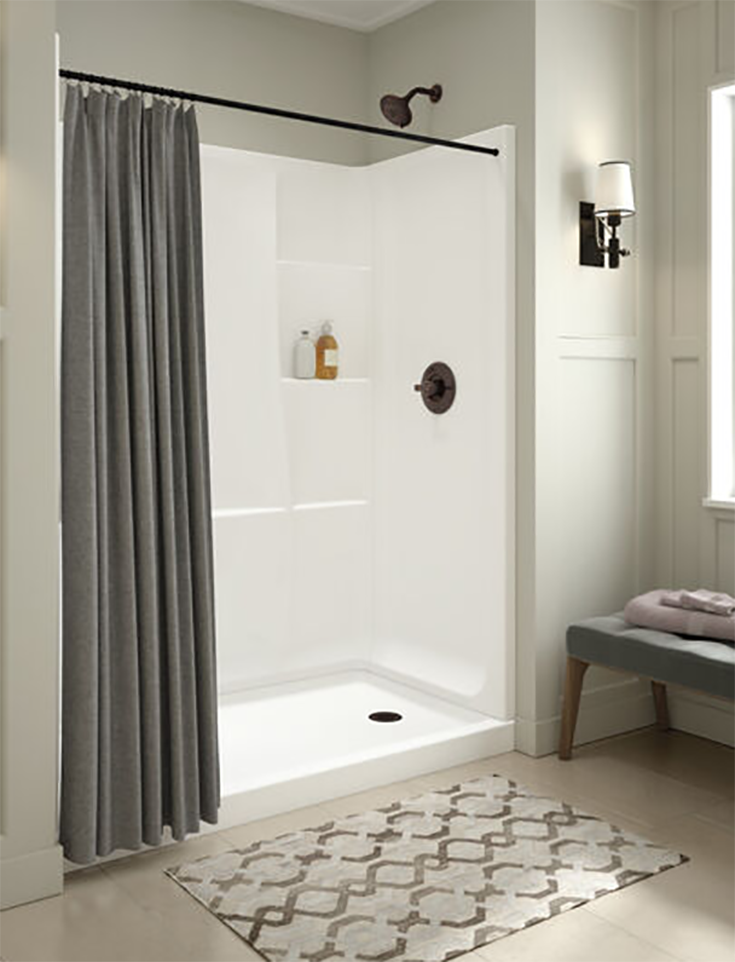 Image Source: www.deltafaucet.com
(Pro #3) Alcove showers are perfect for a tub/shower combo
You've heard the realtors. They say you need AT LEAST one tub in your home for resale. And even though you worry about your spouse stepping over the tub rail to get into a tub/shower combo, you still think it's smart to include a tub in at least one bathroom. And a 60" wide alcove tub shower is a perfect (and space-effective) way to accomplish this.
(Pro #4) You can do a walk-in alcove shower
Using fixed glass panels – or a pivoting shower shield – you can turn a 60" wide (or even a 48" wide) alcove shower into a contemporary walk-in shower. This approach not only gives you a larger opening, but also minimizes the size of the glass you have to clean. And let's not forget a walk in glass shower will (generally) cost less than a full sliding or pivoting shower door system.
(Pro #5) An alcove shower works well in a 5' x 8' bathroom
You wish you had the expansive bathroom shown in fancy interior design magazines where there's not only room for a HUGE walk-in shower – but also for a freestanding tub.
However, you know this IS NOT your reality. No, you have a common 5' wide x 8' deep bathroom with your shower at the back or side of the room. And while you may wish you could blow out walls to make the bathroom bigger, this is neither practical nor cost-efficient. You've concluded remodeling the existing alcove shower and replacing it with an updated alcove system is still the way to go.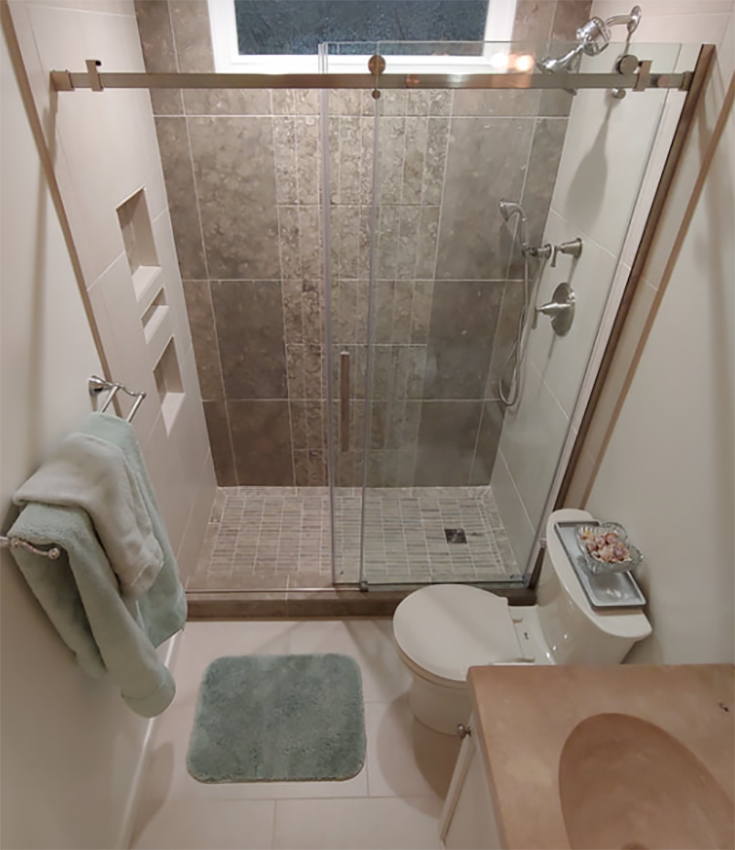 The Cons (Disadvantages) of Alcove Showers
(Con #1) A small alcove shower makes you feel like you're in a coffin
You can find small alcove showers as tiny as a 32" x 32" (or smaller if you're building a tiny home or putting a shower in an RV). However, it's not only not very comfortable, and it'll make you feel as if you're showering in a coffin. With uber-small showers, at least the corner shower has glass on all sides to make it 'feel' bigger, even if it isn't actually bigger.
(Con #2) An alcove shower brings in less light than a similar sized (glass enclosed) corner shower
Since an alcove shower (by definition) has 3 interior shower surround walls and one glass side, and a corner shower only has 2 interior surrounds with 2 or more glass sides – for a similar-sized shower the alcove will have less light on the inside. And if you're designing this shower for someone who doesn't have the best eyesight – more light is always best.
So, are you a fan of the corner shower or alcove shower?
Depending on the layout of your bathroom – you may not always have a choice between a corner and alcove shower (your layout may make the choice for you) – but if you do have the space for either system which do you prefer? Give me your thoughts in the comments below.
And if you need help deciding if an alcove or corner shower system is best or finding the right shower base, glass and wall surrounds for it, call Innovate Building Solutions at 877-668-5888 for design assistance and nationwide product supply. If you need a bathroom remodeling contractor in Cleveland Ohio, call The Bath Doctor at 216-658-1270.
Lastly, If you're a remodeler or builder and want practical advice on remodeling products, industry trends, marketing and sales tips to grow your business (and cut day to day hassles), start reading my newest blog – Innovate Builders Blog. It's packed with ideas you can use now. Click here to Sign Up for the Innovate Builders Blog.
If you're in the building business, click here if you'd like to learn how to become a shower dealer or call and ask for Mike at 877-668-5888.
If you want more advice, follow me on LinkedIn @MikeFotiLinkedIn.
Thanks for reading,
Mike
---
Mike Foti
President of Innovate Building Solutions a nationwide supplier and regional (Cleveland and Columbus) remodeling contractors. Some of our product lines include glass counters, floors, backsplashes, glass blocks and grout free shower and tub wall panels
---