How to Compare Bathroom Vanities and NOT Make a Bad Choice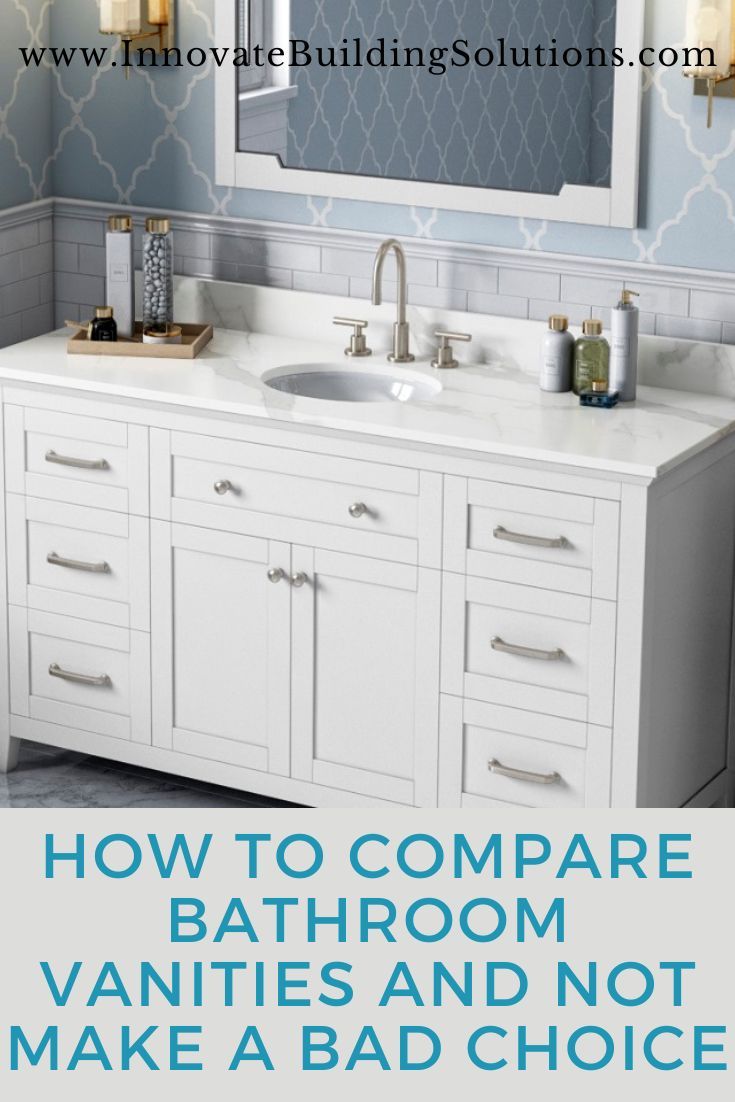 Does your bathroom vanity make you want to S-C-R-E-A-M? And if so – are you experiencing any of these frustrations.
Is finding your shampoo, deodorant, or conditioner in the cabinet a needle-in-a-haystack experience?
Is your vanity falling apart?
Are the doors hanging on by a thread?
Is the paint peeling?
Is the top stained from your daughter's lipstick?
Does your vanity look as up to date as the mullet your husband used to 'sport' back-in-the-day?
Is your vanity hard to use because it's too tall, too short, too deep, or too shallow?
And now that you've decided to take the scary plunge into remodeling your bathroom you know you DO NOT want to repeat your mistakes of the past. You ARE NOT putting up with another cheap vanity. And while it's easy to make this statement, you're not sure how to tell a high quality cabinet from a cheap one.
And if this is your dilemma, you've come to the right article.
Below I'll dig into 16 factors to make sure you don't make a mistake and get stuck with a bathroom vanity, countertop and bowl which become an eye sore shortly thereafter.
To provide structure for your comparisons I've broken done the vanity decision into 4 categories. They are:
Category #1 – How to compare bathroom vanity cabinets.
Category #2 – How to compare vanity countertops
Category #3 – How to compare vanity sinks
Category #4 – Other vanity considerations you'll neglect at your own risk.
Now – let's dig into 16 factors to make a smart bathroom vanity decision.
Category #1 – How to compare bathroom vanity cabinets
Factor #1 – What is the vanity made of?
The material the vanity is made of will have a HUGE impact on how well it lasts. For example, when you go into your local home center store the vanity might look 'pretty' on the outside, but if it's made from cheap particle board, you'll find it can become soft and break apart as it's exposed to the moisture from steamy showers your family loves to take.
So – if you're looking for a better vanity than the 'cheap' stuff you'll find in a local home center here's 3 options. These options get progressively more expensive as you go down the list.
Option #1 – MDF (Medium-Density Fiberboard) – This engineered wood composite is denser and stronger than particle board, yet still reasonable cost-effective. It's smooth and doesn't splinter. Its downsides are it can't be stained and is prone to swelling.
Option #2 – Plywood with veneer – Plywood is created when sheets of veneer are glued together. A wood grain is applied to the surface. This is a durable option for a bathroom vanity and rarely degrades.
Option #3 – Solid hardwood and solid wood– Many custom vanities are made from solid wood or solid hardwood. Solid hardwood can be found using oak, cherry, and maple. While it's most expensive – it also has excellent durability.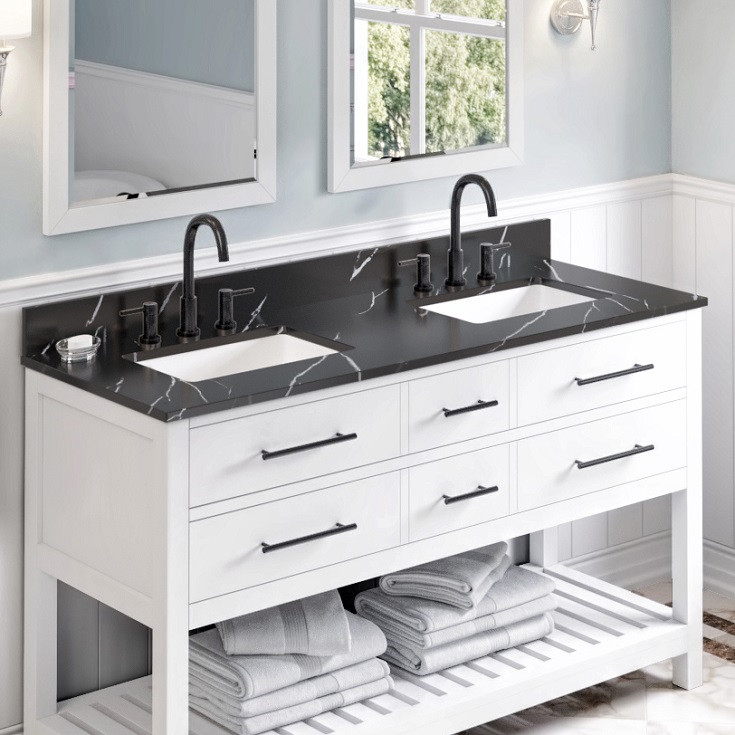 Factor #2 – Do you want a floor-mounted or wall mounted vanity?
A floor mounted vanity (also called a freestanding vanity) is placed on the floor of your bathroom. A wall mounted vanity is hung with brackets above the floor. Which one will be best for you depends on several features:
Feature #1 – You need wheelchair access – If a family member uses a wheelchair, you'll want a wall mount vanity so it's easy for them to roll under and use the faucet and sink without straining.
Feature #2 – You want a traditional or transitional look – The floor mounted vanity is preferred.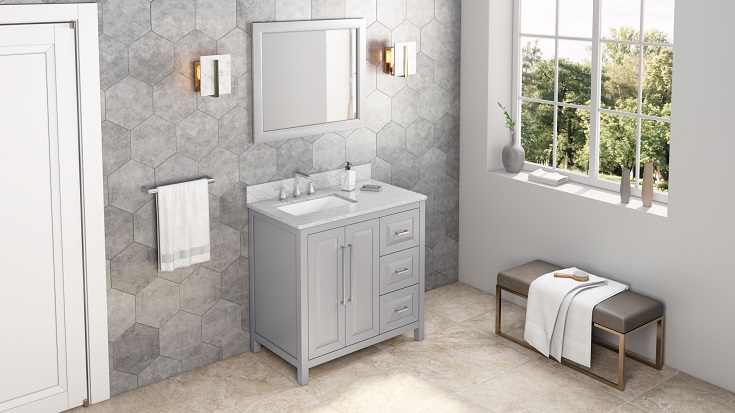 Feature #3 – You need to keep costs down – Floor mounted (or freestanding vanities) are more cost-effective.
Feature #4 – You want a contemporary look – Wall mount vanities are modern and sleek.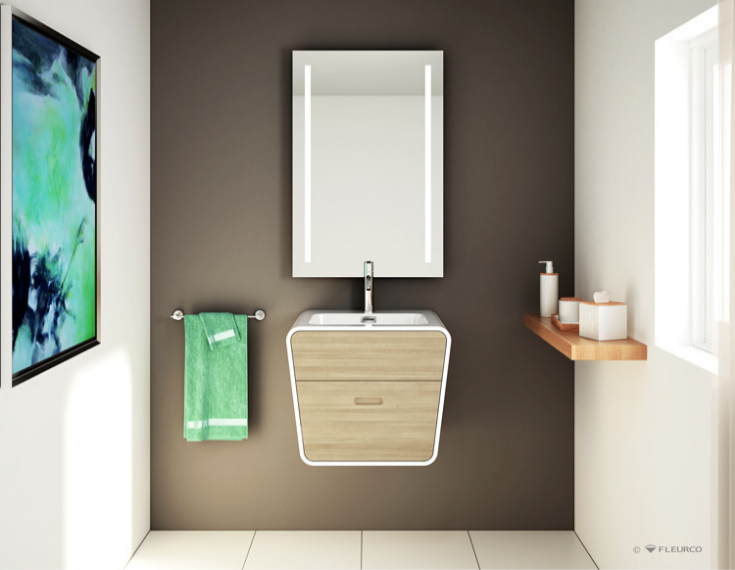 Feature #5 – You want a safer vanity because you have younger kids – If you worry about your kids climbing on the wall hung vanity, the floor based vanity is safer and firmly placed on the ground.
Feature #6 – You need more storage – Since the floor based vanity is taller than a wall hung unit – you'll have more storage.
Factor #3 – How tall is the cabinet?' Can its height be varied?
While floor based vanities can be bought in different heights – most standard freestanding vanities are 36" high (once you add the top). The advantage of a wall mounted vanity is you can place the vanity at any height you'd like. This is nice if you're designing the bathroom for little kids, someone in a wheelchair – or for the basketball player in your family.
Factor #4 – How can I maximize my storage?
When you look in most bathroom vanities, they're an utter DISASTER. Stuff is everyone. You end up rebuying deodorant, soap, and shampoo because you can't see past the 'mosh-pit' of products stuffed inside. Does this problem ring a bell?
So – you may wonder if you want a big storage upgrade, what type of bathroom vanity should you buy?
First, go with a floor based vanity. There's more storage in them because they're built to the floor.
Second, look for a vanity with drawers …and drawers which fully extend. Without drawers you have chaos.
Third, look for vanities with 'secret compartments' which make use of all the space inside. I love features like this tip-down drawer in front of the vanity top. This 'secret compartment' is perfect for weekly pill organizers, make up, brushes, toothbrushes, toothpaste or hair ties and clips.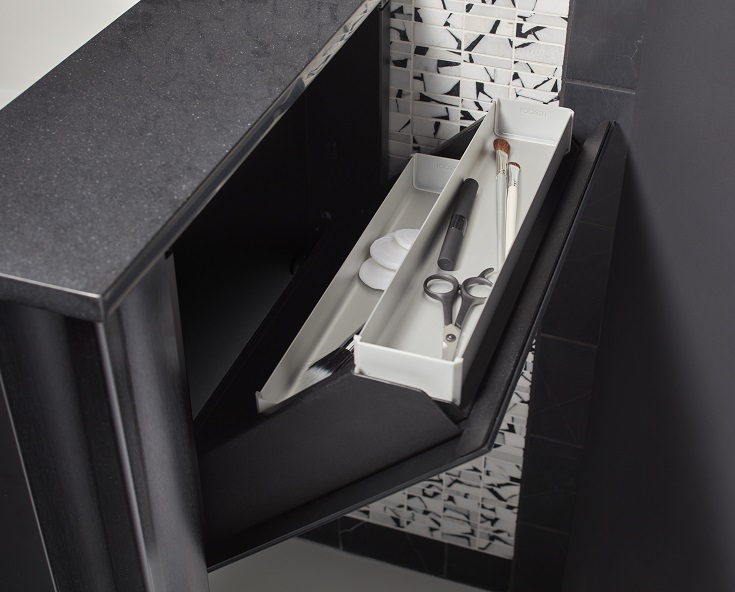 Factor #5 – How are the drawers assembled? Are they built to last?
This is where store-bought vanities can 'look good' on the surface, but once you look 'under the hood' (or below the countertop in this case) you'll see they're oh-so-junky.
If you're looking for a high quality bathroom vanity, look for a cabinet which has dovetail drawers, undermount and slow close slides, and full extension drawers. They're built to last and simple to use.
When you look at cheap drawers, they'll be pinned together or fastened with clips around the edges. Take a close inspection of the drawers before you buy. If they 'wobble to and fro,' they should be a hard pass.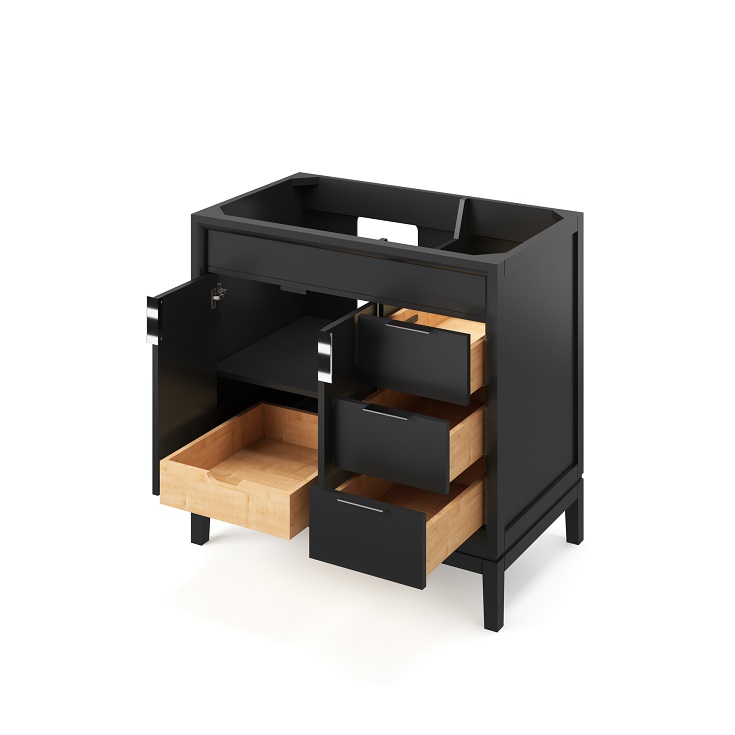 Factor #6 – Will the vanity width and depth work in my bathroom?
This is the 'Goldilocks' factor you'll ignore at your own risk.
For example – if you're desperate for a double sink vanity so your partner will stop elbowing you AND using your toothbrush (YUCK!), you'll need 60" width to make this work.
Or if you have a very narrow bathroom (let's, say 5' wide or less), you don't want it to be difficult to get around when you open your full-extension drawers. In this case a 21 ½" deep cabinet will be better than a 25" deep cabinet.
Category #2 – How to compare bath vanity countertops
Factor #7 – Which top gives me the look I like at the budget I can afford?
Vanity tops are a place you can make a splash (no bathroom pun intended) in your remodel. And there's nothing quite so fun as a bold quartz countertop. Or if you've got a crazy-large budget a LED lighted glass countertop. However, both options – while uber-cool – will NOT be for the budget conscious.
For a luxury bath countertop which is less expensive than quartz and glass, natural stone tops made of marble, limestone, or granite are popular.
And if your budget is tighter –opt for the consistency of a cultured marble or cultured granite countertop.
And lastly if your budget is very small, the laminate bath vanity top is always there for the low-cost remodel.
Factor #8 – What top is low maintenance and doesn't need to be resealed?
If you hate bathroom maintenance of any type (and the maid and butler you hired STILL aren't showing up for work…. OK, just kidding – you ARE the maid and the butler!) – you'll want to carefully consider how much work you'll need to put into keeping your countertop in tip-top shape.
And if you want lowest maintenance, stay away from natural stone tops. You see – while natural stone tops shine with their 'one-of-a-kind' looks – they're porous and require resealing every 6 months.
Low maintenance vanity tops include quartz (on the higher end of the price scale), cultured marble or culture granite (in the mid-price market segment) or laminate if your budget is squeaky-small.
Factor #9 – What is the thickness of the bathroom vanity countertop?"
A common way to get the cost of a bathroom vanity down is to use a thinner top. And this is exactly what you'll see with vanity countertop sold at LOW, LOW prices at home center stores. Lots of these tops are ½" thick. And while this top may 'work' if you're remodeling a low price 'fix and flip' home, a ½" thickness (or should I say thinness) top won't cut it in a nicer bathroom.
You'll find higher quality quartz, marble, granite, glass and cultured granite vanity tops in the ¾" to 1 1/2" thickness. If you're planning to stay in your home a while and don't want to skimp on quality, use a thicker top.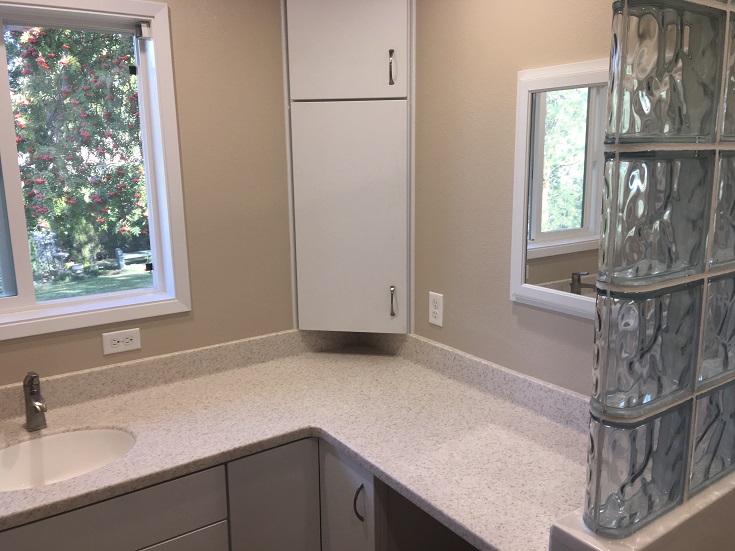 Factor #10 – Are holes pre-drilled into the top?'
While most bathroom vanities are not sold with a faucet, some tops are pre-drilled to reduce installation time. And while this is (generally) a good thing, it may also NOT be your 'little fre' (as Tony Montana from the movie Scarface would have said) if you buy a top with 8" hole spacing – yet you had your heart set on a single hole faucet.
In addition – if you buy a very cool (yet expensive) glass bathroom countertop – you absolutely NEED the holes pre-drilled because you can't cut into the top after the glass has been tempered.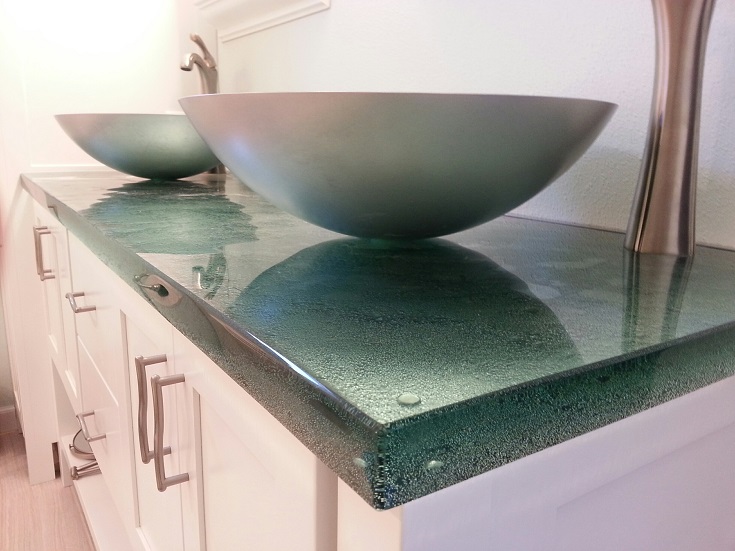 Bottom line – think about the holes, hole spacing and your faucets BEFORE buying the countertop.
Category #3 – How to compare bath vanity sinks
Factor #11 – Do you need a single sink or a double sink? Do you have enough room for a double sink?
So – are you sick and tired of bumping elbows in the morning with your spouse or partner? Have they accidentally used your toothbrush because you're sharing a sink and while half asleep, they grabbed what they thought was their toothbrush? If so – the double bowl sink can be your solution to this problem.
If you have a 60" wide cabinet, a double bowl sink is wonderful. The only tradeoff is –the extra sink will take countertop space away. Just something to keep in mind.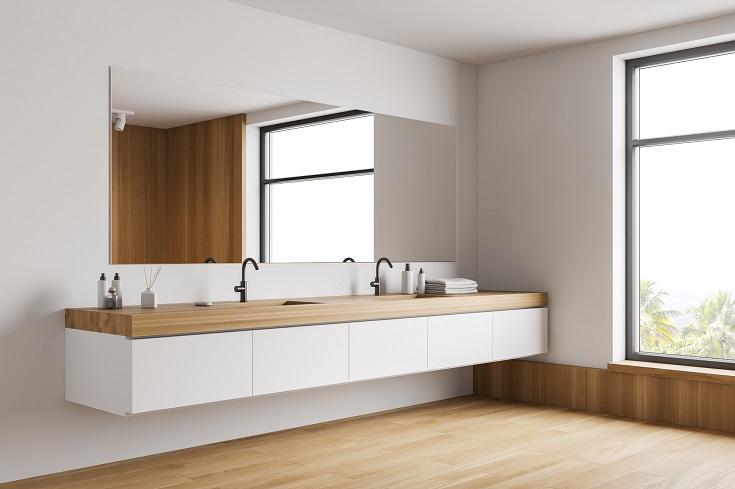 Factor #12 – What type of sink should you get – a drop in, vessel, undermount or 'all in one sink and top?'
The type of sink will not only effect how much your vanity costs, but it also has important implications for the look of your vanity, and how easy it is to use and clean. Let's look at the pros and cons of the four popular types of sinks.
Option #1 – Drop in sinks – Drop in sinks (also called top mounted sinks) are placed over the countertop. They're available in many materials (porcelain is the most popular). They're simple and fast to install. The drawbacks of drop in sinks are they're a pain to clean around the edges and use valuable countertop space.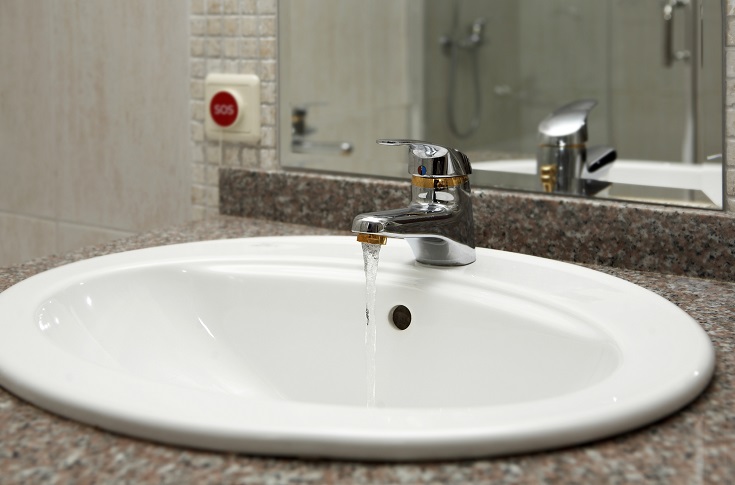 Option #2 – Vessel sinks – A vessel sink is installed on the top of the countertop. They add style (because the sink is literally there demanding you take notice of it!). They're simple to install (all you need to do is drill a hole through the top). However, the negatives of vessel sinks are they're a pain in the rear to clean around their edges and they add height to your sink – which can make it harder to use (especially for those 'V.C.' –'er Vertically Challenged – people).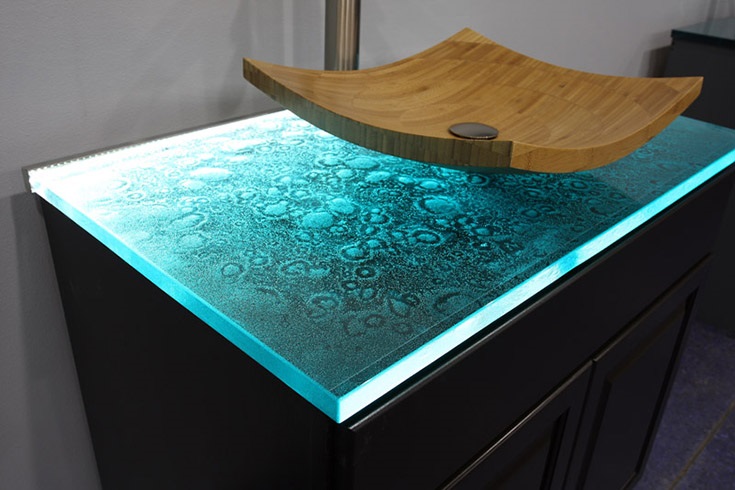 Option #3 – Undermount sinks – Undermount sinks are mounted under the countertop. The advantages of this type of sink are its sleek design, ease of cleaning, and larger countertop space. The disadvantages of undermount sinks are you need to make sure the countertop is cut to fit the sink and it's a harder installation than a drop in sink (however, this installation can be made simpler when you buy a top with anchor nuts pre-installed into the top).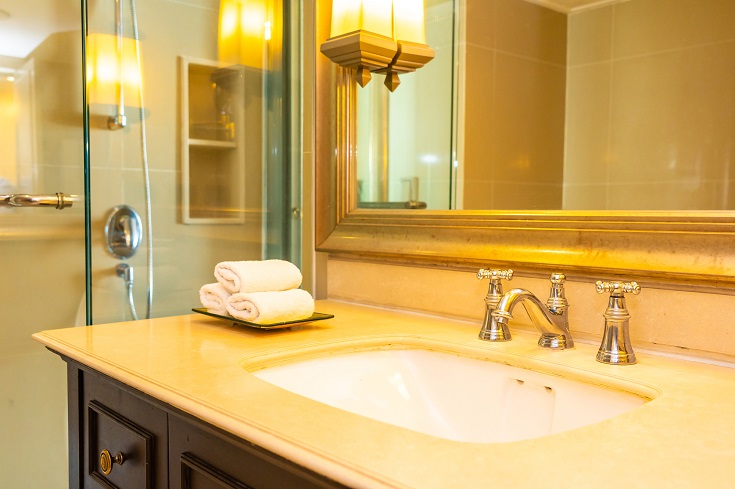 Option #4 – An integrated all in one sink top – With this option the sink and top are made as one unit. The advantage of this option is the simplicity and cohesiveness of the design. These tops are also simple to clean. The disadvantage of this option is for materials like natural stone – the integrated unit will be quite expensive. The other negative is if something goes wrong with either the top or bowl – both must be replaced.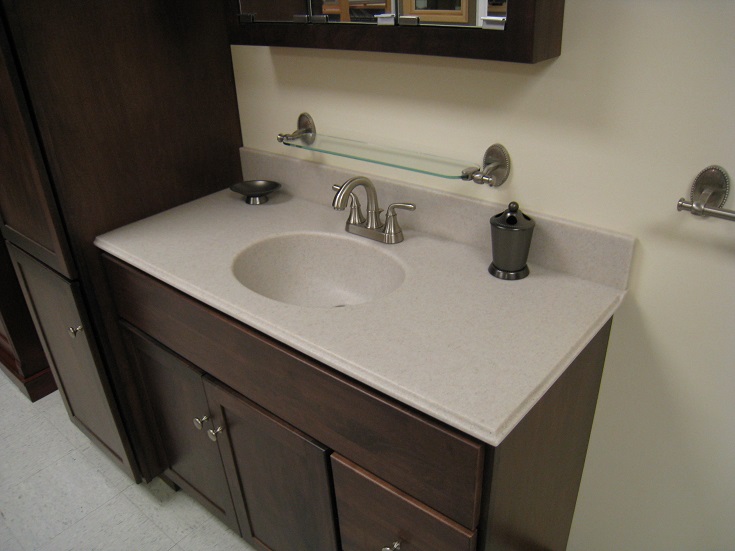 Factor #13 – What size, shape and depth do you want for your sink?'
Just like the type of cereal you pour into your breakfast bowl; the shapes and sizes of vanities bowls also come in countless variations.
However, here's some basic questions to keep in mind when selecting a size and shape for your sink:
What's your design style? If you're looking for a traditional look, a round or oval sink is best. For a transitional or contemporary design – a rectangular shape is smart.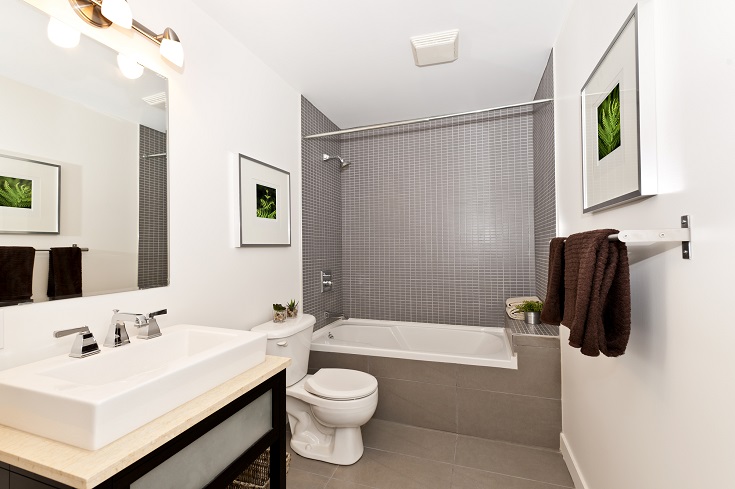 How much counter space do you need? It's recommended to have at least 4" of counter space on the side of your sink. However, no matter what size sink you choose – recognize the larger the sink, the less space you'll have on your counter (and vice versa). It's an unfortunate tradeoff.
How will you use your sink? The standard depth for vanity bowls is 5" to 8". And what you'll want to keep in mind is how you'll be using your bowl. If it's only for washing your hands – a shallower sink is fine. If, on the other hand, you like to wash your hair in the sink – you'll want a deeper bowl.
Category #4 – Other vanity considerations you'll neglect at your own risk
Factor #14 – When do you need your bathroom vanity?
Did you ever find the 'perfect product,' and then when you try to buy it you found it's 'out of stock' and the supplier isn't sure when they'll get it?
With supply chain shortages (and if you think about it, the term 'supply chain' wasn't even in your vocabulary pre-pandemic) finding what you need when you need it can be a major pain in the you-know-what.
So – here's what I'd recommend.
Know when you need to have your vanity installed (because if you're getting your vanity weeks after your contractor has completed everything else – it could become expensive to get them back out to your job just to install the vanity).
If you need a vanity ASAP, look for an in-stock bathroom vanity kit. These kits come with the cabinet, countertop and bowl sold as a system. These kits are designed to shorten lead times. However, (and I know this is a Ripley Believe it Or Not statement I'm about to make) if you find the right kit program, you'll actually find a lot of choices AND you can get your vanity cabinet shipped in 2 days or less!).
Otherwise – if you've got more exotic tastes (let's say you want a glass countertop and a custom-made all wood bathroom vanity), you'll need to know in advance all the lead times for the top, sink and cabinet so you don't mess up your remodeling schedule and incur extra installation costs.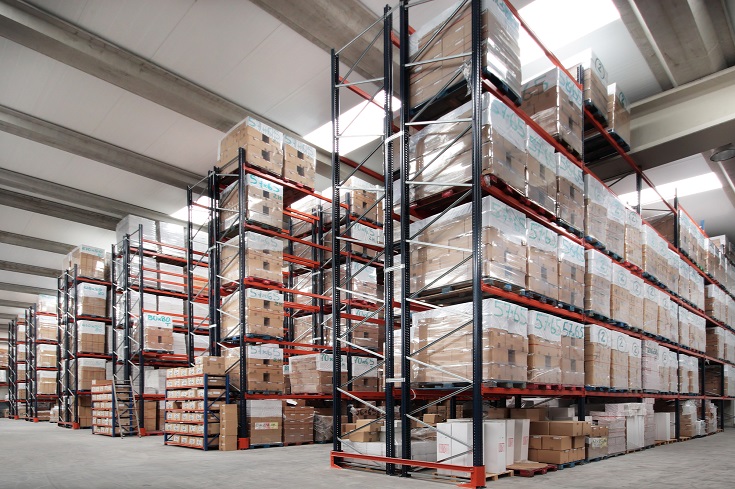 Factor #15 – Will it be a pain to find a mirror to match your vanity?
I know the number of choices in a bathroom remodel can drive you NUTS. It seems like a never-ending barrage of selections, and who really wants to labor over toilet paper holders anyway?
By the end of the project the last thing you want to do is research one more product. This frustration can cause you to say, "Take me away Calgon" – like this funny commercial from the late 1970's.
And one of these 'extra' choices many people don't think about is finding a mirror to put over your new vanity. However, if you want to make this selection 'easy-peasy,' look for a vanity program where you can find mirrors which match your cabinet. It'll be one more item you can check off your list without it being a hassle to you.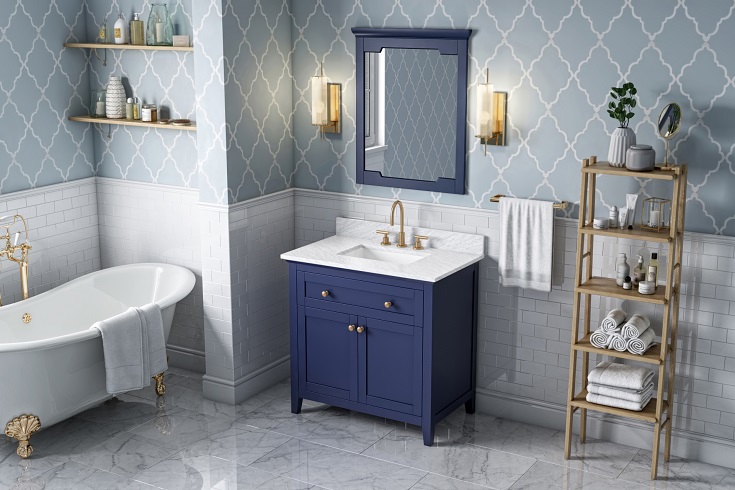 Factor #16 – What's the quality of the customer service and warranties which come with this vanity?
It's easy to remember times you've experienced customer service which made you want to scream. When you needed help NOW and were put on hold for 45 minutes. Then you had the 'privilege' (sarcasm intended) hearing 'how their menus had changed.' Then you heard during the on hold message (over and over again) 'how important your phone call was to them!' What a bunch of crap!
You get mad at yourself because you didn't realize this service was going to be so bad UNTIL AFTER you became a customer and needed help!
To make sure you don't get victimized with bad service after buying a bathroom vanity, read on-line reviews of the companies you're considering. No matter what company you'll buy from things can – and do – occasionally go wrong. The question becomes, how does your potential supplier handle challenges? How will they treat you when your phone call isn't a pleasant and the crap is hitting the fan?
In addition to investigating the customer service experience (or lack thereof), dig into product warranties. How many 'loopholes' are built into the warranty which allow the supplier to 'wiggle out' of helping you if the product doesn't meet your standards? In fact, some on-line e-commerce companies (who often sell to DIY'ers) even void the warranty if the cabinets are installed by a DIY'er. Imagine you sell to DIY'ers and then tell them to 'hit the bricks' when the proverbial (you know what) hits the fan!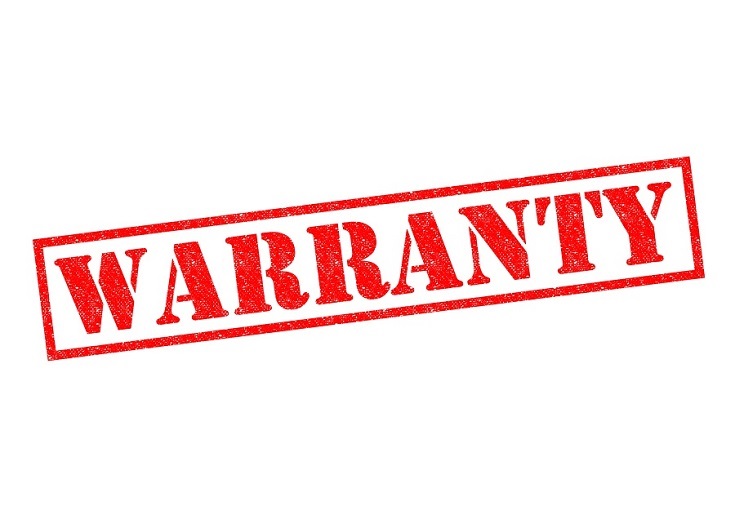 So, are you comfortable selecting a bathroom vanity? Do you need help?
I recognize buying a bathroom vanity IS NOT an everyday event (unless you're a bathroom remodeler). And I also know there's a big cost (literally) to buying the wrong product from the wrong supplier or manufacturer.
My goal in this article WAS NOT to tell you what the best system is for you. The goal is to guide you with 16 factors to help it become more obvious what bathroom cabinet, countertop and sink will make the most sense for you.
And while I hope I've helped you do this; I also recognize you may have specific questions you need answers for in order to find the perfect vanity for your remodel (and you'll also need to find out how much a bathroom vanity will cost).
Towards this end, I'd love for you to reach out to me and my team for assistance (whether you need help with in a vanity, shower, alcove bathtub, or simply to get more educational resources to make an informed decision).
Call 877-668-5888 or click for a Free Design Consultation. Our company (Innovate Building Solutions) wholesales complete bathroom vanity kits, shower wall surrounds, shower bases, and acrylic freestanding tubs nationwide and would be happy to help you.
And if you're looking for a bathroom remodeling contractor in Cleveland Ohio call our Bath Doctor division at 216-531-6085. If you're outside Cleveland Ohio (which is undoubtedly most of you) ask for a referral to one of our installing dealers).
Thanks for reading,
Mike
###
If you want more advice (with less wacky humor because you'll see the 'buttoned-up' business version of me) follow me on LinkedIn @MikeFoti.
And if you're a bathroom remodeling contractor interested in being a dealer of unique shower wall panels, shower pans and glass shower door systems and purchasing quality shower kits, call 888-467-7488 and ask for Mike.
---
Mike Foti
President of Innovate Building Solutions a nationwide supplier and regional (Cleveland and Columbus) remodeling contractors. Some of our product lines include glass counters, floors, backsplashes, glass blocks and grout free shower and tub wall panels
---