15 Little-Known Shower Remodeling Products to Add Function AND Fashion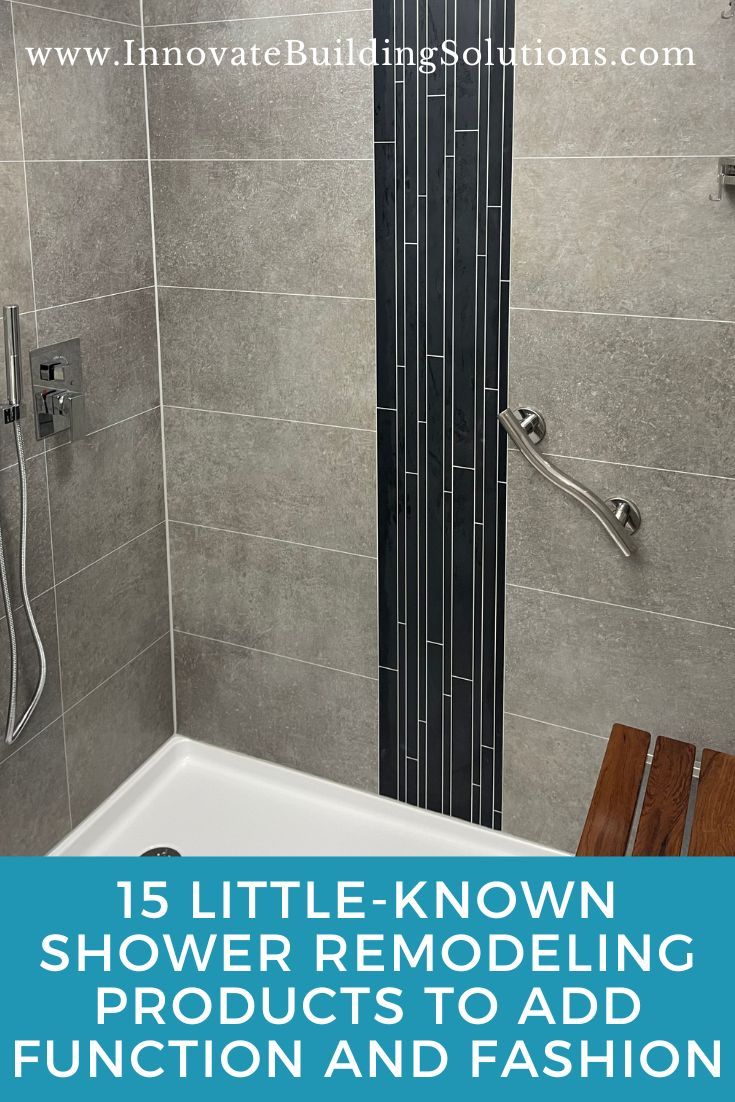 I have to laugh because when you look up articles on the Internet about 'shower remodeling products,' you basically get a selection of writings about quirky 'shower gadgets.' And while it'd be nice to have a wine glass holder in the shower, or shower-friendly notepad or even a shower curtain you can put your laptop in (and yes – ALL these crazy shower products do exist!) – most people want to remodel their showers (or turn a tub into a shower) because they've got serious problems they need to fix. Gadgets ARE NOT the top issues on your mind!
And let me ask you if you can relate to these – all-too-familiar shower problems:
Problem #1) Your tile shower walls are moldy. You can practically see the bacteria oozing out of them.
Problem #2) Your flimsy, bright brass, behind-the-times shower door is filled with scum, hair, and God-only-knows what inside the evil track at the bottom of the door.
Problem #3) Your plastic shower pan has dirt embedded in it you CAN NOT get out no matter what crazy chemicals you've tried using.
Problem #4) The plastic shower caddy which hangs over the shower head would say (if it could talk), "Aren't I the tackiest thing you've ever seen!"
Problem #5) You're worried about a loved one tripping over the shower curb ('er threshold) which is far too high.
So – while it might be fun to buy a few quirky gadgets (AKA shower products), none of these novelties is going to solve how 'butt-ugly' your shower looks, or how poorly it functions today. No, you need shower remodeling products which will make your space safe, simple to maintain, long-lasting – and dare-I-say-it, fashionable as well.
And at this point you may be asking where are these little-known shower remodeling products which can add function AND fashion to my P.I.A. (and yes, I'd spell this out, but I don't swear) shower?
Read below – and choose from – 15 little-known, yet uber-cool (OK – I'm a shower geek, so it is possible for me to look at shower products as uber-cool) shower products to kick your next remodel (or new home bathroom) into high-gear.
Shower product #1 – Fibo laminate shower wall panels
If you've lived in Europe this product will be 'old hat' for you. However, if you haven't, get prepared for a proven (these panels were invented 41 years ago) grout free wall system which is 3/8" thick and clicks and locks together. Laminate shower panels not only eliminate your need to clean tile grout (not exactly one of your favorite activities), but you'll swear they look exactly like tile and stone.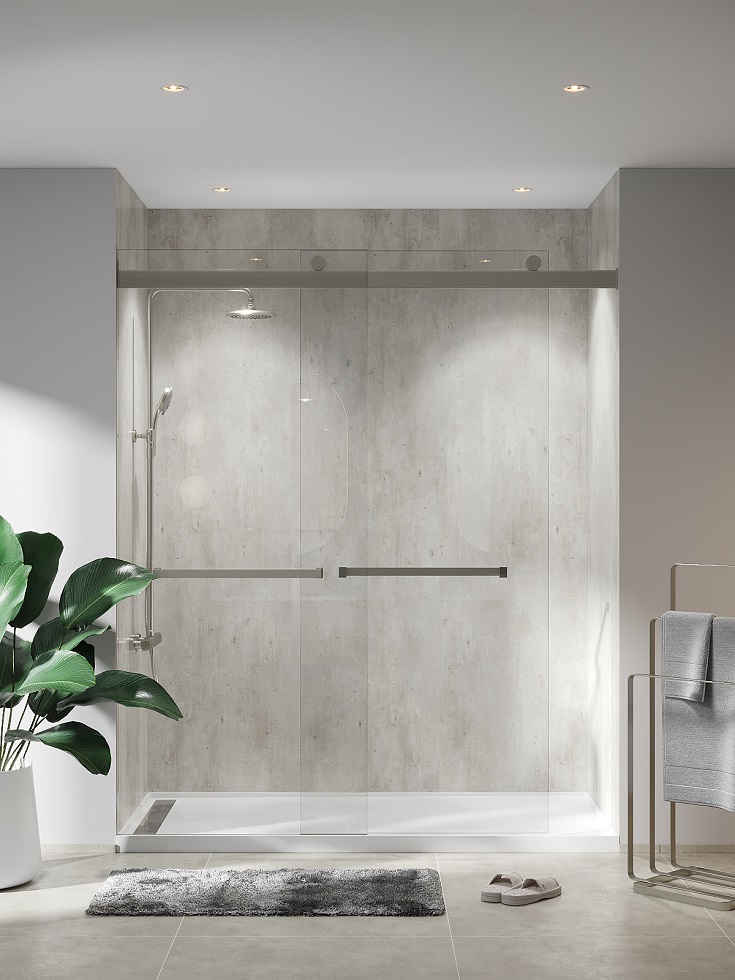 And they're even available in fun patterns like cracked cement and 90-degree Ocean blue herringbone. Can't you imagine these cool styles in your bathroom?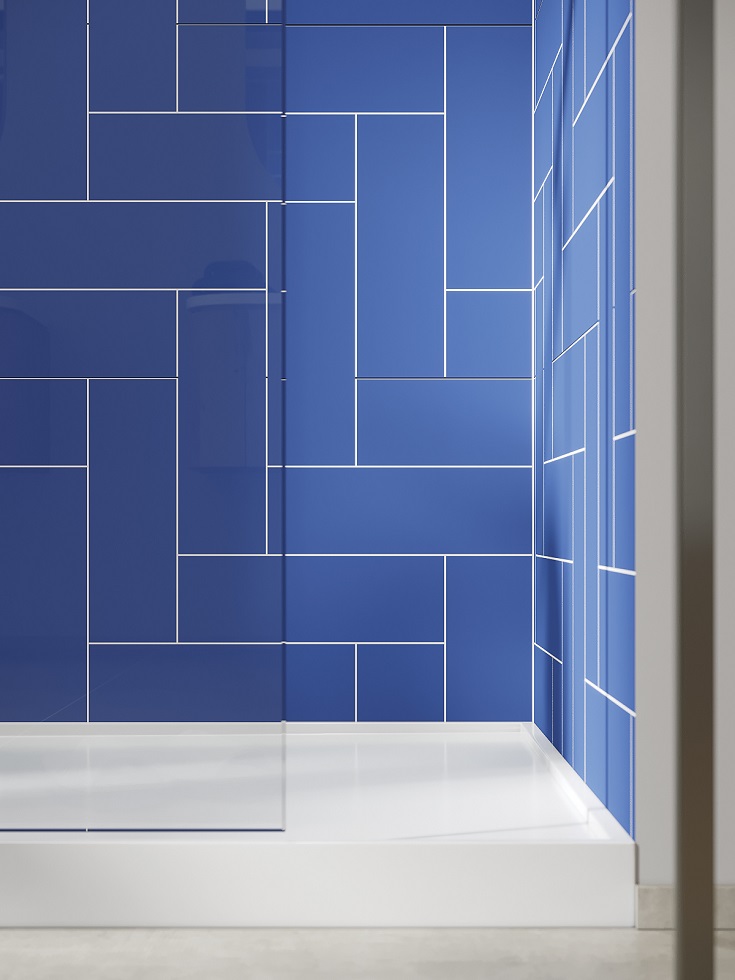 Shower product #2 – Stone low-profile shower pans with 'disappearing' drains  
Let's face it, round shower pan drains look disgusting – and cleaning the hair out of them is certainly a stomach-turning experience. And while shower base systems won't eliminate your daughters Rapunzel-esque hair clogging the drain– you can at least have a stylish shower where you won't have to look at an ugly round, spotted, chrome drain cover anymore.
No, with these contemporary low profile stone shower pans – you'll get an easy entry base (it has a 1 1/6" high curb to step over) with a matching square drain plate which makes the drain virtually invisible! Choose from fashion-forward matte finished styles in white, black, gray, white marble, black marble, and driftwood patterns.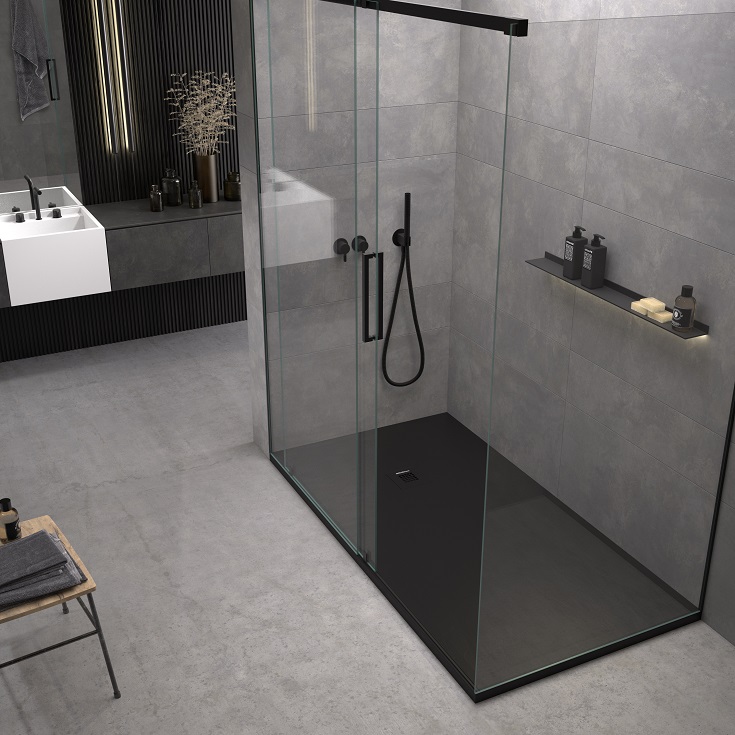 Shower product #3 – Oversized recessed niches
Finally, the time has come to blow up your Dollar-Store plastic shower caddy – which is already 'filled to the rim – without Brim (and if you don't remember this old commercial from the 80's I've included it below – just for some laughs).
No, if you're like most people – what you really need is a lot, lot, lot of storage. And that's exactly what you'll get with this line of horizontal and vertical recessed niches. They come as large as 58" x 14" and 14" x 58" in 10 finishes to match many shower wall decors and plumbing fixtures.
Throw out your ugly shower caddy, RIGHT THIS MINUTE!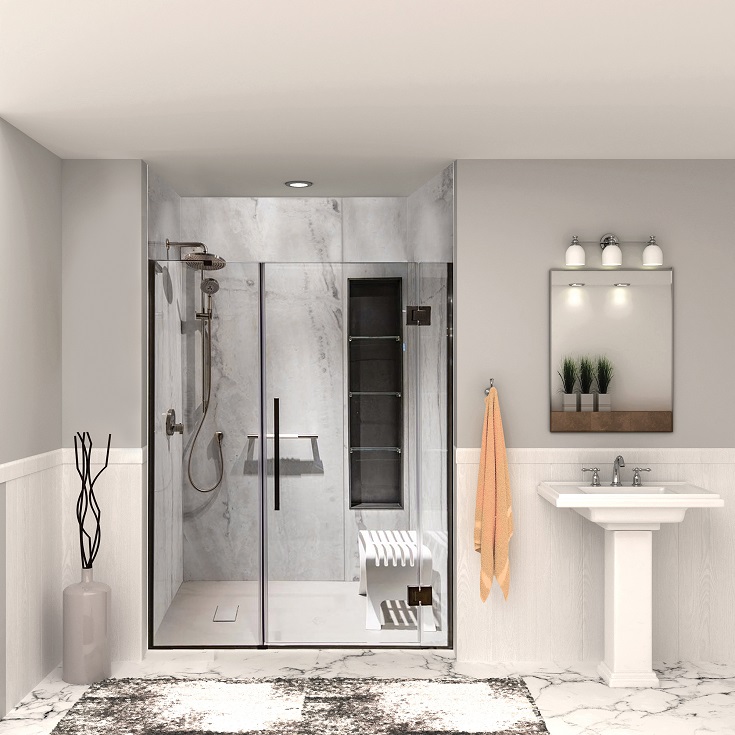 Shower product #4 – Euro-inspired one level walk-in or roll-in wet room systems
Perhaps you're designing your next shower to 'age in place' (OK – I'll tell you as a 62-year-old I hate this term because I'm in no way looking to 'age in place' like a rock!).
Or perhaps you just want a sleek looking one level shower, but your bathroom remodeling contractor says they'll need to cut into your joists to make it happen. And cutting into the structure of your home scares the bejesus out of you.
Well – if this describes you, I've got a product you NEED to check out. It's a one-level wet room system. It combines a 'shower base former (a glass reinforced plastic unit which forms the slope of the pan), a waterproofing kit, and a drain. It creates a one level floor which is as popular for people who need to use a wheelchair as it is for those who just like a contemporary one level bathroom look.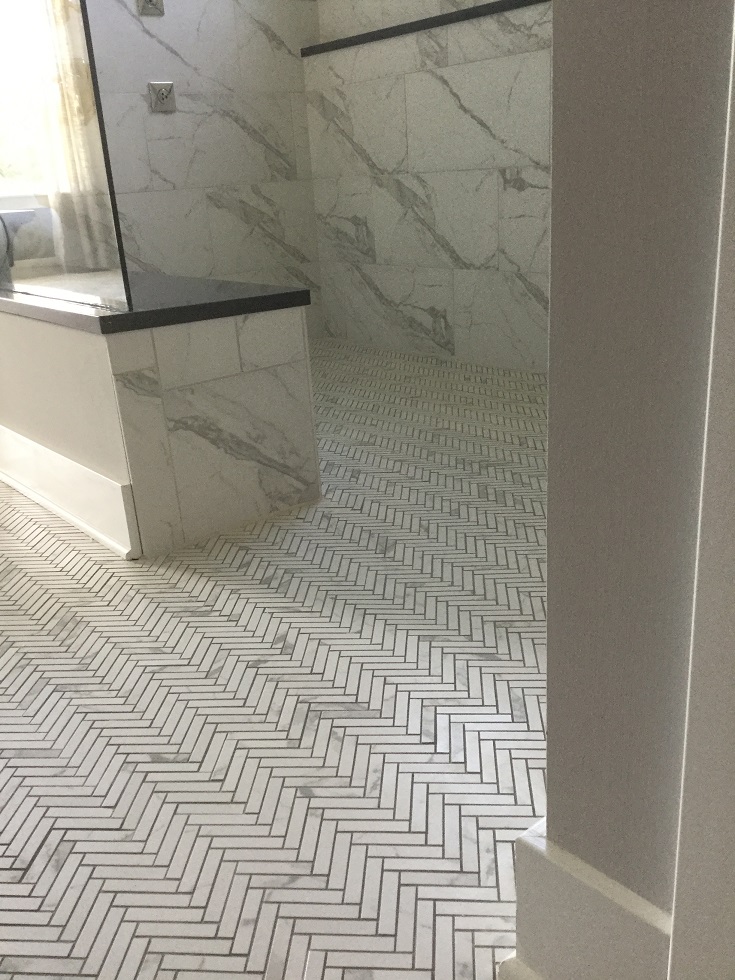 Shower product #5 – Shower doors with 'invisible' features which make your door easier to clean and safer
Way too many people fight to keep scum off their shower door. It's a pain-point which keeps on giving.
In addition, many people are worried about their shower door exploding and hurting a loved one.
Well, what many people don't realize is if you buy a shower door with the right 'invisible' features you'll save time cleaning AND have a safer door.
Here's 2 invisible features you need to make sure are included in your glass shower door:
#1) Glass surface protection– This invisible film serves the same purpose as Rain-X does for your car windshield. It helps to bead water and move it off the glass.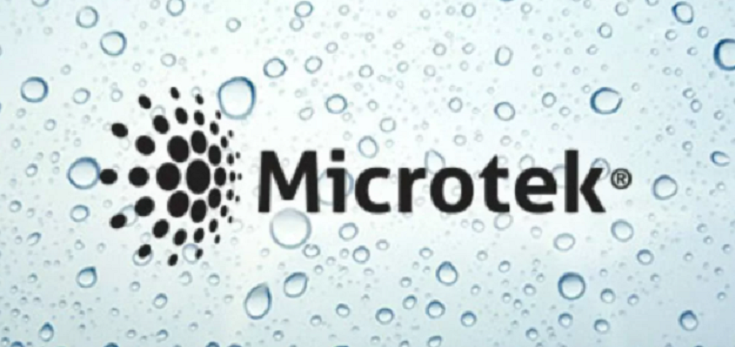 #2) Glass breakage protection – This product (also called 'Sekur' glass) has an invisible film on the outside of the door to hold the glass in so you won't have to worry about an 'exploding' shower door. See how it works in the video below.

Shower product #6 – Decorative glass block walls
If you're tired of glass blocks and think they're out of style, think again.
With cool patterns – like this circular focus glass block – even hip, urban upscale hotels are creating walk in glass block showers. And whether you need a straight or curved glass block wall – you can get a shower wall installation which will look like a piece of art. Say no to boring glass walls. And a bonus to glass blocks is it's harder to see water spotting on them.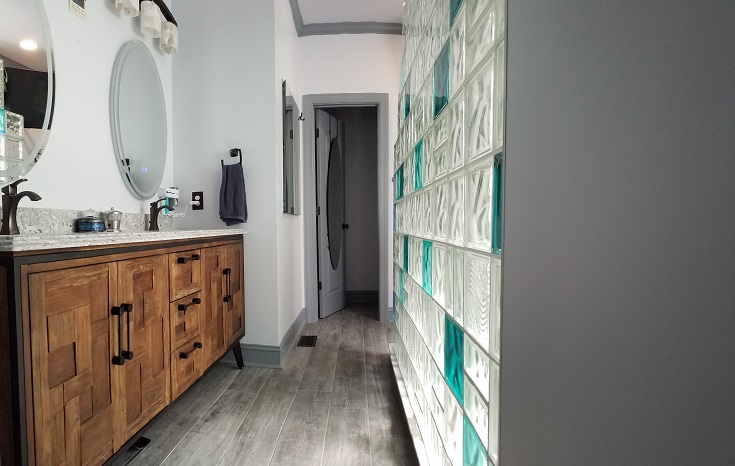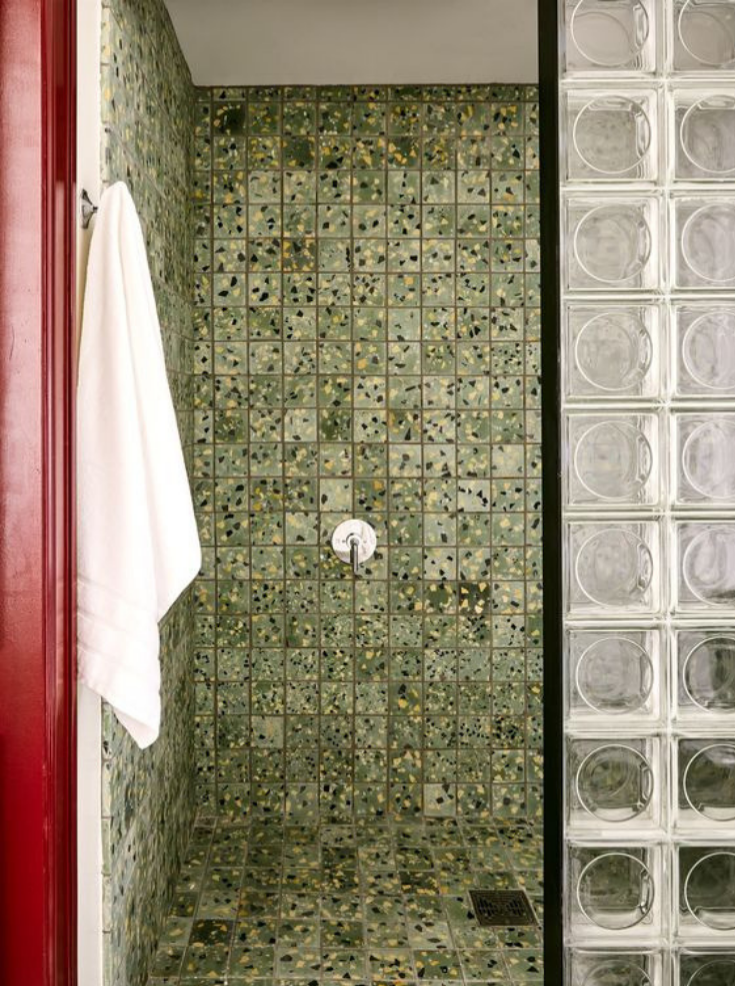 Shower product #7 – A shower head with LED lighting
Add 'cool' and 'safety' at the same time. If your shower is dark and hard to shave and shower in, this LED shower head can be the ticket for you. Some of these units even have multi-colored lights (just in case you want your shower to take you back to your 70's Disco days!).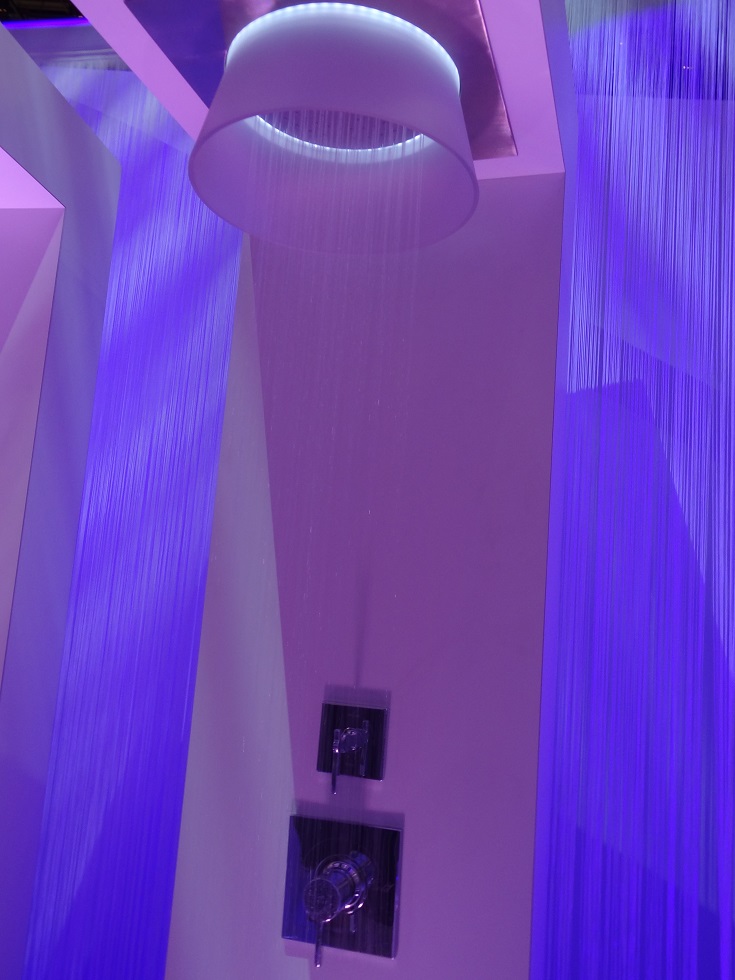 Shower product #8 – Adjustable shower shelves
When I saw this product launched by Kohler 5 years ago – I thought what a cool idea! Instead of having to 'conform' to pre-existing shelf spacing inside your niche (which may or may not fit your favorite products), this system gives YOU the ability to move the shelves up and down to your hearts-desire.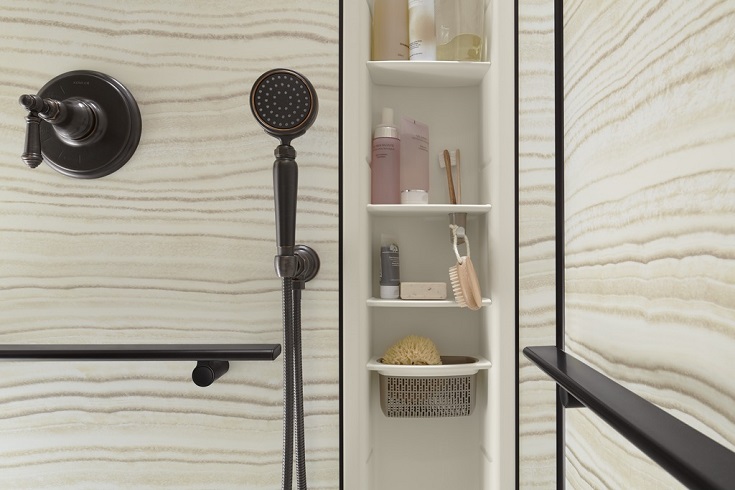 Shower product #9 – A grout-free 'mosaic' tile shower floor
Mosaic tile shower floors look wonderful when they're first installed.
Then you use the shower.
Then the mold and dirt start forming in the joints.
Then YOU get the pleasure of cleaning those joints (and can 'look forward' – sarcasm intended – to cleaning them again and again and again).
If you love the look of the mosaic tile shower floor but HATE, HATE, HATE the grout joint, I've got an idea for you. Get a cultured granite shower pan  with a mosaic design. It'll give you the mosaic look without the cleaning hassle (or concern about a leaking shower floor pan).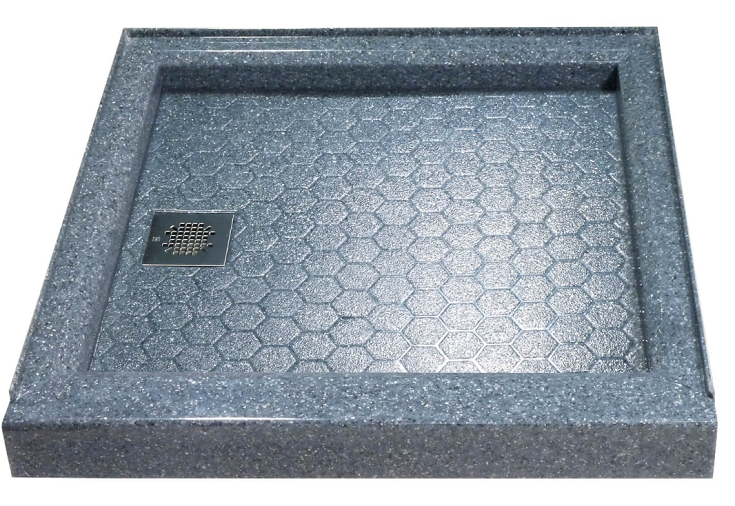 Shower product #10 – A shower seat which isn't a pain to maintain
If you've put up with a tile bench seat in your current shower, you know how painful they are to clean.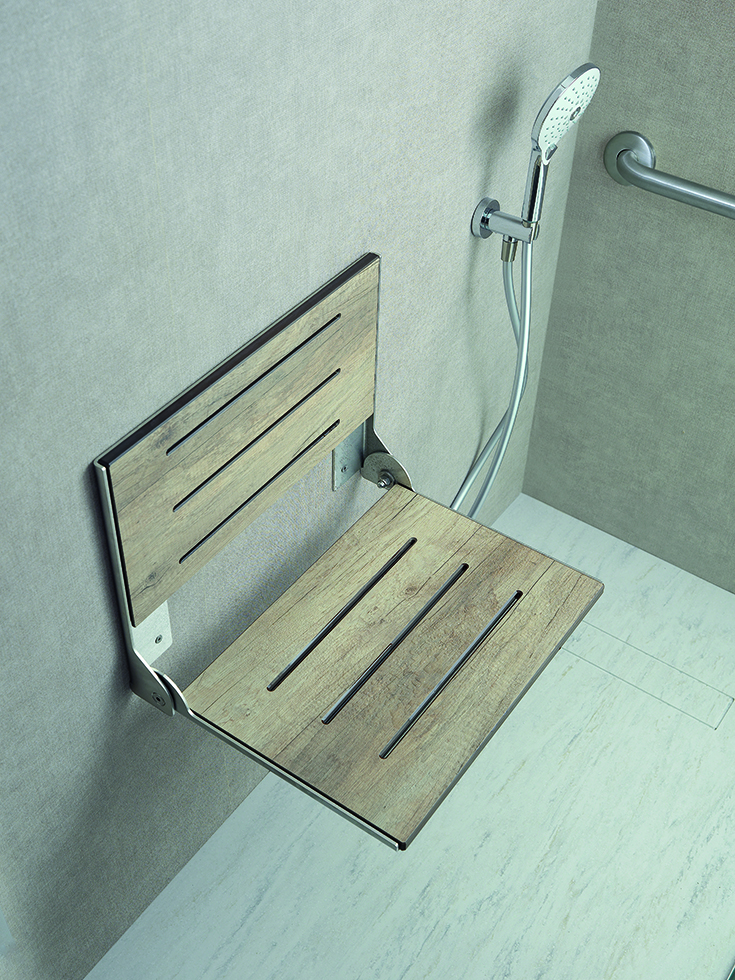 Well – here's an idea to get rid of grout joints in your bench seat. Use a high pressure laminate fold down seat. They're not only easy-peasy to clean, but you can fold them up when they're not in use. So, if your husband has finally stopped shaving his legs, you can now have more room in your shower!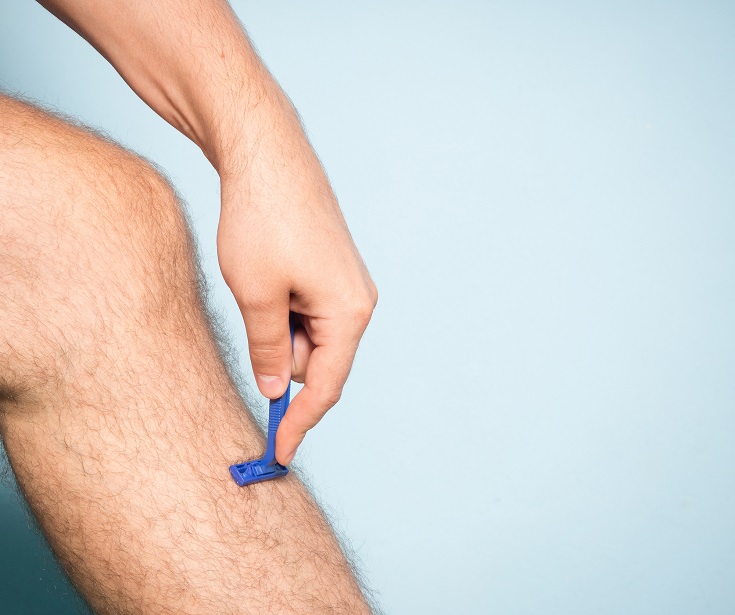 Shower product #11 – Extra tall barn door or bypass glass shower doors
If you need to buy your clothes in the 'big and tall' shop because you're taller than 6', you've likely experienced the pain of a cheap (and short) shower door system. You need to duck to get in. And if you don't, you'll be wacked in the head…. again.
For the tall people in your family, make sure (especially if you're buying a bypass (where 2 doors slide) or barn door style glass shower door the door is 79" high or taller so no one has to duck to get in (or get wacked in the head when they forget to duck).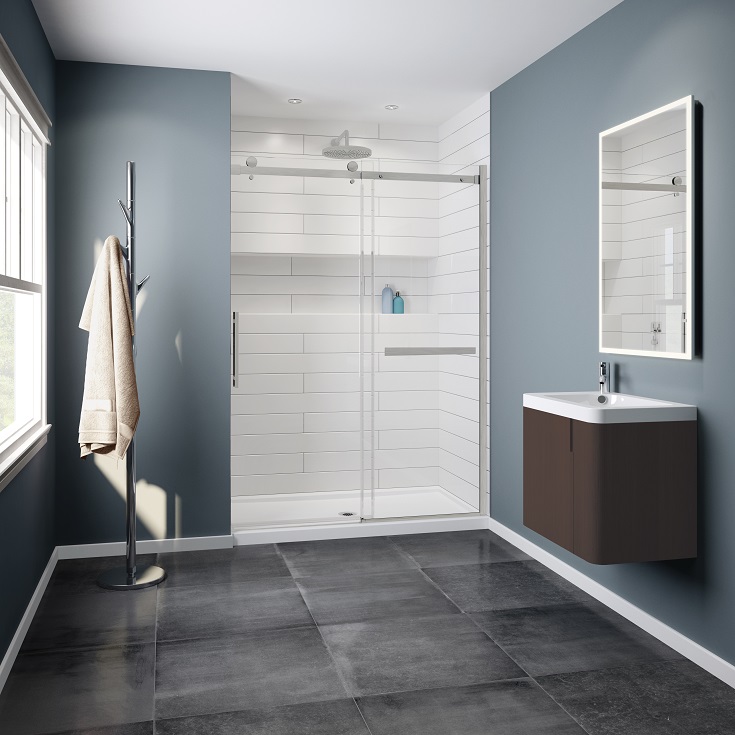 Shower product #12 – Standard or custom shower replacement kits
If you've shopped for shower components (shower pans, shower wall surround panels and shower doors) and wondered, "Will these products actually work together," you're not alone. Getting the right shower pan (with the drain in the right location), shower door (which will fit inside your walls), and shower surround system IS NOT as simple as it seems initially.
This is why you need to look for standard and custom shower replacement kits. These kits are designed so all the pieces-parts (shower pan, shower walls and shower door) work together. They take the 'guess-work' out of the buying process.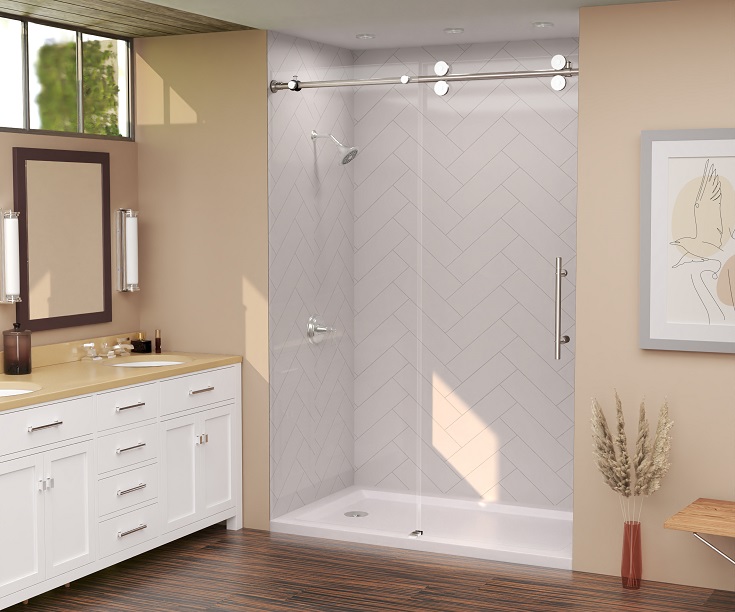 Shower product #13 – Shower pans which turn a 'custom size' into a standard size
If you start to break out into a cold sweat every time you hear the word 'custom,' I get it. Custom means more expensive – and with inflationary prices these days, you've got to do everything in your power to keep a lid on costs (and lessen the need to buy custom shower products).
Well – one way to accomplish this goal is to look for 'flexible' products. And one idea towards this end is a 'Flex-pan shower pan." Since a flex-pan has flanges which are put on at the job site (and not at the factory), you'll have the flexibility to use the same shower size in 5 different layouts (see below).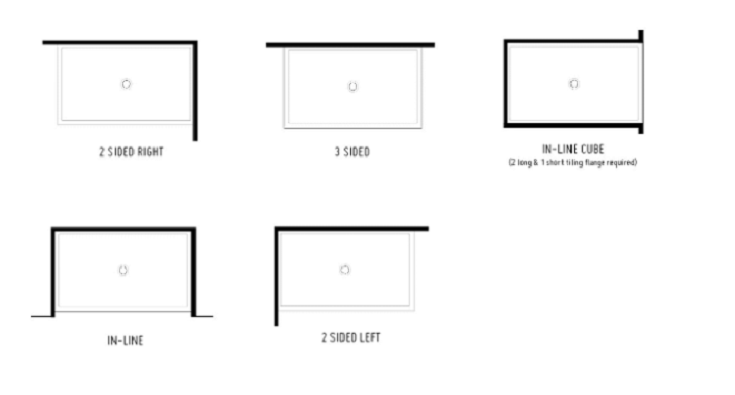 This will save you money if you want to use a common size yet also want to position the pan for a corner shower or need to enter on a non-traditional side of the base.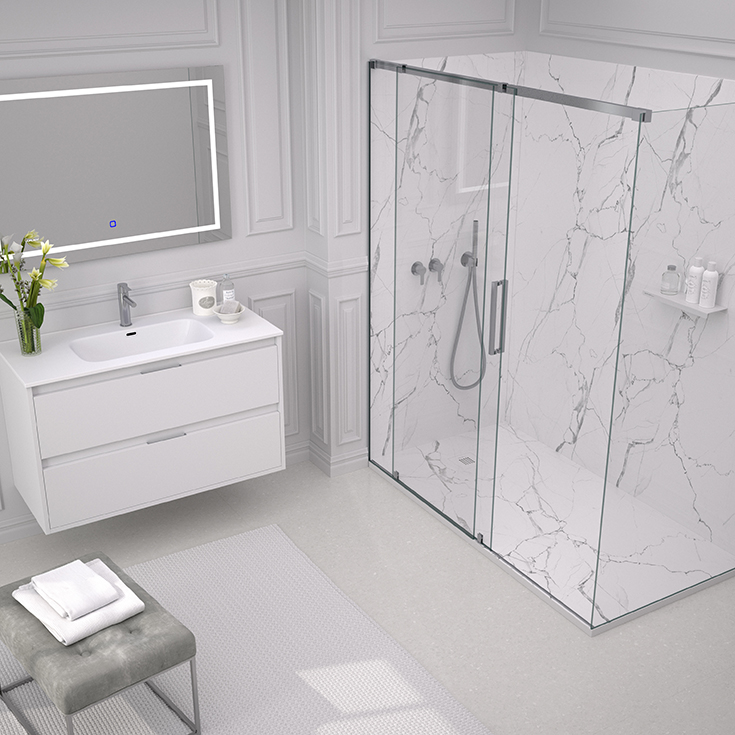 Shower product #14 – Shower heads which conserve water
17% of your water bill comes from running your shower. And the amount of water you use is also a byproduct of the shower head the water is being dispensed from. If you want to conserve water – but also don't want to put up with wimpy water pressure which makes it a pain to get soap out of your hair, take a closer look at air-infused heads from Grohe and Kohler, a spiraling spray head from Moen or a crisscross pattern from Speakman.
Save water without putting up with wimpy water pressure.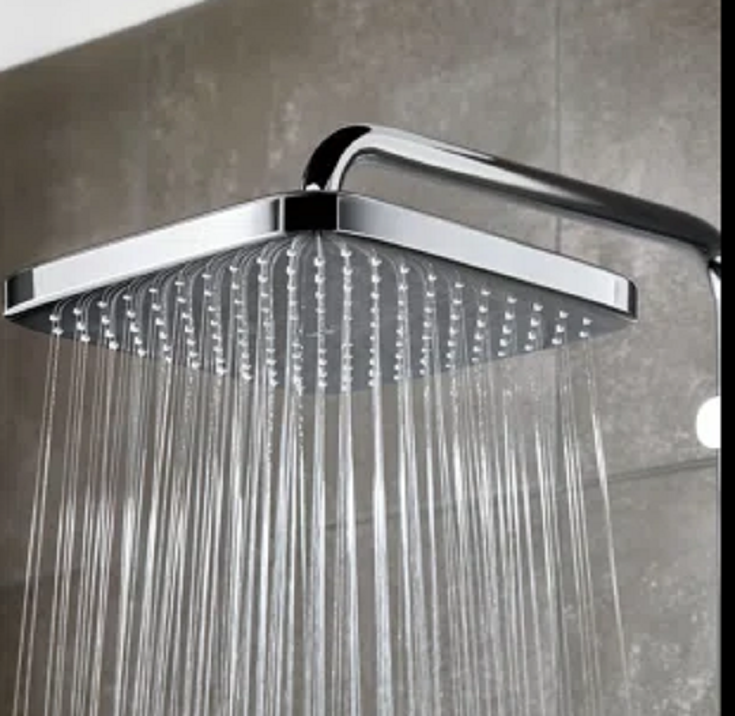 Shower product #15 – A high privacy shower window which will stop you from putting on a 'show' for the neighbors
Windows in the shower are a blessing and a curse. It's wonderful they bring light into your shower and bathroom, but it's bad they take away your privacy.
However, if you're looking to get the best of both worlds (privacy AND light) consider glass block windows, acrylic block windows or a frosted vinyl framed window. There's no need to cover over your window and eliminate natural light.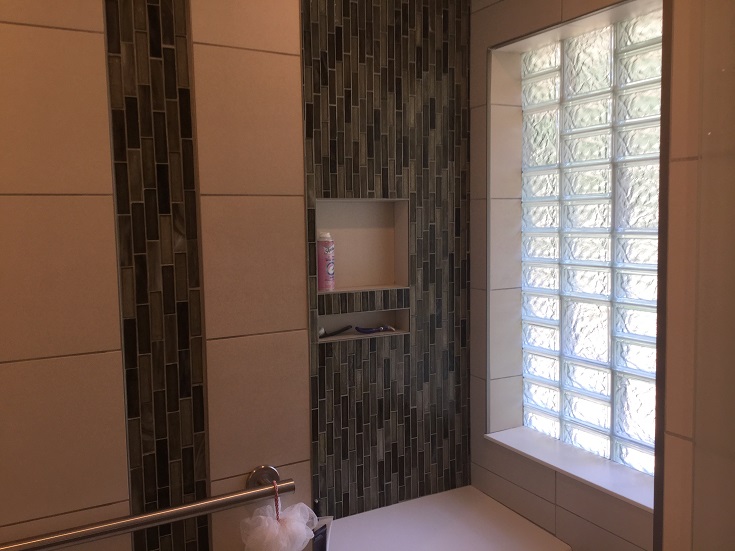 So, can these 15 little-known products make your shower more functional and fashionable?
OK – if I did my 'job' right I've identified at least one – hopefully more – shower remodeling products which will notch up your 'shower game.' And feel free to let me know in the comments below how I 'scored' identifying shower products which will help you.
And although I know identifying the products can be helpful, knowing how to work them into a coherent shower plan and remodel (and how to buy them WITHOUT draining the kids – or grandkids – college fund) can be a challenge. It's for this reason I'd invite you to call me or my team to learn more about these products and get wholesale pricing. Call 877-668-5888 or click for a Free Design Consultation.
I appreciate you taking the time to read this article AND putting up with my wacky humor.
Mike
###
If you want more advice (with less wacky humor because you'll see the 'buttoned-up' business version of me) follow me on LinkedIn @MikeFoti.
And if you're a bathroom remodeling contractor interested in being a dealer of  shower wall panels, shower pans and glass shower door systems and purchasing quality shower kits, call 888-467-7488 and ask for Mike.
---
Mike Foti
President of Innovate Building Solutions a nationwide supplier and regional (Cleveland and Columbus) remodeling contractors. Some of our product lines include glass counters, floors, backsplashes, glass blocks and grout free shower and tub wall panels
---