10 Frustrating Bathroom Vanity Problems You Can Avoid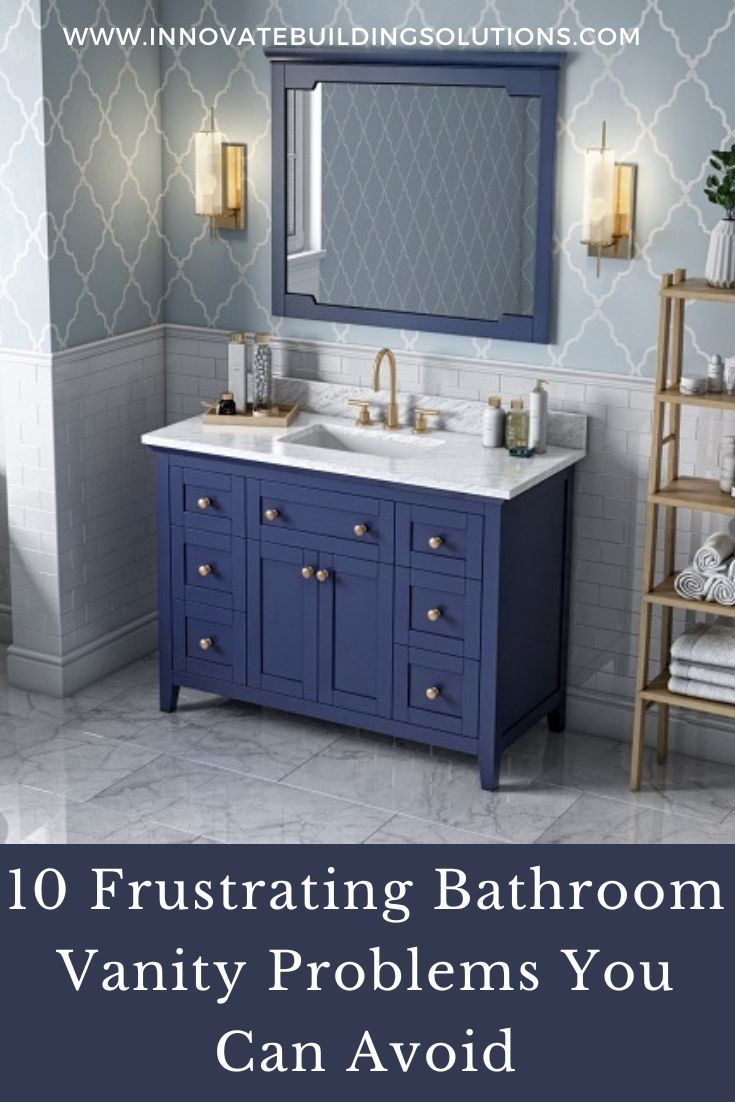 It SHOULD BE the focal point of your bathroom. Instead, your bathroom vanity is an EYE SORE!
Your rickety, old, outdated bathroom vanity cabinet is falling apart right in front of your eyes. And it wouldn't be so bad if it also wasn't a pain to use and hard to clean.
So, with these frustrations you're determined to find the right vanity for your bathroom remodel AND not repeat the problems of your past. The question becomes how can you eliminate everything that's wrong with your current vanity? How can you ensure you invest your money wisely? What features and design choices should you make to get a fun, functional and fashionable bathroom vanity?
In this article, get practical advice to avoid the top 10 bathroom vanity problems AND to get a cabinet which will still look nice 5, 10 or 15 years from now. And feel free to add your comments at the end about what you hate about your vanity. Let's check out these problems – and solutions – to put them in your rear-view mirror.
Bathroom Vanity Problem #1 – Your moldy cabinet is falling apart (and returning it IS NOT an option because you have no warranty)
The problem – The previous owner thought it would be smart to save money and buy a 'low, low, price' vanity from the big box store down the street. This particle board 'special' is now moldy and falling apart. And while the former owner got away cheap, now you're stuck with the remnants of their short-sighted decision. Of course, no guarantee came with this cheap bathroom cabinet.
The solution –Look for a solid-hardwood frame and furniture grade plywood cabinet, not a particle board cabinet. And look for a cabinet with a lifetime guarantee. While bathroom vanities can 'look' the same on the surface, better cabinets are made with better quality materials. Will they cost more? Of course, they will. However, unless you're looking to remodel again in a few years (or you're remodeling a 'fix and flip' property you won't need to maintain yourself), it'll be nice to know you've made an investment which is guaranteed to last.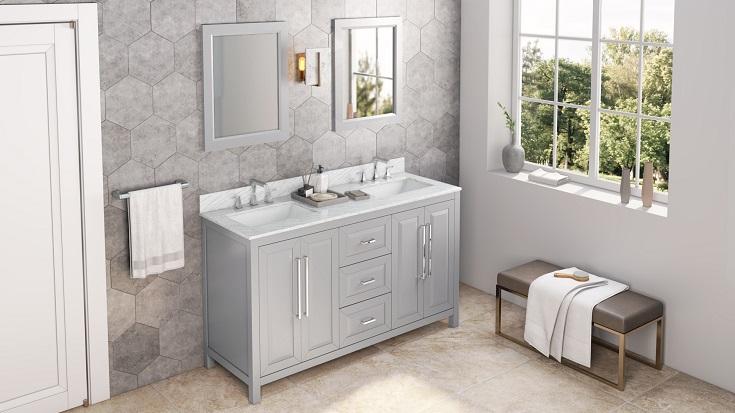 Bathroom Vanity Problem #2 – You've got no free counter space
The problem – Maybe you've got a double bowl sink which is chewing up your counter space. Or you've got a vessel bowl which is cumbersome to store around. Or you've got no effective storage inside your cabinet. What you do know is you NEED more counter space (or another place) to put your shampoo, soap, and makeup in your new bath remodel. So, where can you find more room and cut clutter at the same time?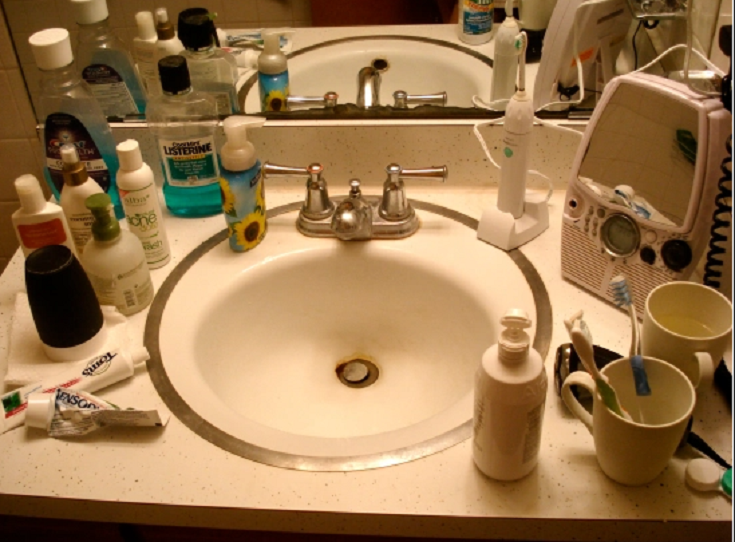 Image Source: Day-By-Day Masterpiece
The solution – There's a number of solutions to cluttered counters other than throwing your spouse or partner (and their mess) out of the bathroom (although you've considered this before). Here's 3 ideas to free up vanity counter space:
Idea #1 – Convert a double bowl to a single bowl vanity sink – If you and your partner are rarely getting ready at the same time – the 2nd bowl is stealing valuable counter space.
Idea #2 – Invest in a medicine cabinet above the vanity – Get rid of your small bottles and medications you don't want your kids or grandkids to reach. Use a medicine cabinet above the vanity to fain more counter space.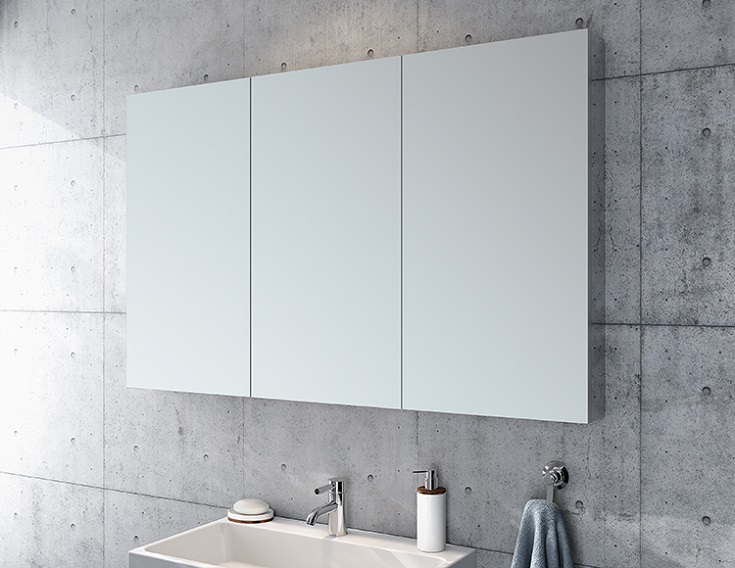 Idea #3 – Find bathroom vanity cabinet with tip out and pull out drawers to free up counter space.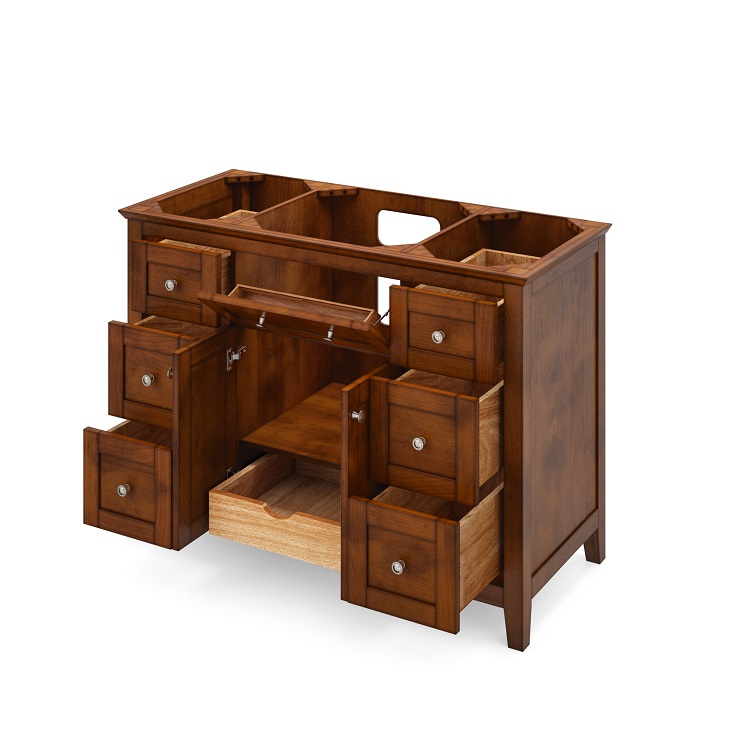 Bathroom Vanity Problem #3 – Your bathroom vanity is U-G-L-Y!
The problem – If the Webster's Dictionary definition of ugly includes a picture of your bathroom vanity, you know you have a problem. And just because a pink wood vanity made by an amateur carpenter 50 years ago with a gray ceramic tile top WAS hot when your home was built, doesn't mean if you wait long enough it'll get popular again and be featured in a high end Interior design magazine in their 'retro' section.
The solution – If you'd like a wide variety of style, color and material choices for a furniture look vanity to pull your remodel together – look for a cabinet supply program which gives you options. Don't 'accept' whatever top comes with the cabinet you like. And you don't need to buy a separate vanity top and then cross your fingers it'll work with your cabinet box either.
Don't get stuck with a Shaker cabinet front when you're looking to create the Mid-Century Modern or a Coastal vibe. Don't 'live with' an oval bowl when you prefer a modern rectangular shape.
Look for bathroom vanity programs where you can 'mix and match' cabinet styles, with various top AND your bowl designs. Don't allow yourself to get stuck with an off-the-shelf cabinet which clashes with the interior design style you want.
Bathroom Vanity Problem #4 – Your vanity top is a pain to clean
The Problem – Who ever thought putting a ceramic tile top on a bathroom vanity or a vessel or drop in sink was a good idea, should be SHOT! As you know not all bathroom vanity countertops are equal when it comes to maintenance. And when you get hair dye or lipstick on the top, it can be a royal pain to get it off – if you're stuck with the wrong material.
In addition, some tops which are simple to maintain may be too expensive. So, which options are smart for ease of cleaning? And which options fit your budget?
The Solution – If you're looking for a cost-effective bathroom vanity countertop which is durable, heat and stain resistant, laminate is a smart choice. Laminate today is far superior to the old countertops you remember at Grandma's house.
Another good choice are granite bathroom vanity countertops. They provide a high level of heat and stain resistance, but you'll need to reseal them to ensure they perform at a high level.
And finally, if you have a bigger budget, quartz vanity countertops are the rage. And why shouldn't they be? They look stylish. They stand up well to scratches. They're heat resistant. They don't need to be resealed.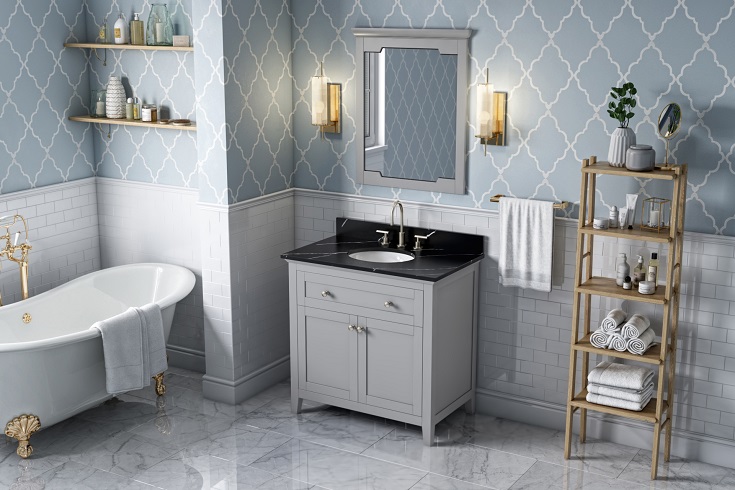 Bathroom Vanity Problem #5– You bump into your partner (or spouse) getting ready
The problem – If you and your spouse have the 'pleasure' (sarcasm intended) of getting ready at the same time – and if they bump into you one more time you're going to blow your stack, this is a tell-tale sign a different bathroom vanity design should be in your future. However, what should you look for in a new vanity layout?
The solution- First, install double bowl sinks. And while this could be impossible if your tight 5' x 8' bathroom only fits a 36" wide vanity – but if you do have a larger bathroom where a 60" wide cabinet will work, the double vanity can be a Godsend (and save your relationship – especially if you're crabby in the morning).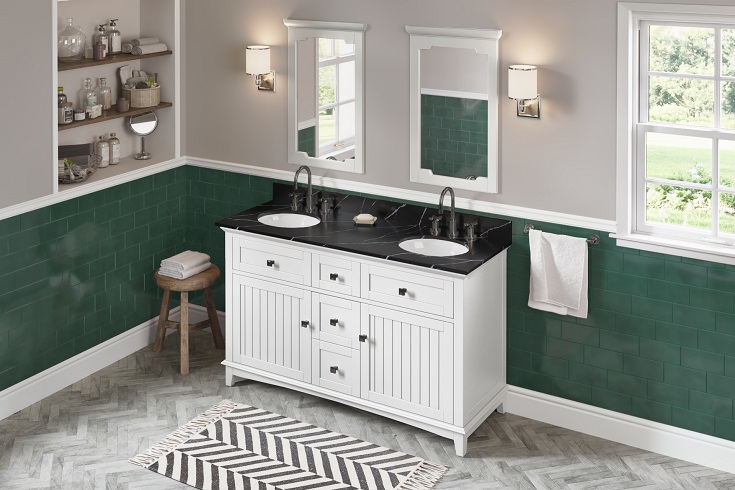 Bathroom Vanity Problem #6– Your storage is horrendous or NON-EXISTENT
The problem – There never seems to be enough storage in a bathroom. And as you get older the lotions and potions you 'need' and seem to multiply and make your storage even more cluttered. And worse yet, if you're living with a bathroom with a pedestal sink with ZERO counter storage, you know things can't get much worse. So, what can you do about it?
The solution – No matter how big or small your vanity is, look for a unit which maximizes every precious inch of storage. Here's three bathroom vanity storage ideas to get more out of your precious bathroom real estate:
Idea #1 – Use the 'false door' in front of your vanity bowl – Look for a vanity with a tip out drawer vs. a 'fake' drawer in the front. They're perfect for combs, toothbrushes etc.
Idea #2 – Get pull out scoop drawers – These drawers will 'come to you', so you'll no longer wonder what's in the back (or buy the same deodorant or hair coloring 2 or 3 times before you realize you already had some buried in the back).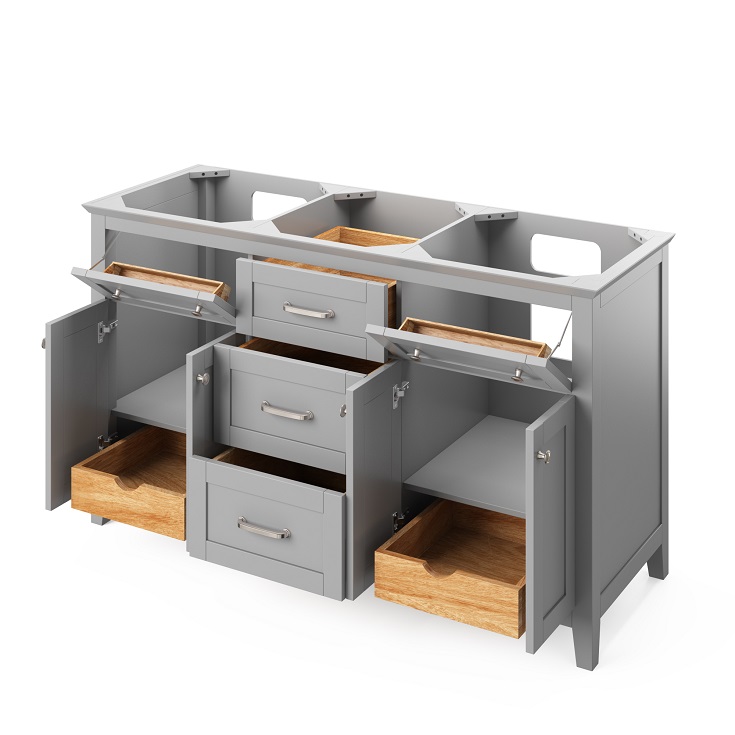 Idea #3 – Adjustable shelving – Why not get a vanity which not only has interior shelves, but better yet, one where the shelves can be adjusted to fit what you're storing.
Bathroom Vanity Problem #7 – Your cabinet it too deep or too shallow  
The problem – Maybe you're remodeling the teeny-tiny guest bath and your larger family members can barely get around the vanity to use the toilet. Or conversely, your current top is so shallow it's impossible to spread out your blow driers, curling irons and makeup the way you'd like. What can you do?
The solution – What seem like a 'Captain Obvious' answer is you need to pay attention (before you or your contractor buys a vanity) to the depth of vanity you're purchasing. If you have an uber-narrow bathroom and need a vanity (with storage – thank you very much) a small unit like this 18" wide x 13 ½" deep stand up vanity could be perfect.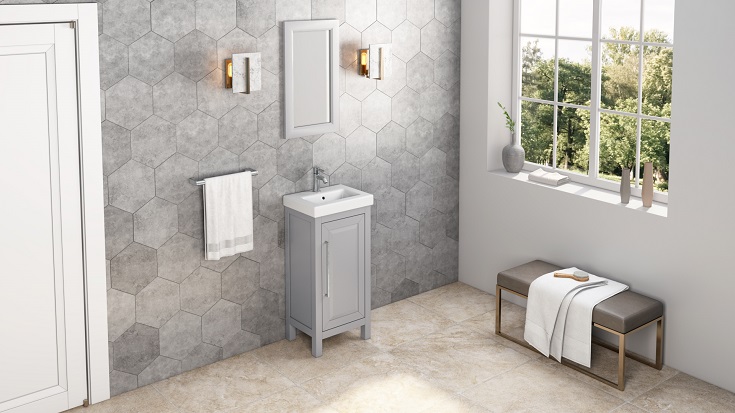 And if you have plenty of room – an extra-deep 25" cabinet could be in your future.
Bathroom Vanity Problem #8 – Your polished chrome or polished brass faucets and bathroom vanity handles have more spots than a Dalmatian
The problem – Who doesn't love a Dalmatian with it's funny mix of black spots? And while spots on a Dalmatian are adorable, water spots on a polished chrome and polished brass faucets and vanity handles are A PAIN IN THE REAR which keeps on giving (especially if you're the OCD person who gets to clean them)!
And you may be asking why so many builders used polished chrome and polished brass on your older fixtures, well it's because, back in the day, they were in style – and (more importantly) they were cheap.
The good news is there's smarter options which match today's popular hardware finish.
The solution – Instead of a polished chrome and bright brass, choose brushed nickel, matte black and the (extremely hot new finish) brushed brass. They hide spot and they're fashionably on-trend.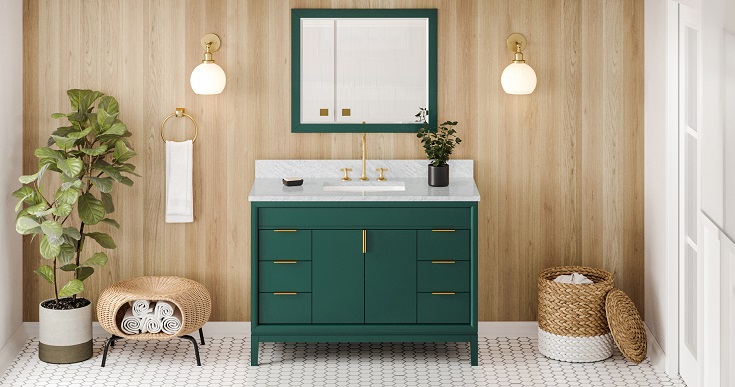 Bathroom Vanity Problem #9 – Your vanity doors have been slammed into submission  
The problem – Does your family LOVE, LOVE, LOVE to slam doors? Car doors. Entry doors. Kitchen cabinet doors. And your bathroom vanity doors have not been spared from their love (especially when they're angry) of a good S-L-A-M! Now, your vanity doors are hanging on by a thread.
The solution – A smart way to combat the 'slammers' in your family is to use slow close doors and drawers. They'll soften the blow AND keep your door fronts and vanity drawers working flawlessly for year.
Bathroom Vanity Problem #10 – Your mirror doesn't match your vanity  
The problem – If your mirror looks out of place against your vanity, or the mirror looks downright boring, you're not alone. Often there's little thought given to the mirror – it's just something slapped up at the end of a new home build or remodel. But could your mirror be coordinated with your vanity and add function and style?
The solution – The simple answer is yes, they can. Look for a supplier who makes mirrors designed to go with the colors and styles of the vanity. This will be one less bathroom remodeling decision you'll have to labor over. You'll be saying, THANK GOD for that!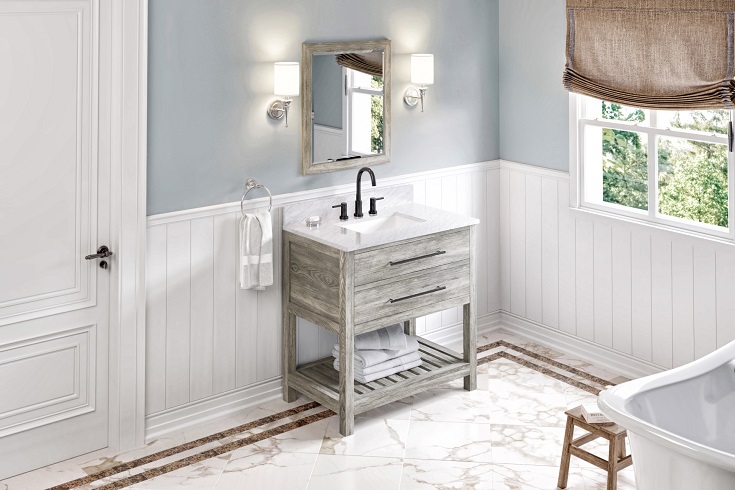 So, are you confident you have solutions to eliminate your bathroom vanity problems?
Unfortunately, buying a bathroom vanity is more complex than many think. You need to be thorough. You want a sturdy and stylish design but can't afford to overpay for it either.
And if you're struggling to choose a quality single or double bowl bathroom vanity – at a fair price – we understand your dilemma.
And here's where me and my team would love to help. If you need technical advice, product supply or nationwide direct pricing on high quality bathroom vanities call 877-668-5888 or click for a Free Design Consultation. And if you're looking for a bathroom remodeling contractor in Cleveland Ohio, our Bath Doctor division would love to help. Call 216-658-1270 or click for a Free Estimate.
And lastly if you're struggling to find a bathroom remodeling contractor outside of Ohio, ask for a referral through our contractor dealer network.
Thanks for reading (and putting up with my wackiness)– Mike
###
If you want more advice (with less wacky humor because you'll see the 'buttoned-up' business version of me) follow me on LinkedIn @MikeFoti.
And if you're a bathroom remodeling contractor interested in being a dealer of unique shower wall panels, shower pans and glass shower door systems or purchasing our quality shower kits, call 888-467-7488 and ask for Mike.
---
Mike Foti
President of Innovate Building Solutions a nationwide supplier and regional (Cleveland and Columbus) remodeling contractors. Some of our product lines include glass counters, floors, backsplashes, glass blocks and grout free shower and tub wall panels
---