Are Laminate Wall Panels the Right Fit for Your Shower or Bathroom?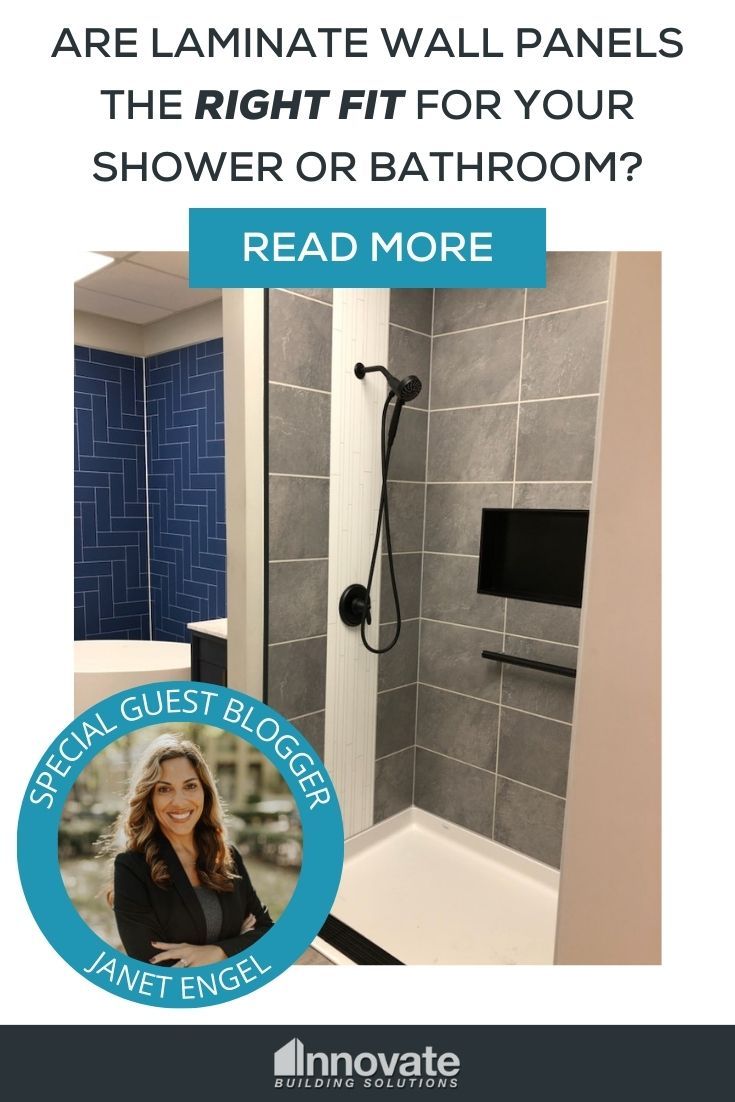 OK – I'm going to 'come clean' (no bathroom pun intended) and admit Fibo laminate wall panels are the #1 product my nationwide wholesale and regional remodeling business sells. And these panels reached this position in LESS THAN 4 YEARS!
However, just because I'm happy these panels have been the right choice (and a smart fit) for a lot of people, DOES NOT mean they're right for your project. And quite frankly, our company has always offered a wide range of wall surround options, because there's no one system which is perfect for all projects (and if there was one optimal system, it would be the only one sold).
So, in Part 1 of this article I'm going to focus on 11 places where laminate wall panels ARE the right fit, and then present a list of 5 places where they ARE NOT the right fit.
Then in Part 2, I'm going to do something on this blog I have never done before, I'm going to share this article with another blogger! I thought it'd be nice to offer you an additional perspective on this topic (and how waterproof laminate wall panels can be a smart fit for Aging in Place). Towards this end I invited a friend, Janet Engel President of Home Designs for Life, and an Occupational Therapist to provide her insights.
Janet offers virtual and in person evaluations to make homes safe, accessible, and comfortable for those aging in place (or for a family member with special needs).  And besides, I thought you might want the perspective of someone less wacky than me (OK, yes, I know it's not hard to find someone less wacky than me!).
So, let's dive into Part 1.
Part 1 – Where are laminate wall panels a fit, and where are they NOT a fit in a bathroom remodel?
Reason #1 where laminate wall panels are a fit– You HATE, HATE, HATE cleaning grout!
Grout joints are frustrating. Who likes cleaning grout? 'Er that's be NO ONE, unless you own a grout cleaning franchise. And what does it tell you about grout when there are ENTIRE companies built around cleaning grout?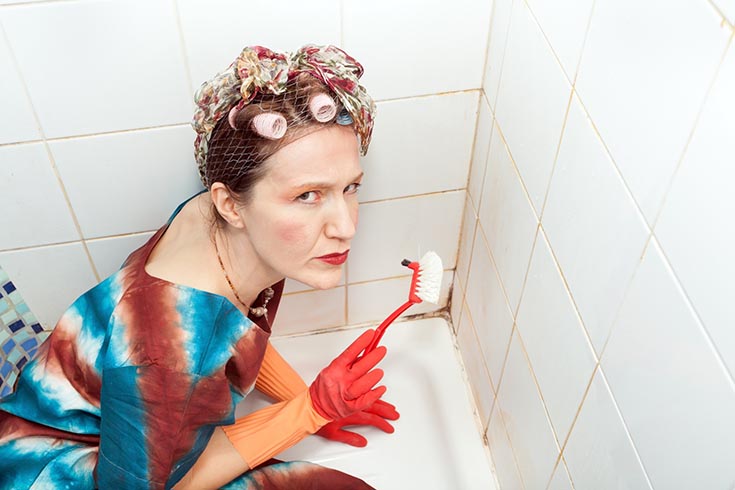 Bottom line – with laminate wall panels you'll eliminate grout – FOR-EVER!
Reason #2 where laminate wall panels are a fit– You need a custom size.
If you went to your local home center store to replace your moldy, old, tile shower in the basement only to find there was nothing available because you have a custom size, you're not alone.
And since you know you don't want tile (because you don't want to repeat the problems you're dealing with now), you're likely struggling to find a solution.
Well – since laminate wall panels are 23.6" x 94.4" panels and click and lock together (like laminate flooring) – they can be used in any sized shower or bathroom. You'll simply cut them to fit your space – no matter what size it is.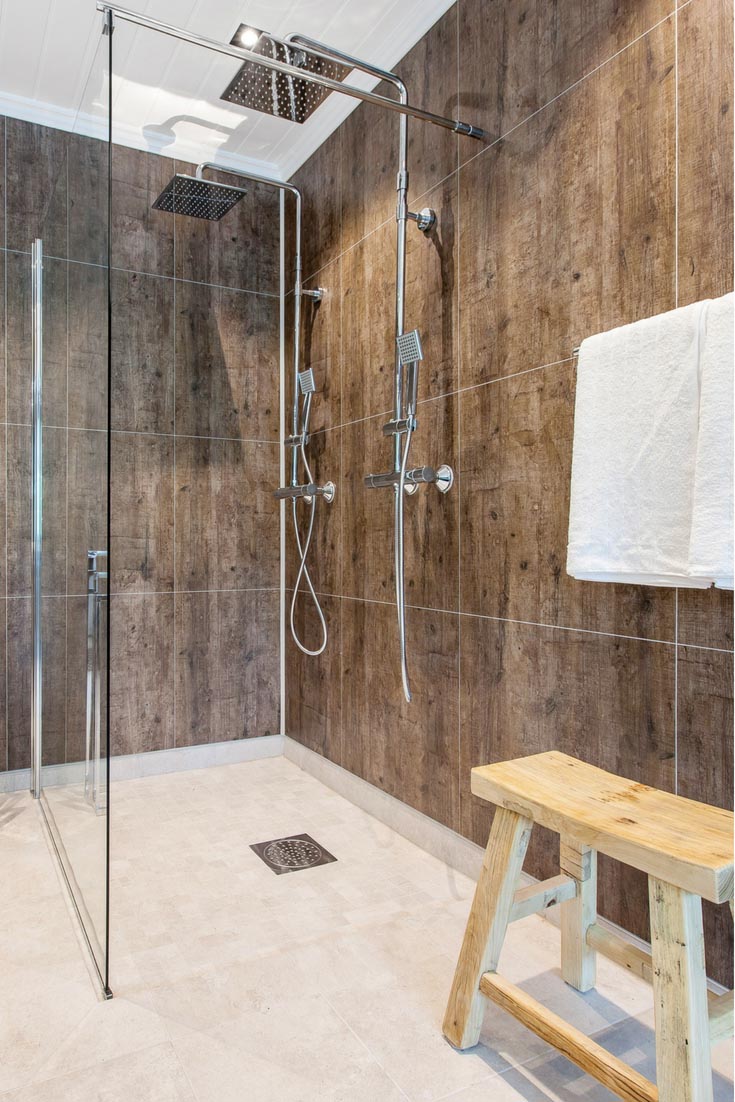 Reason #3 where laminate wall panels are a fit– You want grout free wall panels, but don't want to sacrifice style.
So, you've seen the 'junk' in your local home center. And cheap, white, plastic, wall panels just aren't your vibe. And you've even seen molded cultured marble panels – which are as durable as all 'get-out,' but their swirly patterns went out of style in the 1990's when mullets were hot.
You want to eliminate grout, but also love the look of tile and stone. Is there a realistic product which looks like tile and stone, but gets rid of grout?
The answer is… yes, there is. It's laminate wall panels. Even in 'real life' you'll swear (but don't let your mother hear you) they're the real thing. Request a sample to see for yourself.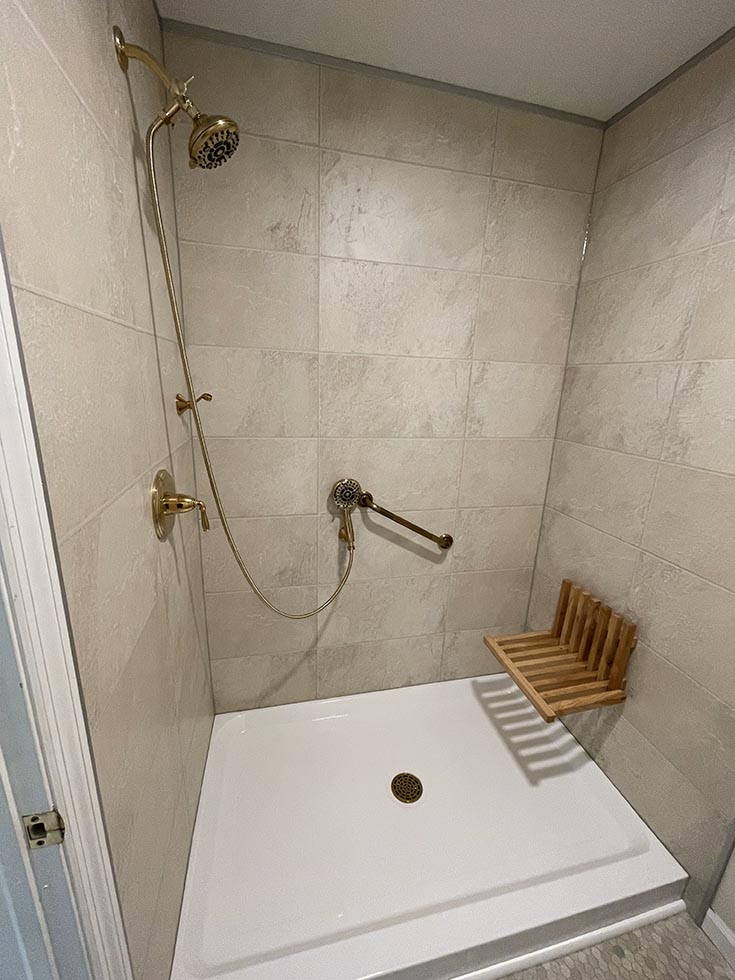 Reason #4 where laminate wall panels are a fit– You need materials RIGHT NOW!
If the pandemic taught us anything (other than we like working at home and we HATE, HATE, HATE masks) it's that you can't assume the product you want will be in stock.
And if you're doing a bathroom remodel (or bathroom modification) on a tight time schedule (let's say a loved one is coming home from the hospital or rehab soon), you know you can't wait forever to get tub or shower surround panels.
And what's cool about laminate wall panels is they're stocked in 29 different patterns. Yes – you heard that right, 29 panels are in stock right now.
Get Free Samples!
Click here to request free samples of our Laminated Waterproof Shower Wall Panels.

Reason #5 where laminate wall panels are a fit– You have a major case of F.O.S.U. (that's the Fear of Screwing Up) – Fibo laminate panels are proven to last.
As anyone who knows me will tell you, I'm always on the lookout for the latest innovations in bath and shower products. After all the name of my company is Innovate Building Solutions which DOES NOT stand for 'Same Old, Same Old, Building Solutions!
My goal is to bring innovations to you. I want to offer cooler, safer, and practical bathroom products (at reasonable prices). And recently I was evaluating a new line of wall panels. They were introduced 3 years ago. They looked cool and sturdy (although they were a bit pricey).
And my interest was piqued UNTIL a vendor-partner of mine (who was already selling their line) had 3 showers fail within a year. Now these shower wall panels (and the shower doors as well) have to be replaced. When it comes to shower wall panels – as they said in the movie Apollo 13, "Failure IS NOT an option!"
What I love about Fibo bathroom wall panels is I've had ZERO failures since we took on the line in 2018 (and today we sell close to 200 showers a month). This product has been in the European market for 41 years. This product has a guarantee (see reason 6 below) to match.
With laminate wall panels you can put F.O.S.U. (the Fear of Screwing Up) to bed right now.
Reason #6 where laminate wall panels are a fit– You get a lifetime guarantee.
First, ask your tile setter the price for a tile shower and bathroom (…while sitting down).
Second, ask your tile setter what the warranty is.
Third, be prepared to deal with an expensive repair if the job ever fails (because the tile warranty will vary from short to non-existent).
If you don't mind paying a B-I-G price for a little warranty – then tile makes sense.
However, if you want to pay a reasonable price for a L-O-O-O-N-G warranty, then you've got to check out laminate wall panels (which have a lifetime guarantee). And it bears repeating, I'm happy to tell you my company has had ZERO (yes, I'll say that again) warranty claims since we started representing this product in 2018.
Reason #7 where laminate wall panels are a fit– You want a quick installation. 
You've heard the saying below.
Time = Money.
And if you've done any remodeling projects lately you know how true it really is!
You've got to save time if your budget is nowhere near as big as you'd like.
To meet this goal, you need to find ways to reduce installation labor costs without sacrificing quality.
And with 3/8" thick panels which are installed with a patented click-lock process, you'll save labor AND keep quality high. And if you don't want to pay for a professional installation, you can DIY the job.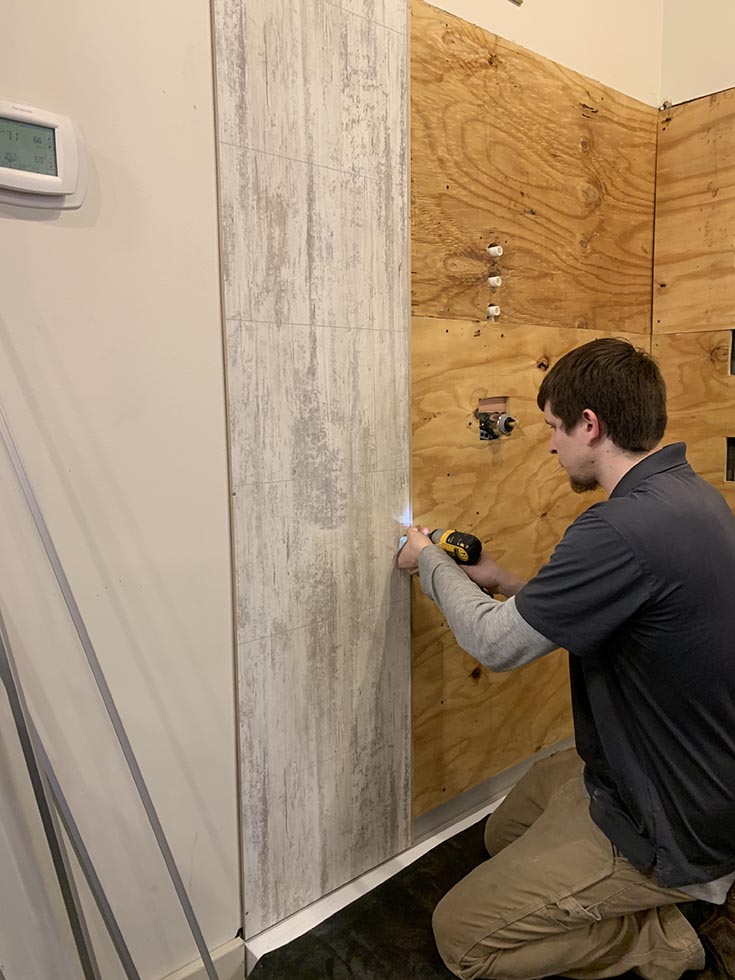 Reason #8 where laminate wall panels are a fit– You can't afford to 'break the bank.'
If only you could afford (and had the room for) the opulent (now, "that there's a fancy word!", as Larry the Cable Guy might say) bathrooms in interior design magazines. That would be living!
However, you're not Made of Money (which, ironically, has the letters M.O.M. in the phrase!). Your budget isn't unlimited. You want style, safety, and ease of cleaning – but you don't want some local 'bath in a day' franchise spending 'all of me money,' as SpongeBob would say. So, what can you do?
I'd recommend reading this 2020 post I wrote (note – the prices are higher in 2023 though), titled, 'The 5 Best DIY Shower Wall Panel Systems You Can Buy Under $1,750." This article – which includes laminate wall panels – identifies nice wall panels (not the junky stuff you'll see at home centers) which don't cost an arm and a leg.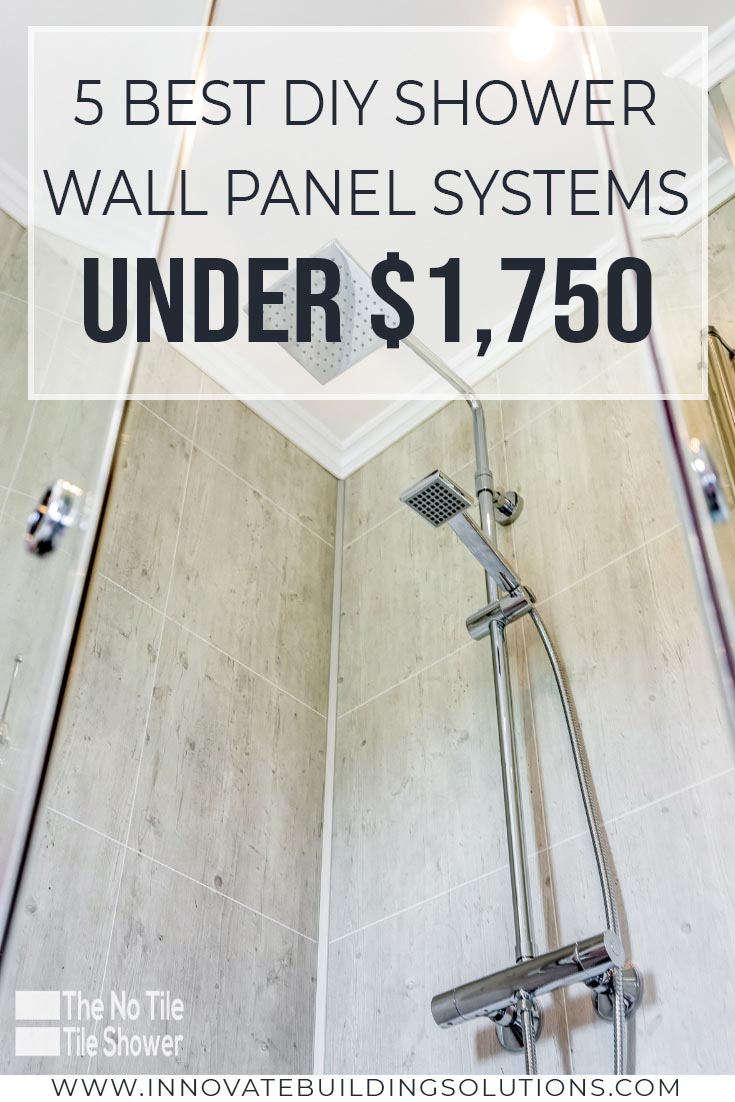 Reason #9 where laminate wall panels are a fit– You want choices which fit today's styles.
You've looked at glossy, plasticky wall panels the franchises are trying to 'high-pressure' you into buying. Your reaction is YUCK!
You've gotten prices on a custom ceramic tile shower – but don't love the maintenance or the price.
You want something fitting of today 'spa-style' bathroom (preferably in a matte finish to go with the matte black or brushed brass finishes you'd like to use), which will be reasonably priced. And if this is your goal, you'll be happy to know laminate wall panels fi
Get Free Samples!
Click here to request free samples of our Laminated Waterproof Shower Wall Panels.
And if you struggle with selections (and coordinating base, wall, and glass door selections etc.), experiment with options in the bathroom visualizer below.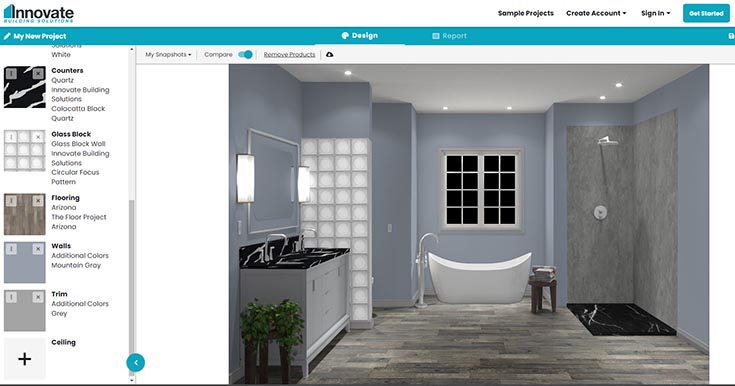 Reason #10 where laminate wall panels are a fit– You MUST eliminate leaks.
So, your 2nd floor shower failed, and so did the ceiling on the first floor (below the shower) AND your new dining room table. You've vowed, this WILL NOT happen again. Leaks are NOT happening on your watch.
And if you want a non-leak wall panel system, you'll need to go 'grout free' (like laminate). This product not only click and locks together but uses a hybrid polymer sealant between the panels. It's watertight and guaranteed to stay this way.
Reason #11 where laminate wall panels are a fit– You need to eliminate mold.
Let's face it, mold and bacteria are essentially 'kissing cousins' with grout joints. They go together like peanut butter and jelly (but aren't as tasty).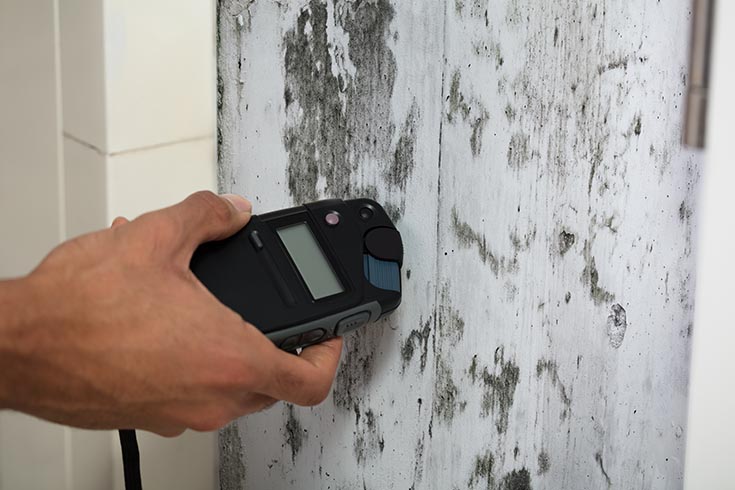 And if mold presents health challenges you cannot risk, choosing a (realistic looking) laminate shower wall panel system can be your answer.
Reason #1 where laminate wall panels are not a fit– You need the cheapest job possible.
If your budget is razor-thin, laminate wall panels (which are a mid-priced product) won't be a fit. In these cases, you'll choose F.R.P. (fiberglass reinforced panels) – which is the bottom of the barrel (low-priced product), or acrylic (a step up from F.R.P.).
And while these products aren't the snazziest, if you're looking for cheap, cheap, cheap for a 'fix and flip' home, they may be good enough.
Reason #2 where laminate wall panels are not a fit– Matchy-matchy is your thing…by default.
One of the negatives about laminate wall panels is you can't get a matching base with them. So, if you want 'matchy-matchy' so you won't worry about selections which don't work together (and you can choose a shower pan which matches the wall panels), you'll need to opt for an acrylic or cultured granite shower.
Get Free Samples!
Click here to request free samples of our Laminated Waterproof Shower Wall Panels.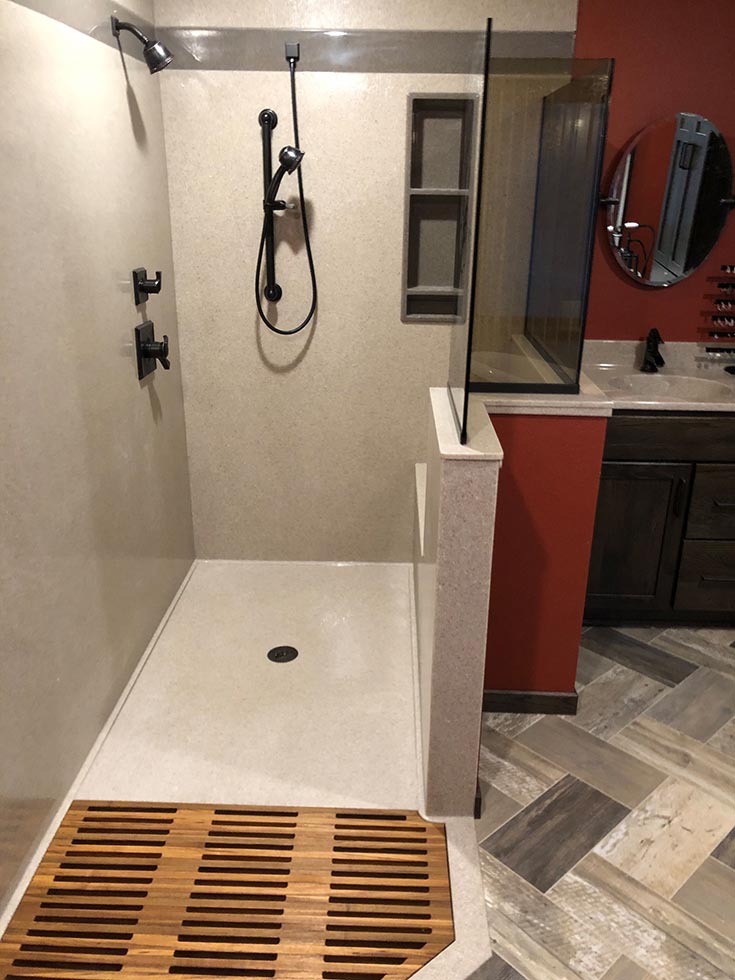 However, if you're only doing 'matchy-matchy' because you can't put colors together, then send this bathroom visualizer link over to a friend or interior designer so you aren't stuck with a 'matchy-matchy' color scheme (which is soooo out of style) so they can choose patterns for you.
Reason #3 where laminate wall panels are not a fit– You're building a steam room.
Laminate panels are not approved for steam rooms. So, if your heart's set on a steam shower go with tile, but make sure you use a high quality grout (like epoxy or urethane grout), so it looks better, longer.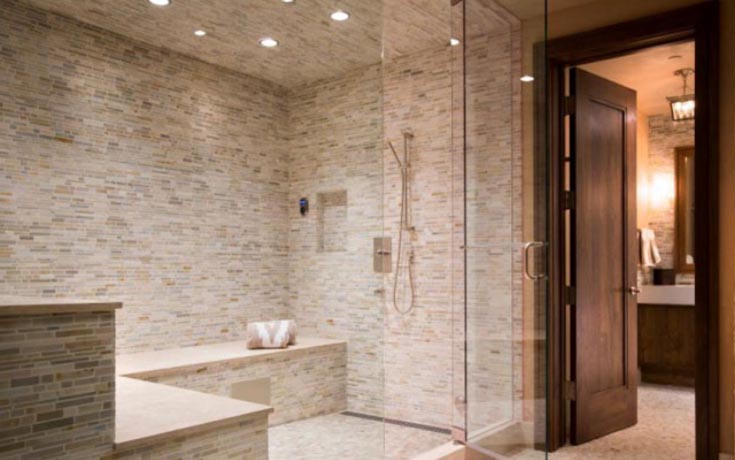 Reason #4 where laminate wall panels are not a fit– You're (morally) opposed to a click-lock shower system.
OK – I know you're likely not as 'morally-opposed' to the click-lock shower and bathtub surround system as the political party you hate, but having 2' (23.6" wide to be exact) panels which lock together can be a source of worry. After all, you may wonder, will they stay waterproof, or can I see the seams?
I understand this concern. And what I recommend to people who worry about this is to (A) research the heck out of the product and see how it's held-up for others, (B) get samples to see how tightly this 3/8" thick panel system holds together, or (C) visit our showroom. There's nothing (and I mean nothing) better than seeing a 'live' installation.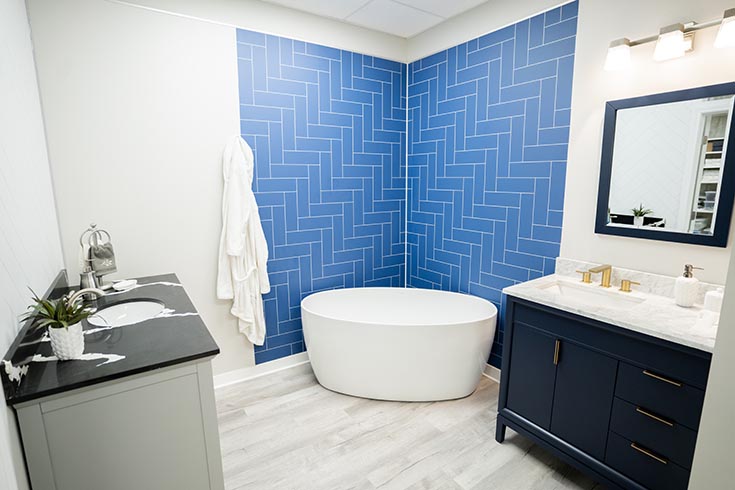 Reason #5 where laminate wall panels are not a fit– You want a horizontal trim accent.
Accent trims do add a sense of interest and drama (if I'm going completely 'interior-designer-speak' on you) in a shower. And since laminate wall panels are joined vertically, a horizontal accent trim in a wet space isn't doable. You can get a horizontal accent trim with tile, PVC panels, or cultured granite showers.
However, if you love the laminate system and still want trim, you can do a vertical accent trim like you'll see below.
Get Free Samples!
Click here to request free samples of our Laminated Waterproof Shower Wall Panels.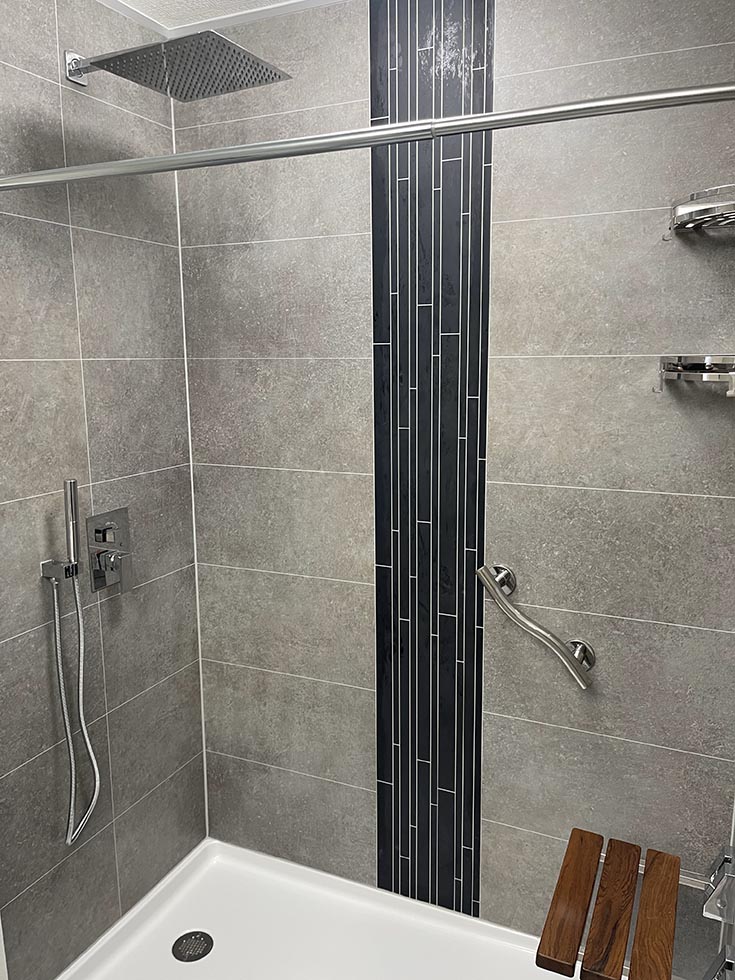 So, now let's look at Janet's input on using laminate wall panels in an age in place bathroom.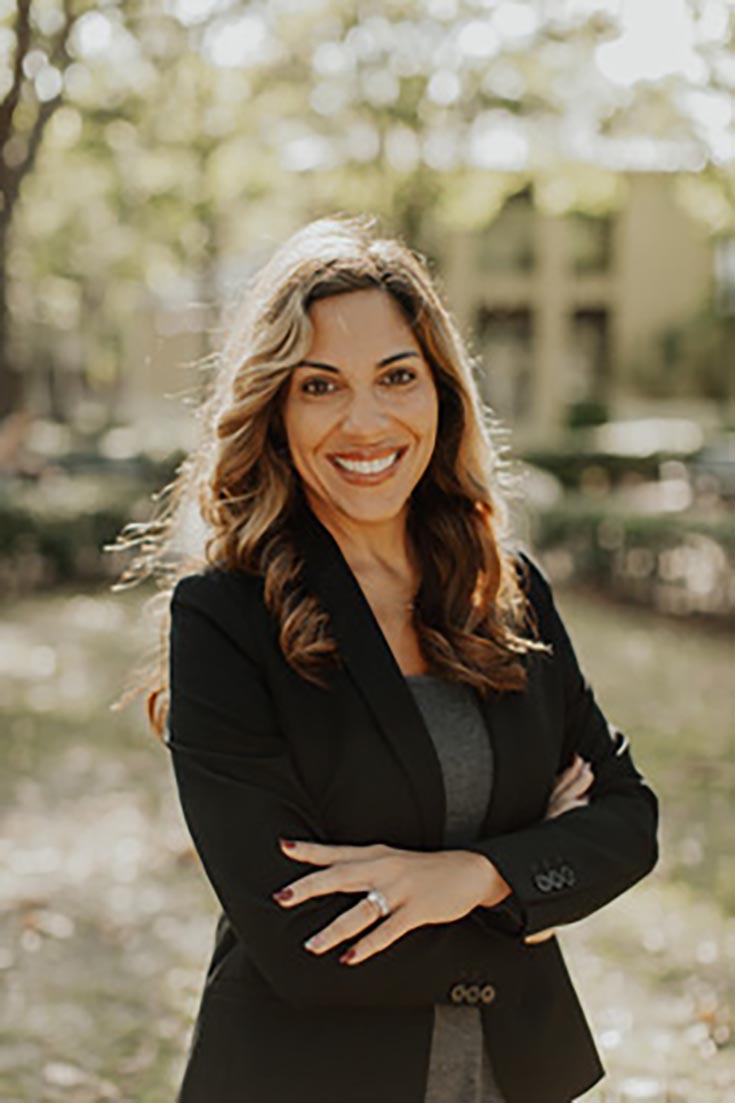 Part 2 – Waterproof Laminate Bathroom & Shower Wall Panels for Aging in Place
Since you've started reading part 2 of this article, chances are you're intrigued by the idea of aging in place and the role of waterproof laminate bathroom & shower wall panels. It's no wonder, really. With the rising popularity of home modifications that cater to aging in place, bathroom upgrades have become a focus point. So, let's explore this trend and understand why waterproof laminate panels are a game changer for safe, stylish, and accessible bathroom.
Embracing the Trend of Aging in Place
Aging in place isn't just about getting older; it's about maintaining quality of life, independence, and comfort. With home adaptations that prioritize safety and functionality, it's possible to enjoy these golden years in a familiar environment. Of all the spaces in a home, the bathroom often requires the most attention. Why? Well, a well-designed bathroom can enhance safety, prevent accidents, and offer ease of use for older individuals.
Waterproof Laminate Wall Panels: What's the Buzz About?
Waterproof laminate panels for bathroom walls offer the durability and longevity that regular bathrooms often lack. Imagine not having to worry about water damage or frequent maintenance. Sounds pretty good, right? Moreover, these panels aren't just practical; they're aesthetically appealing as well. They come in a range of designs and finishes, ensuring that your bathroom doesn't just feel good—it looks good, too!
Out with the Old: Waterproof Laminate Wall Panels as Replacements
When we're talking about aging in place, every design choice and home modification can significantly affect the ease of living for older individuals. Traditional bathroom design choices like tile, paint, and wainscoting, while certainly charming, may not be the most practical or easy-to-maintain solutions. So, let's take a look at how waterproof laminate wall panels are stepping up to the plate and making a difference.
Waterproof Laminate Wall Panels vs. Tile
Tiles have long been the go-to choice for bathroom surfaces. But the truth is, they come with their fair share of issues. Grout lines can be notoriously tough to clean, turning into a magnet for dirt, grime, and mildew over time. As we age, keeping up with this intensive and often stubborn cleaning can become an unwanted chore.
Enter waterproof laminate wall panels. These panels, unlike tiles, have minimal seams, which results in a non-porous surface which doesn't grow mildew or mold. No more scrubbing grout lines! The ease of maintenance can make a significant difference in the quality of life for older individuals.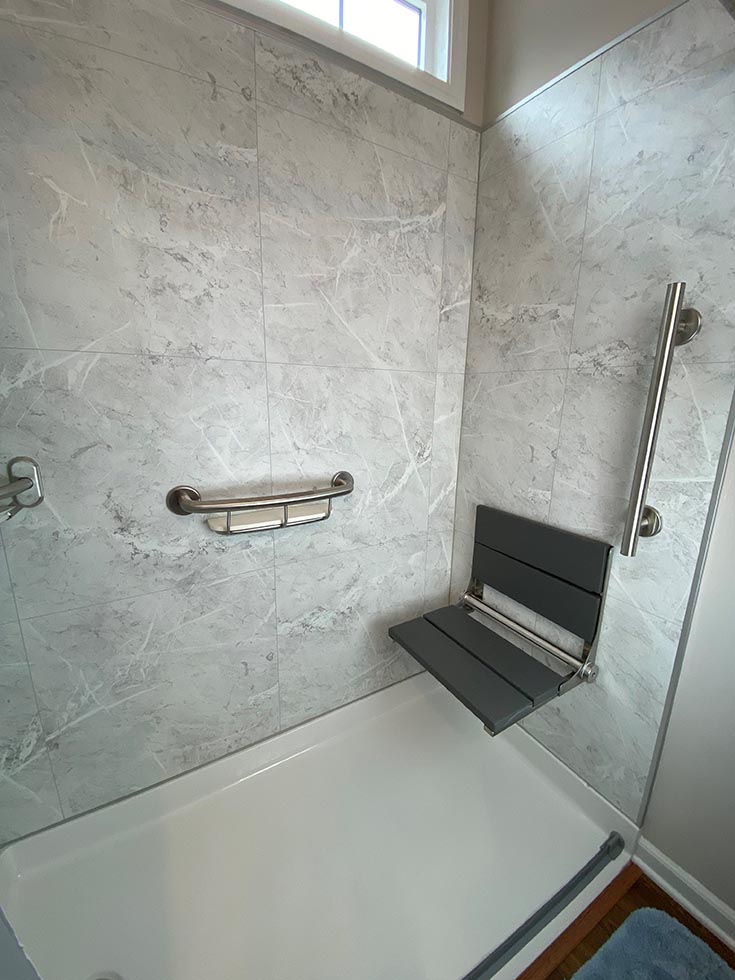 Waterproof Laminate Wall Panels vs. Paint
Paint, while a cheaper and faster solution, has its downfalls in the bathroom setting. Regular paint can peel and bubble due to the humidity and moisture typical in bathrooms. To keep painted bathrooms looking fresh, frequent repainting is often required, which is both time-consuming and physically demanding. Paint also absorbs smells, which is another con, especially in the bathroom.
In contrast, waterproof laminate wall panels are, as the name suggests, entirely waterproof. Their durability in the face of moisture eliminates the need for regular touch-ups, making them an excellent low-maintenance alternative to paint.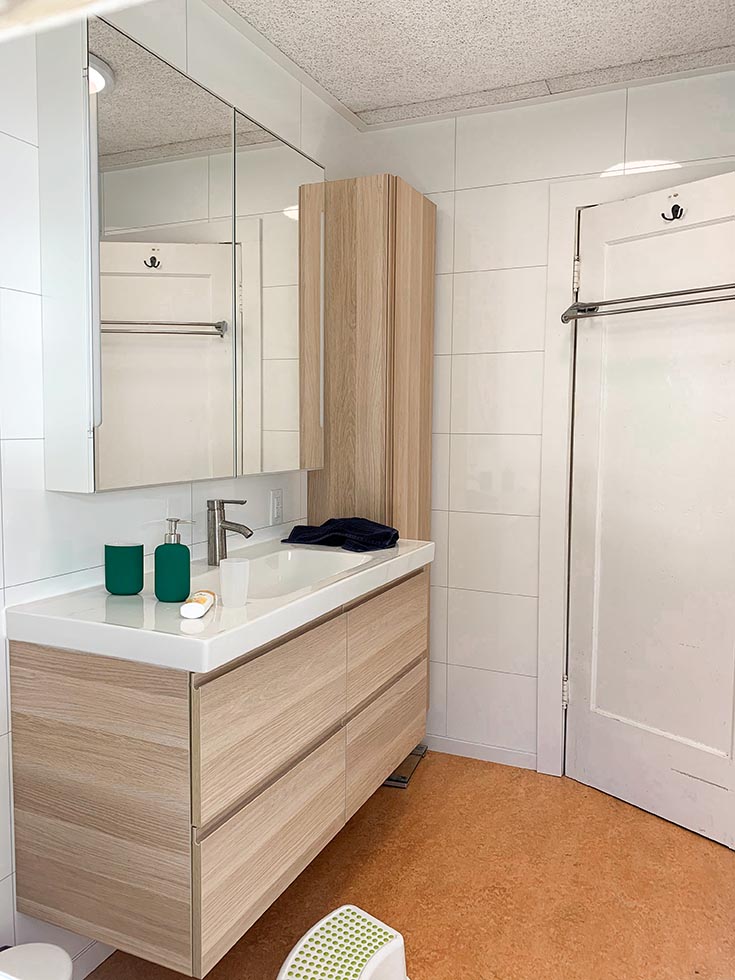 Waterproof Laminate Wall Panels vs. Wainscoting
Wood wainscoting, although visually appealing, requires regular upkeep to prevent damage from moisture, especially in the bathroom. The wood can warp, and the paint can chip, demanding time, effort, and a degree of physical agility for maintenance and repairs.
Waterproof laminate wall panels, with their diverse range of finishes, can mimic the look of wainscoting without any of the hassles. They provide a stunning aesthetic appeal coupled with high resistance to water and moisture. This dual functionality ensures a stylish yet low-maintenance bathroom design—ideal for those planning to age in place.
Lower Maintenance: A Key Benefit for Older Individuals
Maintenance tasks around the house can become burdensome as we age. Regular cleaning, painting, and repairing are physically demanding tasks that can pose challenges to older individuals. By choosing materials that are durable, easy-to-clean, and resistant to damage, we reduce the need for regular upkeep.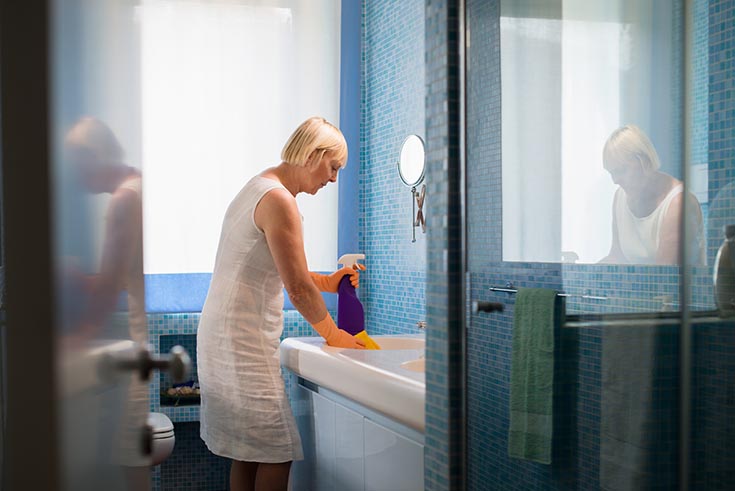 Waterproof laminate wall panels in the bathroom align with this philosophy perfectly. Their simple wipe-clean maintenance and resistance to common bathroom issues like mold, mildew, and water damage significantly reduce the amount of effort and time needed for bathroom upkeep. The low maintenance nature of these panels allows older individuals to enjoy a safe, clean, and stylish bathroom without the constant worry of repairs or strenuous cleaning sessions. It's about making life easier, and these panels do just that!
And if you want more age in place remodeling tips, listen to this podcast below – Remodeling Ideas to Increase Safety, Function, and Accessibility in Your Bathroom.
Why Waterproof Laminate Panels Shine in Aging in Place Designs
In the context of aging in place, waterproofing in bathrooms is non-negotiable. Wet and slippery surfaces can increase the risk of falls and accidents. That's where waterproof laminate wall panels step in. These durable, water-resistant solutions offer superior protection compared to traditional tiles, reducing maintenance efforts, and promoting safer bathrooms for older adults.
Exploring the Versatility of Waterproof Laminate Panels for Aging in Place Designs
Waterproof laminate panels aren't just for showers or bathroom walls—they are versatile, allowing for application in various areas in the home. Their water-resistance, ease of maintenance, and aesthetic appeal make them an excellent choice for many aging-in-place designs. Did I mention that they also have a life-time guarantee?
Above and Beyond: Waterproof Laminate Panels on Ceilings
When we think of bathroom waterproofing, we often think of the walls and floors, forgetting about the ceiling. However, ceilings can also be subject to moisture, particularly in bathrooms where hot showers can lead to condensation buildup.
Waterproof laminate panels can be an effective solution here. They can be installed on ceilings to provide an added layer of protection against moisture. The minimal seams of laminate panels ensure there are fewer weak spots for water to penetrate, keeping the ceiling free from potential water damage. For older individuals, this translates to less worry about ceiling maintenance or mold issues. Mold issues can lead to respiratory issues like chronic obstructive pulmonary disease (COPD) which is especially detrimental to older adults.
Expanding Horizons: Beyond the Bathroom
The benefits of waterproof laminate panels aren't confined to the bathroom—they're equally effective in other areas of the home like kitchens and laundry rooms.
In the kitchen, these panels can be used as a backsplash to protect walls from splashes and spills. They're easy to clean, so any cooking stains can be wiped away quickly. This ease of maintenance can be a great advantage for older adults, making kitchen clean-up a breeze. They can also give your kitchen an elevated design look without breaking the bank.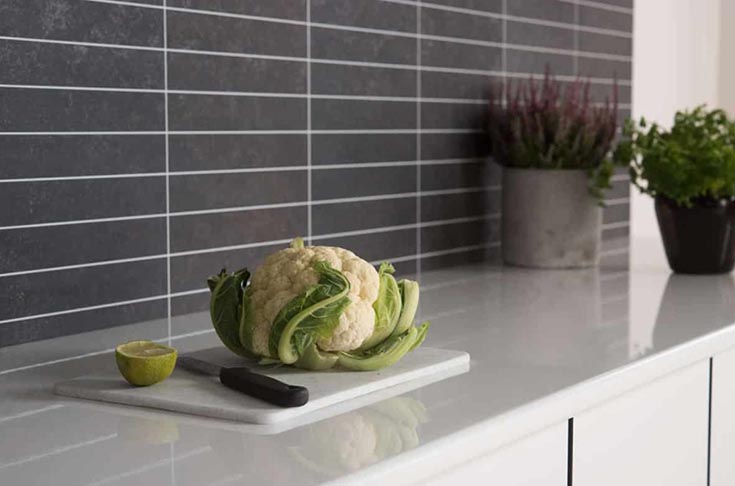 Laundry rooms are another perfect candidate for waterproof laminate panels. These areas often have high humidity levels due to washing and drying, and they can be prone to spills or leaks. Installing laminate panels in laundry rooms can help protect the walls from water damage. Plus, the stylish finish of these panels can spruce up the space, making laundry chores a bit more enjoyable.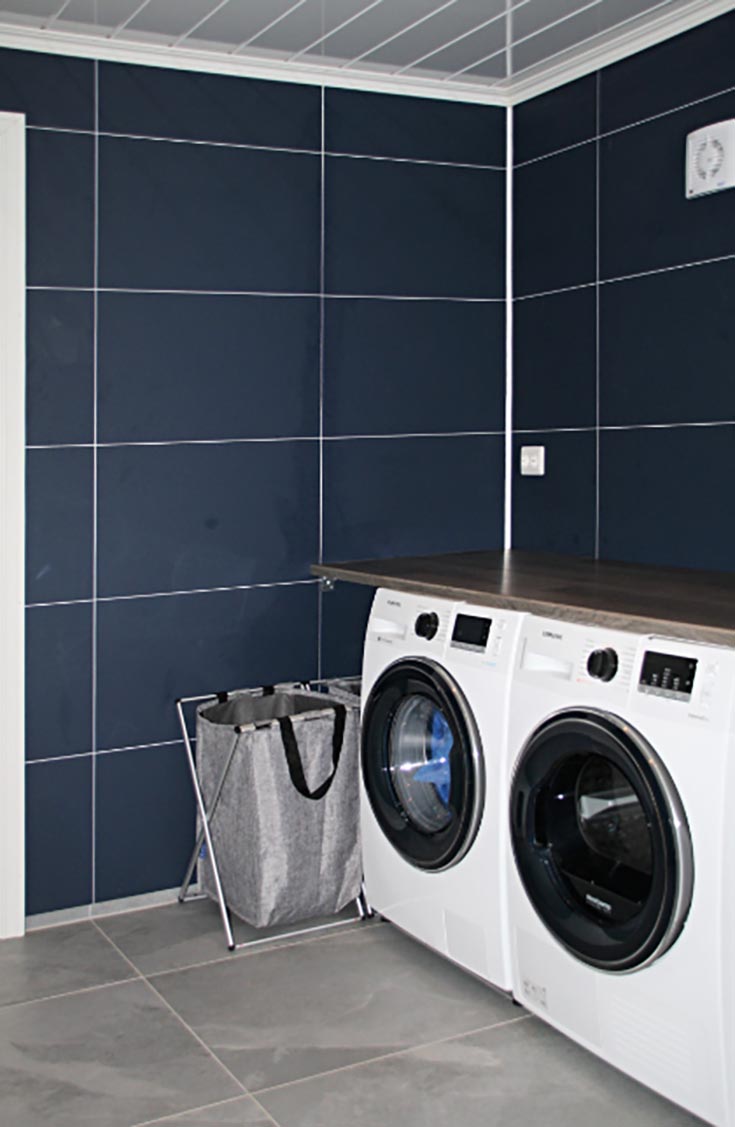 In essence, waterproof laminate panels are a versatile solution that can be applied throughout a home designed for aging in place. They extend the benefits of low maintenance and high durability beyond the bathroom, creating an environment that is not just safe and functional for older individuals, but also stylish and contemporary. Whether it's for ceilings, kitchens, or laundry rooms, waterproof laminate panels can be a shining star in aging-in-place designs.
Streamlining Installation: The Advantage of Waterproof Laminate Wall Panels
Traditional bathroom remodels, whether it's installing tiles or painting walls, can be time-consuming and messy. The prolonged duration of these tasks can disrupt daily routines and create an unlivable environment for a while. Not to mention, the cleanup after the project can be an equally arduous task. This is bad for every homeowner but can be especially difficult for older people to deal with for a long period of time. But here's the good news: waterproof laminate wall panels are designed to mitigate these issues.
Quicker Installations
The installation process for waterproof laminate wall panels is considerably quicker than traditional methods like tiling or painting. Tiles need to be individually laid and grouted—a painstaking process that can take several days, or even weeks, depending on the size of the bathroom. On the other hand, painting requires multiple coats with drying time in between, extending the duration of the project.
Waterproof laminate panels, however, come in large sheets that can cover substantial wall areas at once. This coverage significantly reduces the time taken to install them. A competent professional can often complete the installation in just a day or two, making it an efficient choice for bathroom remodels.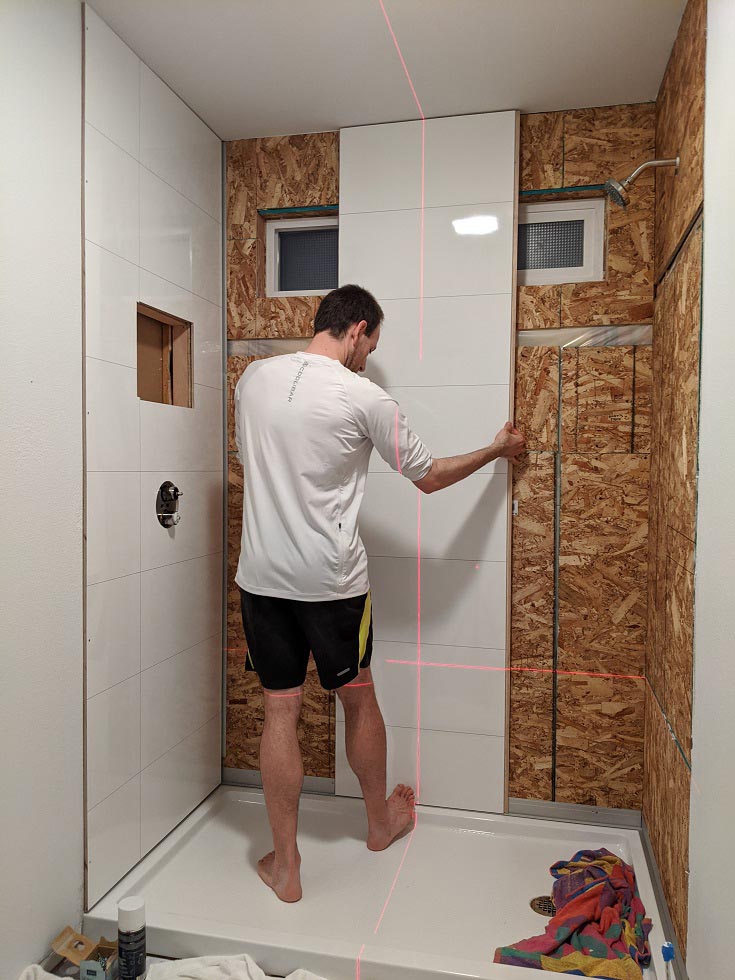 Minimized Construction Mess
Another significant advantage of choosing waterproof laminate wall panels is the reduced mess during and after installation. Traditional bathroom remodels can generate a considerable amount of debris, dust, and residue. Tiles produce a lot of dust and grout residue, while paint can cause drips and splatters.
In contrast, installing waterproof laminate wall panels is a relatively clean job. The panels are cut to size, mechanically fastened, or adhered to the wall, and sealed—no dust, no grout, no paint splatters. This cleaning process minimizes the mess during the construction phase.
Moreover, the cleanup post-installation is also easier. Since the installation doesn't generate a lot of residue, there's less construction waste to deal with once the job is done. This ease of cleanup can be particularly beneficial for older individuals, as it eliminates the need for extensive, strenuous cleaning after the installation.
In summary, the quick installation and minimal mess of waterproof laminate wall panels make them an appealing choice for bathroom remodels. They ensure that the remodel process is as smooth and unobtrusive as possible, minimizing disruption to the daily lives of the residents—especially beneficial for those aging in place.
Wrapping Up: Waterproof Laminate Wall Panels are a Win-Win
In conclusion, waterproof laminate wall panels for bathrooms provide a perfect blend of beauty and functionality, making them a go-to choice for those planning to age in place. So why wait? Start planning your bathroom upgrade today!
So, are laminate wall panels the right fit for your project? How can me, my team or Janet help you next?
I really appreciate you 'hanging in with me – and Janet' in this 'uber-long' article (and no, I'm not offended if you glanced through most of it anyway – ha! ha!).
In the end I hope you now have a clear picture if Fibo laminate panels are (or are not) a fit for your home – whether you're doing a 'traditional remodel' or 'age in place bathroom.'
If you'd like to learn more about bathroom wall panels, shower pans, glass shower doors, or vanities contact a Bathroom Design Specialist from Innovate Building Solutions by requesting a Free Design Consultation or calling 877-668-5888.
And if you'd like to see how these bathroom panels look in finished rooms, check out the bathroom visualizer below.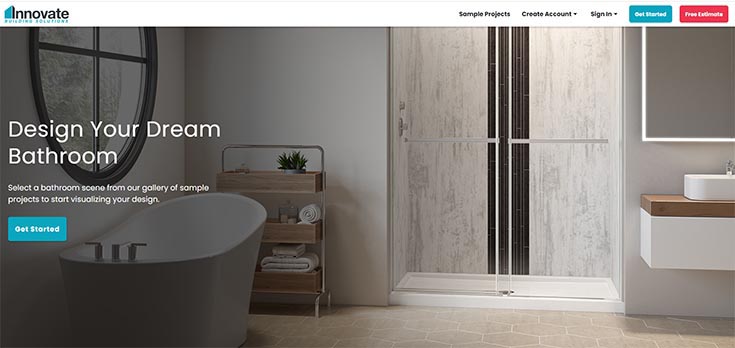 And if you'd like to gain insights about aging in place contact Janet Engel by calling her at 352-281-6681 or visiting her web site Home Designs for Life. And in the comments below (or via email) let me know if you like me including a guest blogger in my articles. I'm always looking for ways to keep things fresh – and thought Janet (who is an excellent writer) would be good to try this out with.
Thanks for reading (or glancing) AND putting up with my humor!
Mike
And BTW – if you're an installing contractor and would like to learn about becoming a dealer of laminate wall panels (and other bath/shower products) call Mike at 888-467-7488.
---
Mike Foti
President of Innovate Building Solutions a nationwide supplier and regional (Cleveland and Columbus) remodeling contractors. Some of our product lines include glass counters, floors, backsplashes, glass blocks and grout free shower and tub wall panels
---