Project Spotlight: Creating Experiences while Growing into the Next Stage of Life – Glamping at Battenkill River Resort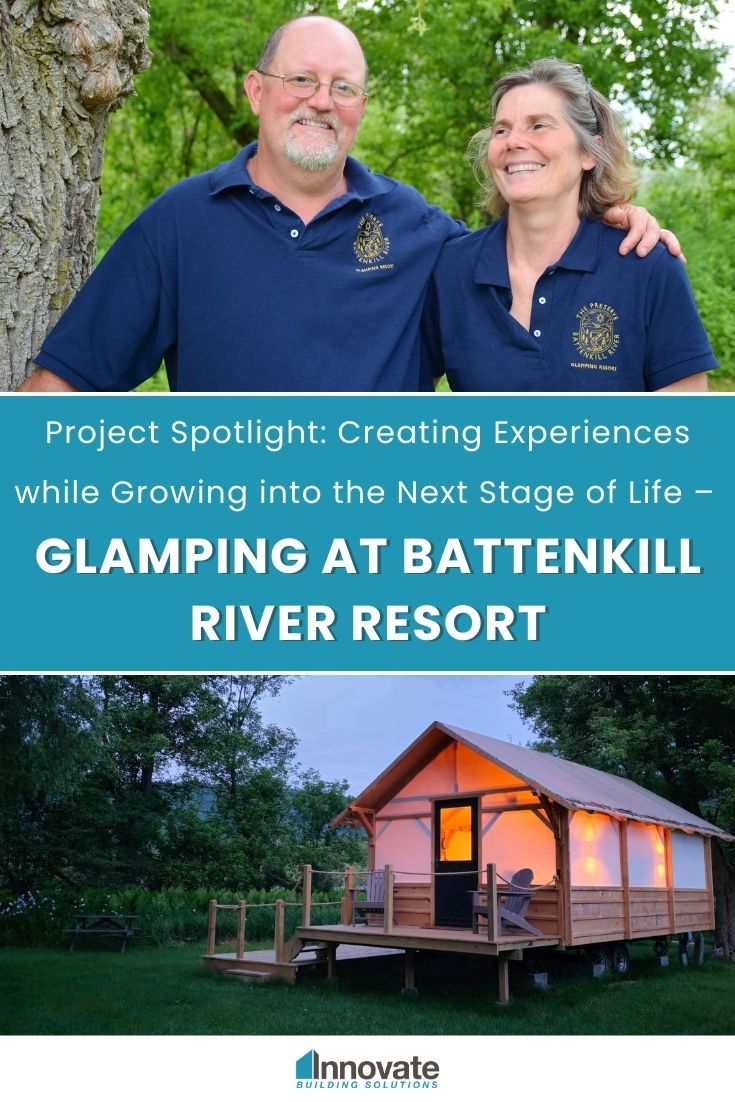 Are you in your 50's or 60's and asking yourself, "What's next?"
You see friends using the 'r' word (OK – for you 'younger folk', that scary 'r' word is retirement). And some of your friends are actually retiring and posting endless photos on Facebook (yes, that's the 'old people's social network) with the grandkids. And you think to yourself…..
I'm in NO WAY ready to be put 'out to pasture.' My mind is active, even if my body isn't as limber as it was in high school. However, I'm not sure continuing this same 'work thing' is gonna cut it for another decade either! 
This is the place Scott Morrissey (a retired airline mechanic) and his wife Michele Anderson-Morrissey (a hard-charging MBA and lawyer – but don't hold that against her) found themselves.
Not ones to stand around – they were looking to grow into their next adventure while creating a profitable investment (watching retirement 'savings' dwindle can be depressing, so why not create a money-making business in the next stage of life?).
Towards this end, Scott and Michele were looking for business opportunities. They purchased an 82 acre rustic campground and set their sites on creating a 'glamping' experience (and for those of you who don't know what 'glamping' is – it's glamorous-camping).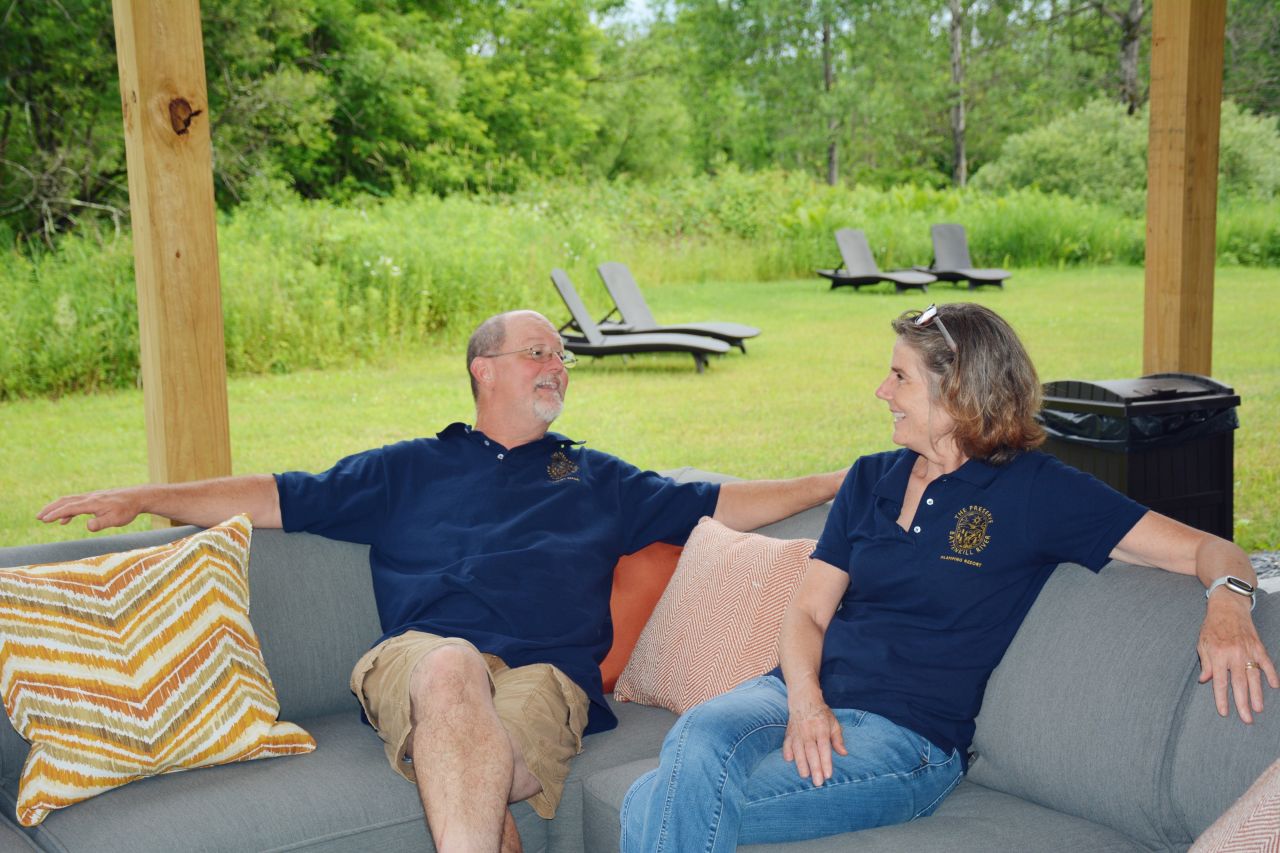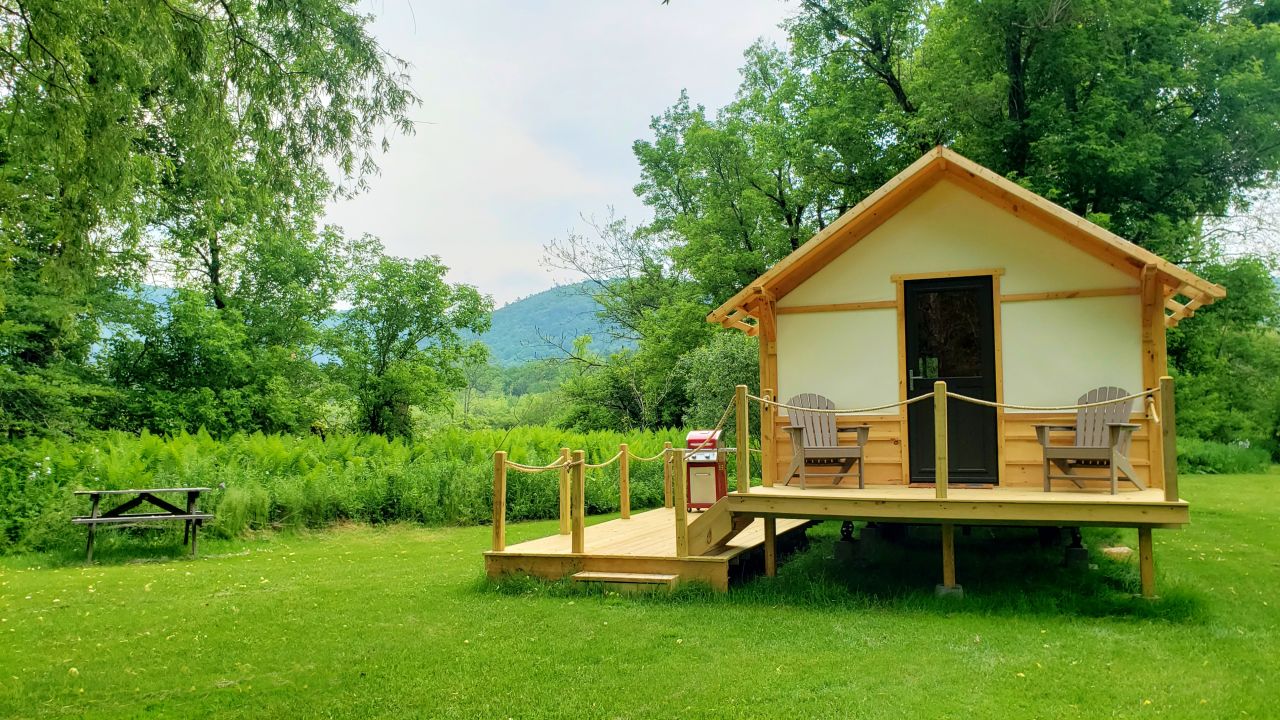 And because you're usually reading my bathroom remodeling-focused blog you might be asking now, "Mike, what the heck does Scott and Michele's story have to do with smart bathroom products?"
Well – when you read on, you'll see the tie-in when you check out the cool bathroom they installed in 5 glamping tents.
I'm going to break this article into 2 parts. Read them both, or just read one… but if you don't read any, you may hurt my feelings! Just warning you.
The first part I'll look at why you should choose glamping over camping.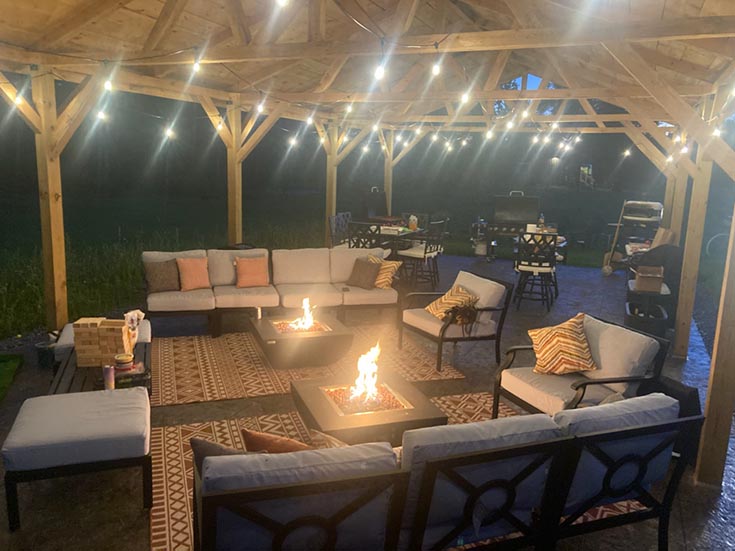 In the second part we'll look at Scott and Michele's Battenkill River Resort Property (which will have a grand opening on June 30th). You'll learn why you may want to try glamping – and visit Michele and Scott! Here we go!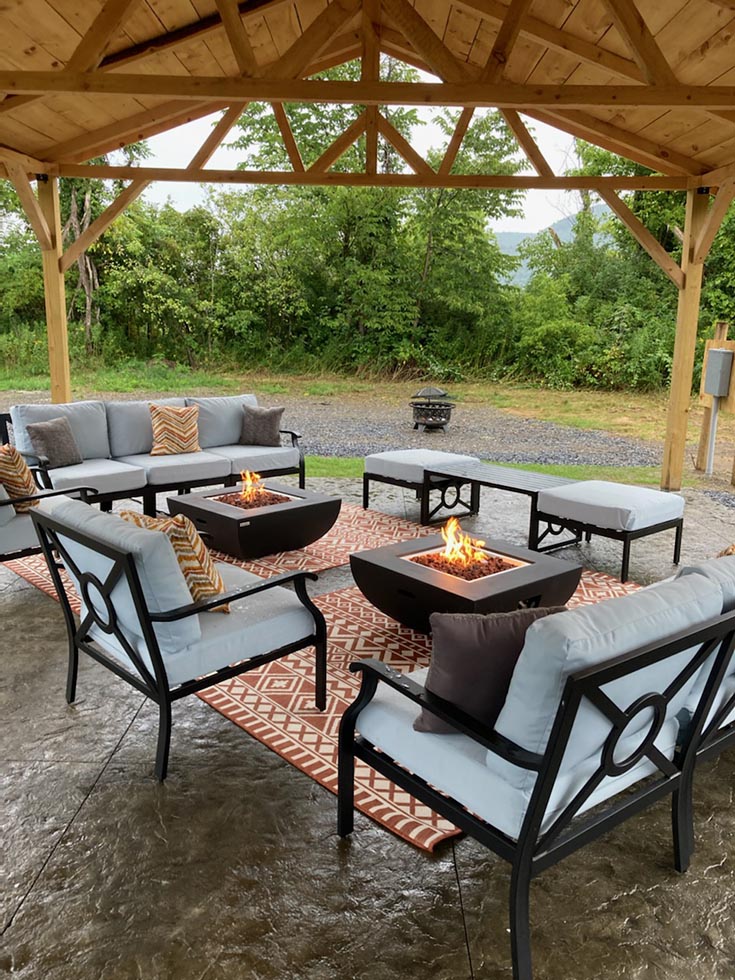 Why choose glamping over camping
OK -I'll admit it, I've never been the camping kind of guy (or kid). And no, I don't have any crazy story about why they threw me out of the Boy Scouts either. In addition, there's NO WAY my wife Rose is sleeping on the hard ground in a tent!
However, when I hear about glamping – now that's something that sounds like a possibility even for 'suburban folks' like Rose and me.
You see with traditional camping (and/or going to a campground) you've got to lug a bunch of stuff with you, pitch a tent, and pray you'll get a bar or two of cell phone service. You 'get to' rough it (if that's what you like).
Additionally, with traditional camping, you 'get to' use public restrooms. And if you're saying yuck and double-yuck – I'm with you. Campground bathrooms don't scream out luxury (or even Motel 6).
You hope and pray there's toilet paper in the stalls.
You hope the toilet and showers are working.
You hope the floor isn't wet and gross.
You hope there's no mold on the bathroom or shower tile joints.
You hope some obnoxious person isn't using the public restroom at the same time as you do.
However, if you like to 'rough it' – then traditional camping can be your thing. And it certainly has the advantage of being a 'cheap date' (or a cheap vacation).
On the other hand, if you're saying– I'm too old for traditional camping, then I'm with you. I know my wife for one – hates to use public restrooms, and sleeping on the hard ground isn't something my back would let me forget for weeks to come if I attempted to go down that road.
And this is exactly where glamping comes in. Glamping cabins are designed to give you the comforts of a hotel (or vacation rental). However, they're also located in unique, peaceful, natural surroundings you won't get even at an expensive stay at the Ritz-Carlton. Glamping gives you an unforgettable experience.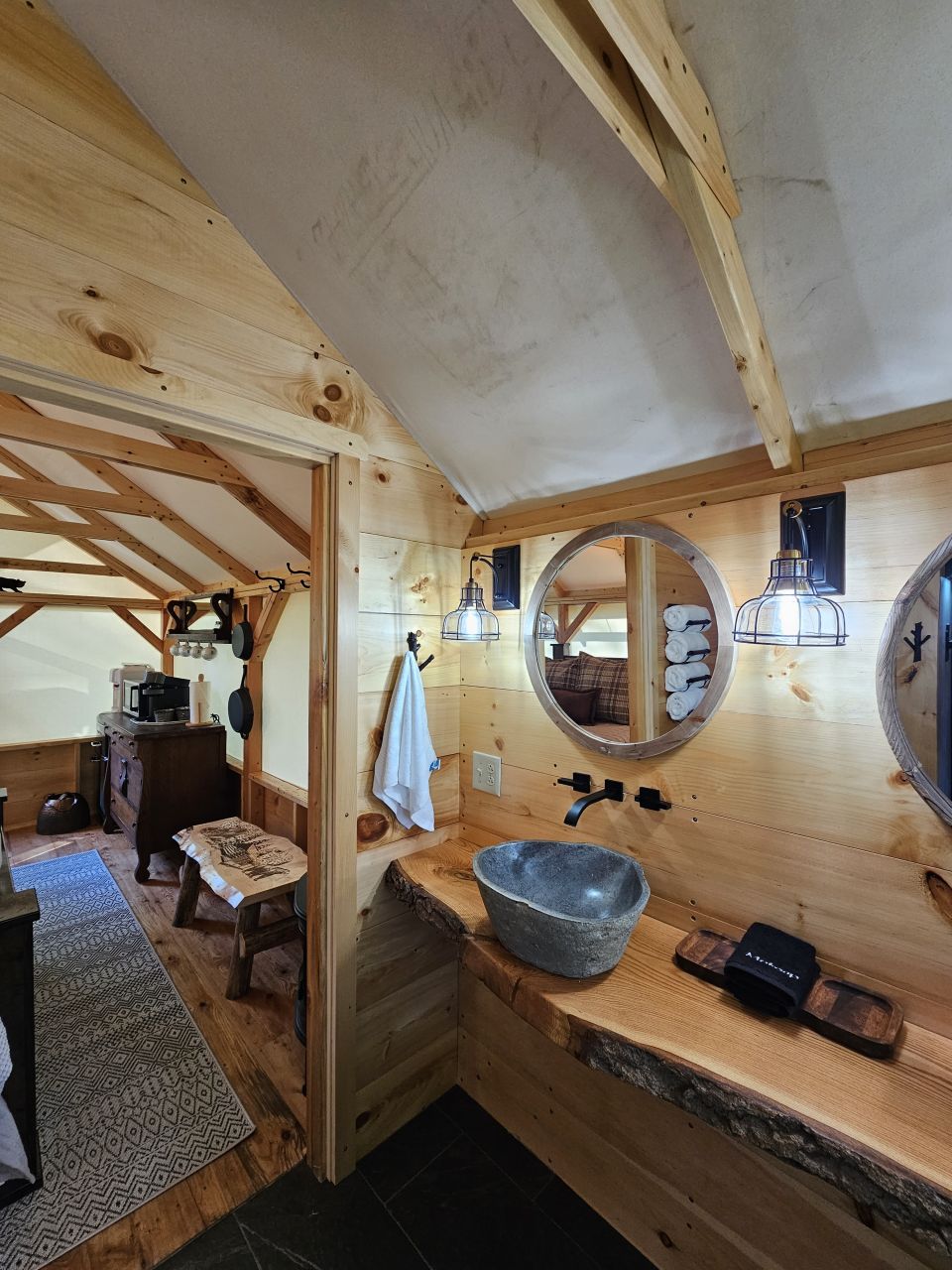 So, given this glamping vs. camping comparison, let's take a closer look at Scott and Michele's Battenkill River Camping Resort.
Battenkill River Resort proves glamping IS NOT camping!
The setting- away from the hustle and bustle, but it won't take you forever to get there.
Battenkill is located between the Green Mountain National Forest and the Adirondack Mountain State Park and borders Vermont. You can reach the resort within a few hours from New York City, Montreal, and Boston. And while the resort is secluded you're still only a 5 minute drive from Cambridge New York, 10 minutes from Arlington Vermont and 30 minutes from Saratoga Springs New York. And it's nice to know hiking and fishing are just steps away.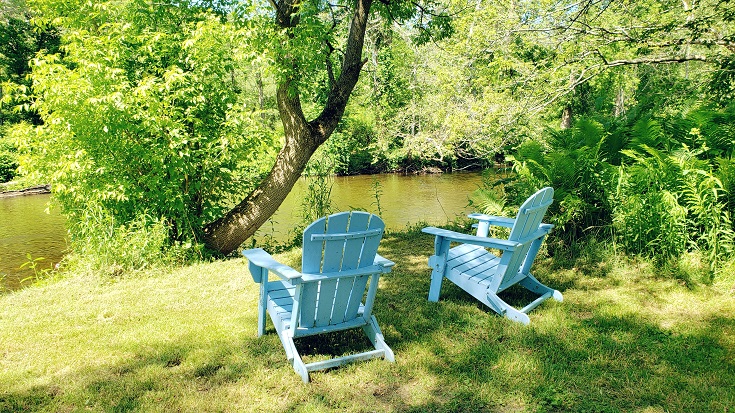 The accommodations (and the bathrooms) – OK, the bathroom guy (that's me) has to bring this up!
Even though settings can be beautiful at many campgrounds, if you can't get a good night's sleep –you'll need a 'vacation from your vacation' after your adventure is completed! However, that's not an adventure you have to put yourself through.
You can stay in comfortable (and dare I say luxurious) settings – all while enjoying disconnecting (at whatever level you like) from the day to day rigors of life (and work) with a glamping experience.
And at Battenkill there's 3 types of accommodations to choose from (at various price points).
Option 1 – The Deluxe Tent Cabins – These 5 fully outfitted tent cabinets have microwaves, a retro freezer, a gas grill on the deck AND a comfortable bed. The bathrooms look like a luxury hotel with live edge rustic wood countertops and showers with an organic cracked cement pattern walls (with no grout joints to get dirty or moldy) and trending thick matte black shower doors (and yes, the shower guy –has got to plug the showers!).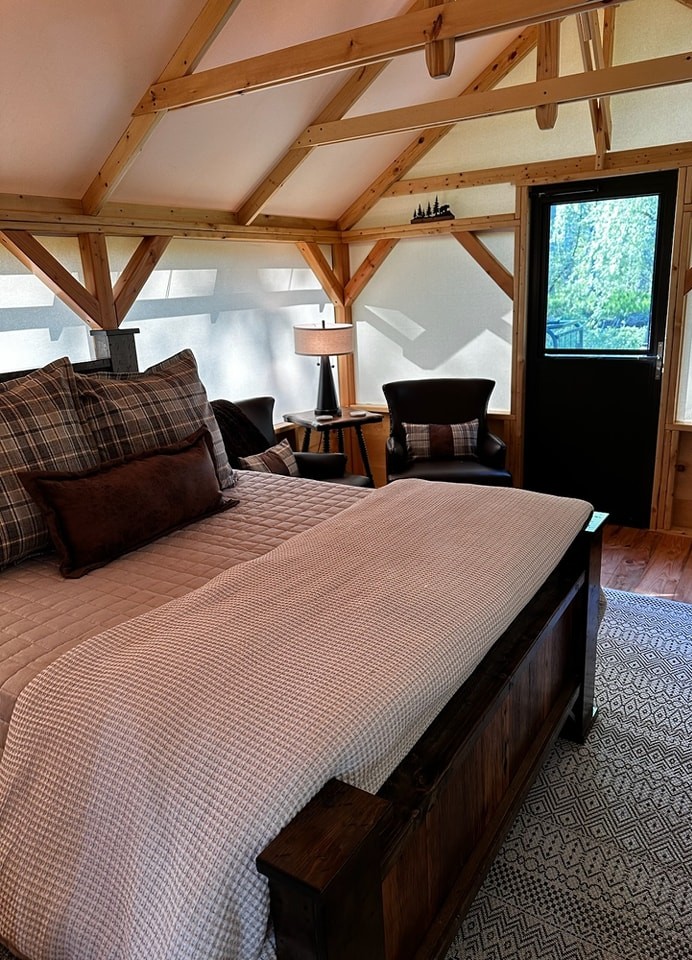 Option 2 – The Riverfront Glamping Cabins – The rustic river front cabins are also fully furnished and are steps away from the river's edge. These units don't have private bathrooms – but the bathhouse with all necessary amenities is a short walk away.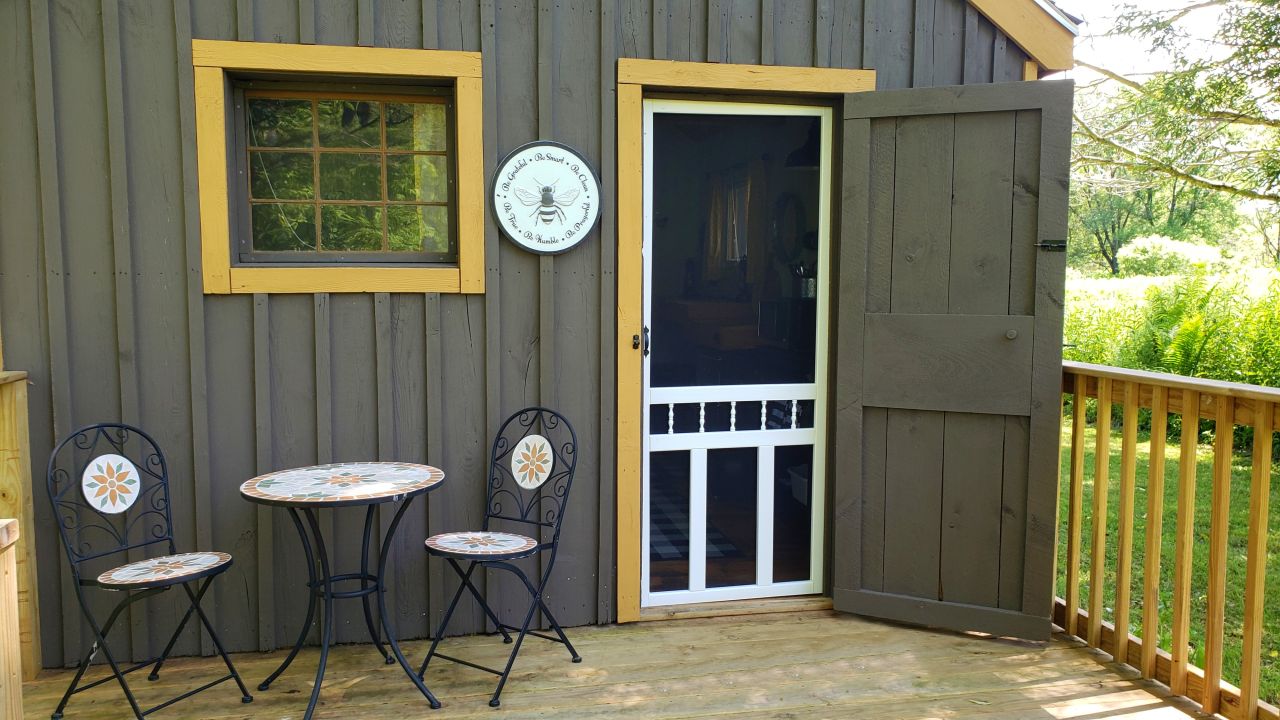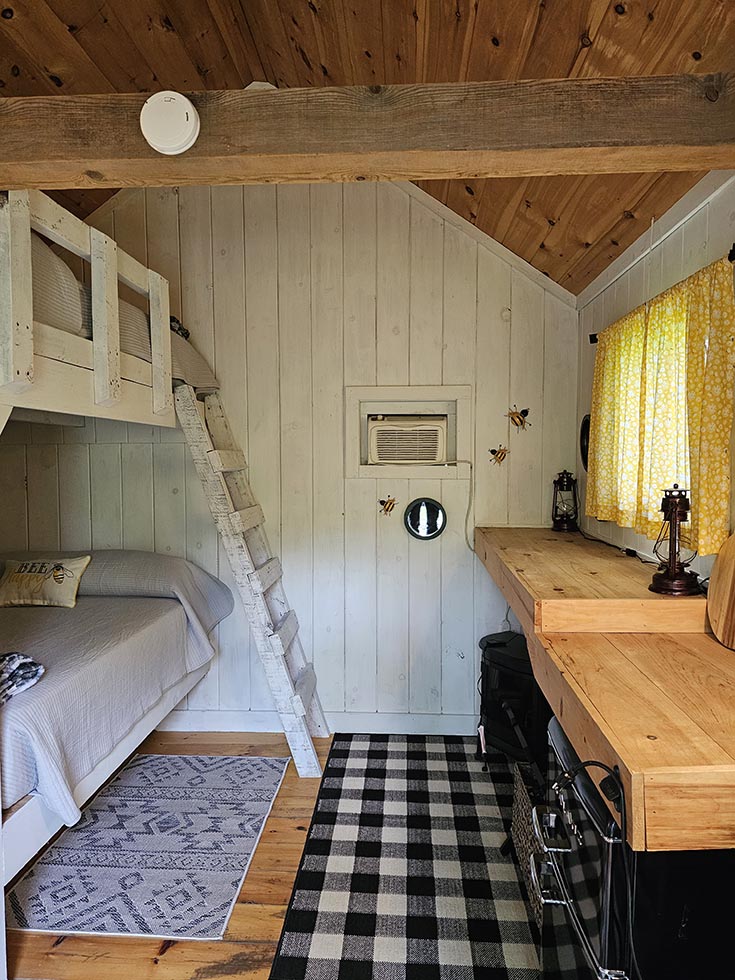 Option 3 – The Geodesic Hype dome – Become one with the outdoors, yet with hotel-room comfort. These 11 ½' diameter polycarbonate solar-powered domes will make you feel one with nature. And since half the sheets are clear you can stargaze in the comfort of your bed or enjoy a deck on the outside.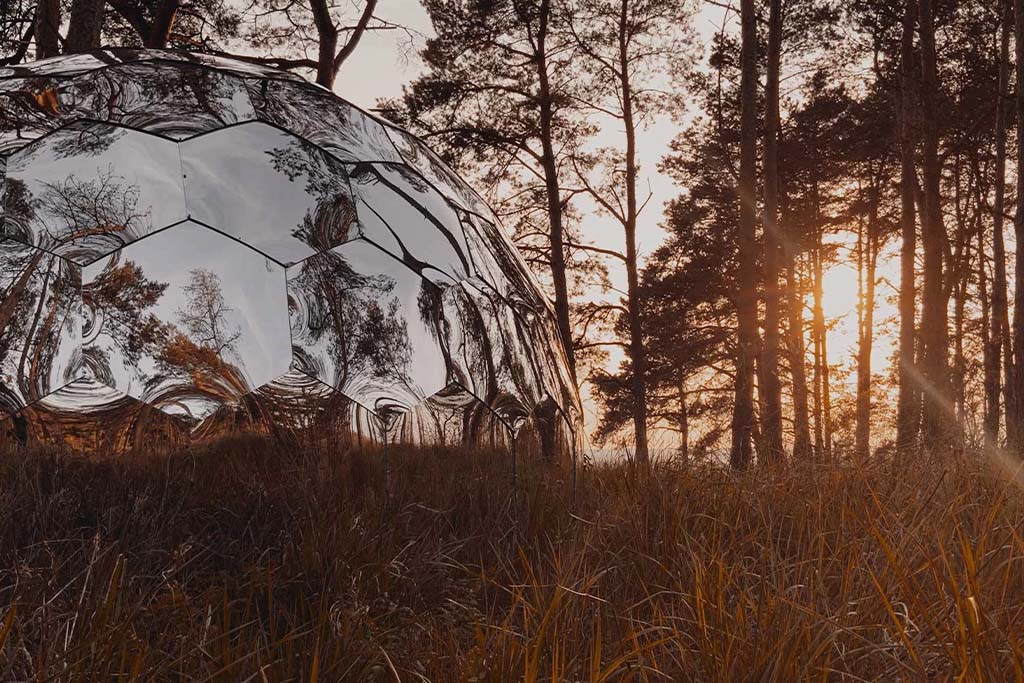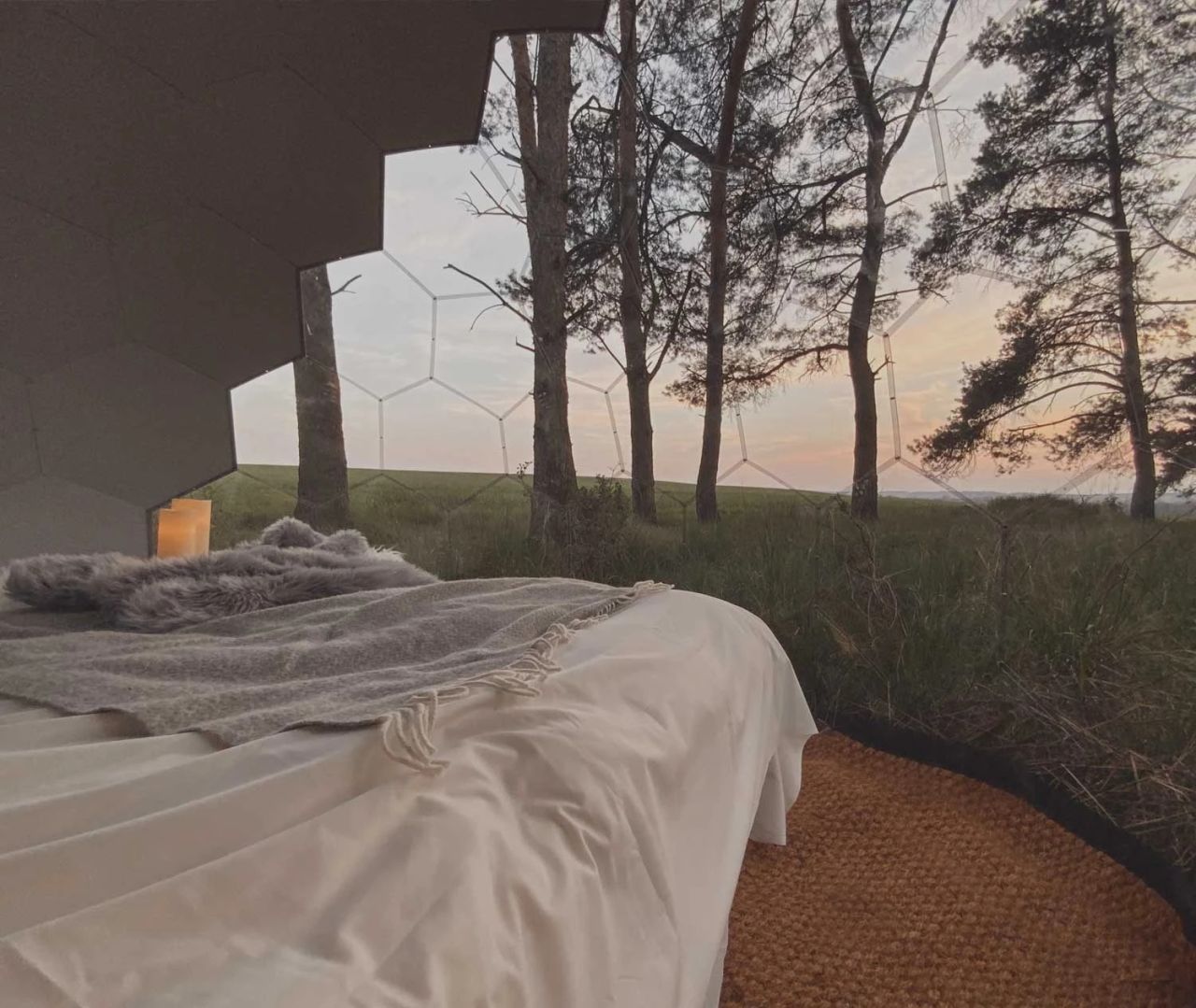 And even though this glamping experience can take you away from it all – if you need to stay connected you'll be happy to know the Verizon Fios fiber optic network will allow you to stream movies (or stay connected to your 'day job' …if you have to).  
Get Free Samples!
Click here to request free samples of our Laminated Waterproof Shower Wall Panels.
How to learn more or make reservations at Battenkill.
I hope this article has inspired you to learn more about Battenkill and reserve a room (at a 20% discount I might add) before their grand opening on June 30th. Click on the reservation form, email Michele at michele@battenkillresort.com, or call 518-788-9191.
How to learn more about the bathroom products in the deluxe cabins at Battenkill. 
If you love the look of grout free, organic cracked cement wall panels (or 28 other patterns), or would like a stylish and sturdy stone shower pan, thick glass shower door, call Innovate Building Solutions at 877-668-5888.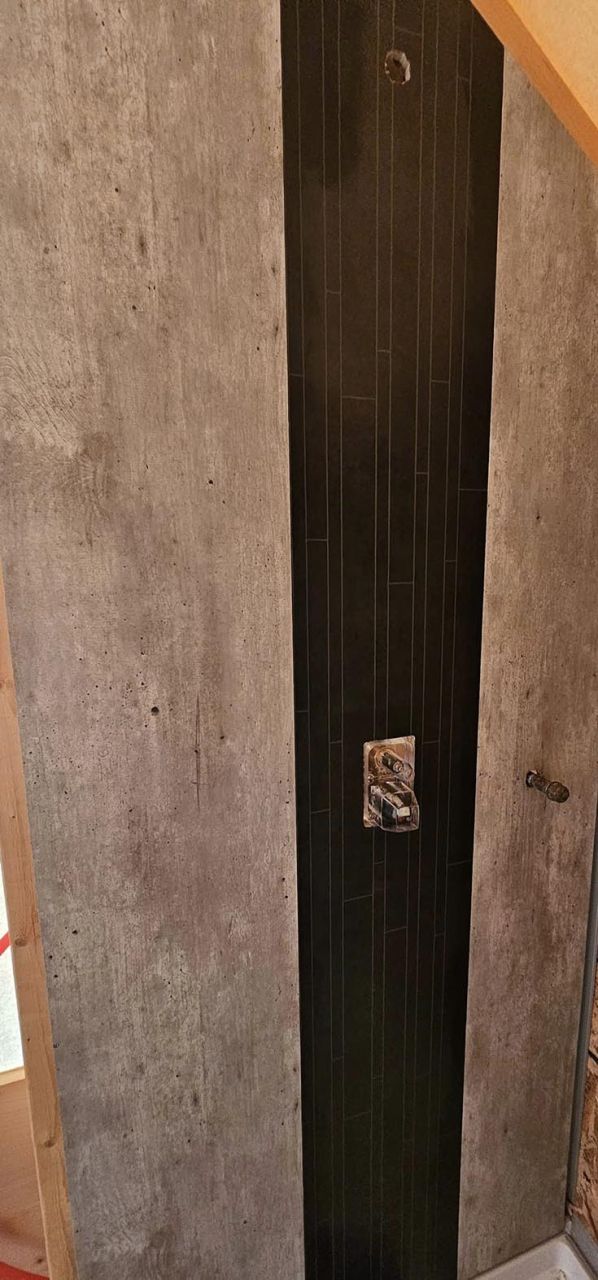 Or check out the bathroom visualizer below to see how your bathroom can be stylish (and low maintenance) just like the one you'll experience at Battenkill.
Get Free Samples!
Click here to request free samples of our Laminated Waterproof Shower Wall Panels.
Check out other hospitality entrepreneurs in their 50's and 60's who are 'growing into' the next stage of their lives while creating experiences for others.
What's really neat about Michele and Scott's story is they're not the only motivated and inspired people making an impact in the hospitality industry in the next stage of their lives.
Another one would be my (crazy) big brother Frank Foti and his fantastic wife (you've gotta be special to put up with my brother – OK, just kidding), Brenda Smola-Foti. Frank and Brenda lead The Ground which stewards over 400 acres in Yamhill County, Oregon (wine country). Their properties include a regenerative farm, a restaurant, and coming soon the Inn the Ground luxury bed and breakfast. Check it out at www.theground.love.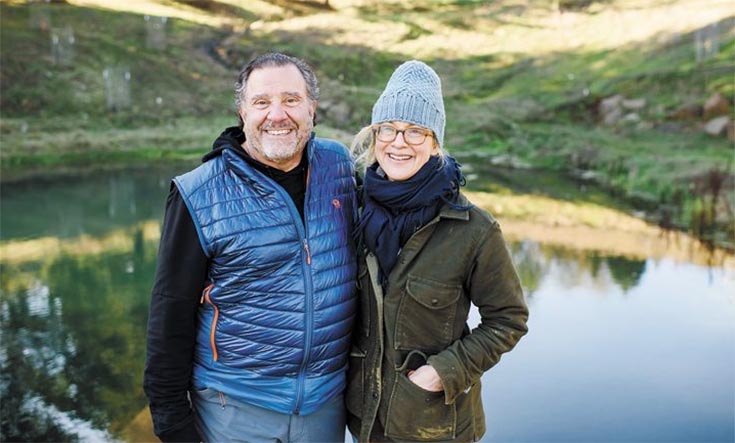 Or read about Todd Stine and his wife Rose who converted an old bank into a hotel and event center. Check out their story by reading Project Spotlight: Restoring a Historic Bank into a Boutique Hotel and Event Center.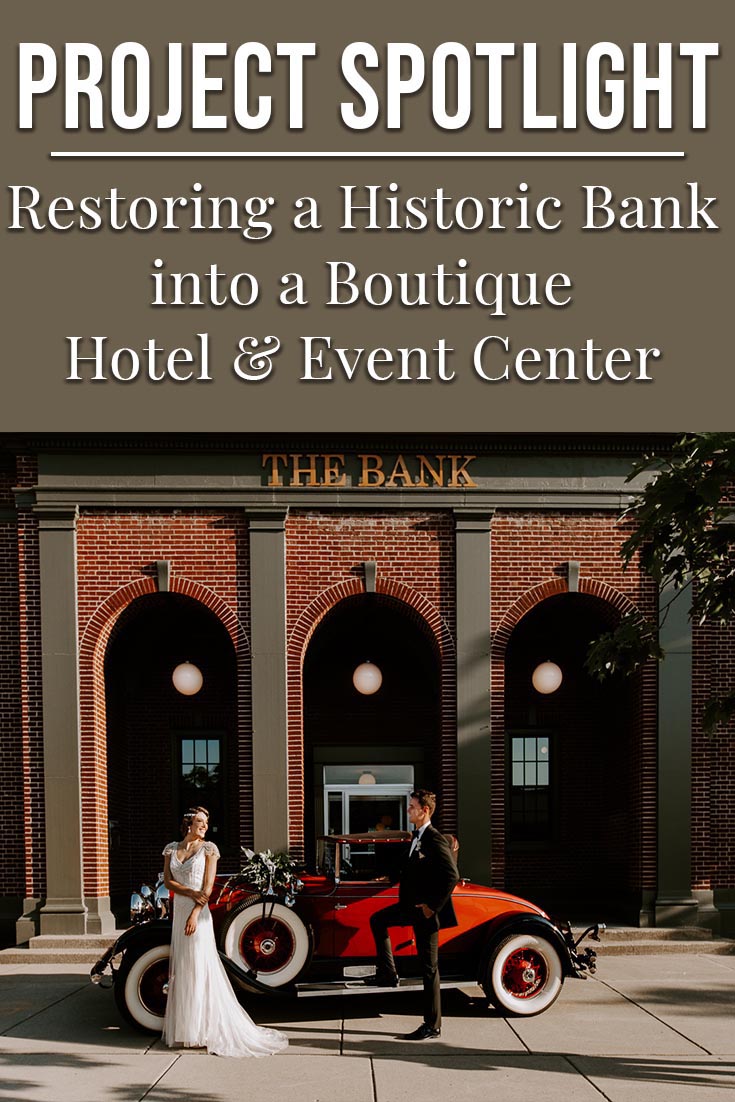 Whether you're in your 50's or 60's and looking for the next chapter of your life or searching for a cool vacation get-away – I hope you had fun seeing the unique experiences which could be on your horizon. '
Thanks for reading – and as always – putting up with my personality!
Mike
---
Mike Foti
President of Innovate Building Solutions a nationwide supplier and regional (Cleveland and Columbus) remodeling contractors. Some of our product lines include glass counters, floors, backsplashes, glass blocks and grout free shower and tub wall panels
---