Project Spotlight: Restoring a Historic Bank into a Boutique Hotel & Event Center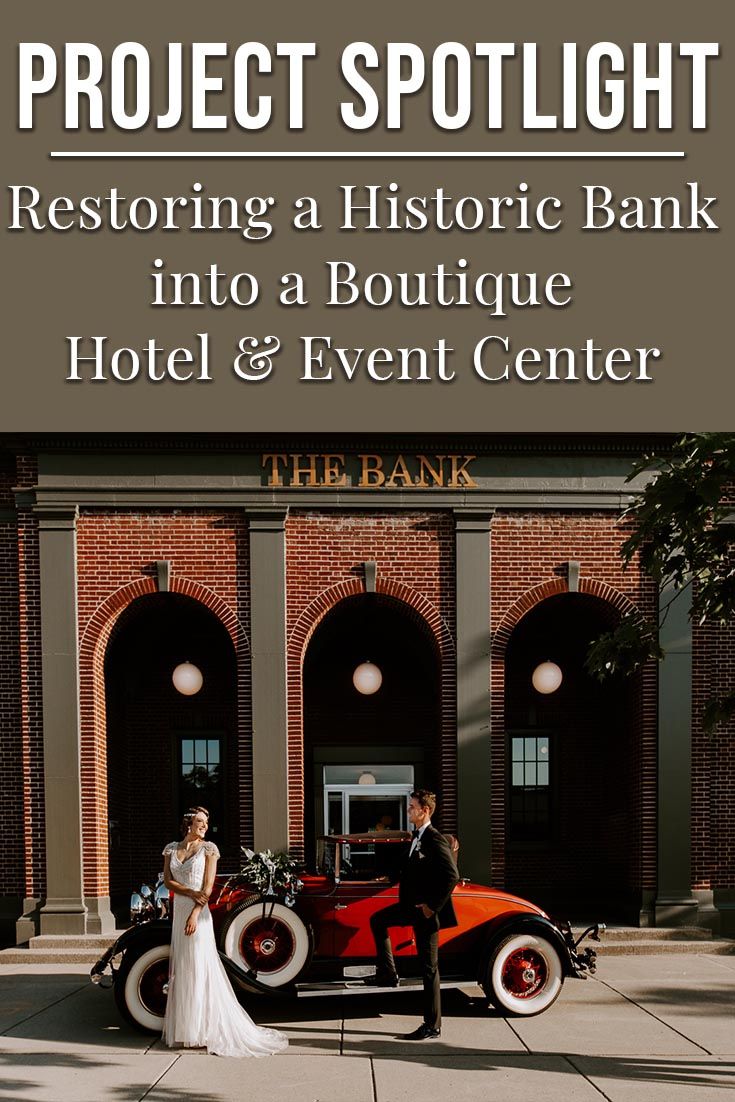 Your passion, creativity and purpose DOES NOT have to stop when you retire
When I interviewed Todd Stine, owner of The Bank, a 1923 former-bank building restored into a Boutique Hotel & Event Center, the words of a friend of mine and my wife Rose kept ringing in my ears.
You see our friend Bob Kenderes likes to say about his (quote/ unquote) retirement is, "I'm not retired, I've been repurposed."
Sure – retirement can be golfing, relaxed get-togethers with friends or grandkids and leisure activities. However, for many, life without an overriding purpose, or a sense of challenge, can be a life not fully lived.
And when you've still got passion, creativity and a desire to contribute, the world needs your purpose to shine through.
And such was the case for Todd Stine.
You see Todd sold his business which (ironically) provided products to the banking industry. However, his entrepreneurial passion still burned bright. Shortly after retiring Todd and his wife Catherine bought an 80-acre property with 5 beautiful ponds. This purchase inspired entrepreneurial (post-retirement) business launch #1 of the Carriage House at Rushing Waters. This lovely Air BnB, with a fun architectural design, was inspired by Germany's romantic Rhine Valley castles.
However, Todd's passion (along with his wife Catherine) to create inspired, fun, functional and cost-effective spaces for others was not complete.
And here's where our story begins.
You see when I was contacted by Todd in December 2019 to quote on a glass block bar and glass block shower walls,  I had NO IDEA how wonderful a restoration project our company would end up contributing to.
I also had NO IDEA how much I'd like to stay at this property the next time my wife and I travel through Buffalo to visit our Italian relatives in Toronto (OK – these are the same Italian relatives who invite us for a 'little something to eat' and make 7 courses of home-made food and invite 30 relatives over for a 'little' get-together! No, not even Mama Mancini can top this). But enough about great Italian food and my wonderful Toronto relatives, let's get back to our story.
You see Todd visited the vacant bank in the town of East Aurora (a suburb of Buffalo, New York) one time previous as a potential investment. However, he couldn't figure out how to fully repurpose this architecturally unique building. He wasn't sure how to reinvigorate this old 'functional' bank building which had (largely) been stripped of its original glory and character. How could this special place become useful again?
Then when Todd was pricing event venues for a retirement party and being 'blown away' (and not in a good way) hearing how outrageous the costs were, the light bulb went off. A 'repurposed' vision started to take hold.
The Bank of East Aurora would make the perfect event venue and boutique hotel.
It could be fun, functional, and fashionable.
It could be designed smartly so it wouldn't cost an 'arm and a leg.'
In this article I'm going to share 3 reasons why I'm stoked to visit this boutique hotel and event center in Western New York (even though Todd hasn't offered me a 'buddy discount' on a room …or at least not yet…although I can still be hopeful!).  After learning more about this property, I'm convinced this is a creative business which WILL answer a need in the market. And I'm convinced you'll love it to after learning more about the 3 reasons you need to check it out I've outlined below.
Reason #1 to check out The Bank– It's fun. Hey – the older I get (even though I try to hide my age with Just For Men hair coloring), the more I know I want fun and memorable experiences (and so do brides and grooms who (hopefully) are celebrating their once-in-a-lifetime event).
Reason #2 to check out The Bank– It's functional. My wife and I don't like to overpay. We don't want to stay in hotel rooms or go to event venues which are uncomfortable. Any space – no matter how 'kitschy' it is, has to work and be affordable. Plain and simple.
Reason #3 to check out The Bank – It's fashionable –I'm a sucker for cool architecture. I love old buildings which 'respect the past,' but also embrace what's smart our technology of today.
So, let's take a deeper look at these 3 reasons The Bank should be on your 'hit list' (and you'll see below why this pun makes sense below) for a vacation stay or event in the future.
Reason #1 to check out The Bank – It's fun  
I don't know about you, but if Rose and I are staying at a hotel or attending a wedding or event – the last thing we want is it to be boring. Fun places are memorable. Experiences are what make life worth living. Check out these fun features in The Bank.
Fun feature #1 – Themed hotel rooms which are anything but boring– Sometimes being the 'nice guy or gal,' just isn't as fun as being a bad boy or girl. And in the 1920's famous bank robbers (bad boys and girls) like Bonnie and Clyde were actually embraced. In a tribute to these bank bandits, rooms in the 'Beneath the Bank' section of this property celebrate their lives and lifestyles. In the 'Bonnie and Clyde' you'll enjoy the soft colors and antique furniture. In addition, you'll be impressed with the period-specific Art-Deco inspired bathroom with subway tile walls and a glass block shower wall to bring you back to a time gone by.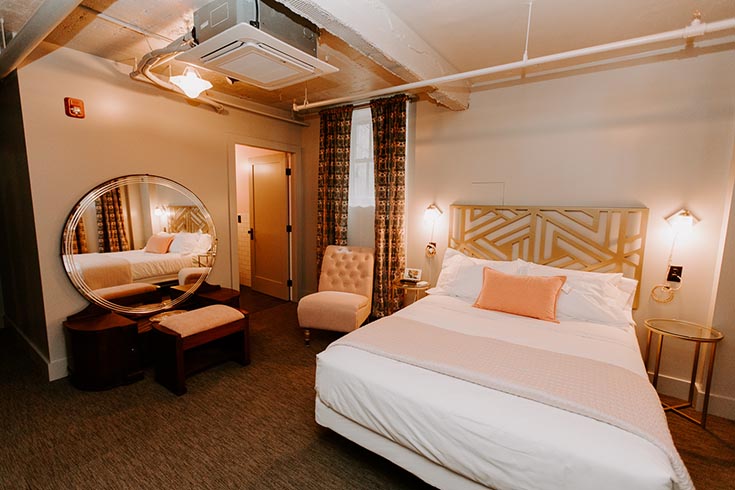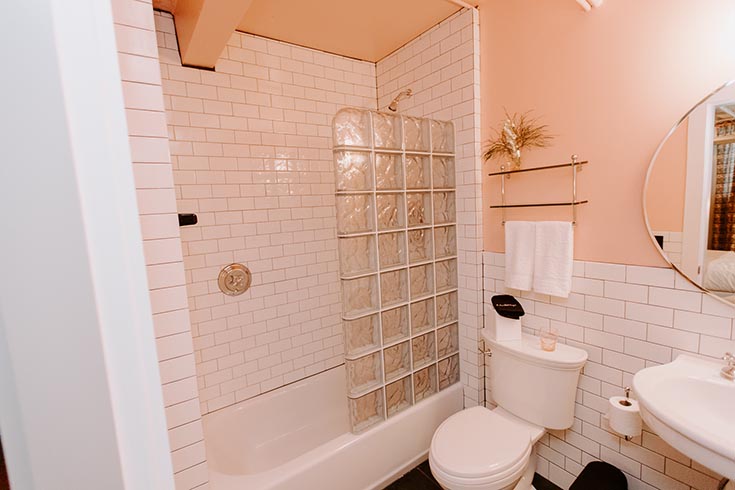 Fun feature #2 – Nothing says fun quite like a 'secret door' – Remember playing 'hide and seek' as a kid and your love of secret doors and compartments? Well if you're the bride and groom how about a surprise appearance as you 'blow open' the secret vault door and make your grand entrance? Intrigue and fun are what weddings should be about (not boring, strait-laced' pomp and circumstance).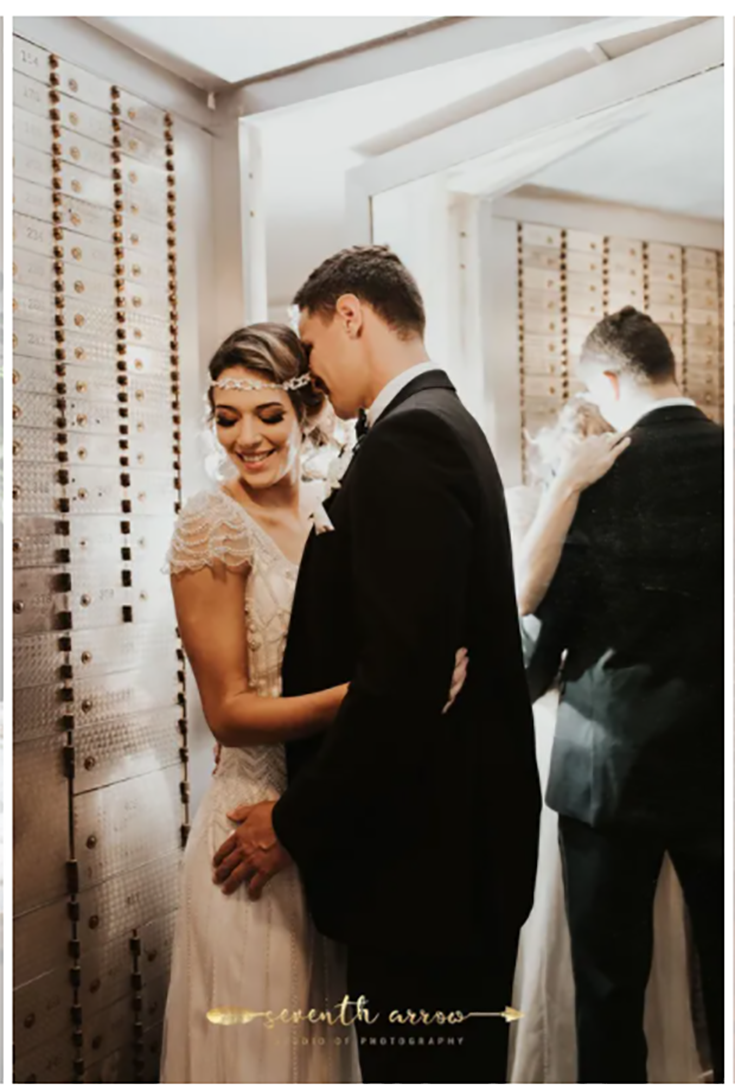 Fun feature #3 – A retrofitted 'bank directory' turned multi-media display center – One fun thing about weddings are the pictures and memories you create. And who doesn't love to see old pictures – or fun and funny pictures being taken 'in the moment?" With this retrofitted bank directory, you can enjoy a real-time photo booth or run a PowerPoint which includes embarrassing old pictures of the bride and groom (but don't be too cruel, it's supposed to be their special day!).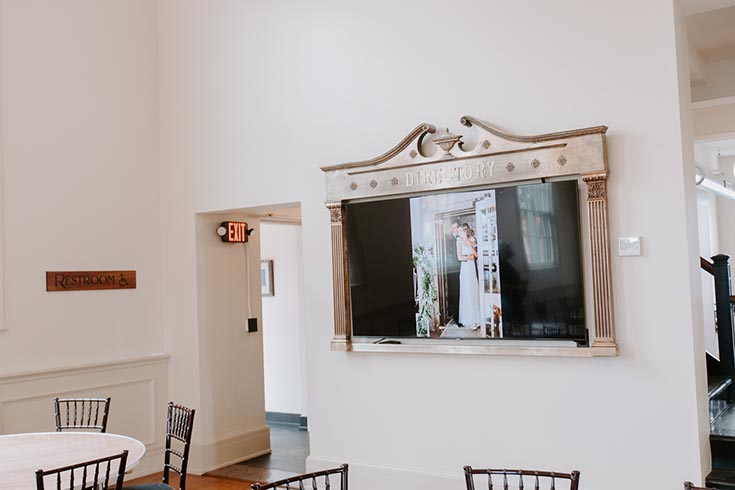 Fun feature #4 – Go on a scavenger hunt looking for coins from around the world – Why not go on a scavenger hunt like you did as a kid? Go through the vaults and check out the penny tile floors. See how many coins from around the world you can find.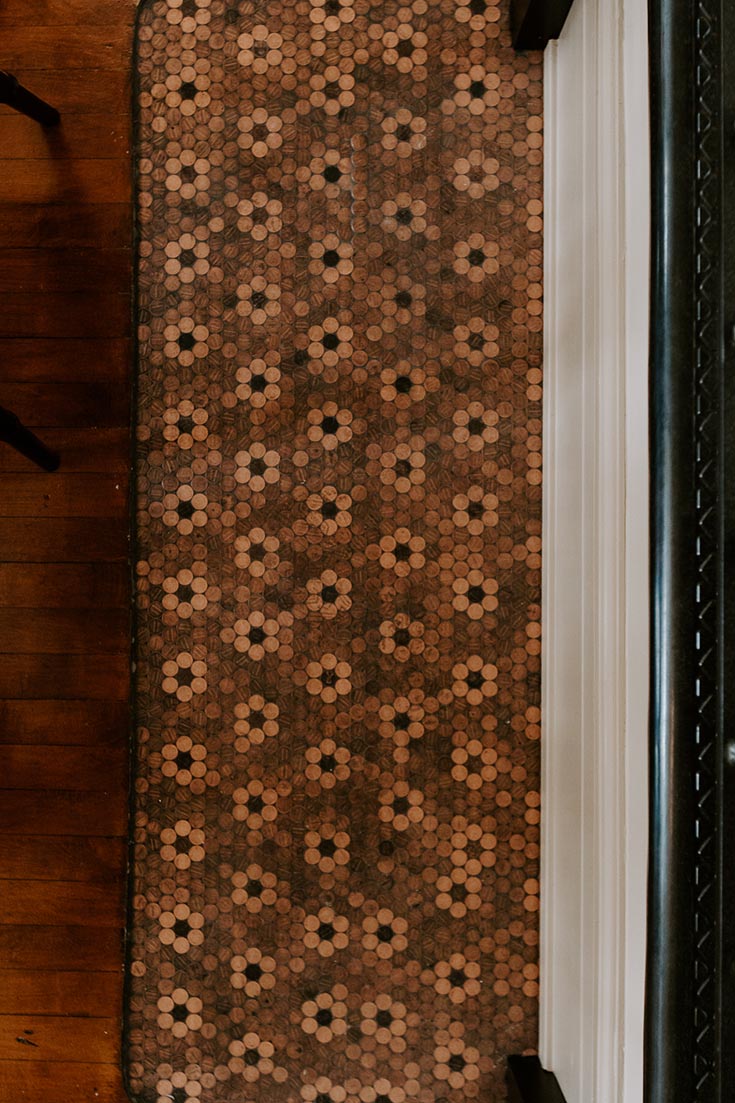 Reason #2 to check out The Bank – It's functional  
Sure, it's more fun to talk about fun, than it is how functional a hotel or event venue is, but if the property isn't comfortable, affordable and safe, what good is it? And The Bank is all-about being a progressive – yet affordable space whether it's used for a blow-out event, or an overnight stay you're booking. Here's a few reasons you'll like how this place works.
It's designed to be flexible, and work for everyone's abilities – If you have an elderly Aunt you adore, but her mobility isn't what it used to be, you still want to make sure she can enjoy your special day. And in the conveniently located Coat Room on the 1st floor you'll not only have a stylish ADA bathroom for her, but there's also a fold away Murphy bed which can be her guest room as well. Now, that's functional – and smart – thinking!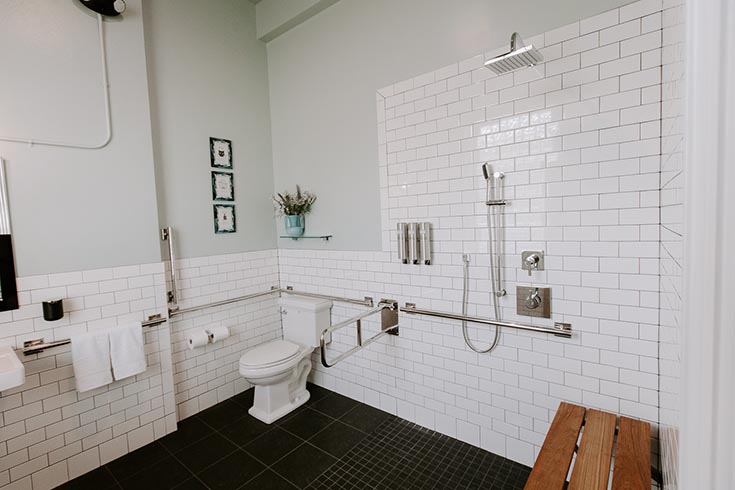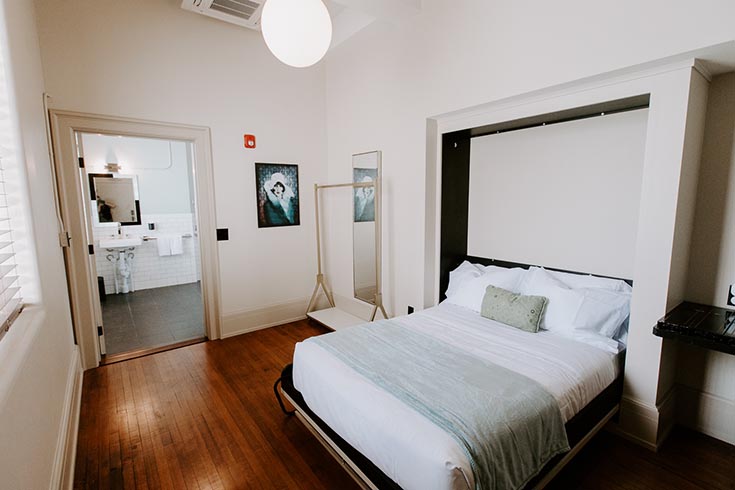 It won't cost an arm and a leg– Sure you can find a place to hang your head in a cut-rate-budget-econo-lodge, but how memorable is that? The Bank's Airbnb boutique hotel rooms start at $139 per night. This isn't bad considering this is New York you're visiting.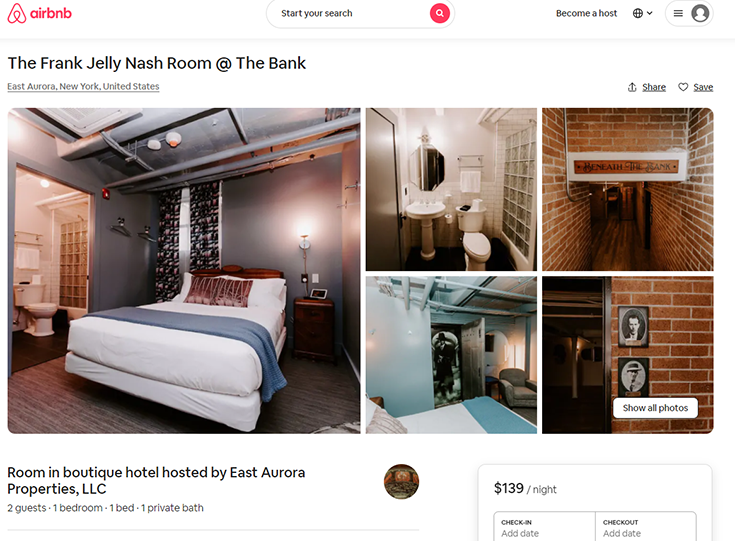 NOBODY, and I mean NOBODY is lifting your wedding gifts! – OK, here's a kitschy way to make sure nobody 'lifts your wedding loot' (not even the couple staying in the 'Bonnie and Clyde' room mentioned above). Have your guests use this 'fun' (and safe) night deposit box to stash their envelopes. While everyone's having fun, you'll feel secure knowing NO ONE is lifting your loot!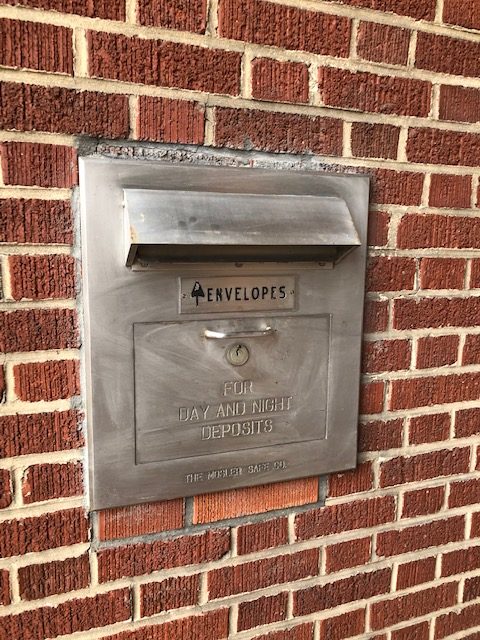 Reason #3 to check out The Bank – It's fashionable
 I don't know about you, but I'm a sucker for architecture and technology. I love the 'nod to the past,' but also enjoy the 'cutting edge technology of the future,' … as mixed up as that may sound.  If you're an architecture and technology fan, The Bank will be your vibe. Here's examples why.
Example #1 – Start at the bar…and doesn't everyone want to start their when on vacation or attending a wedding? This inspired art deco glass block bar is as stylish as it is memorable. In addition, the glass block windows keep the room well lit, until the sun sets and the music gets your guests a rockin'.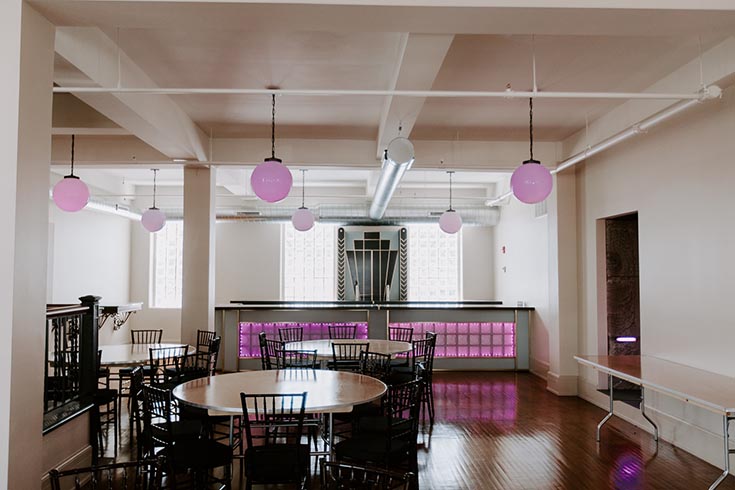 Example #2 – Vaulted ceiling, palladium windows and skylights are architectural marvels – The structures of yesteryear truly were fantastic. And you may still hear you Dad saying, "They don't build 'em like they used to." And looking at this ballroom you'll know Dad's certainly right this time. The arched windows, thick crown molding and skylights are architectural gems. If you really want to take it all in, gaze at the event from the upper level balcony.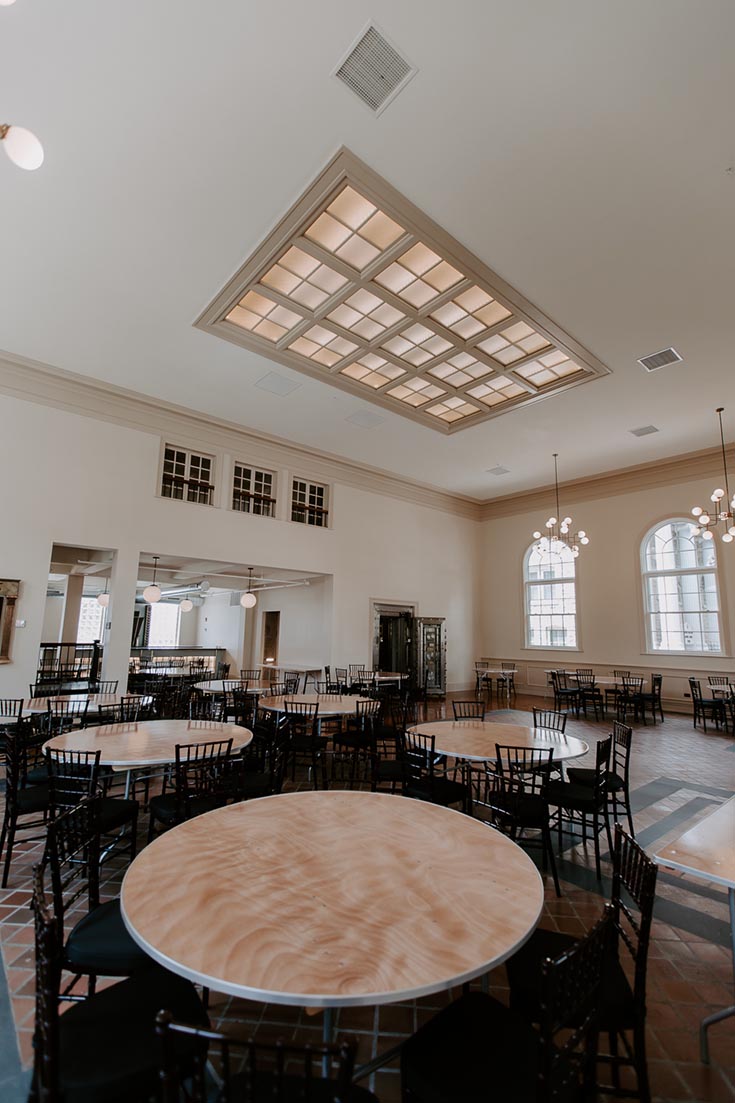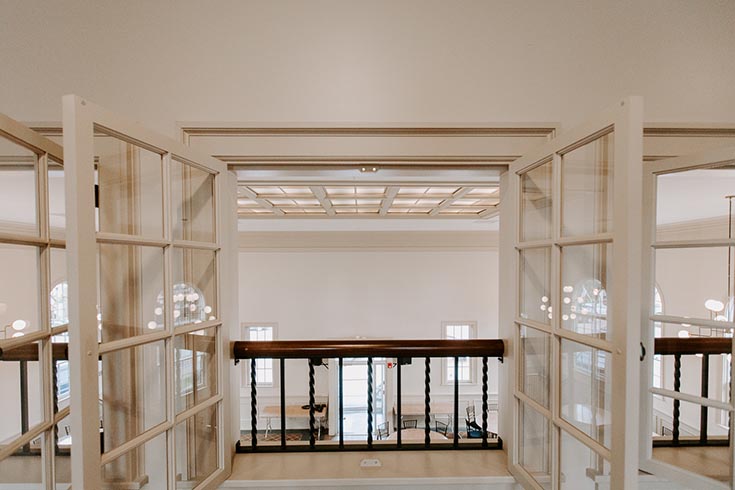 Example #3 – Relax in the speakeasy – If you're looking for a quiet place to wind down don't forget to check out the speakeasy. It has a wonderful collection of antiques.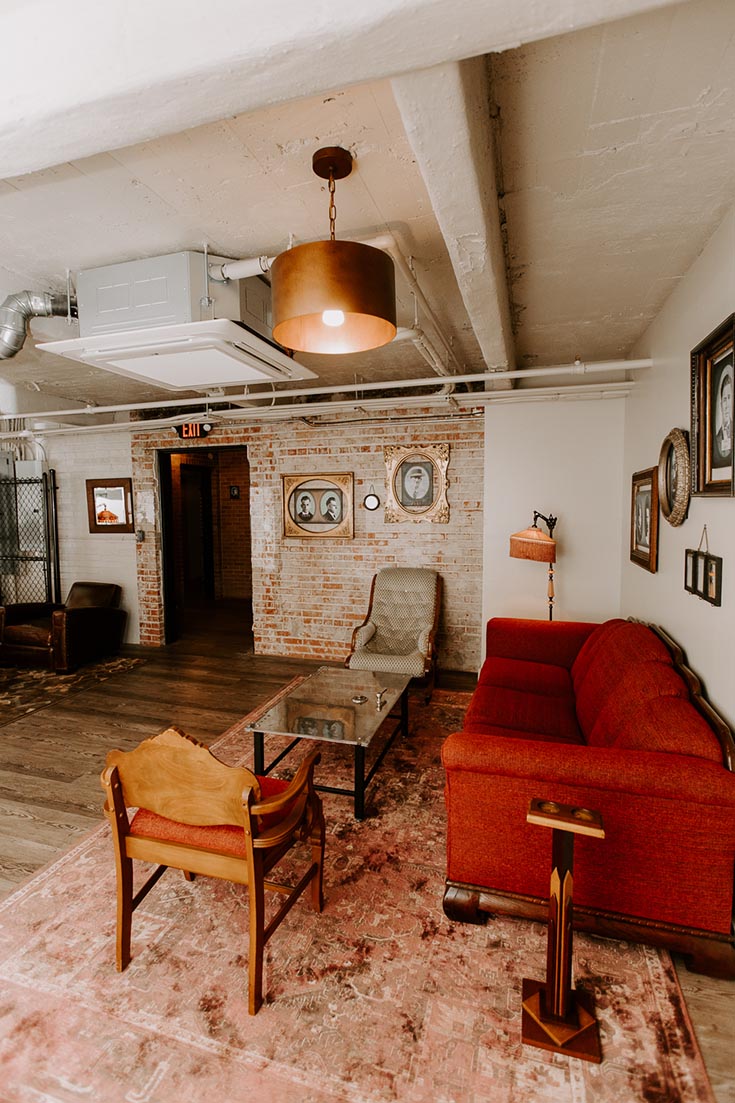 How can Todd (from The Bank) or me and my team help you next?
So, you can probably tell I'm a big fan of how Todd and his wife Catherine have restored this brand 'spanking-new' (OK -it's actually old, but it been re-newed!) boutique hotel and event center back to its glory days (with modern touches those in the 1920's only dreamed about).
Although I'm not even a teeny-tiny owner of this property, and Todd hasn't even given me a discount either (bummer), I know something cool when I see it. And this property is cool IMHO.
So, if you'd like to stay at The Bank or want to line up an event (without spending a ton of dough – no banking, or baking, pun intended), call Todd or Catherine at 716-261-9876 (and NO – I'm not getting any commission!).
If you want a cool glass block bar or glass block shower – that's an area me (and my team) can help. Call us at 877-668-5888.
And lastly remember this. Just like Todd (or my friend Bob Kenderes), if you're looking to retire, remember (BEFORE that dementia sets in) you don't need to leave your passion, creativity and purpose behind. Don't be afraid – and just like Todd –live your life out with unabandoned purpose.
Here's to your retired (and repurposed) future!
Mike
---
Mike Foti
President of Innovate Building Solutions a nationwide supplier and regional (Cleveland and Columbus) remodeling contractors. Some of our product lines include glass counters, floors, backsplashes, glass blocks and grout free shower and tub wall panels
---