Pros and Cons of a Glass Block Shower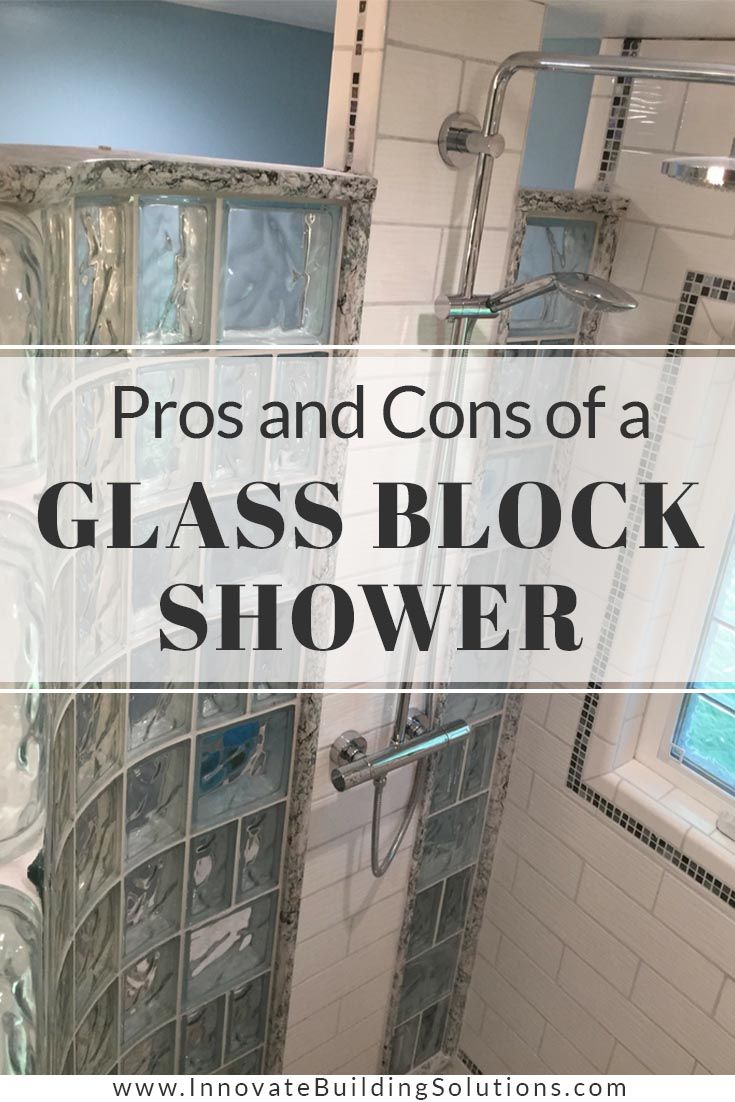 If I'm being honest I've had a ton of conversations (and sales) of glass block shower systems since I got into the business in 1985 (and before you jump to the conclusion I'm OLD- I'll tell you I started at the age of 9). OK – I'm lying about starting at the age of 9.
However, here's one thing I can tell you with confidence about this type of shower….
Glass block showers are controversial
Sure – they're not as controversial as fessing up to who you're voting for in the upcoming United States Presidential election, but maybe darn close.
Let's face facts. Some people LOVE glass block showers.
Other people HATE glass block showers.
But what the 'lovers' and 'haters' have in common is they're both subjected to a lot of misinformation about the pros and cons (advantages and disadvantages) of glass block showers. Since using glass blocks for a shower isn't super-common, the chance you'll get bad information from your contractor, or your favorite Uncle Louie for that matter, is high.
Since I've been selling glass block shower walls and bases since 1985 I've gotten to know the good, the bad and the ugly about this product. And since our company designs, fabricates, wholesales and installs different types of glass enclosure systems (not just glass blocks), I want you to know I'm not strictly a 'homer' for a glass block shower wall. I know where it's smart to use this material and where it's not.
So, in this article I'll take a 'no-holds-barred' look at glass block shower walls. I'll share with you factors you should look at before jumping to the conclusion this shower wall system is, or is not, right for you.
We'll first look at 7 advantages of a glass block shower, then we'll turn to 5 disadvantages. At the end, I'd like to hear your questions and comments. I'd like to hear whether you're 'pro-glass block' or 'anti-glass block.' Your votes will be electronically tallied by the accounting firm of Ernst and Young (OK, to be honest, I'm way too cheap to hire this big accounting firm, but I thought it would be fun to say).
7 pros (advantages) of glass block showers
Pro #1 of a glass block shower – It's durable and built like a tank  
Do you worry about your Mom or Dad slipping in the shower? Their current flimsy, 'builders-grade' (and I don't say that in a complimentary way) framed glass enclosure falling down with them or cracking in a million pieces.
Traditional glass showers can be accidents waiting to happen (and if you've heard of people being cut by (supposedly) tempered glass showers before you know what I mean).
Glass block showers use 3 1/8" thick blocks. They're anchored securely to the wall. They're as durable as a tank. New grout and vinyl stacking systems make them more secure than 'old-style' glass block walls which were built block by block by a mason contractor (back in the day). If you want durable, glass block is the cats-meow.
Pro #2 of a glass block shower – It's not boring. Fun designs can be made specifically for you.
If you wanted your glass wall to look like everyone else's glass wall, then go to your local home center and buy an enclosure off the shelf. Glass blocks, on the other hand, can reflect your unique personality.
Perhaps you want a glass block wall with a 'stained glass' mosaic design like the one below.
Perhaps you want a glass block shower with colored glass to brighten up your mornings.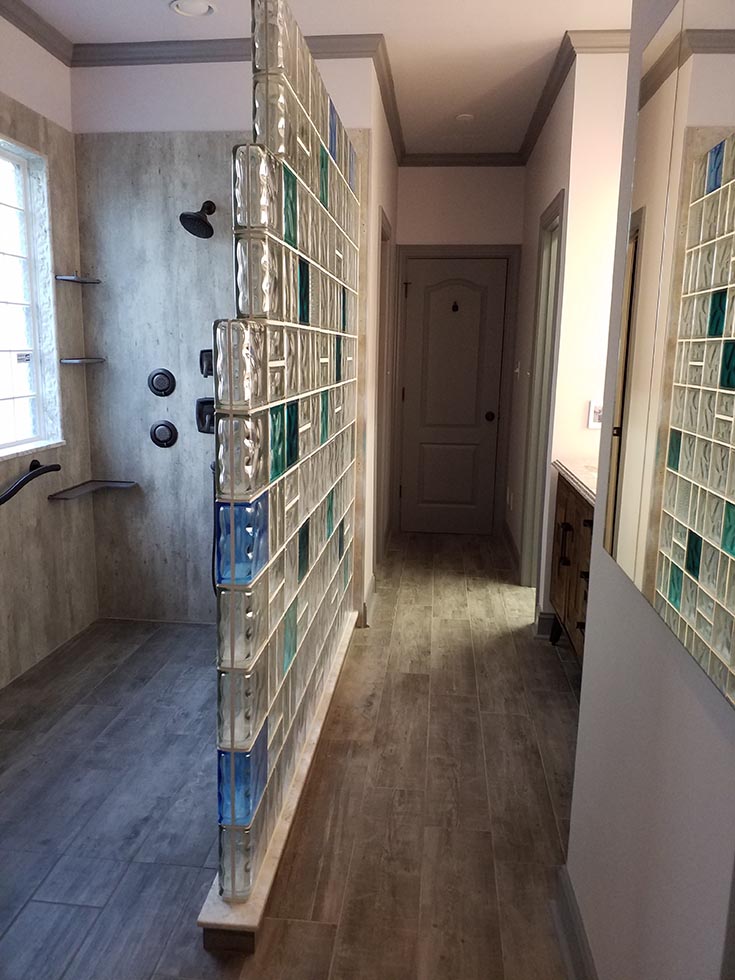 Perhaps you want a glass block shower with unique patterns to bring out the bohemian style you love.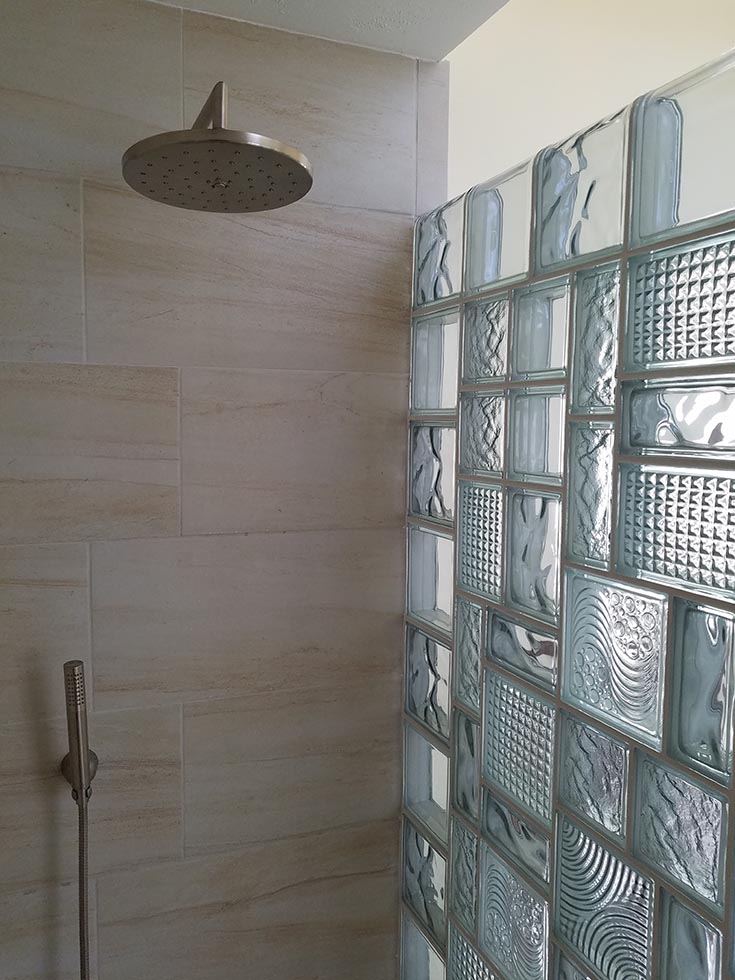 Your shower DOES NOT have to be boring. Glass blocks allow creativity you don't see in other glass shower wall systems.   

Pro #3 of a glass block shower – You can vary the height and width without buying custom glass
Since glass blocks are (literally) 'individual building blocks' their size can varied in 2" increments in the width and the height (note – the finishing end blocks and curved blocks need to be designed in 8" high sizes).
The most common sizes (which are 4" x 8", 6" x 6", 6" x 8" and 8" x 8") can be used for a wide range of fun designs, like the ones you saw in pro #2 above.
Pro #4 of a glass block shower – It moves light into your shower
If you're dealing with a dark shower because natural light is blocked by tiled walls or an ugly, moldy shower curtain (you constantly have to replace), you know you'd love more light. More light not only helps your space 'feel' more inviting, it also helps to reduce falls from those whose mobility isn't the greatest.
And an open design glass block walk in shower eliminates the claustrophobic feeling of a tile shower with style and grace.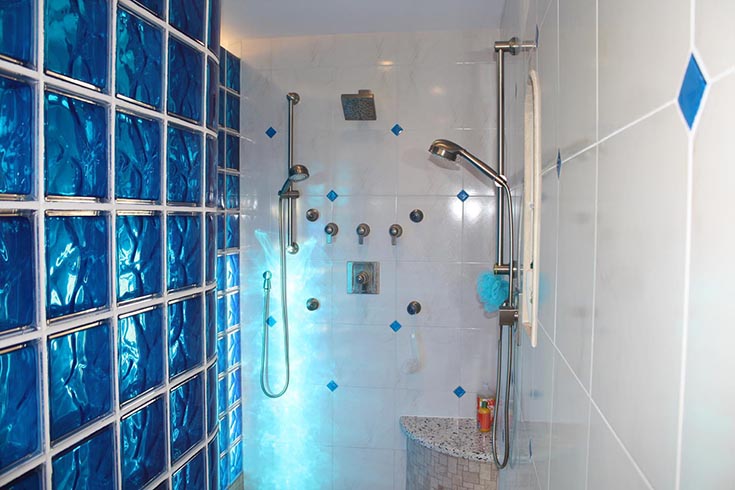 Pro #5 of a glass block shower – You can make a cost-effective curved glass wall
Curved and bent glass walls are soooo stylish but also soooo expensive. If you love the look of a curved glass wall and how it functions when it gracefully directs shower water to the drain, but it's price doesn't come even close to fitting your budget, in those instances a glass block shower is an option you need to check out.
With 'pre-curved' radial glass blocks, you'll get a curved walk in shower for far less money than curved and bent glass. As a matter of fact, this curved wall can be cheaper than a 3/8" thick straight frameless glass wall.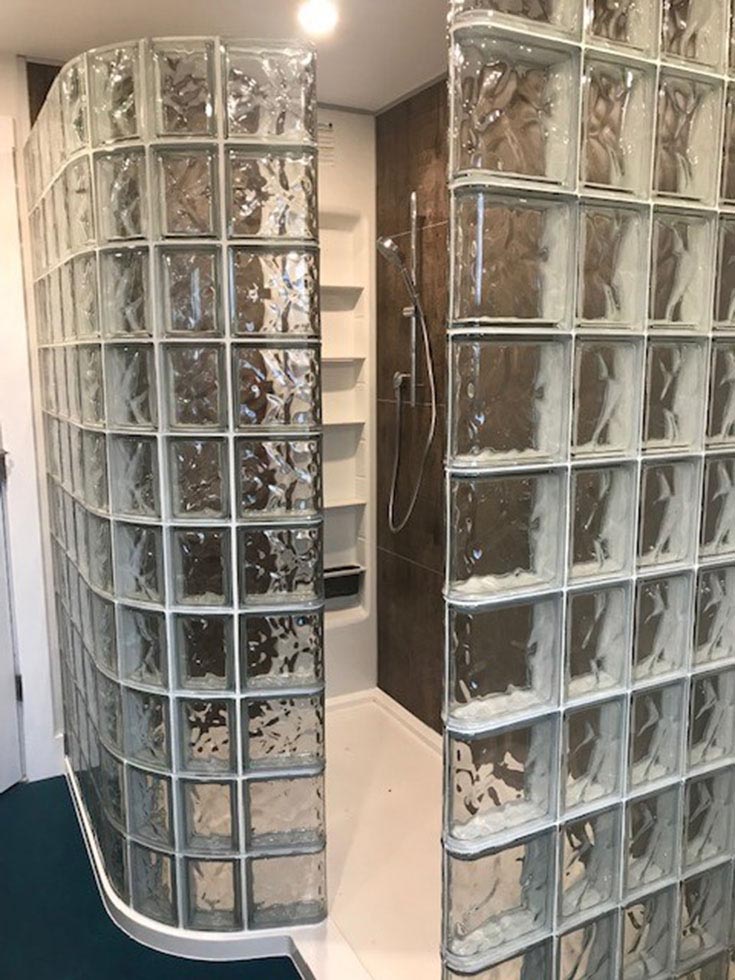 Pro #6 of a glass block shower – You get a high privacy wall which is easy to clean  
If you're desperately seeking a few moments of privacy (and taking a shower is a small way to get it), you know how a standard see-through glass wall can be a bad thing.
Perhaps your little kids are CONSTANTLY barging into your master bathroom. Or your spouse 'talks your ear' off when your mid-shower. The idea of showering in uninterrupted privacy is a beautiful concept.
And if your shower today has clear glass you know you're practically an 'open book' (like it or not) in there. This is where an obscure glass block wall is perfect. You'll not only get privacy, but the obscure glass hides water spots (now that's a double-bonus as they would say in basketball lingo). Glass blocks are simple to wipe down with a cloth or squeegee.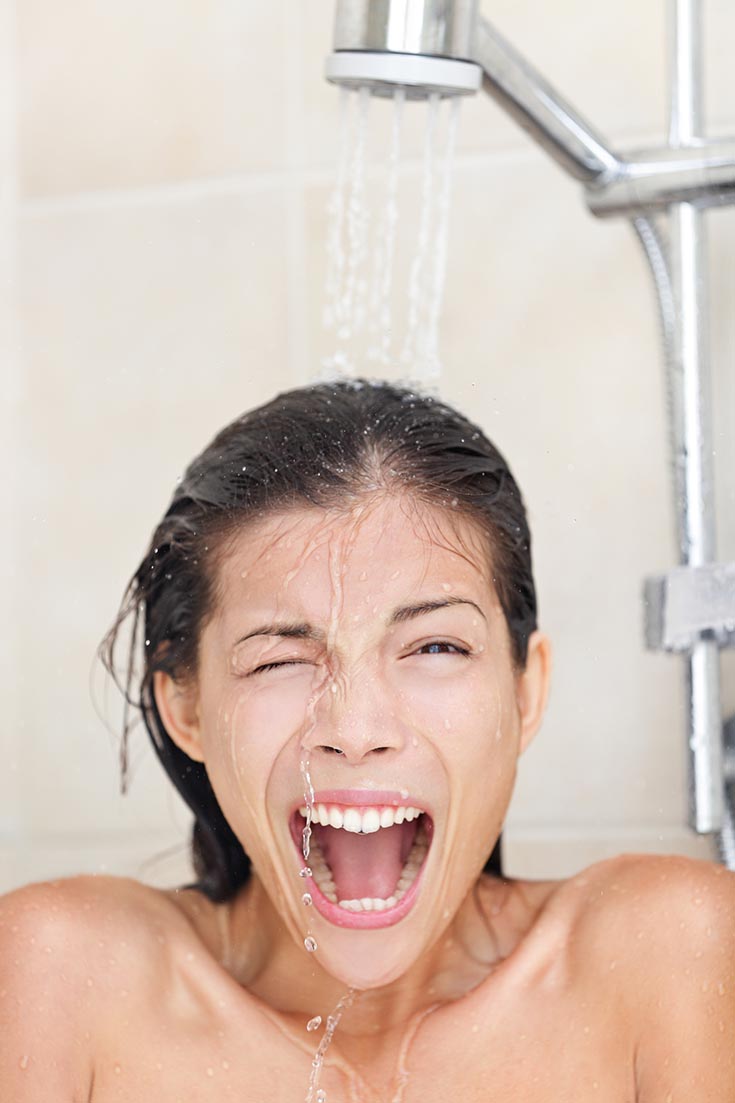 Pro #7 of a glass block shower – You can create unique shapes
So, you want a uniquely shaped glass wall but know regular glass options are outrageously expensive. With custom glass block designs you can get fancy serpentine or curved walls you never could afford with a flat-glass system.
Unique design doesn't require you to drain ALL your kid's college fund. But I'll also admit, it's not the cheapest option either.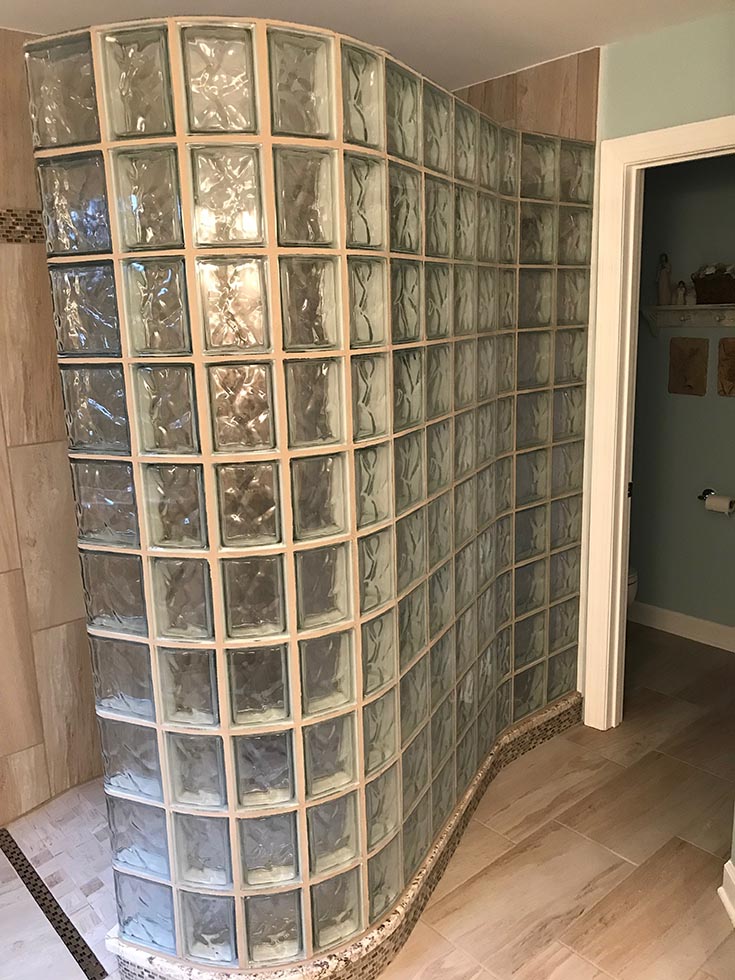 5 cons (disadvantages) of glass block showers
Although I've sold thousands of glass block showers (and other glass enclosures as well) over the years, I'll still be honest enough to tell you they aren't the perfect solution for everyone's bathroom. You need to know the pros and cons (advantages and disadvantages) to make the best choice for you. So, let's take a peek at 5 disadvantages of a glass block shower to help you make an informed choice.
Con #1 of a glass block shower – A glass block wall doesn't pivot, slide or move  
A glass block shower wall is just that. It's a wall. And as a wall it doesn't slide, glide or move from side to side. So, you may be asking, why this is a problem?
Well – what you ALWAYS need to think about in a shower design is where the shower valve to turn on the hot and cold water is located. Ask yourself, can I turn on the water without absorbing freezing cold water in the process? If the shower valve is behind the glass block wall, unless you have arms like Gumby, it'll be tough to get your shower warmed up without getting blasted with cold water when you first turn it on.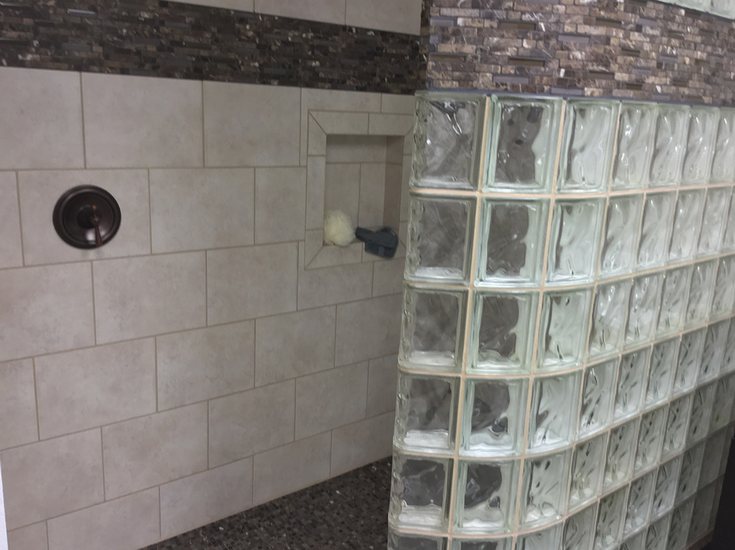 Now, you may be asking if there is a solution to this problem if your hearts set on glass blocks. Yes, there is. The solution is to move the shower valve close to the opening (not behind the wall). You'll then enjoy the advantages of the glass block walls without the problem of getting blasted with cold water when you're getting things warmed up.
Con #2 of a glass block shower– You need to design the shower pan to fit the glass block wall  
Here's a major problem with glass blocks.
They CAN'T be cut.
Since they can't be cut you need to work with standard sizes. And where this is a problem is when you want a curved wall. In those instances you need to plan the glass block wall design first. Then you'll design a base made to fit the shape of the glass block wall.
You need to pre-plan a curved glass block shower to make sure the wall and pan 'play well' together. Fortunately, companies like ours (yes – that's a plug for my business, but I still need to pay for my daughter's education!) specialize in designing curved glass block shower kits so the wall and the pan will be simpatico (now, that's a fun word!).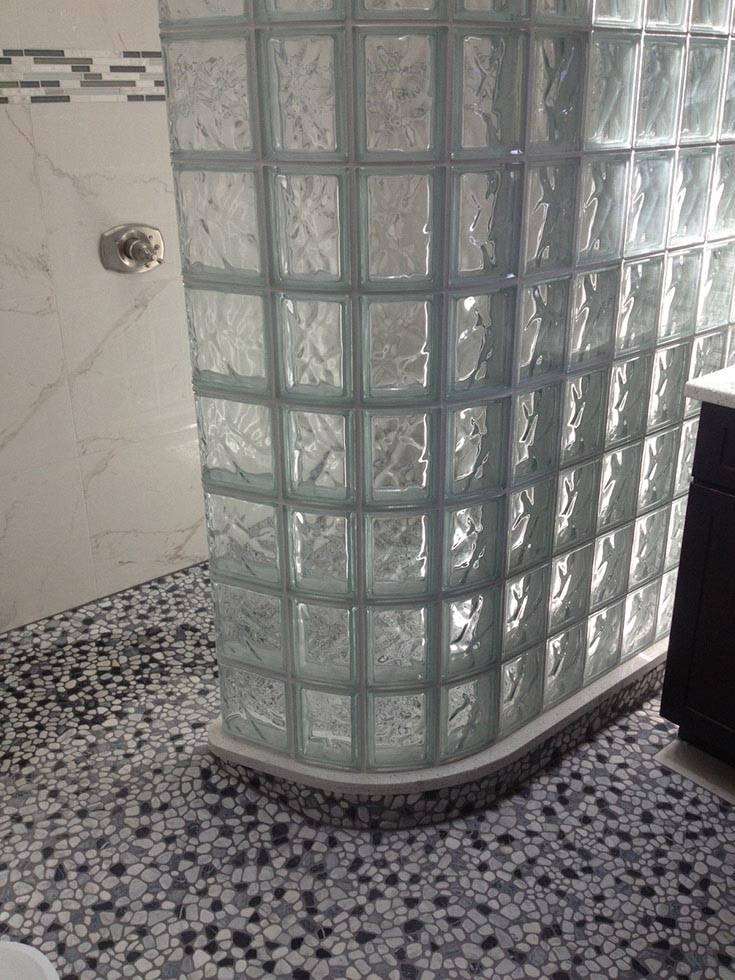 Con #3 of a glass block shower– It has mortar or grout joints
For any of you who've read this blog before you know our business offers A LOT of grout free products (from grout free cultured stone shower pans to grout free wall panels). Homeowners today are looking to do everything they can to cut down maintenance – and I wouldn't be being honest with you if I didn't say grout (or mortar) is an evil many would like to do without.
However, building a glass block wall which is sturdy does require a mortar or grout joint. However, here's 4 strategies to cut these evil grout joints down to size.
Strategy 1) Use a prefabricated glass block wall – The Protect-All vinyl stacking system has 1/8" wide joints which use 50% less grout than standard mortared glass block walls.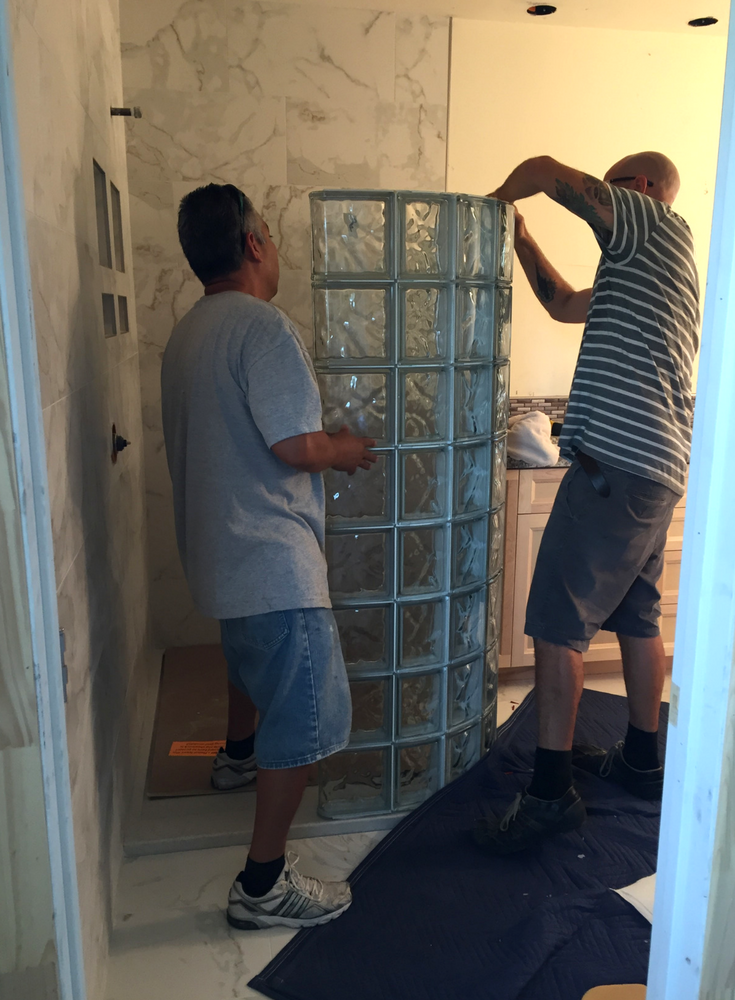 Strategy 2) Use better grout – Not all grout is created equal. When it comes to a glass block wall, urethane grout is the way to go. While the urethane grout IS more expensive and time-consuming to install, it also does not need to be resealed. It's more durable and absorbs less water than glass block mortar.
Strategy 3) Use pre-curved glass blocks – In the 'old days' (and unfortunately those are days I'm sad to say I remember) curved glass block walls were built block by block with a thin joint on the inside and a fat joint on the outside. This approach not only looked ugly but made joints more likely to crack. With today's pre-curved glass blocks, you'll get a tight 1/8" joint on BOTH the inside and outside. Less grout. A better finished product.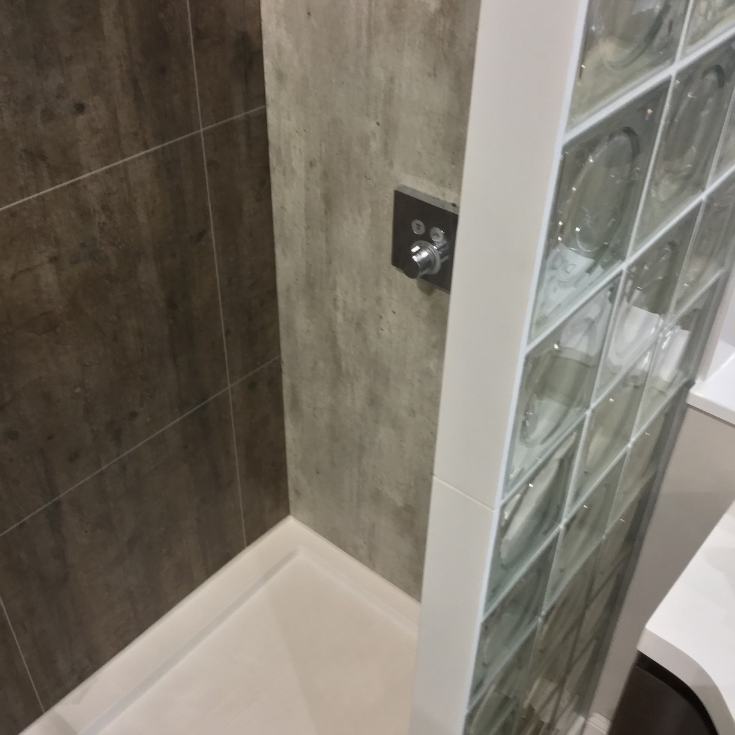 Strategy 4 – Get rid of tile shower wall surrounds and bases – When you use products like laminate shower wall panels and solid surface bases, you'll cut grout joints down to size, even if your glass block wall still has the small 1/8" joints used in the prefab assemblies.

Con #4 of a glass block shower– It can be a 'bear' to find someone to install a glass block shower wall
I'd be lying to you if I didn't admit there were many homeowners I've talked to who desperately tried to find a contractor to lay up their glass block wall but came up empty. The idea got scrapped because there were ZERO skilled mason's willing to take on the job.
This is a problem with glass blocks, especially glass blocks installed in the 'old school' way. Somebody must install this product!
However, the good news is you no longer have to be at the mercy of grizzled, old mason contractors. You don't have to beg a bricklayer to install your glass block wall.
Glass block installation systems are infinitely simpler than in the 'bad- 'ol-days.' The Protect-All Glass Block Shower Wall goes up like Lego blocks. With this system one row simply seats on the row below it. Every section is anchored to make a durable wall which won't fall down.
Con #5 of a glass block shower– You can't cut glass blocks. You can't get them in every size and pattern you'd like
If you want a 37" wide glass block wall – good luck.
If you want a 38" wide glass block wall – you're in good shape.
If you want to use finished ends on your glass block wall and want it to be 42" tall – good luck.
If you want to use finished ends on your glass block wall and want it to be 48" tall – you're in good shape.
If you want a wall with a creative design and colors like you'll see below, you need to know what patterns and sizes come in what colors.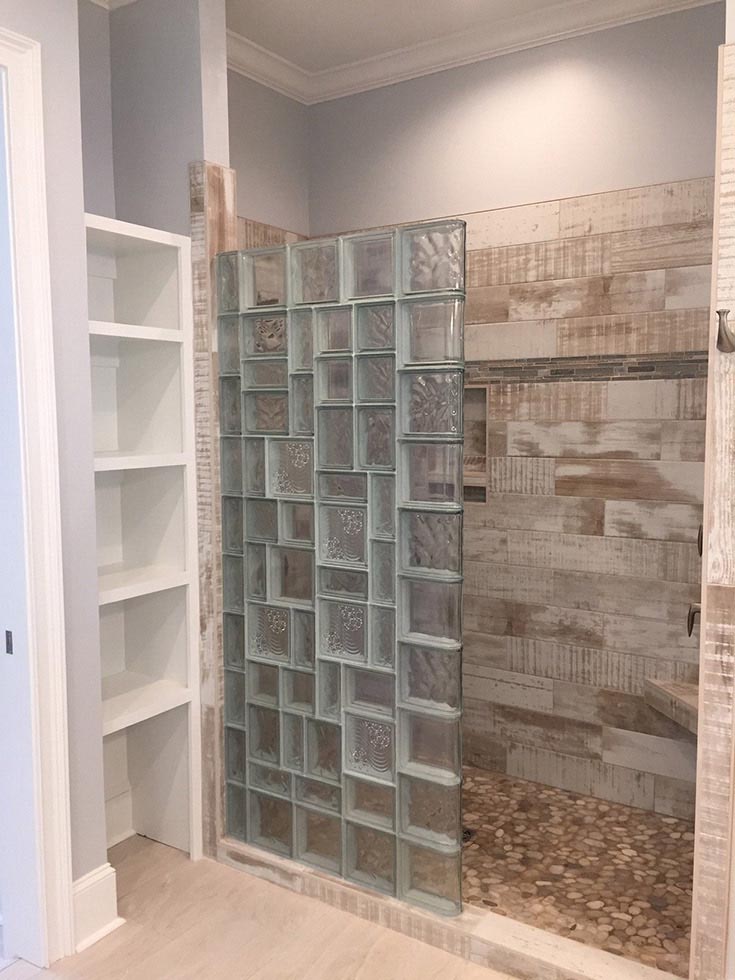 If you want a wall with different patterns, but don't know what options you'll find to finish the end of the wall – you'll also need help.
The good (and the bad) news about glass blocks is they are manufactured in set sizes, shapes, and patterns. What this means is you need to know what's available before you ASSUME (and you know what assuming does!) you can create any design you'd like.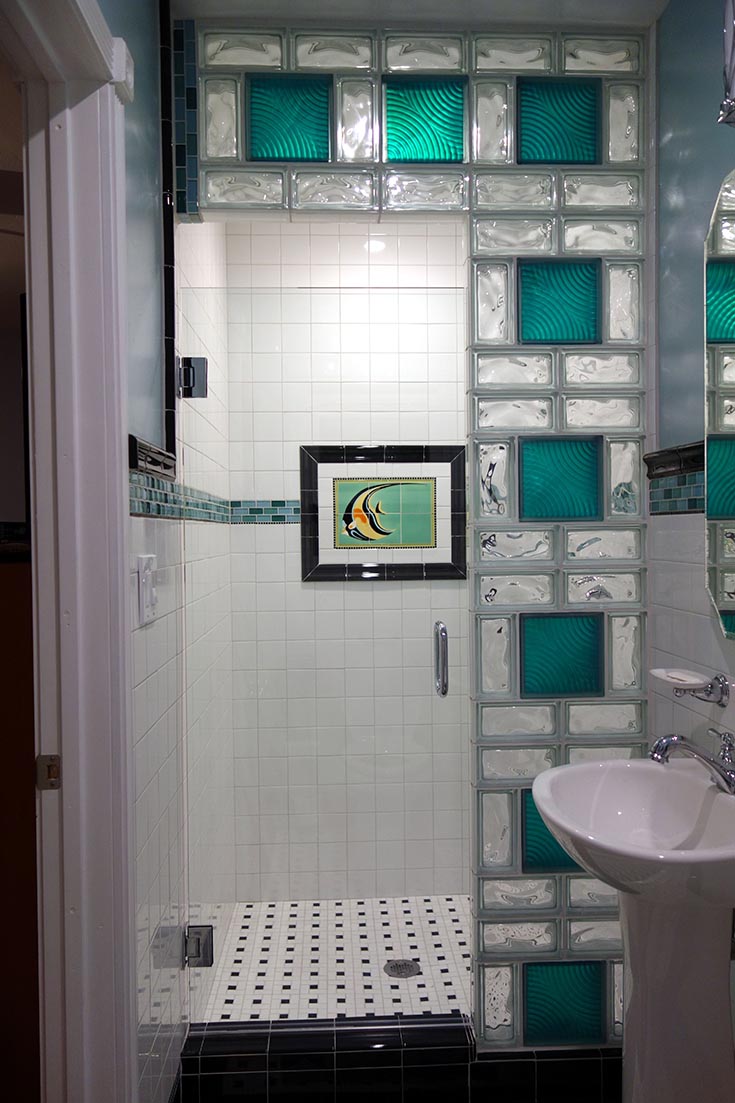 The best way to make sure you can build what you want is to work with a glass block specialist. They're familiar with the sizes, shapes and patterns. They can guide you with what is (and what isn't) possible. And yes (as a completely shameless plug) our company has several of these specialists (and even I know a thing or two about this product as well). Of course, I should. I've been working with glass blocks since Moses was a boy – or so it seems some days.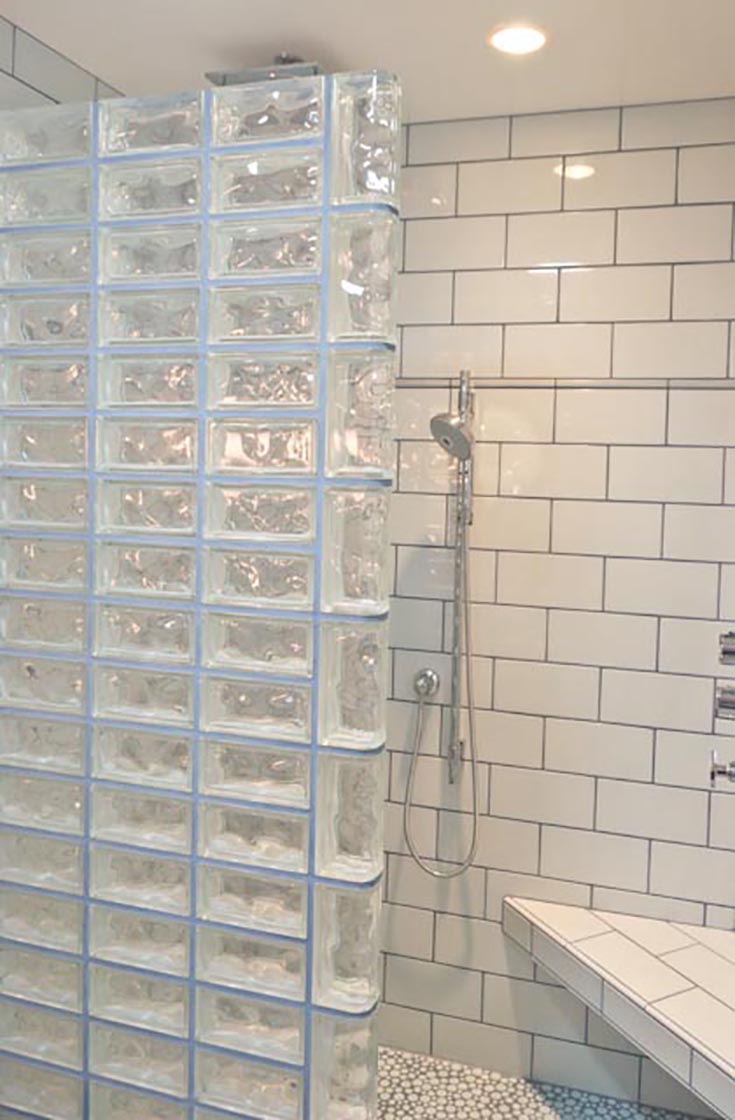 You must combine your design desires with the size possibilities. If you don't know this product like the back of your hand (or the front of your hand for that matter)– you NEED an industry specialist to guide your selections.
How can we help you next?
So, now that you've seen the pros and cons (strengths and weaknesses) of a glass block shower what do you think of this controversial building material.
Are you a glass block fan or a glass block foe?
And most importantly, if you think this wall is THE PERFECT choice for your next bathroom remodel, I'll tell you the project will go smoother if you don't go it alone.
Get help from a glass block specialist. See how you can take advantages of styles, shapes, and sizes for your perfect glass block shower. See how you can eliminate the disadvantages mentioned above and get the bathroom of your dreams.
If you have questions me and my team would love to help. Call 877-668-5888 for nationwide glass block shower kit supply. For local design and installation call Cleveland Glass Block at 216-531-6363 or Columbus Glass Block at 614-252-5888.
Thanks for reading,
Mike
---
Mike Foti
President of Innovate Building Solutions a nationwide supplier and regional (Cleveland and Columbus) remodeling contractors. Some of our product lines include glass counters, floors, backsplashes, glass blocks and grout free shower and tub wall panels
---