How to Compare Dumawall vs. Laminated Wall Panels for a DIY Shower or Tub Surround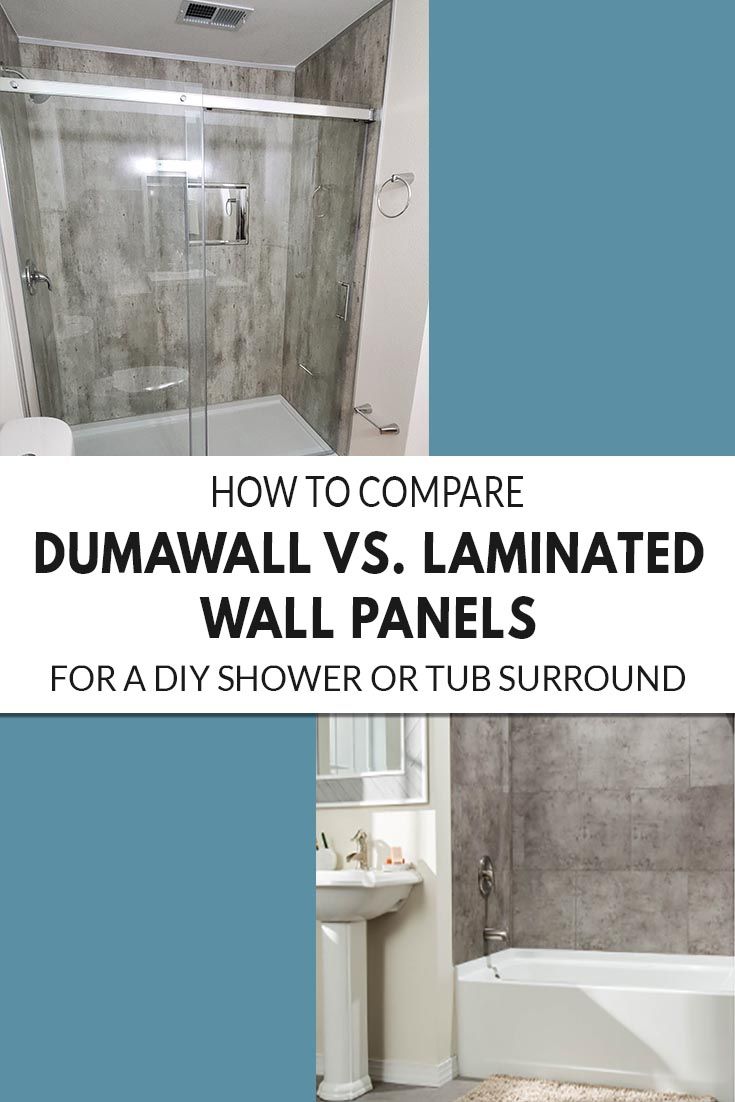 Updated January 17 2021
Choices are a wonderful thing…until they're NOT!
Choices are wonderful until you read one-sided, 'pitch-oriented' web pages which brag how their car, dress or tub or shower wall panels are the best thing to hit the United States since Kanye West decided to run for President (OK, that's a bizarre choice whether you're a Republican, a Democrat or even like the Green party).
The question is when making a choice with anything (whether choosing new bathroom wall panels or choosing a President) is how can you get in-depth input about the possible options and choose what's best for you?
While I'm (certainly) not capable of giving you the all the best points and counterpoints of choosing a President (and I'm going to out on a limb here and say Kanye West IS NOT the best candidate), I do have a few 'notches under my belt' to help you evaluate DIY shower wall panel systems. And 2 new – and fast-growing – DIY wall panel systems in the United States are Dumawall faux tiles made by Acoustic Ceiling Products and laminate wall panels made by Fibo Systems.
And as a nationwide shower wall panel wholesaler to DIY homeowners and professional contractors alike, I've looked into both products. In addition, my business (Innovate Building Solutions) stocks and sells one them as well (and I'll share which one at the end …but I'm going to keep you in suspense right now).
I've had tens of thousands of conversations (and sales) of various wall panel systems (including PVC panels, cultured marble, laminate, high gloss, fiberglass and acrylic system to name just a few). I've experienced the good, the bad and the ugly of these systems. You can say I'm a shower and tub wall panel geek (I'll bet you've never met one of those before!).
And while the interlocking vinyl faux tile Dumawall system and the DIY friendly laminate panels from Fibo are both cool products, like you and I, they also have their strengths and weaknesses (shhhh….don't tell my wife I have any weaknesses because she still thinks I'm perfect after 36 years of marriage….NOT!).
And in this article my goal is to do 2 practical things to help you choose which is best for your next bathroom remodel.
First, I'm going to share the common strengths of both systems. It's good to know how you'll benefit no matter which product you choose.
Second, I'll give you a look at 8 factors where these wall panels differ to help guide you to the best choice for your project.
So, let's dig in and learn about these 2 wall panel systems which are growing like weeds (fortunately not like mold!) in U.S. homes today.
The common advantages of Dumawall vinyl interlocking tiles and Fibo laminate wall panels which are fueling their growth
While its true not all DIY wall panel systems are created equal, there are a few important advantages these systems share which are helping them grow in the United States today. These common advantages are…
1) At the end of the day (and at the beginning of the day as well) they create a stylish looking shower or tub surround.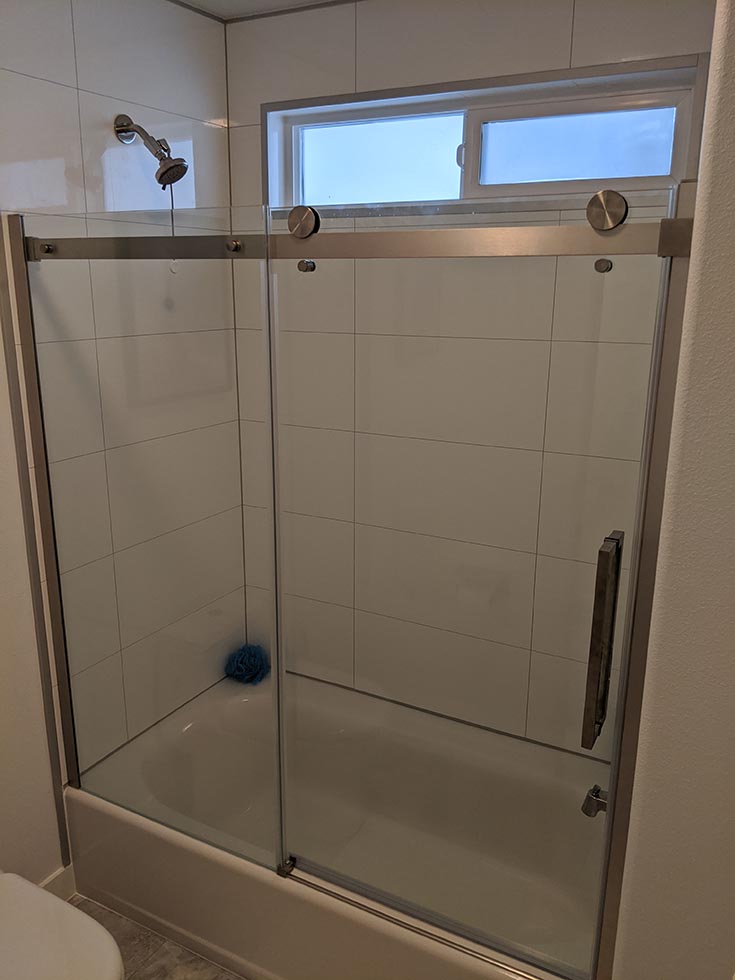 2) They're simple to cut with common woodworking tools like jig saws, circular saws, track saws and hole saws.
3) They can be installed by 1 person.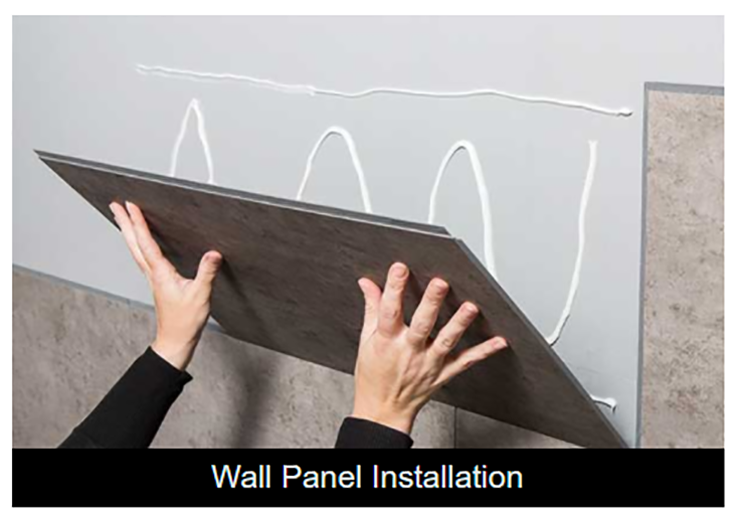 4) Their designs look like real tile and stone WITHOUT EVIL GROUT JOINTS!
5) They're designed with a tongue and groove installation system which simplifies the job for a do-it-yourselfer.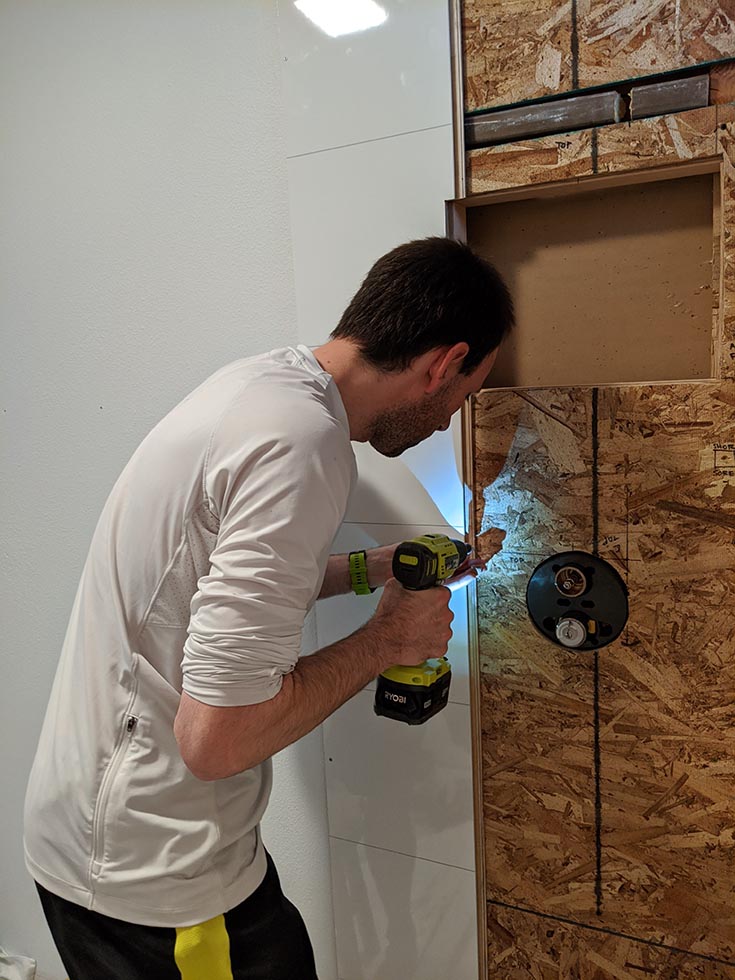 However, this is where the similarities end.
Now, let's take a 'deep dive' (note – I just HATE this 'corporate buzz' term, but I threw it in so you'd 'think' I'm professional) into 7 factors which show the differences between these tub and shower wall panels. These factors will help you 'take sides' on which is best for you.
Factor #1 – How important is a broad range of designs, size variations, styles, colors, and textures to you?   
While Dumawall comes in 10 patterns, they're only made in one visual tile size (which is 25 5/8" x 14 ¾"). Fibo laminate wall panels, on the other hand, are stocked in the United States in 24 different patterns, textures, and colors. You can get DIY wall panels which look like rough wood (for a 'manly' shower), cracked cement (for a modern minimalist look), or textured antique gray (to compliment your modern farmhouse motif), or a traditional subway tile wall panel.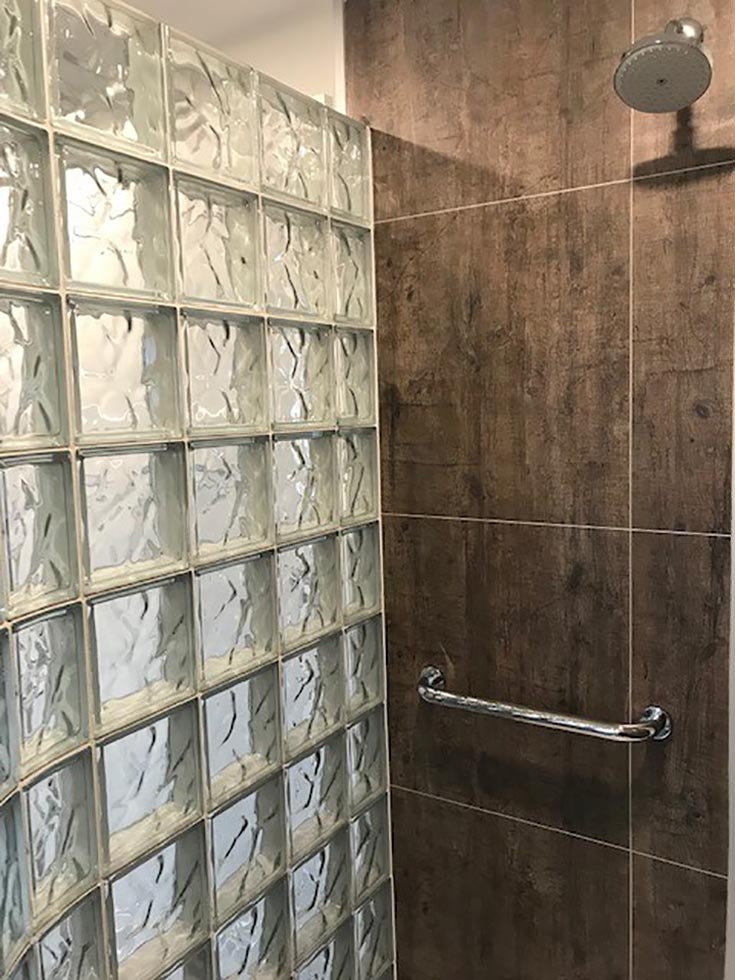 As if these selections were not enough – you can order another 700 color and pattern options from a US wholesaler to arrive with their next container shipment if you can't find your perfect selection from the 24 stock choices.
The hands-down best choice if you want variety are the Fibo laminate wall panels.

Factor #2 – Ease of installation and the number of waterproof seams in the system
If you're looking for a super-lightweight system Dumawall vinyl interlocking tiles are lighter per piece. They weigh a little under 3 lbs. per faux tile and are .2" thick. Fibo wall panels are 2' x 8' x .378" thick, 2x thicker than Dumawall, and weigh 26 lbs. per panel.
On the other hand, you'll need to put up 6 times more Dumawall faux tiles than Fibo wall panels. Not only will you have 6 times more units in your shower or tub surround to install, but you'll also have 6 times more seams to seal. Less seams are always better.
You may also like the Dumawall being thinner because you're able to 'score and snap' the faux tiles with a carpenter's knife. However, the drawback to this lightweight design is it makes the interlocking fins prone to cracking during shipment and installation.
In addition, while Dumawall is sold as a '100% waterproof solution,' it's still recommended by the manufacturer to use (more expensive) 100% waterproof wall backer boards behind the panels. The manufacturer recommends Schluter Kerdi Board, Cement board and HardieBacker board. With Fibo laminate panels you can use lesser cost (and non-waterproof materials) like plywood, batten strips or Oriented Strand Board behind the panels. The backer board behind Fibo panels will save you money. Fibo has years of experience proving the system is waterproof on the surface.
Regarding installation, here's the bottom line. There are positives and negatives to both systems – but there's one thing you CAN rest assured of. They're both FAR SIMPLER to install than ceramic tile…and so much neater to put up!

Factor #3 – You want the cheapest wall panel you can get
Because the vinyl Dumawall panels are made in small tiles (which are 25 5/8" x 14 ¾" x .2" thick), they can be packaged in small boxes and shipped via UPS. And since they're thinner (and made of a lesser cost vinyl material vs. the Fibo laminate panels) they're also cheaper. If, for example, you're removing a tub and installing a shower in it's place in a 60" x 34" x 96" alcove you could cover these 3 walls with one Dumawall kit (and one extra box). This will cost you $524. You will need to add the cost of the more expensive wall backer board with the Dumawall to get a complete cost comparison, but still Dumawall will cost less.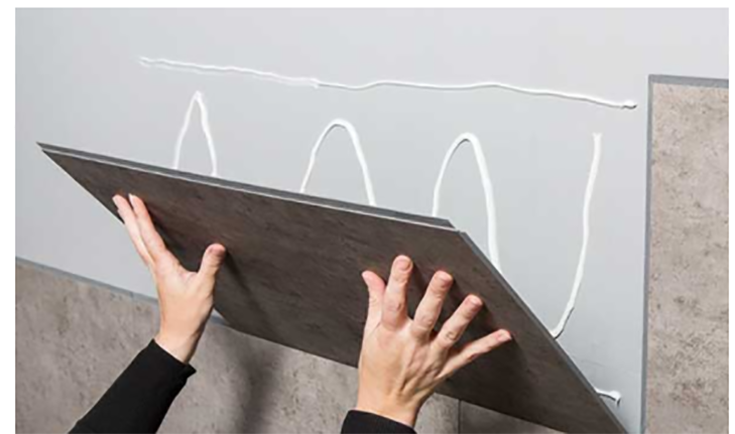 The 2x thicker and 6x larger Fibo panels (which are 94.4" high vs. the 14 ¾" high Dumawall panels) are crated on a skid and delivered via a common carrier. Expect to pay between $1,400 to $1,700 for this shower system.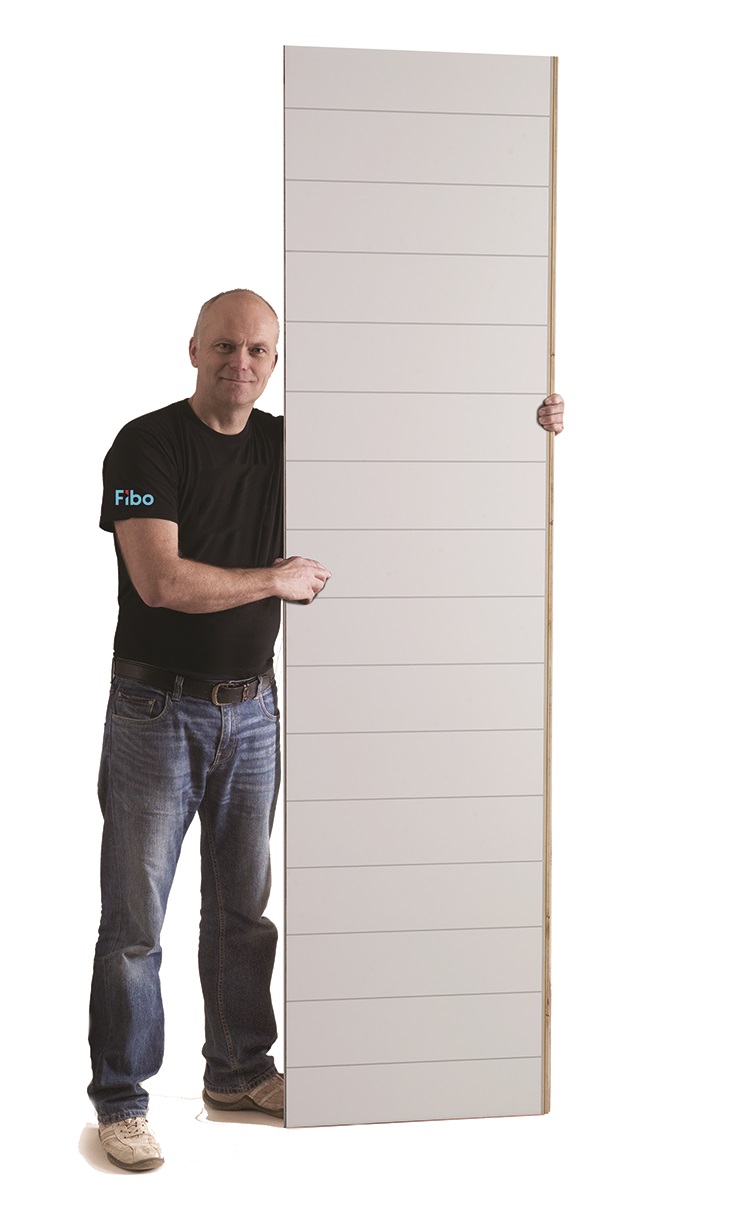 If initial purchase price is most important to you (and selection, product longevity, guarantee and product thickness are not critical), Dumawall will be the way to go.
Factor #4 – You want a system which has 'been around the block' (and around the world) more than a year or two
While Dumawall is a promising product, here's the reality. It was invented in 2018. 2 years of the product being used is not very comforting if you want to bank on these panels lasting over the long run. On the other hand, Fibo laminate panels were invented in Norway 40 years ago.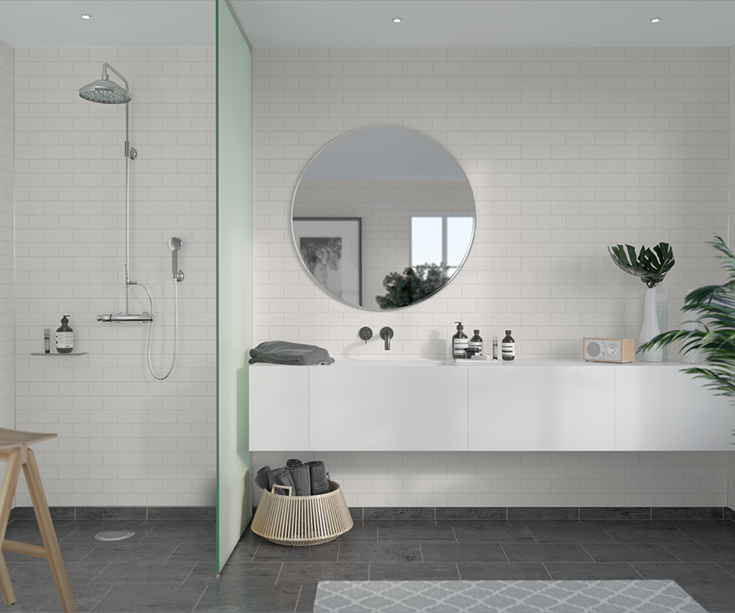 If you want the peace of mind of a time-tested system, Fibo is your answer. As a matter of fact, Fibo is soooo popular in countries like Norway – there's as much of these panels sold as ceramic wall tiles! Now, that's a proven system you can count on.

Factor #5 – You'd like a system where you can change the installation pattern 'on the fly'  
So, you've got a spouse (bless his or her heart, as a Southerner would say) who can NEVER make up their mind. One minute they want a horizontal tile-like pattern. Then they get on Pinterest and like the look of a large-format vertical design. One minute they like the look of one tile stacked above another. The next moment they want a 'running bond' design pattern (like you see with traditional bricks).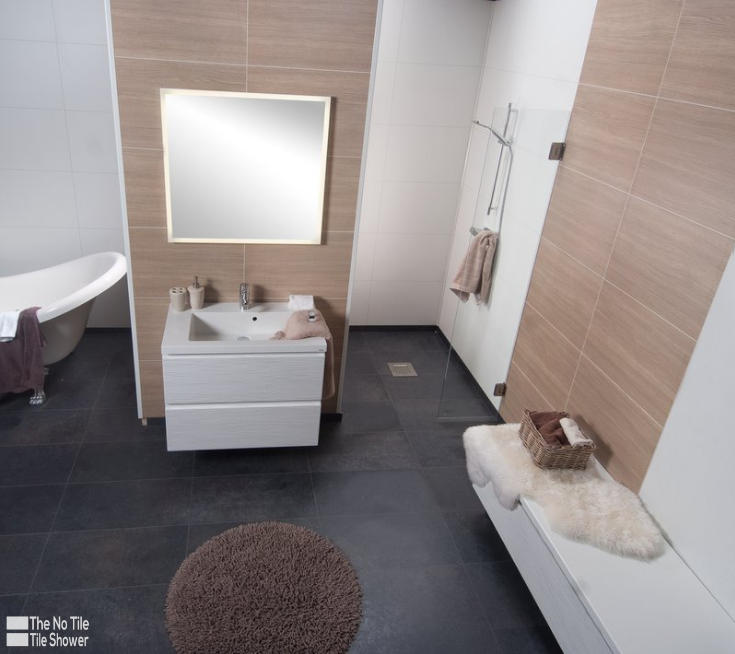 Since the installation pattern of the Dumawall individual faux tiles is done on the site you're 'free' (or maybe burdened might be a more appropriate term) to change the pattern up until the last minute you start to install your tub  or shower surround. With the Fibo product (where the pattern is pre-built into the wall panel) – you can't change the tile or stone pattern on the fly.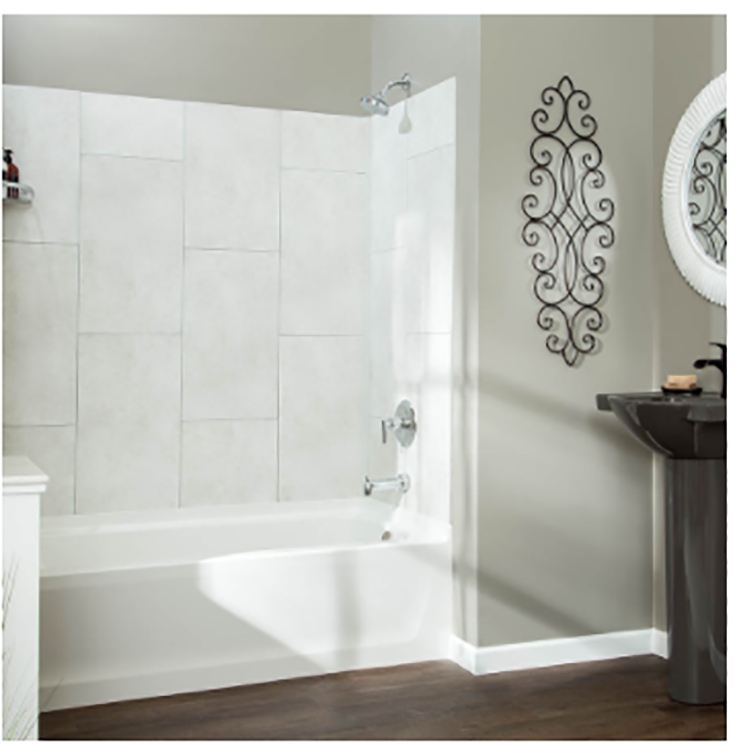 If you're dealing with someone who can NEVER make up their mind –Dumawall gives you room for last minute installation pattern changes.
Factor #6 – You want the 'peace of mind' of the longest guarantee
We all know the saying 'talk in cheap.' It's easy for a manufacturer to say their product is the best thing since 'sliced Wonderbread' (for those of you old enough to even know what Wonderbread is). However, the pedal hit's the metal when you compare IF they'll put their money ('er guarantee) where their mouth is.
Dumawall – while being a DIY friendly product – only has a 10-year warranty against manufacturing defects. Fibo has a lifetime warranty (and it's been around for 40 years).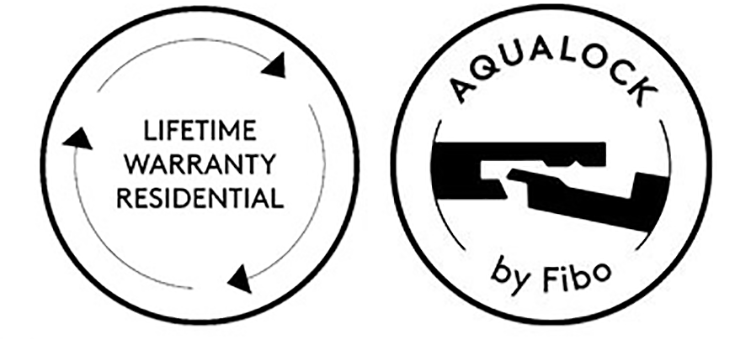 If you're planning to stay in your home a while – Fibo is the safer choice.

Factor #7 – You want a product which is simple to find   
As far as DIY product distribution goes, Dumawall is available everywhere. You'll find them on the shelf at Menards and Lowes. You'll find it on-line at Amazon, Overstock.com, Ebay and Wayfair.
Fibo, on the other hand is sold through specialty bathroom product wholesalers. These wholesalers are knee-deep in product and installation knowledge (vs. retailers or on-line sites who not only sell Dumawall, but thousands of other products also). However, these wholesalers (likely) won't be right around the corner from your house (or as simple to find while letting your 'fingers do the clicking!)'
Factor #8 – You want to make sure you won't have a water problem down the road
The big reason you're looking at waterproof wall panels is to make sure they're waterproof (OK – you're probably saying 'duh' right now!). And one thing which has me concerned for the long term performance of Dumawall panels is they have horizontal seams (where the laminate panels only have vertical seams). You see if the 'vinyl Dumawall tiles' don't sit flush on the wall I worry water may get in behind these horizontal seams.
Now maybe I'm just being a worry-wart, but I don't dig horizontal seams in wall panels AT ALL. This is something to think about when you make your choice.
What have you learned? How can we help you next?  
As you can see there are things to like about both wall panel systems. They both create a nice-looking tub or shower wall surround which is easy to clean (and gets rid of evil, evil, evil grout joints).
And I mentioned at the beginning I do sell on a nationwide basis (and install through my local remodeling business) one of these lines and promised to 'unveil' which one at the end. NOW the time has arrived.
My company – Innovate Building Solutions – wholesales to DIY'ers and professional contractors, builders and developers the Fibo laminate wall panel system. We also install it on our own remodeling jobs. However, we don't wholesale or install Dumawall. And while Dumawall has its advantages, here's 3 reasons I chose Fibo for our business and it's become our #1 wall panel offering:
Reason #1 –I'm a conservative guy from the Midwest! – I like proven products with a track record (especially since I service professional contractors – who are staking their reputations on products they buy from us).  Fibo's been around for 40 years. Fibo panels have a lifetime guarantee. Fibo panels have waaay less seams and ZERO horizontal seams. Since Dumawall is still pretty 'wet behind the ears' (it was introduced in 2018) and only has a 10-year guarantee – this can be a bit unnerving when selling to repeat customers.
Reason #2 – I like variety and 'higher-end' products – When it comes to building materials, I like fun options and style. With over 700 design/style/color/texture combinations Fibo has a wealth of options. In addition, these panels come in a wide selection of design styles (from contemporary to transitional to traditional).
Reason #3 – I sell to professional contractors and builders who like thicker products with less 'moving parts' – As a company who also works with remodelers, builders and developers (as well as DIY homeowners) I know 'the trade' wants 'substantial products' with less parts per tub or shower. Since you'll need 42 pieces of .2" thick Dumawall tiles to do a standard 60" x 36" x 96" shower and only 6 – 3/8" thick Fibo panels to do the same area – my pro customers like this offering better. Less, higher quality parts are the way to go.
In the end here's what I'll tell you. It doesn't matter what I think. All that matters is…
As an owner of your home (or rental property) and as a DIY'er, what works best for you?
So, I'd like to ask you this question. Which system do you like best and why? Comment below or give us a call if you'd like a price on a laminate wall panel system wholesaled direct to you (or if you're not a DIY'er me and my team can also refer you to one of our professional installing contractors in your area).
How can I (or a member of my team) help you?
Call for advice on shower and tub wall panels, grout free cultured stone shower pans, contemporary acrylic bases, or unique glass enclosures at 877-668-5888 or click for a Free Design Consultation. For a Cleveland bathroom remodeling project call The Bath Doctor at 216-658-1280.
Thanks for reading,
Mike
---
Mike Foti
President of Innovate Building Solutions a nationwide supplier and regional (Cleveland and Columbus) remodeling contractors. Some of our product lines include glass counters, floors, backsplashes, glass blocks and grout free shower and tub wall panels
---