Kohler Choreograph Shower and Tub Wall Panels Discontinued – What Alternatives Do You Have Now?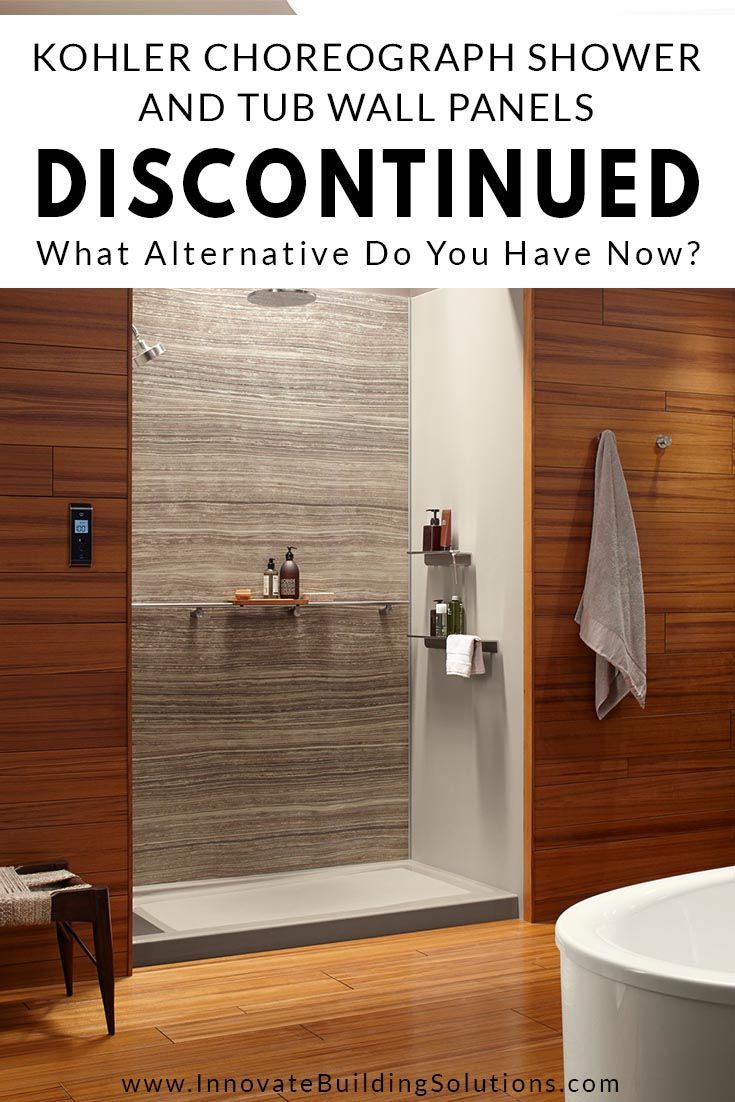 I was mildly surprised to read a letter sent to me by one of my dealers. The letter from Kohler Company announced they were stopping manufacturing Choreograph shower and tub wall panels effective immediately. The reason cited was COVID 19 and unexpectedly higher demand for another of their wall panel products called Vikrell.
The Choreograph line was introduced only 5 years ago. When I saw it at the International Builders Show, it was LOVE at first sight (sorry Rose – that's my wife – these panels weren't as beautiful as you though). I thought it was a sharp-looking product line. I loved the design. The accessories were a fabulous. So, I created a web page focused on it in 2015. I saw massive potential in this product.
However, 5 years later I wasn't very surprised at all by Kohler's announcement. Only one year after we created the Choreograph focused shower wall web page I 'deep-sixed' our efforts to sell it. I took our Choreograph web page down. The primary reasons why….
Shipment delays and product availability.
In my book, if you can't get it, you shouldn't sell it. Inconsistent (and long) deliveries are a lesson in frustration my company could do without. Our customers were none too fond of these problems either…as you can imagine.
And if shipping delays and product availability were the only problem Kohler had with Choreograph, I'd bet they'd still be offering it today. But if you read consumer reviews (and check out pains people had after buying these tub and shower wall panels below), it's my guess this line WAS NOT Kohler finest hour as a manufacturer. Some of the problems included…
The product was heavy and difficult to install.
It was plagued with inconsistent colors and patterns. Too many panels had spots or streaks.
Too many panels not only arrived late but were broken in shipment.
It was hard for a DIY'er to get installation support. They were often referred to an installing LuxStone dealer (note: LuxStone is the same material as Choreograph except it was separately branded for Kohler's installing wall panel dealer network). A LuxStone dealer's goal WAS NOT to help DIY'ers, but to supply and install the wall panels as a professional contractor.
Some owners didn't like the metal trim pieces in the corners or needing to figure out the right adhesives to use during the installation process.
The bottom line was…not all was 'peaches and cream' with the Kohler Choreograph line. There were LOTS of chinks in the armor!
Given Kohler's decision to discontinue this line, here's the challenge you may have.
Maybe you're a DIY'er whose order was just cancelled by Kohler.
Or maybe you're a shower wall panel dealer or contractor looking for a distinctive (yet proven) alternative wall panel system to offer your customers.
Or maybe you're a homeowner who had your heart set on this nicely styled system. And I can tell you from my own experience, Choreography didn't appear flawed at first sight to me–and I consider myself a 'shower wall panel geek.' However now, you're desperately seeking another nicely designed (yet reliable) alternative which won't break the bank.
So, what are you going to do now? What alternatives are out there for a sharp-looking wall surround with stylish accessories to make your bathroom 'live' and 'look' better? And you know you want a product which WILL NOT be a pain in the butt to maintain.
And this question is exactly what this article is about.
In Part I, I'm going to quickly 'rule out' 3 alternatives I think will be BAD, BAD, BAD options for those who had their hearts set on Choreograph (and I'll explain why you should stay away from these choices).
In Part II, I'm going to show you my 3 recommended alternatives which will make you forget all about Kohler and still get a shower or tub surround system you'll be proud to own (without the hassles many endured who did choose Choreograph or LuxStone).
So, let's dig into the alternatives to Kohler Choreograph wall panels.
Part I – 3 Systems Which Are Possible (yet bad) Alternatives to Kohler Choreograph – in my opinion 
Bad Alternative #1 to Kohler Choreography wall panels – Ceramic Tile
Ceramic tile is ALWAYS an alternative to any wall panel system. And while tile can look BEAUTIFUL initially, it's the 'eventually' which causes problems. And you know what I'm saying. With tile you get its evil stepbrother….
Grout joints
If you wanted grout joints, you wouldn't have considered Kohler Choreograph in the first place. You wanted NO MORE JOINTS (just as much as we all want NO NEW TAXES as George H.W. Bush once famously said). Plus, who the heck can find a tile-setter anyway? Good tile guys (and sorry to be sexist here – but we really do need more tile gals also – but that's a subject for another article) are near impossible to find.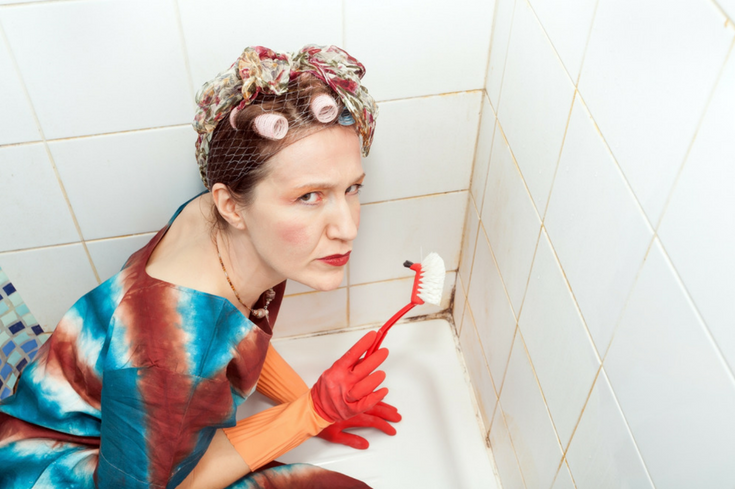 Bad Alternative #2 to Kohler Choreography wall panels – Fiberglass wall surrounds
If you wanted a cheap, yellowed fiberglass wall panels you would have bought a home built by a production builder (or maybe YOU DID buy a home  built by a cheap production builder you're looking to improve right now).
Fiberglass wall panels have their advantages. The main benefit is they're made in huge quantities. They're stamped out of a mold and are CHEAP, CHEAP, CHEAP. If you're looking for the cheapest wall panel, I doubt you were in the market for the Kohler Choreograph line. They were a higher-end product, but also were affordable to many.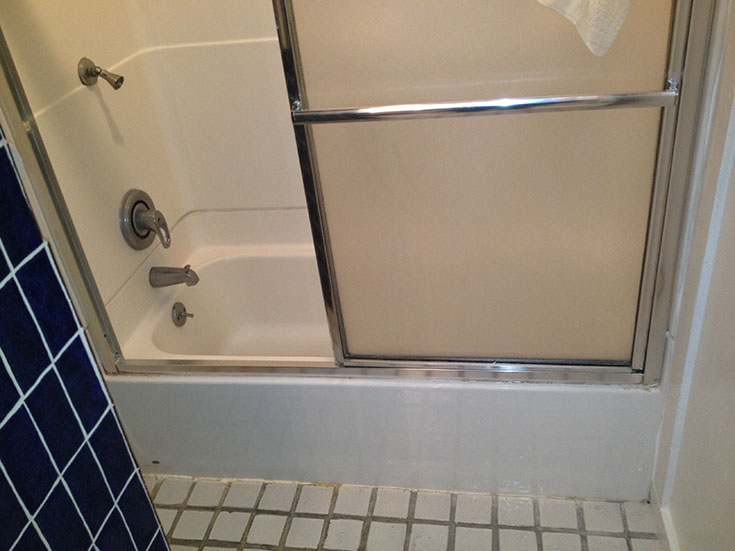 Fiberglass wall panels are built for standard sized showers and tub surrounds. They're built for the mass-market to be done quickly and cheaply. If this is what you're looking for, then go for it. If you want something nicer than you see in a 'stamp-it-out' production home, I'd recommend you look for another alternative.
Bad Alternative #3 to Kohler Choreography wall panels – Acrylic tub and shower wall surrounds
I'd estimate replacement acrylic shower surrounds in the United States have the biggest market share vs. other wall panel systems. You can't turn on the TV (or go to a kiosk in a mall) without seeing companies advertising their 'One Day Bathrooms.'
And while acrylic wall panels have improved from the white, smooth, boring and thin, plasticky panels of yesteryear, they're still a 1/8" plastic (which now has been 'dressed up' to look a little nicer with colors and stamped patterns). And as the saying goes you 'can't put lipstick on a pig.'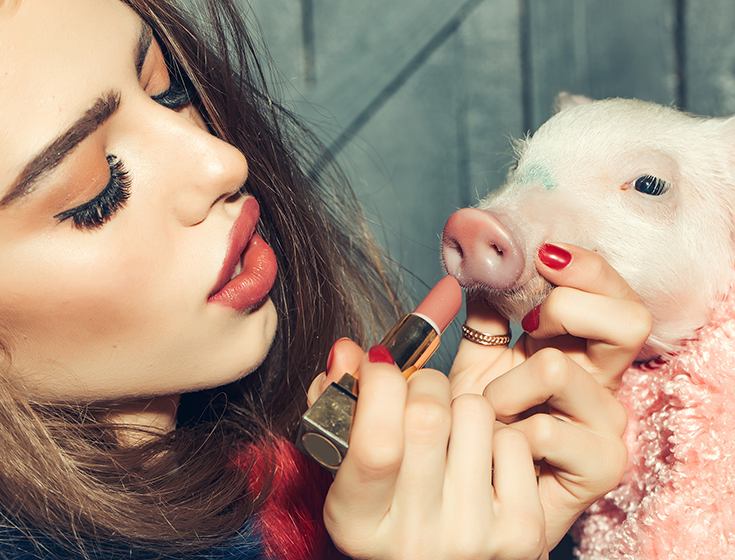 Kohler created Choreograph  to offer a stylish alternative to tile. Kohler created Choreograph to be a significant upgrade for people who wanted a grout free shower, but wouldn't be caught dead with cheap, plasticky wall panels.
So, although acrylic wall panels are an alternative, if you want a higher-end-looking bathroom – they're not your best choice.
Part II – 3 of my Favorite Shower & Tub Wall Panel Systems Which Are 'Solid' Alternatives to Kohler Choreograph & Luxstone
While there are many wall panels on the market, I'm going to 'show' you (and I'll even include a 'video tour' of one system), my 3 favorite tub and shower wall panel alternatives to Kohler Choreograph. And, while you're free to debate me how much you like these 3 options, you'll find they're all comparably priced to Kohler and all offer the benefit of allowing you to abandon (once and for all) your disgusting tile scrub brush and have a stylish tub/shower space you'll be proud of once your bathroom remodel is complete.
So, let's look at the 3 alternatives (and I'll start with my favorite first).
My #1 Favorite Alternative to Kohler Choreography wall panels – Laminate tub and shower wall panels
Ok, I'll admit right up front if you've read my blog before you know I LOVE, LOVE, LOVE laminate wall panels even more than the Choreograph line I started promoting in 2015 (although DEFINATELY NOT as much as a love my wife Rose). After all, I'm smart enough to know where my bread is buttered…so to speak. You may wonder why I'm so 'hyped-up' about these panels. And to be honest (and OK – that's a phrase I really hate to say, but I wrote it anyway) it's our company's #1 selling line. Here's why:
Laminate panels come in stylish patterns – They can be used in contemporary, transitional, or traditional interiors. If you're upgrading your bathroom you want it to be more stylish than your last one. These wall panels not only 'work' for different interior décor themes, but you can get them in matte, gloss, and satin finishes (note – the limitation of 'matte-only' finishes were a design drawback with Choreograph in my opinion). You'll find marble patterns, wood-look panels and even a minimalist concrete shower wall look like you'll see below.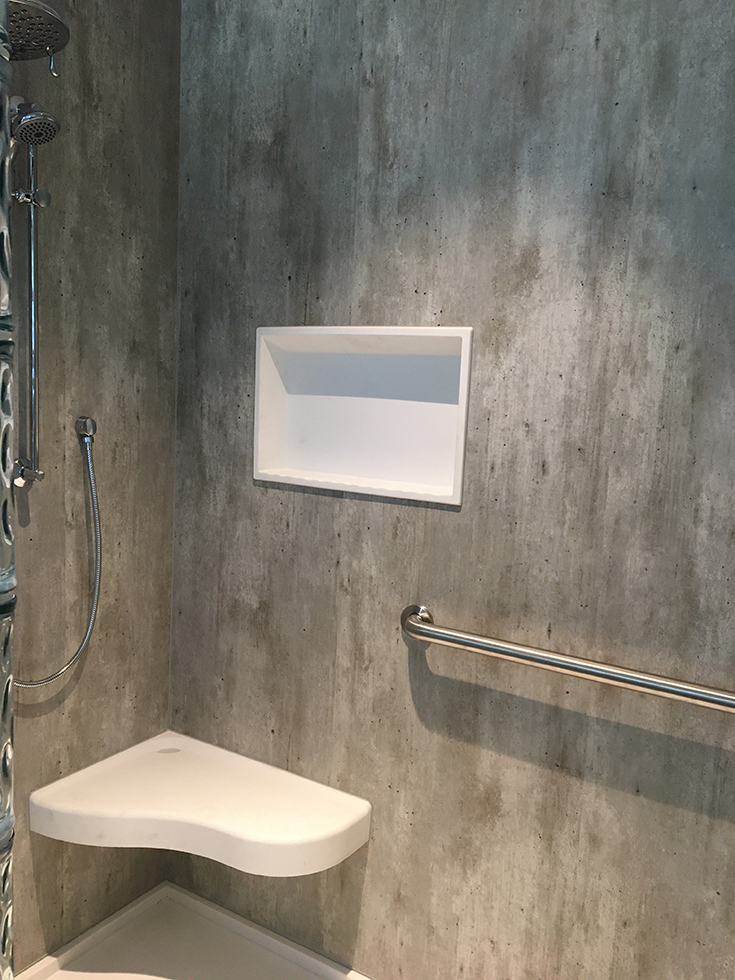 You can get them RIGHT NOW – Too many wall panels take too long to get. Choreograph certainly had this problem. Cultured granite wall panels also require a significant wait. Laminate panels are available for immediate shipment. They're perfect for rush jobs.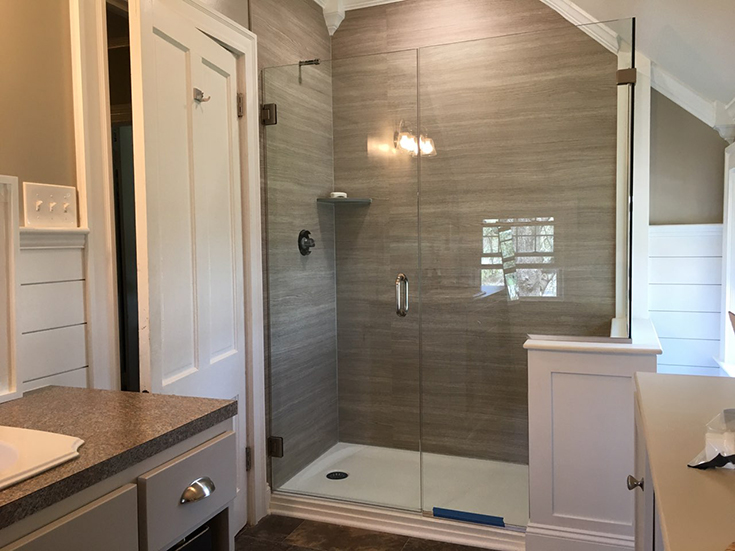 They're packaged in kits, so you know you have everything you need– With Kohler panels you didn't get everything you needed to do the job. Sealant was one essential missing component. With laminate panels, when you order a kit, you'll get all the sealants, trim profiles, installation accessories, and panels you need.
Simple installation – Since these 2' x 8' x 3/8" thick panels only weigh 26 pounds and click and lock together like laminate flooring, they're significantly simpler to install than Choreograph ever was (note Choreograph panels were heavy and even required bracing during installation).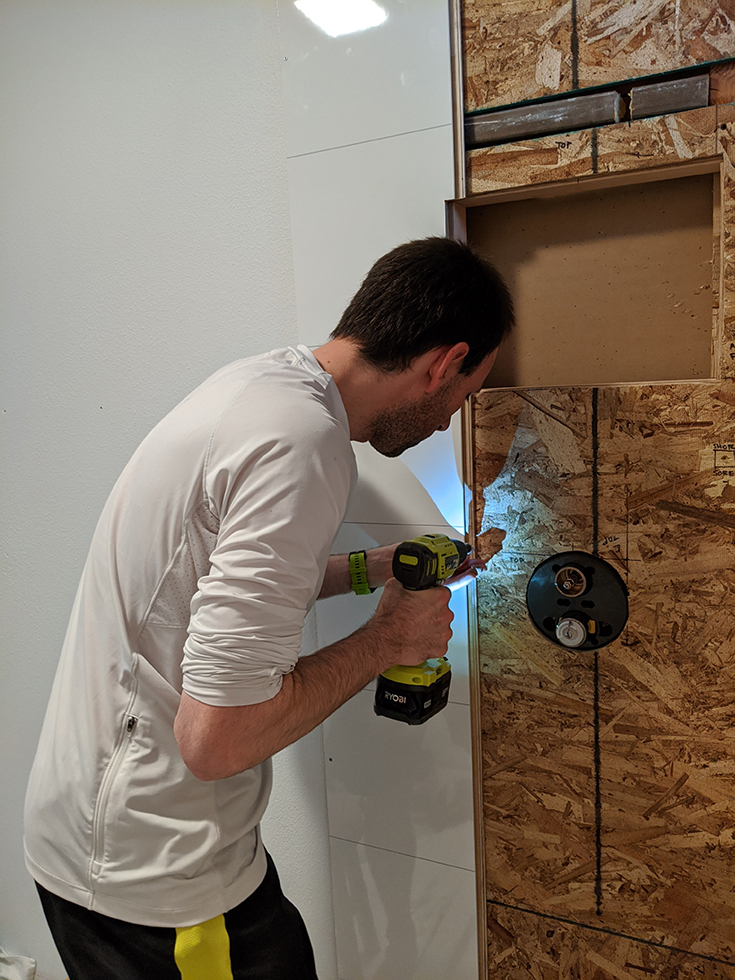 A proven system – These laminate panels – invented by Fibo Systems of Norway– not only have a 40-year track record, but also a lifetime warranty (note – the Choreograph warranty was only 10 years).
No visible seams – Who loves visible seams in wall panels? Nobody. Unlike Choreograph you won't have seams in the corners or see metal trim pieces for walls larger than 60".
A largely untapped market – If you're a shower wall panel dealer you want to sell something distinctive (like Choreograph provided you). These laminate panels give looks only associated with tile (like indented 'faux' grout joints), WITHOUT the hassle of finding a tile setter or a job taking FOREVERRRRR to complete! That's what grows profits for an installing shower wall panel dealer.

If you want to see more of this system check out the video tour below.
My #2 Favorite Alternative to Kohler Choreography wall panels – PVC Composite Shower and Tub Wall Panels
If you're after a marble/granite look, and want to keep costs in check, PVC wall panels might just have your name on them. Here's a few reasons they're my #2 favorite alternative to Choreograph.
Classic, traditional looks – Marble and granite are classic. However, the cost of actual marble and granite shower walls don't work for most people's budgets (they're still paying off the cool marble and granite counters they splurged for in their kitchen remodel). What's nice about these digitally printed PVC wall panels is you get the look of marble or granite without the cost or maintenance of the real thing.

Uber simple to cut – These ¼" thick PVC panels can be cut with a carpenter's knife (although DIY'ers and contractors mostly use standard woodworking equipment like circular saws and jig saws).
A lightweight design – Although the larger 60" x 96" panels are a bit flexible; they aren't back-breaking to work with like Choreograph or cultured marble or cultured granite wall panels.
A full line of accessories and shower bases to match– Bench seats, corner shelves, recessed niches and even shower pans are made in the same patterns as the wall panels. They're smart and simple to install.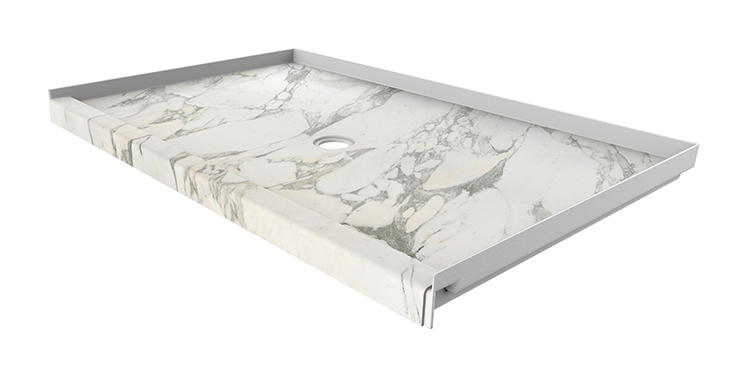 A complete shower kit – Like the laminate panels you'll get a complete kit including adhesives, color-matched silicone and even a corner shelf! There's no time wasted running through the aisles of your 'favorite' (I say that with a cough in my throat) home center looking for (and praying you got the right) sealant for your wall system.
Quick turnaround – Systems arrive at the job site or your home within 3 weeks of ordering. This blows away the crazy-long deliveries which plagued Choreograph.

My #3 Favorite Alternative to Kohler Choreography wall panels – Cultured Marble or Cultured Granite Shower and Tub Wall panels
I'm going to admit if I wasn't so into a contemporary look, this product would be higher on my list – but I like what I like (and I've got to be 'real' about it). Many people love the ruggedness and traditional look of cultured granite wall panels. Here's a few reasons why:
They're as 'Solid as a Rock' as Ashford and Simpson would sing – OK, even though I'm getting older (and  HATE to admit it), you still can't take the 'old-school' R & B 'groove' out of me. And when I think about cultured marble, solid surface, or cultured granite shower wall panels they're (literally) as solid as a rock as Ashford and Simpson sing about below. It's nice to know you have one big sheet of material which is built like a tank (even though hauling and installing them can be a pain)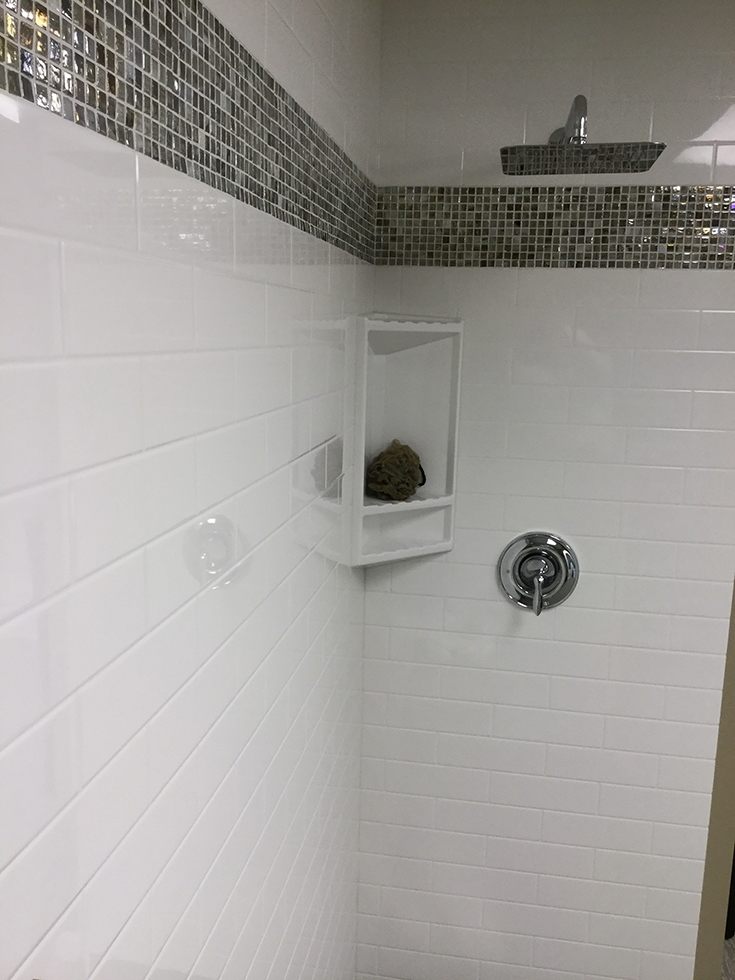 They're made to size – It's nice to get wall panels made the size you need without cutting (with the exception of cutting for your shower head and valve). With cultured stone panels they're made to size (even as big as 100" x 100", although I'm not sure how you'd get those into the bathroom!).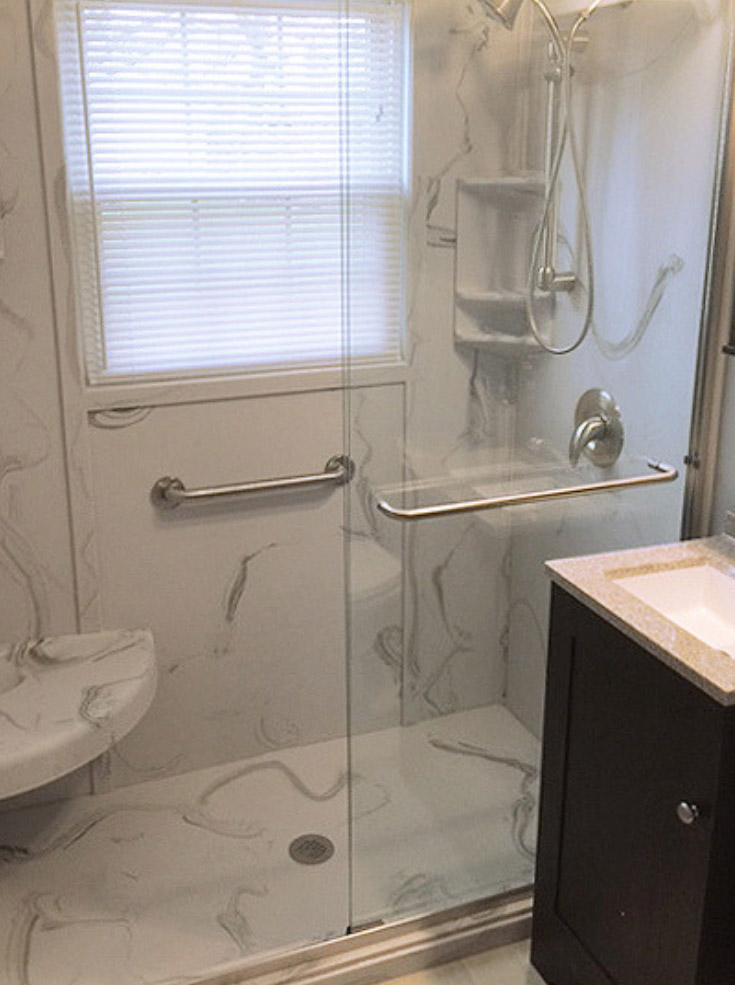 They have prefinished edges- The edges are polished, so you don't need trim pieces.

Conclusion
I know as a homeowner it can be upsetting not getting the Kohler Choreograph panels you just ordered. And now you're forced to 'rethink' your bathroom design 'on the fly.'
And I know as an installing dealer of shower wall panels it can be 'earth-shattering' to have your manufacturing partner (Kohler in this case), pull the rug out from under you and decide to stop making a product line your team and business depends on.
However, when difficult things happen (and big companies decide to – as they say with this famous corporate B.S. line – 'GO IN A DIFFERENT DIRECTION') it can also be an opportunity in disguise.
While Kohler had a great concept with Choreograph, the product quality, delivery and installation process was not up to par with its stylish design.
Fortunately, there are better alternatives (and I think the 3 I brought up in this article are tops on the list).
But 'at the end of the day' (and at the beginning of the day when you're taking your shower also) ….
It doesn't matter what I think!
It only matters what you think is best for your next bathroom remodeling project (or what's the best wall panel system for your bathroom remodeling business).
So, here's how I (and my team) would like to help you next.
Helping you find an alternative to the Kohler Choreograph shower and tub wall panels
Although most wall panels look 'pretty' in pictures, many you wouldn't want to own, or have to endure the installation of. So, if you want to get your 'hands' on a well-built, well-designed and simple to install panels (and need more technical insights on their installation and strengths and weaknesses) me and my team would be glad to help. Here's 3 ways we can do this:
#2) Comment below with your opinions or questions about the wall surround systems mentioned above.
#3) Give us a call at 877-668-5888. I don't know about you, but sometimes (just like when my Zoom app went down this week) you just want to call a company, get a REAL LIVE HUMAN BEING who can answer your questions (no emailing, no texting – just an honest person who knows stuff to help you save time).
So, what are you waiting for? Get your free samples, call to learn about dealership opportunities, comment with questions, or give us a call. We'll be happy to help.
Thanks for reading
Mike
---
Mike Foti
President of Innovate Building Solutions a nationwide supplier and regional (Cleveland and Columbus) remodeling contractors. Some of our product lines include glass counters, floors, backsplashes, glass blocks and grout free shower and tub wall panels
---