Why You Shouldn't Buy an Acrylic Shower Wall Surround System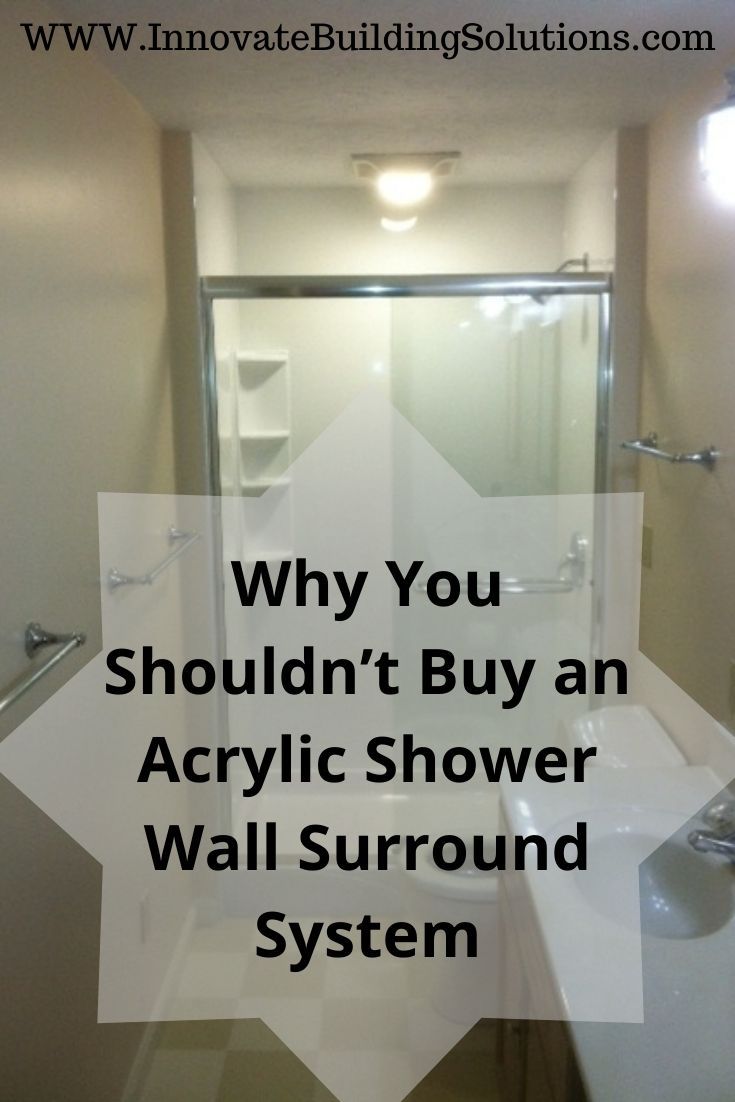 I'll start out by saying I'm usually a very upbeat guy.
So, you may be asking why I'm writing an article explaining why you SHOULDN'T buy an acrylic shower wall surround system. And if I'm being honest, I'll also tell you this is a product my company used to represent 15 years ago.
Well, it's NOT because this system will fail – because when acrylic shower wall panels are properly installed, they'll be waterproof and keep mold and mildew away.
And it's NOT because acrylic walls won't help you blow up those evil tile grout joints you LOVE to hate!
And it's NOT because you'll feel like you hired Eldon, the painter from an old episode of Murphy Brown (for those of you old enough to remember this show) and it'll take forever for this project to be completed (and as a matter of fact, many acrylic shower wall panel installation contractors will tout their 'done in a day' service).
It's simply because….
I know there's better shower wall surround alternatives, but they're not widely marketed or known.
And if you choose one of these better alternatives (IMHO) you'll get a more stylish, realistic, simpler to purchase (and in some cases even less expensive) system than with acrylic shower wall surrounds.
And if you need some proof why you shouldn't buy an acrylic shower wall panel system AND what these better alternatives are, I've outlined the top 10 reasons below.
And in the comments at the end of this article let me know if you agree with these 10 reasons, and don't be afraid to say IF you think my mind is still a little hazy from slammin' down a few too many beers during my college fraternity days.
So, let's check out the top 10 reasons you SHOULDN'T buy an acrylic shower wall panel system (and make sure to read reason #3- it may blow your mind).
Reason #1 you shouldn't buy acrylic wall panels and surrounds– They look cheap  
Most people buying acrylic wall surrounds today HATE, HATE, HATE grout joints so much they're willing to put up with 'plastic' ('er acrylic) wall panels. However, if the truth be told – many are hesitant to use plastic wall panels because they look cheap. And if you don't upgrade to something nicer than a white acrylic wall panel, your new shower surround will look both cheap AND boring. So, what alternatives could you use which will give you the 'wow factor' you want in your upgraded shower and eliminate tile grout joints once and for all?
My two favorites are (1) laminate shower wall panels and (2) decorative PVC shower wall panels. With the laminate panels you can 'feel' the indented faux grout joints.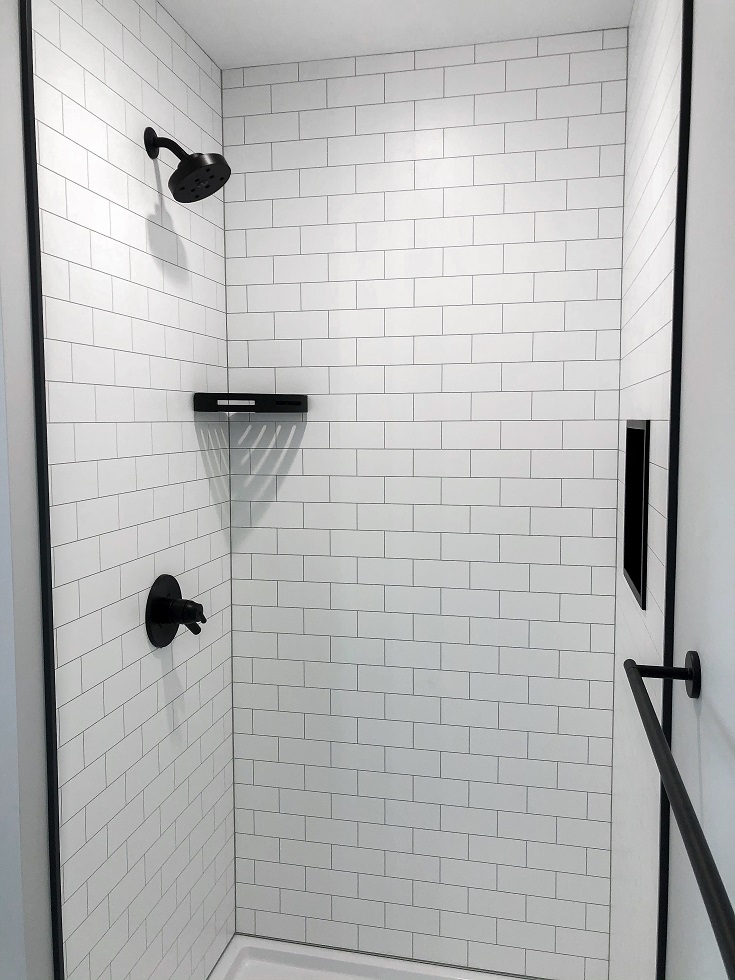 And with the PVC panels, you'll experience realistic marble patterns using technology which wasn't even available when acrylic wall panels started taking off in the United States 20 years ago.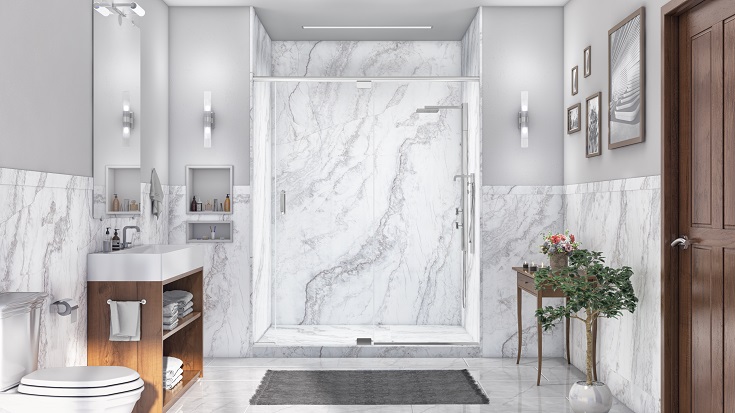 Reason #2 you shouldn't buy acrylic wall panels and surrounds– They're thin
While acrylic wall surrounds aren't the thinnest wall panels on the market (that distinction -sarcasm intended- belongs to FRP (Fiberglass Reinforced Plastic panels), they also wouldn't impress your grandfather when he saw they only 'weigh in with' a 1/8" thickness.
It's always smart to choose grout free shower walls with 'beef' ('er thickness) behind them. It's for this reason I like two wall panel systems which are 3x thicker than acrylic. They are…. (1) cultured granite shower wall surrounds and (2) laminate shower wall surrounds.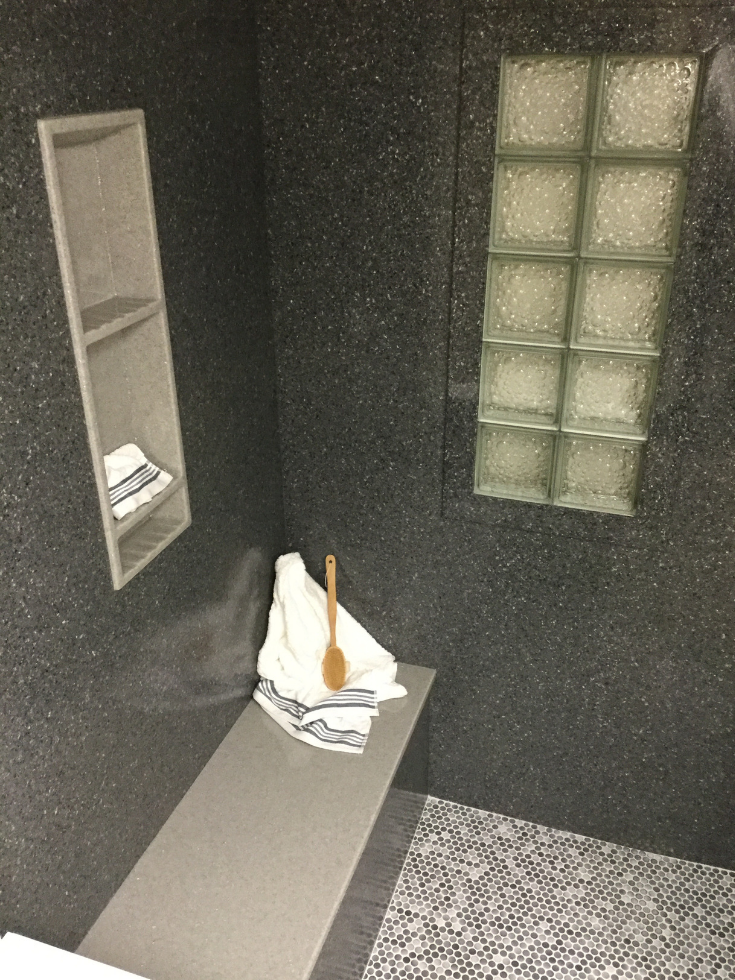 These alternatives (although not as widely known in the United States as acrylic) are sturdy and would get the toughness seal of approval from your father or Grandfather.
Reasons #3 you shouldn't buy acrylic wall panels and surrounds – They'll cost more than you think
When you think about plastic wall panels ('er acrylic in this case) you assume the product is going to be light on your pocketbook. And who doesn't need to save a few bucks these days – especially given runaway pandemic-fueled inflation and crazy-high gas prices we're experiencing right now!
However, when you invite an acrylic shower wall system contractor into your home to show their products you may be 'blown away' (and not in a good way) with how much these systems cost. For example, an acrylic tub to shower conversion where you're removing your tub and adding an acrylic shower pan, shower wall panels and a door will cost between $7,000 to $15,000! Ouch – you'll definitely need their financing plan with this estimate!
And you may be wondering, "how in the world could a material this thin become this expensive?" And that's a good question. Well one big reason is actually NOT the price of the acrylic. The big cost you'll be paying for is the cost your acrylic contractor pays to get the lead (through expensive bidding with Pay Per Click or Facebook ads). And then there's the commission costs paid to the sales rep who is highly motivated on the first call (so you won't be able to 'shop' the job).
Bottom line is – 20 -25% of the cost of a professionally installed acrylic shower wall and base system IS NOT going to paying the installer (or for the materials for that matter) – it's sales and marketing costs to get the job sold to you!
So, you may be asking, "how can I get a bigger bang for my buck?" Well – one way is to choose materials like the PVC, cultured granite, and laminate shower wall panels – which aren't as well known (because less marketing dollars have been spent on them). In addition, they generally are NOT represented by the 'big boy and big girl' marketing behemoths in your local market.
However, it's nice to know you can buy a better, thicker and more realistic product from lesser-known companies… and save money!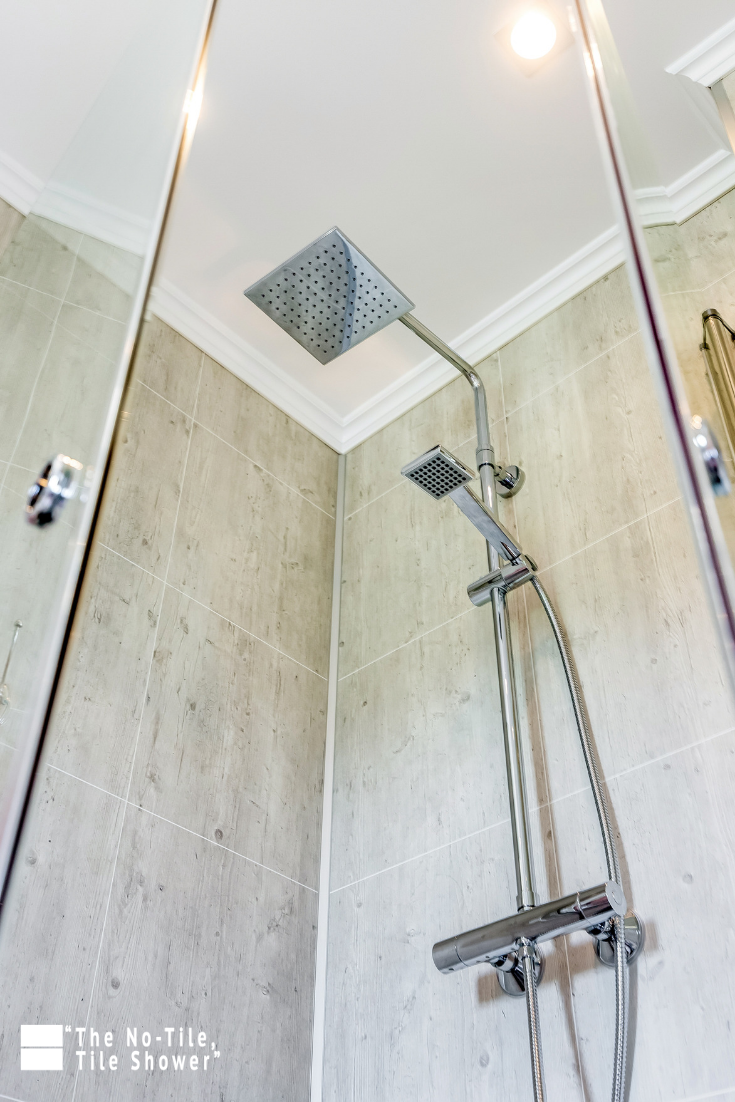 Reason #4 you shouldn't buy acrylic wall panels and surrounds – If you want to DIY the job, good luck finding acrylic panels.
Maybe you love the satisfaction of DIYing a job. You love stepping back every day and seeing your handywork.
Or maybe you NEED to DIY because you don't have the money to pay a professional shower remodeling company.
In either case, you need to source the product to even entertain the possibility of doing a DIY installation with it.
And here's where the acrylic shower wall surround industry has (on purpose) NOT made it simple for you. You see many acrylic panel manufacturers want to protect their professional installing dealer network. And because of this, these manufacturers DO NOT sell their product through home centers or online direct to you.
And while this IS a good strategy to protect the profitability of their professional installing dealers, it won't help you save money by doing the job yourself.
Fortunately, though there are other alternatives.
For a DIY shower wall panel installation, I'm a fan of shower wall panels which are modular, light and installable by a DIY'er.
My two favorite systems are the PVC composite wall panels and Fibo laminate wall panels. The third system I'll give an 'honorable mention' to is the Dumawall system (although I'm still leery about the horizontal seams in this relatively new product).
So – in conclusion – if you need to DIY your shower or tub wall surrounds– you'll likely have to choose something other than acrylic.
Reason #5 you shouldn't buy acrylic wall panels and surrounds – If you choose acrylic and have a wall wider than 60" you'll also 'get' a visible seam piece (whether you like it or not)  
Although much of what you see advertised are images with easy to find 48" and 60" wide alcove showers, you may not be so lucky to have a 'standard' size. And while you loved the benefit of your oversized custom tile shower when you bought the home, NOW you're seeing the pain in replacing this odd-sized unit. Now you're struggling to find a custom shower base and oversized shower wall panels you'll need to go with it.
And since you want your project to look realistic (and look like the tile you had WITHOUT the grout joint maintenance) without a visible seam, you're wondering how the heck you're going to accomplish this with your 60" plus wide walls?
Well – there's 2 ways to make this happen. One is using uber-heavy cultured marble panels (where you'll need a few 'hands on deck' to make the installation happen) and the other is modular wall panels which actually can be installed by one person.
First, the heavy alternative are cultured granite shower wall panels. They're 3/8" thick (and you'll need to be careful because they can be brittle during the installation process). These bad boys are durable and will last but you do have to 'get through' a very heavy shower wall panel installation (a 66" x 96" panel, for example, will weigh 140 lbs.).
The second alternative – which is simpler for a DIY'er – are laminate shower wall panels. They're 23.6" wide x 94.4" high and click and lock together with a hybrid polymer sealant between them. They only weigh 26 lbs. and offer a seamless look no matter if you're installing a 66" or a 126" wide wall (just keep clicking and locking the panels until you get to the end of the wall).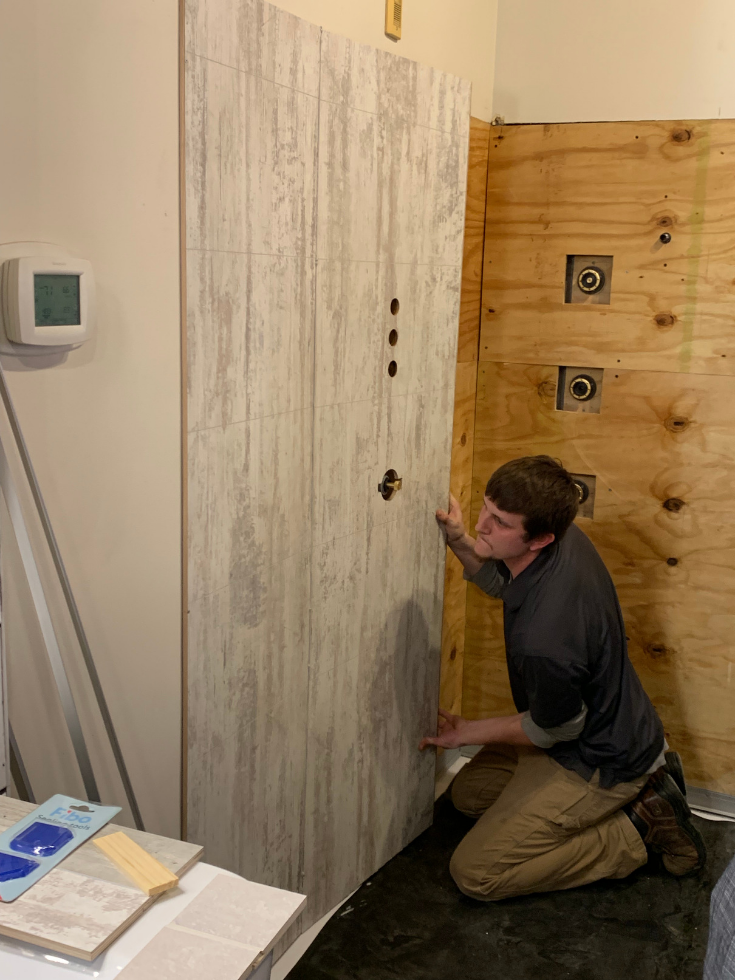 Reason #6 you shouldn't buy acrylic wall panels and surrounds – Acrylic wall panels are molded, and the tile/stone patterns look fake   
There's nothing wrong with 'faux products,' unless after you buy them, you look back and say in disgust, "What the heck did I buy this 'faux' (OK that was supposed to say 'for' – and yes, it's a bad play on words…)? And in my opinion the following 'equation' is always true…
(A 'faux' product which DOES NOT look real) = (A BAD INVESTMENT)
And they way I look at it, acrylic shower surround panels with tile and stone patterns look anything but real. So, when you're wanting the tile/stone look without the grout joints what's a smarter alternative?
This is where laminate shower wall panels are THE best answer. They're not only 100% waterproof, but also have indented faux grout joints which have a different color than the 'tile and stone' in the pattern. The bottom line is…
They look real
They feel real
And most importantly they have NO EVIL GROUT JOINTS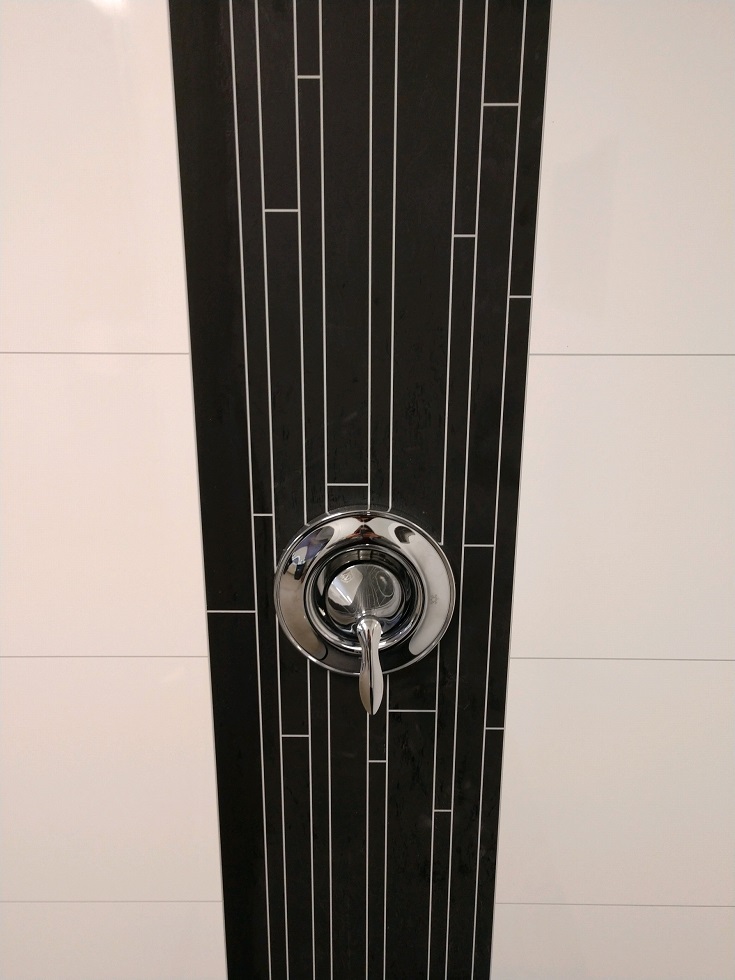 Reason #7 you shouldn't buy acrylic wall panels and surrounds – They're bad for resale   
If you're selling a 'fix and flip' home in a low-income neighborhood, you can 'get away with' a plastic shower or tub surround system. However, if you're in a 'move-up' neighborhood, a cheap looking wall panel system could put a damper on your (previously) enthusiastic potential buyer.
However, it's good to know you can actually buy a nicer shower wall surround system which (generally) isn't much more expensive (or in some cases is less expensive) than the acrylic wall panels. Check out the laminate and PVC systems mentioned earlier.
Reason #8 you shouldn't buy acrylic wall panels and surrounds – Acrylic shower accessories look U-G-L-Y!    
There's nothing quite like an acrylic 'corner caddy' to make you say YUCK!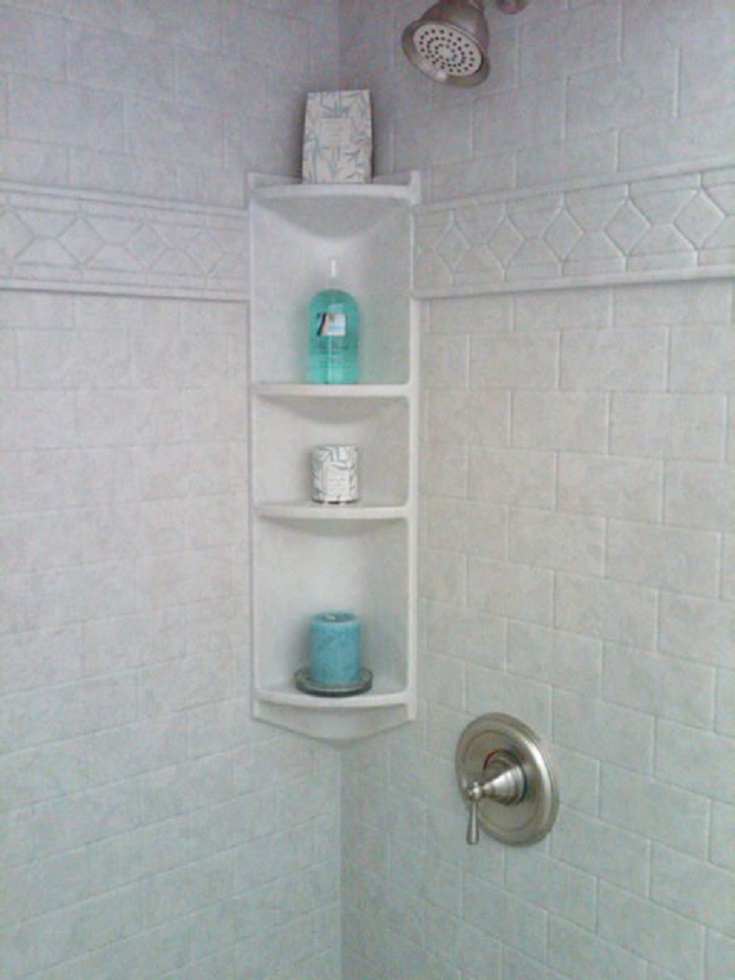 To add style and class, look for shower wall surround systems with clean, contemporary recessed niches.
Or how about using this adjustable shower shelving system with shelves you can adjust inside the niche?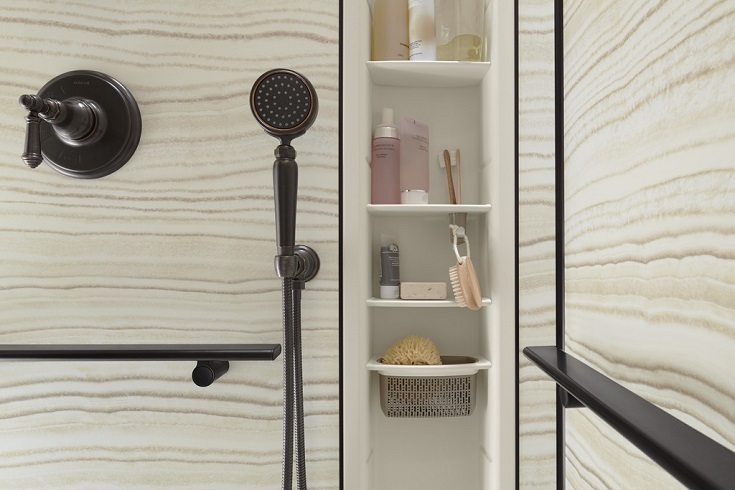 The bottom line is grout free wall panels can be accompanied with stylish storage options. And who doesn't need more storage in their shower?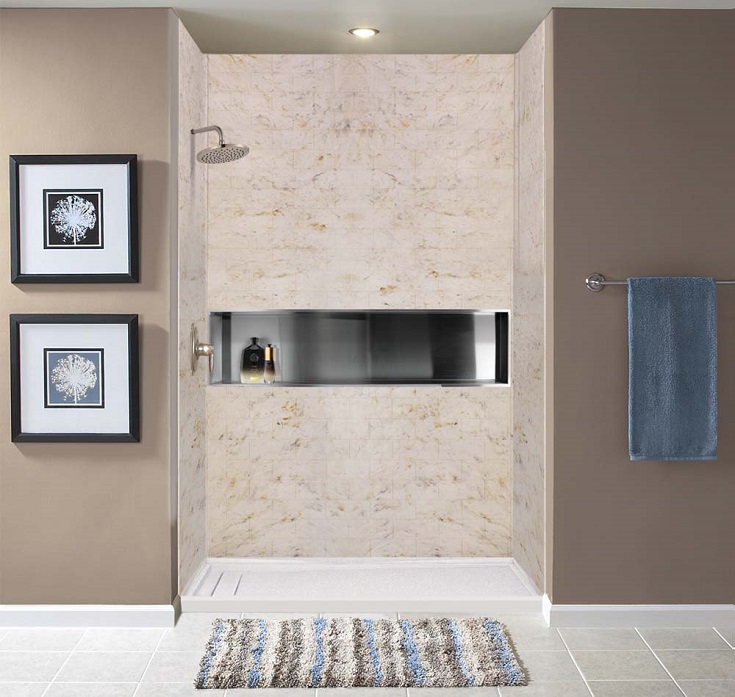 Reason #9 you shouldn't buy acrylic wall panels and surrounds – A 'cover up' system is a bad, bad, bad idea!     
You've seen the 'bath-in-a-day' system promoted on TV. They advertise they'll get out of your hair in one day and you'll be enjoying the luxury of a new bath or shower tomorrow as the commercial claims. And boy does THAT sound good to you.
After all who likes contractors in their home. That would be NO ONE! Contractors (and this is coming from a guy who has a division which does shower replacements in Cleveland Ohio) are a pain to have in your home – even if they're the nicest guys or gals AND do a great job. They mess up your routine. You may not even feel comfortable wearing your ratty t-shirt or sweatpants around your home when they're around.
So, this is one reason the acrylic wall panel 'bath-in-a-day' concept is so appealing. Get 'em in, get 'em out. However – here's what you may not realize.
Often this job is done so quickly because they're going to glue the new system over your old tile walls. And IF you have any moisture behind these old tile walls, you'll be sorry when you experience mold growth down the road (and need to tear everything out).
It's for this reason – no matter what you do – DO NOT settle for a 'in and out' wall panel system which is slapped up over old tile walls.
Whether you choose acrylic, PVC, cultured granite, or laminate walls (or any other product variation for that matter) – make sure the old material is removed to the studs. Make sure you get new 'backer board.' Don't be 'penny-wise and pound-foolish' as my dad used to say.
Reason #10 you shouldn't buy acrylic wall panels and surrounds – You think glossy wall panels look tacky     
Many people want to replace their old tile shower or fiberglass one piece unit because it looks old, tired and behind the times. And the last thing they want is replace it with another system which looks like it would have been perfect for Jan and Marcia Brady from The Brady Bunch.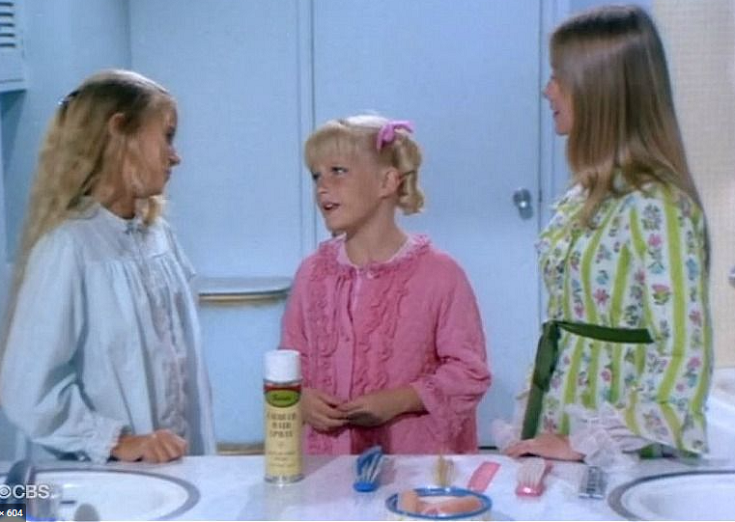 And let's face it –for a new stylish bathroom today, you're looking for a relaxed space which reminds you of your last trip to the spa. You EVEN want a space you can get away from the kids for 15 minutes or so. And when it comes to material finishes the trends are certainly towards relaxed looks found in matte and brushed material finishes.
This is one reason I think acrylic is not the best material for today's styles. Most acrylic wall panel finishes are glossy. And this is why I love the look of the laminate wall panels. You can choose matte finish Modern Farmhouse panels or even rustic wood looking tile finishes – without spending big-bucks on a professionally installed tile shower.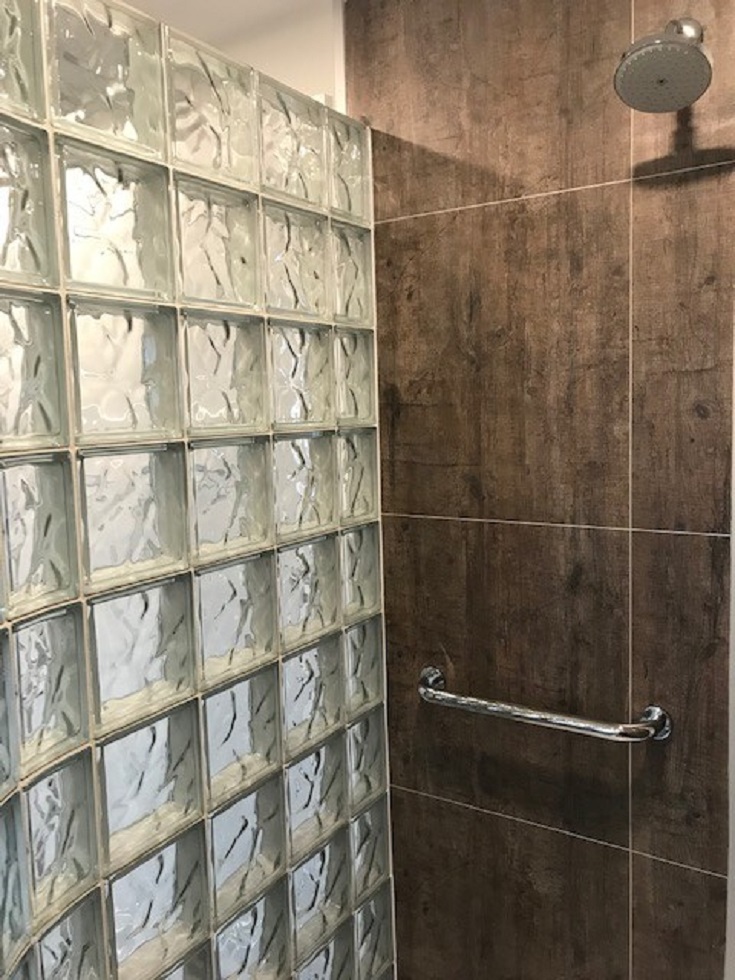 Don't cheat yourself and put in a new shower surround which is 'already' behind the fashion trends. Look for wall panels in a matte finish for that spa-bathroom you've been dying for.
So, are you still sold on acrylic wall panels, or are you intrigued by any of the 'lesser-known' options outlined in this article?
Even though I've been in the shower wall panel business for more years than I'm willing to admit (and no, I did not have ANY gray hair when I started in this biz), I know the search for 'the best' alternative at 'the end of the day' (AND at the beginning of the day also) comes down to your personal preferences.
And while I'm not a huge fan of acrylic shower wall panels – they can (and do) still serve a purpose if you hate tile grout joints or yellowed fiberglass shower wall surrounds, you're putting up with now.
However, with this being said – I really believe there are better alternatives including (but not limited to) the following
#1) Laminate shower wall panels
#3) Cultured granite shower wall panels
And after reading this article do you ….
Do you think I'm right on the money about these 3 alternatives or…
Are you wondering if I'm still playing too much beer pong like I did in my Kappa Sigma days at Carnegie-Mellon University?
I'd love to know what you think below.
And lastly, if you're looking for insights, wholesale pricing or a referral to an installing dealer of laminate shower wall panels call 877-668-5888 or click for a Free Design Consultation.
Thanks for reading and putting up with me along with the way!
Mike
###
If you want more advice (with less wacky humor because you'll see the 'buttoned-up' business version of me) follow me on LinkedIn @MikeFoti.
And if you're a bathroom remodeling contractor interested in being a dealer of unique shower wall panels, shower pans and glass shower door systems and purchasing quality shower kits, call 888-467-7488 and ask for Mike.
---
Mike Foti
President of Innovate Building Solutions a nationwide supplier and regional (Cleveland and Columbus) remodeling contractors. Some of our product lines include glass counters, floors, backsplashes, glass blocks and grout free shower and tub wall panels
---