10 Smart Design Factors You Need to Know to NOT Screw Up Buying a Walk in Shower Pan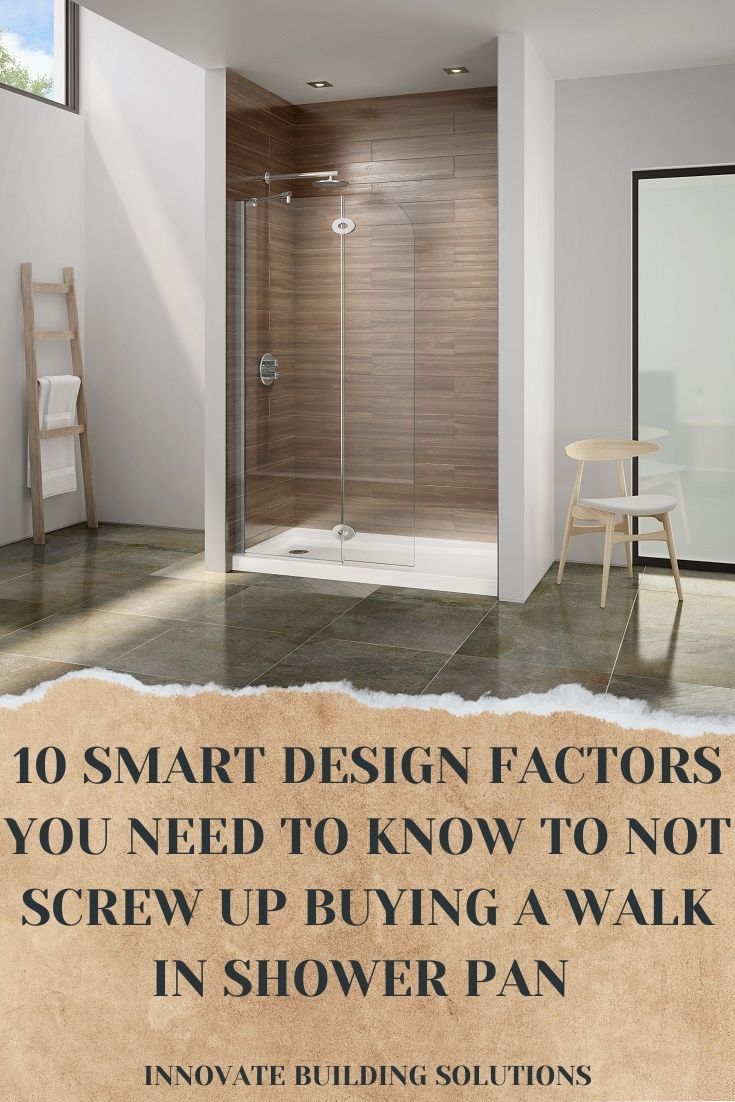 So, you've been researching walk in shower pans. You thought it was going to be simple figuring out a base for your new home or remodeling project but boy, oh boy, were you wrong!
You've seen so many options, your head is swimming. Here's just a few things which are blowing your mind.
You've not sure which type of shower pan is cheapest? And it's not even clear if a low-budget base is the best way to go.
You're also uncertain if the shower pans you're looking at will work with the glass shower door and grout free wall panels you'd like to buy?
You're not sure what material you should use for the floor of the pan. You've seen walk in pans made with tile, fiberglass, acrylic, solid surface and cultured marble, but which one is best?
While the list of walk-in shower pan questions keeps droning on like a bunch of filibustering politicians, the best choice for your family's safety, budget and style seems to keep getting muddier by the day.
And if this describes your walk-in shower pan selection dilemma, I'm oh-so-glad you've landed on this article. My goal here is to analyze 10 design factors (or features) of walk-in shower pans to help you find what's best for you (and NOT screw up with a bad choice in the process). At the end I'd love your input on what you've learned AND, in the comments, post additional questions or help you need to purchase a walk-in shower base. Or let me know if you need a referral to a qualified contractor to install one for you. So, without further delay let's look at 10 design factors to get your walk-in shower pan selection right the first time.
Design factor #1 – What's the best walk-in shower pan for my budget?
If you've got champagne taste, but a beer budget I'm sure there are many people who can relate to your situation. And while it's not always bad to choose the cheapest walk-in shower pan, it's important to know the pluses and minuses of your options along the pricing spectrum. Because pricing varies with size – and your need to customize the pan (for example if you need a unique drain location or curved or angled design), I'm just going to show you (from cheapest to most expensive) the relative prices for walk in shower pans you can expect. Here' we go:
Fiberglass walk in shower pan – The lowest cost walk in shower pan will be made with fiberglass. Since standard fiberglass pans are molded in higher volumes, they're usually cheapest. The downsides of fiberglass are they're hard to clean and tend to yellow. In addition, they're only available in white, so if you're looking for some shower pan pizzazz, they won't be right for you.
Acrylic walk-in shower pan – Acrylic pans are made in standard or custom sizes, and you'll find a wider range of colors than with fiberglass bases. They're warm to the touch and don't stain or yellow like fiberglass. However, you'll also find customization options are limited.
PVC walk in shower pans – These pans have digitally printed patterns and for custom sizes use a thick, dense block of PVC below the top layer. These patterns have a lot of style– which can be good (if you're matching them with PVC walls) but can also be a problem if you want more patterning in your walls (note – patterns against patterns tend to clash).
Cultured marble or cultured granite walk in shower pans – These pans are available in lots of colors and are thick and durable. The negative is they are a bit pricey, and weigh…. A TON (OK, a ton is an exaggeration, but they certainly weigh A LOT!).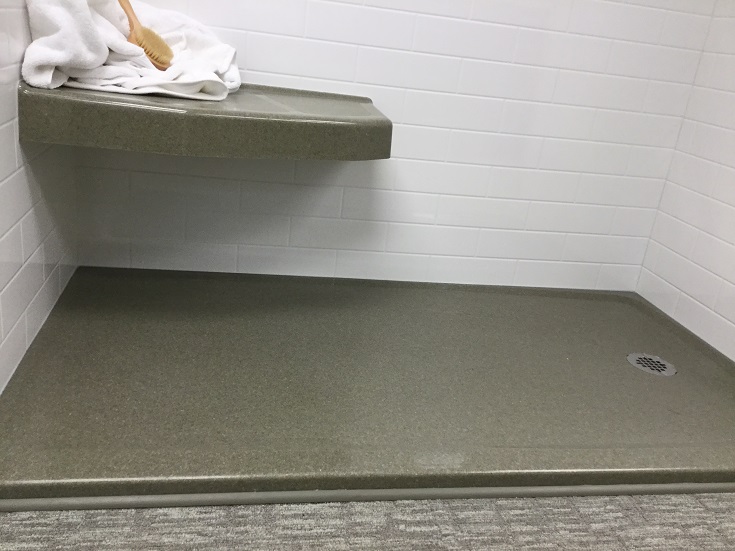 Solid surface shower pans – These pans are available in a wide range of colors, can be customized and are durable. Their downside is they're not a 'cheap date' and you'll need a hand (or a few hands) installing them.
Tile walk in shower pans – While tile pans can vary in price depending on the tile selection and how the pattern is laid (and how many cuts are involved), tile is (generally) expensive and getting even more costly as finding tile setters is becoming a 'needle-in-the-haystack' experience. The good news is tile provides a ton of design options, however, it's not only costly to install, it's a continued maintenance hassle to keep the grout joints clean and mold-free.
Wet room shower 'base formers' – Wet room systems allow you to create a 'boundaryless' walk-in shower. The shower pan (also called a base former) is 'hidden' and placed on your wood joists and (generally) tiled over. They're perfect for roll in showers or if you want a sleek contemporary flat-floor look. Their downside is they can be pricey, and it be a pain trying to find a contractor whose installed them before.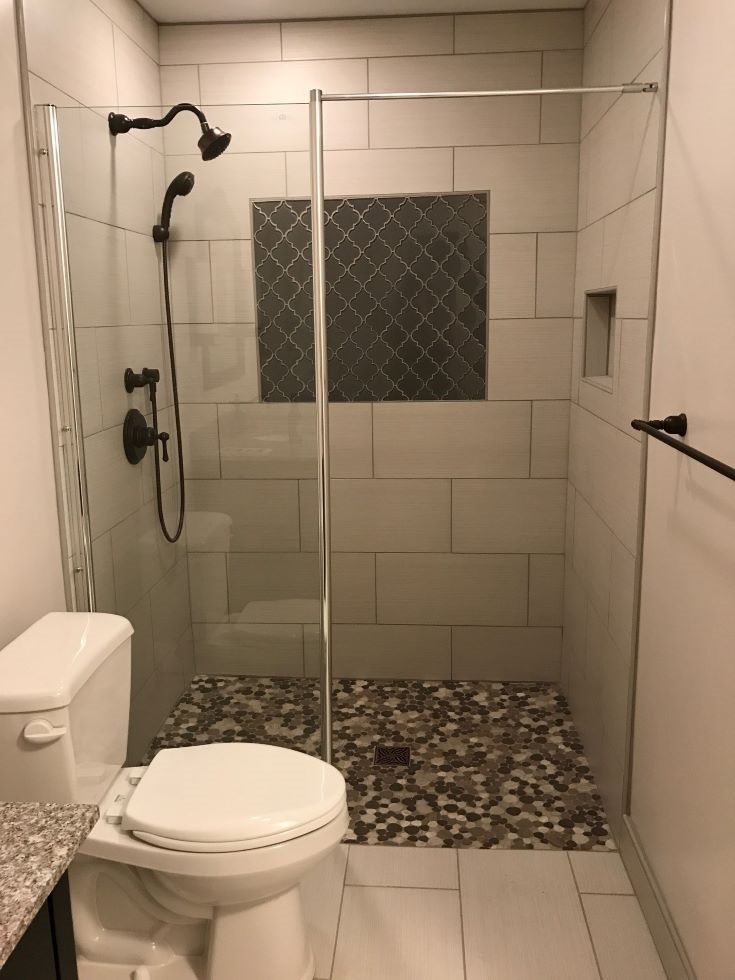 Design factor #2 – Is the material on the top surface of the walk-in shower pan safe for me and my family? Will it be a pain to clean?
OK, I'm going to make it simple for you. The 2 most important factors choosing the best material you'll be walking (or rolling) onto for the top of your walk-in shower pan are….
Factor #1) Is this material easy to maintain?
Factor #2) Is this surface safe for my posse ('er family) to use?
When it comes to maintenance, I'll tell you if you choose a walk-in shower pan with a tile top surface it's going to be the 'gift' (sarcasm intended) which keeps on giving. Cleaning tile grout joints is a job best left for…someone else!
So, if you're the one cleaning the floor of the shower pan, consider acrylic, fiberglass, cultured granite or solid surface shower pans.
The other key factor is safety. And while all preformed walk-in shower pans today do meet the government 'slip coefficient of friction' standard ('er this is a fancy term for how slippery it is), you'll want to ask if the base has a smoother or rougher texture. And ask if it's a texture you'd be comfortable with your elderly Mom or Grandmother using.
Design factor #3 – How is the entry of the walk-in shower designed?
Not all walk in shower entry designs (irrespective of the type of material you use) are created equal. Here's a few options you'll have:
1) A barrier free, one level entry.
2) A ramped entry which slopes up as you enter and slopes down as you move towards the drain.
3) A low-profile shower curb – This pan has a step-over curb which is from 1" to 2" tall.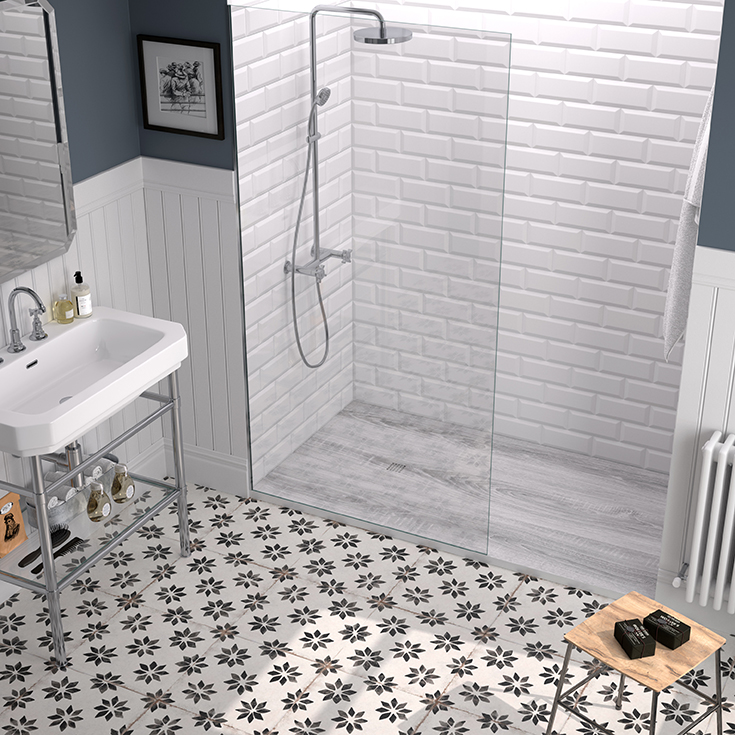 4) A mid-height shower curb – A mid-height curb will be from 2 ½" to 3 ½" tall.
5) A full height shower curb – Generally 4" to 6" tall.
The decision on the walk-in entry design is critical to ensure the space can be used now and in the future. If you choose the walk-in shower pans which are lower cost (and most have mid or full height curbs) and then a family member's mobility deteriorates, you may end up in the unenviable position of needing to remove the entire shower. For maximum flexibility, low profile and barrier free showers are smart. They'll work for people of all abilities and stages of life. And if you need to keep costs down, the low profile shower bases are less expensive than barrier free units.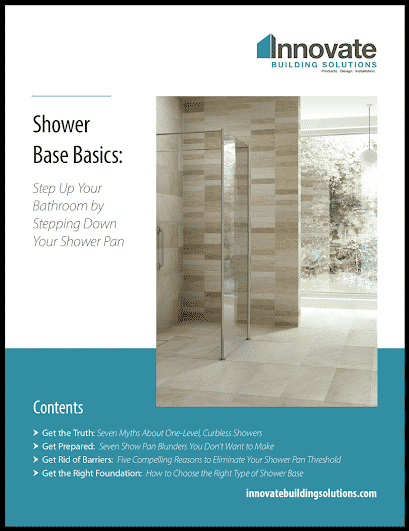 Get Our Ultimate Shower Base Guide!
Step Up Your Bathroom by Stepping Down Your Shower Pan!
Design factor #4 – What is the width of the walk-in shower opening? Will it work for my different shaped 'peeps?'
Let's face facts, your family comes in all shapes, sizes and abilities (or mobilities). Some are thin. Some are CONSTANTLY on the latest weight loss fad diet. Some can run without breaking a sweat. Others need a walker to make very slow – and (hopefully) steady – progress. And whether you're choosing shower glass for the front of your walk-in shower – or building a framed shower wall to enclose this space– you need to design the opening with the largest (or least mobile) person in mind.
Can they fit through the opening without walking in sideways? Will their wheelchair or walker work? And ask yourself, instead of using a 'fixed glass shower panel' or a 'fixed framed tile shower wall) could you instead use a pivoting glass door to make the opening 'flex' and work for the widest (or least mobile) person?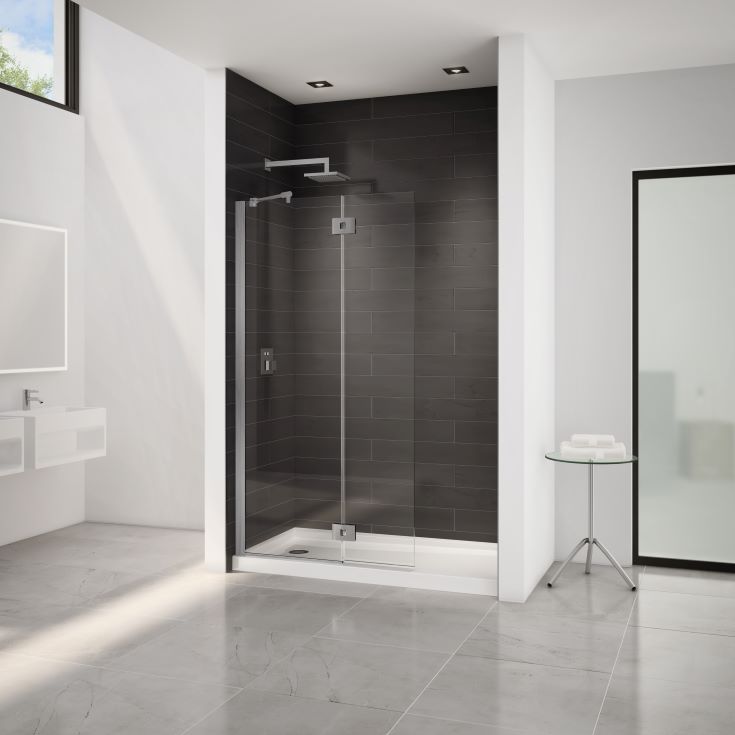 Design factor #5 – Will the design of the walk-in shower pan and surrounding walls provide enough light inside the shower? 
Maybe you've showered in a framed 'offset walk in shower pan' (although I rather doubt you knew to call it that). An 'offset' design has 3 full interior walls and a partial framed and tiled wall along the front (and if you're not sure what the shape of an offset shower pan looks like see the image below).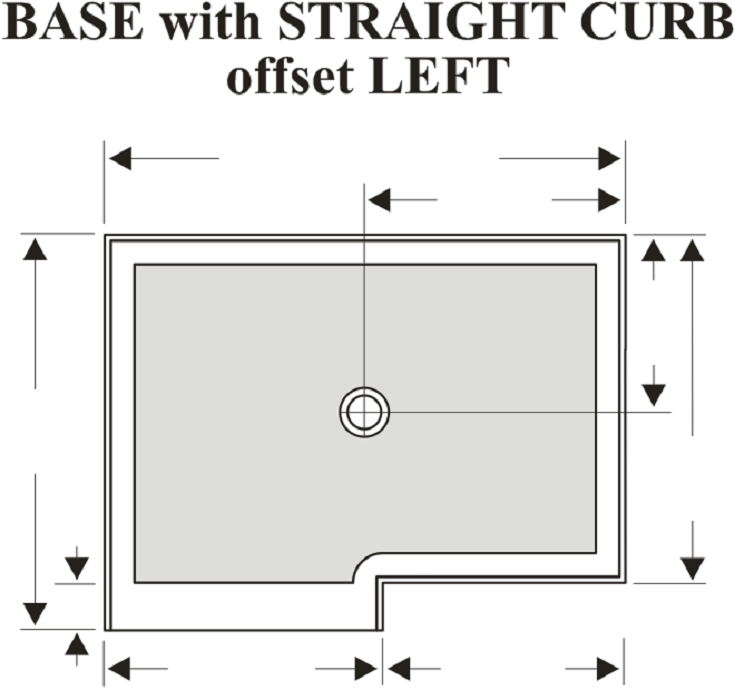 And when you were using an offset walk-in shower, I'll bet a 'dollar to donuts' (and isn't this the stupidest saying you've ever heard?) it was dark and cavernous. You see what many people don't realize with a walk-in shower is you could also use a fixed or pivoting glass system along the front WITH an opening to get in. This way you'll have the dual benefit of an easy to maintain walk in shower – which is also simple to get in – and won't feel like a dungeon.
Or if you want even more light, choose a 'corner walk in shower' with glass on 2 sides. This is a smart way to make a smaller shower not feel claustrophobic.
When you're thinking about a walk-in shower try to NOT use a fully framed wall along the front (this design is called an offset shower pan). You can get a light-filled and high privacy walk in shower with the right design (especially when you use obscure shower glass).
Design factor #6 – Will your walk-in shower pan work with the shower surround and glass shower doors you'd like to buy?
Because the shower pan is the 'foundation' of your shower system, it's essential it's designed to work specifically with your wall surround system and glass shower door.
For example, if you buy a walk-in shower pan with a 'point drain' (this means the low spot in the pan comes from 4 directions to a single point) you won't be able to use the large format tiles you so desperately want to use on the base to keep the grout joints to a minimum.
Also – if you bought a grout free preformed pan, make sure there are flanges for the pan which will integrate with the grout free shower wall panels you want to use.
One way to not  run into any 'compatibility problems' (OK – now this is sounding a bit like a bathroom 'dating service, isn't it?) is to buy a complete walk in shower kit. Complete shower kits come with the base, wall panels, and a glass shower screen as one full package.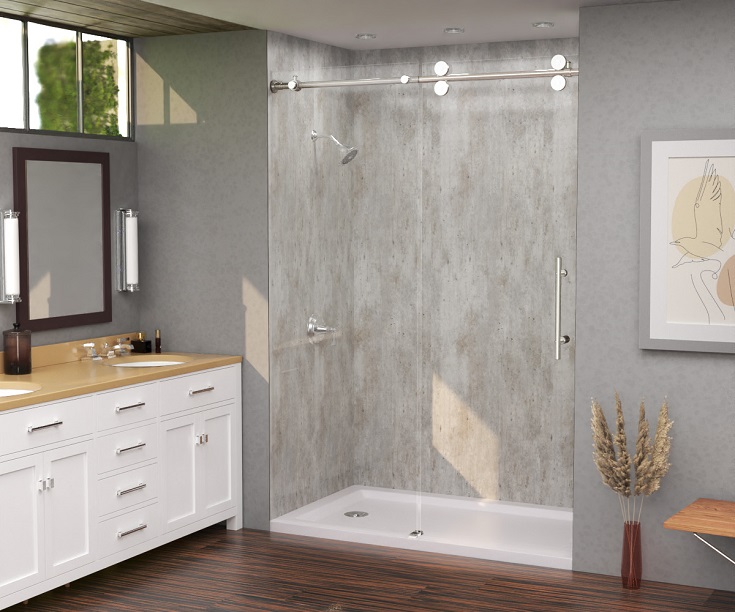 The Ultimate Shower Replacement Kit Guide
Clear advice on bringing your bathroom to the next level
Design factor #7 – Should I buy a prefabricated walk-in shower pan or use a component-based system which is assembled on the job?
Most walk-in shower pans are prefabricated and shipped complete. For example, acrylic, fiberglass, cultured stone, solid surface, and PVC shower pans are all factory-built and supplied as a finished unit. And in my book, this is a good thing.
For one, premade pans save installation time (and if you're hiring a contractor in these 'price-inflated' days can be a VERY good thing).
And number two, premade pans are factory waterproofed (they minimize worries of water leaks down the road).
However, prefabricated pans are not the end all, be all. You see when you buy a prefabricated pan (especially a custom-sized premade shower pan) you need to know your dimensions and the drain location BEFORE placing your order. And this requires removing your existing tub or shower, getting measurements, and then (if it's a custom size) WAITING for the new pan to be built (note: custom pans take from 3 weeks to 3 months to get). With a site-built tile walk-in shower, your base can be custom cut and waterproofed as soon as the old materials are taken out. This reduces the total time you're without a shower (however, you are likely to spend more with this approach).
Image Source: Bathroom Repair Tutor
Design factor #8 – Will a 'standard' point drain or linear drain be best for my walk-in shower?
I know talking about shower drains is as exciting as watching the paint dry – however I'll argue shower drains – can actually be a cool part of a walk-in shower. AND the right drain can make your shower simpler to use. You see most people are familiar with the 'common' round 'point' drain (i.e., the shower is sloped to a point). And while this is most popular, IMHO they look ugly and don't move water as fast as the uber-stylish, contemporary linear drains.
And linear drains not only have the benefits of capturing more water, but they also slope in a single direction, which allows you to use large format tiles. This reduces (if you use tile) maintenance and helps the shower look bigger (note, small mosaic tiles used in 'point drains,' make a small bathroom look even smaller).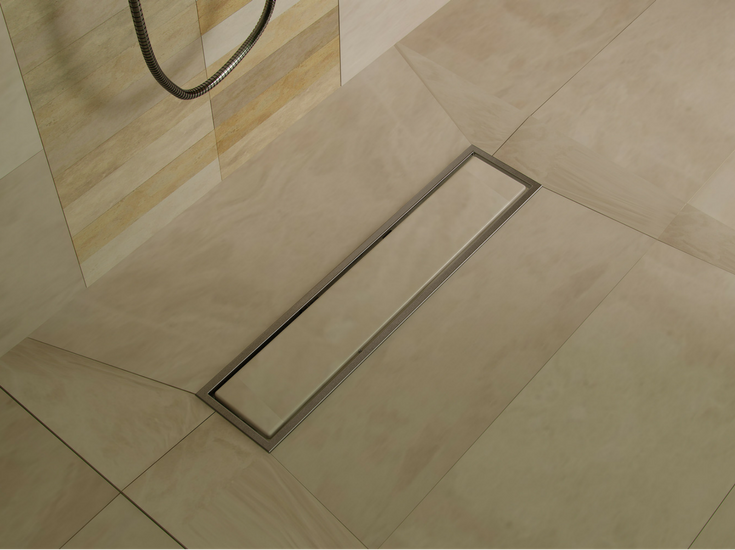 However, there are negatives to linear drains. The biggest negative is PRICE. They'll add $250 to $600 to your price. However, if you want the sleek look of the linear shower pan (or the disappearing drain look) without taking a chunk out of your wallet, another option is a contemporary low profile shower pans with matching drain covers.
Design factor #9 – Will I need a custom sized walk-in shower pan?
OK – I know when you read the word 'custom,' you may have broken out into a cold sweat. You're worrying how much this shower pan is going to 'set you back.'
And I won't lie–custom shower pans are 20% to 50% more than a comparably sized standard base. However, there are cases where a custom pan is not only needed (because you have a 'non-standard' size, need a weird shape, want to incorporate a curved glass block shower wall, or have an unusual drain location), but can actually save you money? Now you may be saying, "Mike, are you crazy?"
OK – while some people do think I'm crazy (especially if you ask my daughter who I love to tease A LOT and thinks I'm a bit nuts), custom pans CAN also be cost-saving pans. You see if you want to use a standard pan with a standard drain location AND then you need to move your plumbing –the 'total cost' of the standard pan could be more expensive than the cost of a custom pan which has the drain hole put in a place where you DO NOT have to move the plumbing.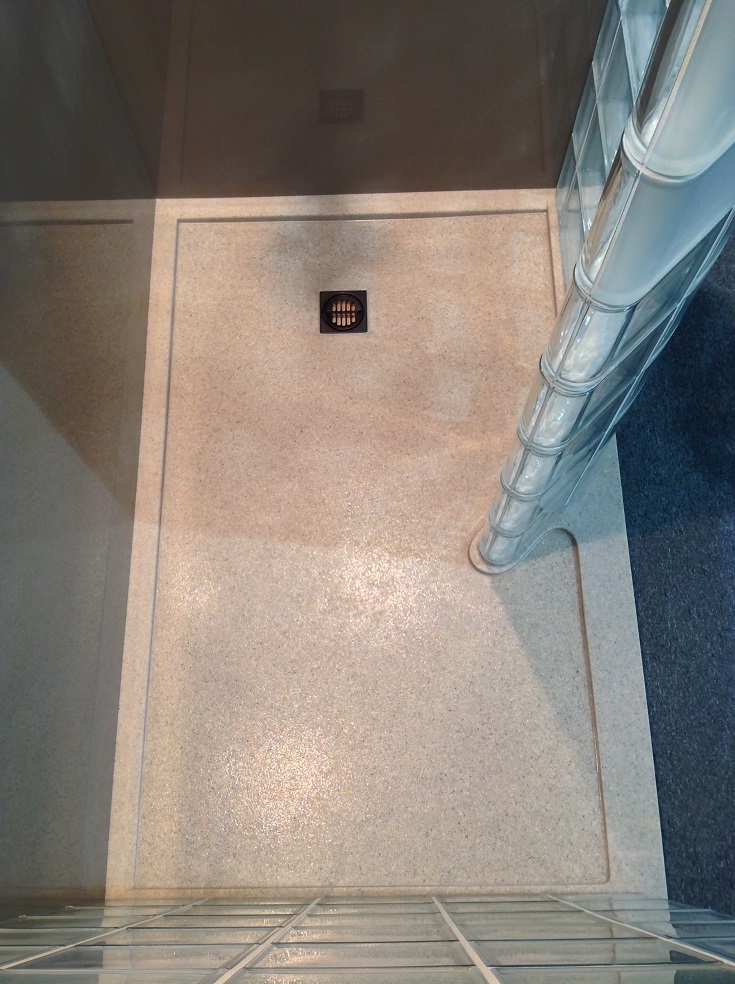 So, before deciding on a custom or standard pan – make sure you know the 'total costs ('er the total cost= pan cost + plumbing costs),' before plunking money down.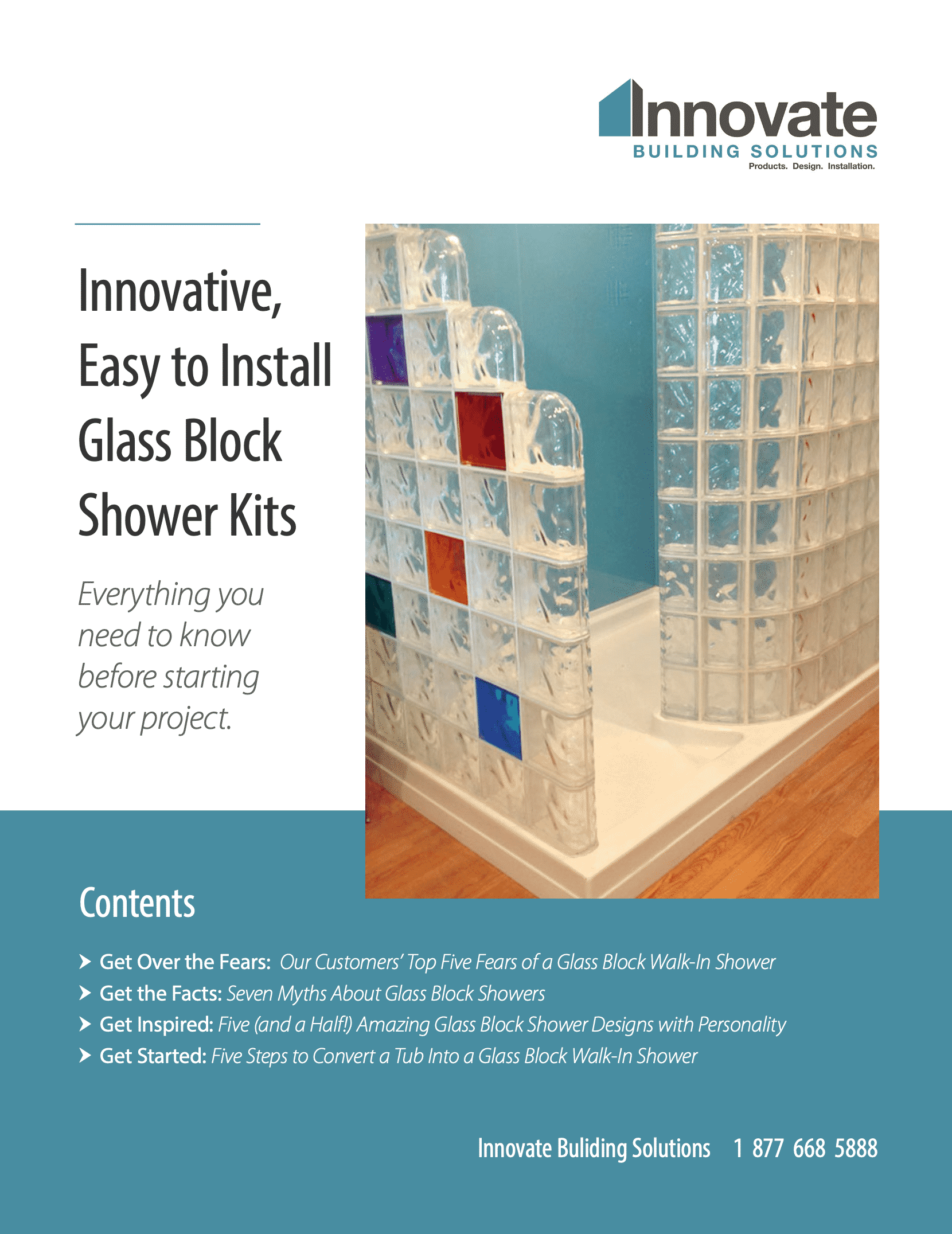 Glass Block Shower Ultimate Guide
The Ultimate DIY Guide for your Next Bathroom Remodel
Design factor #10 – Can I DIY the installation of this walk-in shower pan?
I'm sure all of us wish we were 'made of money.' However, our dads reminded us as kids this was NOT the case! And while it would be nice to hire a contractor to install the shower pan and go out and have some fun while someone else is sweating up a storm doing the installation, this MAY NOT be the world you're livin' in.
Given your need to DIY the job to keep costs down, you want a base which makes the job simpler. Given this desire I'd stay away from component-based tile systems and choose a prefabricated walk-in shower pan. While I'm not a huge fan of fiberglass (because it yellows and show scratches), my favorite premade pans are the contemporary acrylic shower pans or modern low profile shower bases made for standard sizes. And if you have a unique size, shape or drain location, the custom cultured granite pans are a good way to go.
So, do you now know the best walk-in shower pan for your project? Do you need more help?
I know I've thrown a lot of factors for you to consider choosing your walk-in shower pan. However, I also recognize you may have additional questions – or need pricing on what these shower pans cost.
So, if you're looking for additional design advice (or pricing) me and my team would love to help. Call 877-668-5888 or click for a Free Design Consultation. We can help with your selection of a shower pan, stylish shower wall panels and shower glass doors.
And if you're looking for a Cleveland bathroom remodeling contractor, call The Bath Doctor at 216-531-6085. And finally, if you need a nationwide referral to a contractor in our network, make this request in the comments below, and I'll see if we have a dealer to help you.
Thanks for reading,
Mike
###
If you want more advice (with less wacky humor because you'll see the 'buttoned-up' business version of me) follow me on LinkedIn @MikeFoti.
And if you're a bathroom remodeling contractor interested in being a dealer of unique shower wall panels, shower pans and glass shower door systems and purchasing quality shower kits, call 888-467-7488 and ask for Mike.
---
Mike Foti
President of Innovate Building Solutions a nationwide supplier and regional (Cleveland and Columbus) remodeling contractors. Some of our product lines include glass counters, floors, backsplashes, glass blocks and grout free shower and tub wall panels
---