How to Remodel Your Bathroom with Your Big, Small or Tall People in Mind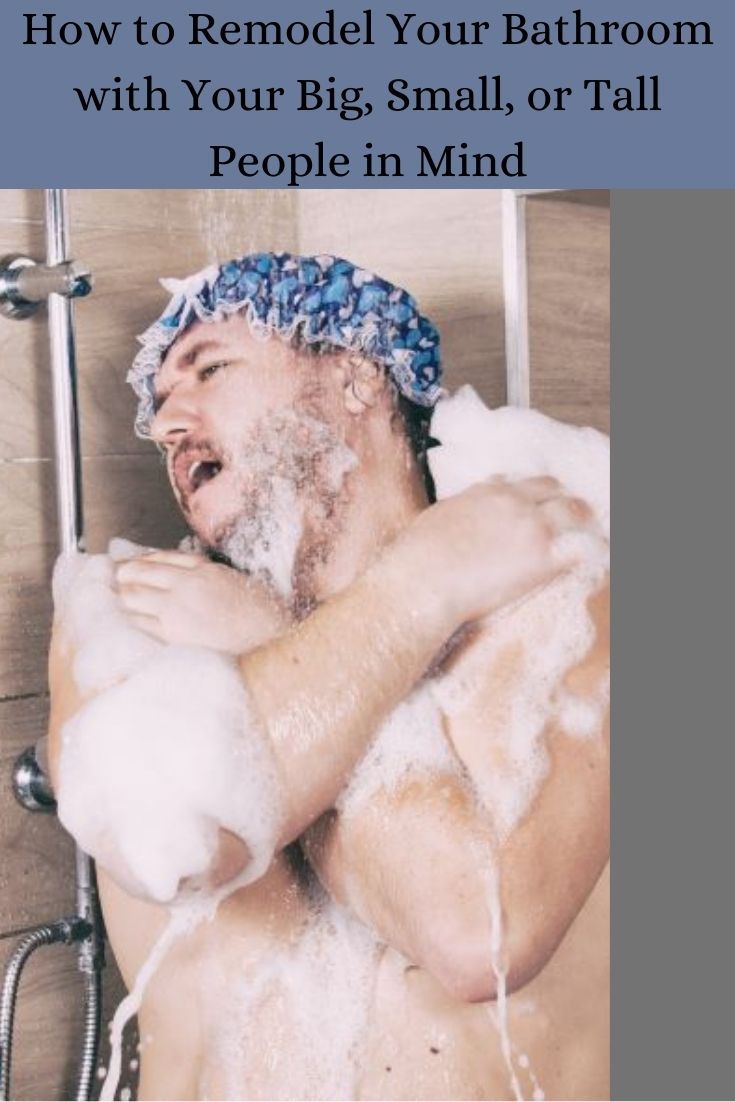 If only 'one-size-fits-all' worked for bathrooms.
Unfortunately – for many people, your bathroom is NOT ONLY NOT (sorry about the double negative) as large as you'd like, but the people using come in all 'shapes and sizes' as well. And as you know from experience – your current bathroom WAS NOT designed to work for the big, small, AND tall shapes which IS your family!
So, the question becomes if you're planning a bathroom remodel – or building a new home – how can you make sure your next bathroom DOES work for everyone (even for your 'somewhat-stinky' teenage boys who NEED to use it more frequently than they do)?
And the answer to this question is exactly what this article is about. I'll provide you 9 practical ideas for a successful bathroom remodel (or new home bathroom) where your big and tall people won't have to duck, hunch down, squeeze in or bend over just to take care of their bathroom business.
I'll provide you with ideas which work for your 'little people,' so they won't need to be reincarnated as the Jolly Green Giant (for those of who we even know who this dude is) just to shower, wash their hair or put make up on without straining their back or looking for an 'arm extension' just to take care of their bathroom business.
Now – let's look at these 9 practical ideas for a comfortable, thoughtful and useful (and dare I say stylish) bathroom for big, small or tall people.
Idea #1 – Choose your shower door glass wisely
If you're big or tall you know walking through your sliding glass shower door can be an 'obstacle course.' For example, if you're big and need to enter sideways, your daily shower is a constant reminder of the need to shed a few pounds. And if you're tall and need to duck under the sliding shower door rail – you know this problem will NEVER go away until you get old and shrink a few inches (or change out your old shower door).
So, what can you do to make your shower door not such a pain in the rear? Here's 3 options.
Option 1 – Use a large custom pivoting door – Custom pivoting shower doors – which can be made up to 36" wide, don't have a bar to duck under (like a sliding glass door), and they'll also give you 50 to 75% more room to get in and out!
Option 2 – Use a standard pivoting shower screen – For those of you who love walk in showers I've got the perfect option for you. Choosing a standard-sized pivoting shower screen (which combines 23" fixed glass and 15" pivoting door) – not only gives you a wider opening, but also the ability to create a walk-in shower in a space as small as 48" wide.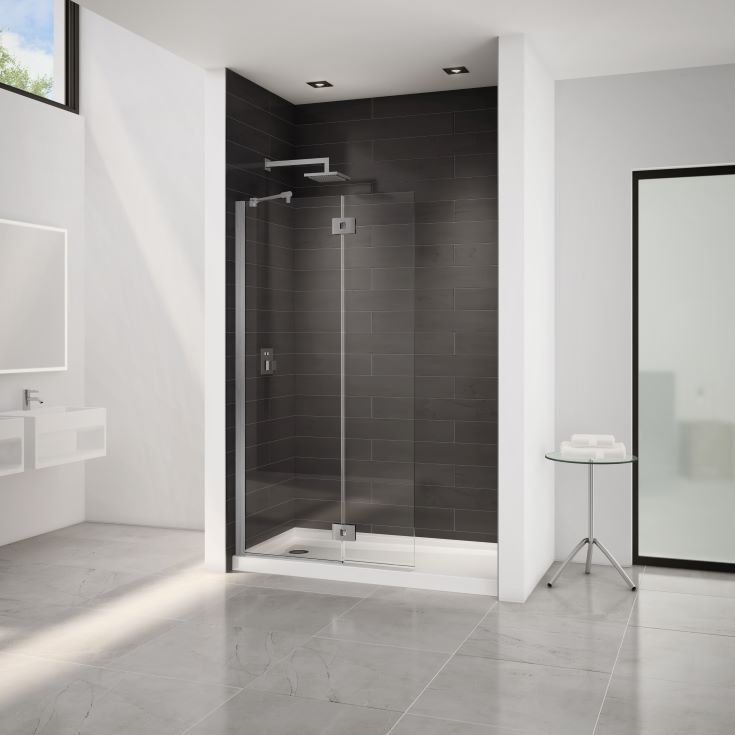 Option 3 – Use taller sliding or bypass shower doors – If I'm being real with you, many builders keep home prices down using shorter, thinner framed glass sliding doors. This isn't always bad (especially if you've experienced the rapidly escalating home prices in the market today). However, shorter sliding bypass shower doors are impossible for the plus-six-footers in your family to get in without ducking (or getting wacked in the head a few times when they forget about the rail above the door). And if you need to use a sliding door (because you don't have room for a pivoting door to open into the bathroom), then it's smart to upgrade to a 79" high sliding shower door (or even an 86" high sliding glass door for those former basketball or volleyball players). The plus six-footers will be forever grateful to you.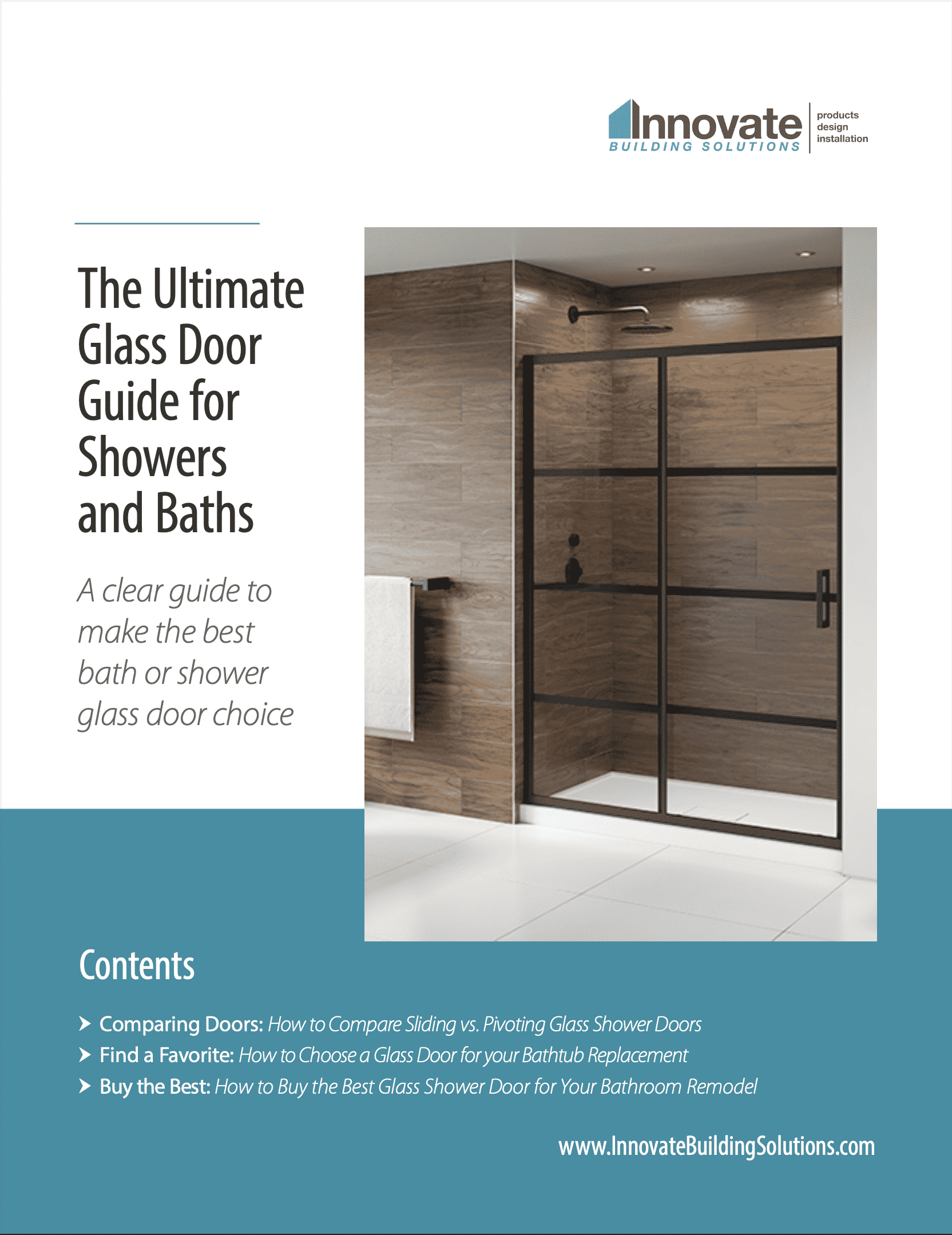 The Ultimate Glass Door Shower Guide
A clear guide to making the best bath or shower glass shower door choice
Idea #2 – Vary the height and depth of your bathroom vanity
Since vanities are a distinctive feature in your bathroom, you'll want to select a décor which displays your style. However, no matter how fashionable your vanity is if it doesn't work well for the shorter – or taller – people it can be a painful experience.
It's for this reason if you're shorter – or choosing a vanity for your little kid's bathroom – standard 30" to 32" vanities can be the right option.
However, for the tall 'boys and girls,' you'll want to consider 36" high comfort height vanities so brushing their teeth, shaving or reaching down to find makeup isn't a strain on their backs, or (literally) a pain in their neck.
And if you want the ultimate in height flexibility (or have a family member using a wheelchair), a wall hung vanity can be just what the doctor (or physical therapist) ordered.
Finally – don't forget to pay attention to bathroom vanity depth. If your bathroom is uber-tight (and you're on the diminutive side), a slimmer 17" cabinet can make sense. On the other hand, if you have the room – and NEED to spread out, you'll want to look at 25" deep cabinets. To learn more read, How Tall Should a Bathroom Vanity Be?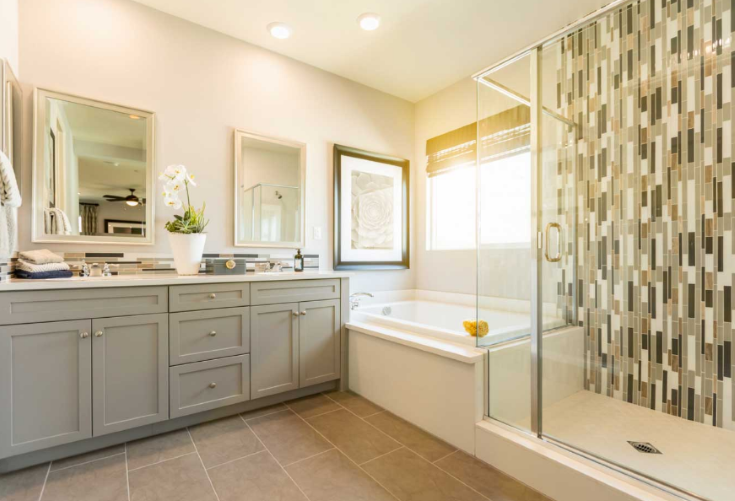 Image Source: Cabinet Door Mart
Idea #3 – Find ways to 'grow' your shower space, without actually growing your shower space
Oh how you wish your alcove shower could be reimagined to become the huge showers you see in Interior Design magazines (OK –you could do this IF you took out ½ your master bedroom – but that ain't happenin').
You need an inventive way to stop this 'elbow-banging' experience which IS showering in your teeny-tiny alcove. And if this describes your dilemma, have I got an idea for you. Check out this curved glass sliding door shower. It's not only uber-cool but it also turns a 30" alcove into a 36" deep (in the center) shower. You'll have the room you need to actually start enjoying taking a shower – and its style will show you really are 'da man or 'da woman!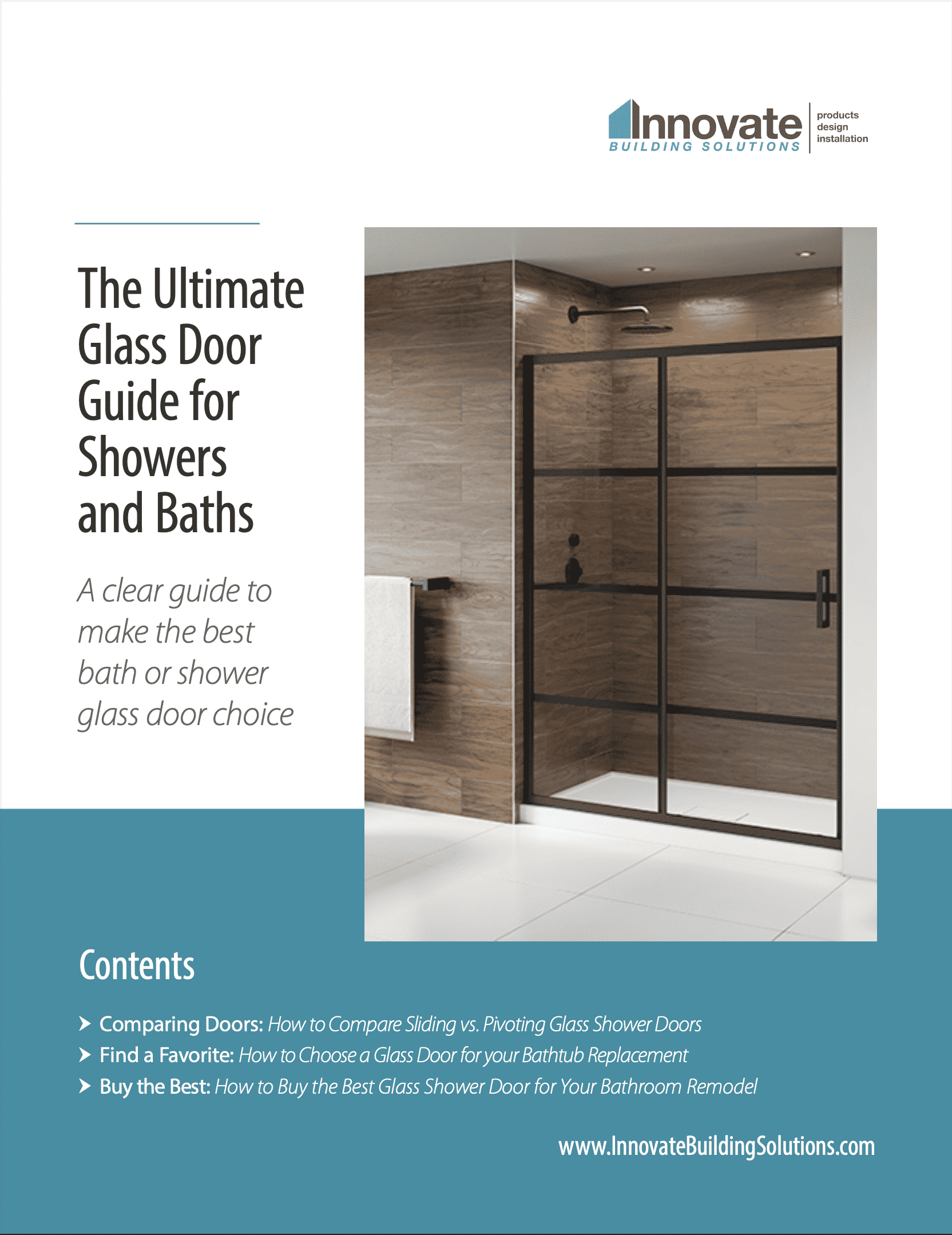 The Ultimate Glass Door Shower Guide
A clear guide to making the best bath or shower glass shower door choice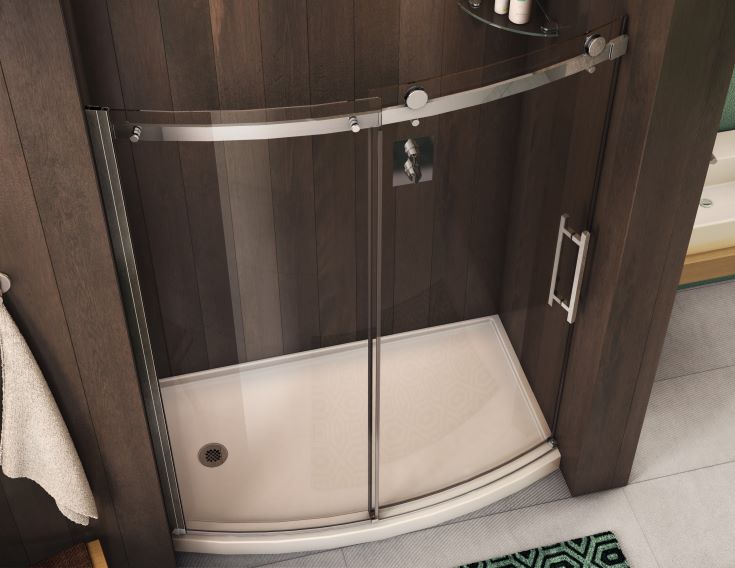 Idea #4 – Take 'control' over your shower accessories
When you're living with (or putting up with might be the more operative word) a one-piece builder's grade fiberglass shower, you've likely experienced the following problems (irrespective of whether you're big or small):
Problem #1 – The molded 'shelves' (if that's what you can call them) are too high or too low for you.
Problem #2 – Shampoo bottles and soap are CONSTANTLY falling off the super-shallow storage areas.
Problem #3 – The amount of storage space is overmatched by your spouse or significant 'utters' massive collection of personal care products.
The question becomes what can you do about this pathetic excuse for storage which comes NO WHERE CLOSE to meeting what you need? And how can you make sure it's ergonomically available in the heights and widths you need?
The answer is you need storage systems which put you in 'control' of your accessories. Get yourself on the right path by first refusing to buy a shower with storage already built into the wall sections. These 'built-in's' (while a cheap way to incorporate storage in a shower) take control of the location (and size) storage you need away from you.
Instead opt for accessories where you can choose their location. Consider separate recessed storage (like you'll see in the niche below) or shelving which can be screwed into the shower walls at any height you like (like you'll see with the corner shelves below). Or another option is to custom build niches and shelves into your shower – although I'll warn you this can get pricey (and time-consuming and technically challenging to install).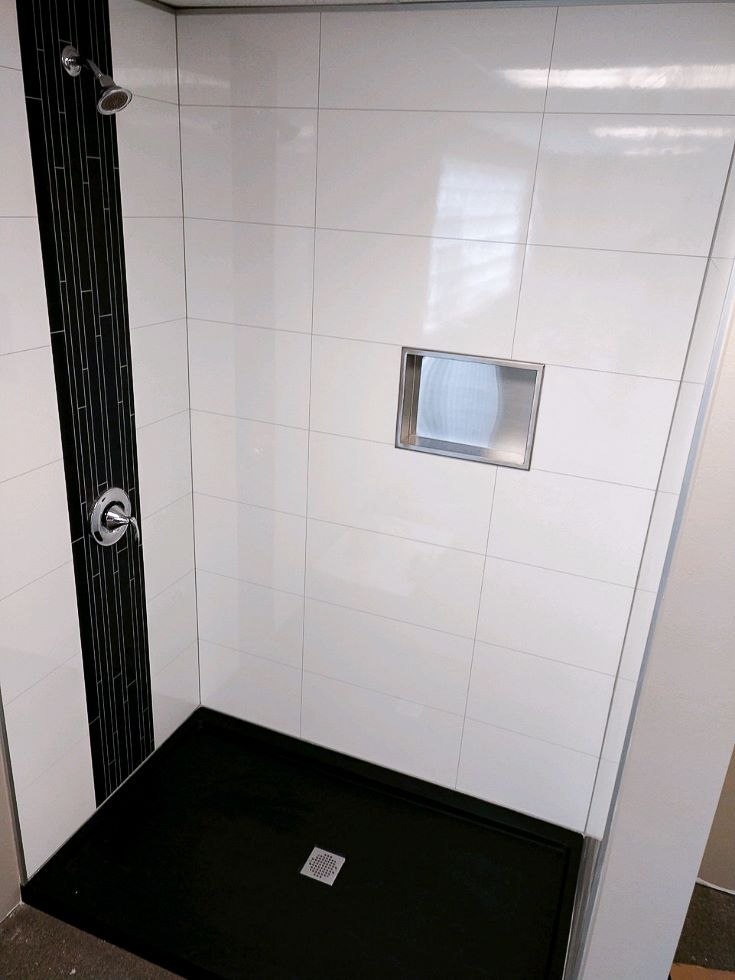 Idea #5 – Vary the height of your shower head  
The wrong shower head height can make for a miserable showering experience.
If the heads too high, the 'little people' in your family will struggle to adjust it without a stepstool (and who exactly wants a stepstool to take up space in their already too small shower?).
And if the heads too low, your big people will have to play 'catcher' and squat down just to rinse their hair. Now, that's a pain for them (although it might be funny for you to watch).
And while shower head heights can be the 'pain which keeps on givin,' there are solutions which will work, whether your family members are tall or short. 
If you need your shower head taller, here's 3 options:
1) Move the shower head higher (and yes – I know it didn't take a 'rocket scientist' – which I'm not – to dish out that advise)
2) Use a ceiling mounted shower head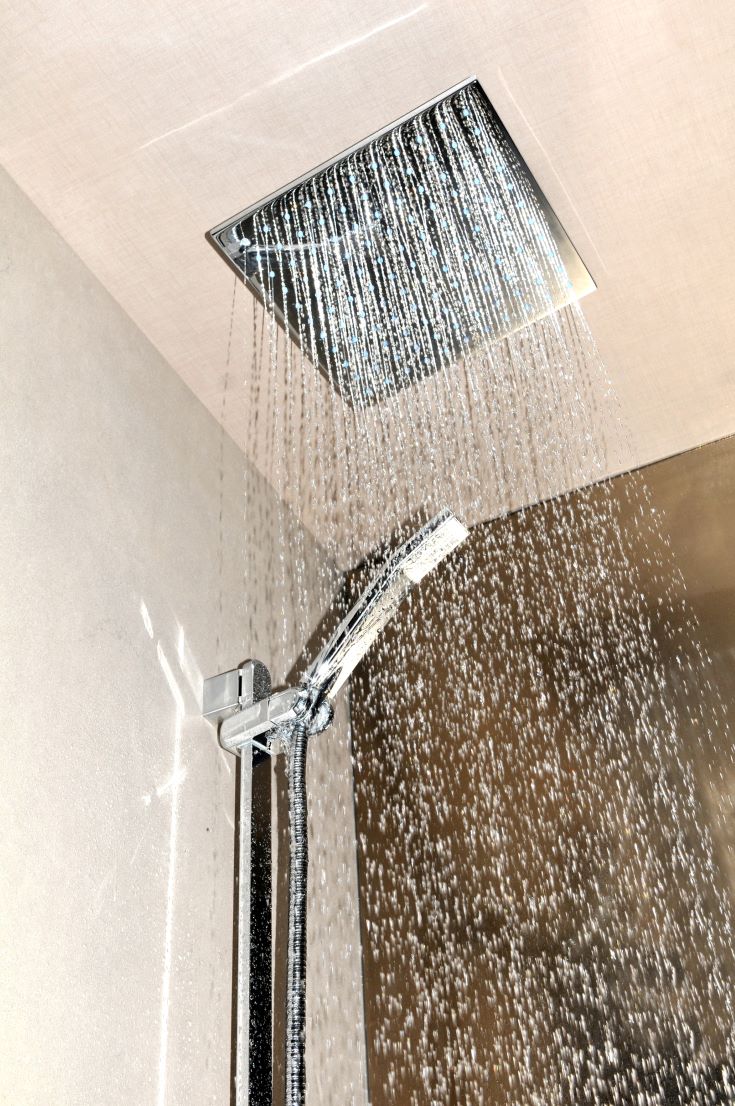 3) If you don't want to move the existing shower head location, install an extra long shower head extension
And if you're short (or want a head which works for taller AND shorter family members), an adjustable height shower head (on a slide) can be a 'showering victory' for everyone.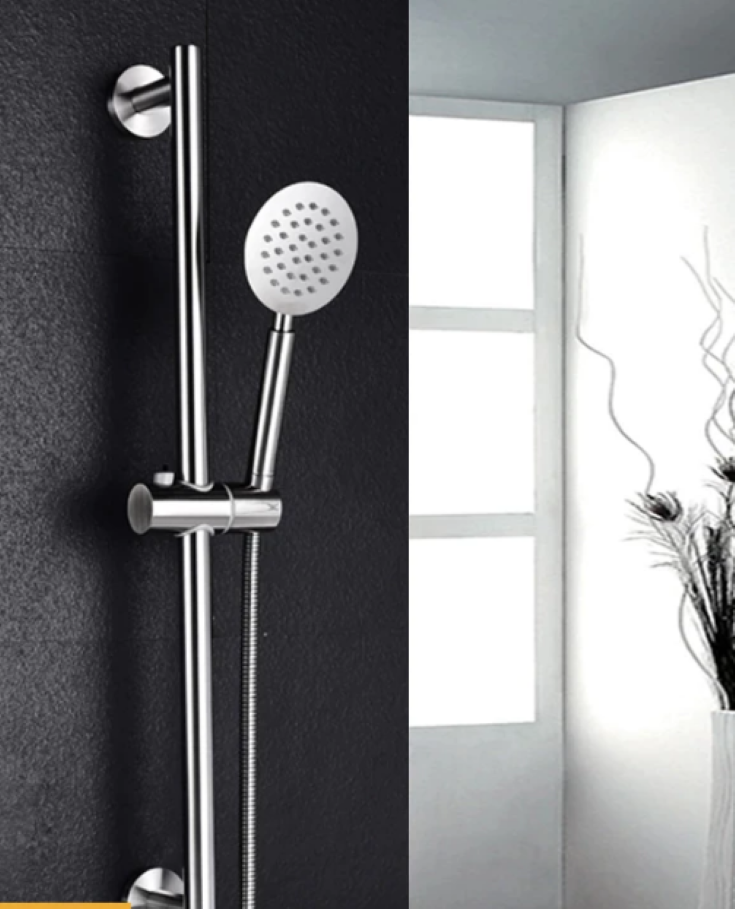 Image Source: Ali Express
Idea #6 – And while you're fixing your shower head, get rid of those moldy walls above your tile or shower surround
You don't have to be a Rhodes Scholar to recognize your short fiberglass surround was a 'blue-light-special' for your builder. And while this selection saved THEM money, you certainly haven't enjoyed attempting to clean the exposed wall which is dirty and moldy above the surround. And if you're tall – with more than a mild case of OCD – watching mold grow in your shower is something you can do without!
So, how can you cost-effectively eliminate moldy walls above your shower surround you've been putting up with for years – and still keep your bathroom remodeling (or new home) budget from imploding?
Well a smart option is to use grout free laminate shower wall panels. These panels reach the top of an 8' ceiling and look just like tile or stone WITHOUT the evil grout joints which come (free of charge) with conventional tile or stone showers.
Get Free Samples!
Click here to request free samples of our Laminated Waterproof Shower Wall Panels.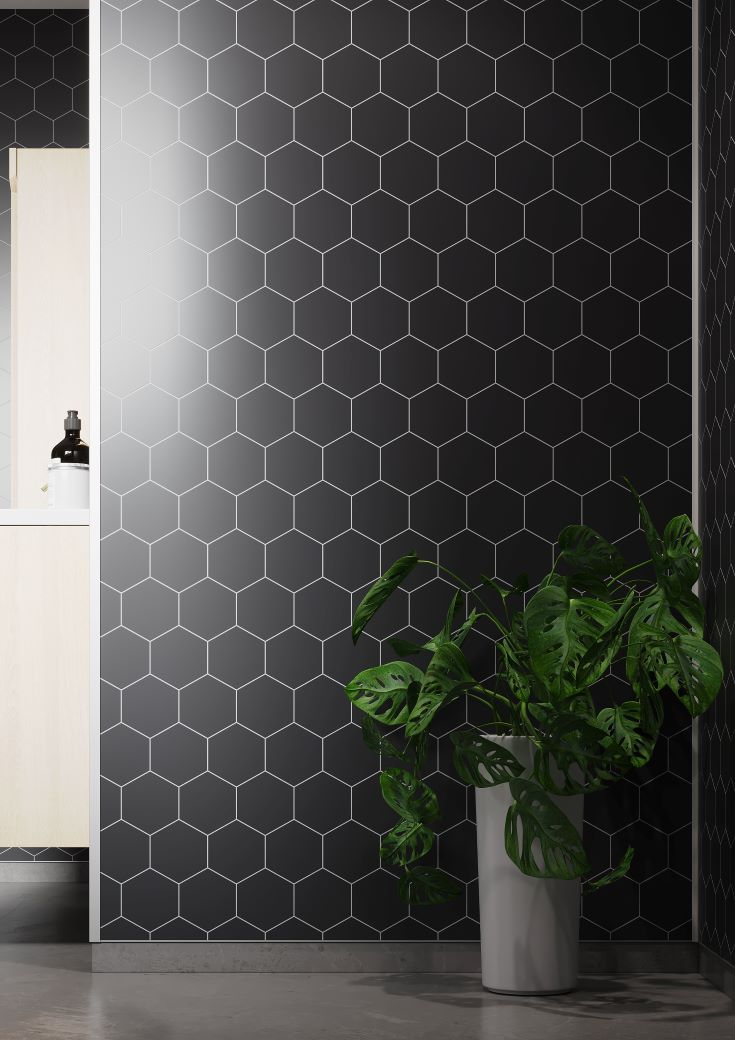 Idea #7 – Buy a bathtub which won't cause you to curl up into the fetal position
For those of you with extra-long and extra-big bodies you know a standard 60" wide x 30" deep x 14" high tub just doesn't cut it. It's short and slim 'stature,' makes this tub useless…. OK, it's useless to YOU!
However, if you'd love to use the tub – but a standard 5' tub isn't long and deep and tall enough for your body, there's a solution. Use an extra-long (and extra deep) tub. With units up to 72" long x 36" wide x 20" deep – enjoying a relaxing tub can be an experience you DO NOT have to do without!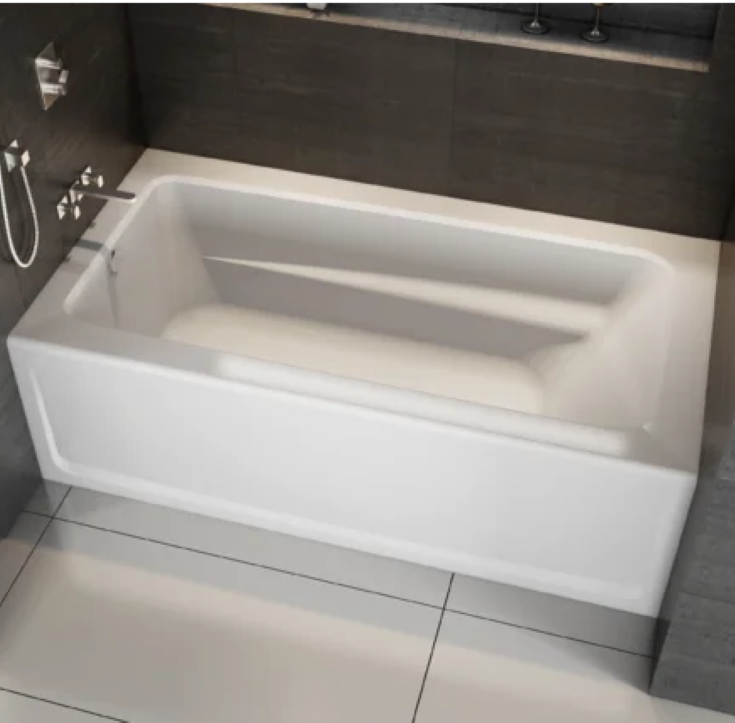 Image Source: Peri Gold
Idea #8 – Get rid of 'barriers' so the walls of your bathroom don't feel like they're closing in around you
While it's possible to add mirrors, windows and lighting to make your bathroom feel bigger, the reality is you want your bathroom to actually live bigger! And with your physique you need your bathroom to live bigger. But how can you do this if you have a typical 5' x 8' bathroom used in older ranch, bungalow or colonial style homes (and blowing out walls into adjoining rooms isn't an option)?
Well, the smartest way to 'grow' your bathroom, without increasing its overall size is to stop 'compartmentalizing' your space. Start thinking (and designing) like Europeans and Asians (who have smaller bathrooms) have had to do for years.
Enter – and explore – the one level wet room. With wet rooms your bathroom is designed as one continuous space. It turns small compartments of space into one large block of space. It gets rid of the barriers (like the shower enclosure which (literally) has walls which ARE closing in around you).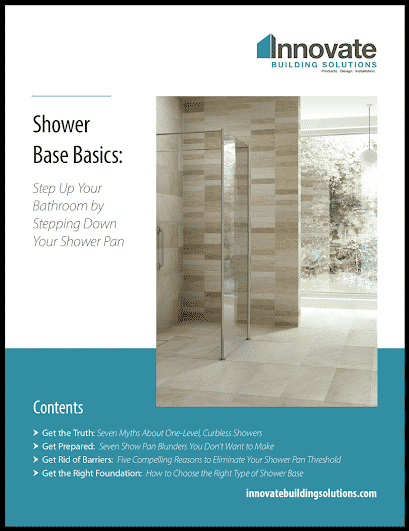 Get Our Ultimate Shower Base Guide!
Step Up Your Bathroom by Stepping Down Your Shower Pan!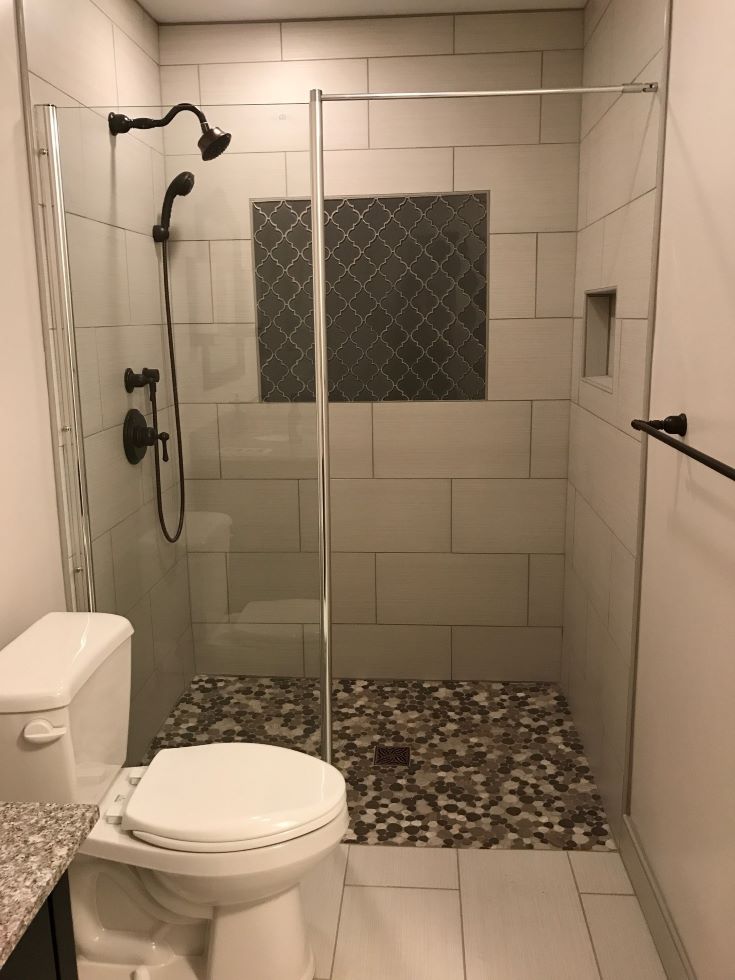 Idea #9 – Make sure your toilet is at a comfortable height
If you're tall or need to get around the bathroom with a wheelchair or walker, a standard height toilet (which is about 14 ½" from the bowl to the rim) isn't as simple to use as it used to be for you. And if you think about this it makes sense when you realize a standard height toilet is 5" lower than a standard chair around your kitchen table (which is 19" to 20" tall).
A smarter option for tall people (or those who are mobility challenged)– which makes it far easier to stand up and sit down – is the comfort height toilet. For those tall (or those needing assistance) this can be the perfect height for their 'throne' experience. However, you'll also want to note, the comfort height toilets can make the 'little people' in your home feel like Edith Ann from an episode of Rowan and Martin's Laugh-In (and for those of you not old enough to remember this show, I've included a short – bad pun intended – clip below).
So, are you ready to design- and build – your bathroom for your big, small, or tall people?
After reading this article I'd hope one thing is obvious to you. Designing a bathroom which is comfortable, useful, AND stylish for big, tall, or small people WILL NOT happen automatically. It takes more thought, more research and NOT accepting the 'standard' solution your builder or remodeler usually does on every other job.
Whether you're 'V.C.' (Vertically Challenged) – or a frequent shopper in the big and tall shops, don't 'settle for' a standard uncomfortable bathroom. You can get a stylish space which truly works for all the shapes and sizes your family has to 'throw' at your bathroom. DO NOT settle for anything less than the functional, fun, and fashionable bathroom you deserve!
And if you're not sure how to pull these elements together, me and my team would be honored to help. You see we supply nationally (and install bathrooms regionally in the Cleveland Ohio area) all shapes and sizes of glass shower doors, wall panels and shower pans – which work for the big, tall and small amongst you.
For nationwide design assistance and product supply call 877-668-5888, for a Cleveland bath remodel call 216-531-6085, or click for a Free Design Consultation. There's no reason to go on this journey to a better master or hall bathroom alone!
Thanks for reading (and putting up with – at times – my wacky humor).
Mike
###
If you want more advice (with less wacky humor because you'll see the 'buttoned-up' business version of me) follow me on LinkedIn @MikeFoti.
And if you're a bathroom remodeling contractor interested in being a dealer of unique shower wall panels, shower pans and glass shower door systems and purchasing quality shower kits, call 888-467-7488 and ask for Mike.
---
Mike Foti
President of Innovate Building Solutions a nationwide supplier and regional (Cleveland and Columbus) remodeling contractors. Some of our product lines include glass counters, floors, backsplashes, glass blocks and grout free shower and tub wall panels
---