How to Choose the Best Shower Alcove Kit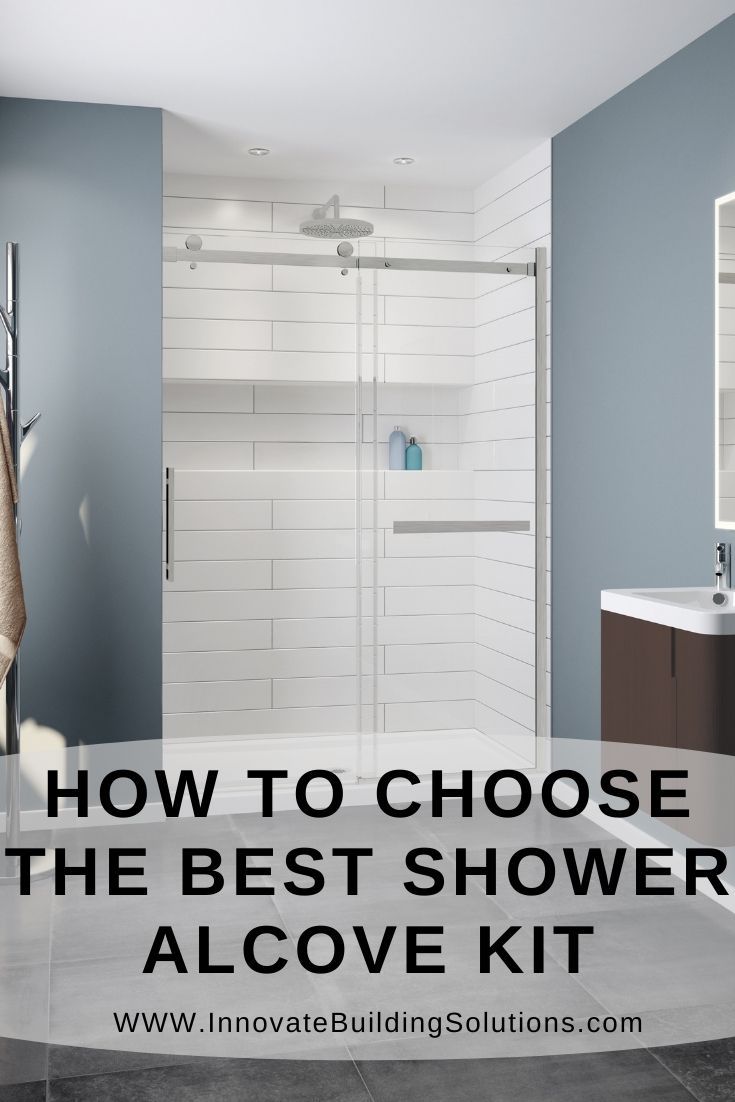 Remodeling your bathroom IS NOT something you do every day. And whether you're looking to pull out your tub and replace it with a shower or looking to remove your yellowed and stained one-piece shower surround and upgrade with a new system – you'll learn quickly the options are overwhelming.
The question becomes how can you choose the best alcove shower kit AND get a quality finished product AND know it's going to last AND won't break the bank? And that's a lot of important factors to figure out.
One smart way to accelerate your research and make finding the best alcove shower kit is to check out the 10 tips below. You see me and my team have worked for years helping homeowners and remodeling contractors alike to sift through the (seemingly) endless stream of alcove shower products and systems. However, I know in the end the ONLY kit which is the best choice ….is the one which works for you. So, let's dig into these 10 tips to get you on the right track.
Tip #1 – Figure out what 'the best' alcove shower kit means to you.
OK – let's face facts – the very term, 'the best,' means different things to different people. And when you're looking to identify the best alcove shower kit, I'd recommend you choose the top 2 or 3 factors from the list below to guide your selection.
Factor #1 – Choose the cheapest system.
Factor #2 – Select the sturdiest products.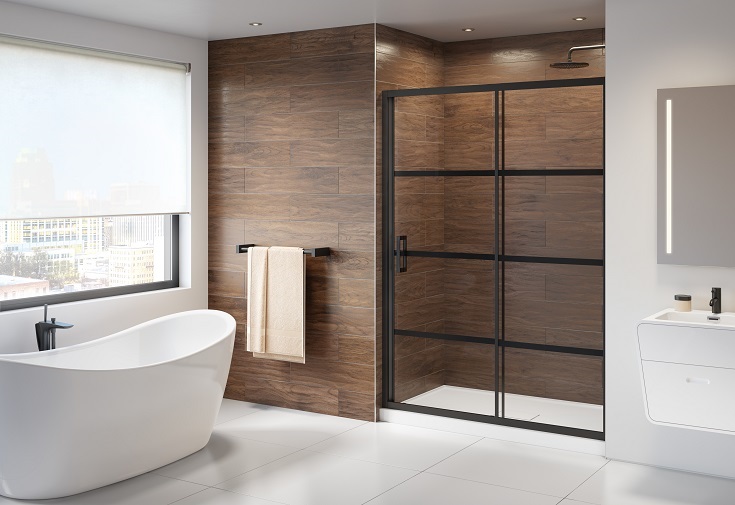 Factor #3 – Choose the system with the widest range of selections.
Factor #4 – Buy an alcove shower kit which looks the most realistic (not like the plastic units you see at big-box stores).
Factor #5 – Consider a system with the best guarantee.
Factor #6 – Get a system which you buy from a company with the best, and most thorough technical guidance and customer service (and a direct number to an ACTUAL human being you can call if you need help).
Factor #7 – Choose a shower system which is the safest.
Tip #2 – Determine if you need a standard or custom-sized shower kit
While it doesn't take a crack detective to find standard alcove shower kits in 48" x 36" (with a center drain) or 60" x 32" (with a side drain) or 60" x 36" (with a center drain) sizes, what you may not realize is the following: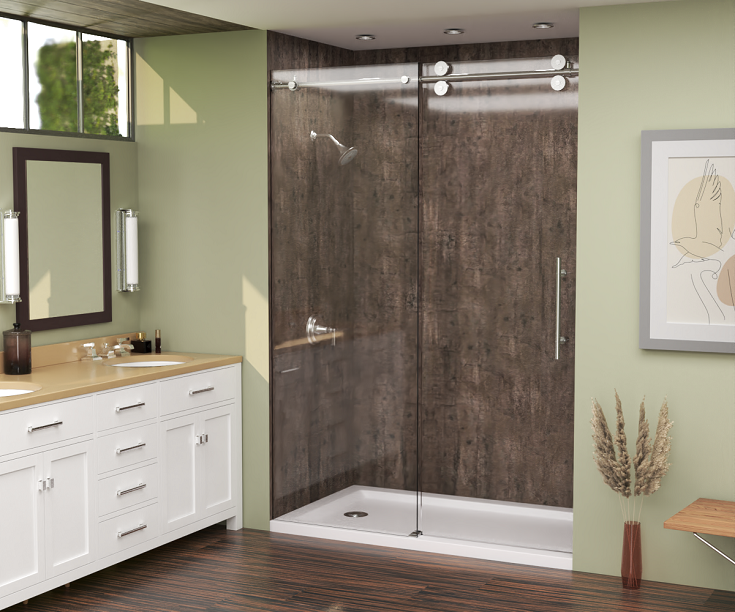 #1) You can order (although it will take a month or two to get) a custom alcove shower with a custom shower base and a shower wall panel system which works in non-standard sizes.
#2) Even though you may think you have the right size to buy a standard kit (based on the overall size of the shower pan), you could still need a custom base if the drain was put in a non-standard location (for example if you need a 60" x 32" shower pan and the drain is in the center, you'll need a custom base).  
Be careful before ordering to figure out if you need a standard or custom kit.
The Ultimate Shower Replacement Kit Guide
Clear advice on bringing your bathroom to the next level
Tip #3 – Make sure your alcove shower kit includes 3 elements – a base, wall surround panels and a glass shower door
 There's nothing worse than thinking you've found a great shower bargain…only to learn (after the fact) you didn't get everything you needed in the kit.
A complete shower kit has 3 key elements (unless you're using a shower curtain instead of a door – or tile surround walls). These components are:
A shower pan
A glass shower door
Make sure you're not getting a system which you think is cheaper until you find out (after it's too late) you're missing a key element.
Tip #4 – Don't settle for a thin, white plastic shower pan  
If I'm being honest, the shower pan IS NOT the sexiest part of your new shower. In fact, it's likely the most boring part. However, a structurally sound shower base IS the foundation of the entire system. If your pan cracks, you have a HUGE problem (note – if it fails you may have to replace the walls above as well).
Its for this reason you'll 'cheap-out' on your shower pan at your own risk. Even if you're not worried about a stylish shower pan- at least insist on a sturdy shower base. Two options to consider to make sure you get a solid pan are a contemporary reinforced acrylic pan (which uses multi-density fiberboard underneath to strengthen the pan) or a low-profile solid surface pan. And if you do want to add style, check out these marble-look solid surface shower bases.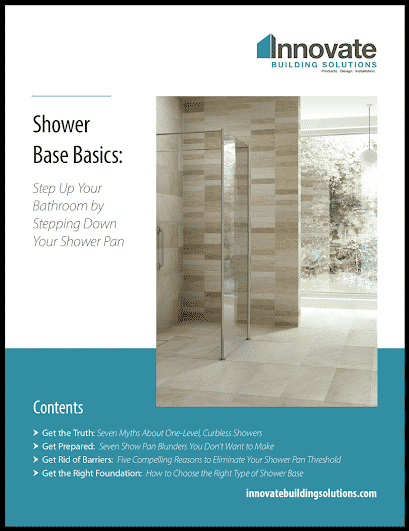 Get Our Ultimate Shower Base Guide!
Step Up Your Bathroom by Stepping Down Your Shower Pan!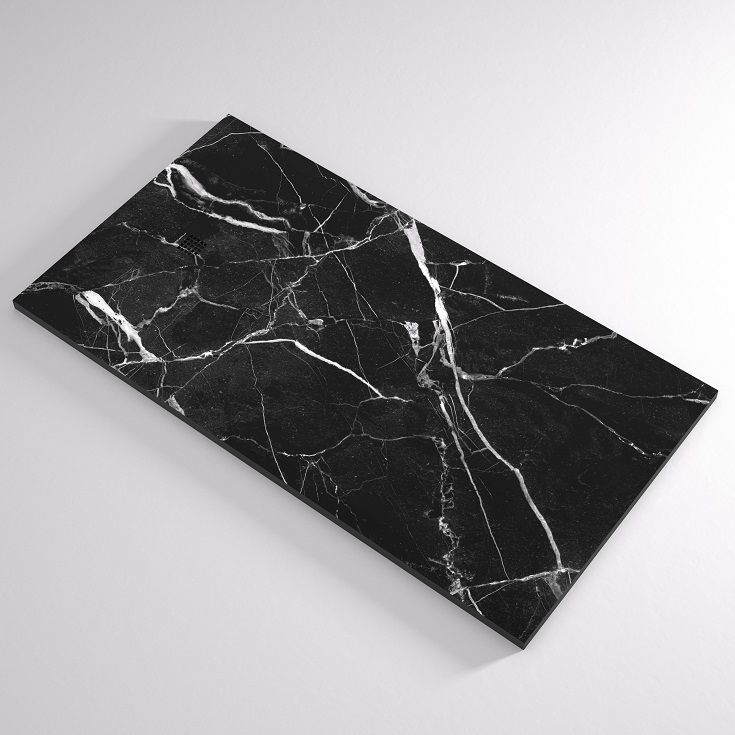 Tip #5 – Make sure the shower pan will work for you and your family – both now and into the future   
Just like when you gave little thought to the fact you had a tub in your bathroom when you bought your home years ago, many people give minimal thought to the height of the shower curb when buying a tub to shower replacement kit. And this oversight could become a big mistake down the road.
Depending on your circumstances, it can become hard for a family member to step over a 4" or 5" high shower curb if their mobility isn't as good as they age. It's for this reason I'd play it safe (while also playing it stylish) and use a modern low profile shower pan. And when you buy this pan with a 1 1/6" high curb you can be confident you WON'T need to rip out the entire shower because the shower curb is too high!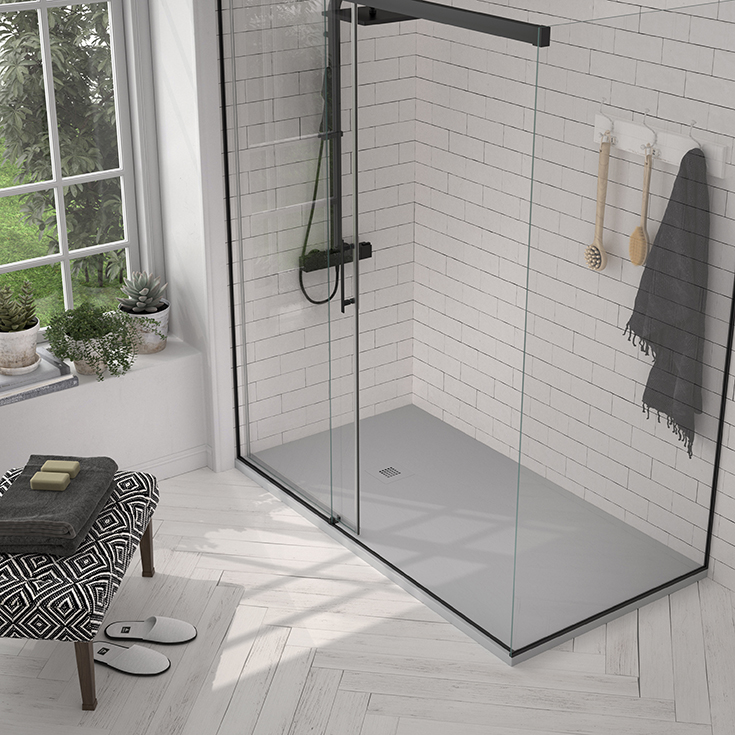 Tip #6 – Don't settle for white, plasticky shower wall panels UNLESS you need a low-price shower kit
Sometimes a plain, thin plastic shower surround panel system will do fine (for example when you're doing a 'fix and flip' in a low value neighborhood). However, if this is a home you're planning to stay in for years to come, you'll want a sturdier AND more stylish shower wall surround option.
And if this describes your situation, I've got 3 options for you.
Option 1 – 3/8" thick, click and lock laminate shower wall panels – These panels are (IMHO) the most realistic wall panels on the market. They're not only available in 'organic' patterns like cracked cement, but also in tile and stone looks. And since they come in 23.6" wide x 94.4" high sections and only weigh 26 lbs. per panel, they can be installed without rounding up a bunch of your burly friends (or big boy or girl contractors) to put them up. And it's nice to know they come with a lifetime guarantee.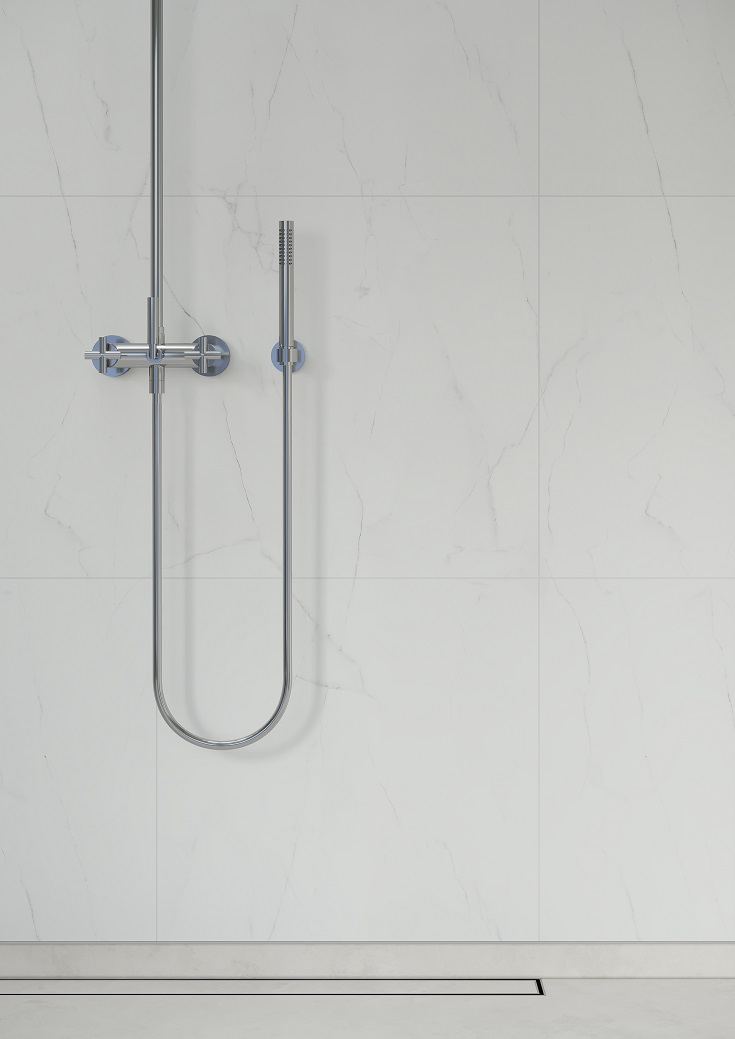 Option 2 – 3/8" thick cultured granite wall panels – These panels are the ultimate in sturdy and can be custom made for walls as large as 100" wide. They're downfall is they're heavy (a 60" x 96" panel will weigh 120 lbs.).
Option 3 – ¼" thick decorative PVC panels – If you like a marble-look panel, these units glue up onto moisture resistant greenboard and are a cinch to install. A wide range of premade niches and shelves offer smart storage solutions.
Get Free Samples!
Click here to request free samples of our Laminated Waterproof Shower Wall Panels.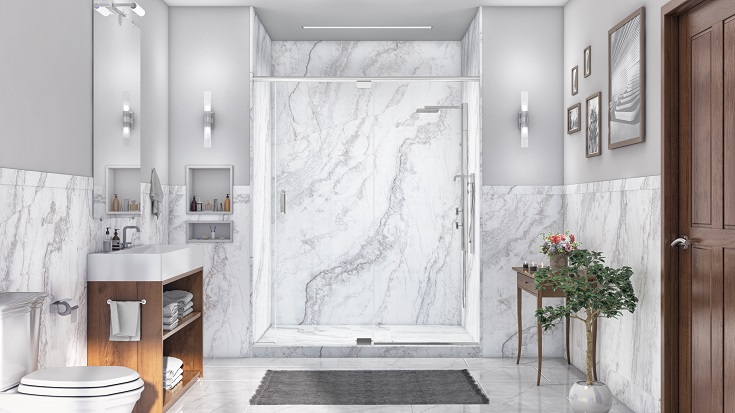 Tip #7 – Make sure your wall panels are wide and tall enough
Cheap shower kit suppliers are notorious for supplying shower walls which don't reach the ceiling or shallow side wall panels which can't extend beyond the shower pan. This leaves your walls unprotected.
Before buying a shower kit pay attention to the shower wall panel dimensions. Make sure you'll get the wall coverage you want.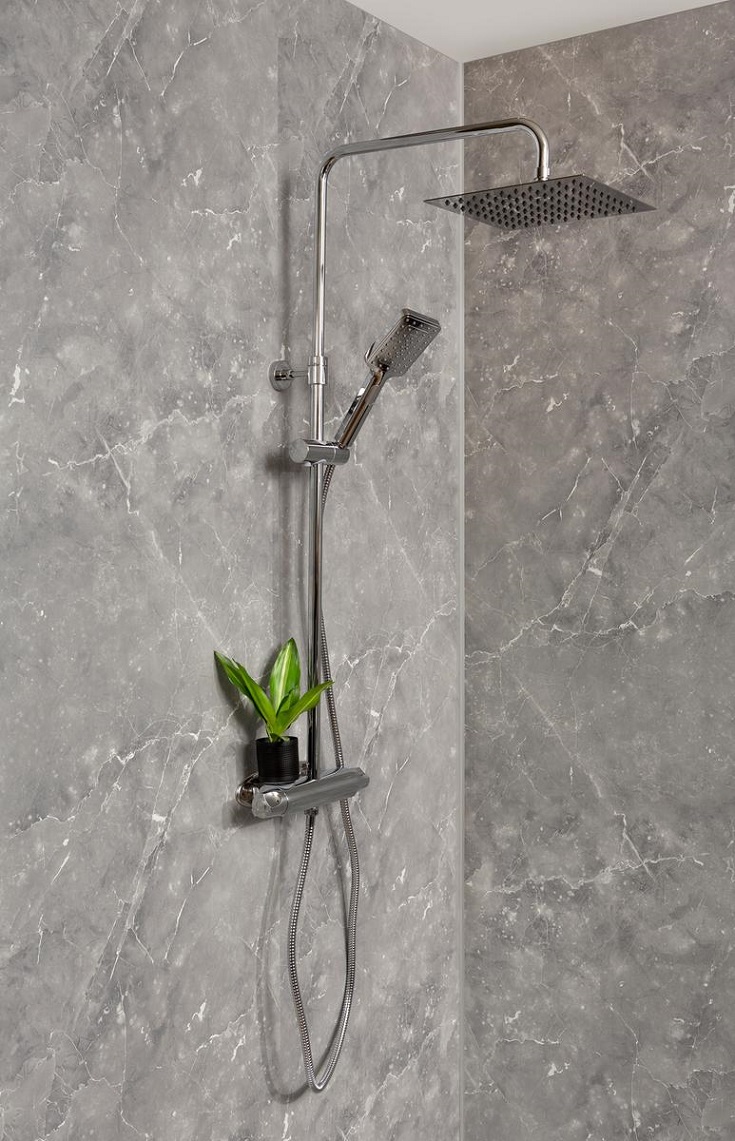 Tip #8 – Don't settle for a short, thin, framed shower door
If you've lived with a wobbly, hard to clean, builders-grade, thin, framed shower door you know how infuriating a cheap shower door can be. And if you're tall – and been a 'victim' of a knock in the head once or twice (or more) you KNOW this time you're NOT settling for a short shower door which requires you to duck while getting in.
And if you're bound and determined to get the best shower door with your alcove shower kit here's 5 things you must keep in mind before buying.
#1) Make sure your new door DOES NOT have an evil 'u track' on the bottom you 'get' (sarcasm intended) the opportunity to clean. Pay attention to the door's design so you won't be 'investing' (that's a P.C. way to put it) more with your time cleaning it.
#3) Think about how the door operates – Does it have 2 sliding doors (also called a bypass door), one slider, one pivoting door or a walk-in glass design? Which layout will make it simplest to turn on the water AND get around your bathroom without banging into your shower door?
#4) Analyze the finish on the door's hardware. If you hate water spots stay away from chrome. Sure, it's cheap, but it's also a spotting nightmare!
#5) Ask if the door has glass surface protection. If you've ever seen shower glass which is permanently spotted – you'll want to look for an upgraded door with glass surface protection. This glass surface protection process (along with a squeegee) protects your glass from permanently being spotted.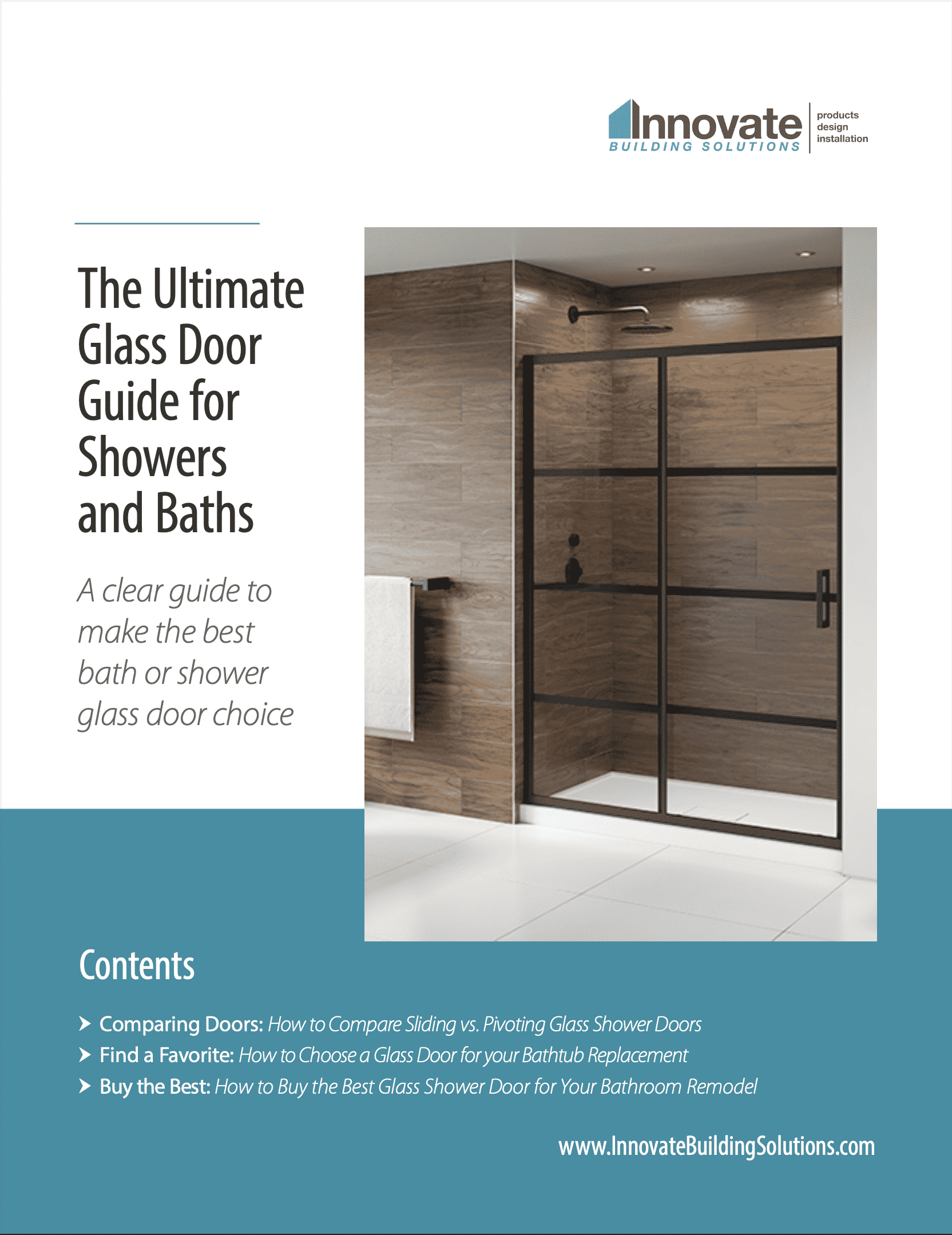 The Ultimate Glass Door Shower Guide
A clear guide to making the best bath or shower glass shower door choice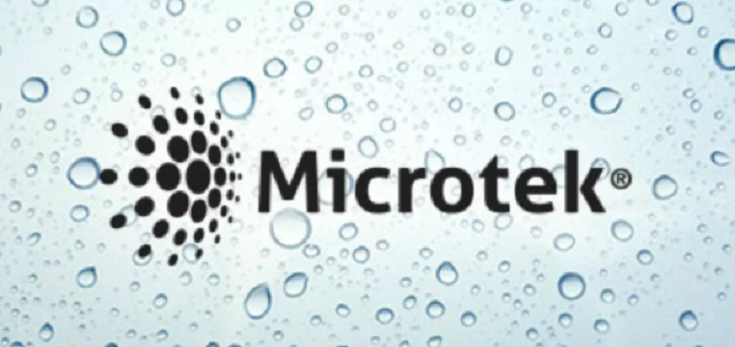 Tip #9 – Make sure you won't get 'nickled and dimed and dollared' AFTER buying your alcove shower kit
While e-commerce sites with cheaper shower kits show what IS included in their alcove shower kits, they don't point out is what ISN'T included. This often includes these essential elements
A drain kit for the shower pan – You can't finish the job without a drain, now, can you?
Sealant for the shower wall panels – You need sealant to complete the install. And you don't want to worry if you bought the wrong sealant – if it wasn't included in the kit – which voids your warranty.
A shower door – Unless you're going with curtains (which can be a pain to maintain), a shower door is required.
The Ultimate Shower Replacement Kit Guide
Clear advice on bringing your bathroom to the next level
Tip #10 – Know who you're gonna call when the going gets tough
There's that old saying, "when the going gets tough, the tough get going." And while this adage can be uplifting to motivate you into action – I'd argue in an alcove shower remodeling project it's NOT smart to 'just get going' if you don't know what the heck you're doing!
I think this saying (at least if you're doing a shower remodeling project) should be changed to say…
"When the going gets tough, the smart people know SPECIFICALLY who to call for help!"
And as you know everything 'looks easy-peasy' in the installation videos and instructions. At least it looks easy until YOU get to try it on your walls and floors which are anything but square, true, and level. Your personal version of This Old House can (and is) a pain to work on.
So, here's what I'd recommend BEFORE plunking down your dough. Know the (specific) name, email address and cell number of whom you're going to call for help (if you need it). And if all you can squeeze out of your CSR (Customer Service Rep) is her name is Karen G. (and the 'G' stands for Goodluck getting in contact with me after I've made the sale and my company has your money!), you'd better be prepared for a B-A-D after sales experience if you need help.
Bottom line – you need to know whose going to help you when your going gets tough!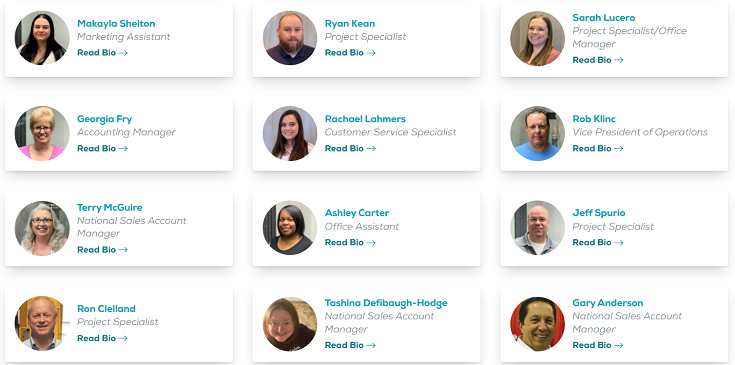 So, do you have a game plan to choose the best alcove shower kit?
Me and my team know from working with tens of thousands of people attempting  to choose the best alcove shower kit is not as simple as you would have thought.
You may be uncertain if your size will work with the standard kit you'd like to buy to save a few bucks.
You may be uncertain if the drain will line up with the hole in the standard shower pan which comes with the standard kit.
You may be uncertain if the shower door thickness and framing system will hold up to the TLC ('er sarcasm intended) your family will give it or if the door will be a pain to maintain and is a spot magnet.
In short you have questions and NEED answers to make sure you're making a smart choice.
And if you want help AND are looking for a quality alcove shower kit, our team would be honored to be there for you. Call 877-668-5888 or click for a Free Design Consultation. And if you're looking for a contractor, comment below and we'll see if we can get you a referral from our professional dealer network.
Thanks for reading – Mike
###
If you want more advice (with less wacky humor because you'll see the 'buttoned-up' business version of me) follow me on LinkedIn @MikeFoti.
And if you're a bathroom remodeling contractor interested in being a dealer of unique shower wall panels, shower pans and glass shower door systems and purchasing quality shower kits, call 888-467-7488 and ask for Mike.
---
Mike Foti
President of Innovate Building Solutions a nationwide supplier and regional (Cleveland and Columbus) remodeling contractors. Some of our product lines include glass counters, floors, backsplashes, glass blocks and grout free shower and tub wall panels
---