17 Sure-Fire Ideas to Save Money on a Custom Shower Remodel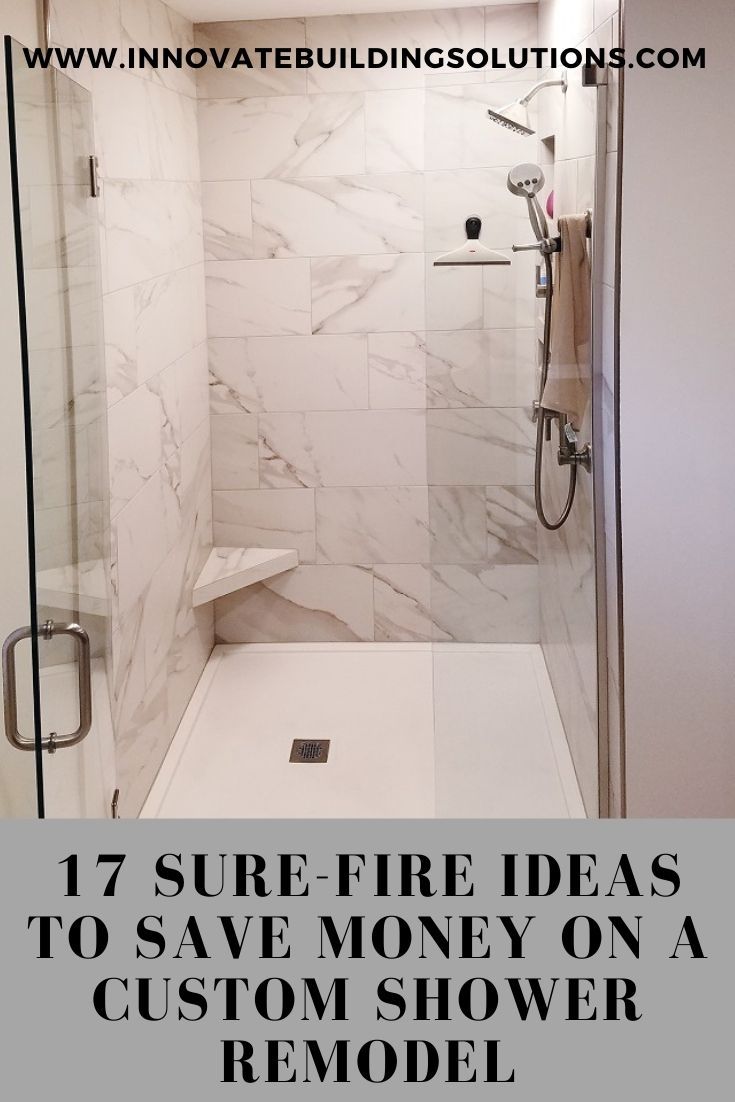 Do the words 'custom shower remodel' make you break out into a cold sweat?
If you're like most people, it sure does. Custom = Expensive. And expensive IS NOT what you've budgeted for your shower remodeling project.
It's simple for costs to get away in a custom remodel. And unless you're looking to take out a second mortgage, or dip into the kids (or grandkids) college funds, you'll need to be thorough and thoughtful to get a custom shower which is not only stylish but built to last and won't drain your savings either.
But how can you realize your illusive goal of a cost-effective, stylish, and durable custom shower?
Well – in this article I'm going to give you 17 practical ideas to save money on a custom shower remodel.
And at the end of the article, I'd love to know not only how many of these ideas were 'news to you,' but more importantly which ones you're going to use to save a few bucks. And – feel free to bring up questions you have in the comments as well. There's always a lot to learn about shower remodels.
Here's how I've structured this article.
In part 1 I'll look at ideas to save money on shower pans.
In part 2 I'll give you tips to save on shower wall surrounds.
In part 3 I'll take on those 'ever-so-expensive' glass shower doors, and strategies to tame costs.
In part 4 I'll look at often overlooked shower accessories.
And finally in part 5 I'll look at general cost-saving ideas to bring it all together.
So, without further delay, let's look at 17 sure-fire ideas to save money on your custom shower remodel.
Part 1 – Money saving custom shower pan ideas
Cost-saving shower pan idea #1 – Use reframing to resize to a standard shower base.
Do custom shower pans cost more than a standard pan (with common drain location)? Yes, they certainly do. However, one idea to cut costs can be to reframe the opening to fit a standard sized pan. Let's say you have a 66" x 32" space. If you reframe it to a 60" x 32" area you can use a cool looking shower base like the one below….and save money vs. a custom cultured stone or tile shower base.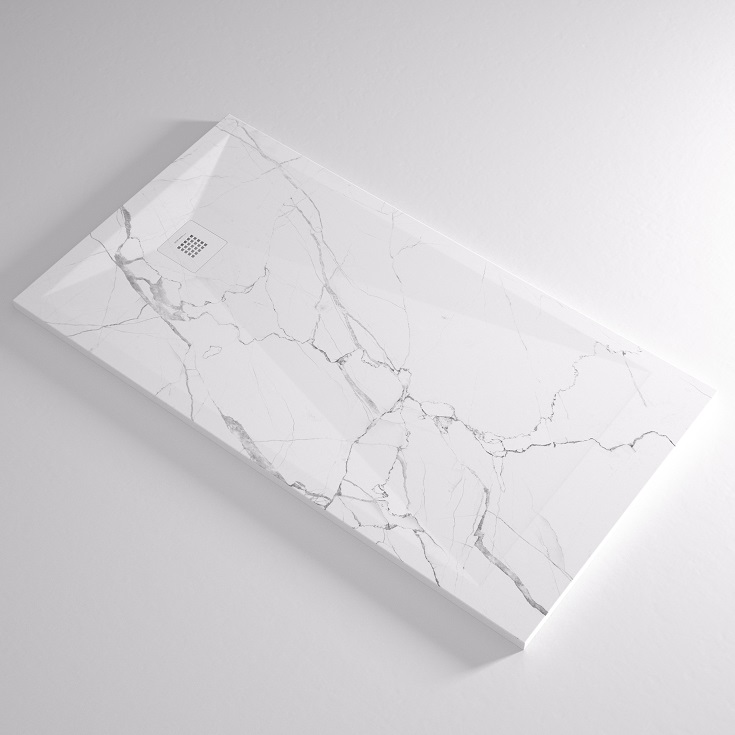 Cost-saving shower pan idea #2 – Don't move the plumbing
In some areas of the country plumbers are pulling down 6 figure salaries. Yes – they're being paid far beyond being just guys best known for their butt-cracks (OK – sorry if this offends you, but just keepin it real!). Skilled plumbers and contractors are now being compensated well for what they bring to the table (or should I say shower floor).
Plumbing costs are going through the roof ('er floor). But there are ways to save on these expenses. And one smart way to make this happen is to not move your toilet and shower. Keeping the same overall 'footprint' will keep the lid (sorry about the bad toilet pun) on plumbing costs.
Cost-saving shower pan idea #3 – Don't be short-sighted and buy the wrong curb height
There's nothing more frustrating than making a costly mistake which could have been avoided IF you'd have been more thoughtful in your planning.
And one costly mistake I've seen made time and again is using a shower pan with a tall curb which ends up not working for a member of the family who becomes mobility challenged. It's smarter – and safer –to choose a low-profile shower pan. They not only look sleek and stylish, but can save on unwanted hospital stays if a loved one trips and falls on the way in.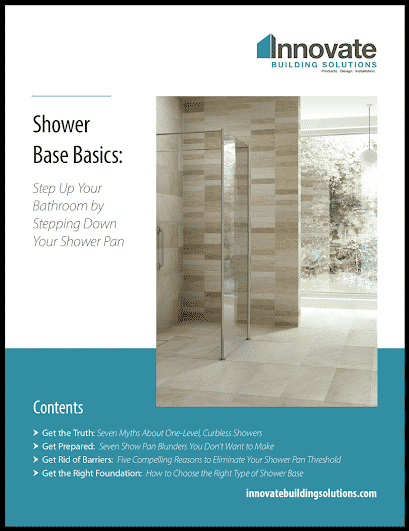 Get Our Ultimate Shower Base Guide!
Step Up Your Bathroom by Stepping Down Your Shower Pan!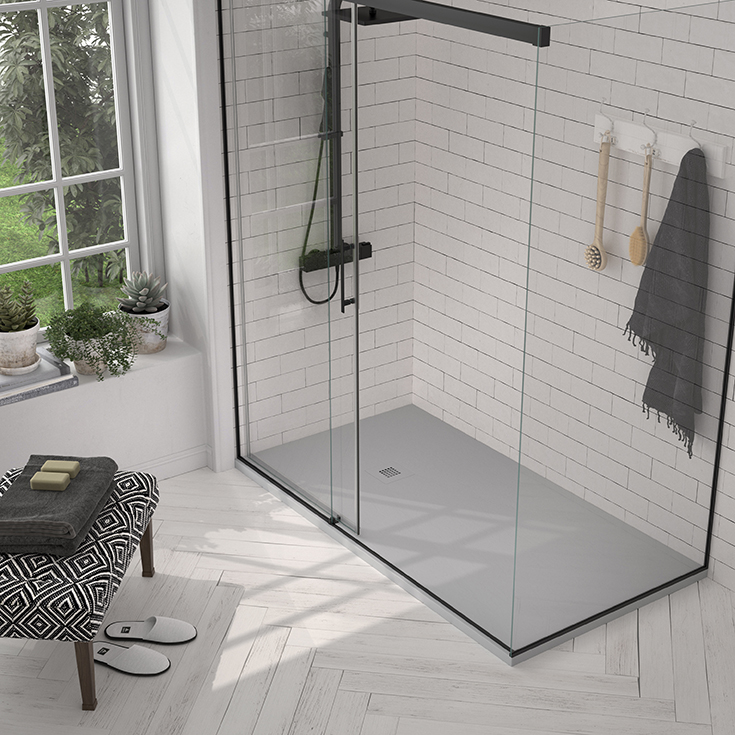 Cost-saving shower pan idea #4 – Don't buy a cool linear drain, if you can avoid it
I don't know about you, but I love the look of contemporary linear drains. And while they do a wonderful job quickly moving water from a shower floor pan and look uber-stylish, they'll cost $200 to $600 more than a custom shower pan with a standard 2" drain. And while – cool is fun, I'd argue the smartest place to splurge is NOT with the shower drain. Consider getting your 'style points' with unique shower fixtures, decorative shower wall panels (more about these later) or a stylish glass shower door.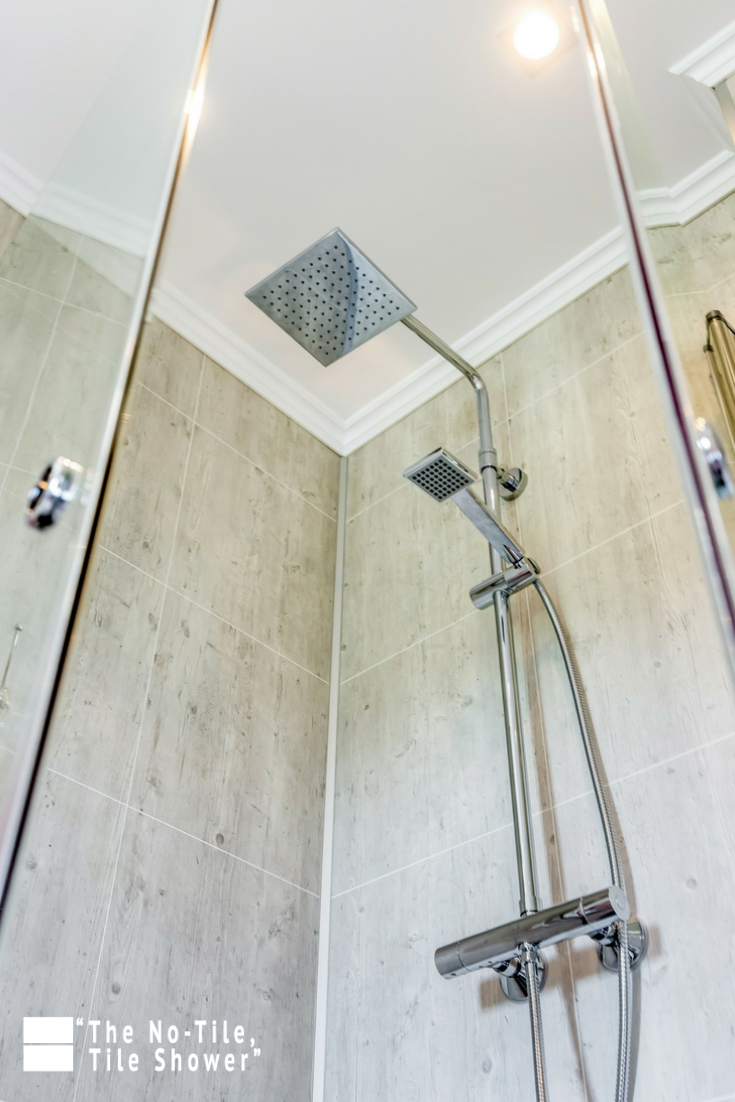 Part 2 – Money saving custom shower wall surround ideas
Cost-saving custom shower wall surround idea #5 – Choose grout free wall panels vs. tile to reduce installation costs, maintenance, and save money
What's cool about custom tile shower surrounds is designs are virtually unlimited. And while intricate tile designs are fun– they require 2 things which drive up costs of a custom shower significantly:
#1) They require a high skill level. And highly skilled craftsman/craftswoman …. if you can find them…. WILL NOT come cheap! You'll pay dearly in today's tight labor market.
#2) They're costly to maintain. And unless you have a housekeeper, you've got to be prepared to bring out your scrub brush and cleaning solutions if you're going to use custom tiles.
By now – if you're wondering if it's possible to get intricate tile designs WITHOUT the high costs and maintenance the answer is… (and this is a Ripley's Believe it or Not moment) a big YES!
With (click together) laminate shower walls for example, you can get fun herringbone designs while getting rid of grout joints and expensive labor installation time and skill levels.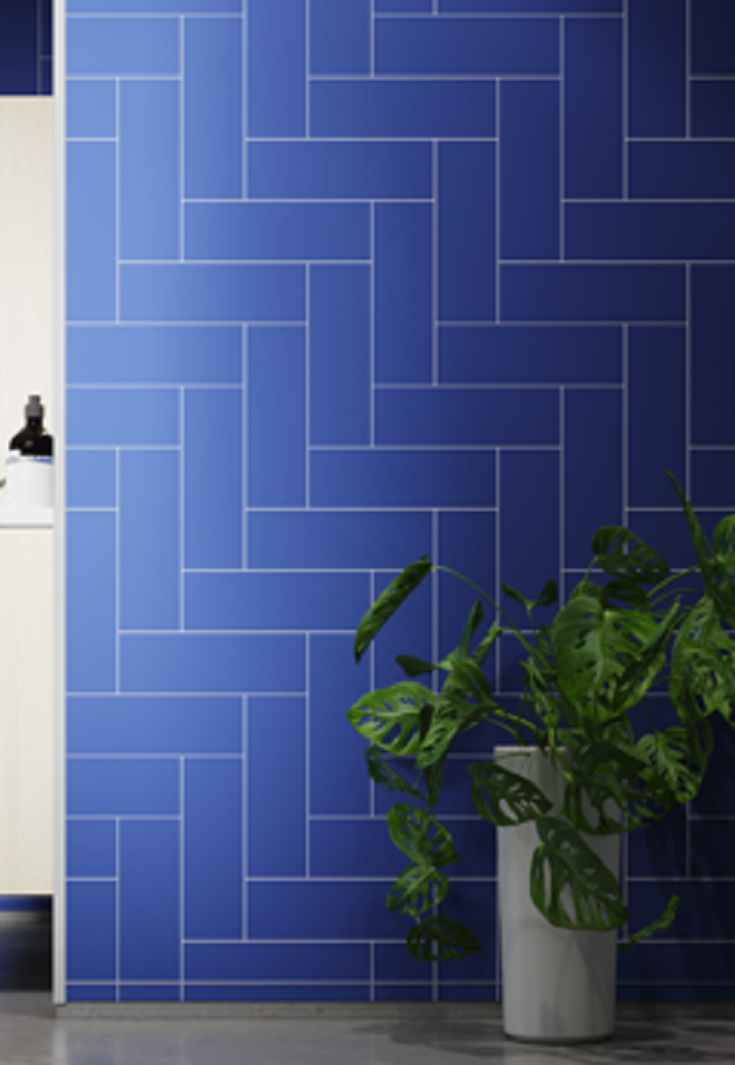 Cost-saving custom shower wall surround idea #6 – Choose wall surround products which can be installed by one person  
If you have an over-sized custom shower and don't want to use tile (because you HATE, HATE, HATE cleaning grout joints) – you may be worrying how you're going to find a wall panel system which won't take Two Men and a Truck to install? Well, the answer to this challenge is to look for modular wall panels.
And one such modular system – which clicks and locks together – are laminate wall panels. They're not only available in 30 patterns/styles – but they're more time effective to install and simpler to maintain.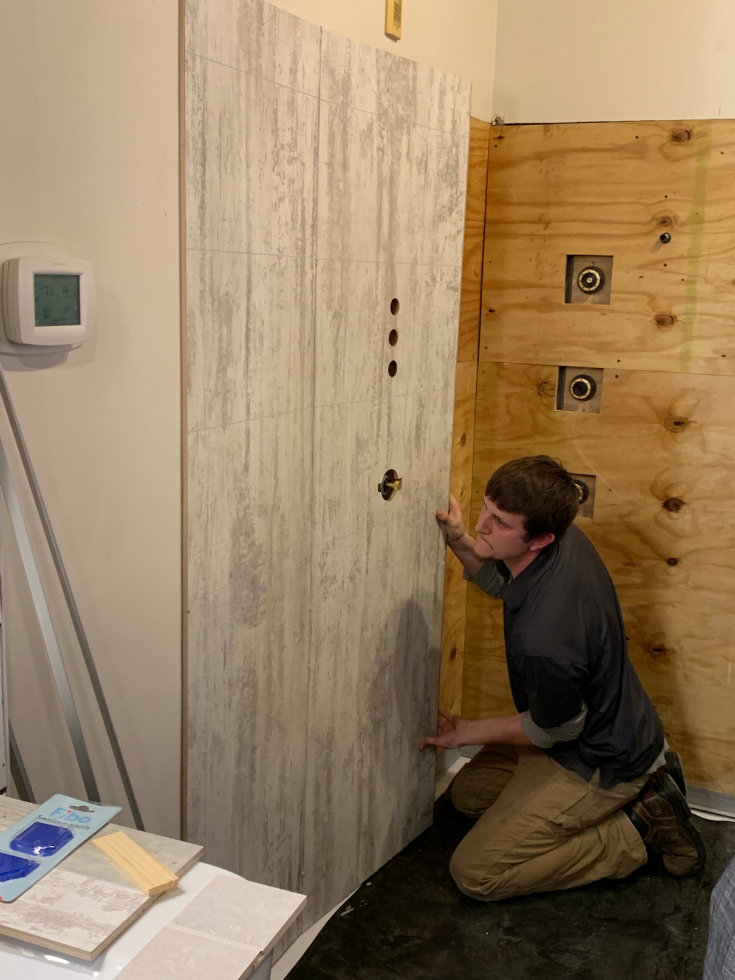 Part 3 – Money saving custom glass shower door ideas
Cost-saving custom glass shower door idea #7– Use a clear vs. frosted glass shower door  
While it can be nice to use frosted glass to reduce spotting, if you're looking to keep costs down (and have a unobstructed view of your stylish tile or grout free wall panel surrounds) a clear glass shower door is best. And besides you'll pay $150 to $600 more for patterned frosted glass shower doors than comparably sized clear units.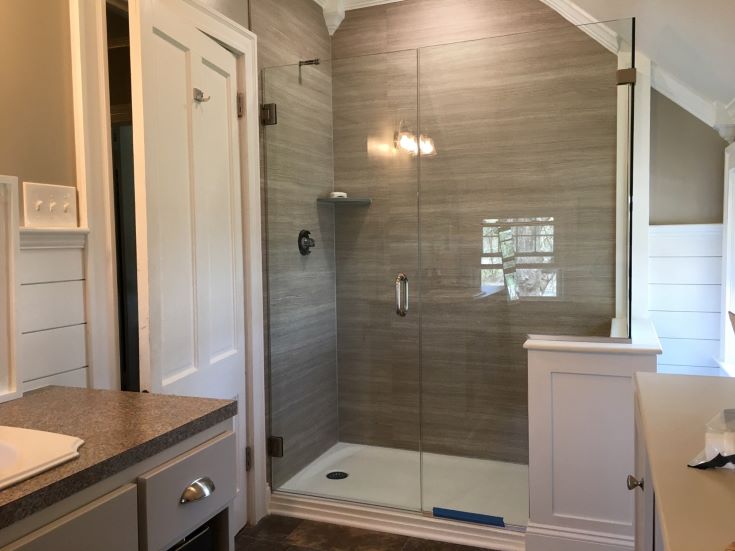 Cost-saving custom glass shower door idea #8– Use a pivoting vs. a sliding glass shower door
 While pivoting doors are not the right solution for every bath remodel (especially in small bathrooms) they are less expensive than bypass doors (with 2 sliding shower doors) for two reasons:
Reason #1 – Since there's no header at the top of the door, you can buy shorter pivoting doors even if you have tall people in your family.
Reason #2 – Pivoting doors need less hardware than sliding or bypass shower doors which keeps costs down.
And if you want more insights on choosing a pivoting or a sliding glass shower door read, How to Compare Pivoting vs. Sliding Glass Shower Doors.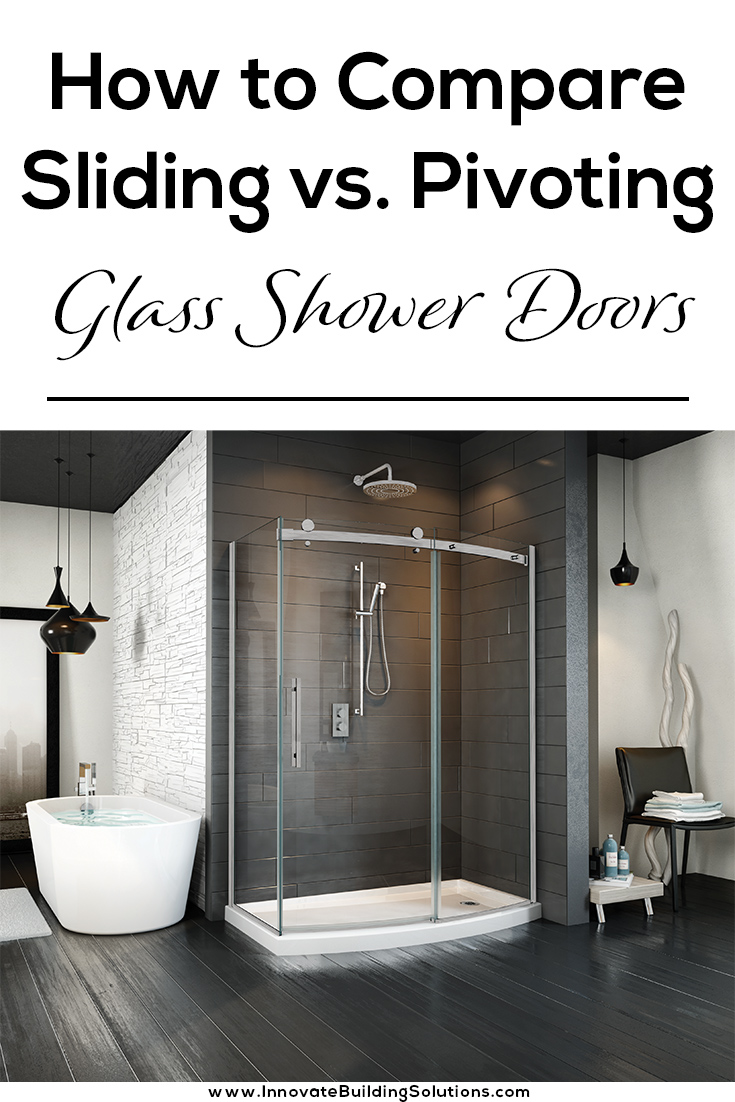 Cost-saving custom glass shower door idea #9– Ditch the 'full door' for a partial door'
When you have a custom-sized shower (for example with a 63" wide opening which needs a 63" wide door you can expect NO ONE will be stocking) – you'll find a glass shower door is no small expense. This is why using creative ideas to save money on shower glass can be so important.
And one money-saving idea is to create a walk-in shower with a standard sized glass shower screen vs. a custom glass door. You see with a walk-in shower screen (let's say this 38" wide unit), you not only get 'glass coverage' where you're showering, but you can also angle the door back into the opening to keep water inside.
It's cost effective AND smart!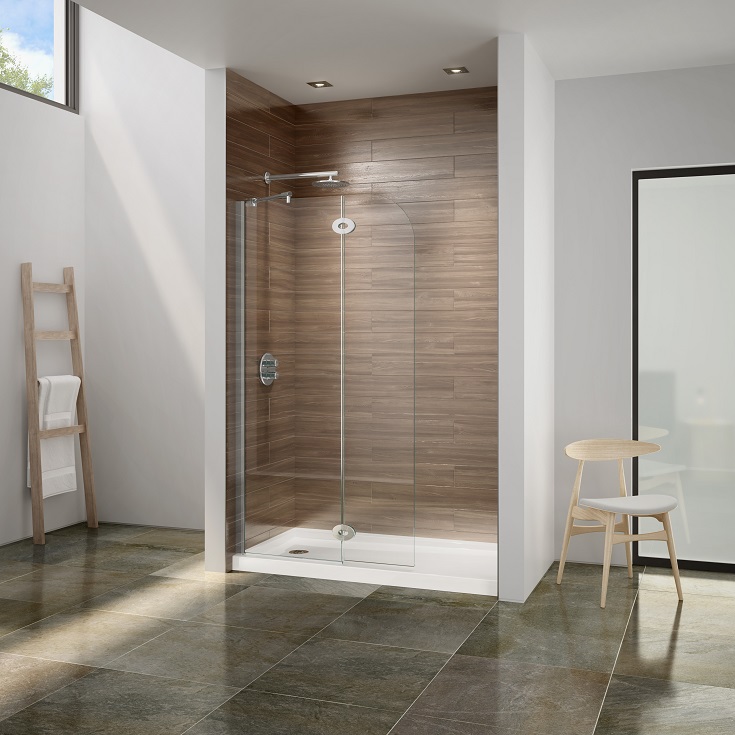 Cost-saving custom glass shower door idea #10– Thin ('er glass) can be in…. especially if your budget is tight
While you like the best of everything, sometimes to make a shower remodel happen you've got to choose budget friendly alternatives. And the way to keep costs down with custom glass shower door is to use a thinner glass door or framed glass shower doors. And while they're not as luxurious as thicker frameless doors like you see in high-end hotels, they can still look stylish.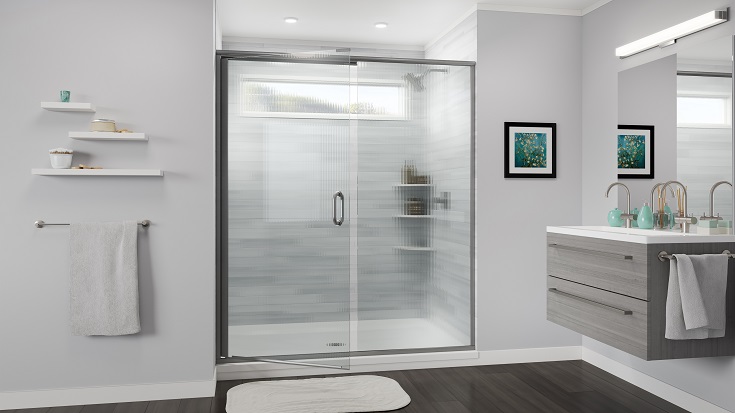 Cost-saving custom glass shower door idea #11– Reframe the opening to use a standard sized door
Like shower pan idea #1 – reframing is a smart strategy to cut costs. However, the one warning I'll give you is if you reframe by adding a fixed shower wall next to the door (to cut glass shower door costs), also pay attention to what this change does to the cost of the custom shower pan. Sometimes you can save in one area (let's say with a cheaper glass door) and then end up spending more in another area (with a more expensive custom shower pan and/or more interior shower wall surrounds which need finished wall coverings).
Part 4 – Money saving custom shower accessory ideas
Cost-saving custom shower accessory idea #12– Use a fold down seat vs. a fixed bench seat
You want to make sure your shower works for everyone in your family. You want to make sure the ladies have a place to shave their legs. However, you also want to make sure the guys aren't cramped while showering because the fixed bench seat you installed is taking up soooo much room.
It's for this reason (and because this tip will also  save money) I'd recommend a fold down seat vs. a fixed bench seat. Simply, fold down seats save room because it's up when not in use. And it saves money because a fold down seat can not only be placed anyplace you like (even right under or to the side of the shower head) – but it's also less costly than building a bench seat into a shower.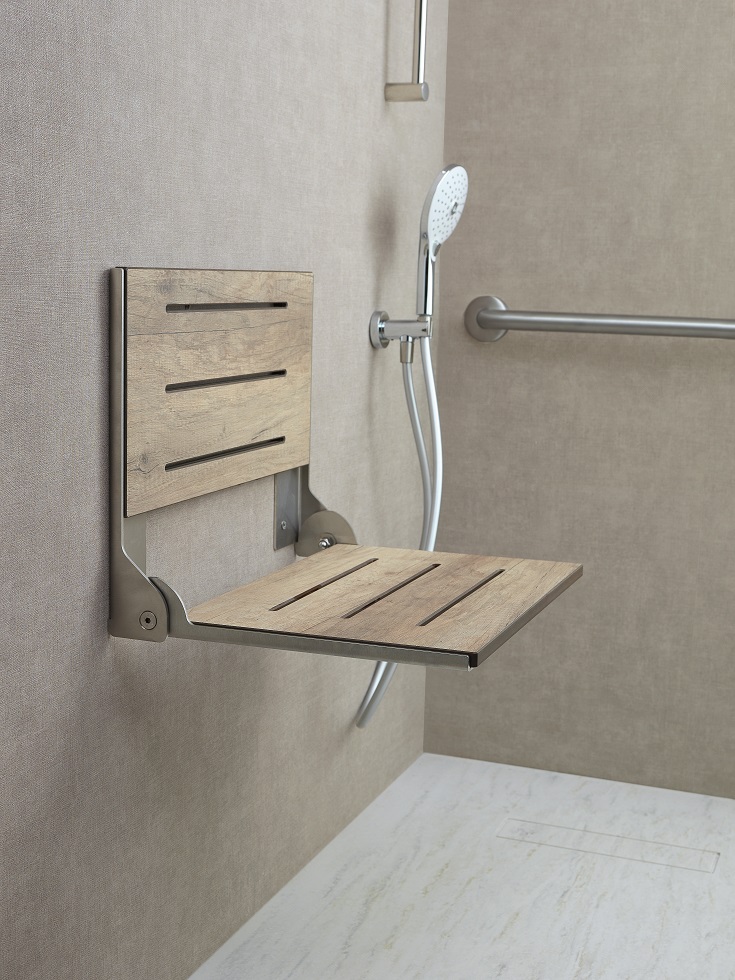 Cost-saving custom shower accessory idea #13– Use corner shelves vs. recessed niches
Although recessed niches conserve space (while taking zero room inside the shower) – they can be time-consuming to install and costly to purchase. On the other hand, corner shelves are simply screwed into the wall surrounds after the walls are up and are less money as well. And since they fit snuggly into the corners, they don't take up useable space either.
Part 5 – Bringing it all together – general ideas to save money on a custom shower
General cost-saving custom shower idea #14– Make sure the quoted price includes shipping and taxes
I don't know about you, but I hate extra fees. And when buying a vehicle, I hate getting hit with 'destination fees' (as if you didn't have to get the rig to the destination), 'documentation fees' (didn't they know all-along they had to get the paperwork together to buy the car?), 'dealer fees' and taxes. And heck, they even charge extra if you want mats!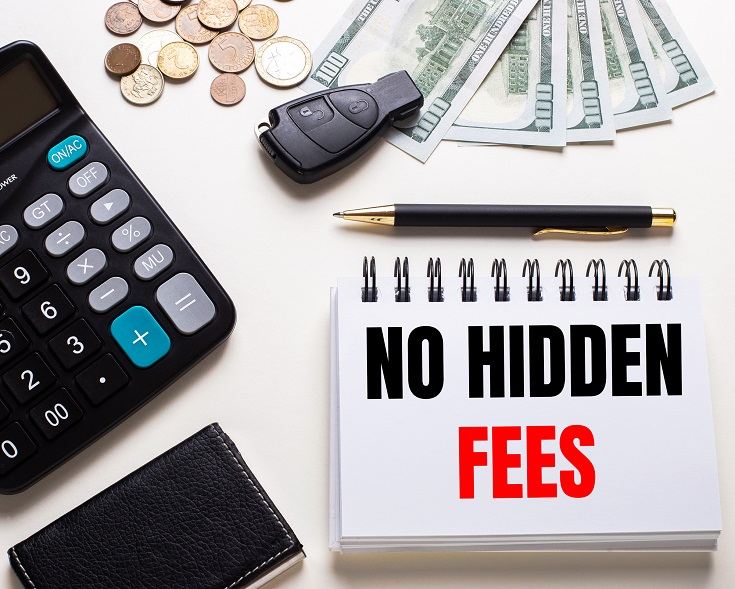 This same problem can happen when buying a custom shower kit. You may be quoted a rock-bottom price only to learn the delivery costs (which are getting crazier by the day) are not included in the 'low' price. And then you learn you have to add taxes onto those numbers as well.
However, these surprise fees don't have to be your problem. Before handing over your credit card make sure you know the total cost. Some companies quote their custom shower kits including delivery and taxes. Some nationwide companies (who aren't as big as Amazon) DO NOT even have to charge state sales tax when shipping out of state.
When comparing vendors know your total costs before completing your purchase.
General cost-saving custom shower idea #15– Think about 'total costs' vs. 'initial purchase costs'
It would be nice to believe the costs of a custom shower end after the shower is installed. However, this IS NOT the case. There's one B-I-G cost which can 'dog' you for years to come. And that cost is….
Maintenance.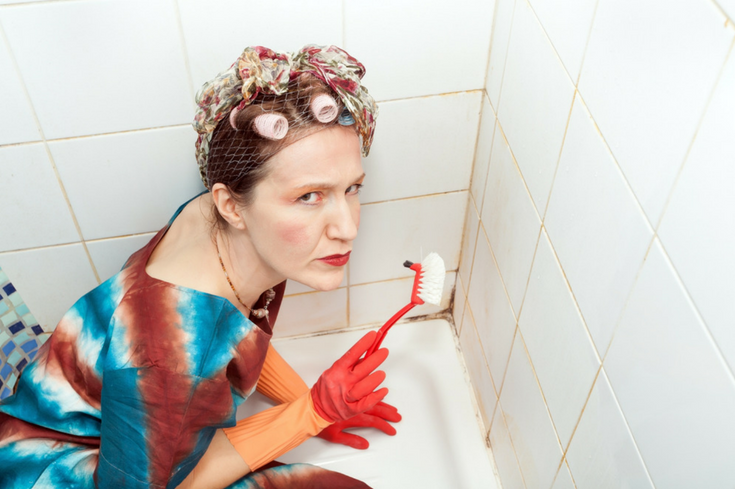 Maintenance is not only a pain to do (if you're the one cleaning grout joints with crazy chemicals or a scrub brush you know what I mean) but can be costly (if you're hiring others to come in to clean the mold and mildew for you, these yearly costs add up).
And if you're debating between a custom tile shower and a grout free custom shower (with a cultured stone shower pan and/or grout free wall panels) to truly compare total costs, you'll want to factor in the costs of ongoing maintenance so you're not fooling yourself believing tile is such a deal.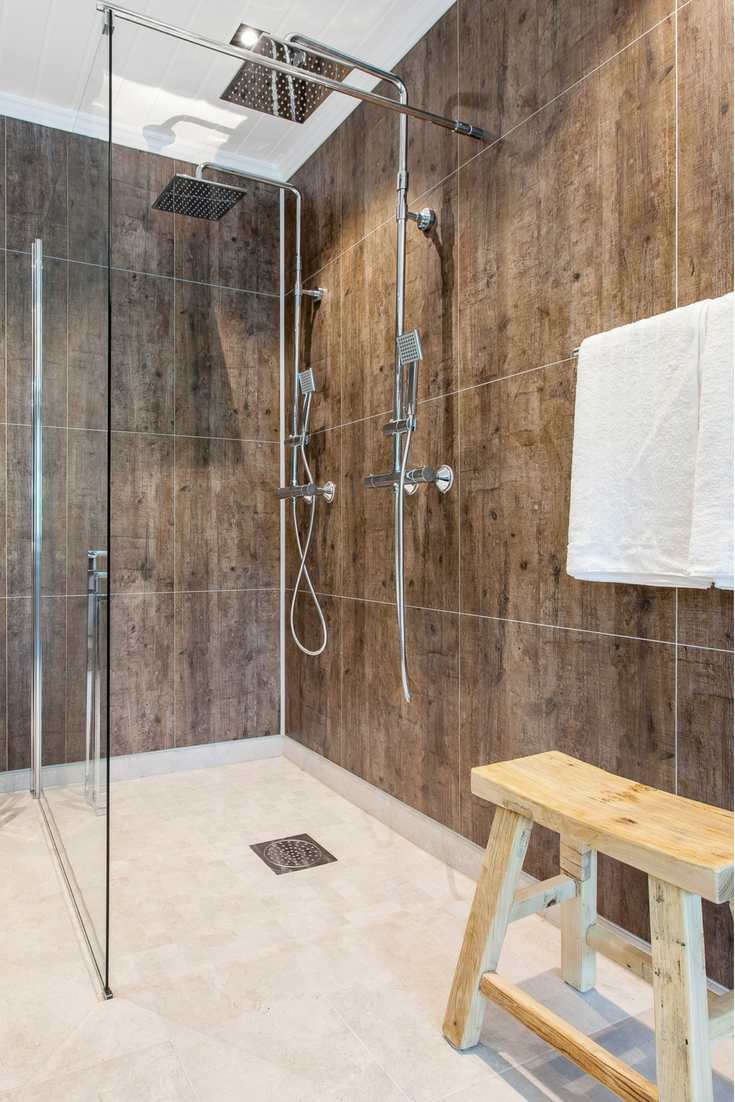 General cost-saving custom shower idea #16– Minimize project delay costs
Benjamin Franklin once said, "If you fail to plan, you're planning to fail." And when it comes to a shower (or bathroom remodel) there's a lot more details to a successful (and cost-effective) project than meets the eye (just ask anyone who's done a shower project recently).
And costs really start escalating when the planning is haphazard. And when this happens problems like these can arise.
Your contractor finds out the custom shower pan you purchased won't work because the drain is in the middle of your joists.
You find out the (supposedly) complete shower replacement kit you bought DID NOT include sealant, screws or trim pieces. Now your contractor has to go to the home center store (while you're footing the bill for this additional time) to try to get the components they need. These wasted trips can gobble up your money quicker than Uncle Louie eats turkey on Thanksgiving.
Your job gets shut down because your contractor didn't pull permits. You learn your project will be delayed by months! Ouch! And to make matters worse, the 'subs' on the job are now 'sub-jecting' (get the pun…) you to higher labor prices because they had to give raises to their installers since they quoted the job.
If you're doing this job yourself – take the time to be as thorough as possible. And if you're contracting the project, don't hire a rookie contractor who wrote his estimate for you on the back of a legal pad. Don't rush planning this shower remodeling project, or you'll be sorry.
General cost-saving custom shower idea #17– Make sure you buy a complete custom shower kit
It's really a bad day when you find the custom shower glass you purchased DOES NOT fit onto your custom shower pan. Or it's a bad day when you learn you didn't get sealant or trim profiles for your grout free wall panels (and you're forced to make yet ANOTHER trip to your local home center store). Then you're not even sure if you're buying the right sealant for the job), or if the sealant you're buying will void the warranty.
These problems can be the result of buying separate components from different companies then finding out (after the fact) your expensive custom shower products DO NOT work together.
The best way to eliminate these costly errors is to buy a complete custom shower kit from one source. This way you won't get in the middle of 'finger-pointing' between vendors which (not only) does you no good – but also costs YOU money! Ouch!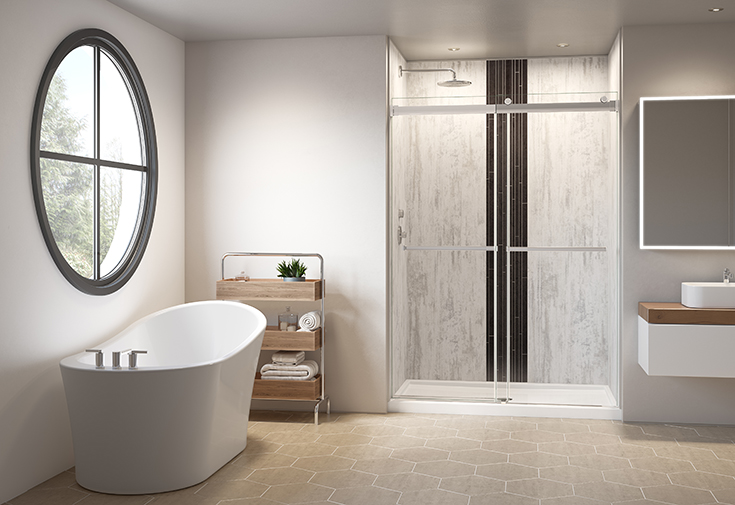 So, which of these 17 cost-cutting ideas can help your shower plan? How can I (or my team) help with your custom shower remodel?
I know there's a lot to digest to plan a shower remodel. You need to pick products. You need to pick a contractor. And 'gaining consensuses on the best choices can be harder than getting Republican and Democrats to agree on ANYTHING! So, you may be wondering how we can help you get through this project and keep your budget and family intact.
Well – if you need design assistance or custom product recommendations (at wholesale prices) call me (or my team) at Innovate Building Solutions at 877-668-5888 or click for a Free Design Consultation. We offer lines of grout free shower wall panels, shower bases, glass shower doors and bathroom accessories.
And if you're looking for a Cleveland shower remodeling contractor, our Bath Doctor division would love to help. Call 216-658-1270 or click for a Free Estimate.
Lastly, if you're a remodeler or builder and want advice on remodeling products, industry trends, marketing and sales tips to grow your business (and cut day to day hassles), read my newest blog – Innovate Builders Blog. It's packed with ideas you can use now to make money in your business. Click here to Sign Up for the Innovate Builders Blog. If you'd like to learn how to become a shower wall panel dealer or call and ask for Mike at 888-467-7488.
To connect on LinkedIn, go to @MikeFotiLinkedIn.
Thanks for reading,
Mike
---
Mike Foti
President of Innovate Building Solutions a nationwide supplier and regional (Cleveland and Columbus) remodeling contractors. Some of our product lines include glass counters, floors, backsplashes, glass blocks and grout free shower and tub wall panels
---