13 Practical Design Tips to Make Your Small Bathroom Live Larger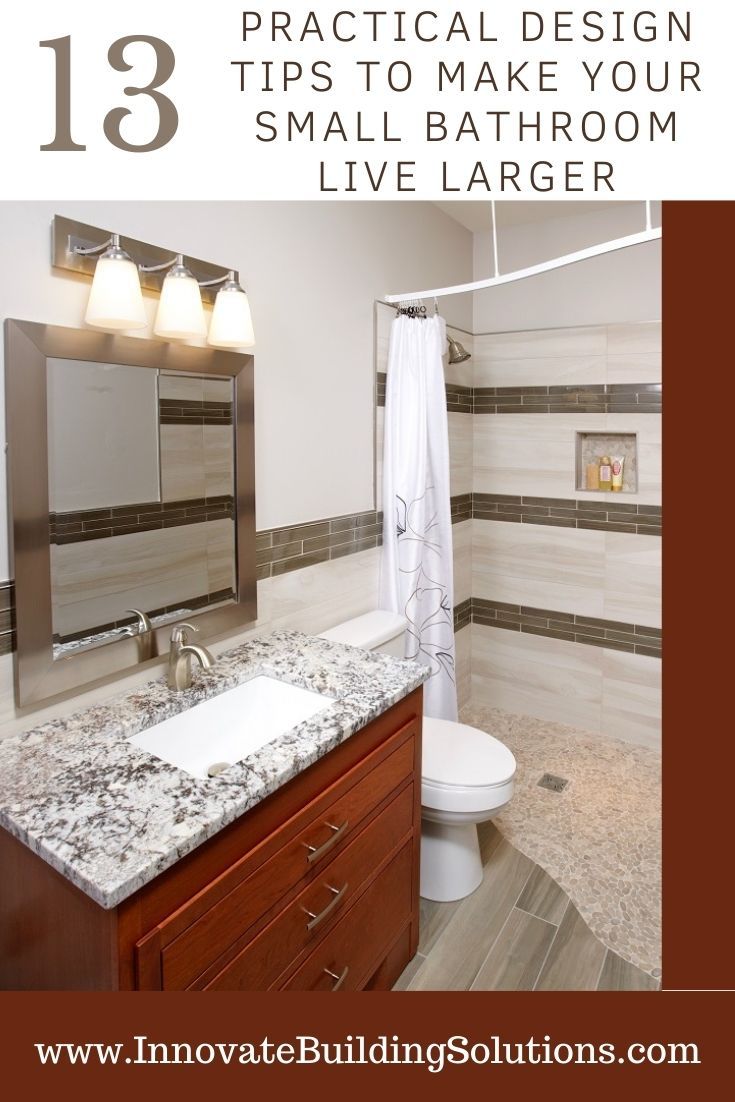 Wouldn't it be fantastic to have the humongous bathrooms you see in high-end interior design magazines? In those spaces there's room for a freestanding tub, long double bowl sink AND an oversized walk-in shower. If only you had this much room.
However, this IS NOT the world you're living in. And while you might dream of grabbing bathroom space from you're 'already too-small closet' or cutting out square footage from your tighter than you'd like master bedroom, you know that ain't happenin'.
You know you need to make do with the space you already have in your tiny bathroom. However, you hope there's a better way to design the space, and smarter products you can use, so it's more effective, stylish and efficient. You need more storage. You need to stop bumping into your shower door. You need to stop evil grout joints which gross you out and take up so much time cleaning. But you're not sure how to improve your small bath without blowing up your budget.
And in this article, this is exactly the challenges I'll be tackling.
Read 13 practical tips to make your small bathroom live larger for you WITHOUT breaking the bank, draining the kid's college funds, or needing to follow some far-fetch scheme to make massive amount of 'bitcoin or dogecoin' in 90 days or less. Let's check out these small bathroom design ideas.
Practical small bathroom design tip #1 – Go big…. with patterns that is…
If you want your small space to look smaller keep using the tiny mosaic tiles on your bathroom floor, shower floor pan or walls. However, if you want to visually increase the size of a small bathroom switch to large format tiles, or large format shower wall panels and bathroom wall panels. When you use large format patterns (and panels) you not only get a more expansive feeling, but you'll get the dual benefit of eliminating evil tile grout joints.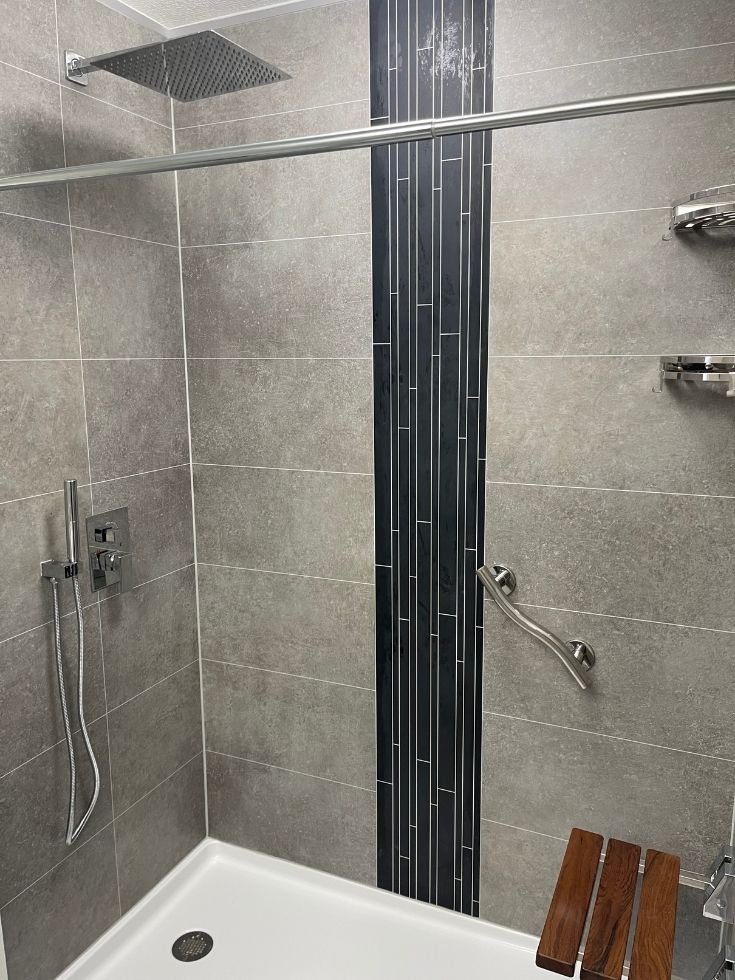 Practical small bathroom design tip #2 – If you can't make your bathroom wider, make it feel taller
If your ceiling is low and your bathroom isn't as wide as you'd like, another way to add 'volume' is to go 'vertical.' Choose vertically oriented shower wall panels or tile, tall mirrors – or patterned wall paper with a vertical design.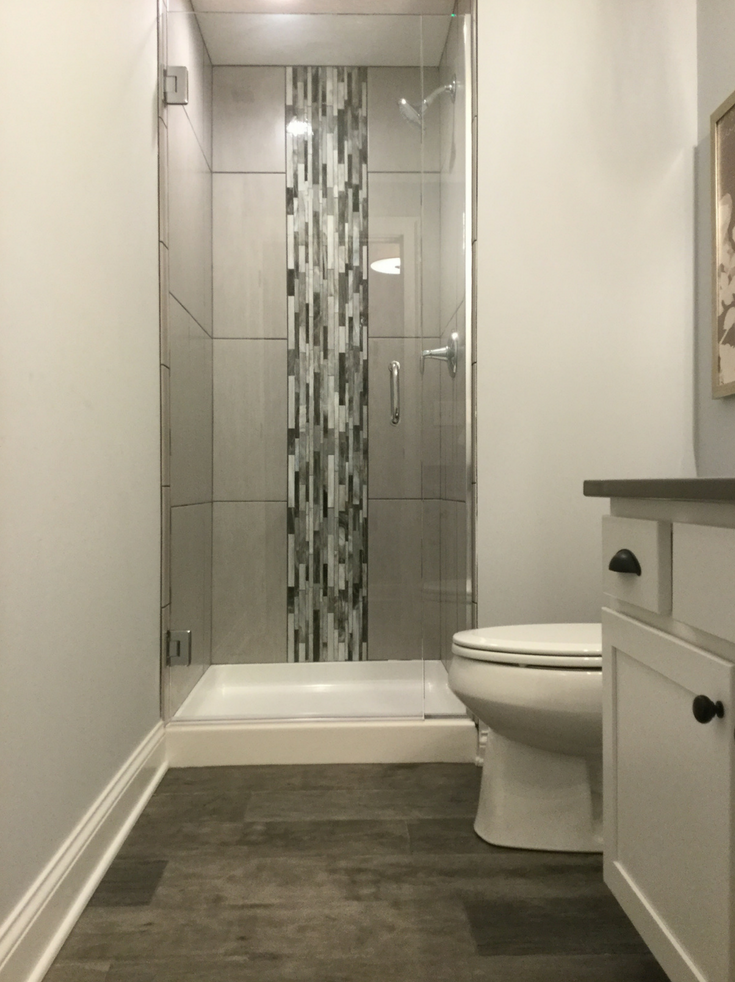 Practical small bathroom design tip #3 – Create a one level shower and bathroom floor
In the United States we're used to 'shower enclosures.' This is where there's a separate shower pan and/or glass enclosure which creates a shower compartment. However, I'm here to tell you this compartmentalized approach IS NOT the way it has to be. To visually (and practically) open a small bathroom eliminate this 'dividing line' which is a shower enclosure (i.e., a shower pan and glass system).
Consider the option Europeans have used for Y-E-A-R-S in their small bathrooms. Switch to a one level bathroom with a fully waterproofed floor. This method not only creates a waterproof floor throughout the bathroom (so you don't even have to worry about your partner – or kids – who don't put a towel down before exiting the shower, causing water to leak into the floor below) but it also works well for those who are mobility challenged so they won't have a trip hazard when stepping over your 5" shower curb or 16" high tub.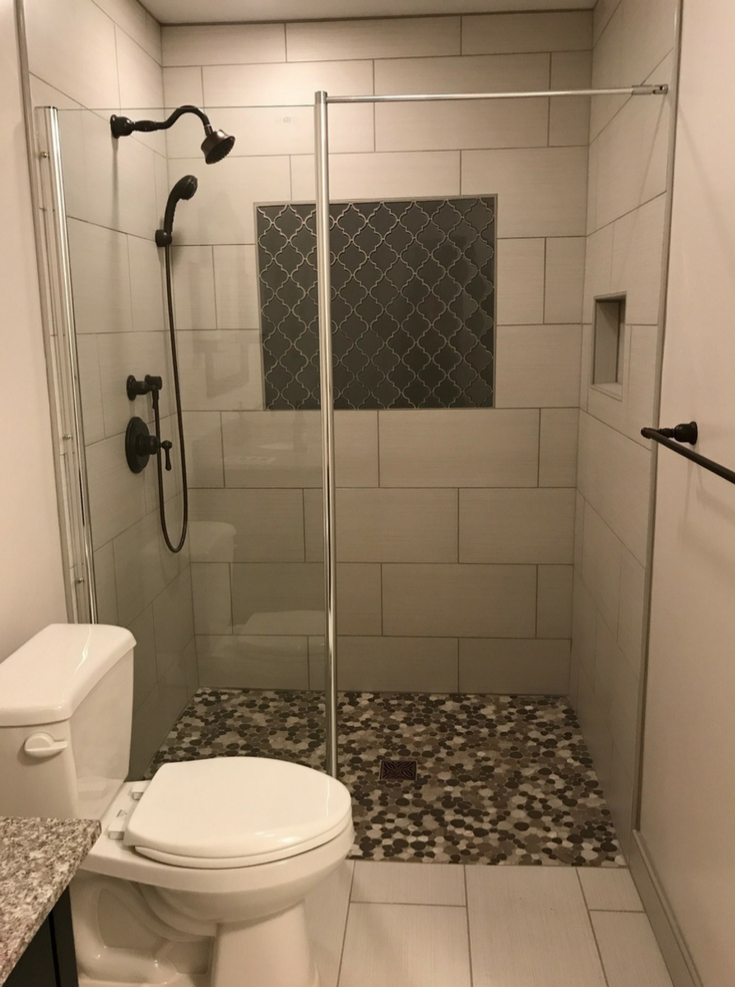 Practical small bathroom design tip #4 – Use a floating vanity
Floating vanities not only make it simpler to clean the floor, but it'll make the bathroom feel bigger as you see tile continuously throughout. This option is the perfect complement to idea #3 (the continuous waterproof bathroom floor).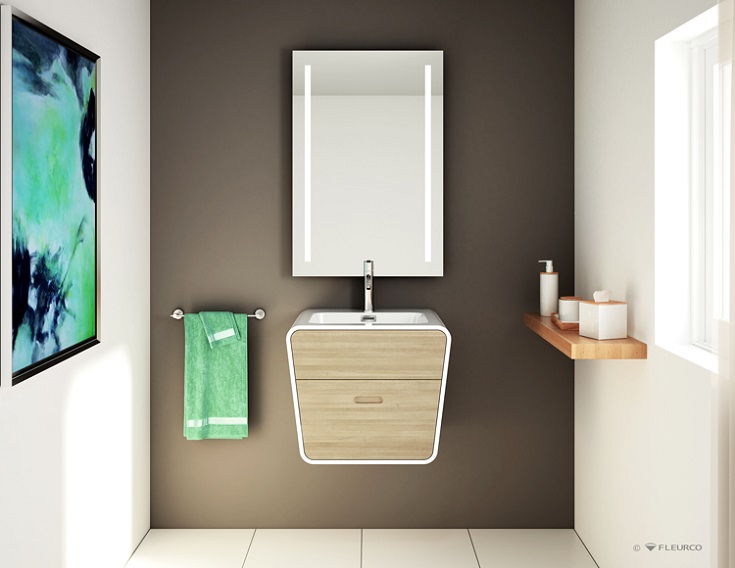 For 'extra credit' insist on a vanity with doors and drawers (vs. a pedestal sink) because God knows in your small bathroom you need every inch of storage and counter space you can muster up…and then some!
Practical small bathroom design tip #5 – Where possible eliminate soffits or bulkheads
If you feel claustrophobic inside your boxed in tub alcove with a soffit above, you're not alone! And while soffits can be used to conceal plumbing or your HVAC system, in many cases they were put in to make the bathtub feel 'cozy' years ago. Often, there's nothing inside the soffit. However, this 'boxed in bulkhead' makes the space feel closed in.
If you're unsure if this is dead space, create a small hole in the soffit and use a flashlight to see if there's anything inside.
Getting rid of soffits makes your small bathroom feel modern, 'open,' and spacious.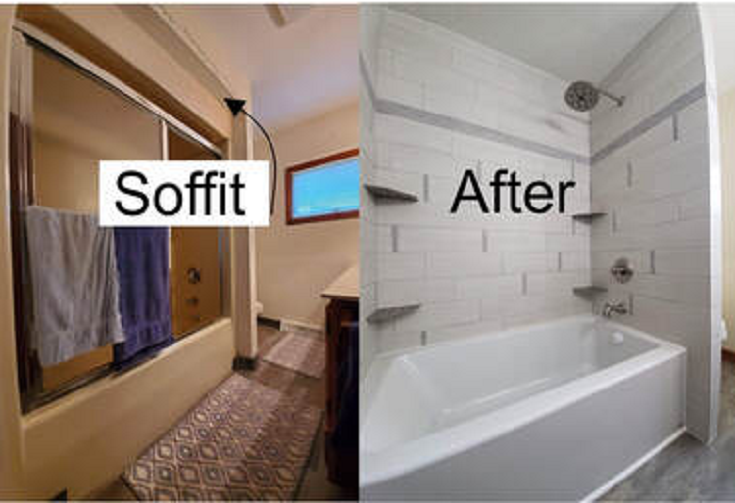 Image Source: Phil Builds
Practical small bathroom design tip #6– Convert your alcove tub into a shower
Do you rarely – if ever – use the tub in your tub/shower alcove? And besides, you don't have time for a tub bath, and even if you did you like how showering gets you cleaner.
In today's world a shower makes more sense (and is far safer) than a tub/shower combo. In addition, a shower (and especially a walk-in shower like you'll see below) makes a small bathroom live larger.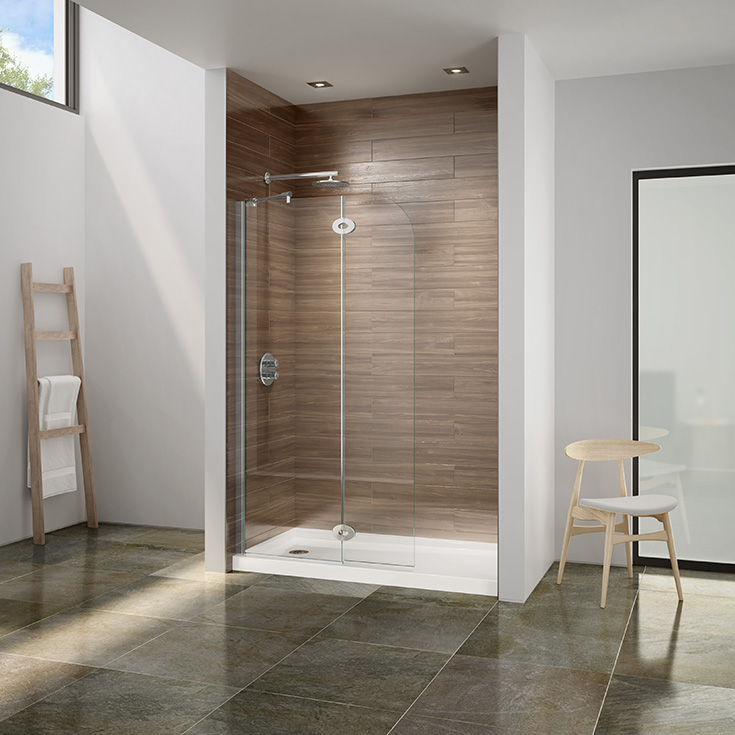 Practical small bathroom design tip #7– Build more storage into (and onto) the walls
Small bathroom storage is often a contradiction in terms. If you struggle to find ANYPLACE to put shower 'products' (and you're used to seeing soaps, shampoos and loofas falling to the bottom of the tub) you're living with a familiar problem.
And if your storage for towels and cleaning supplies is virtually non-existent, I'm sure there's many reading this article who relate to you pain.
And while recounting these pain points can make you feel like you're in a friendly 'bathroom support group' (if there ever was such a thing), discussing these 'issues' does NOTHING to help solve your problems.
Fortunately, creating more storage in a small bathroom isn't as hard as you'd think. Here's 3 small bathroom storage ideas to consider:
Idea 1 – Add recessed niches in the shower – They're concealed, stylish and take ZERO room.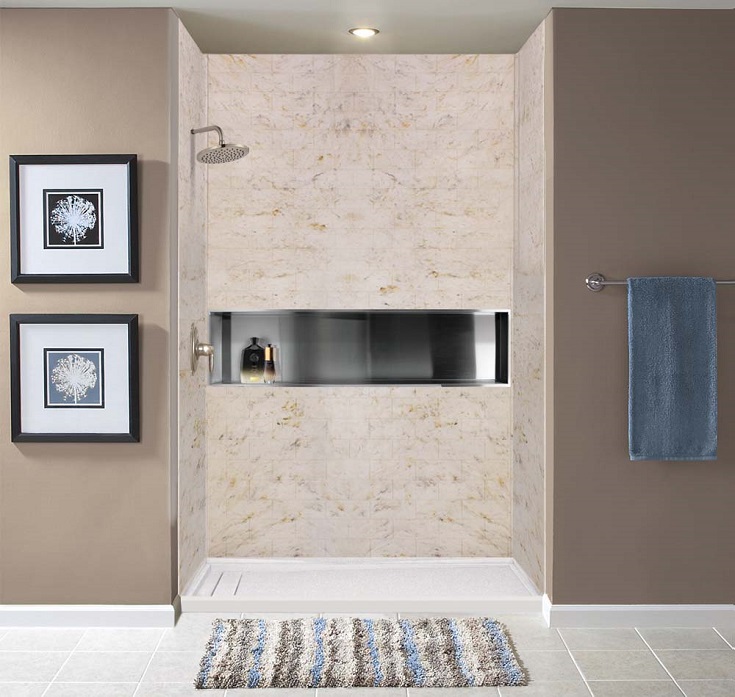 Idea 2 – Install a small cabinet above the toilet – This dead space is rarely used – but is a smart way to 'claim' for much needed storage.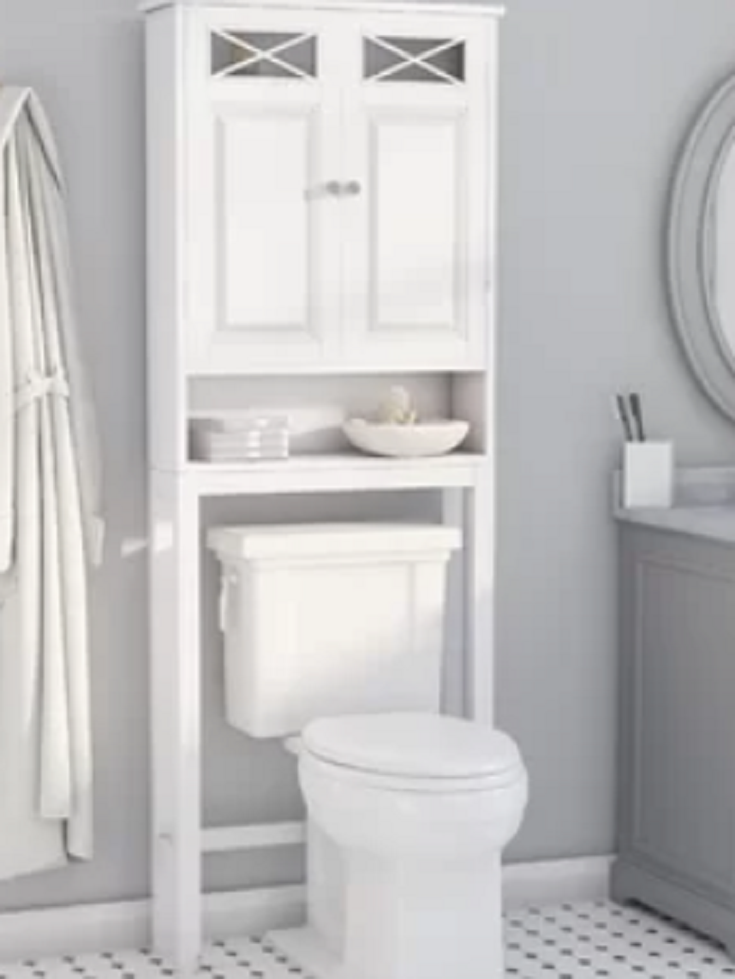 Idea 3 – Use a vanity with drawers – This is the perfect place for blow driers, cleaning chemicals or towels if you don't have the benefit of a linen closet in your bathroom. And for 'extra credit,' make sure behind your vanity doors there's pull out shelves so you can actually see what's in the back.
Practical small bathroom design tip #8– Use gloss finishes and reflective materials on walls and fixtures
Although I'll admit my personal bias is towards the more relaxed look of matte and brushed finishes in bathrooms, however, if you're trying to make a small bathroom feel brighter and bigger, gloss is the way to go. Gloss finish shower walls, shiny fixtures, and shiny shower pans can all contribute as reflective surfaces to make a tiny bathroom feel larger.
Smart choices of gloss finish materials include marble, glass, and metallic surfaces.
And if you want more input on the 'gloss vs. matte' bathroom finish debate read 7 Critical Questions you Need to Know Between Choosing Gloss or Matte Finishes for your Bathroom or Shower.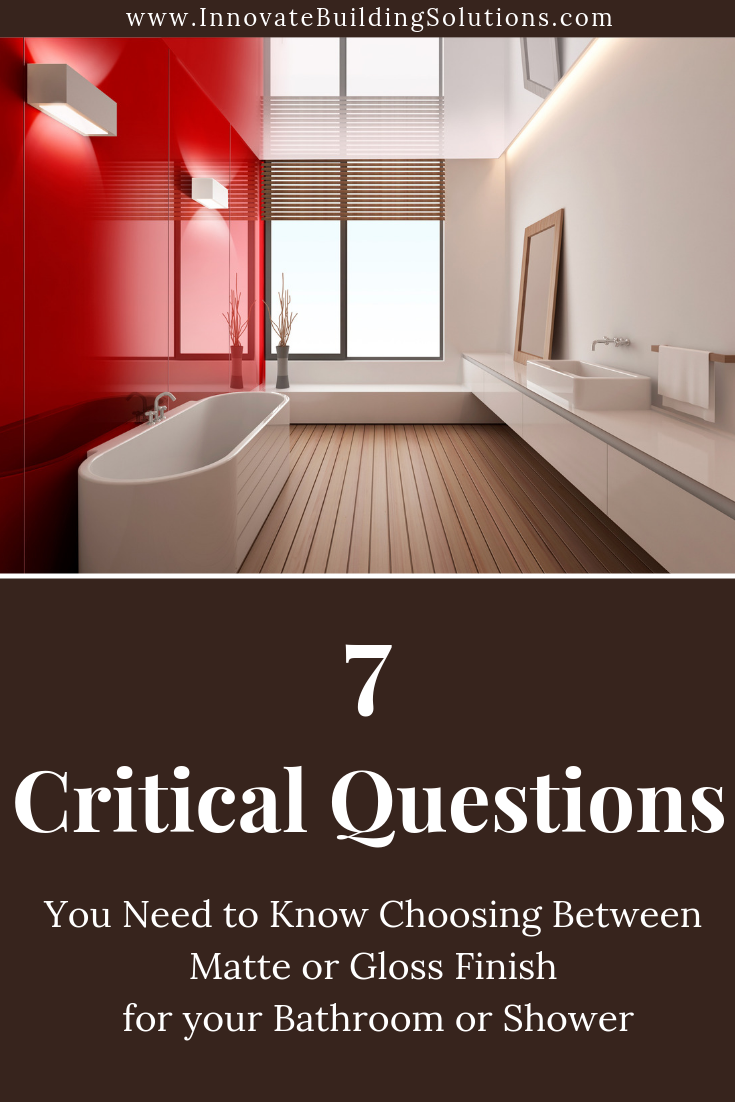 Practical small bathroom design tip #9– Make an informed decision on how your shower doors open
OK – so you hate, hate, hate shower curtains. Seeing the scum on them is nothing you want to wake up to in the morning. And besides, you need to replace them every time your teenage daughter decides she absolutely needs a new hair color this week. And after she (or he…don't want to be sexist here, after all one of my teenage son's back in the day once had orange hair!) gets done dying her hair, your moldy shower curtain looks like an abstract artist 'painted' it.
These frustrations with shower curtains have brought you to the conclusion a shower door is right for you. However, you don't have a clue what type of door is best.
In a small bathroom this decision has to be made within the 'context' of your bathroom layout and what's included in the room. And if you have a very tight space – which requires a 36" x 36" (or smaller) corner shower your choices include a pivoting door NEO angle design or a sliding door in a curved shower surround. With the NEO system see how far the door will extend and if this will work without constantly bumping into it. With a round sliding glass shower, see how the track system at the bottom is designed so you'll know it won't be a cleaning nightmare.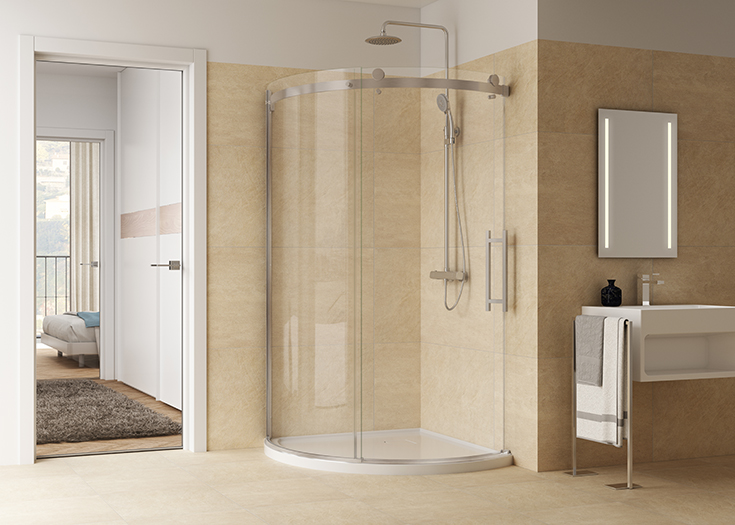 And if you have a 48" x 36" or a 60" x 32" alcove shower (with 3 interior walls) – and swinging doors are going to make your space cramped – the bypass shower door is smart. With a bypass door (where both doors slide), you can turn on the water on one side (without getting in) and enter on the other side (without getting drenched by the shower head as you walk in).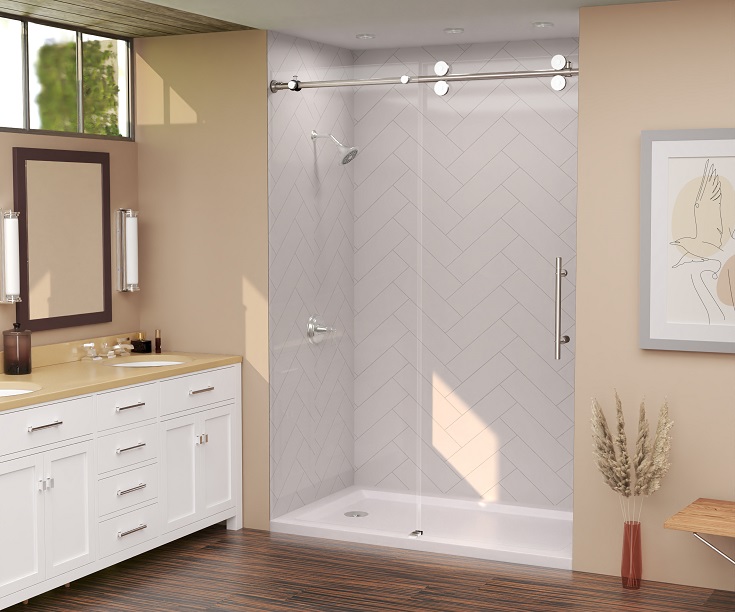 And if you want a sleek and modern look – which is also light on the budget – the walk-in shower screen is the final option you'll want to kick around.
Practical small bathroom design tip #10– Use a clear glass shower door
If you want to save money – and open your space up – the clear glass shower door is the way to go. You'll not only be able to see your upgraded grout free shower wall panels (which you chose because you wanted to ditch the tile), but the space will no longer feel as closed in as with the frosted glass door (or curtains) you're living with today.
And if your showering privacy is a must, there are a wider selection of high privacy glass shower doors than you may think.
Practical small bathroom design tip #11– Use lighter colors
This recommendation for lighter colors doesn't mean you have to 'whitewash' your bathroom in a tribute to Modern Minimalist designers everywhere. However, using lighter colors (at least for the walls and cabinetry) creates a brighter, more inviting small bathroom. And if you want to provide a darker contrast, your floor is a smart place to do it.
Practical small bathroom design tip #12– Maximize your lighting
Small bathrooms feel ever smaller when lighting isn't good. Improve the look and feel of a small space by adding lighting (of any sort).
If you don't have room for a large double hung window – maybe there's a small space for a transom window above your shower. These tiny windows let in light, maintain privacy, and you can also see what the weather is today as well. Or if you don't want to cut a hole into the home for a window, a solar light tube can be an intelligent idea to get light without using any wall space (although you will have to make a penetration through the roof for this product).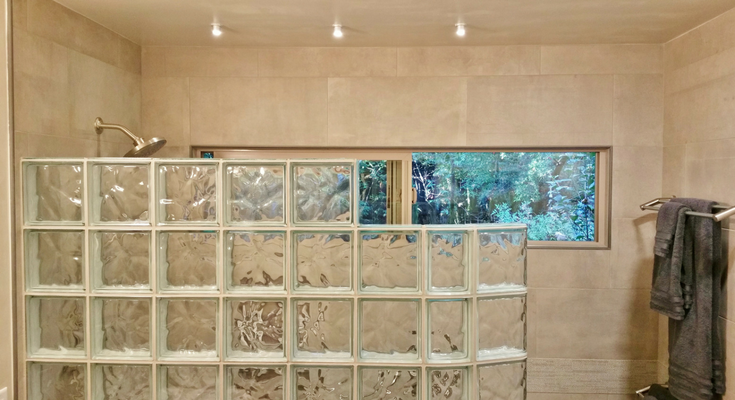 And if adding natural light isn't cost-effective or practical for you, adding pendants above your vanity mirror, and task lighting inside the shower makes your bathroom safer and more inviting.
Practical small bathroom design tip #13– Think multi-purpose. Combine mirrors, lighting, and storage in one unit
If you're looking for the 'Swiss-army-knife' of small bathroom designs tips, here's one to keep in mind. Since you need more storage, lighting, and a mirror to get ready, consider combining them into one unit with a mirrored, LED medicine cabinet. It's smart, stylish, space effective and can keep your meds away from little kids.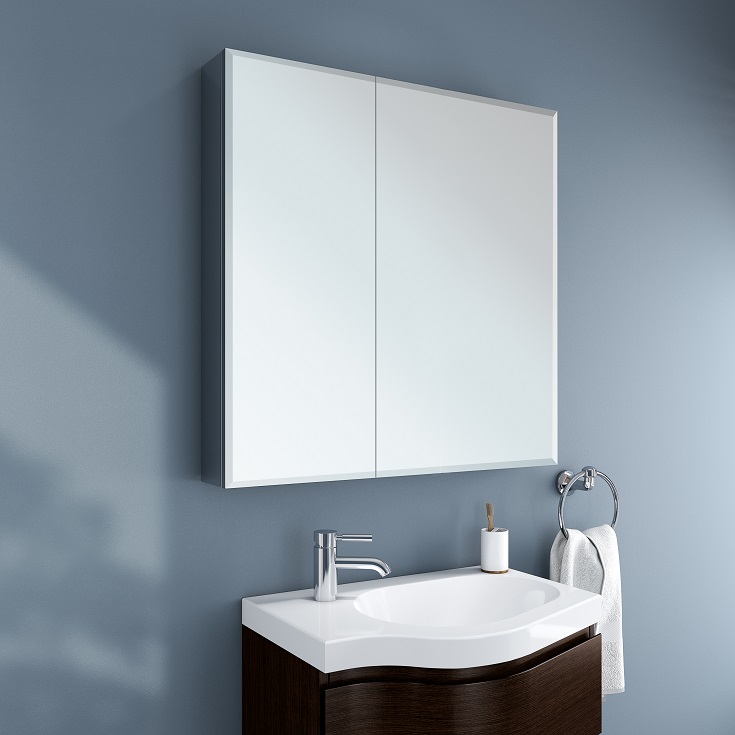 Do you need help designing or choosing products for your small bathroom?
Here's a secret I'll admit since you're now finished reading this article. It's harder (and you need to be more strategic) making bathroom and shower decisions for a small space than it is for a large space! And if these decisions are already starting to overwhelm you, I'm here to help.
You see me – and my team – would love to help with your small bathroom design and offer nationwide wholesale supply of stylish, low maintenance and easy to install bath and shower products. If you need a hand with this project call 877-668-5888 for nationwide supply or for a referral to our growing list of installing dealers.
And if you're in the Cleveland market, call our Bath Doctor division at 216-658-1270 for a Free In-Home Design Consultation.
Thanks for reading,
Mike
###
If you want more advice (with a little less wacky humor because you'll see the 'buttoned-up' business version of me) follow me on LinkedIn @MikeFoti.
---
Mike Foti
President of Innovate Building Solutions a nationwide supplier and regional (Cleveland and Columbus) remodeling contractors. Some of our product lines include glass counters, floors, backsplashes, glass blocks and grout free shower and tub wall panels
---