The Pros and Cons of Fixed and Pivoting Glass Shower Shields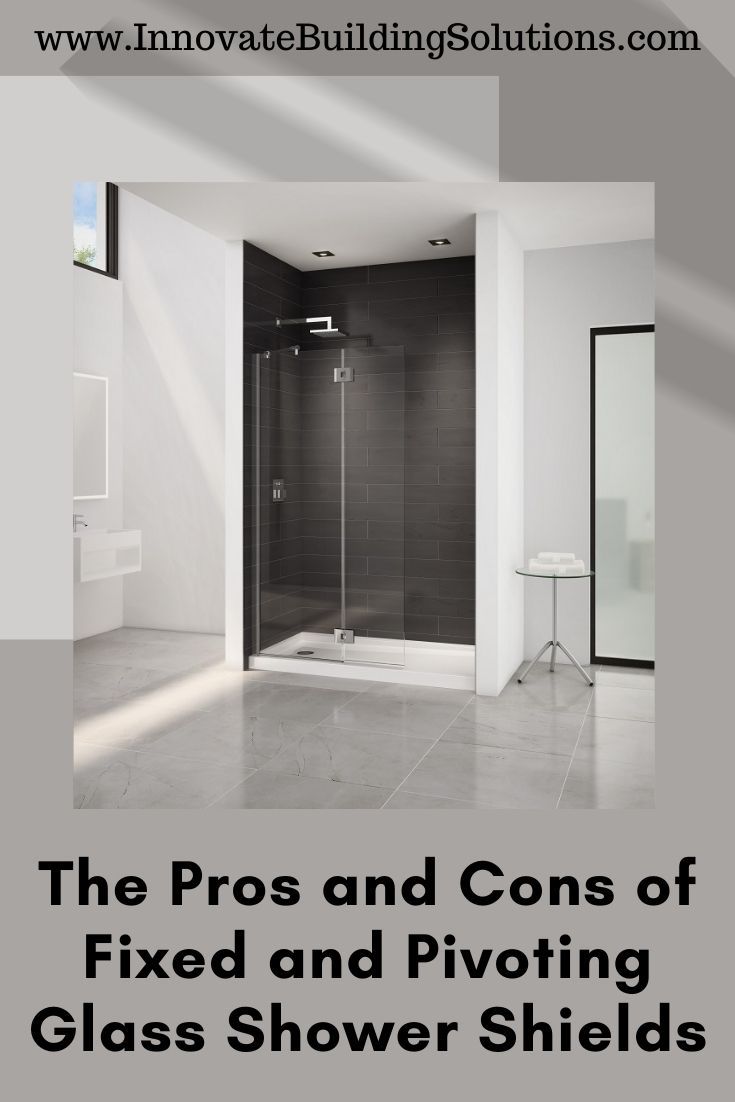 Are you sick and tired of your shower enclosure?
Are you putting up with moldy shower curtains you can't clean and have caused you to become a 'regular' at your Bed, Bath and Beyond store?
Or are you the 'victim' of wobbly and impossible to clean flimsy shower doors the builder slapped in years ago?
And since you've finally made a decision to get this shower remodel moving you've made a promise to yourself. You're going to do away with this claustrophobic shower with shower curtains which block out your light. Or you're going to say sayonara to glass shower doors which are hard to operate, and even harder to clean.
You want the simplicity of a walk-in shower. You know less can truly be more.
And this decision has led you right onto the 'shower doorstep' (OK – bad shower door pun intended) debating the pros and cons of glass shower shields (AKA as glass shower screens). And if you're not sure what a glass shield is, it's either a fixed and/or pivoting piece of glass which has an open space on the side creating a walk-in shower.
However, you're not sure if a glass shower shield is right for you. You're wondering about the advantages and disadvantages of glass shower shields. You don't want to make a decision you'll regret.
And if this describes your concerns this article is for you. My goal is to give you the 'inside scoop' to the pros (and cons) of fixed and pivoting glass shower screens (and note you can use the terms screens or shields, they're really the same thing). And at the end I'd love to hear if you're a fan (or foe) of these systems or feel free to ask questions you have. So, let's dig into these pros and cons.
The Pros (Advantages) of Fixed and Pivoting Shower Shields
Pro #1 of glass shower shields – They're economical  
If your budget is tight, a fixed shower shield (or fixed shower screen) should be on the top of your list. Since it's simple (and has no moving parts) and doesn't cover the full opening (since it's for a walk-in shower) it's an economical option. It costs ½ to 2/3 of the cost of a full glass shower door system (like a bypass which has 2 doors which cover the opening).
You'll find fixed glass shower screens for walk in showers cost between $400 to $1,000 depending on glass thickness, glass heights and finish of it's framing. And the price of a pivoting glass shield is often $200 or so more than the fixed unit (but it still saves money vs. a full glass enclosure).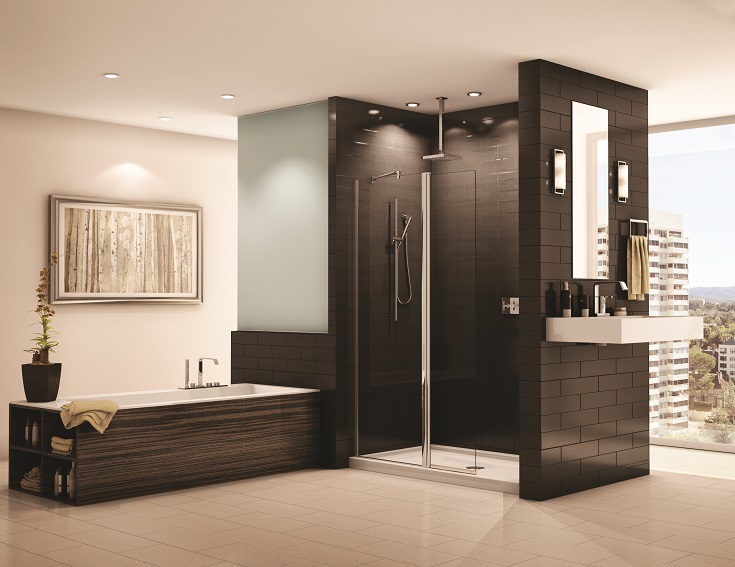 Pro #2 of glass shower shields – High style glass shower shields create a fashion-forward look   
Contrary to popular opinion glass shower panels DO NOT need to be boring. Create a luxurious look with a 3/8" thick pivoting matte nickel screen, or an industrial vibe with a matte black grid pattern shower shield. They both create a powerful statement– without a 'powerful' (or should I say painful) price.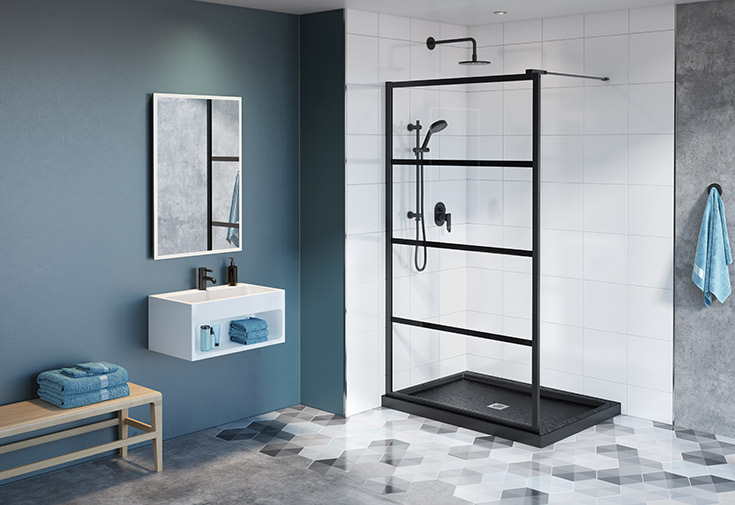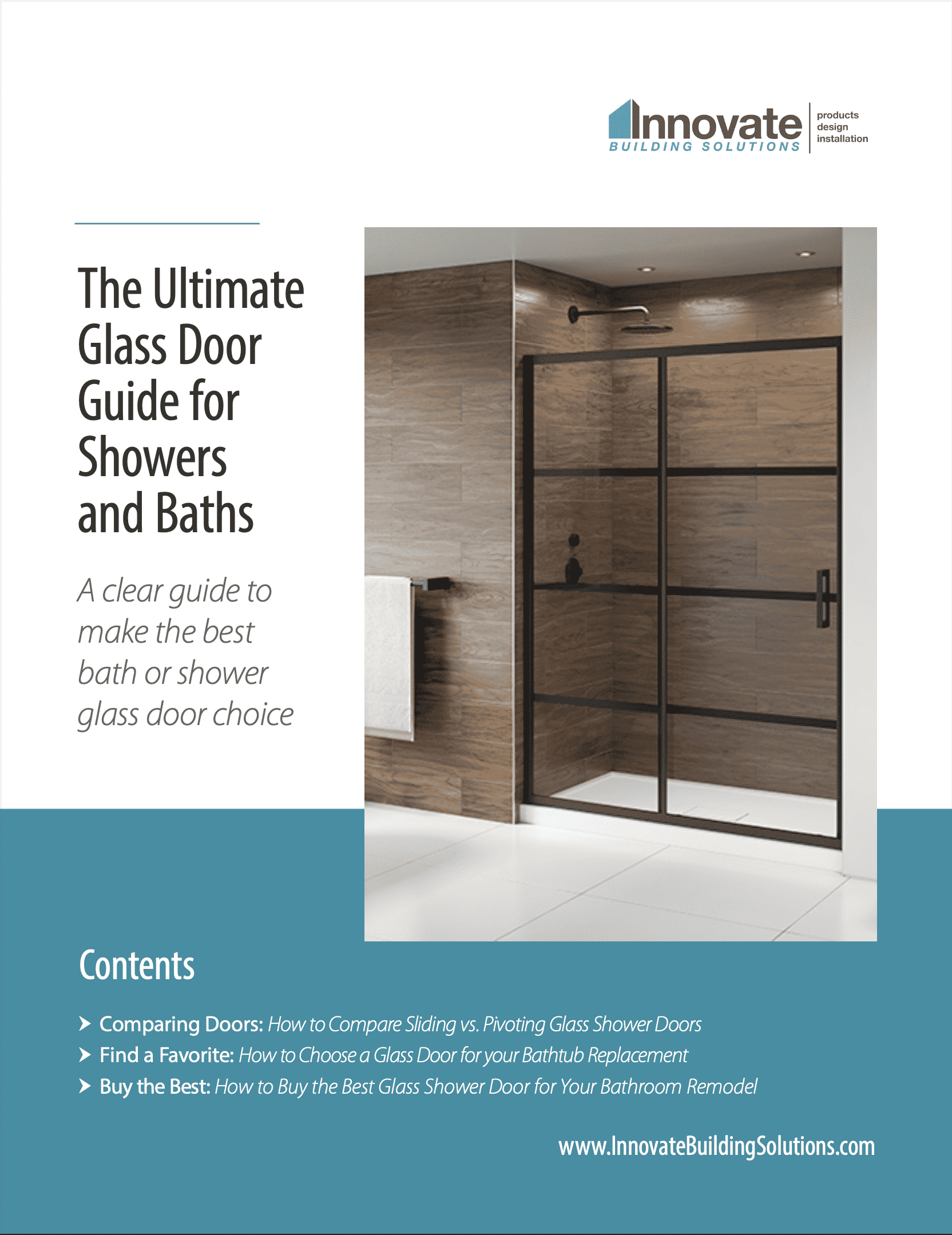 The Ultimate Glass Door Shower Guide
A clear guide to making the best bath or shower glass shower door choice
Pro #3 of glass shower shields – Shower shields are uber-simple to clean
Who likes to clean gunk, grime, and hair from the bottom of sliding glass shower door tracks? Unless you're a masochist this would be NO SANE HUMAN BEING! And trying to clean the crud off the bottom of shower curtains is no picnic either.
And it's cool to know glass shower shields not only have less surface to clean (since their width is smaller than a full shower door or shower curtains), but they have NO TRACKS at the bottom. And as a bonus you can even get them with Microtek glass surface protection (which is like Rain-X for your shower doors). Cleaning them is 'easy-peasy.'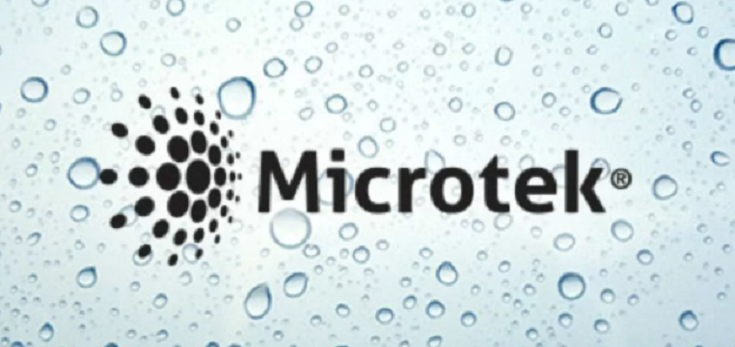 Pro #4 of glass shower shields – An improved view of your cool new shower surround walls and fixtures  
So, you've decided to splurge on stylish grout free wall panels (like you'll see with the ocean blue straight herringbone laminate wall panels below), or an intricate tile design, or a fancy shower head. And you DO NOT want these cool features blocked by shower curtains.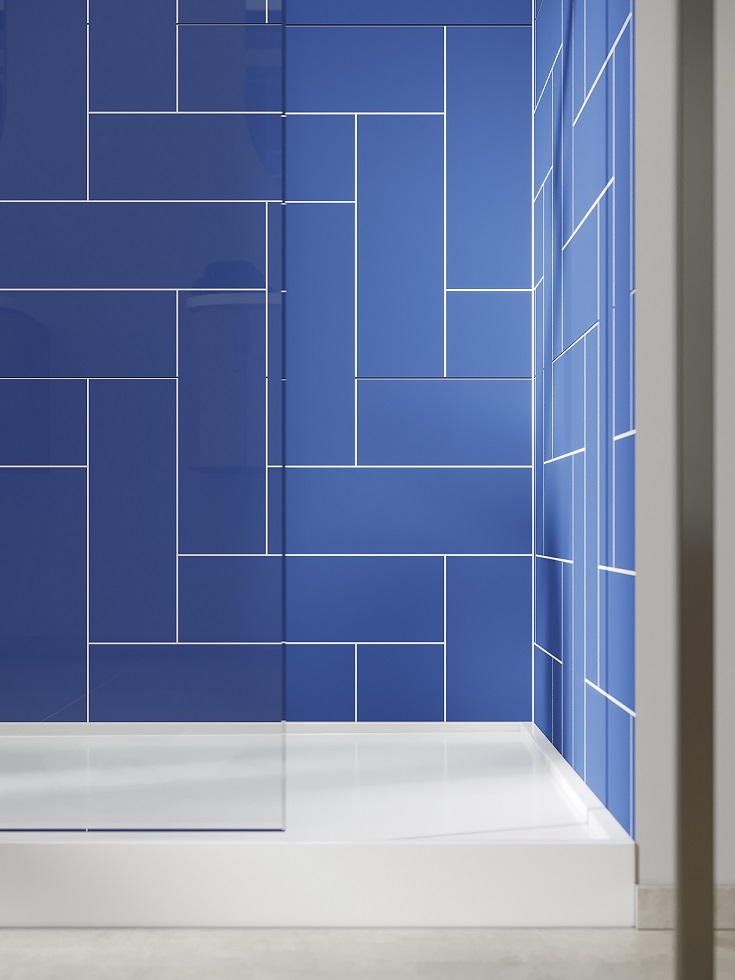 However, with the openness of a walk-in shower with a clear glass shower shield you'll have a largely unobstructed view of the inside of your shower.
Get Free Samples!
Click here to request free samples of our Laminated Waterproof Shower Wall Panels.
Pro #5 of glass shower shields – With a fixed shower screen there's no door to bang into
If you're constantly bumping your elbows on pivoting shower doors or banging your door against the toilet or bathroom vanity – you know the frustration of swinging shower doors. With a fixed glass shower shield, you'll not only love that it'll cost less, but your banged-up elbows will thank you as well.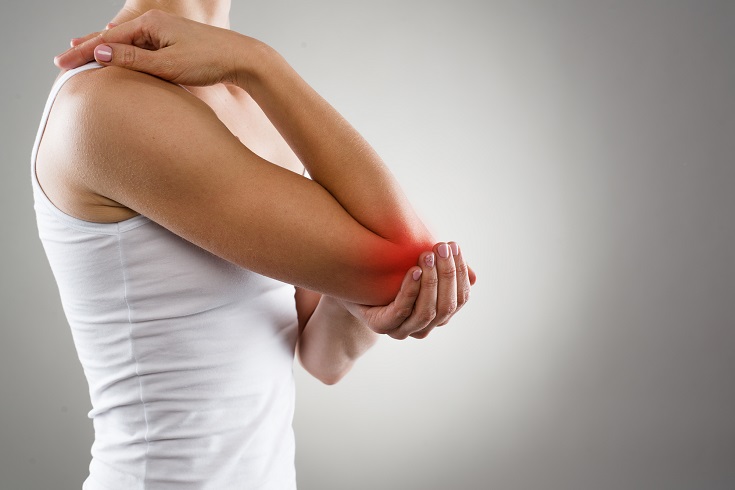 Pro #6 of glass shower shields – A pivoting shower screen can create a walk-in shower – which will keep the water inside – in a 3-sided alcove shower as small as 48" wide  
If you have a 48" x 36" alcove shower and assumed a walk-in shower design was an impossible dream, think again. With a properly designed pivoting shower shield you CAN make a walk-in shower work in a 4' wide space. For example, if you buy a pivoting shower shield with a 23" piece of fixed glass joined with a 15" pivoting glass door at the end, you'll have enough room to enter the shower (when you open the pivot door) AND to keep water from exiting the shower. How's that for a space-effective walk-in shower?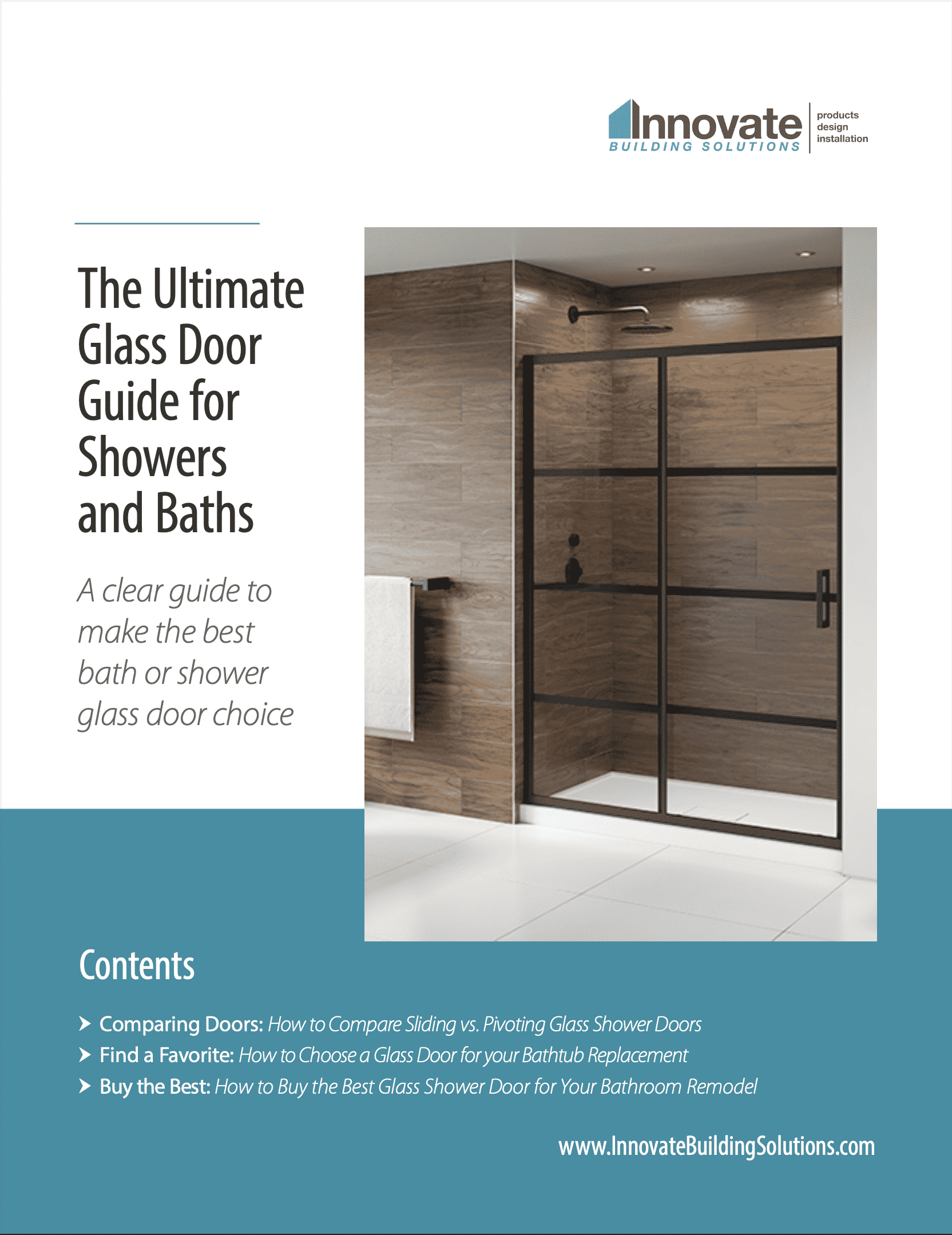 The Ultimate Glass Door Shower Guide
A clear guide to making the best bath or shower glass shower door choice
Pro #7 of glass shower shields – You can create a larger opening for someone with mobility challenges
With a pivoting shower shield you not only have the width of the opening on the end to get in, but also, you can take advantage of the width of the pivoting door to enter your shower. And if you're not sure what I mean I'll explain the 'math' (and sorry to bring up math if you still get sweaty palms thinking about your high school math teacher) below.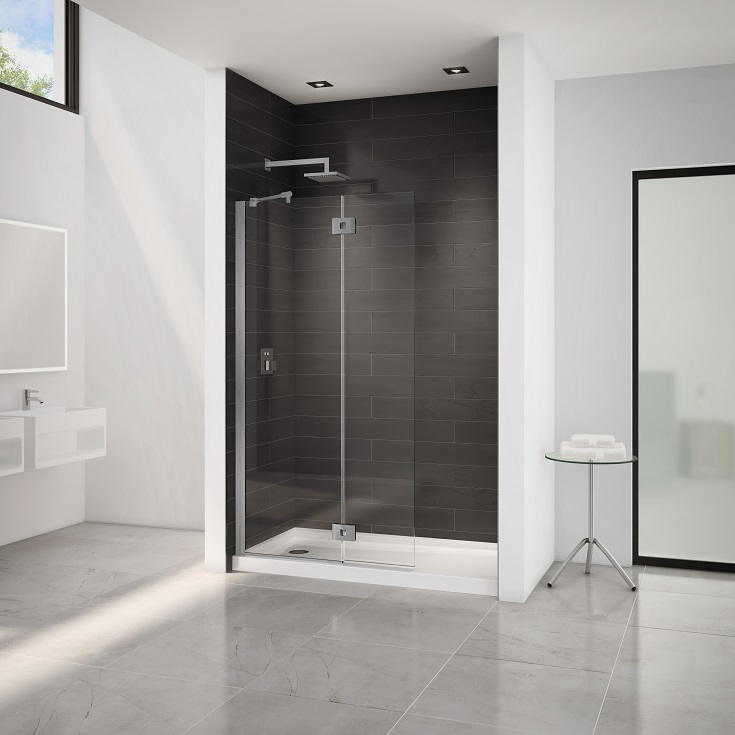 If you have a 60" alcove shower and buy the 38" wide pivoting shower shield seen below (with 23" wide fixed glass and a 15" wide pivoting door) this formula shows how you'll end up with 37" to get into your shower.
(60" wide alcove shower) – (23" fixed portion of the shower shield) = 37" to get in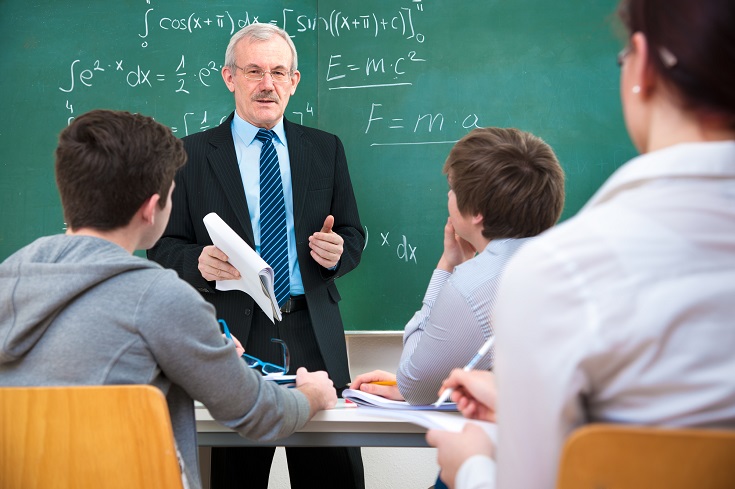 The Cons (Disadvantages) of Fixed and Pivoting Shower Shields
Con #1 of glass shower shields – There's not a full 'enclosure' to stop drafts
A walk-in shower is good, except when it's not.
OK, if you live in the East or Midwest, you know how brutal Winter can be. And you know how wonderful a toasty, warm and steam-filled shower can be on a cold Winter's night. And this is when a fully enclosed shower door system is a Godsend. And while a walk-in shower screen is simple and economical, its disadvantage is it leaves an open space at the end, unlike the bypass shower door shown below.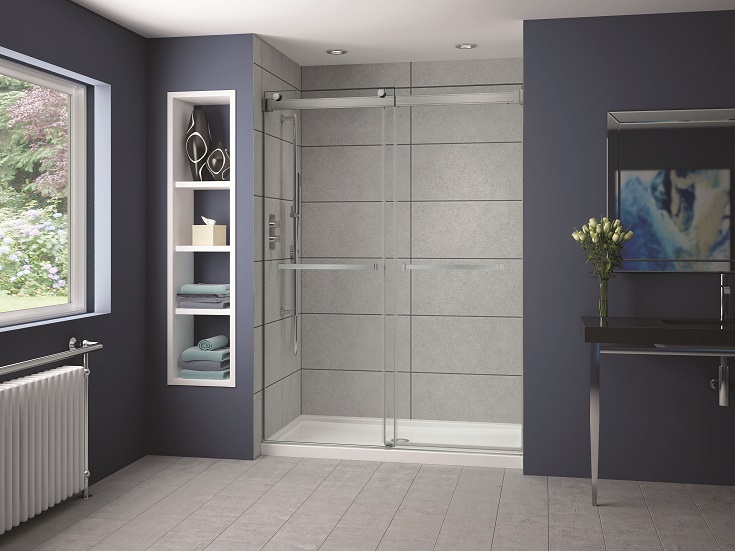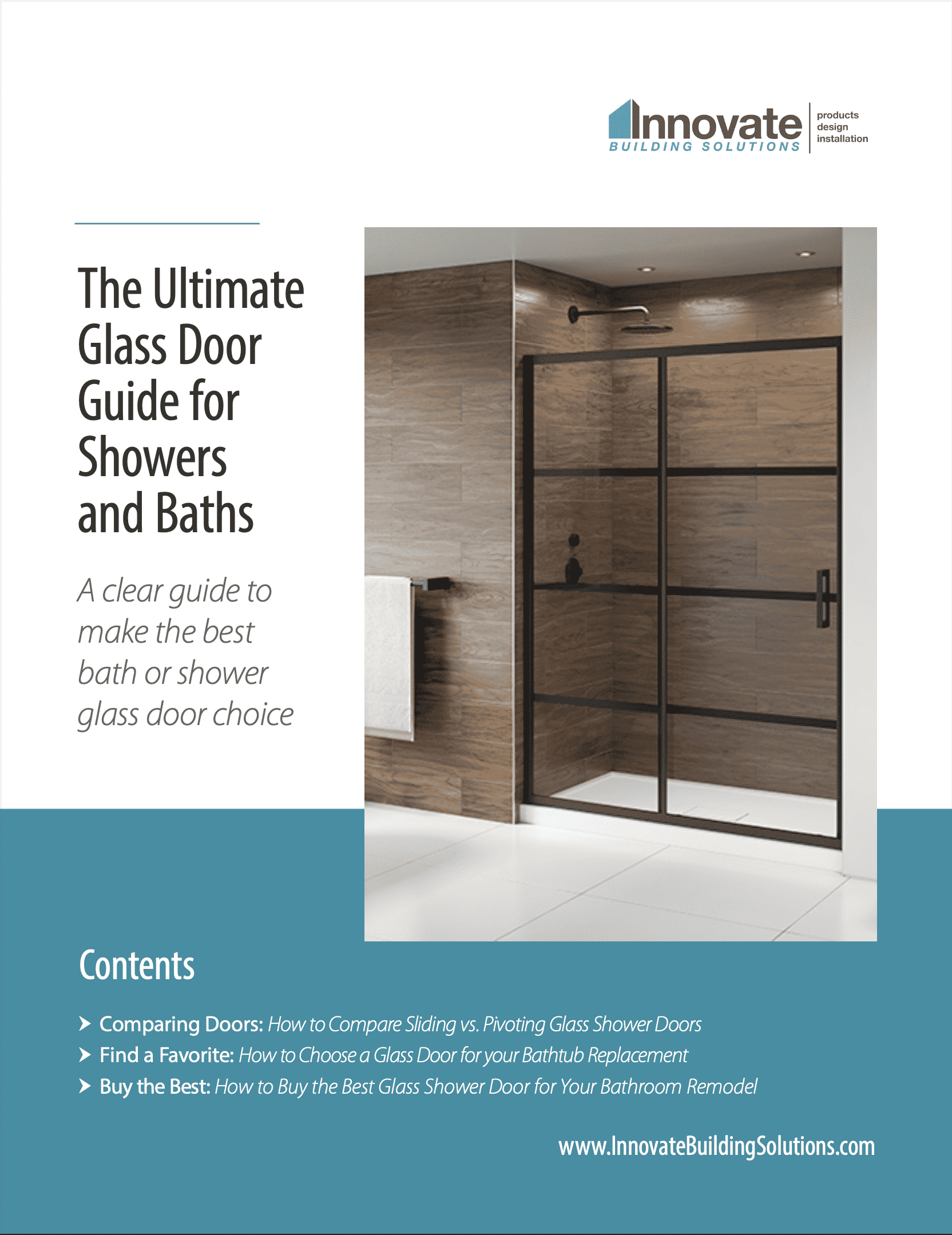 The Ultimate Glass Door Shower Guide
A clear guide to making the best bath or shower glass shower door choice
Con #2 of glass shower shields – It's easier for water to end up on the bathroom floor  
Since a shower screen (or shield) by its design doesn't cover the full opening, there's room for water to escape onto the bathroom floor. And if your bathroom floor is not waterproofed, this can lead to leaking (or dirty water spots) on the ceilings of the floors below.
Con #3 of glass shower shields – They'll 'expose' you, whether you (or your family) like it or not  
Would you love the privacy of a fully enclosed obscure glass shower to keep everyone (including the kids and your spouse) for 'taking' your precious-few private moments away? If so – a shower screen will not be for you. Since this walk-in shower system leaves you 'exposed' for all to see who barge in, it will not give you the private experience you so desire.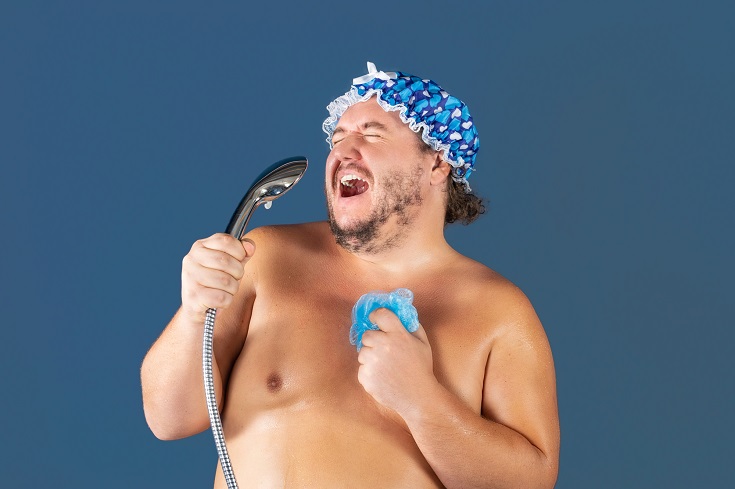 However, a glass shower screen can give you the 'opportunity' to show off more of your great body (Ok – I'm not talking about the body shown below) AND wonderful ('er not really) singing voice.
Do you want help with pricing, design, product options or technical questions about glass shower shields?
Since I know glass shower shields are NOT a popular topic at a cocktail party (or even on the Internet when researching glass shower systems), I know this is a difficult product to learn more about. And this is exactly where me and my team would love to help you.
Call 877-668-5888, click for a Free Design Consultation or comment below to gain insights on glass shower shield pricing, product options and technical questions. And if you're looking for a Cleveland shower remodeling contractor, call The Bath Doctor at 216-531-6085. Our business wholesales (and installs) a broad line of glass shower doors, grout free shower panels and shower pans we'd be glad to help.
We know you have a lot of choices in shower and bathroom products. We're committed to making your journey through the sea of selections simpler (and may even be able to help you find a reputable contractor through our dealer network as well).
Thanks for reading!
Mike
###
If you want more advice follow me on LinkedIn @MikeFoti.
And if you're a bathroom remodeling contractor interested in being a dealer of unique shower wall panels, shower pans and glass shower door systems, call 888-467-7488 and ask for Mike.
---
Mike Foti
President of Innovate Building Solutions a nationwide supplier and regional (Cleveland and Columbus) remodeling contractors. Some of our product lines include glass counters, floors, backsplashes, glass blocks and grout free shower and tub wall panels
---