The Pros and Cons of the Top 10 Tile and Shower Wall Panel Surround Patterns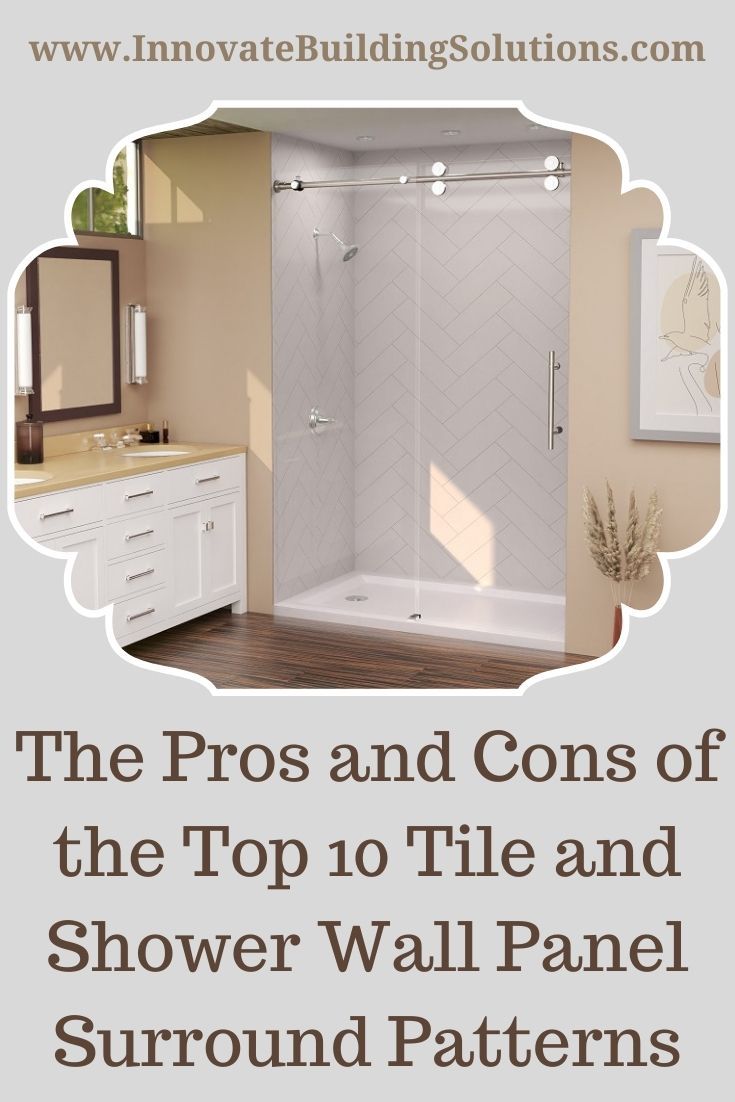 As if selections in your bathroom remodel weren't mind-blowing enough, then your shower remodeling contractor had to ask you,
"So, what pattern would you like in your tile shower?"
 Or conversely they asked, "What pattern would you like with your shower surround panels?" You've decided to use shower panels since you love cleaning tile grout just as much as you do watching your dentist crank up his or her drill.
You wanted to say, "I don't have a frickin' clue!" However, what you actually said was, "Can I get back to you on that tile pattern selection?"
 And while you've seen shower patterns which look uber-cool, you're not sure about the pros and cons of your favorite design or if it'll look out-of-place with the interior design style you're going for.
And if this describes your dilemma, this article is right up your alley. First, I'll identify the top 10 tile shower patterns (or grout free wall surround patterns for those who HATE, HATE, HATE tile grout joints). And then I'll give you the advantages and disadvantages ('er the pros and cons) of each.
Tile Shower Pattern #1 – 45 degree or 90-degree herringbone or chevron patterns  
Pros – Herringbone designs are all the rage in high-end interior designs today. This unique design has a uniform rectangular pattern (unless you choose chevron with angled edges) which is as classic as it is elegant. This zig-zag pattern adds interest (and movement) to traditional, modern, or even retro projects.
Cons – If your tile shower budget is a bit on the anorexic side, brace yourself. Expect to pay a professional tile setter 2 to 3 times (IF you can find one talented enough to build this design) for this pattern due to the complexity of cutting and fitting the tiles.
However, if you LOVE, LOVE, LOVE herringbone, but in NO WAY have deep enough pockets to spend 2-3X more, I've got a great (and cost-effective) idea for you. Invest in simple to install laminate shower wall panels which click and lock together and can EVEN be installed by a DIYer. They're available in fun patterns like 45 degree white herringbone and 90 degree Ocean Blue herringbone. They'll prove a fun 'tile' design, can be low maintenance AND cost-effective.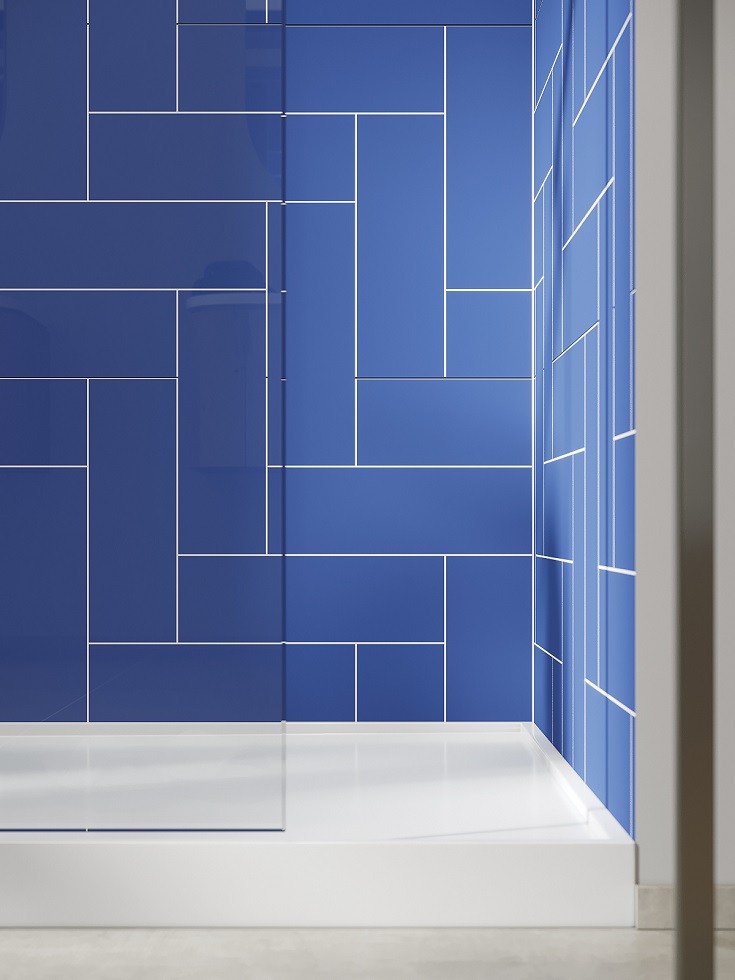 Tile Shower Pattern #2 – Horizontal running bond (also called brick bond)
Pros – This classic brick design is as timeless as the exterior of a Georgian colonial home. And if a Modern Farmhouse bathroom (a la Chip and Joanna Gaines) is your Zen, then a white subway tile (or grout less white subway shower wall panels) will be perfect for you. And for a modern twist on a classic 'brick' design, opt for large format patterns like you'll see in this 12" x 4" grout free Aberdeen brick pattern.
Cons – When you use a traditional 4" x 8" traditional brick size (or worse yet a 6" x 3" subway tile) you'll end up with more grout joints you 'get' (sarcasm intended) to clean.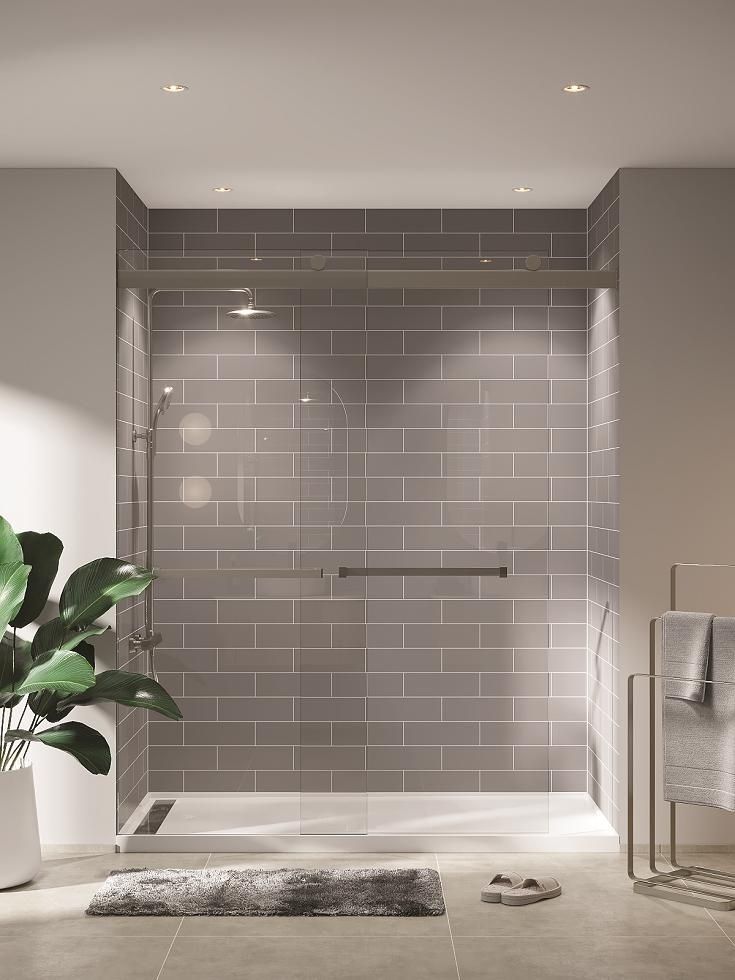 Tile Shower Pattern #3 – Vertical running bond
Pros – If you've got a short ceiling – and would desperately like to 'elevate' your room (even if it's only a 'pigment' of your imagination), the vertical running bond pattern is one you have to check out. It'll visually stretch the room and works in traditional, transitional and contemporary designs.
Cons – I wouldn't recommend this pattern to cover big walls in large bathrooms become it can become too busy, very quickly.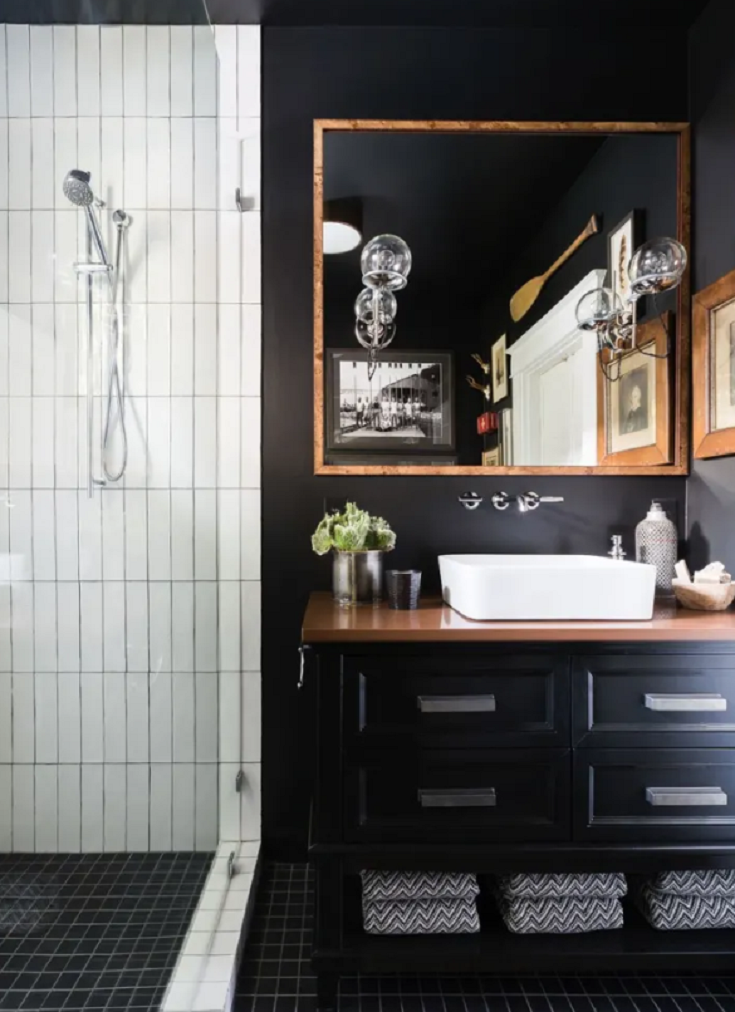 Image Source: Apartment Therapy
Tile Shower Pattern #4 – Linear stack bond  
Pros – Linear stack bond design can be used with any size tiles (or wall surround panels) – which makes it an uber-flexible option. Its modern look is simple and uncomplicated and when you use a larger format pattern it'll add a feeling of volume to even the tiniest of tiny bathrooms or alcove showers.
Cons – OK, if I'm being honest (and why the heck should I be dishonest?) a stack bond pattern can be a bit boring.
Tile Shower Pattern #5 – Hexagon
Pros – The use of hexagon patterns are taking off in modern interior designs today. Check out these moody black hexagon shower wall panels below. They're eye-catching for an entire shower – or as a feature accent wall.
Cons – There's a lot of pattern with hexagons. And if you use actual tiles (as opposed to grout free hexagon wall panels) you'll have more maintenance than with a pattern like linear stack bond (or large format tiles) discussed in pattern #4 above and pattern #8 below.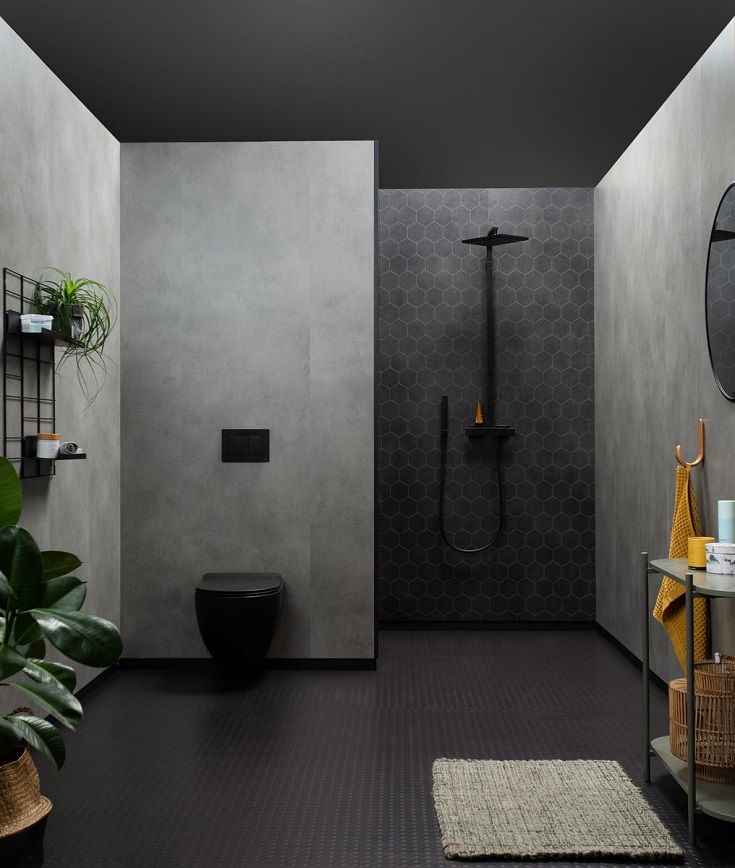 Tile Shower Pattern #6 – Modular
Pros – Modular patterns are distinctively modern. And the random variety of these designs add intrigue, fun and creative flair to turn even the most boring of alcove shower stalls into works of art.
Cons – Modular patterns require more skills to install, which can make them an unrealistic choice for a DIY'er who's looking to save a few bucks on their tile shower or for a homeowner with a smaller budget.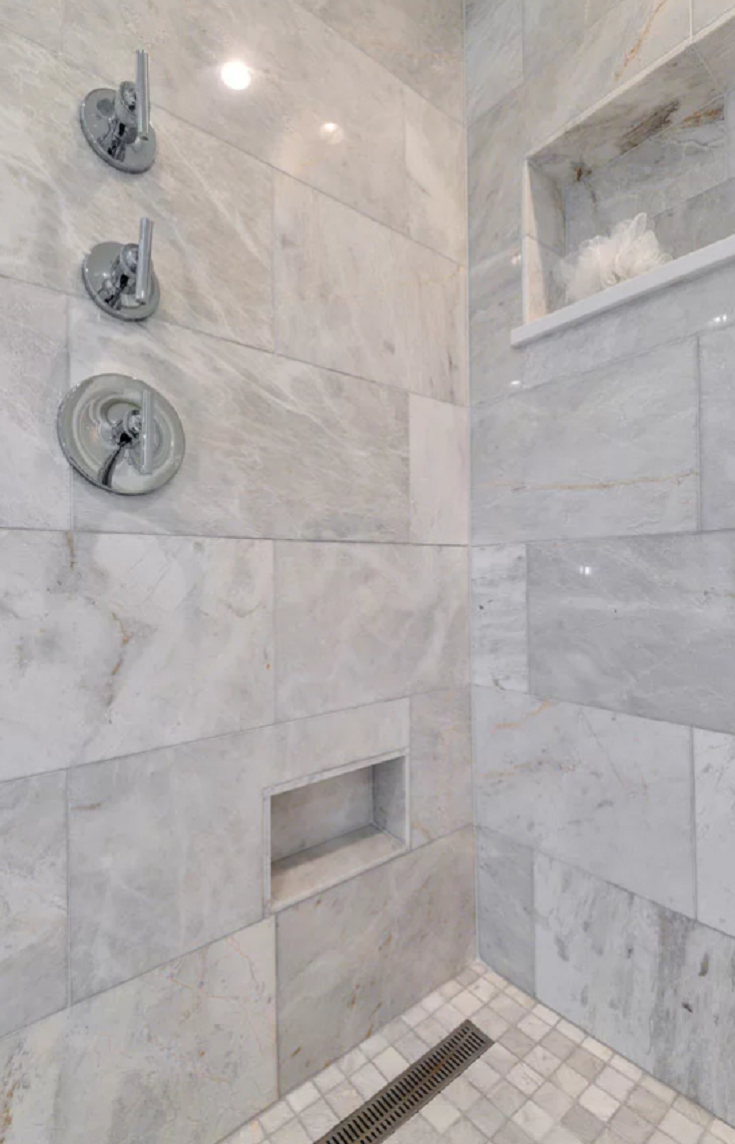 Image Source: Sebring Design Build
Tile Shower Pattern #7 – Basketweave
Pros – Basketweave tile patterns are another option to inject flair into shower wall surrounds. This pattern (while more time consuming to lay than choices like linear stack bond) are not as difficult – or costly – as the herringbone design discussed in option #1.
Cons – A basketweave pattern will make a small bathroom feel even smaller – and if you overuse basketweave, it can look too repetitious (and you can say that over and over again!).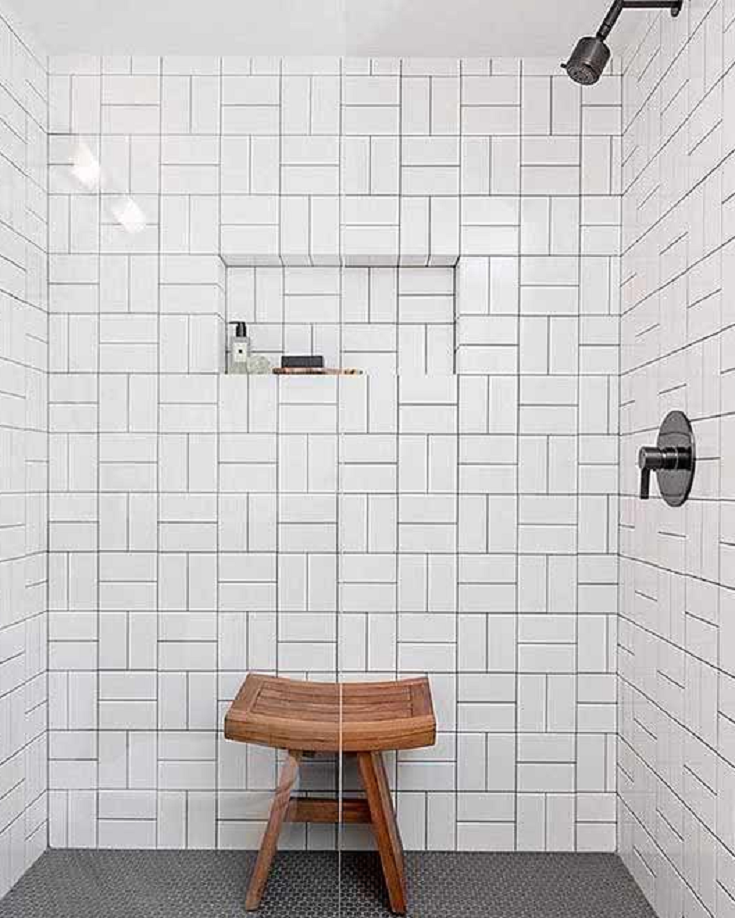 Image Source: Coast Tile
Tile Shower Pattern #8 – Large format tile  
Pros – In small bathrooms, large format tiles can be the 'bomb-diggity' (as my son Parker used to say). This pattern can 'visually' (at least) make your small bathroom feel larger. These designs can be simple, clean, and crisp. Depending on the specific tile you choose, they're appropriate from traditional to contemporary designs.
Cons – Large format tiles (and I'm defining these as 24" x 12" and larger) are heavy AND more expensive to lay. However, if you want this look – and heavy and more difficult to install, and more expensive are NOT options which have your name on them – a smart alternative are products like these Bianco Marble shower wall panels.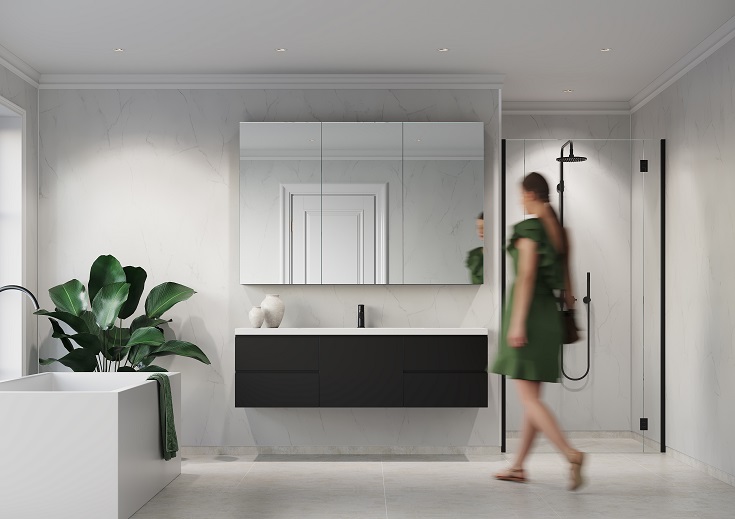 Tile Shower Pattern #9 – Mosaic or penny round tiles   
Pros – When you want a cost-effective tile shower floor pan, mosaic (or penny round) tiles are the A-#1 choice for the majority of tile shower floor pans. They can conform to the slope of standard tile shower floors, are easy-peasy to install, and are a common request for any bathroom remodeler.
Cons – OK, did I mention so far that grout joints are evil? And yes – with mosaic (or penny round) shower tile floor pans (or wall surrounds) those doggone grout joints are everywhere. They're not only a pain to clean but can be the source of future leaks. However, if you insist on mosaic shower floor pan tiles, at least protect yourself by using better grouts (like epoxy or urethane). And – also don't forget (before you 'settle' and use a mosaic tile 'default' option many shower remodeling contractors want to jamb down your throat (especially in shower pans)– they also have the drawback of making your small shower look even smaller.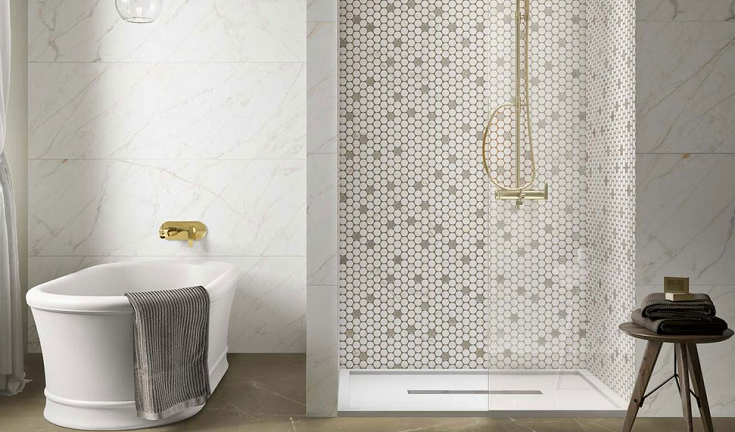 Image Source: Marazzi
Tile Shower Pattern #10 – Specialty patterns (including fish scale, starbursts, floret, and rhombus to name a few)
Pros – Specialty patterns are fun, fun, fun. They exude a sense of confidence and style. They're available in choices which are uber-contemporary to ultra-traditional to bohemian chic.
Cons – The drawback to specialty patterns (which are also their benefit) is they're trendy. What's fun and fashionable today, may have you asking yourself years from now, "What EXACTLY WAS I thinking?" Another downside of specialty patterns is they're manufactured in lower volumes. Therefore, they're more expensive and also not popular enough to be made in cost-effective shower wall panel designs.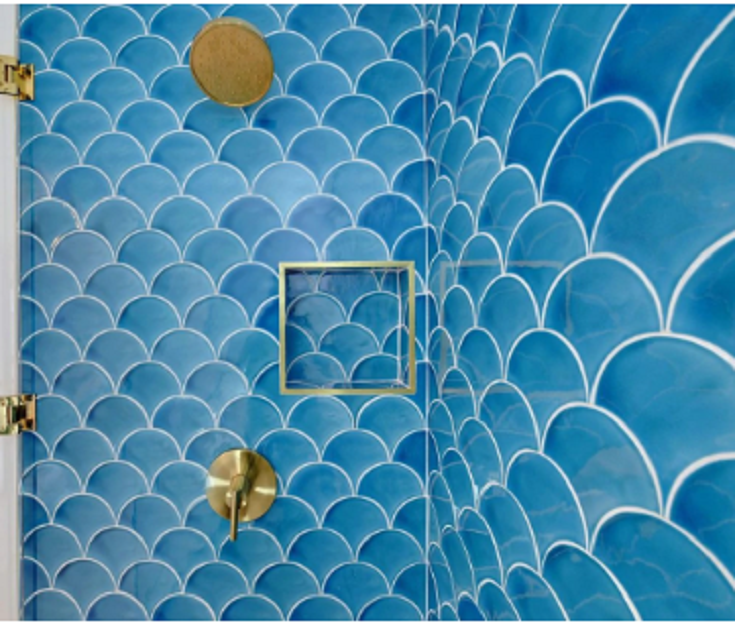 Image Source: Clay Imports
So, what tile (or shower wall surround) pattern is best for you?
As I mentioned in the beginning of this article, it's doesn't take a rocket scientist (or a bathroom remodeling contractor or 1st time homeowner) to figure out shower selections can quickly blow your mind! And if you're still unsure which of these 10 patterns will give you the perfect 'blend' of style, cost-effectiveness and not be a pain in the rear to maintain, me and my team would love to help.
Call 877-668-5888 or click for a Free Design Consultation. Ask about our selections of realistic, grout free wall panels to give you the tile pattern you want WITHOUT the drawbacks (high maintenance, leaking and mold) associated with tile.
And if you're looking for someone to do the installation for you, ask for a referral to one of the contractors in our dealer network.
Thanks for reading – Mike
###
If you want more advice follow me on LinkedIn @MikeFoti.
And if you're a bathroom remodeling contractor interested in being a dealer of unique shower wall panels, shower pans and glass shower door systems, call 888-467-7488 and ask for Mike.
---
Mike Foti
President of Innovate Building Solutions a nationwide supplier and regional (Cleveland and Columbus) remodeling contractors. Some of our product lines include glass counters, floors, backsplashes, glass blocks and grout free shower and tub wall panels
---