7 Critical Questions You Need to Know Choosing Between Matte or Gloss Finish for your Bathroom or Shower
Updated March 31, 2019
Don't you wish in life, and in bathroom remodeling, choices were simpler? While the Internet has delivered us a world of information, this hasn't made selecting bath remodeling products simpler. In fact, it's made selections harder.
Recently I could feel this painful decision-making process oozing into my headset while talking to Pam about her bath remodel. She was looking for input on whether to use matte or gloss finishes for her shower pan, shower wall panels, flooring and fixtures.
Having to choose between gloss and matte finishes made the product selection task even more complex. As Yogi Berra would have advised Pam, "When you come to a fork in the road, take it." Pam's 'fork in the road' was determining the right choice between gloss and matte finishes.
To step back, you can think of a gloss finish as a shiny reflective surface. A matte finish can be defined as flat or non-reflective surface.
So, you may be asking, "What did you tell Pam?"
Like a 'good politician' (does one of those exist? Sorry for digressing), I told her 'it depends.' Depends on what, you may ask? It depends on the answers to 7 critical questions.
Read these 7 questions and at the end I'd love to hear your vote on what finish you think is best (don't worry there won't be a pop quiz). Would you choose matte or gloss for your shower pan, shower walls, bathroom floor and fixtures. As your Math teacher never said, "There are no right answers, but IMHO there are choices which make more sense than others."
Let's check out the 7 questions.
Critical question #1 – Safety is most important in the design of this bathroom. Is a matte or gloss finish best to make sure our shower pan or bathroom floor isn't slippery?  
This type of call about safe bathrooms happens all the time. It's a daughter or son calling on behalf of their Mom or Dad. They'll say something like, "Mike, Mom's bathroom is an accident waiting to happen. She's climbing over her tub rail and has already taken one spill. I've got to do something before she ends up in the hospital."
The good news is we (and our parents) are living longer. The bad news is we're living longer in spaces which weren't designed for people who aren't as agile. After all Mom isn't as nimble as she used to be running around after you as a kid.
Mom and Dad have NO desire to leave their existing home. While they might not use the term 'aging in place' (side note – I hate this term because I don't want to age in place. It makes people sound like an old fossil) that's exactly what they want to do. They want to enjoy life in the home they know.

Making their bathroom safe should be job #1 because it's a wet, slippery, dangerous place. If they slip and fall, they might not only end up in the hospital, but also in an assisted living facility. With the average cost of a one-bedroom apartment in assisted living at $42,000 per year (based on a 2014 study – and I'm sure costs have escalated today) that's a lot of money spent you could have avoided if you made her bathroom safer first.
So – getting back to matte and gloss finishes, which is better to keep Mom and Dad safe?
This one is simple (especially when it comes to the bathroom floor and a shower floor pan). You want to use a matte finish. In technical terms matte finishes have a 'higher coefficient of friction' (technical term for slip-resistance). That's the same reason you won't see slick surfaces used in your outdoor patio. You'll find rougher textures like brick and stone.
Why take a risk with gloss finishes for the floor? Be safe. Choose matte. Note – gloss finishes on the walls and fixtures don't have much impact on safety. However, as you'll see later, they do impact cleaning (which you'll also want to reduce for your parent(s)).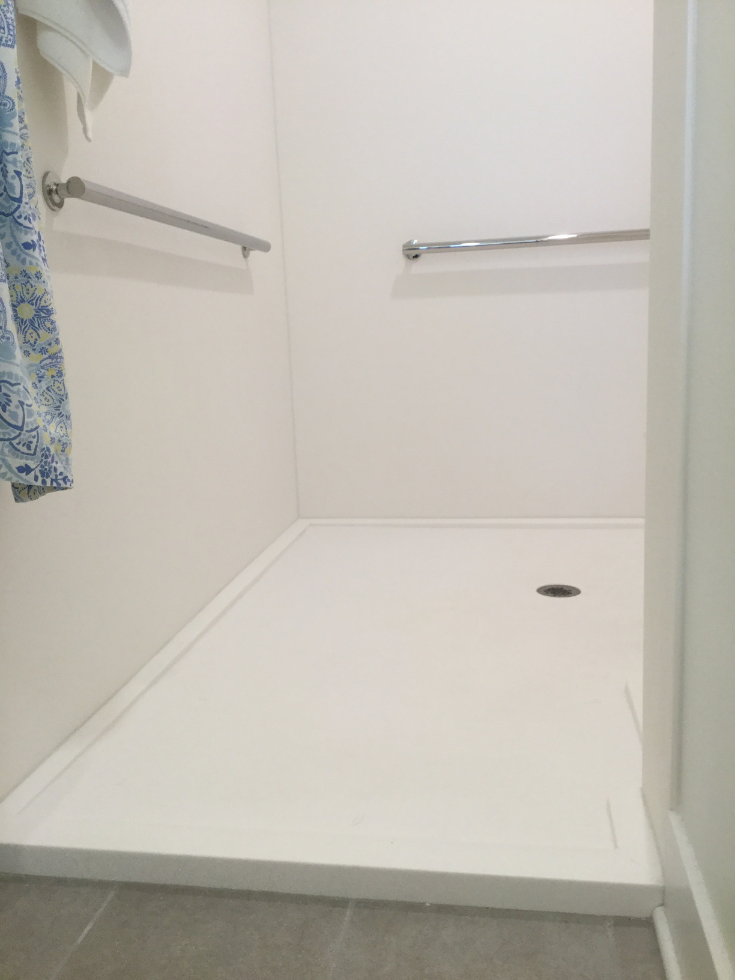 Critical question #2 – I'd like my new bathroom to have a relaxed, lived-in organic feeling. Will matte or gloss finish work best?  
Mid-Century Modern, Rustic and Modern Farmhouse are bathroom design styles people are flocking to today. Maybe our hectic lifestyles make us gravitate towards calming, relaxed spa-like bathroom settings.
When you look at organic environments, they're the direct opposite of 'shiny and new.' It's for this reason matte finishes are preferred.
In your plumbing fixtures or shower enclosures matte black and brushed nickel provide an understated natural feeling and are 'on-trend.'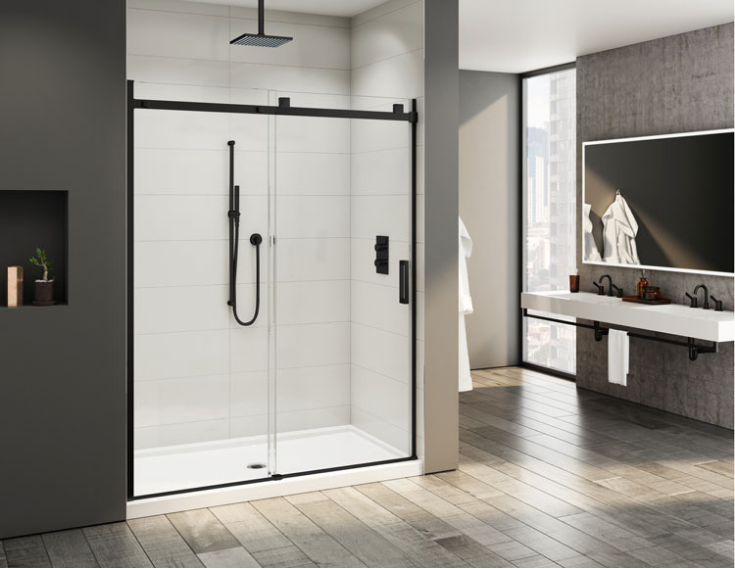 For shower wall panels consider ceramic tiles with matte finishes in large format sizes. If you want a relaxed vibe and lower maintenance choose laminated wall panels.  They look exactly like wood, stone or concrete, but require ZERO maintenance. You'll get an 'organic' look, without the clean-up hassle. That's a double-bonus.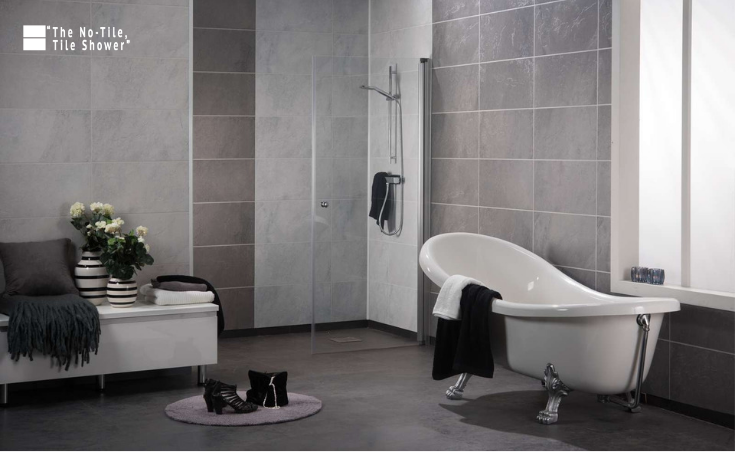 Critical question #3 – I have a small bathroom with no windows and want a brighter space. Is matte or gloss finish best?
It would be SO cool to have the spacious, glamourous light-filled bathroom you see while flipping through Architectural Digest while waiting in your dentists' office for a cleaning (oops – sorry to bring up that soar – pun intended – subject).  However, a big spacious well-light bathroom is not your reality.
You're dealing with your 'basic' production-built home bathroom. It's a 5' x 8'. It has one toilet, one small vanity and a 5' tub and no windows. It's dark, cramped and dingy. You want to breathe life in it. But how?
Here's how. Get glossy with it.
With a small bathroom the best way to create light and the illusion of space is with light-reflective materials. This is where gloss finishes come in.
You can use bright chrome fixtures and build an art-deco theme into the space.
You can use an ultra-high gloss, bright-colored shower and bathroom wall panels and add pop to your tired, old bathroom.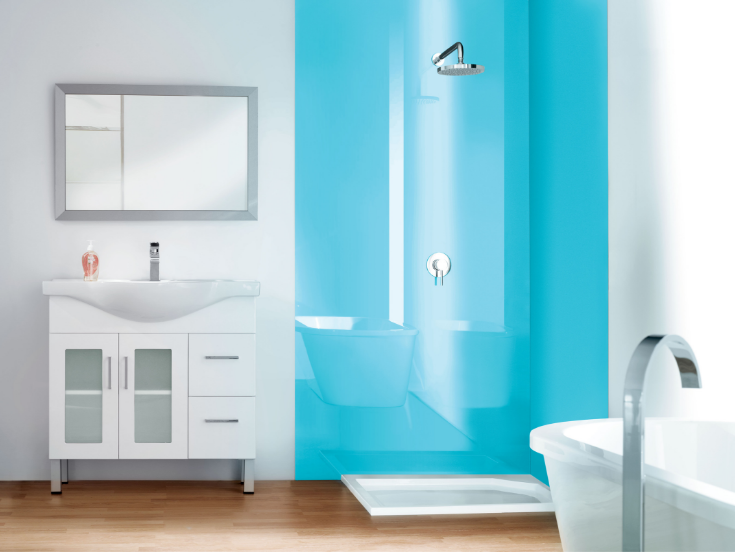 You can use a mirrored medicine cabinet to gain storage and kick up illumination with an LED lighted mirror.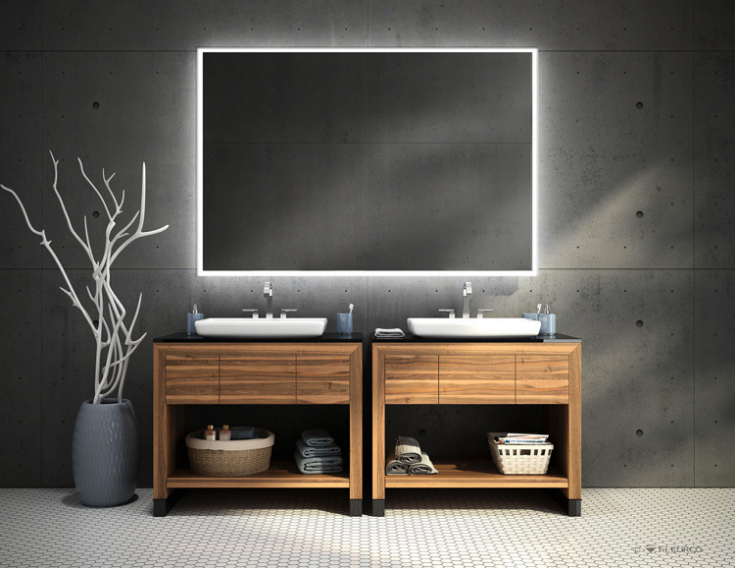 The smaller the space, that's when it's time to get glossy products in your place (bad rhythm, but I'm still going with it).
Critical question #4 – I HATE cleaning the bathroom. What will keep me off my hands and knees cleaning it – a matte or gloss finish?
Anyone who says they love their bathroom scrub brush or has a favorite squeegee should stop reading right now. Seek psychiatric help. Having time sucked-up cleaning spotted fixtures, moldy grout joints or tile walls with soap scum is nobody's idea of a good time (or at least nobody I know).
"We want less maintenance. We need less maintenance (as Jack Nicholson playing Colonel Nathan Jessup in A Few Good Men would say)." The question is what finish will get us 'time off for even bad behavior' from cleaning? I'll tell you this one is a trick question.
On one hand, cleaning glossy surfaces (if you do it right after they are used) can be simple because they have smooth finishes. However, if you're like most people you don't clean your shower and bathroom walls right away. You're busy getting ready for work and need to get out the door.
This inability to clean-up right away causes water spots to show on gloss surfaces. Also, with shiny surfaces you see everything. Dirt, smudges, soap scum.
The advantage of a matte surface is it conceals dirt and doesn't make smudges and fingerprints scream out at you (like gloss). The rough texture in ceramic or stone tiles can be harder to clean, however.
Perhaps, the best of both worlds is to use a matte finish in a non-porous material. One way to get this Chinese 'best of both worlds' is with bathroom and shower wall panels. You'll get simple cleaning and the feel and texture of the natural material (if you pick the right type of wall panel). I'd recommend the laminate panels to achieve this look.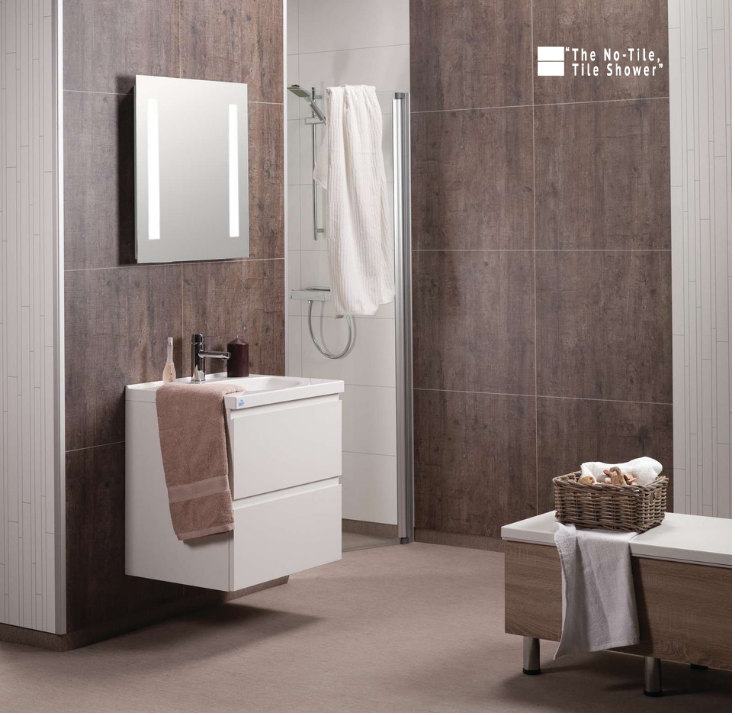 Critical question #5 – I need seating in the shower. Will matte or gloss materials work better?
Whether you've got a big or small shower, seating is a welcome addition. For someone using the assistance of a wheelchair, a fold-down seat in a tiny shower can be the only way of safely getting clean.
In plain English, when it comes to seating in the shower the last thing you want is your butt sliding off and getting hurt. Since (according to the Centers for Disease Control) there are over 200,000 injuries in bathrooms in the United States if you think this won't be you (or your Mom or Dad) there's too great a chance you'll be wrong.
To prevent falls, whether you use a bench seat, shower chair, or fold down seat a matte textured finish is essential. A slippery gloss seat-top is obviously not a bright way (pun intended) to go.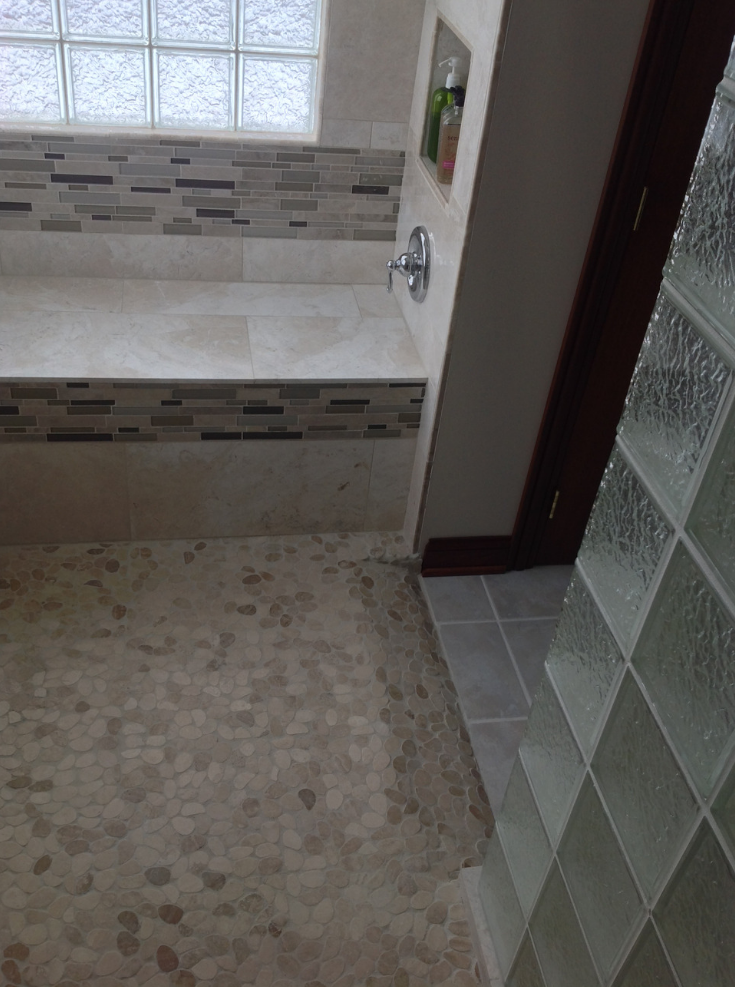 Critical question #6 – I want my bathroom fixtures to compliment today's interior design trends. Is matte or gloss better?
While today's bathrooms are trending contemporary, they also have an organic, natural look to them. This trend has pushed the bathroom fixtures and hardware choices in the favor of matte finishes.
You'll see matte black and oil rubbed bronze frequently in Modern Farmhouse bathrooms. Brushed nickel is also growing because you won't see your kids fingerprints and water spots on the faucet handles.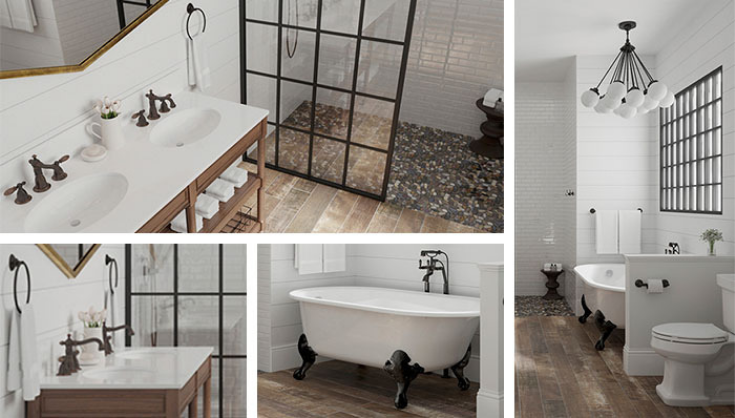 Although matte is trending upwards there's certainly a place for brightly finished gloss fixtures. Polished chrome is still most popular – and the most cost-effective for those watching their pennies. Chrome is also associated with ultra-modern or Art-deco interior themes if this is the look you're after.
The best finish for you will be the one which compliments your interior design tastes. I subscribe to the 'New-Yorkers-theory' of interior design. You should say 'Fuhgeddaboudit' when someone else tells you what interior design style you need to have. Choose what you love. Enjoy the bathroom. Let your heirs worry about resale.
Critical question #7 – I want a modern bathroom. Should I choose a matte or gloss finish?
Modern bathroom design has sharp clean lines and reflective surfaces. A modern bathroom will gravitate towards gloss finishes. Chrome is popular for fixtures. If you want to keep your maintenance down and keep fingerprints away, a matte brushed nickel finish is a good alternative.
For your modern shower walls bright, shiny and reflective materials work well. Glass tiles are fun. Back painted glass adds pizzazz (and can even include bright graphics if you'd like). High gloss shower wall panels infuse gloss and color and are safe and simple to wipe down.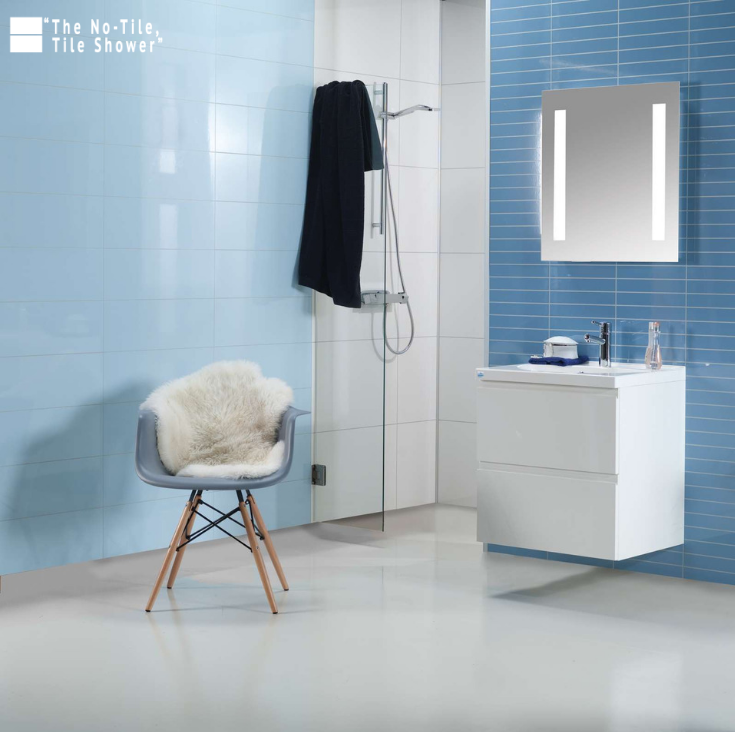 Conclusion
Now that's you've heard the 7 critical questions – what finishes are you going to choose for your shower pan, shower walls, bathroom floor and fixtures? Are there any other critical questions you'd like to add to the list?
I'd love to hear your comments below – or better yet – call me and give me your 2 cents worth. I promise there's won't be an 'matte or gloss' pop quiz. Unlike your 8th grade Math teacher I promise there are no right answers (I love those type of tests)!
If I (or a member of my team) can help you with nationwide supply of grout free shower pans, safe matte finished shower pans or glossy medicine cabinets or LED light-up vanity mirrors we' be glad to assist.
Conversely, if you're in Cleveland or Columbus Ohio we'd love to help you remodel your bathroom. Click the links or call the numbers below. We're looking forward to helping you.
###
For Nationwide supply of tub and shower wall panels, shower enclosures and shower bases call Innovate Building Solutions at 877-668-5888. For a remodeling project in Cleveland contact Cleveland Design and Remodeling at 216-658-1270 or The Bath Doctor at 614-252-7294.
If you're a remodeler or builder and want practical advice on remodeling products, industry trends, marketing and sales tips to grow your business (and cut day to day hassles), start reading my newest blog – Innovate Builders Blog. It's packed with ideas you can use now. Click here to Sign Up for the Innovate Builders Blog.
If you're in the building business, click here if you'd like to learn how to become a shower wall panel dealer or call and ask for Mike at 877-668-5888.
If you want more advice about remodeling (or like wacky humor) follow me on Twitter @Mike_Foti or my companies @InnovateBuild or @InnovateHomeOrg.
---
Mike Foti
President of Innovate Building Solutions a nationwide supplier and regional (Cleveland and Columbus) remodeling contractors. Some of our product lines include glass counters, floors, backsplashes, glass blocks and grout free shower and tub wall panels
---