7 Alternative Solutions to Ugly Shower Pans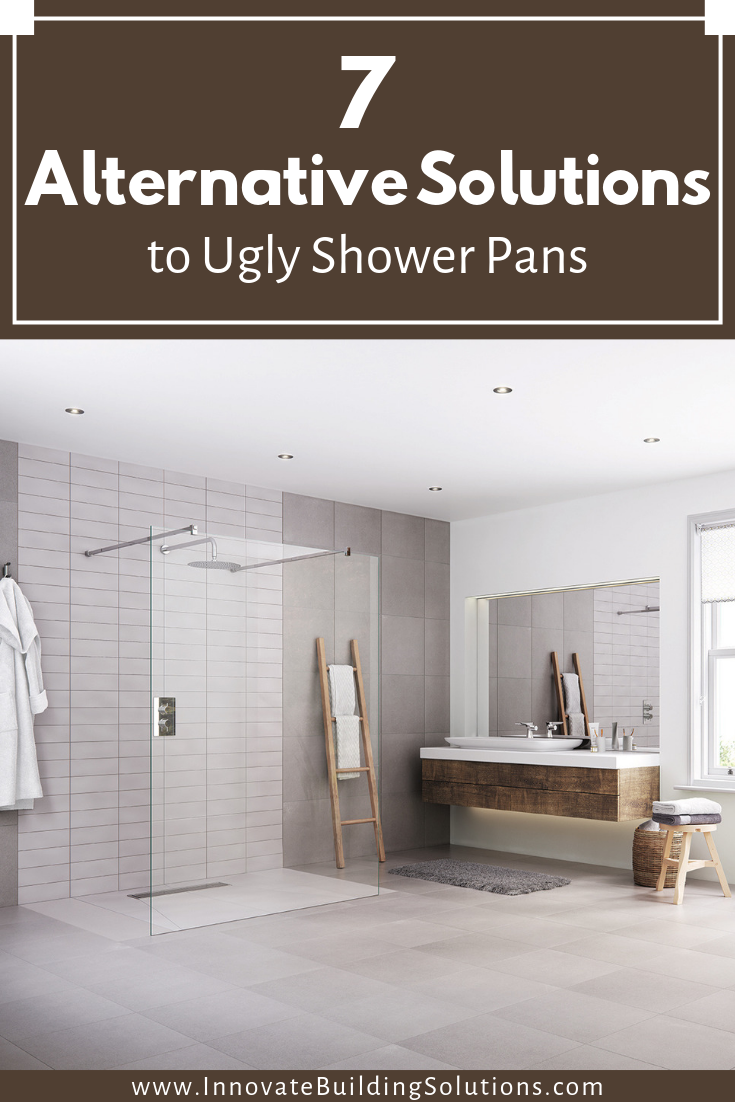 Updated October 23, 2021
The moment before you crank-up your reciprocating saw, rent the jackhammer or bring out the hand tools to demo your old fiberglass or tile shower pan do you look down and say to your shower base, "I'm going to miss you buddy. I've loved our time together." If so, you may need psychological help.
The words used to describe shower pans don't come from a place of love. More common words would be its ugly, disgusting, moldy, dangerous (but not in a 'Baker Mayfield' of the Cleveland Browns sort of way), grimy, yellowed or grungy. Negative words about shower pans could go on and on.
No where on this list is beautiful, sleek, contemporary, durable, shapely and safe.
But let's play a 'what if' game.
What if your shower can could be stylish and safe?
What if your shower pan wasn't the ugly red-headed-stepchild (sorry red headed stepchildren out there) of your shower enclosure or roll in shower?
What if you could be as proud and thankful about your shower pan as you were when your son FINALLY completed his 6-year college plan, and picked up the long-sought-after sheepskin (are diplomas actually made of sheepskins?) from State U?
I'm here to announce there are cool and safe alternatives for ugly shower pans. You don't have to put up with cheap, clunky, yellowed fiberglass shower bases any more. You don't have to deal with teeny-tiny tiles with fat grout joints which get dirty, moldy and bring you (literally) to your hands and knees.
When you think about it, your shower base is THE FOUNDATION of your shower. If it fails, everything above it becomes garbage. Money down the drain (literally and with a bad shower pan pun thrown in for bad measure).
As Gene Kranz said in the movie Apollo 13, "Shower base failure is not an option." (OK – maybe the shower base portion of the line was left out to keep the movie tighter).
In this article I'll present 7 alternative solutions for standard-sized, custom and roll in shower pans. Don't accept the first clunky fiberglass shower pan your remodeler grabs off the home center shelf. Don't accept 'old-school' mud set tile shower floor pans which are a pain in the drain for you to maintain.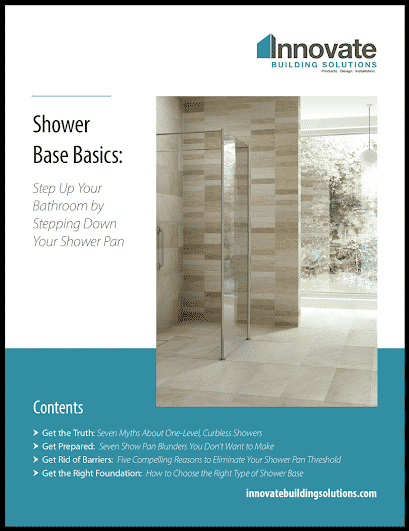 Get Our Ultimate Shower Base Guide!
Step Up Your Bathroom by Stepping Down Your Shower Pan!
Elevate your shower pan. Choose these 7 alternatives.
Shower pan alternative #1 – The 'boundaryless' one level wet room with a linear drain
There are 3 complaints I hear from homeowners with tile showers:
My grout joints are too big and there are too many of them. Cleaning is a constant battle. I use chemical warfare (toxic cleaners) to 'try' to win the losing battle vs. the joint.
My shower pan isn't sloped right. I have puddles of standing water after every shower.
Stepping over our shower curb is dangerous. It's an accident waiting to happen.
What if you could blow up all 3 of these problems in one swoop? Well – you can. Here's how.
Create a 'boundaryless' one level wet room with a linear drain. This system uses a glass reinforced plastic (the same material used in aircrafts) shower base former which creates the slope of the pan. Then cement board (or other tile underlayment materials) are brought up the base former. The entire bathroom (not just the shower) is then waterproofed. Finally, a latex modified thin-set is put down and tile laid on the surface. With the linear drain you can use large-format tiles to reduce the size and number of grout joints.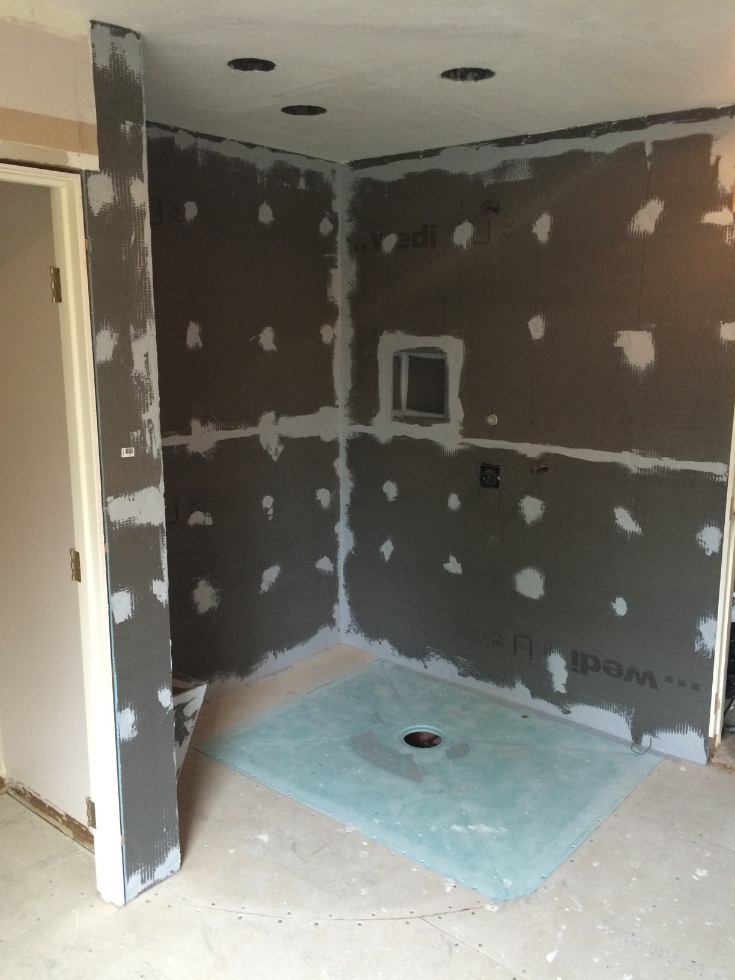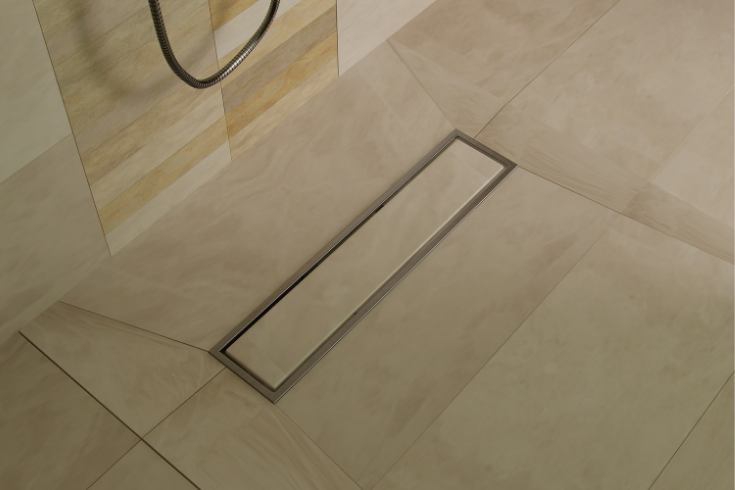 When you're done you've got a one level waterproof bathroom. It doesn't matter if the water comes out of the shower. The bathroom and shower floors are waterproofed. It's a boundaryless shower.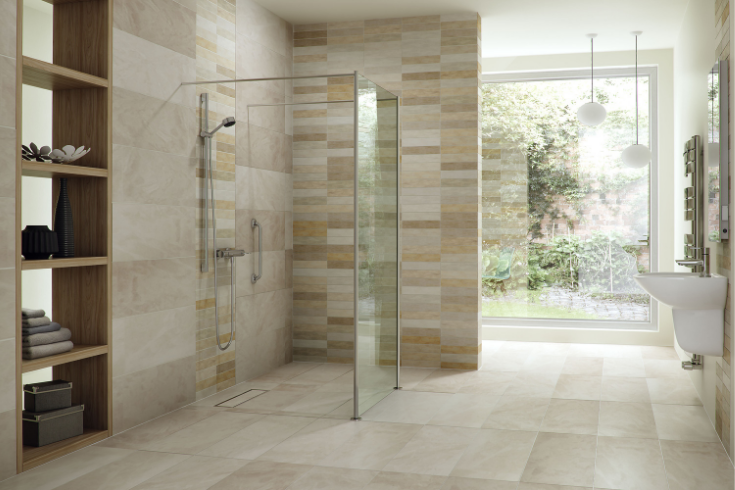 This system is perfect for small bathrooms. You're creating one continuous space which is more efficient than compartmentalizing the shower from the bathroom. The system is idea for a family member who needs the assistance of a walker or wheelchair and requires a roll in shower.
Does alternative 1 look good to you – or is this open concept too 'open' for you?
Shower pan alternative #2 – Custom-looking shaped shower pans without the wallet-draining prices
Standard sized shower pans may 'do the job.' However, they aren't exciting.
Here's an idea to make your shower roomier and more interesting. It's to use a curved shower pan and glass enclosure system.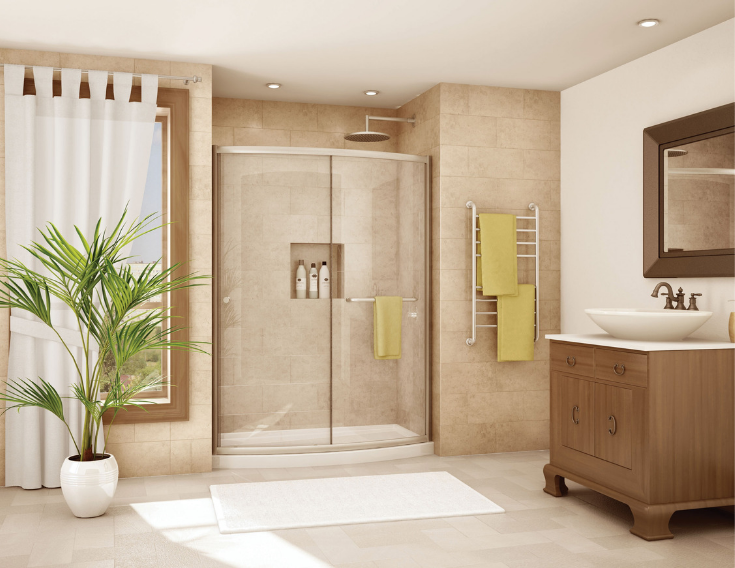 For example, let's say you've got a 30" deep tub alcove space (i.e. the walls on the left and right of the tub are 30" wide). You're planning to convert your tub into a shower. However, you're concerned because you've got some 'big-boys' in your family (OK – if we're being real, they weigh too much). You know the 30" depth with feel too tight for them unless they can be hypnotized into the Jenny Craig crash weight-loss program (not likely).
There is a way to 'trick this space out' and make it bigger. No, it's not a crazy David-Copperfield inspired feat of magic.
It's to use a curved shower pan with a pre-made curved glass enclosure. This shower pan is 30" on the left and right but bows (or curves) out to 36" in the middle. You'll get the elbow (or gut) room for your 'big-boys,' and have a more stylish space. Sounds like a "BOGO" special deal to me. And since the curved pan and curved glass are manufactured in standard sizes, it won't bust your budget.
Shower pan alternative #3 – Low profile, matte-finish stone shower pan with a no muss, no fuss K.I.S.S design
For some of you reading this, buying a shower pan is not about making a fashion statement. You want function. You want durability. You want a pan which eliminates maintenance. You want a safe pan. You want no fuss, no muss. You want the design to be built with the K.I.S.S principle (Keep It Simple, Stupid).
Get Free Samples!
Click here to request free samples of our Shower Base Products.
Here's the ultimate K.I.S.S pan. It's the solid stone shower base with a matte finish. Its simplicity makes it work. Here's 4 reasons why:
Reason 1) It's built from a cultured man-made stone which doesn't absorb moisture.
Reason 2) It's textured matte finish texture won't show water spots. Your OCD spouses' need to clean won't kick in, unlike with an easy-to-see-the-spots glossy shower base.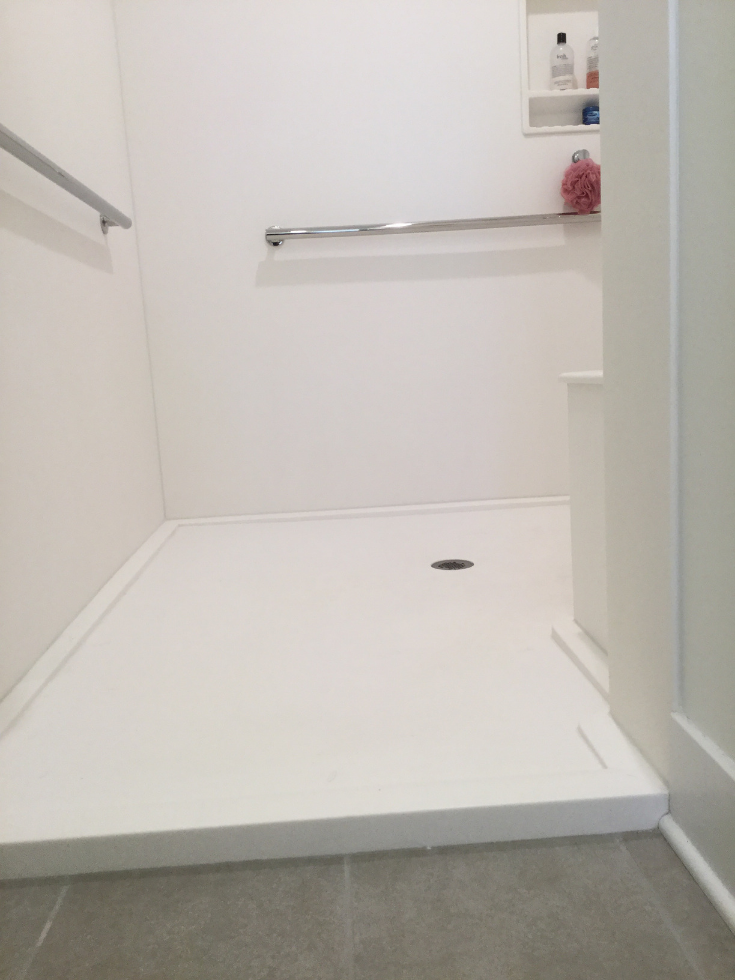 Reason 3) It comes in standard and custom sizes.
Reason 4) It's doesn't have to be boring. You can choose from cultured stone shower pans in 30 different colors – or even choose a striking white marble low profile stone shower pan which will have everyone who sees them ooing and aahing.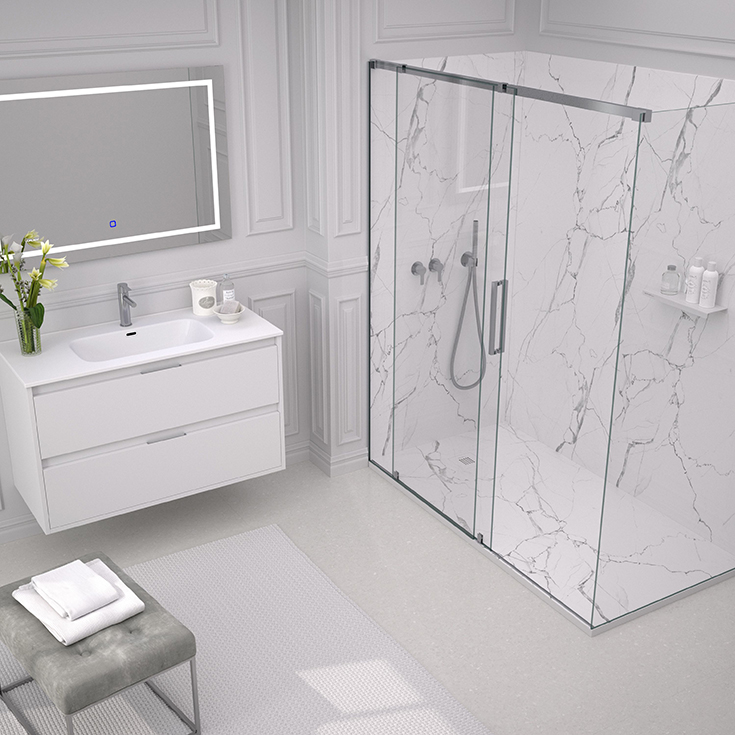 Shower pan alternative #4 – This base uses a 'concealed weapon' to eliminate one ugly element of shower pans
Here's a question for you. It's like a pop quiz, but don't worry it won't be graded or go on your 'permanent record.'
Besides ugly, moldy grout joints in tile showers or dirty yellowed fiberglass pans, what's the next most ugly element living in every shower pan?
If you guessed the pitted, round, hair-filled drain strainer cover, you're the grand prize winner. Sorry – I'm not sure what you're the grand prize winner of yet. However, when I come up with the prize it will be BIG.
Round drain covers are Ugly (with a capital U). And if you have an old bright brass cover which is pitted it's really, really ugly. What if you could blow up the drain cover and still have a place for water to drain? Well, you can.
Here's how. Use a base with this concealed 'weapon.' It's the hidden drain cover. The low profile acrylic corner shower pan shown below is a cost-effective acrylic base where the cover hides the drain. This 'leave-the-drain-cover' system also exists for tile ready bases.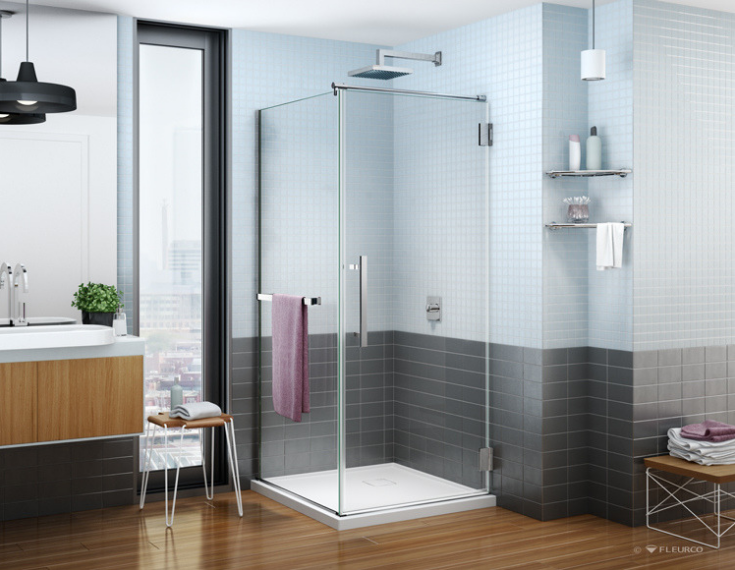 And if you want true luxury – in a shower pan which is actually available for stock (by January 2022) check out this fun Driftwood low profile stone shower pan. The drain cover also blends in with the shower pan.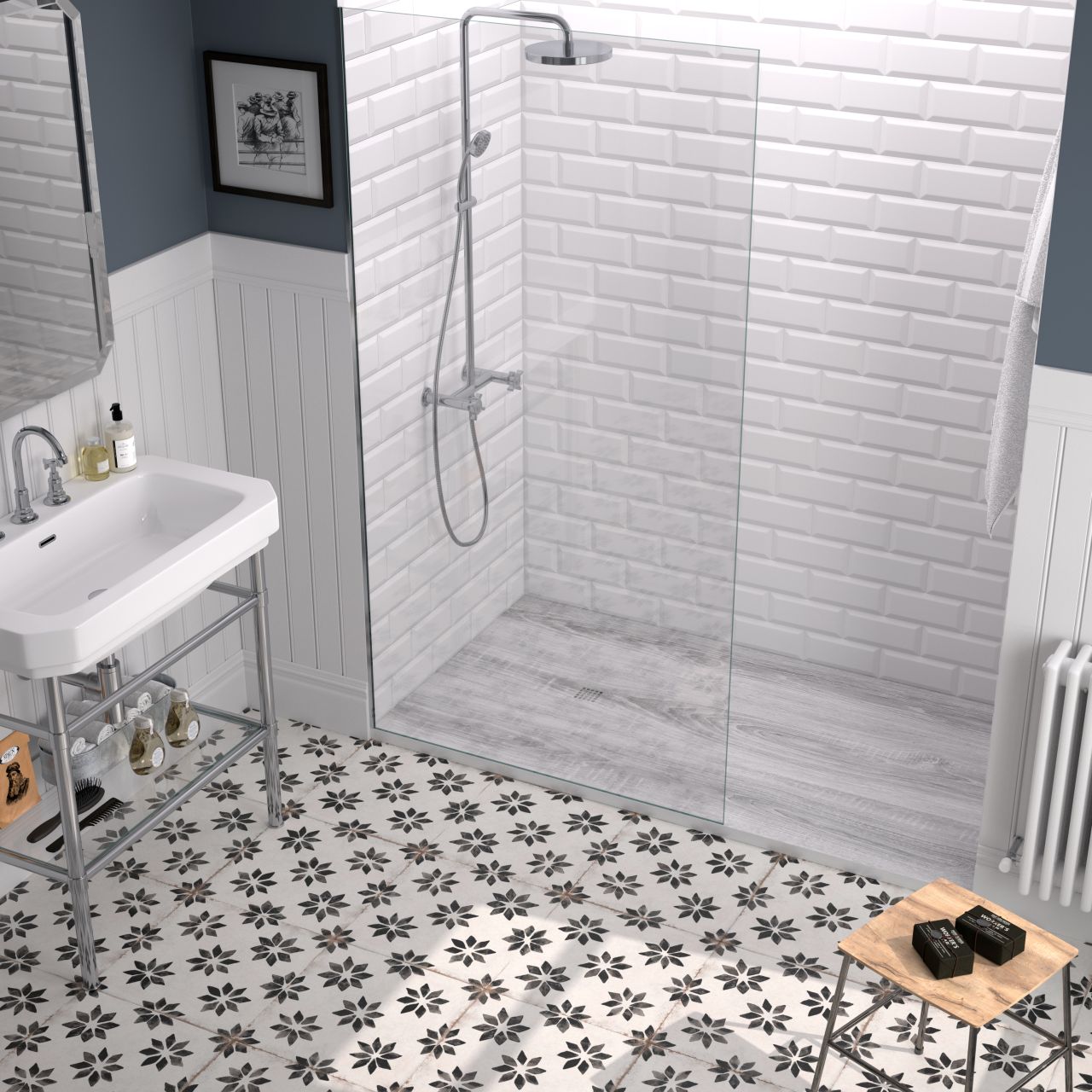 Would you like to blow up your drain cover? What are you waiting for?
Shower pan alternative #5 – This 'FlexPan' saves money and is more flexible than your yoga instructor (OK – maybe not, but it sounds good)
The ugliest thing to many people about buying a new shower pan may not be it's features and benefits. It's the jaw-dropping price once you figure out what you need.
Consider this example.
Tom calls his local big box store. He tells them he wants to buy a 48" x 36" pan. Good news the dude with the orange smock tells him. We've got a fiberglass pan in stock. It's on sale for $299. Tom thinks, 'Cool, it's my lucky day.'
He drives 45 minutes to the store on his one day off. Traffic is insane on Saturday. He searches everywhere in the store for the clerk he talked to on the phone and finally tracks him down. The dude shows him the base.
Tom sees it and is bummed. The dude asks why. He says, I need the curb on the 36" side, not on the 48" side. Do you have any of those in stock?
The dude laughs. No way, he says with a surfer-guy twang. You'll need a special-order stone shower pan to make that happen. Tom asks the price. The dude says $975.
Tom thinks, "I'm S.O.L." Now what?
In my best cheesy-infomercial voice I would say to Tom, "If Tom only knew about the 'FlexPan' base he wouldn't be bumming out right now. For 5 E-Z payments of $129.99 he could be installing this pan today with the curb on the 36" side!"
In all seriousness, there is a 'FlexPan' acrylic shower base system which has an 'add-on' tiling flange. It gives you the flexibility to use the same 48" x 36" base (or 60 x 32 or 60 x 36 sizes) in 5 different layouts. You'll be able to use a standard shower pan (i.e. lower cost) where usually you're sucked into buying a custom base. Look at the ways you can use these flex-pans for alcove, corner or even 3-sided glass showers.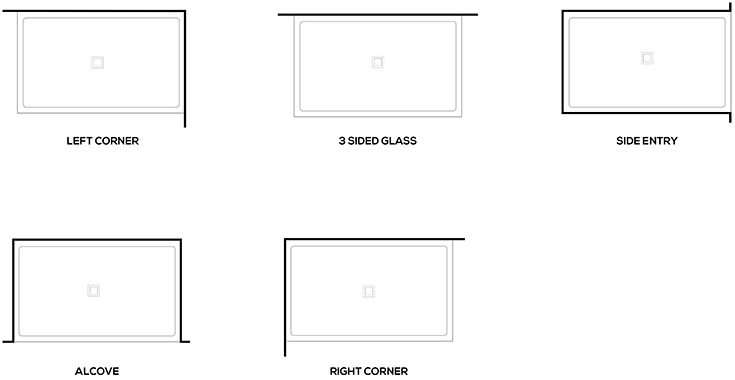 This FlexPan saves time, money and aggravation when your glass or curb design doesn't fall into the 'most popular' category.
Going back now to my cheesy informercial voice I would tell Tom, "Don't delay, get your FlexPan today."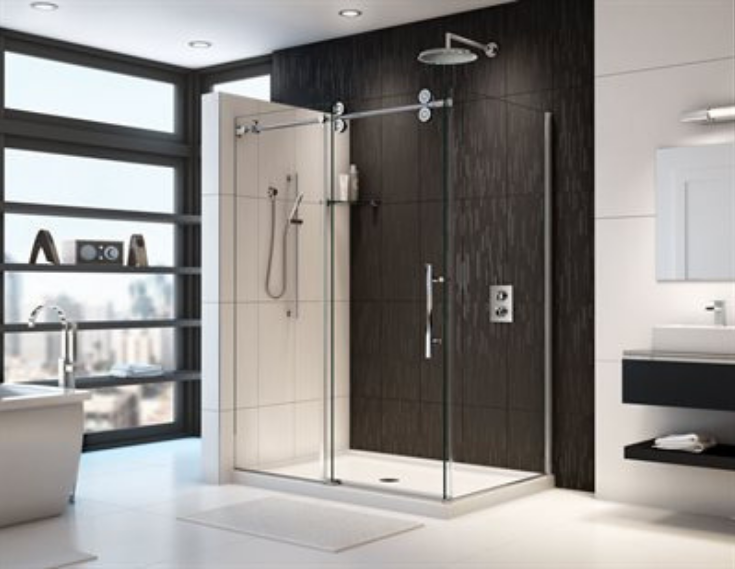 Shower pan alternative #6 – The 'organic' pan which refuses to be live 'in the box'
Would you like a rustic, Zen-inspired or Bohemian style bathroom? Does the rectangular shape of 'standard' shower pans say B-O-R-I-N-G to you?
Perhaps you want spaces which visually flow into another. You know there's no way to make this happen with the cheap-box-store base your contractor just hauled in. What can you do?
One stylish option is using the 'boundaryless' shower system discussed in alternative #1… with a twist. This twist will be the creative artistry of your tile setter.
Since the waterproofing of a wet room extends beyond the shower, you can lay your tile or pebble floor pattern beyond the traditional shower space.
Imaginative tile designs are free to live anywhere on your bathroom or shower floor in any continuous pattern you like.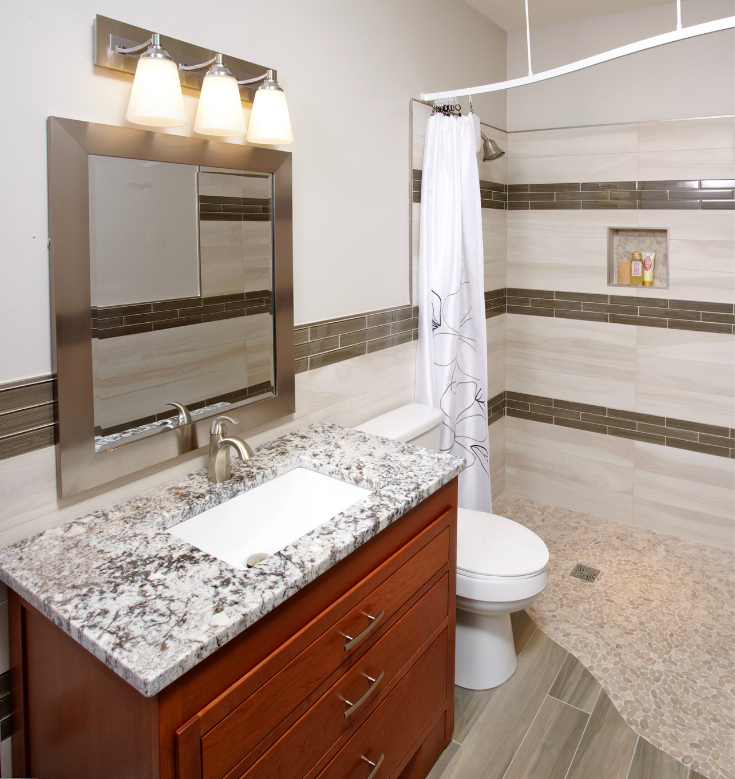 Shower pan alternative #7 – Your spa-bathroom deserves a stylish low maintenance shower pan which flows with it  
You want your shower and bathroom to feel like a spa, even while you're rushing around 5 days a week getting ready for work.
You've chosen low-maintenance, high style matte black finishes for your fixtures.
You're adding a rain-head for the relaxed shower you've dreamed about.
You're installing in-floor heating. This spa bathroom is going to be fabulous.
One problem. What shower pan will compliment your relaxed, organic, spa-inspired look without bringing you to your knees cleaning it? After who really wants to be a slave to the common tile shower floor used in 99% of the spa bathrooms?
Here's the perfect alternative. It's a textured stone shower pan. It's available in matte black or matte white finishes in 3 fun textures (wood, stone and slate). Boring it's not. Easy to maintain it is.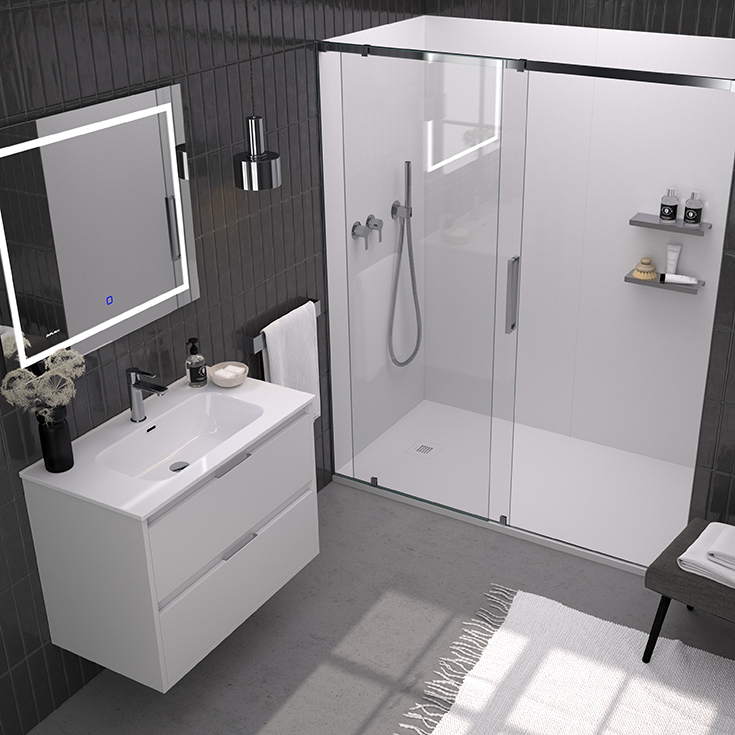 Conclusion
I hope you see your shower pan doesn't have to be the Achilles heel of your bathroom design. You have choices to move it beyond 'ugly status.' Elevate (OK – maybe not literally) your base with these 7 alternatives for stylish, safe, fun and functional shower.
###
Can I, or a member of my team, help you?
For Nationwide supply of tub and shower wall panels, shower enclosures and shower bases call Innovate Building Solutions at 877-668-5888. For a remodeling project in Cleveland contact Cleveland Design and Remodeling at 216-658-1270 or The Bath Doctor at 614-252-7294 in Columbus Ohio.
If you're a remodeler or builder and want practical advice on remodeling products, industry trends, marketing and sales tips to grow your business (and cut day to day hassles), start reading my newest blog – Innovate Builders Blog. It's packed with ideas you can use now. Click here to Sign Up for the Innovate Builders Blog.
If you want more advice (or like wacky humor) follow me on Twitter @Mike_Foti or my companies @InnovateBuild or @InnovateHomeOrg.
---
Mike Foti
President of Innovate Building Solutions a nationwide supplier and regional (Cleveland and Columbus) remodeling contractors. Some of our product lines include glass counters, floors, backsplashes, glass blocks and grout free shower and tub wall panels
---