Frequently Asked Questions about Fibo Laminate Shower & Bathtub Wall Panels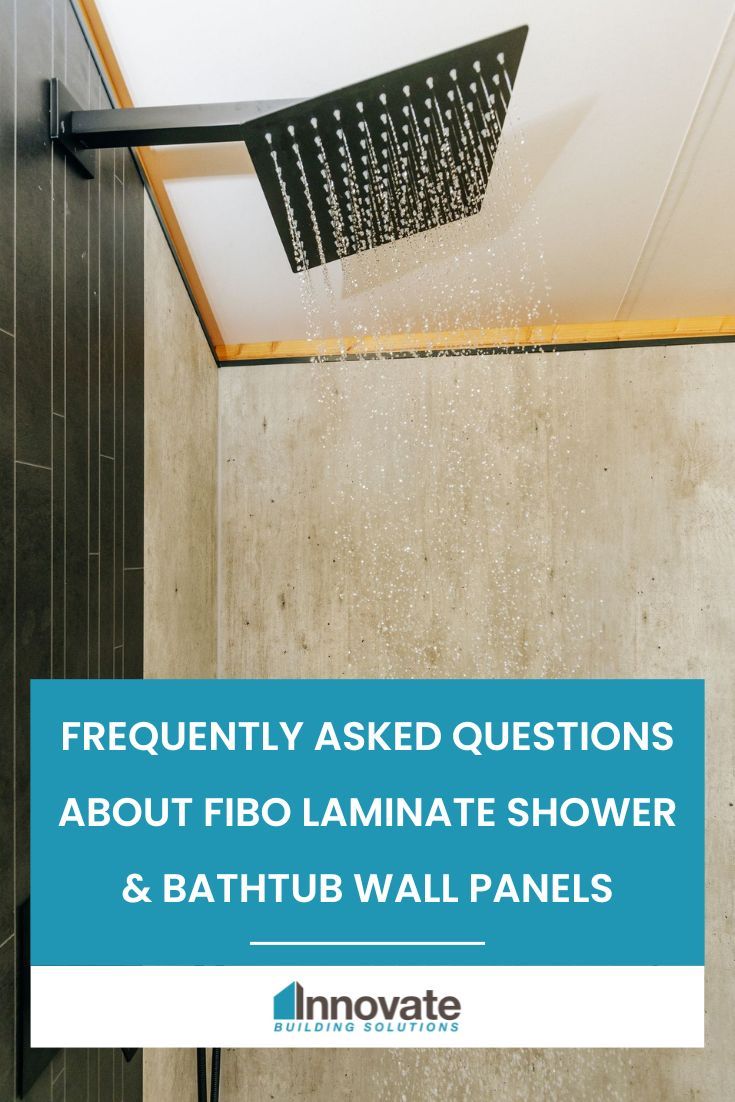 If choosing shower and bathtub wall panels isn't as simple as you thought when you began the process, I can feel your pain.
And whether you're looking to order Fibo laminate wall panels, or fiberglass, or acrylic, or cultured marble or cultured granite (or if you still LOVE, LOVE, LOVE to clean grout joints and are planning to use tile) there's a lot of factors to consider.
First, you need to know about the wall surround product itself. Is it thick? Is it waterproof? What size(s) does it come in? Does the product look realistic, or will it be a 'cheap imitation' of tile?
Second, you need to know the price. Even if the product is the greatest invention since Wonderbread or the iPhone it's of no use to you if it's out of your budget.
Third, you need to know how it's installed (even if you're NOT the one putting up the product). Because if you can't get a contractor to do the installation, it won't matter how much you love the wall panel system.
Fourth, you need to know how to order and who(m) to order through. You want to buy the right product, in the right quantities, with the right accessories.
And finally, you want to buy from the right company. Not some E-commerce site who provides minimal support during the sales process – and NO support after the sale. You need to work with a company who specializes in bathroom products (and bathroom and shower wall panels) to make sure you're getting the right product for your bathroom.
To help you sift through these questions, you'll find 4 sections below which confronts each of them head on with an emphasis on the fast-growing Fibo laminate panels. And if you have other questions – or input –write them in the comments below or call 877-668-5888.
So, let's dig in.
Section 1 – Product questions – Fibo laminate shower and tub wall panels
Question #1 – What are fibo laminate shower and bathtub panels?  
Fibo panels are a 3/8" thick rigid board. The most common size panel is 23.6" wide x 94.4" tall and weighs 26 lbs. per panel. They're made with a high pressure laminate top surface, applied onto a marine grade plywood (the same material used on boats), with a vapor barrier in the back.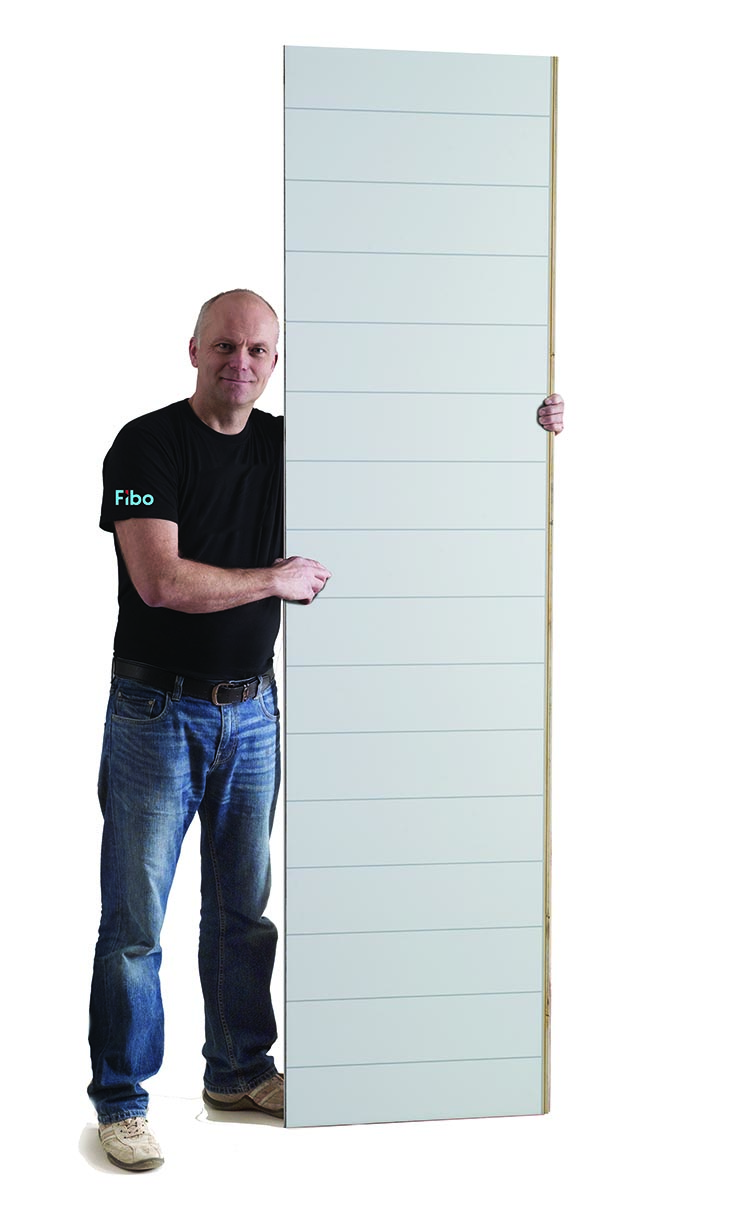 Question #2 – How long have Fibo laminate shower and bathtub panels been around? Is it a new product?
Fibo IS NOT a new product. These unique laminate wall panels were invented 41 years ago by Fibo Systems – a Norwegian manufacturer. They're very popular in Europe and were introduced in the United States in 2018 and have been growing rapidly since then.
Question #3 – Are all laminate wall panels the same?
No. Fibo is the only manufacturer in the world who creates waterproof 'faux grout joints' in their wall panel designs. They look just like tile, stone, marble, and even cement.
These panels ARE NOT your grandfather's Oldsmobile (or your grandfathers old and yellowed fiberglass shower surround), they have style and are realistic.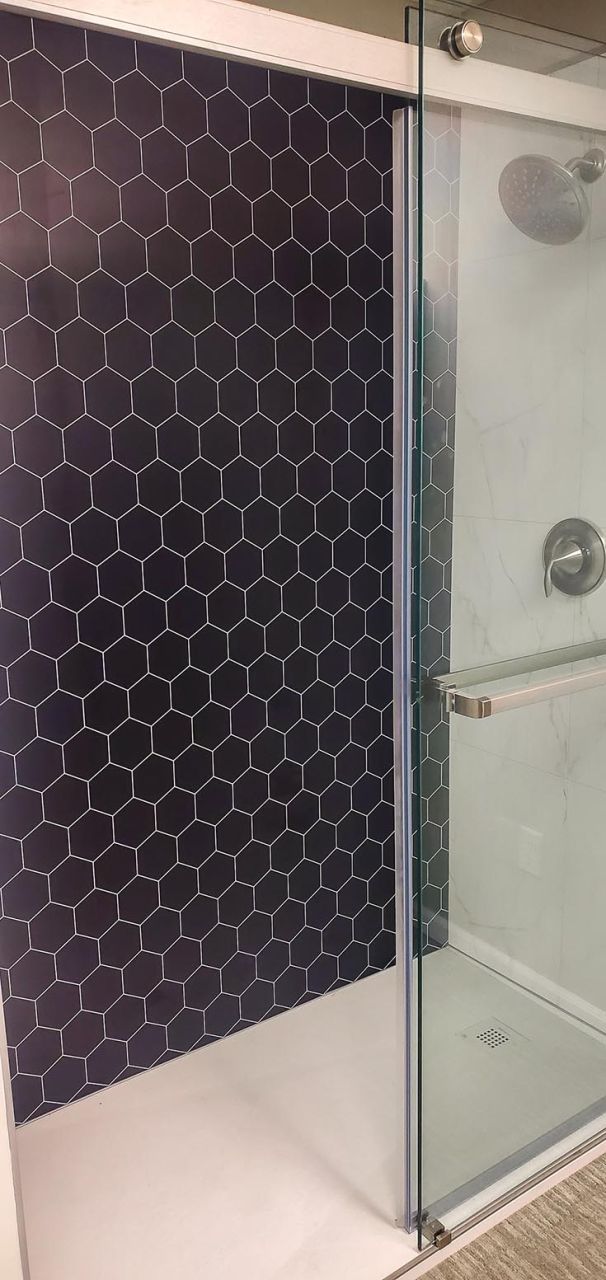 Question #4 – How many designs are available from stock? Can I get custom colors and patterns?
Through Innovate Building Solutions you'll find 29 patterns available for immediate shipment. There are 700 design options in the Fibo line. In addition, new designs are created every year to keep up with bathroom trends – not only from the United States but from around the world.
Get Free Samples!
Click here to request free samples of our Laminated Waterproof Shower Wall Panels.
Question #5 – What's the warranty of Fibo laminate shower and bathroom wall panels?
Fibo panels have a lifetime residential warranty (and a 25 year commercial warranty).
In addition, Innovate has had ZERO warranty claims since we began offering this line (and today we sell close to 200 showers a month). This product is built to last. You won't have to worry about F.O.S.U. ('er the Fear of Screwing Up!).
Question #6 – Are Fibo bath and shower panels waterproof?
Yes – these panels are waterproof through a high pressure laminate top surface, along with the patented Aqualock click/lock seal which creates a tight fit from one panels to another.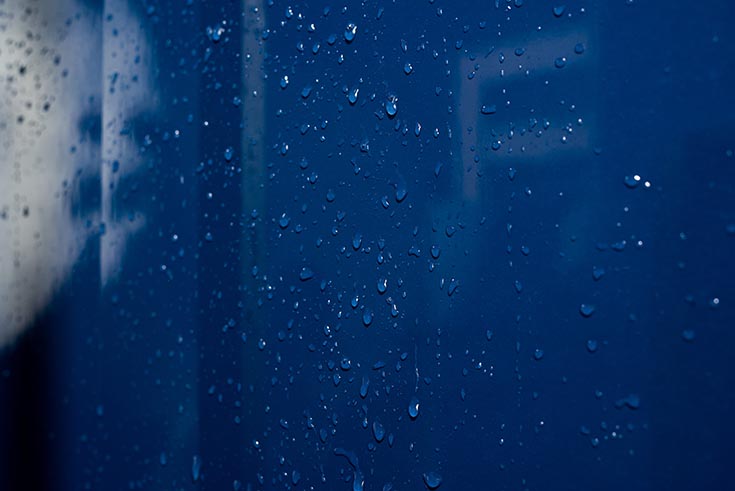 Question #7 – Will these panels reach the top of an 8' ceiling in a shower alcove? Do you need to trim the top of the panels?
Since Fibo panels are 94.4" tall – they will reach the top of an 8' ceiling (96" high) when they're installed onto a shower pan which has a 1 ½" threshold or taller.
While you don't have to trim the top of a Fibo shower or tub panel installation, it's recommended so you can cover any ceiling height variations or if the cuts don't come out as perfect as you'd like (not that YOU'VE ever made a cutting mistake before – ha! ha!).
Question #8 – Is it simple to clean Fibo laminate wall panels?
A BIG reason people buy grout free panels (of any type) is because they're sick and tired (as mom used to say) of cleaning grout joints or frustrated when it's impossible to clean their dirty fiberglass surround. And cleaning these panels is a breeze. Simply, use a clean and soft cloth with warm water or non-abrasive cleaners like Fantastic, Windex, Green Works, 409, Tilex Spray, Pine Sol and Lime Away spray. Do not use abrasive or gritty cleaners (like Comet, Scotch Brite Pads, Magic Eraser etc.).
Question #9 – Can Fibo laminate wall panels be used with any type of shower pan or wet room floor?
Yes, with these wall panels will work with any shower pan– or a one level wet room floor. And while this is true, most people who choose grout free wall panels want a grout free shower pan made of stone or acrylic because they usually want a low-maintenance installation.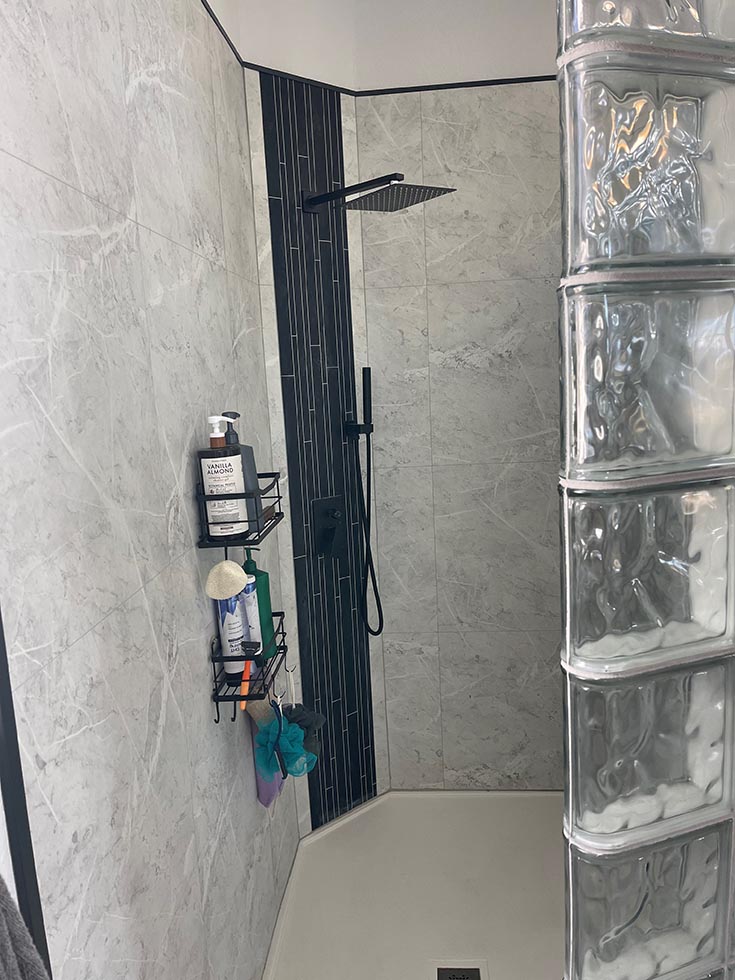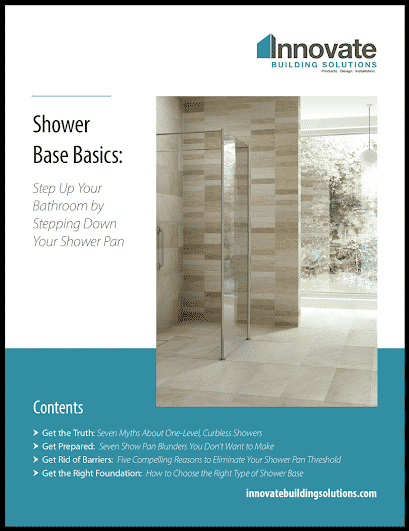 Get Our Ultimate Shower Base Guide!
Step Up Your Bathroom by Stepping Down Your Shower Pan!
Question #10 – For the tile and stone patterns, can I choose any faux grout color I'd like?
No – each (tile or stone) Fibo shower panel design is made with either a white, gray, or black faux grout joint. And while there's 29 patterns to choose from stock (and over 700 panels in total), the faux grout joint color is predetermined based on the pattern chosen.
Get Free Samples!
Click here to request free samples of our Laminated Waterproof Shower Wall Panels.
Question #11 – Are there places I SHOULD NOT use Fibo laminate wall panels?
While it's nice to use fibo laminate wall panels in showers, around bathtubs, and throughout the bathroom there are places you SHOULD NOT use them. Those places include:
On the floor of your shower pan or as the top of a shower bench seat.
Where you need the cheapest wall panel (more about this in Section 2).
Where you need to cover a curved wall with a shower panel.
To learn more where you should – and should not – use these panels read 15 Places You Should (and 5 Places You Should Not) Use Fibo Laminate Wall Panels.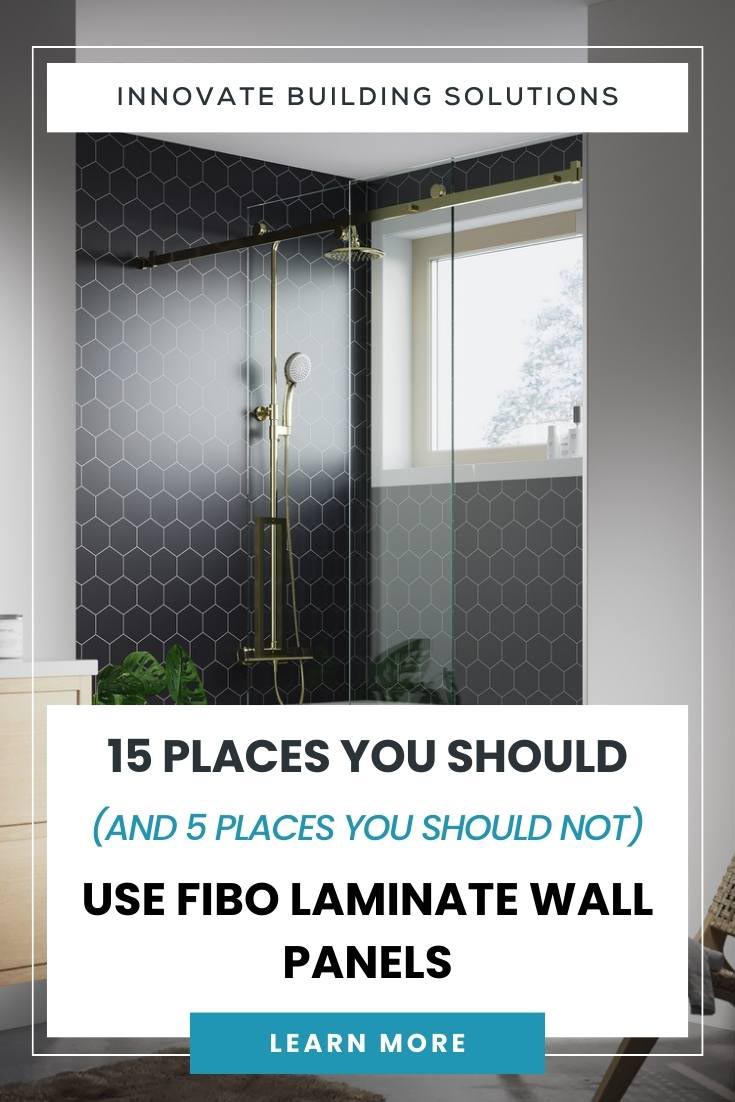 So, now that we've addressed the product questions about Fibo laminate panels – let's tackle the dreaded questions about pricing (and unless you're independently wealthy or an heir to Elon Musk's estate, you'll want to read this section!).
Section 2 – Pricing questions – Fibo laminate shower and tub wall panels
Question #1 – Are fibo laminate wall panels expensive? Are they cheaper than fiberglass, acrylic, cultured stone, and tile?
If you ask if Fibo bathroom wall panels are expensive it depends what your budget is. But if you ask how's this product is priced relative to competitive materials –here's what I'll tell you.
If you're looking at buying wholesale wall panels to DIY your project and spend the least amount of money a fiberglass or acrylic wall panels are the cheapest.
For cultured marble, cultured granite, or PVC panels you'll find laminate panels are priced about the same – maybe less depending on the brand.
In relation to tile, which is professionally installed, laminate wall panels will be less expensive (because the labor to install them takes far less time than tile). However, if you're DIYing your tile shower – you may find tile cheaper IF (and only if) you view your time and labor, and the cost of renting equipment, as free (and you buy a low-priced tile).
An average 6 panel fibo laminate wall panel kit (which includes the sealants, trims, and everything you'll need to do the installation except the backer board) for a tub to shower conversion will cost a bit over $1,800 retail delivered to most places in United States.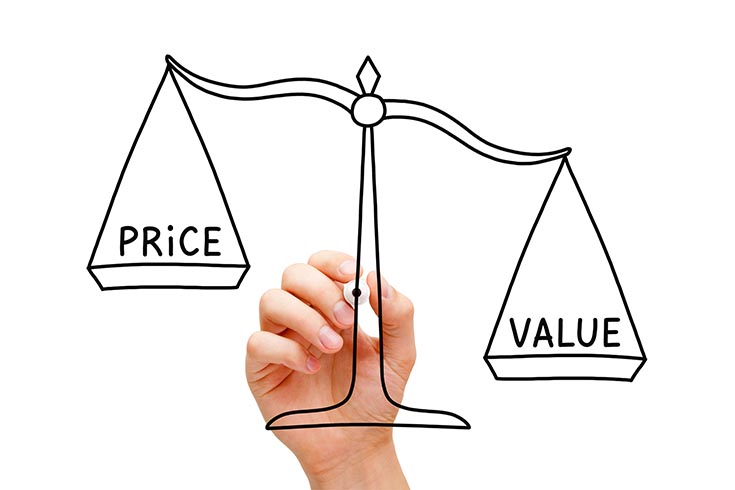 Question #2 – If I'm a DIY'er is it smarter to buy a 'complete shower kit' (which includes the shower pan and glass door) – or should I buy wall panels separately?
While it's possible to purchase a laminate bath or shower wall panel kit separately, you can save money purchasing a complete shower replacement kit since it'll save shipping costs (since multiple items come together), and you'll have the peace of mind knowing the glass shower doors will work with the shower pan.
Note –shower kits come in varying levels of quality, and if you want to ensure you get a system built to last, read 13 Shower Replacement Kit Problems You can Avoid or watch the video below.
The Ultimate Shower Replacement Kit Guide
Clear advice on bringing your bathroom to the next level
Question #3 – Will a custom-sized laminate shower wall panel kit cost more than a standard-sized kit?
This can be a smart reason to choose laminate wall panels vs. fiberglass, acrylic, or cultured granite. Since the laminate panels are 23.6" and can be cut to fit each wall – on the job site – a 'custom-sized' shower doesn't need to cost more than a standard shower.
For example, let's say you have a 70" wide x 36" deep shower. While the 70" size is custom with fiberglass, acrylic, or cultured stone, with the laminate wall panels you'll still only need 3 wall panels along this wall (just like you would if you had a 'standard' 60" wide back wall) since the 3 wall panels will cover 70.8" (23.6" x 3 panels).
Question #4 – How much can I expect to pay for a complete tub to shower conversion with Fibo laminate wall panels?
While pricing will vary greatly depending on where you live, the cost of labor in your market, and who(m) is serving your area – it's helpful to get a feeling of the installed cost of a bath to shower conversion (note: this is the most frequently done project with wall panels – although any type of project can be done with them as well).
Learn about installed costs of tub to shower conversion using various materials by reading A Comprehensive Guide to the Installed Cost of a Tub to Shower Conversion.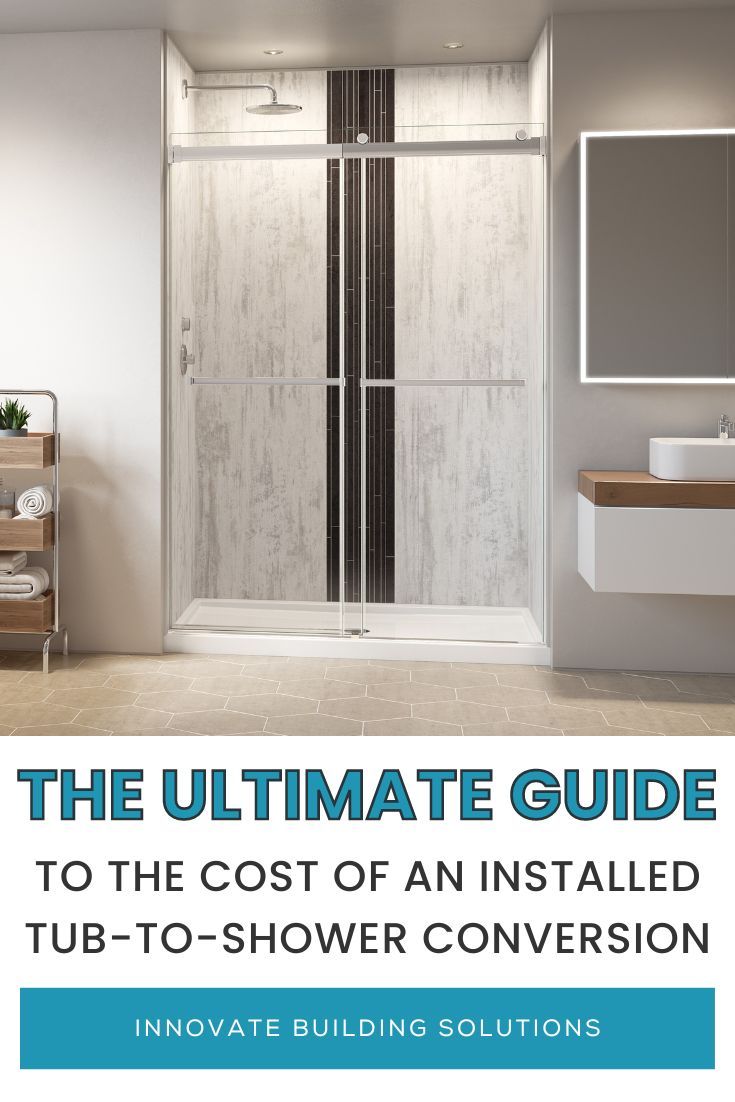 So now let's turn our attention to the installation questions about Fibo bathroom panels. Since its newer to the United States, there's always a number of questions which go with someone's first installation.
Section 3 – Installation questions – Fibo laminate shower and tub wall panels
To really do a 'deep dive' (and I'll admit I HATE, HATE, HATE this overused corporate phrase – but I thought it'd be funny to throw it in anyway) check out the following.
First read Frequently Asked Questions about Installation Fibo Laminate Shower and Bathroom Wall Panels. This article is broken into 3 parts:
Part I – The tools, storage, and materials needed to install laminate wall panels.
Part II – How to prepare for your installation.
Part III – Questions about installing Fibo laminate wall panels.
And second learn even more by watching the video below.
Now that we've covered the installation process, let's look at how to order Fibo wall panels, ensure you DO NOT make the wrong selections, and points to consider to choose the right company to purchase from.
Section 4 – Ordering questions – Fibo laminate shower and tub wall panels
Have you ever ordered something for your home (either through a local supplier or off the Internet) and as the product is being installed you SHOUT at the installer, "That's NOT what I ordered." Then you find out it's exactly what you ordered; however, you couldn't see the full pattern from the small sample you had. And now you're paying the price for something you really don't like!
I can relate to this problem. I'm still living with an ugly carpet runner leading down to my basement. I had exactly the same feeling (unfortunately) after it was installed and came home to see the completed installation.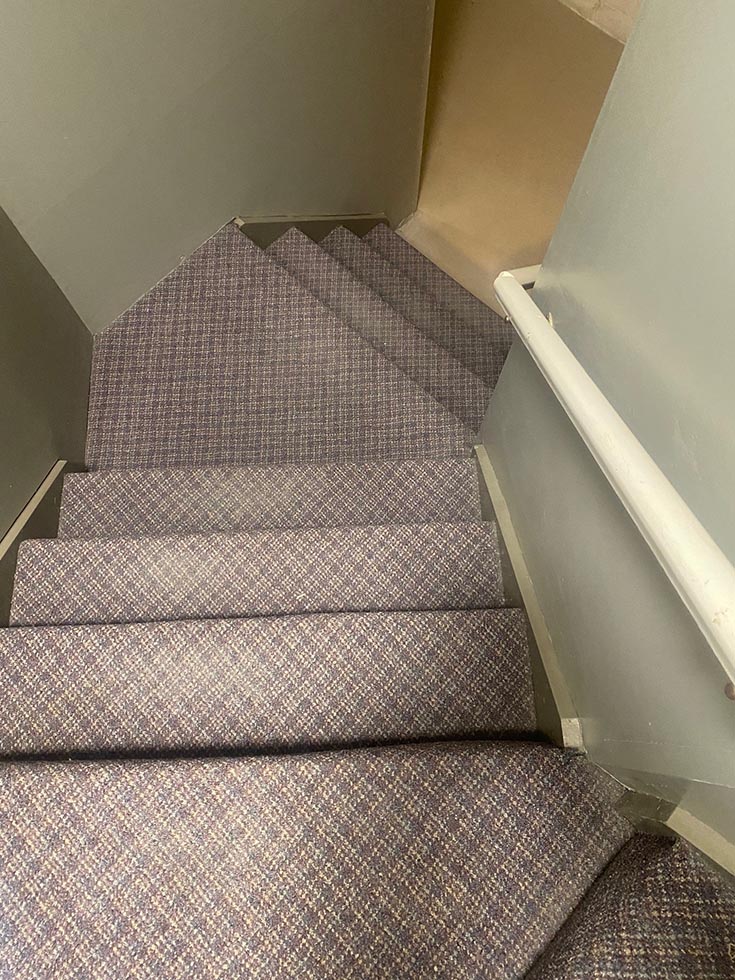 Fortunately for me this ugly carpet is only for a runner leading into an unfinished basement. It's not shower walls I'm seeing every day!
So, before you place any Fibo order, make sure you do your homework and not only choose the right pattern – but also order the right number of wall panels and accessories from the best company. You can accomplish this by asking these 5 questions:
Question #1 – Is there a bathroom visualizer app to see how Fibo patterns (and shower pans, glass doors, and accessories) look in shower or tub applications?  
Sometime small patterns (like the carpeting down my basement steps) aren't enough to see how the color and pattern looks in an actual project. That's why I'd ask – before ordering – if your supplier has a 3D bathroom visualizer to get a sense of the finished look. Check out the Bathroom Visualizer below to do just that.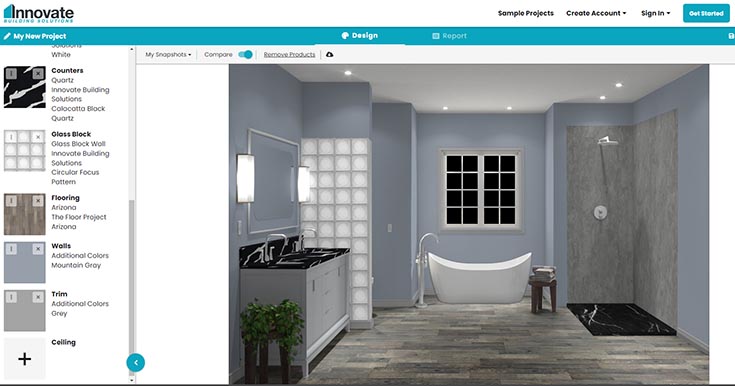 Question #2 – Can I get samples of the laminate wall panels?  
Visualizers are an excellent way to narrow your selections, however they're still only 3D visualizations on a digital devise. The most important thing 'at the end of the day' (and 'at the beginning of the day' also) is IF the color/pattern looks good in your space.
So, before plunking money down request free samples so you don't end up screwing up the pattern selection and getting raked over the proverbial coals by your partner for choosing something they do not like!
Get Free Samples!
Click here to request free samples of our Laminated Waterproof Shower Wall Panels.
Question #3 – How can I order Fibo wall panels if I'm DIYing the project or have a contractor who hasn't worked with this material? How can I make sure I'm ordering the correct number of panels?  
If you're a DIY'er (or already have a contractor of choice) you can order wall panels by calling Innovate Building Solutions at 877-668-5888. And if you're uncertain about the right wall panel kit to order, read How to Order Fibo Laminate Wall Panels and/or watch the video below:

And if you – or your contractor – has questions talk to a Project Specialist for help.
Question #4 – How do I know who I'm ordering from will be ready, willing, and able to support me through the ordering AND installation process?  
Let's face it, many salespeople are 'Johnnie or Janie on the spot' when they're looking to make a sale. However, after the sale is done they're either unreachable (because you bought from an E-commerce site), or you discover they don't know squat about how the product goes in. The question is how can you make sure they're ready, willing, and able to support you through the ENTIRE process? Here's 3 points to consider:
Point #1 – Check on-line reviews. Pay attention to what reviewers say about the after sales service. Does this company have field installation people (who know the product like the back of their hand) available to answer your questions?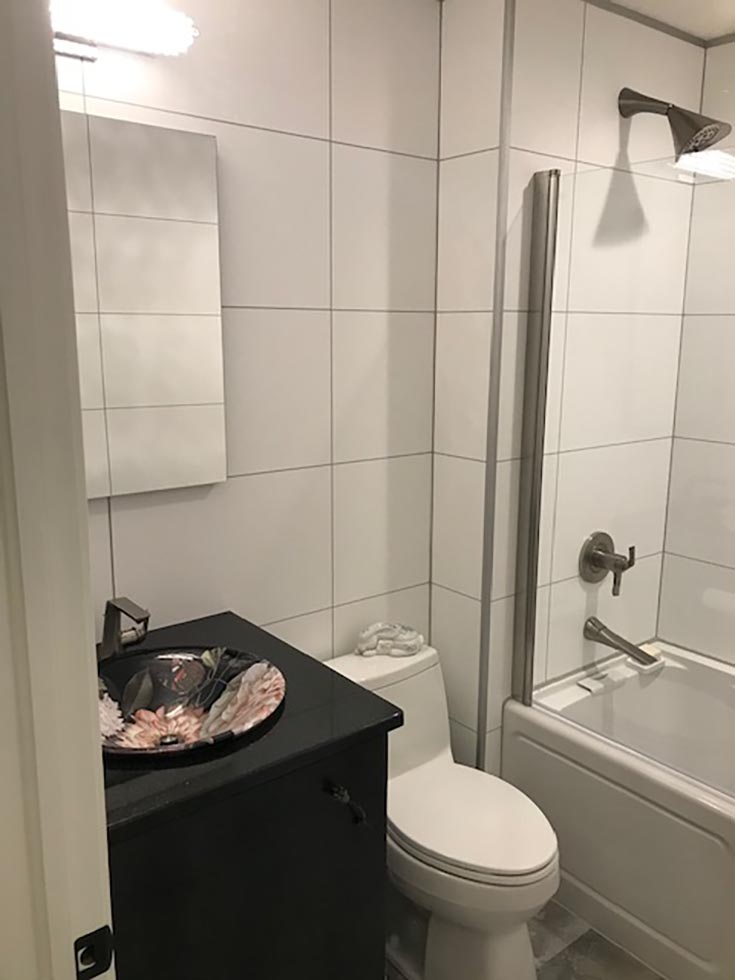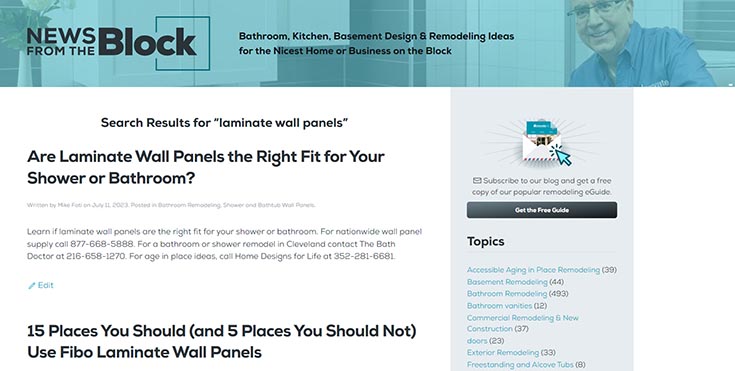 Question #5 – How can I find a Fibo shower wall dealer to do the installation for me?
If you're not comfortable installing wall panels yourself call 877-668-5888 for a referral to an installing Fibo dealer.
So, do you have any additional questions about Fibo wall panels? How can we help next?
I know there's A LOT of information provided above – and while that's helpful – sometimes it's most comforting to simply call (and get to talk to a live human being who doesn't put you in 'voice-mail-jail' and 'whose menus HAVE NOT changed) to get answers to your questions.
And if this best describes you, call Innovate Building Solutions at 877-668-5888. Me and my team would be glad to help, and you have my word on it that 'our menus HAVE NOT CHANGED!'
Or if it's after hours, ask for a Free Design Consultation or request a free sample if you'd like to see (and feel) how this products looks in your bathroom.
Thanks for reading. I hope this article provided a lot of value to you.
Mike
And BTW – if you're an installing contractor and would like to learn about becoming a dealer of laminate wall panels (and other unique bath/shower products) call Mike at 888-467-7488.
---
Mike Foti
President of Innovate Building Solutions a nationwide supplier and regional (Cleveland and Columbus) remodeling contractors. Some of our product lines include glass counters, floors, backsplashes, glass blocks and grout free shower and tub wall panels
---