How to Gain Space, Style, and Simplicity in a Tub to Shower Conversion.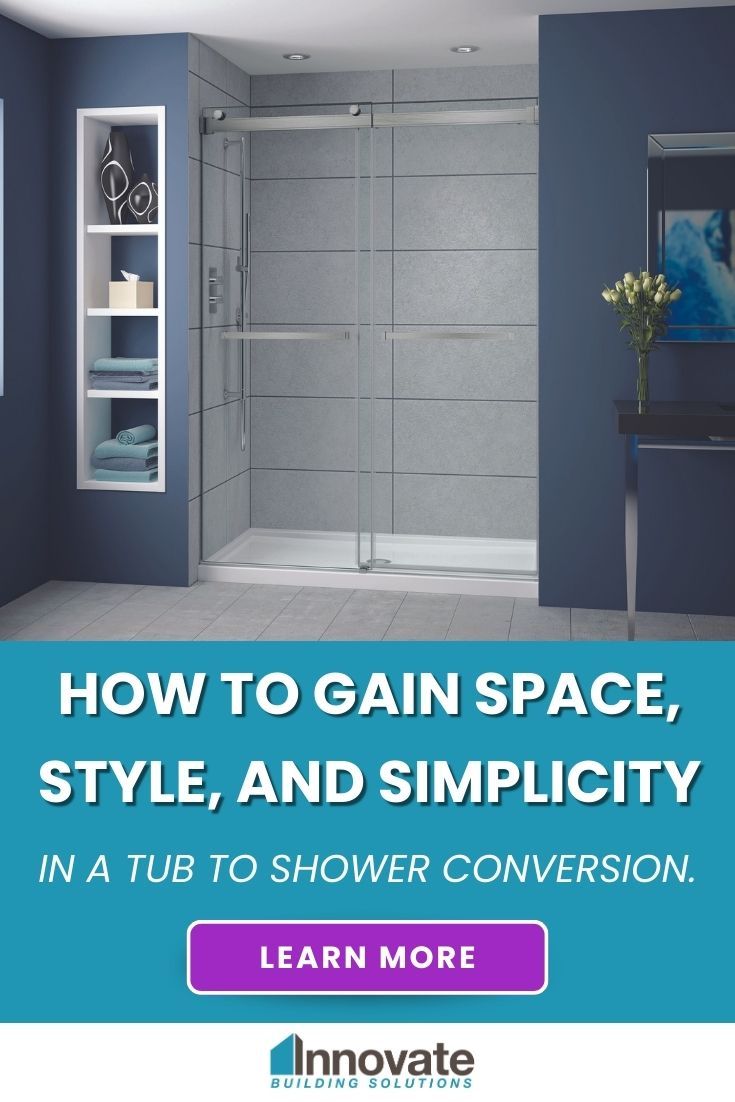 If only you weren't stuck with this tiny 5' x 8' bathroom and cramped tub and shower combo system. The tub is dirty and ugly. You wouldn't dare sit your butt on it. And the shower has seen it's better days years ago.
You've seen the opulent bathrooms in fancy interior design magazines. They have HUMONGOUS walk in showers AND spa-inspired freestanding tubs. You break-out with a bad case of bathroom envy.
You know the only way your bathroom might resemble these magazines would be to blow out a bedroom wall and make a jumbo bathroom. And unless that freestanding bathtub is comfortable enough to sleep in every night as well, that ain't happening.
Your only realistic solution is improving the 5' x 8' bathroom and 60" wide tub alcove you have today. And while you're at it, you still want to make it live better and magically make it roomier. And you'd like it to look better because if you're going to spend money on a bathroom remodel, you want a space you can finally be proud of without completely draining your savings. And finally, you want to make is simpler (and safer) to use.
And given your fast-paced lifestyle – and understanding it's not as safe to step over your tub and get into the shower – you've come to the conclusion it's time for a bathtub to shower conversion.
And while you're at it, here's a few problems you're determined to solve during the remodeling process:
Banging your elbows on the sliding bathtub doors.
Picking up bottles of shampoo and bars of soap which have fallen off the shallow 'shelves' of your 'builder-special' (sarcasm intended) fiberglass one-piece tub/shower surround.
Putting up with the big-ol' bench seat built into your existing fiberglass surround which eats half the shower.
Finding a wall surround material which IS NOT a pain to clean and ends up with permanent stains (like fiberglass) or moldy joints (like tile).
Making sure you never, ever, ever have to use tacky 'dollar-store-esque' shower caddies you hang over the shower head to have enough storage room for your products.
Not having to look at (or clean) ugly shower bases which squeak, or cheap framed shower doors which collect dirt, or wall surrounds which were in style 30 years ago.
So, the question becomes how can you gain space (in your smaller than you'd like tub shower alcove), improve it's style, and make sure it's simpler to use and clean in one fell swoop?
You can accomplish this by using the 10 strategies below which will transform your alcove tub/shower into an area of your home you'll actually enjoy using.
Strategy #1– Ditch the tub.  
OK, this is a 'Captain Obvious' bit of advice – but ditching the tub is the first recommendation. Tubs – by their very design (which includes a curved 'bathing well' as it's known in the industry) DO NOT give you full use of your alcove space.
When you eliminate the tub (and it's angled sides), it's not only safer to get in (and NOT worry about falling on your rear – or having your elderly parents end up in the hospital when getting in or out), but the remodeled space will live much larger as well.

Strategy #2– Do not use any surround wall panels which jut into the space.  
Molded shower wall surrounds with shelves which push into the 'already-too-tight' shower ARE NOT your friend – especially if you're a big guy or gal. And when you have shallow 30-32" side walls for your alcove, you need to use every inch of space available.
The better alternative is to use flat surround walls (without any shelving sticking into the space). You'll enjoy the new-found elbow-room, and if you check out strategy #7 you'll find a way to add even more efficient storage without taking up any room.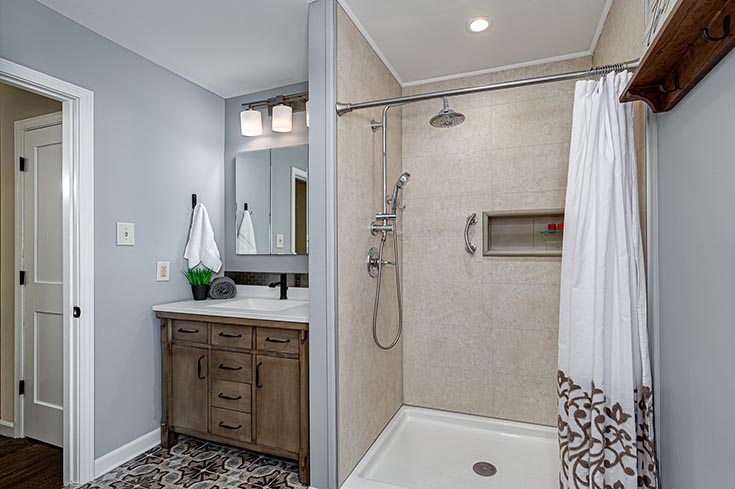 Strategy #3– Create 'visual space' – and style – with large format tile looks or brighter colors  
Nothing makes a small space look smaller than looking at diny-diny (as Rosanne Roseannadanna from Saturday Night Live would say) mosaic tiles – or dark colors in your tight tub/shower surround.
To (visually at least) make the space feel larger use large format tile designs (even if you choose grout free panels) and/or brighter colors. This is a simple trick fancy designers use all the time.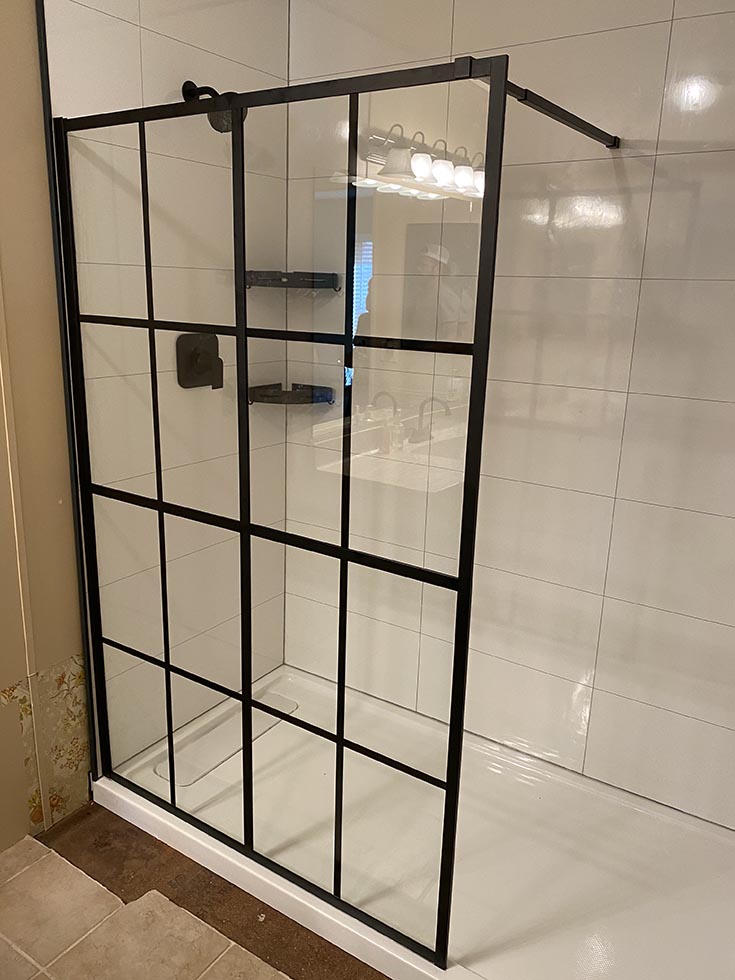 Get Free Samples!
Click here to request free samples of our Laminated Waterproof Shower Wall Panels.
Strategy #4– Use every inch of depth you've got.   
If your bathtub is 30" deep, but the side walls of your alcove are 34-36" deep you've got 4 to 6" waiting for you to claim for limited extra cost.
So, get a shower pan which uses the entire depth of the side walls. This is space there for the taking!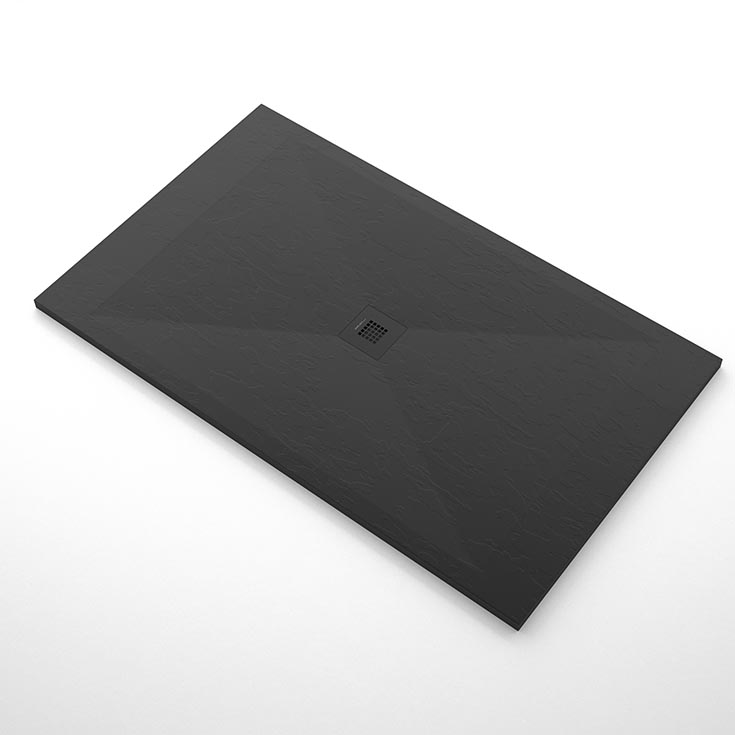 There is just one bit of caution. Before buying your deeper shower pan – make sure moving the drain won't be a pain.
Strategy #5– Eliminate the obnoxious built in shower seat.
I've not only seen one built-in shower seat in a 60" surround, but I've also seen fiberglass one piece surrounds with 2 SHOWER SEATS which eat-up a crazy large amount of 'square-inchage' of the shower.
And while you might be saying, "Mike, I like my shower seat to shave my legs, or Dad needs the seat, so he doesn't fall," I'm not recommending to eliminate the seat.
No, the smarter strategy is to go with a fold down seat. When you need it, fold the seat down. When you don't, fold the seat up so you have more room.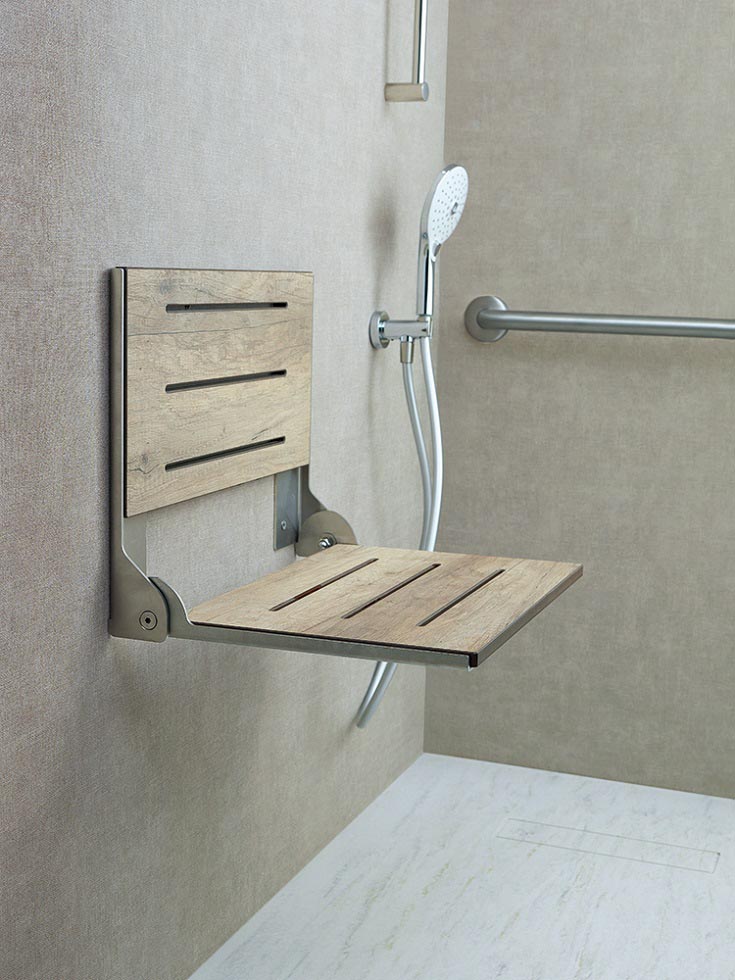 Strategy #6– Eliminate 'barriers to entry.'
Back in my 'b-school' (business school) days at Carnegie-Mellon University we talked about 'barriers to entry' in the 'market.' However, this IS NOT the kind of barrier to entry I'm talking about to gain space – and style – in your bathroom.
No, since bathrooms are wet and slippery places with hazards all around, one way to make your space 'live' bigger AND safer is to eliminate the 'barrier' (this would be the shower pan threshold or tub rail) to get in.
A hot (yes – shower pun intended) way to do this is to build a barrier free wet room. With wet room systems the shower drain will still be the lowest spot in the bathroom, but you eliminate the trip hazard of a shower curb, or the risk of falling while climbing over the tub rail – which is an accident waiting to happen).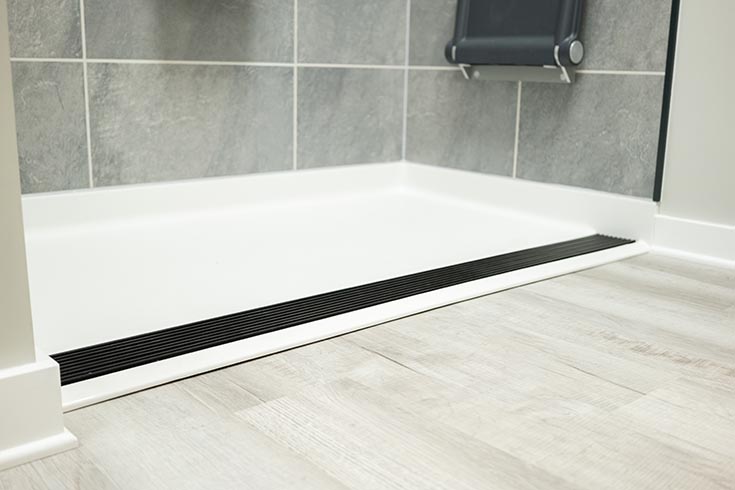 And if you're not adventuresome enough to build a wet room, a ramped shower pan can be cool as well.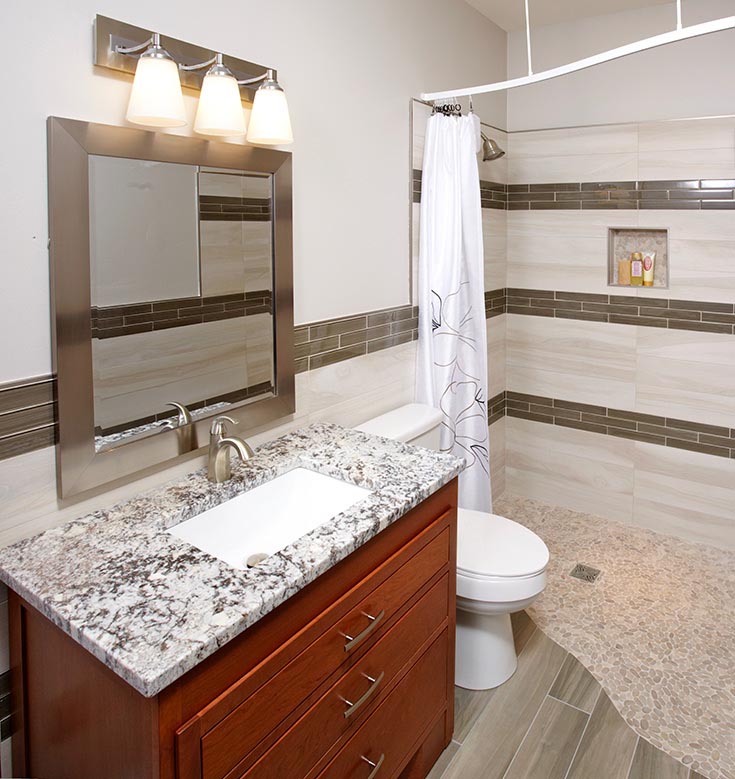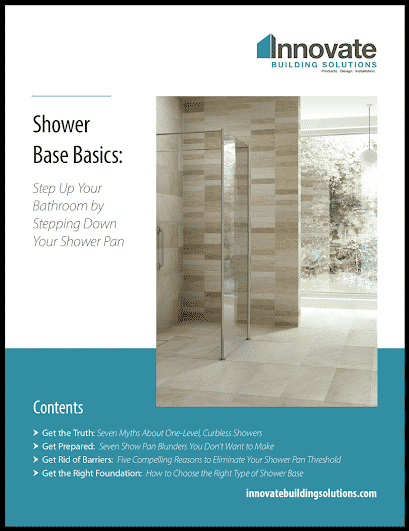 Get Our Ultimate Shower Base Guide!
Step Up Your Bathroom by Stepping Down Your Shower Pan!
Strategy #7– Build big niches into the walls.  
Can you say this….
"No more tacky shower caddies."
"No more bumping my elbows on soap dishes jutting into the shower."
The way towards stylish, and effective, storage is to use recessed storage niches. Niches are made as small as 14" x 14" – or as large as 14" x 58" (in a vertical design with 3 shelves) or 58" x 14" (for a long horizontal design). They're smart and installed in one premade – and waterproof- unit into the wall.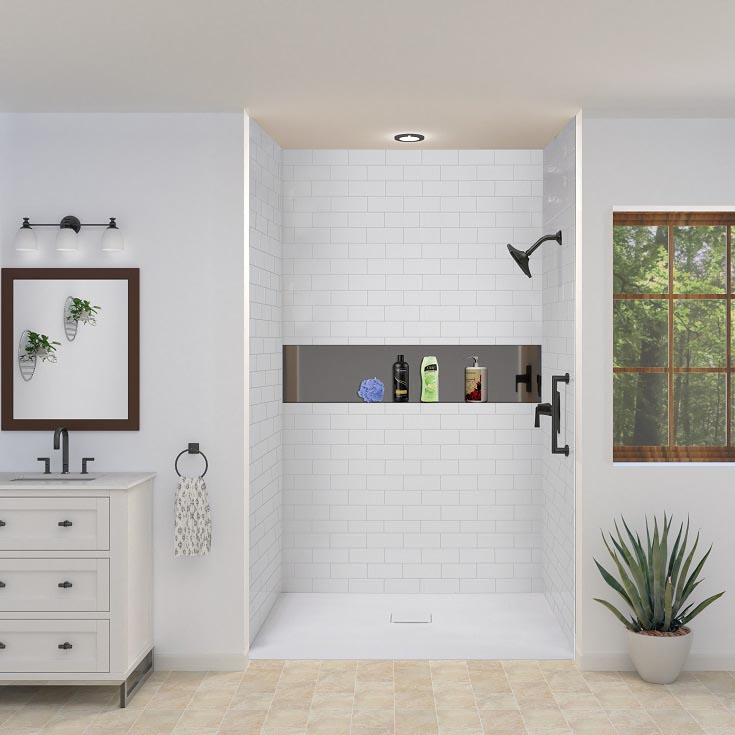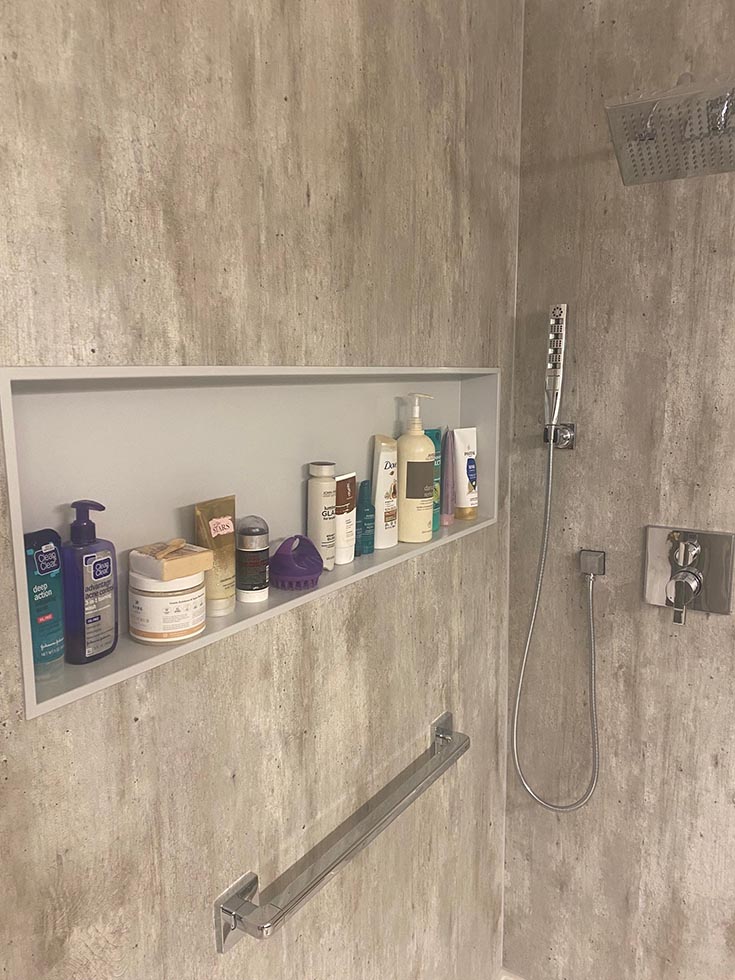 Throw out your ugly, plastic shower caddy or old-style soap shelves which barely hold anything anyway.
Strategy #8– Choose a sleek shower curb.  
I can't for the life of me understand why tile setters made 5" or 6" wide shower thresholds. It's not as if the glass in these showers was going to be this wide or the tile setter thought your shower curb was going to double as a balance beam for gymnastics training.
An overly wide shower curb doesn't make sense because it's occupying space which will make it more comfortable for you to use the shower.
Look for shower pans with low profile designs. And what's cool there's also solid surface pans with contemporary matte finish designs which are also safer and make you feel more secure on your feet.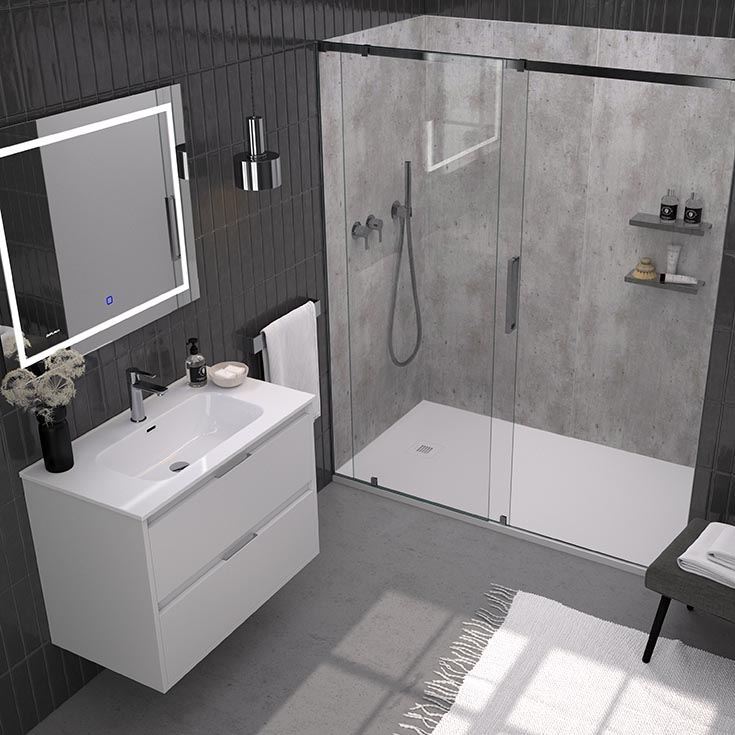 Strategy #9– Make smarter choices in glass systems
If you're like me and HATE, HATE, HATE shower curtains raise your hand? They get dirt caked into them. Shower curtains are hard to clean. Shower curtains cause A LOT of water to find its way onto your bathroom floor (which hopefully doesn't seep into the floor levels below). And finally, you're constantly replacing curtains.
And for many people one of the goals of a bathtub to shower conversion is getting rid of shower curtains. However, the question is what is the best glass system to maximize room, keep costs down, AND be easy to clean? If this sounds like the impossible dream, pay attention to the following do's and don't for glass systems for a tub to shower conversion. Here they are:
Do choose glass which gives you the most 'elbow room.' Since many alcove showers are only 30-32" deep, it's hard for a bigger member of the family to NOT be banging their elbows. One product to help with this problem is a curved glass shower door. There are curved doors which 'bow out' to 36" in the center– even if you side walls are only 30" deep! Now, that's a magic trick for a roomier tub to shower conversion.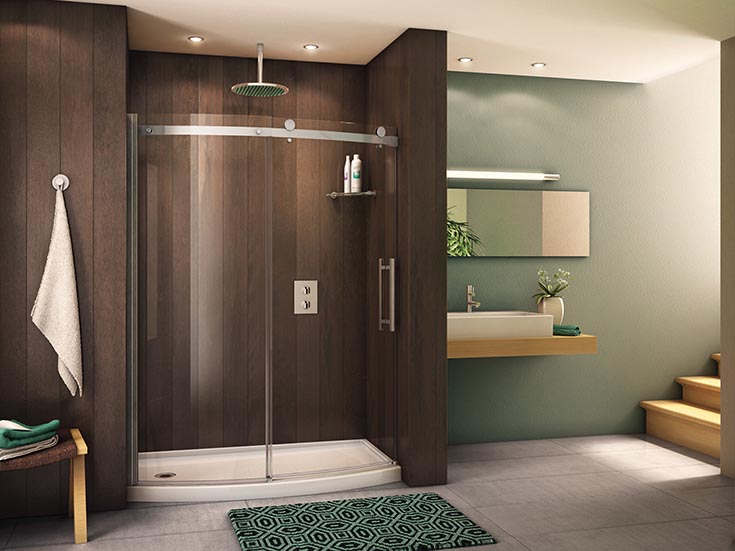 Do look for glass which is easy to clean – A big reason you want nothing to do with shower curtains is because it's a pain to clean. So, the last thing you want to do is get a shower door which you can't get water spots off. To assist with this problem, look for shower doors with glass surface protection. It's like having 'Rain-X' for your shower door.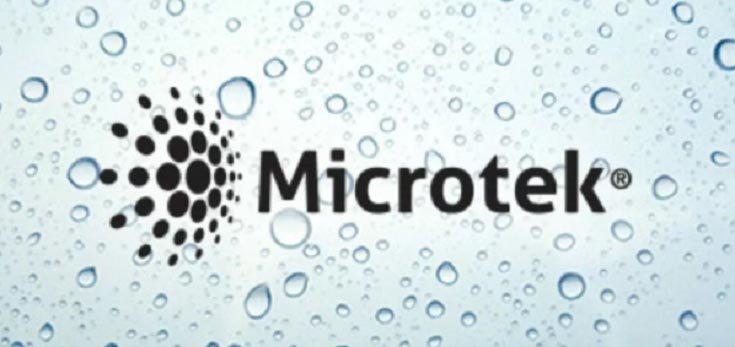 Do make sure your glass is tall enough, so you don't have to duck to get in. If you choose a sliding glass door (which has a rail at the top), it's important to know how tall this rail will be from your shower curb. You want to make sure you don't have to duck to get in (and if you forget to duck you'll get a good 'head-banging' to start your day).
Don't choose thick glass walls! While it's nice to choose sturdy glass block walls (like you get with a 3 1/8" glass block shower wall), the problem is in a shallow space (like a bathtub to shower conversion) a glass block wall takes too much space. Flat glass will be far more space-efficient.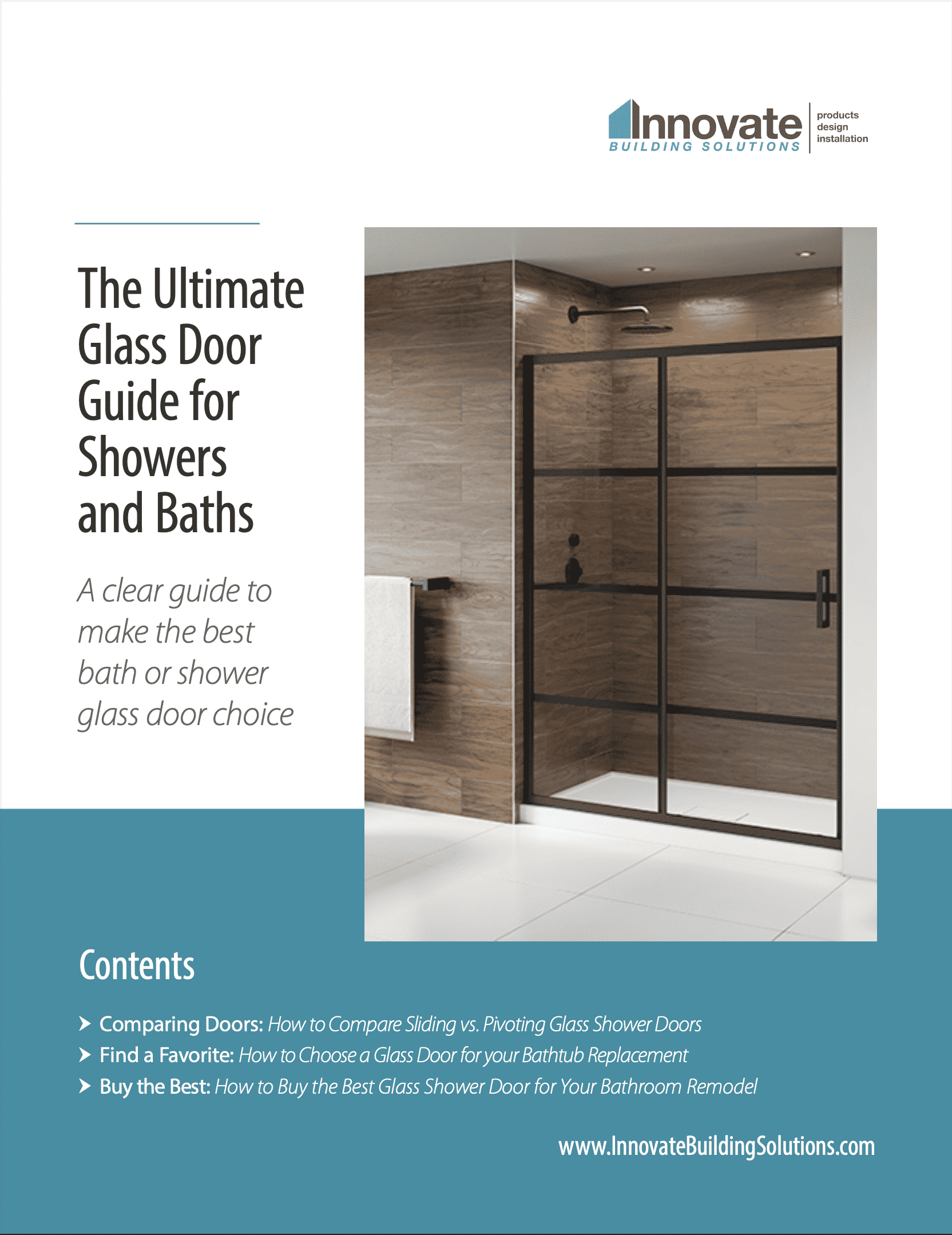 The Ultimate Glass Door Shower Guide
A clear guide to making the best bath or shower glass shower door choice
Strategy #10– Don't sacrifice style and quality, but also don't pay through the nose for it either
If you're going through a major remodel (and let's face it a tub to shower conversion is a major remodel) you want to be excited about the end result, but also not spend ALL the kids and grandkids college funds in the process.
So, the questions is how can you get a stylish project, but not overpay. Here's 3 tips.
Tip #1 – Purchase a complete shower kit – Instead of buying your pan, wall surrounds, and glass doors separately – you'll get better bang for your bucks by purchasing a replacement shower kit. Since you're buying 3 items (instead of 1), you'll save with a package price and on shipping costs. To learn how to recognize a high value tub to shower conversion kit package watch this video.
Tip #2– Make sure you have options (and can see your choices before buying) – Your tastes and your partner (or spouses') tastes MAY NOT be the same. OK, tell you something you don't know! But no matter what your tastes are, it's easier to (eventually) agree on a final decision IF you have options. So, look for tub to shower conversion kit suppliers who offer multiple patterns of wall panels, different types of shower pans, and glass door options. Then look for a products supplier who has a bathroom visualizer tool so you can see what these products look like together (not just in small pictures on the Internet).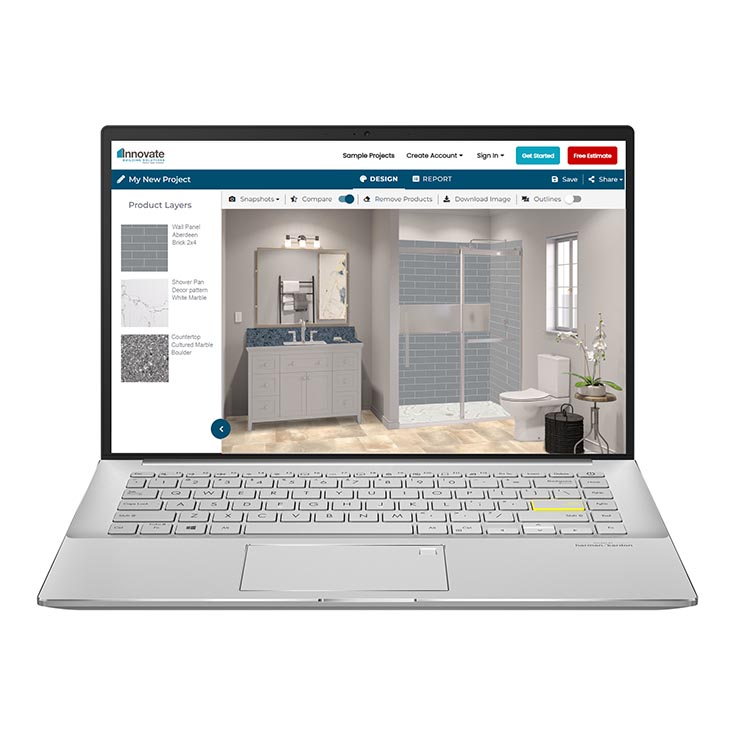 Tip #3 – Know what the 'fair market value' of an installed tub to shower conversion is – Unlike buying a home where your realtor brings you 'comps' from homes sold in your neighborhood, most people have no idea if they're paying a fair price for a tub to shower conversion. And many people drop off their chair when I tell them the installed price of a tub to shower conversion ranges from $7,000 to $25,000. And yes, that's crazy! So, how can you know you're not getting ripped off and getting a fair value for your hard earned money? Read A Comprehensive Guide to the Installed Cost of a Tub to Shower Conversion.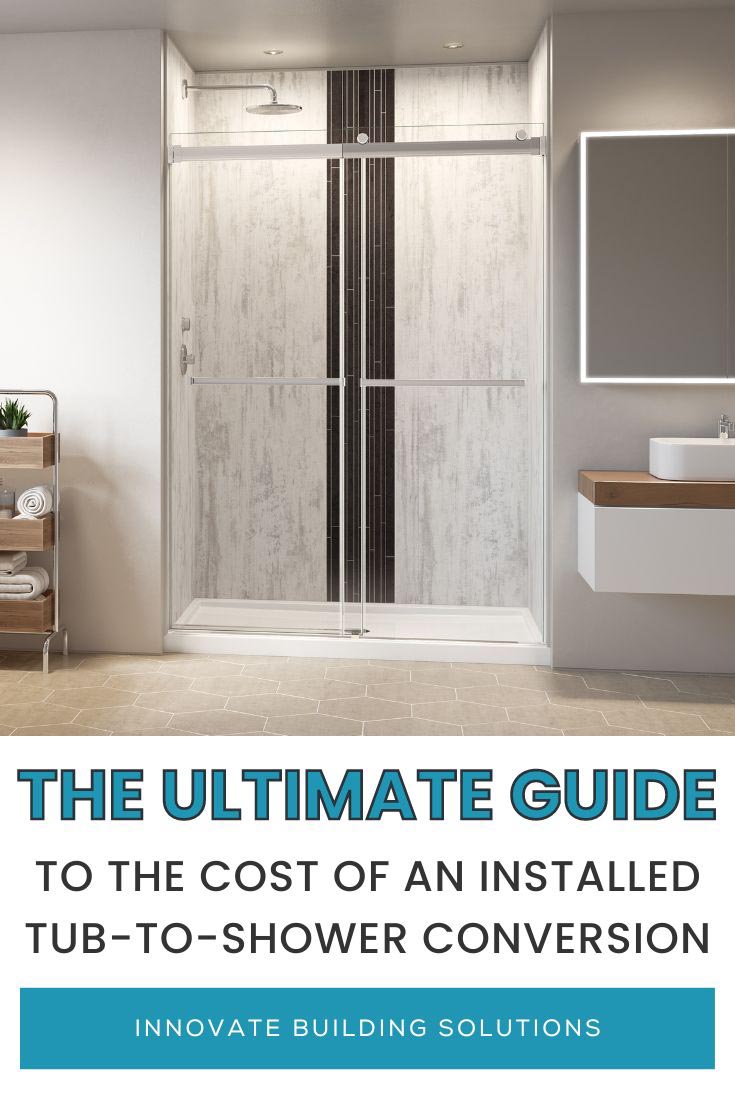 The Ultimate Shower Replacement Kit Guide
Clear advice on bringing your bathroom to the next level
So, which of these tub to shower conversion strategies will improve your project? How can our company help you next?
So, after reading the tub to shower conversion strategies above, which idea(s) will help you the most? Or are there other burning questions you have about your project? Comment below, call Innovate Building Solutions at 877-668-5888, or click for a Free Design Consultation to learn more.
And if you want a quote for an installed tub to shower installation in Cleveland or Akron Ohio call 216-658-1280 (or if you're outside this area ask for a referral to one of our installing dealers).
Thanks for reading.
Mike
And BTW – if you're an installing contractor and would like to learn about becoming a dealer of better quality tub to shower conversion kits, modern low profile shower pans, and decorative wall panels call me at 888-467-7488.
---
Mike Foti
President of Innovate Building Solutions a nationwide supplier and regional (Cleveland and Columbus) remodeling contractors. Some of our product lines include glass counters, floors, backsplashes, glass blocks and grout free shower and tub wall panels
---