The 1 Thing Missing in Your Spa Bathroom Design You're Going to Regret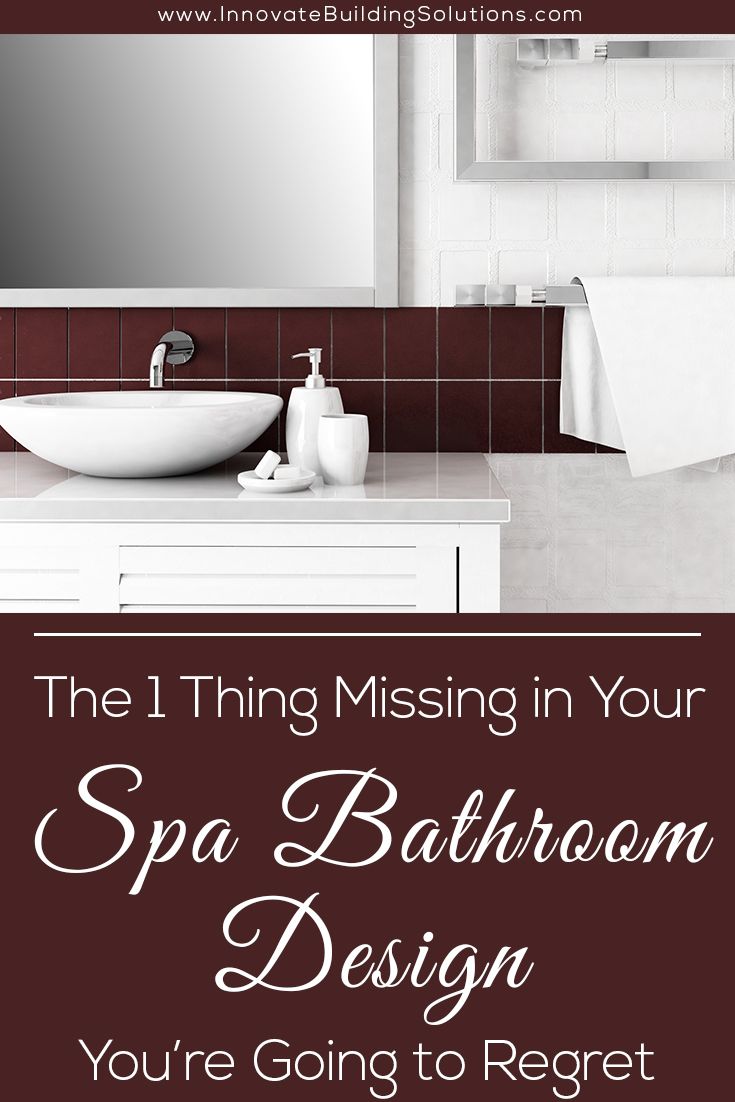 You've seemingly thought of everything.
You've found the perfect distressed wood, matte finish minimalist vanity.
You've found the perfect brushed nickel and matte black handles and shower heads to add interest, yet a relaxed feeling to the room.
You've included dimmers, a cool pendant light and bought scented candles to set just the right mood.
You've picked out the perfect waffle cotton towels and plants which will adorn (now, that's a fancy word) the space.
You've found the perfect hexagon mosaic tiles in a neutral color for a focal wall in your tile shower.
You've even picked a specially formulated, mildew resistant bath and shower paint.
Even you're amazed at your own attention to detail.
You can literally feel yourself relaxing right now in your soon-to-be new spa bathroom oasis.
So, what – you may ask, is the 1 thing missing in your spa bathroom design you're going to regret? Well – that 1 thing is…
Low maintenance walls
You've forgotten how much you HATE, HATE, HATE dirty brown shower grout joints (which can become part of your future with the mosaic tile wall you're planning to use right now).
You've forgotten how much you HATE mildew on your bathroom walls and needing to repaint. You know your bathroom air circulation isn't the best and your high-humidity climate gives you more than your fair share of bad hair days. Mildew just LOVES your bathroom!
So, the question becomes how can you have drool-worthy, Instagram-esque bathroom and shower walls which are not only spa-worthy when the project is brand spankin' new, but still looks spa-worthy 5 years, 10 years and dare I say 15 years down the road?
This is where – IMHO – matte finish wall panels for your shower and bathroom walls come in.
Sure, you may be wondering why shouldn't I keep to my original plan and paint my bathroom walls and use tile in my shower? After all, that's what most people do in spa bathrooms. Or you may be wondering why matte finished laminate bathroom panels (which I'll introduce in this article) are smart. Or you may be wondering how they eliminate nasty mold and mildew problems with painted bathroom wall surfaces.
If these questions are bubbling up in your head right now, read on and learn 5 reasons matte finish wall panels are the 1 missing design element you don't want to forget in your spa bathroom. Let's check out the 5 reasons.
Reason #1 you need matte finish wall panels in your spa bathroom – Remember how much you HATE your scrub brush and paint brush
In case you forget how much you HATE cleaning tile I'll let the 'glamour' shot below jog your memory.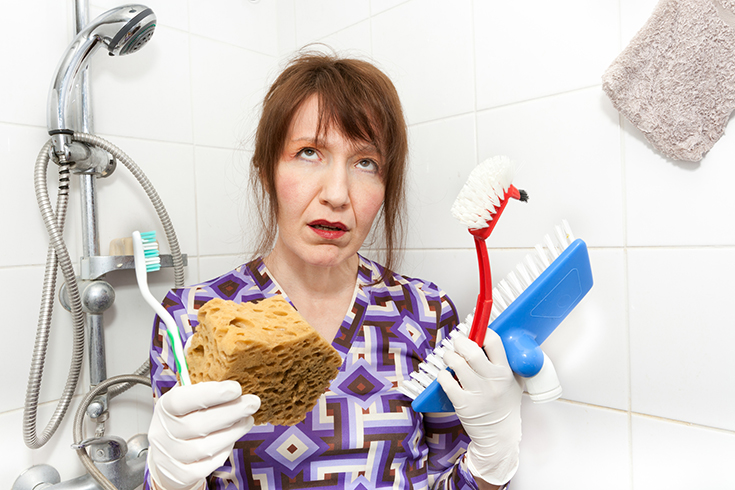 When you use matte finish laminate shower and bathroom wall panels (like the subway tile pattern shown below) you'll get the look and feel of tile with ZERO (OK, you can say that again – ZERO) tile grout joints to maintain. You won't be the un-lucky one in your family scrubbing tile. You won't be the un-lucky one repainting when mildew's ugly head shows up on your bathroom walls…again.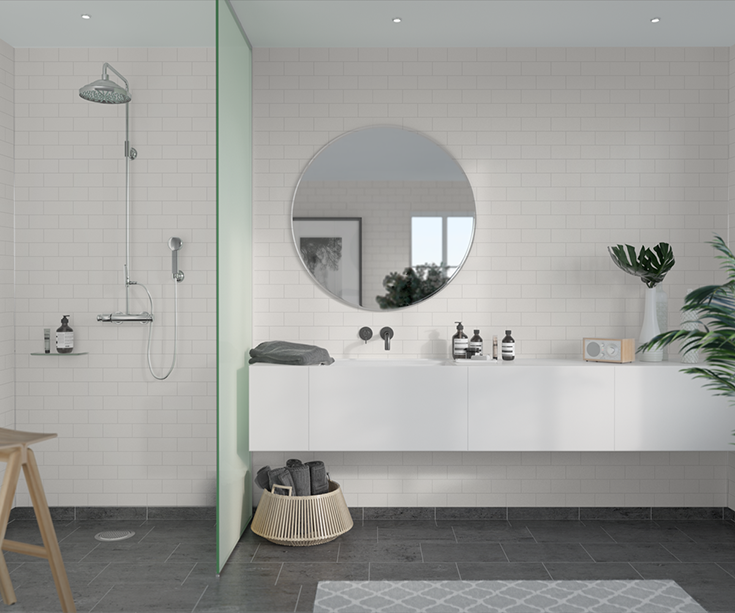 Reason #2 you need matte finish wall panels in your spa bathroom – Cool, clean, calming colors  
You want your bathroom to transport you back to the calming breezes of your cabin by the lake, or the warm silvery sandy beach or watching the waves from the sea. If so, the Oasis collection of matte finish wall panels is something you'll want to check out.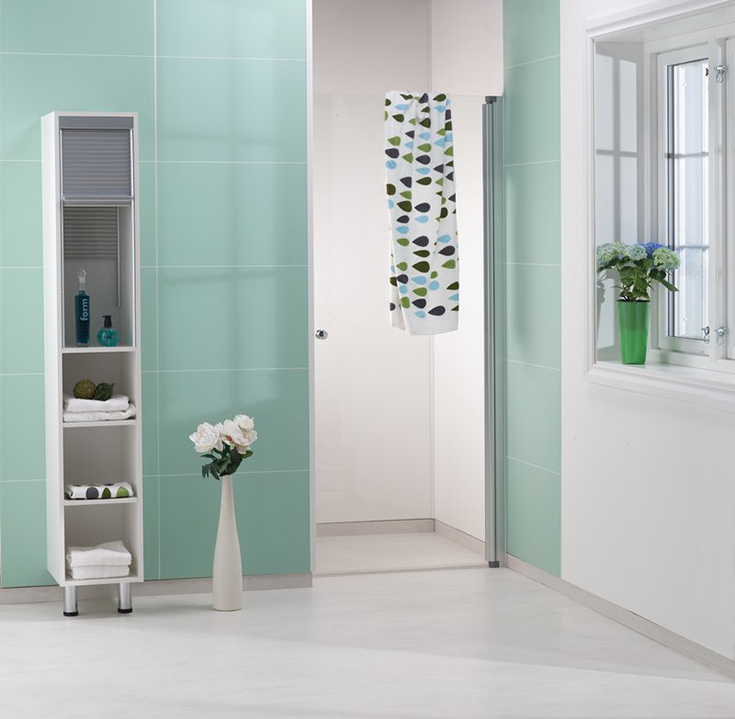 These simple to install, 'click together' laminate wall panels come in calming matte colors like 'Lake Blue, Sea Green and Silver Strand.' They'll bring you back to your special vacation place.
Reason #3 you need matte finish wall panels in your spa bathroom – You'll get waterproof, not water resistant, walls   
While 'water resistant' bathroom paints are nice, they're still only a thin protective coating over a moisture resistant wall board they're rolled over. They offer you NO GUARANTEE vs. mold and mildew. They're a deterrent against problems. THEY'RE NOT A SOLUTION.
But here's a question for you. Why not block out this mildew problem on your bathroom walls once and for all (and chuck your scrub brush and paint brush in the process)? Why take chances with your family's auto-immune system when moldy bathroom walls rear their ugly head?
Using 100% waterproof laminate wall panels – you'll get the look of a calming matte finish wall without the worry of mold and mildew. You'll be comforted to knowthese panels are waterproof, not water resistant.

Reason #4 you need matte finish wall panels in your spa bathroom – Your spa bathroom WAS NOT designed to remind you of cute Dalmatian puppies   
Spots – especially on Dalmatian puppies– are adorable.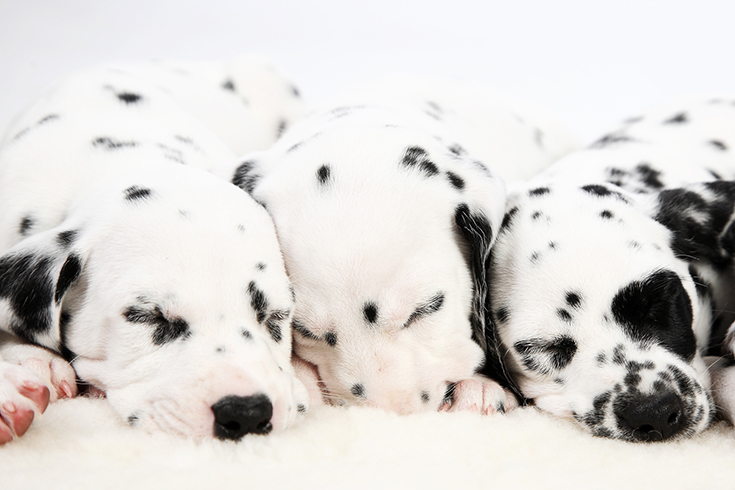 Spots – especially those from water and soap scum behind your bathroom vanity, around a tub deck or inside your shower – are quite a bit less charming (OK – if we're being real, they're a pain in the rear!).
Matte finished walls (just like brushed nickel and matte black fixtures) give you the upper hand in your battle with water spots in your bathroom. They'll help you beat-back spotting, and that's something you can cheer about. And with rich organic looks like these marina gray oak laminate bathroom walls and tub surround panels, you'll also get a sense of style with the durability of a lifetime product guarantee.
Reason #5 you need matte finish wall panels in your spa bathroom – You'll get organic, 'nature-inspired' looks without 'nature-perspiring' maintenance     
You'd like the organic feel of wood or minimalist-inspired cement walls. However, cost and maintenance concerns have taken these options off your list. If this is the situation for you, I'm here to dish up some good news.
With matte finished bathroom wall panels, you can have your 'cost-effectiveness' cake and low maintenance bathroom too.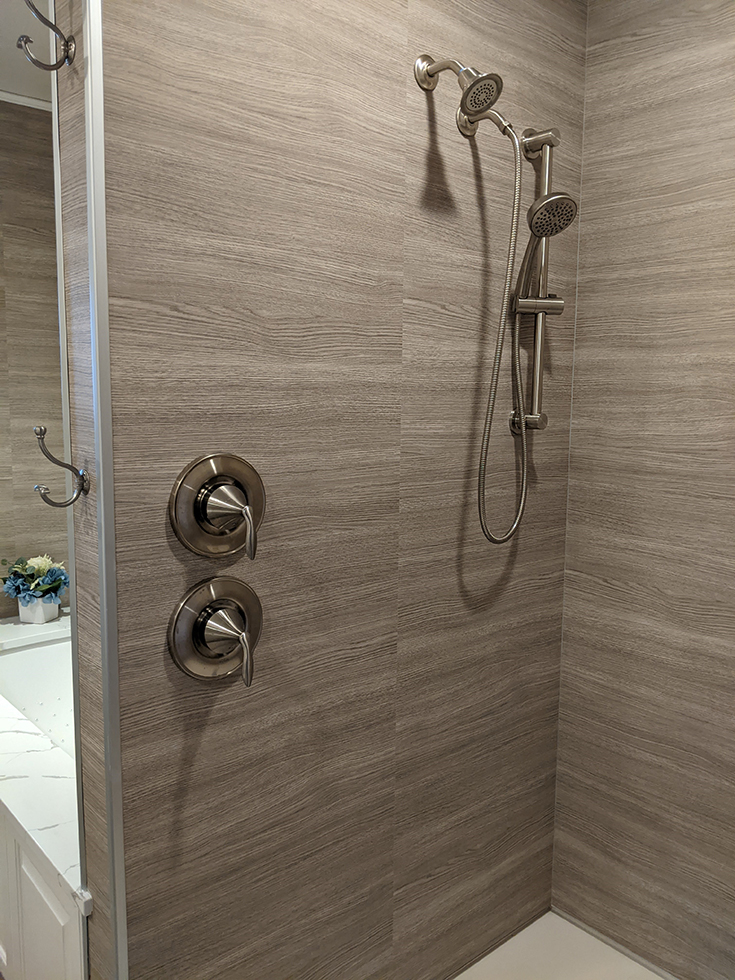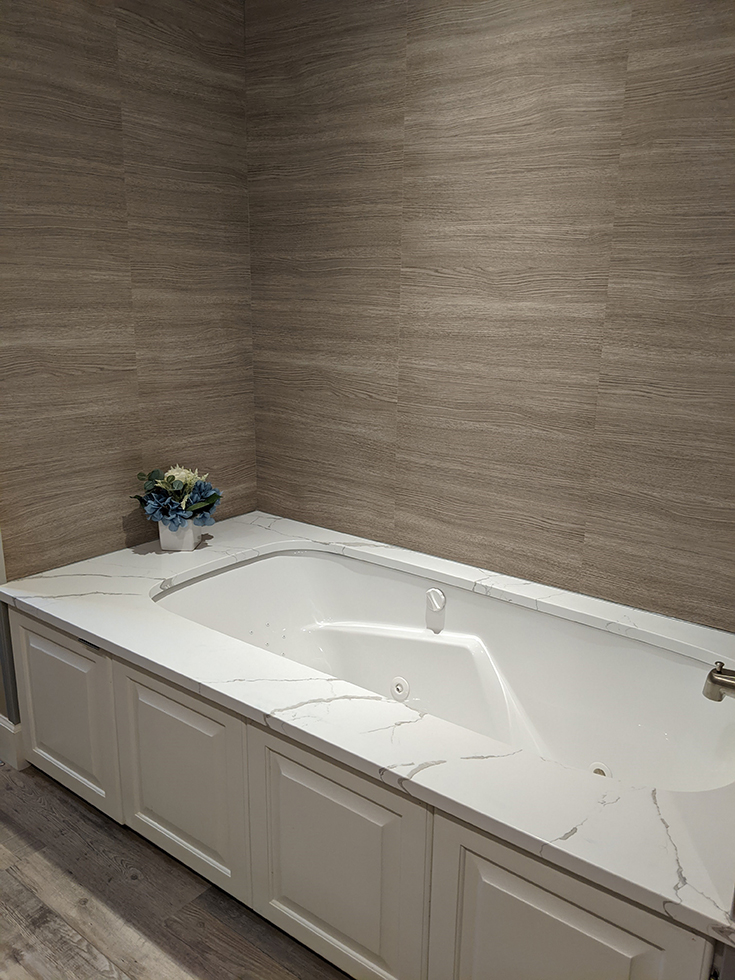 Check out these rough wood and cracked cement grout free shower walls below. They're stylish. They won't cost an arm and a leg. They won't deteriorate before your very eyes.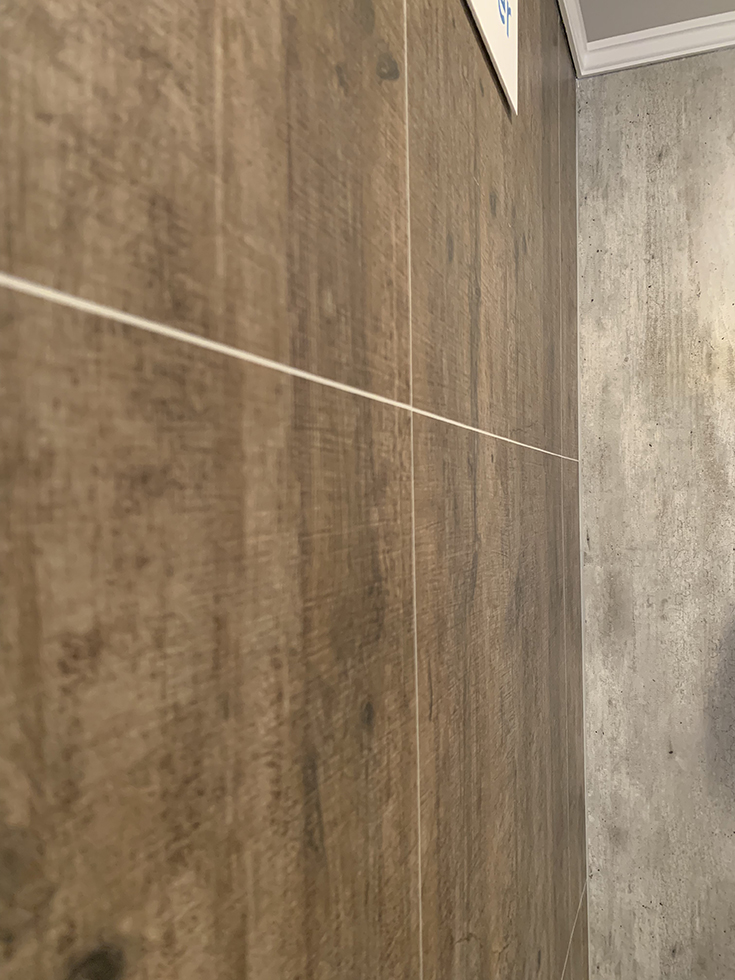 So, how can we help you with your spa bathroom?
I know I don't have to tell you designing a spa bathroom and finding the PERFECT materials for a low maintenance, yet-stylish space IS NOT simple. But here's two bits advice you should keep in mind.
There's no reason to pretend you're a spa bathroom designer.
There's no reason to figure it out all on your own.
And if I'm going to take a wild guess, I'll bet you're not a full-time bathroom designer and you don't play one on TV (and neither does anyone else I'm aware of either). However, you want to design – and enjoy for years to come – the spa bathroom of your dreams (at a price which doesn't require you to be 'made of money,' as Dad used to say).
And if this is your goal, now's the time I'm going to offer to help you. You see my business works with homeowners and contractors giving advice (and supplying materials on a nationwide wholesale basis) for spa bathrooms.
So, if you're intrigued about matte finish shower wall panels, or a grout free shower base – or stylish, yet low maintenance glass enclosure, my company – or one of our installing dealers will be glad to help. And we'll even at no cost to you. "What a deal," a New Yorker with a heavy Brooklyn accent might say!
Call 877-668-5888. Request a free laminate wall panel sample or more information about cultured granite shower pans. What have you got to lose…except time cleaning grout joints are laboring over repainting your mildew-infested bathroom walls?
And to wrap up, I'd like to say thanks for reading (and putting up with my 'sometimes' (IMHO) wacky humor,
Mike
Call or click these links for help
If you're looking for wholesale nationwide supply (or a recommendation for an installing dealer) of grout free shower panels or durable shower pans call Innovate Building Solutions at 877-668-5888. If you want to be a tub or shower wall panel dealer call Mike at 888-467-7488.
For a remodeling project call The Bath Doctor in Cleveland at 216-658-1270 or for product supply in Columbus call 614-252-7294.
---
Mike Foti
President of Innovate Building Solutions a nationwide supplier and regional (Cleveland and Columbus) remodeling contractors. Some of our product lines include glass counters, floors, backsplashes, glass blocks and grout free shower and tub wall panels
---