The Pros and Cons of a Ceramic Tile Shower (and better options if you've had it up to here with tile).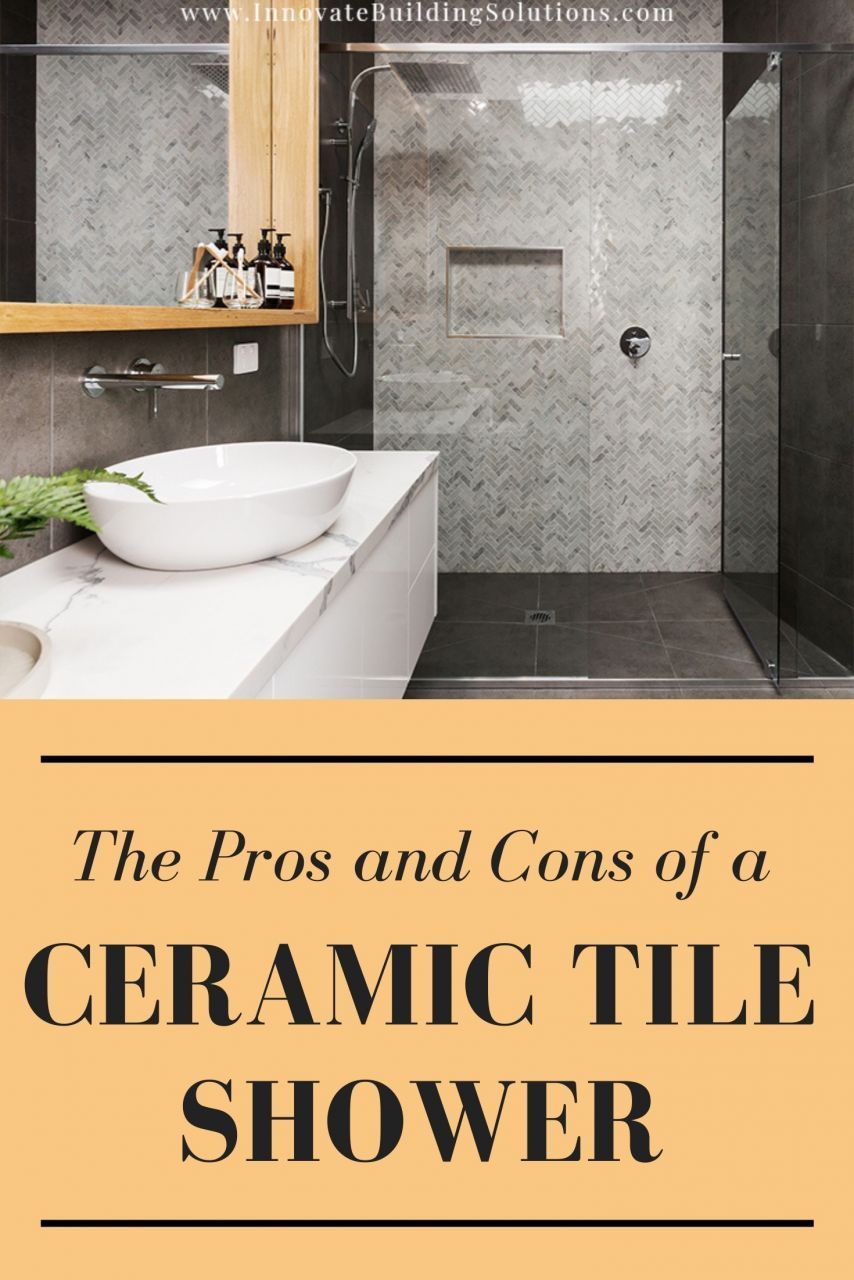 Tile showers are controversial. OK, maybe not as controversial as picking a United States President, but I've seen their pros and cons cause knock-down drag, out fights between couples during a bathroom remodeling job. They'll debate (that's another word for argue) if it makes more sense to get a unique tile shower or blow up tile and grout and opt for grout free shower wall panels and premade shower pans instead?
And I can tell you (as a guy whose been in the bathroom remodeling and bathroom products wholesale business for years – and has the gray hairs to show for it) this decision SHOULD NOT be taken lightly. And here's 3 reasons why….
Reason #1) You can't 'turn your shower in' as fast as you can as the 'lemon' SUV you've regretted buying since the day you drove it off the lot.
Reason #2) You don't have the option of 'voting your shower out' every 4 years (unless you have a boat-load of money and the patience to 're-remodel' (OK – that's not a word, but that doesn't mean owners haven't been subjected to this problem before).
Reason #3) You're not 'made of money' as Dad used to say!
So, here's what's critical in the shower selection process.
You need to make the best choice, so you don't waste money.
You need to make an informed choice (there's no turning back after it's done). You're not redoing it every 4 years.
You need to know better alternatives to tile if your spouse or significant 'utter' is hell-bent on a tile shower (but you HATE them).
And these 3 needs are EXACTLY what this article is about. My goal is to give you a 'no-holds-barred' look at the advantages and disadvantages of a ceramic tile shower. And then if you still HATE, HATE, HATE tile (and its evil stepbrother the grout joint), I'll give you 3 smart alternatives to the 'traditional tile shower.'
Let's first dig into the pros of a ceramic tile shower.
The Pros (Advantages) of a Ceramic Tile shower  
(Advantage #1 or a ceramic tile shower) Style
In many cases people take on bathroom remodeling projects because they're existing shower is outdated and flat-out ugly. Nothing quite says fashion like ceramic tile. You can mix patterns. You can use herringbone, running bond, or tiles stacked on end. You can mix tile sizes and colors. You can even get fun designs like fish scales and hexagons.
If you have a desire for unique, ceramic tile can be the bomb.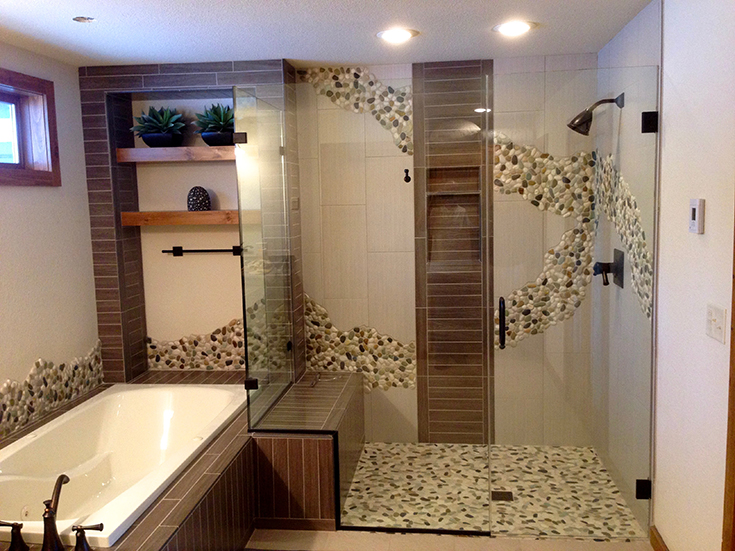 (Advantage #2 of a ceramic tile shower) – Selection and availability
There is no lack of choices when it comes to ceramic tile and they're available EVERYWHERE (OK – you can't get them in the supermarket or the gas station…. yet!). Your home center stores are filled with choices and specialty tile retailers have so many options your head will spin. It's nice (although sometimes daunting) to consider the alternatives.
(Advantage #3 of a ceramic tile shower) They can be customized to any sized shower  
Since ceramic tile can be cut to fit, you can make any size or shaped shower. You cut and fit the tiles to work for the walls– or along the shower floor pan. If you want to fill a 9' ceiling, simply continue the tile up the wall to the top.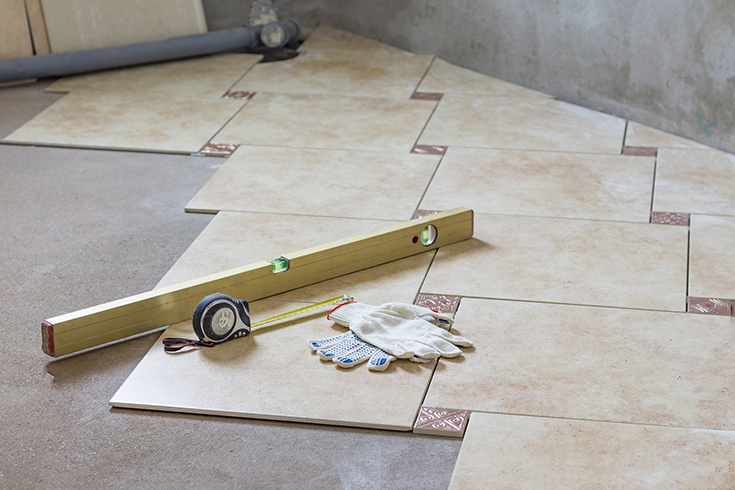 (Advantage #4 of a ceramic tile shower) It can be 'built on the fly!'
Even if you're unsure of the exact size you need your shower pan or walls to be, this isn't a problem when doing a site-built or component based (more about this later) tile shower. You simply gut the space and make sure you have the right amount of wall and floor tiles to fill your area back up.
Also, you'll have the flexibility to keep the drain where it is – and work your tiles around it. This can be a big advantage if you have a concrete floor where moving the drain is dirty and time-consuming (yes – this means big bucks for you) process.
(Advantage #5 of a ceramic tile shower) Realtors love bragging about them
When you go to sell your home a ceramic tile shower is promoted as a luxury feature. It's something your realtor will 'play up' as a bonus to buying your home.
(Advantage #6 of a ceramic tile shower) Tile can be shaped to create a curved walk in shower design
Perhaps you want to 'make a statement' with a curved shower wall. And with mosaic ceramic tiles you can create a unique look – and get rid of the evil-to-clean shower door at the same time. Curved walls are fun…AND POSSIBLE with ceramic tile.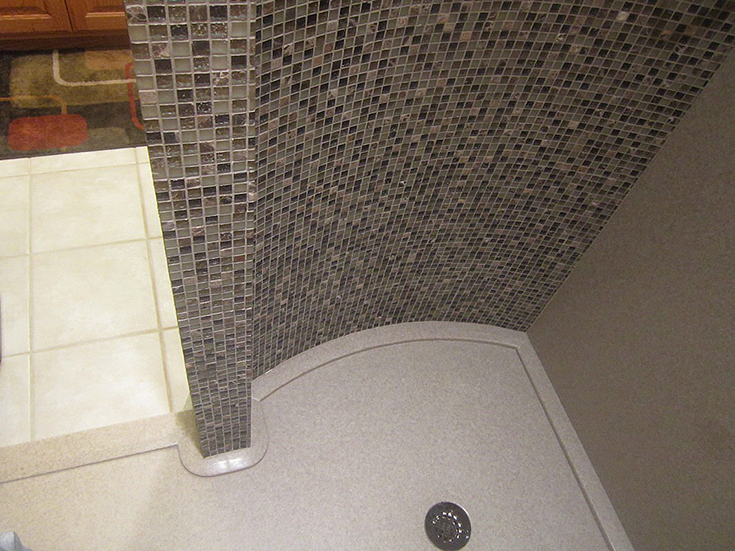 (Advantage #7 of a ceramic tile shower) You can create the look of one continuous space – and add safety at the same time
Perhaps you need a roll in shower for a family member whose mobility isn't what it used to be. However, you also aren't going to stand for an 'institutional-looking' fiberglass shower pan which screams out G-E-R-I-A-T-R-I-C.
What's cool about these ceramic showers is you can use a ceramic tile one level wet room to not only get a continuous and stylish look – but make it safe for people of all abilities to walk or roll into.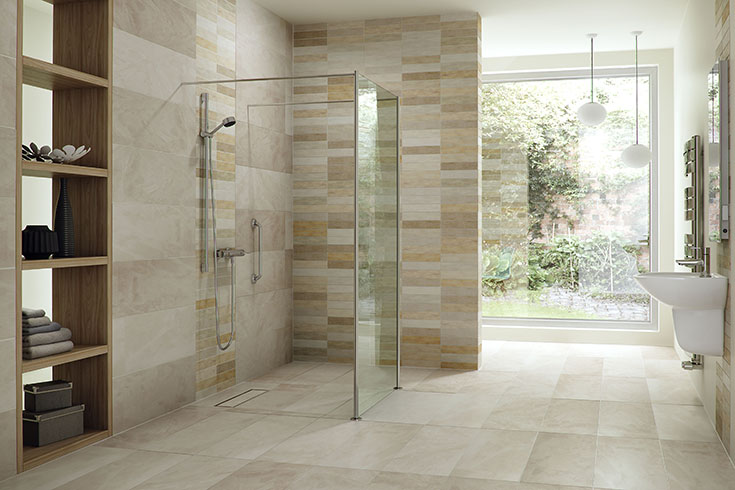 So, now that we've looked at the positives of ceramic tile showers – let's turn our attention to the downsides (because no product or system is perfect).

The Cons (Disadvantages) of a Ceramic Tile Shower   
No matter how much you love the 7 advantages (or pros) above, it's also not hard to find the 'warts' with a ceramic tile shower. Here's a look at 7 disadvantages you'll ignore at your own risk.
(Disadvantage #1 of a ceramic tile shower) Those doggone grout joints are a pain in the rear 
Didn't your new home ceramic tile shower look so perfect. Nothing – and I mean nothing – was out of place. Then what happened???
You and your family used the shower.
Then came the dirty grout joints. Then came the mold. These problems brought you to your knees (either in prayer or with a scrub brush in hand). You muttered, "Home-moaning shouldn't be like this." You decided to 'swear-off' and go 'cold turkey' having grout joints.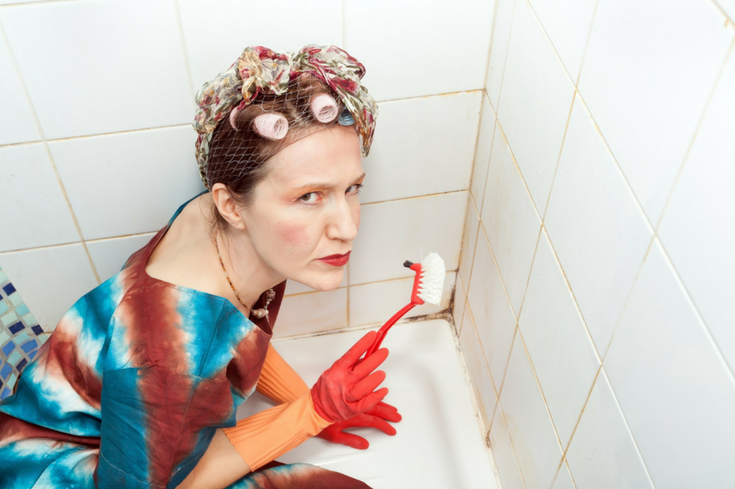 While you love(d) your master bathroom tile shower (when your home was fresh and new), it's now become Public Enemy #1. And it's not the tiles fault. If you need to place blame, it's the pesky grout joints fault. Grout joints are a H-U-G-E disadvantage in a tile shower.
And even if you're not the one stuck scrubbing nasty joints. They still add and add and add to the cost of your ceramic tile shower in upkeep costs.
Let's face facts. You're not done 'paying' for a tile shower until you sell your home. It's a maintenance hassle you have to face (or pay the man or woman to come take care of it for you).

(Disadvantage #2 of a ceramic tile shower) Finding a tile-setter to do the job…if you can afford one or find one.
Installing ceramic tiles is not only a 'trade,' it's an art. The best tile setters are booked months in advance. And if you don't think so, ask any builder or remodeler how easy it is to find someone to do tile on a remodel or new construction job in today's labor-starved world.
And since tile setters are playing 'hard to get,' (because they're so scarce to find) guess what's happening with the prices they're charging? Yes – you guessed it….
Prices are going through the roof (or should I say the walls or the floor?)
If you choose tile expect the job won't be cheap and it will take longer to schedule than you'd like.
(Disadvantage #3 of a ceramic tile shower) It's a dirty and takes a long time to complete
If you remember Elden the Painter from the sitcom Murphy Brown back in the 1980's, you can relate to remodeling jobs which never end. Well if you're not a fan of tradespeople being in your home FOREVER, tile is a trade you'll want to avoid like the plague. Tile showers are a multi-day (or sometimes multi-week) process. You've got to put up backer boards, add thin-set mortar, tiles have to be cut and applied to the wall, not to mention grout cleanup.
It isn't a one-day job. It's a messy job. So, if you want a ceramic tile shower, prepare to be patient…. because IT WILL be your reality.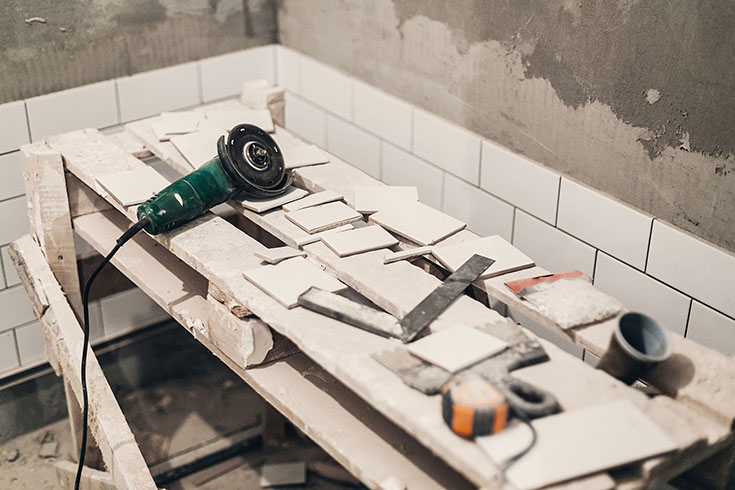 (Disadvantage #4 of a ceramic tile shower) And it's this teeny tiny problem known as leaks
Tile showers (especially those done with mud-set shower pans) are notorious for leaking. And a leaking shower is a disaster. And if you're ever been down this 'crater-filled' road before you know if your shower pan leaks you may not only be replacing the ceiling and furniture below – but also the walls above the shower pan as well.
It's an unmitigated disaster. And this could be you (especially if your shower is done with some 'old-school' installation techniques).
And here's a smart bit of advice for you about leaking. Before you sign on the bottom line with your contractor find out their warranty against leaky tile showers. You may be unpleasantly surprised.
(Disadvantage #5 of a ceramic tile shower) You need to maintain it
So, I'm going to ask you a question and I'll 'pinky-swear' to keep this between you and me (I won't divulge it to your partner or spouse). And here it is…
Have you resealed the grout joints in your shower even 1 time since you've owned your home?
If I'm a bettin' man, I'll lay odds its waaaay less than 5% of you reading this article have resealed even once. And as a matter I'll come clean and say I've never resealed the grout joints in my tile shower (shhhh, don't tell my wife Rose!).
Tile showers DO NOT take care of themselves. You're 'supposed to' reseal them. However, few do. You're supposed to clean them regularly. However, few do. And why don't you do this regularly???
You're busy with life, your job, your kids or grandkids. The 'work' associated with a tile shower is something most people 'gloss' over when they see the luxurious look of a new tile shower.
Maintenance is something you should think twice about.

(Disadvantage #6 of a ceramic tile shower) Bacteria and mold love to live in your tile grout joints
If there's anything this pandemic has taught us (besides the fact, it's so hard for every country in the world to get their arms around the problem) it's that bacteria is evil! Whenever you can get rid of the risk of bacteria, it's a smart idea to do it.
And where you have grout joints and wet surfaces, bacteria is an unfortunate by-product. If you want to cut down your bacteria concerns, ceramic tile is something to do without.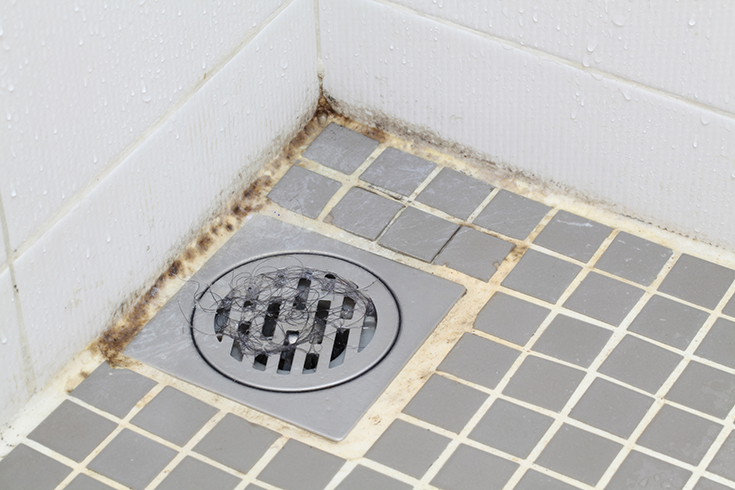 (Disadvantage #7 of a ceramic tile shower) It's a complex installation
If you're considering DIY'ing your tile shower you've undoubtedly come upon so many installation approaches. However, one thing is perfectly clear. You've got to do this job right…….
Or else
The 'or else' of a bad tile job can be leaking, cracking, and needing to redo the shower if you mess up. The stakes of doing a tile shower job yourself (or hiring a tile setter and contractor who doesn't warranty the tile installation) are high.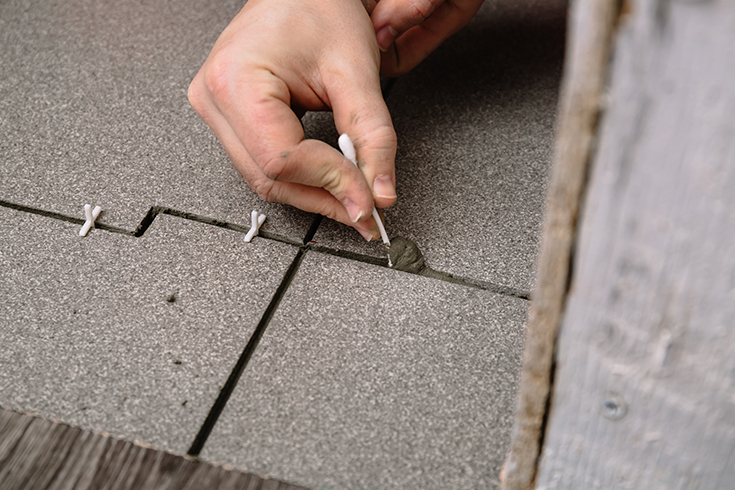 Do you want to be on the receiving if a tile shower installation goes south? Do you want to 'experiment' on your own project?
So, by now if you're starting to get the 'willies' (whatever the willies are) about a tile shower – let me leave you with 3 smart ideas to cut your worry-glands down to size (whether you decide to go tile – or to a grout free system). Here's the 3 ideas:
Smart ideas to reduce the worries associated with the 'typical' ceramic tile shower
Smart idea #1 – Use a 'component-based' tile shower system
Fortunately, if you really love tile there are better installation techniques (and products) today than back in the 'bad ol' days.' One upgraded product is a ready for tile shower pan. These bases are light (and made of expanded polystyrene), 100% waterproof and super-easy to install. You set them on the subfloor and use modified thin set on the surface and set your tile and grout over the top. You can even use curved glass walls with these premade shower pans.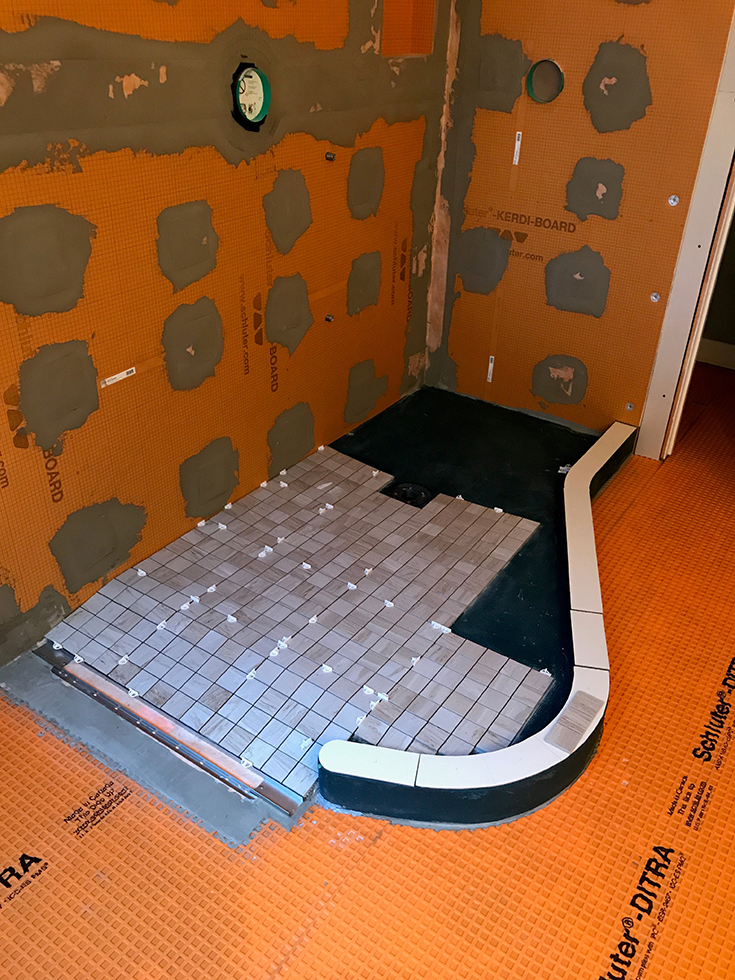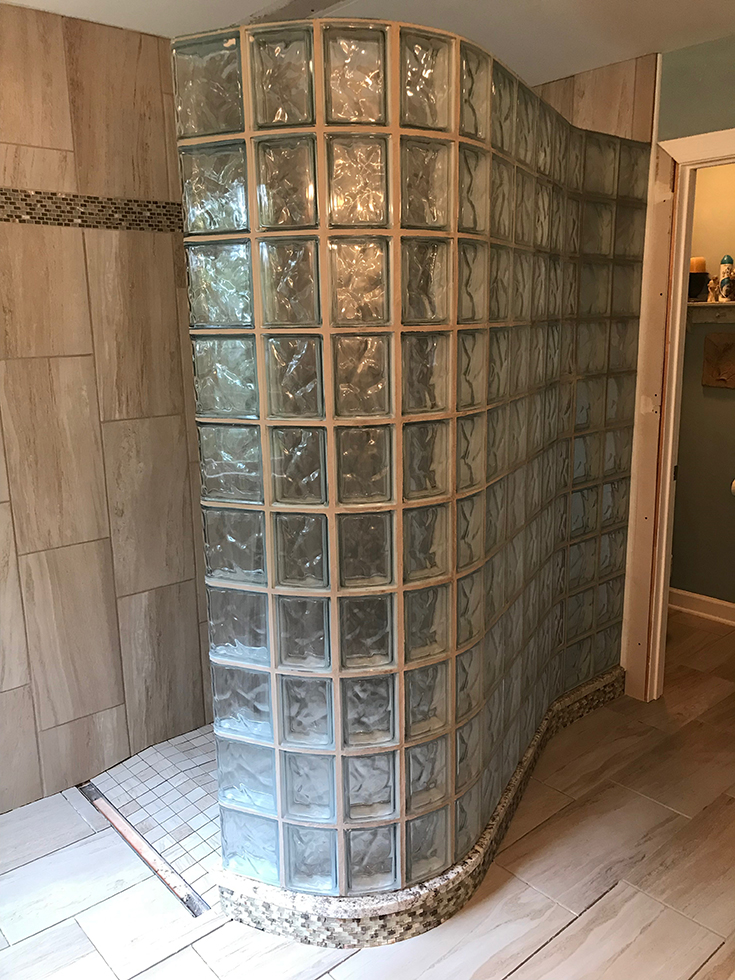 In addition, there are waterproof wall backer board systems like Wedi and Schluter which provide reliable waterproofing for your tile surround walls (which buy their very nature are porous because of the grout joint).
Smart idea #2 – Use a grout free shower pan
If you think grout free shower pans are only ugly plastic systems you see at your local big box store, I'm happy to tell you the options are far nicer and more varied.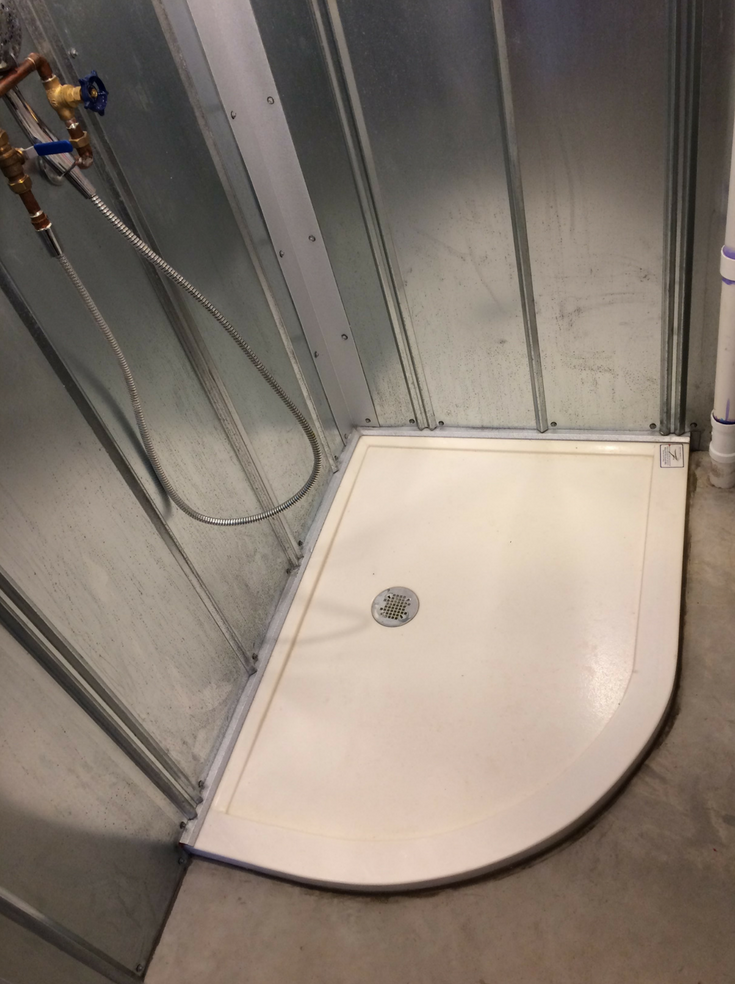 Today you can find man-made stone shower pans which look like marble or wood or terrazzo.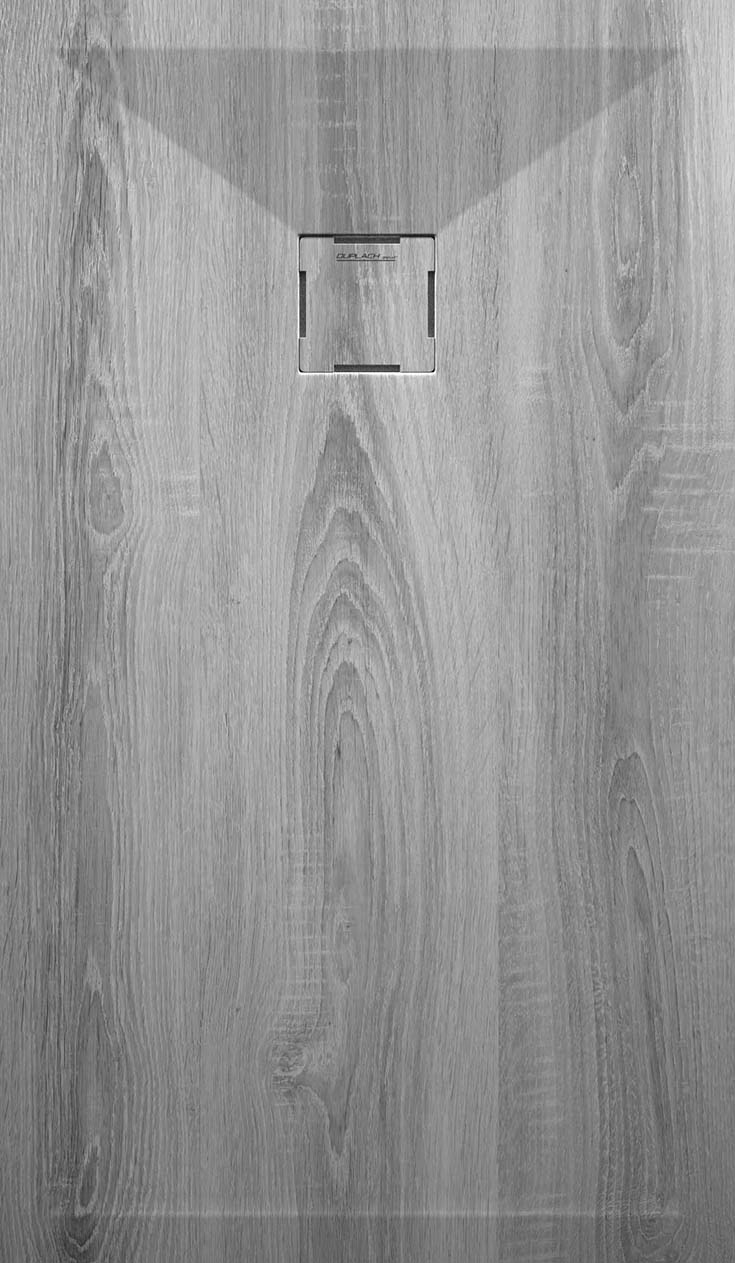 You can also get custom cultured marble bases made to any size (or shape) with the drain location you need.
So – you don't have to put up with the maintenance of a tile shower pan – even if the size and shape of your shower is kind of crazy.
Smart idea #3 – Use grout free shower wall panels which look like real tile and stone  
Years ago, the only grout free shower wall panels were made of plastic or those 'swirly marble' stone walls which used to be in style when mullets were all the rage. However – the good news is wall panel products have evolved.
In case you haven't seen them, there are stylish laminate shower wall panels with indented faux grout joints. They're realistic-looking, stylish, and cost-effective.

So, now that you've learned the pros and cons of a tile shower how can me and my team help you next?  
 So, now you've read the pros and cons of a ceramic tile shower. Are you a 'friend' or a 'foe' of adding one in your bathroom remodel (or new construction home)? Would you prefer your next shower be grouted or grout less?
I know thinking through options can be difficult. If you'd like help deciding between a ceramic tile shower and a grout free shower (with shower surround panels and grout-free shower pans) call us nationwide at 877-668-5888. If you're looking for a local bathroom remodeling contractor in Cleveland and Akron Ohio call 216-658-1270.
Thanks for reading – and putting up with my (at times) wacky humor.
Mike
###
For Nationwide (or local) supply of shower wall panels, shower enclosures and shower bases call Innovate Building Solutions at 877-668-5888 or The Bath Doctor at 614-252-7294 in Columbus. For a remodeling project (using either tile or shower panels) contact Cleveland Design and Remodeling at 216-658-1270.
If you're a remodeler or builder and want practical advice on remodeling products, industry trends, marketing and sales tips to grow your business (and cut day to day hassles), start reading my newest blog – Innovate Builders Blog. It's packed with ideas you can use now. Click here to Sign Up for the Innovate Builders Blog.
If you're in the building business, click here if you'd like to learn how to become a shower wall panel dealer or call and ask for Mike at 877-668-5888.
If you want more advice (or like wacky humor) follow me on LinkedIn @MikeFotiLinkedIn or on Twitter @Mike_Foti or my companies @InnovateBuild or @InnovateHomeOrg.
---
Mike Foti
President of Innovate Building Solutions a nationwide supplier and regional (Cleveland and Columbus) remodeling contractors. Some of our product lines include glass counters, floors, backsplashes, glass blocks and grout free shower and tub wall panels
---