How much do acrylic and fiberglass shower pans cost (with 5 buying tips you need to stop dumb mistakes)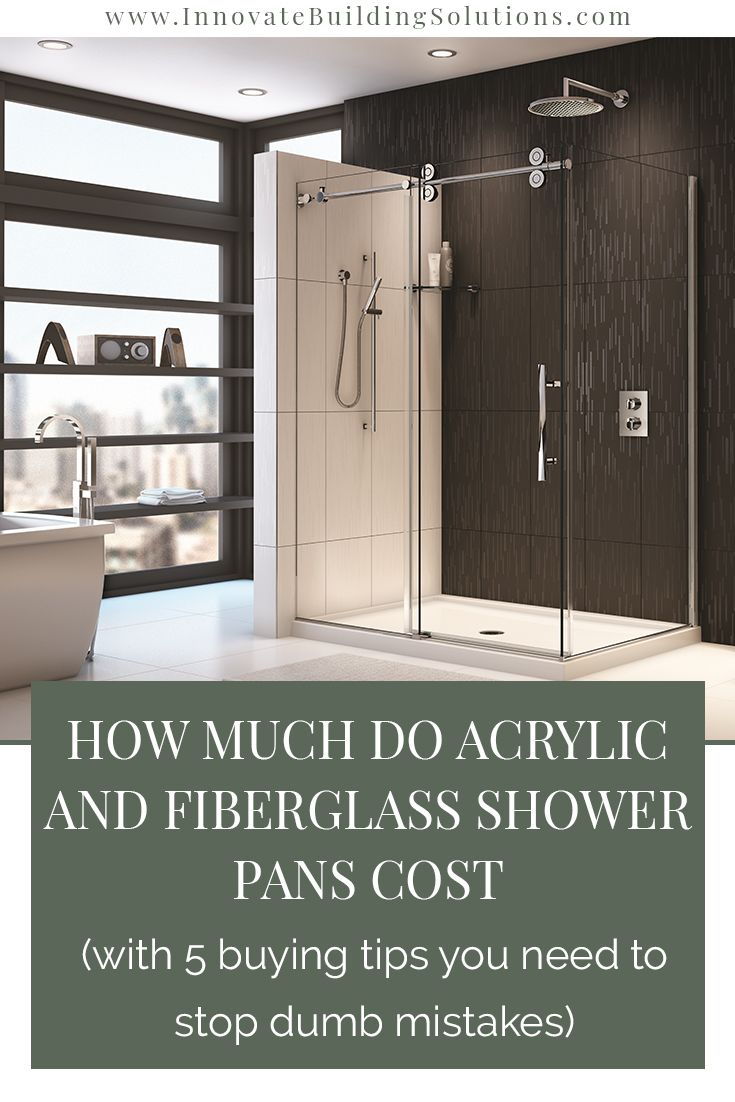 When David called me, he was obviously frustrated. He started out saying, "Mike, I thought buying a plastic shower pan for my tub to shower conversion would be super-simple. After all, I just wanted a decent fiberglass or acrylic pan which wouldn't cost me an arm and a leg. And I wanted a base which won't squeak when I walk on it – with my 'not-as-thin-as-I'd-like' body!" David, then asked, "Can you help me make sense of shower pan prices and find the best choice for my job?"
Since I know David's questions are similar to what many other people need to know, it made perfect sense to write a post giving you (and David) straight answers about fiberglass and acrylic shower pan prices.
However, I didn't want to stop there. I've seen soooo many people end up on the 'wrong side' of bad shower pan purchases, I wanted to 'dish up' a few tips to stop you from making a bad choice.
So, in Part I I'll address frequently asked questions about acrylic and fiberglass shower pan pricing.
In Part II, I'll look at dumb mistakes you want to avoid like the plague (or the Coronavirus).
Let's dig in.
Part I – Frequently Asked Questions about Fiberglass and Acrylic Shower Pan Prices
Question #1 – Do you think an acrylic or a fiberglass shower pan is better?
Even though a higher priced product is not always the best predictor of product quality, when comparing acrylic pans (which are more expensive than fiberglass) – I'd go with the pricier acrylic. Here's two reasons why:
Fiberglass bases often look dull, dingy, and dirty over time. Acrylic ages more gracefully.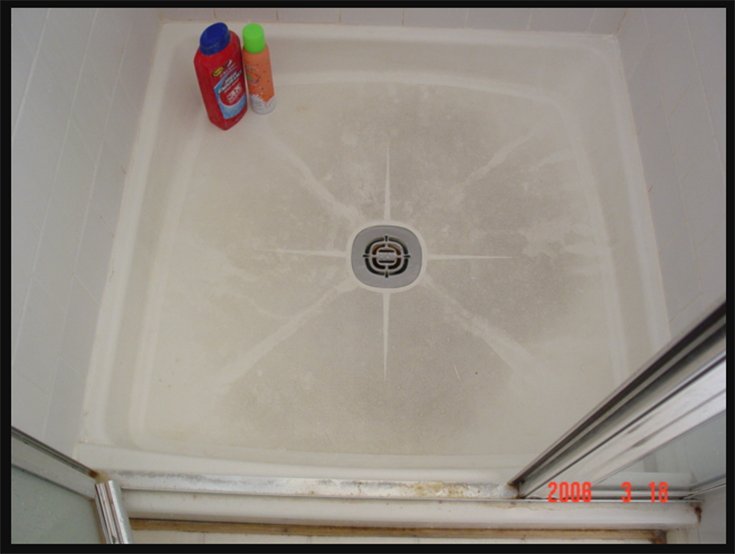 Image Source: www.uglygrout.com
It can be nearly impossible to clean dirt from the bottom of a fiberglass pan. This problem makes owners want to SCREAM!
Question #2 – Why are some pans more expensive than others?  What's the cost of the most popular sizes of acrylic and fiberglass pans?
Often what you DON'T see on the top surface of a fiberglass or acrylic shower pan is the reason one is better (and more expensive) than another. And what the 'naked eye' (and even the 'fully clothed eye') doesn't see at the surface is the thickness of the material and the framing structure underneath.
And for you perpetual dieters out there, you'll be happy to know this is one case where 'thin IS NOT in!"
Better bases use thicker gauge materials and/or have sturdier substrates. For example, this durable acrylic pan includes MDF boards built below the surface. The MDF structure – while adding cost – also minimizes the pan bending, squeaking or God-forbid cracking!

From my experience, buying the cheapest (and usually the thinnest) pan isn't smart unless you're NOT planning to use the shower and/or are flipping this home in a low value neighborhood (and even then – it's bad karma to use bad products. How's that for a scientific assessment?).
So, now that you know why some pans are more expensive than others, let's look at pricing for commons sized bases built with standard round drain holes (and yes – I'll also look at how unique drains impact the cost of a pan in question #4).
Price ranges for common sized fiberglass shower pans
48 x 36 fiberglass pan                                     $200 to $490
60 x 32 fiberglass pan                                     $220 to $390
60 x 36 fiberglass pan                                     $220 to $450
36 x 36 NEO angle fiberglass pan                       $190 to $430
60 x 36 fiberglass pan with an integral seat         $720 to $1,440
 Price ranges for common sized acrylic shower pans
48 x 36 acrylic pan                                          $240 to $850
60 x 32 acrylic pan                                          $260 to $900
60 x 36 acrylic pan                                          $290 to $950
36 x 36 NEO angle acrylic pan                           $210 to $790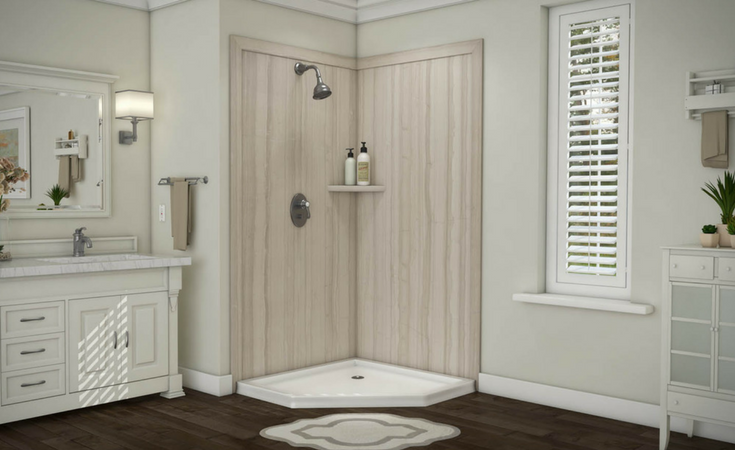 60 x 36 acrylic pan with an integral seat             $770 to $2,800
 Question #3 – Are there 'hidden costs' I'll uncover if I use a cheaper pan?  
Most lower cost fiberglass and acrylic pans with thinner substructures must be set into a bed of mortar. And while the mortar mix may only costs $20 or $30, you'll also need a cement mixer, trowel and/or a large 5-gallon bucket to mix the materials up.
So – while these hidden costs aren't huge, it's still a major hassle to haul buckets of mortar through your (formerly) clean house. This dirty process could be dangerous for your relationship (and yes – I put that in as politically correct way as I could) if you drop some mortar on your new floors!
Question #4 – How do different types of shower drains impact the cost of acrylic and fiberglass pans?  
Standard fiberglass and acrylic shower pans come with round drain holes. And if you think these 'old-school' looking drains are U-G-L-Y, I'm with you! And while these bases are cheaper, they don't fit the look of today's more contemporary bathroom remodels. And let's face facts….
Most shower pan drains are the 'ugly stepchild' of a bathroom remodel!
So, if you know the devil (and a better project) is in the details, you won't want to 'settle' for the ugly round drain. You'll want to 'notch things up' a big with a hidden drain plate (where the base looks like it doesn't have a drain). Or you'll want a stylish linear drain. And while these options may look nice, you may be wondering how much these fanciers drain options will set you back.
Well, wonder now more. Expect to pay $50 to $100 more for a hidden drain than for the standard round drain priced in question #2. Expect to pay $200 to $300 more for a linear drain compared to question #2.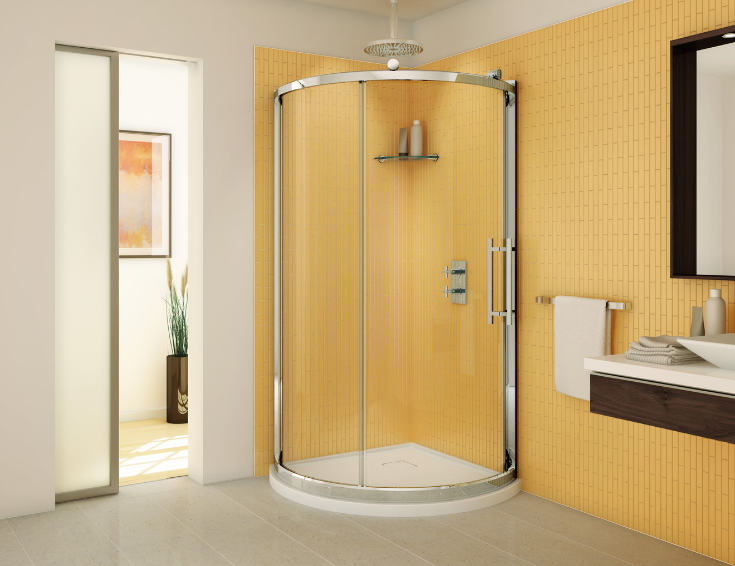 Question #5 – How can colors impact the cost of acrylic or fiberglass shower bases?
First off, I'll tell you you'll be hard-pressed to find many manufacturers who make fiberglass or acrylic bases in color (note – if you want a wide range of colors, the more common material used are cultured granite shower pans vs. acrylic or fiberglass bases). Most acrylic and fiberglass shower manufacturers use the Henry Ford motto when it comes to color. Their (slightly) revised motto is, "You can get any base color you want as long as it's white."
However, you'll occasionally find biscuit or black colored acrylic pans. With these bases expect to pay a 15% to 30% premium onto the prices in question #2.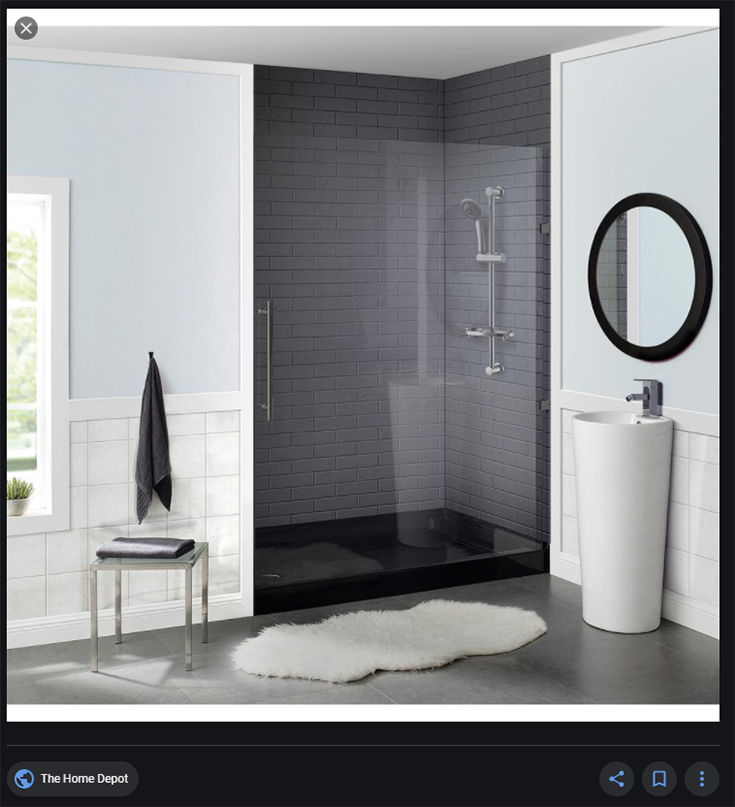 Image Source www.homedepot.com
Although now you should have a better idea of the cost of an acrylic shower pan or a fiberglass base, you still may be worried about making a bad choice. To help you worry less, I've included 5 buying tips so you can reduce the chance of buying a pan which cracks, leaks or flat-out looks God-awful a few years from now. So, let's look at these buying tips.
5 Buying Tips So You Don't Make a Dumb Mistake Purchasing a Fiberglass or Acrylic Pan
Buying tip #1 – Don't buy the absolute cheapest shower pan
The material (or lack thereof) used in the low, low priced pans are often too thin, and rely far too much (IMHO) on the mortar bed underneath to ensure they don't crack.
And if your shower pan cracks, you'll be in for a 'bathroom remodeling nightmare on Elm Street.' You'll be the sad homeowner forking over your hard-earned money on an expensive repair of your entire shower (not just the base, because your wall materials are overlapping the flange of the pan).
I'd recommend spending a few extra bucks and buying a sturdy shower pan. One possibility is the acrylic pan with the reinforced bottom mentioned above. A better pan is cost-effective insurance against a shower remodeling disaster.
Buying tip #2– Stay away from 'seated shower bases,' especially if space is limited and your budget is tight.  
Even though my company makes more money when we sell seated shower bases, I'm still not a big fan of them. Along with their higher costs, here's 2 reasons I rarely promote them:
Reason #1 – They eat up too much room – Bench seats gobble-up 20-25% of the floor space in a standard 60" x 36" pan. And if all your family members aren't using the bench seat, you're making showering more cramped for them each and every day. As an alternative, I like fold down bench seats. They're cost effective and space efficient. And while you likely WISH you had more space in your shower, you need to maximize the space you have, yet provide the function ('er seating) you need.
Reason #2 – Seated shower pans cause sticker shock – If you'd like a 'side to side' bench seat (like you see in the picture below), you'll not only spend a good amount for a quality unit, but the glass which 'jumps over' the bench seat ain't cheap either! And if you use a seated base with a bench which doesn't extend fully to the front edge of the pan, the space between the glass doors and the bench seat will be a pain to clean (and won't look attractive).
Buying tip #3– Paying attention to flanges is smart if you don't want to overspend or deal with project delays
While a base with an 'integral flange' (note, an integral flange is the 'raised rim' you see around the sides of most bases) sounds perfect, flanges on the wrong side(s) become big problems.
For example, let's say you need a pan for a corner shower which measures 48 x 36. You buy a base 'off-the-shelf' at your local home center store. It has 3 flanges. Then you realize….
Houston, I have a problem. I need a base with 2 flanges.
Or you buy a 'standard' 60" x 36" shower pan with 3 flanges but want to enter your shower on the 36" side. Then you realize…
Houston, I've got a problem. The flanges are on the wrong side.
These shower flange buying mistakes are common, but also simpler to solve than you may think. What you need is a shower pan where the flanges are installed onto the base (like this 'flex pan acrylic base shown below) vs. buying one where the flanges are pre-molded into the base.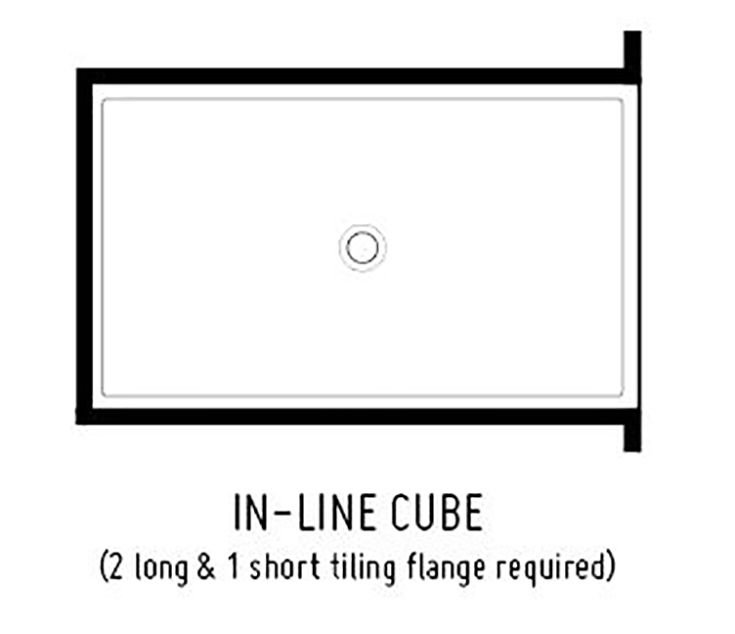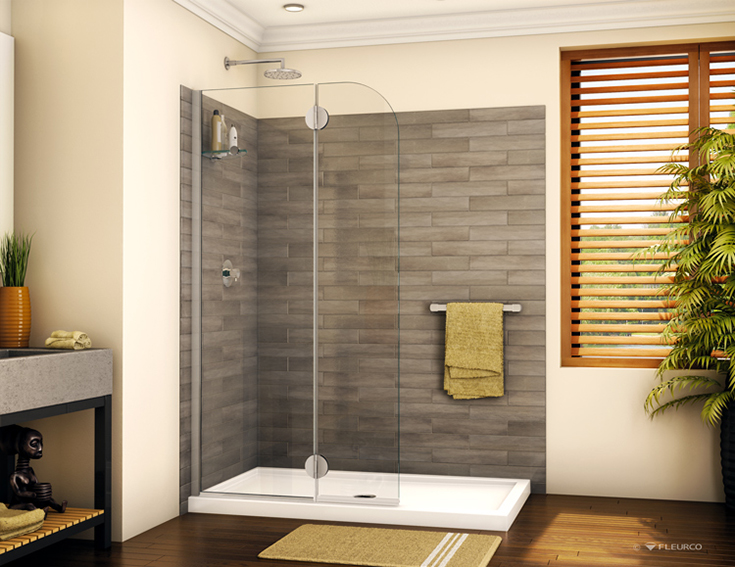 Bases with integral flanges are not always the wonderful things they're made out to be! Adding flanges after the fact can save you money when you DO NOT have to buy a custom shower pan because you need flanges on different sides than what is most popular.

Buying tip #4– It's smart to focus on the threshold height sooner, than later
You don't expect the unexpected. I guess that's why it's called the unexpected.
Your aging Mother in law takes a mean spill. Suddenly she's coming to live with you (ready or not).
Your spouse needs a hip replacement because of old football injuries. Stepping over a 5" to 6" shower curb, is getting dicey for them.
As the funny Nationwide Investments commercial below reinforces, "Life comes at you fast!"
The smartest way to get a shower pan don't have to replace due to bad planning, is to think what COULD HAPPEN, before it DOES HAPPEN.
High shower pan thresholds can be a TERRIBLE mistake. No matter what type of shower pan you're buying, shorter curb heights (in the 2" to 3" height range vs. 4" to 5" tall) are a smarter choice.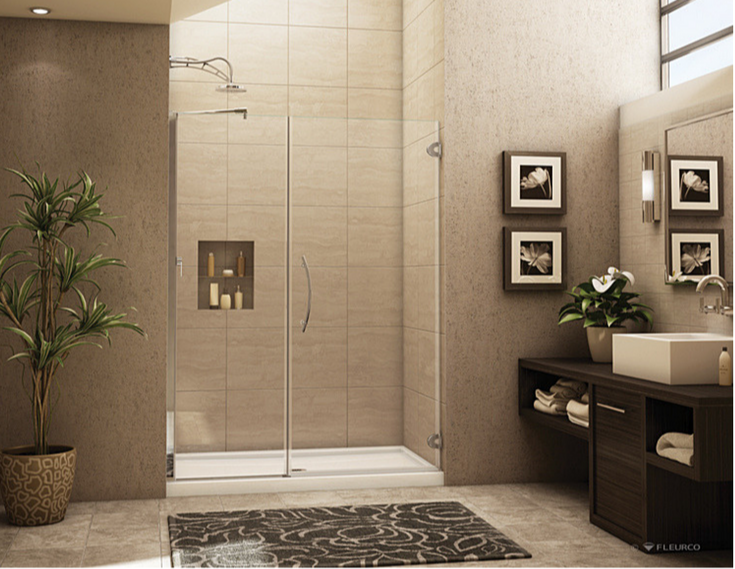 Pay attention to this detail. You'll be glad you did if the 'unexpected' happens to you or a member of your family.
Buying tip #5– Make sure your glass enclosure or curtains work with your base
Maybe you're 'sick and tired' (as Mom used to say) banging your elbows on your #WayTooCramped existing 60" wide x 30" deep shower stall. The 'big boys' and 'big girls' in your family want (and need) more elbow room.
Or maybe you're trying (desperately) to get your teenage boys to keep the water IN the shower vs. on the bathroom floor. They never fully shut that straight curtain rod, no matter how many times you nag them. You're hoping the curved shower rod you bought will stop pools of water on the bathroom floor.
Both these problems can lead you to the same situation when buying a shower pan. And that solution is….
And what's cool is you can get a cool curved acrylic base and glass enclosure (or  curtain rod) which is shaped like the pan.
Several manufacturers make stylish curved pans and sliding curved glass enclosures which go with them.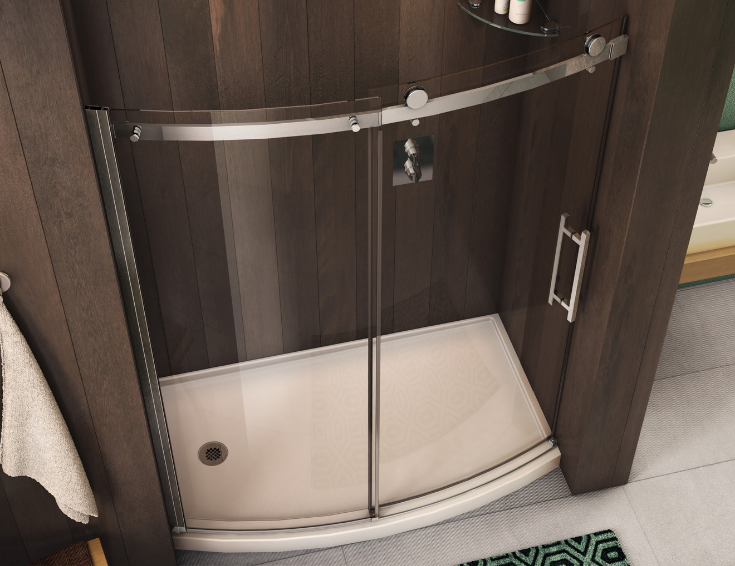 And when you buy a shower pan (especially one with a unique curved or NEO angle designs), it's smart to get the glass enclosure which goes with it. This will save you money and keep the water where it belongs…in the pan.
Shaped pans are fun…but you MUST make sure to get the glass (or curtains) designed to work with them.

How can me and my team help you next?
Just like David (who I mentioned in the beginning) expressed his frustrations with buying a shower pan, you may have come to the conclusion, more goes into buying a shower pan than you thought. And I get it.
However, here's the good news. You don't need to figure out the best choice of a shower pan (or glass enclosure or shower surround wall panels) yourself. You can get help. And the cool thing is ….
You can get help for FREE. Now that's the magic word.
And has been said many times before, a wise man (and woman) knows what they don't know.
If you want help choosing the best shower pan give us a call. We not only wholesale contemporary acrylic pans across the country, but install them in our local markets. Call us at 877-668-5888 for nationwide shower pan wholesale supply, or in Cleveland, call 216-531-6085.
If you're desperately searching for a contractor to install a shower pan our authorized shower wall dealer network may be able to help. Ask us for a referral.
Thanks for reading,
Mike
Other ways we can help
If you're a remodeler or builder and want advice on remodeling products, industry trends, marketing and sales tips to grow your business (and cut day to day hassles), read my newest blog – Innovate Builders Blog. It's packed with ideas you can use now. Click here to Sign Up for the Innovate Builders Blog.
If you're in the building business, click here if you'd like to learn how to become a shower wall panel dealer or call and ask for Mike at 888-467-7488 (and yes we also sell shower pans).
If you'd like to connect on LinkedIn go to @MikeFotiLinkedIn.
---
Mike Foti
President of Innovate Building Solutions a nationwide supplier and regional (Cleveland and Columbus) remodeling contractors. Some of our product lines include glass counters, floors, backsplashes, glass blocks and grout free shower and tub wall panels
---